MCF Scholars Program at Mak launches Annual Community Open Day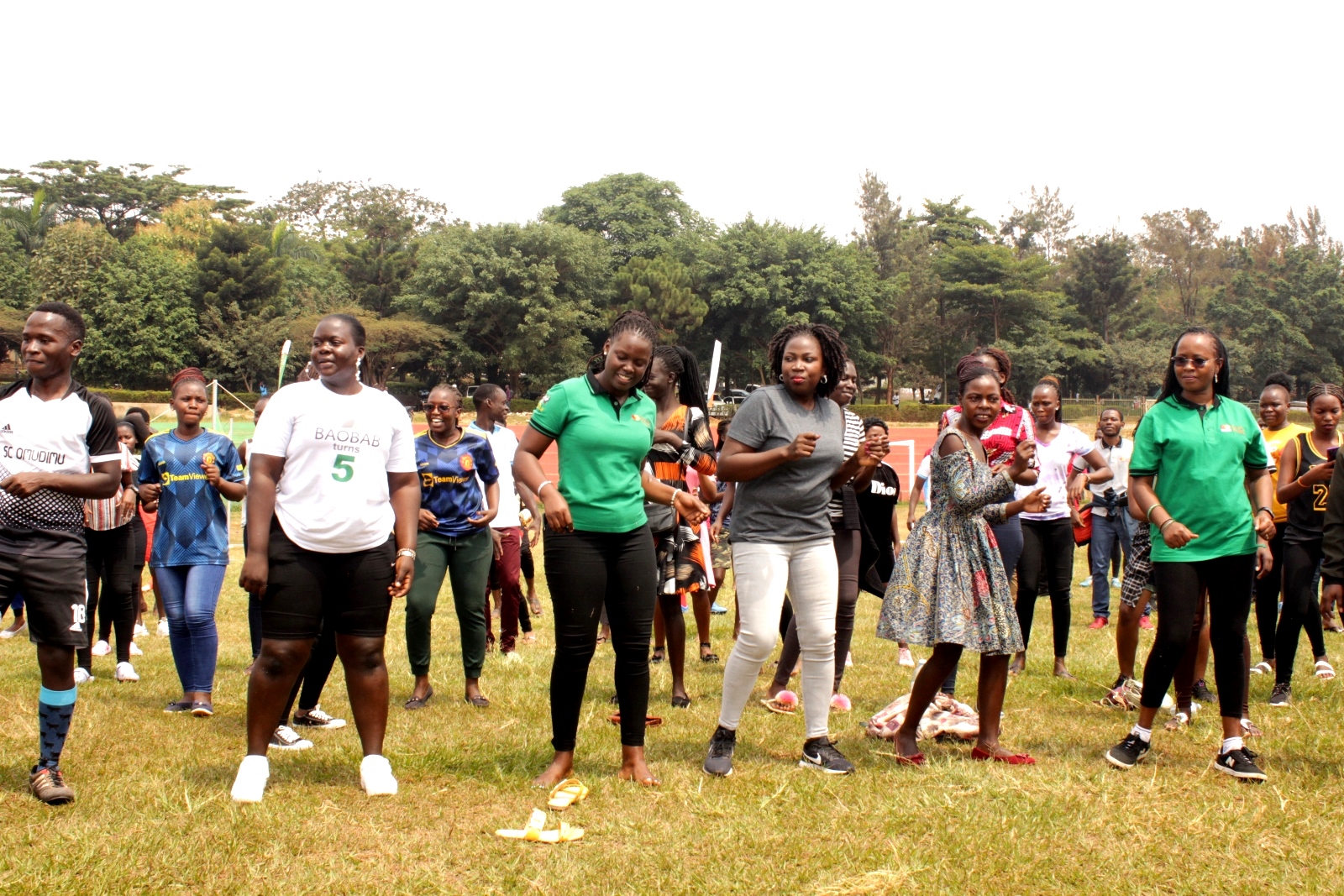 By Bernard Buteera
Mastercard Foundation Scholars Program at Makerere University has launched an annual event dubbed the 'The Scholars Program Community Open Day', that will bring together all key Stakeholders in order to foster relationships and sense of belonging to the Scholars Program.
The inaugural event was held on Saturday 30th July 2022, at Makerere University Rugby grounds. It attracted over 300 participants who included Scholars, Alumni, and Mentors, members of the Steering Committee, the University Community and other external partners of the Scholars Program.
While addressing the gathering, the Chief Guest, Prof. Sarah Ssali, the Dean School of Women and Gender Studies, and a member of the Steering Committee of the Scholars Program, congratulated the Secretariat upon initiating such an important event that brings together all key stakeholders of the Program. She pointed out that it is such events that foster unity and networks among stakeholders, which was key in strengthening institutions and organizations world over.
"I congratulate the Secretariat and the general Scholars Community for thinking about such an important community engagement event, which brings together all key stakeholders of the Scholars Program, most especially the Scholars and the Alumni" Prof. Ssali pointed out.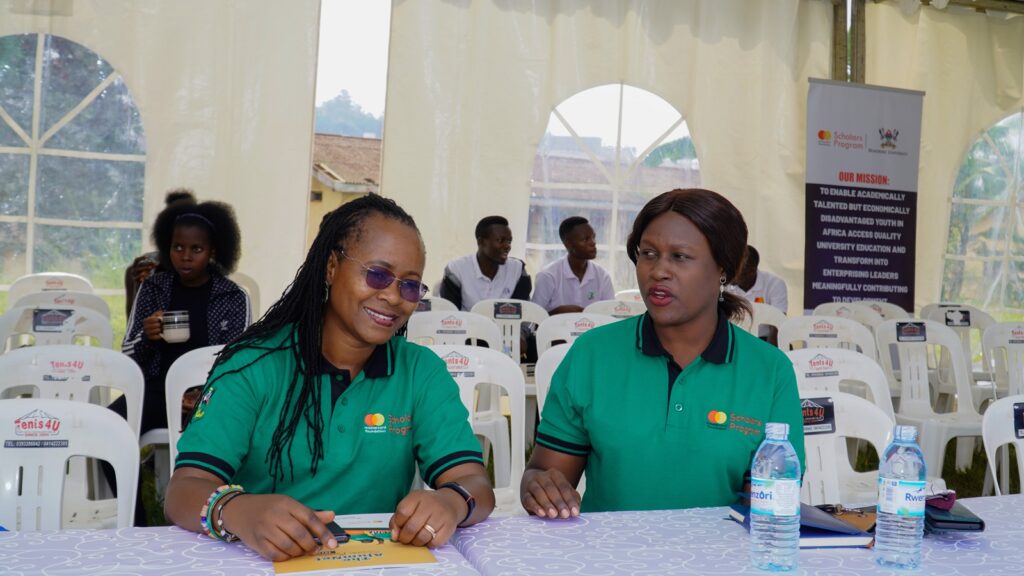 Prof. Ssali further congratulated the Scholars and alumni of the Scholars Program as the key stakeholders, upon having been selected for the prestigious Scholarship, which most young people in Uganda were not lucky enough to get, despite being in a similar economic disadvantage.
"I would like to appeal to you Scholars and alumni of the Mastercard Foundation, to always cherish the opportunity you were given, especially the Scholarship, which enabled you to acquire quality university education here at Makerere University." Prof. Ssali said.
 Prof. Ssali called upon all stakeholders of the Scholars Program to foster relationships and networks the Program has bestowed upon them. She further urged the gathering to always cast their nets wide and desist from creating ethnic, religious other narrow social networks, but rather embrace diversity in creating networks.
She appealed to Ugandans and Africans at large to reduce the spirit of dependence, and instead strive to support and uplift one another through giving back to the community.
"The African continent is known for being dependent on donor aid and all forms of support, but we should fight this dependence syndrome, and embrace the spirit of hard work and support ourselves as Africans through giving back to our communities." She opined.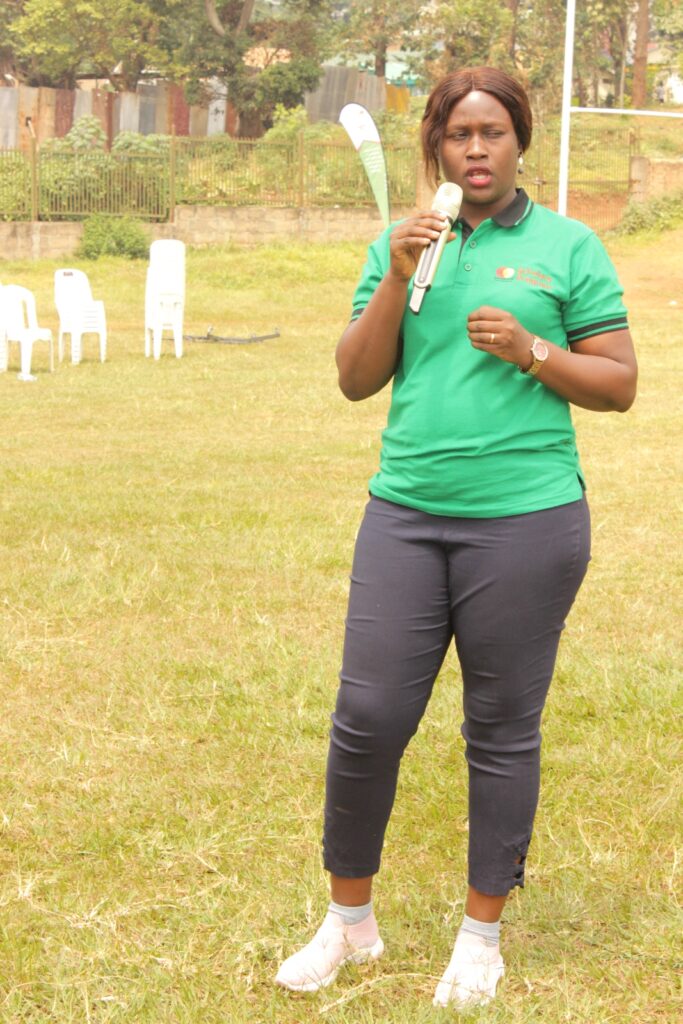 The Program Manager, Ms. Jolly Okumu informed the gathering that although the Scholars Program at Makerere University comprises a number of stakeholders at different levels and influence, it had never had a single activity that brought all of them together. Therefore, in line with community building, the Scholars Program decided to host an annual Community Open Day to bring together all stakeholders with two key objectives;
To foster relationships and sense of belonging to the Scholars Program for all stakeholders.
To fundraise for the MCF Scholars Annual Day of service that takes place every year in November.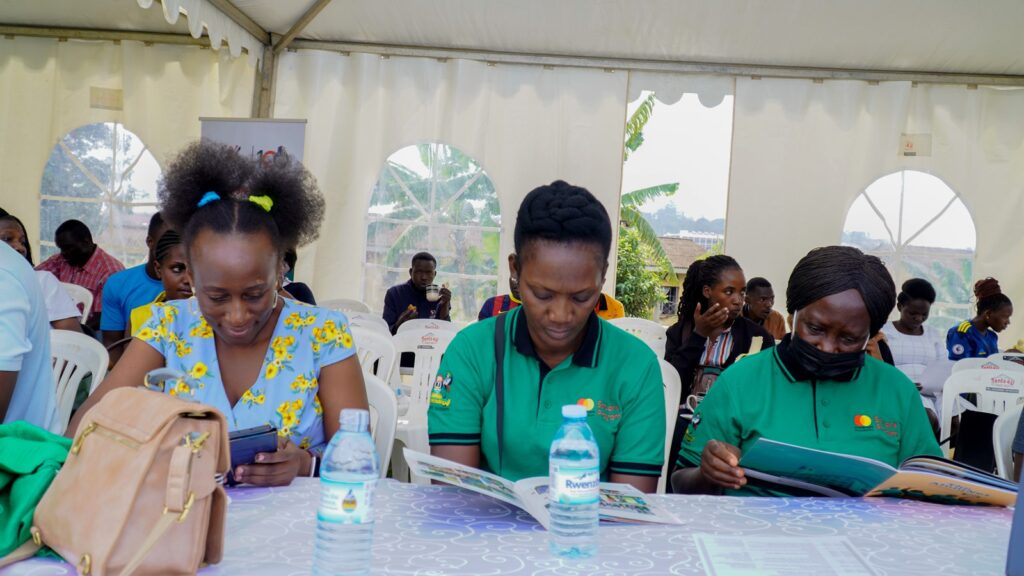 "On behalf of the Secretariat, I would like to thank all of you our Scholars, Alumni and partners for turning up in good numbers for this our first Community Open Day, despite your busy schedule and other competing activities that weekends normally bring" Ms. Okumu said.
She further thanked Prof. Sarah Ssali and all members of the Steering Committee, the University Management, and the University community in general for the commitment and support they have continued to render to the Scholars Program in the last eight years of implementing the Scholars Program at Makerere University.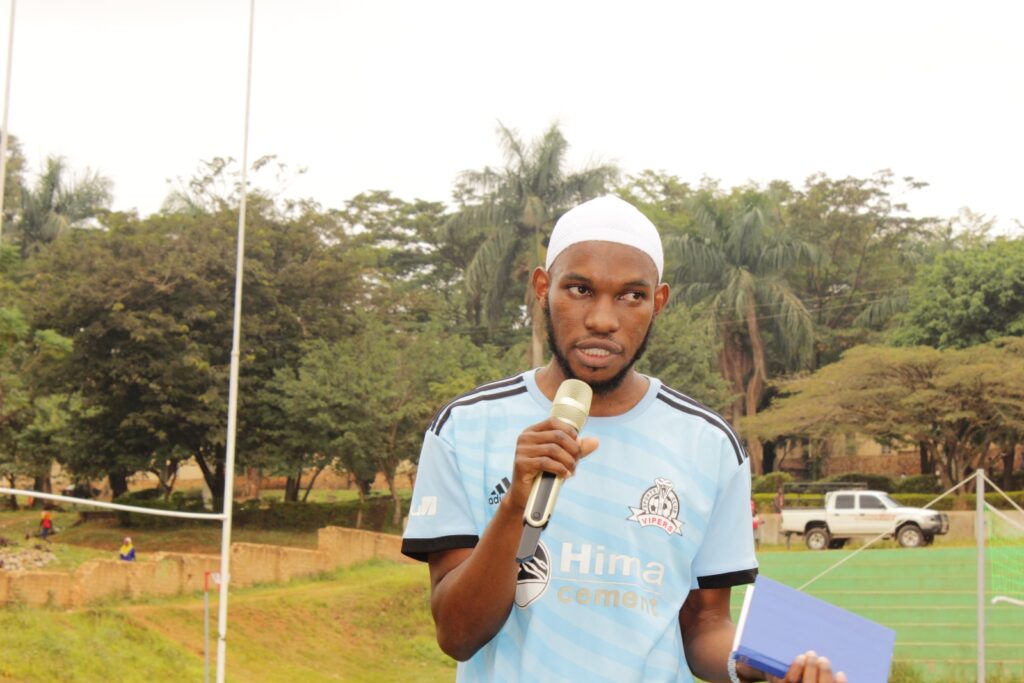 On behalf of the Scholars Community, the Scholars Council Representative, Mr. Abubakar Batte, and the Scholars Association President, Mr. Adolf Businge, called upon the Scholars and Alumni to support and participate the Scholars Annual Day of service, which takes place every year in November across all partner institutions and organizations of Mastercard Foundation.
They informed the gathering that for this years' Annual Day of Service, the Scholars Community had identified and would support to construct a classroom block at St. Katherine Community School, located in Agago district, Northern Uganda.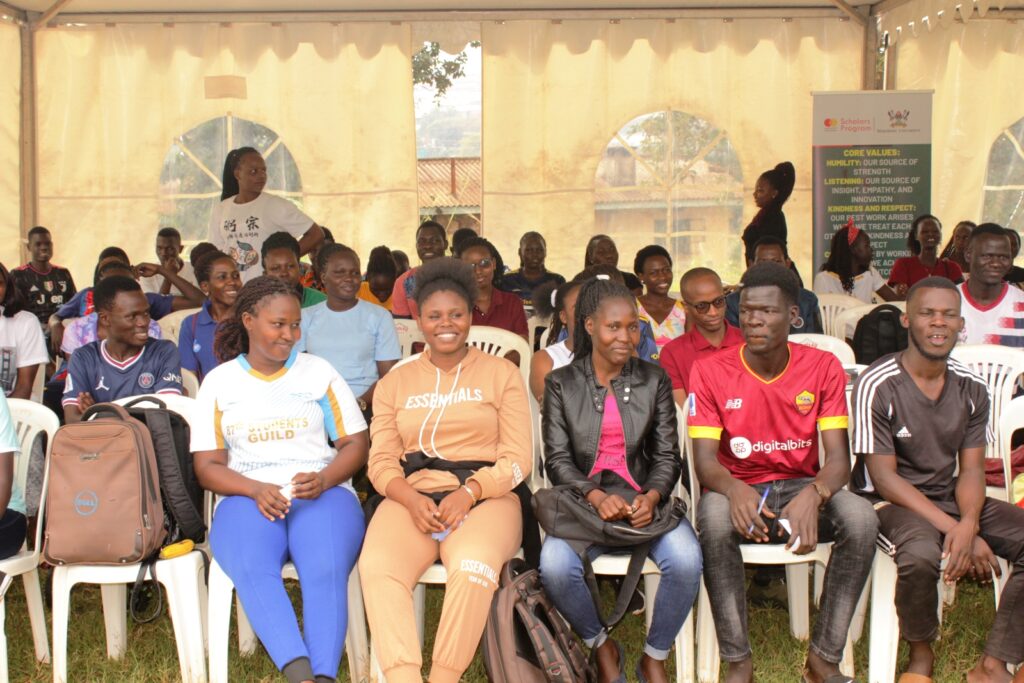 They called upon all people of good will to support the noble cause of giving back to the community by supporting Scholars and Alumni of Mastercard Foundation to construct the class block at St. Katherine in Agago District.
One of the activities of the day was to fundraise for giveback day, which fetched over five million Shillings in cash and pledges from Scholars, Alumni, Mentors, the Secretariat and partners who graced the function.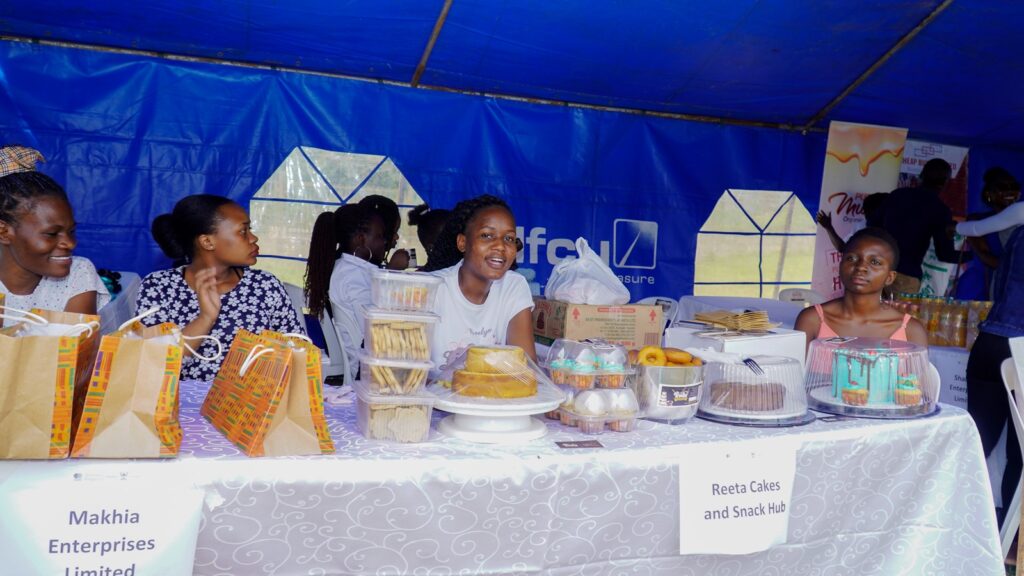 The first Mastercard Foundation Scholars Program Community Open Day was held under the theme; "Fostering Relationships and Networks for community transformation" and attracted over 300 participants including partners.
Among the partners who graced the function included; FAWE- Uganda, Brac, Uganda, Private Sector Foundation, CEEM Group, Solutions Africa, DFCU Bank, KARE Hostel, Katumba Estates among many others. The fun-filled event had a number of activities, which included; Aerobics, Soccer, Volleyball, Athletics, Sack race, Exhibitions and many others.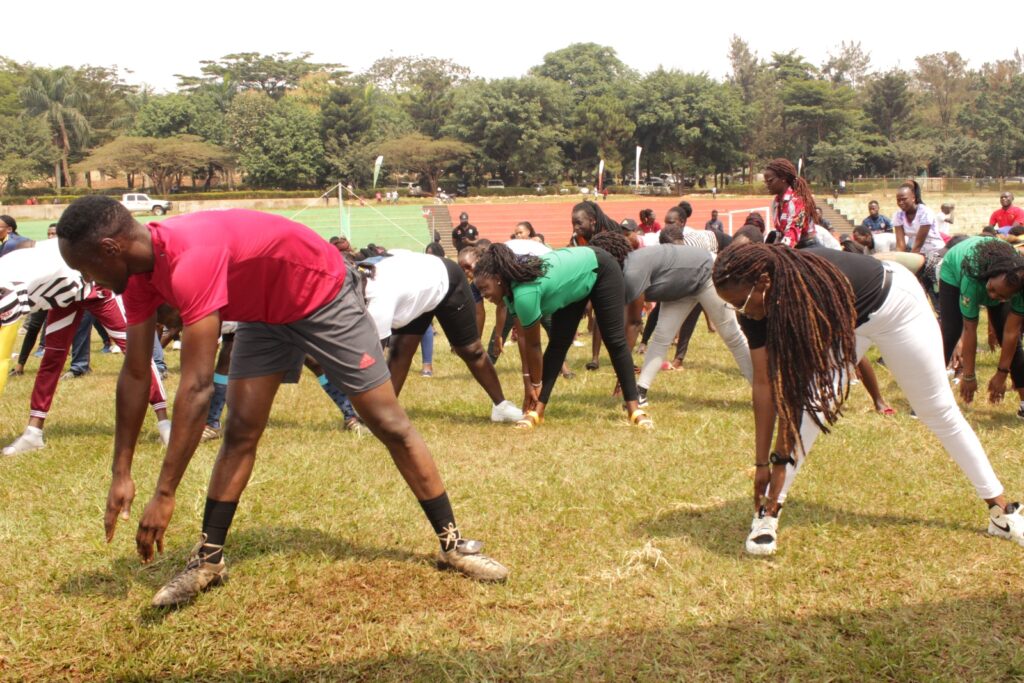 The next Scholars Program Community Open Day will be held in July of 2023 and will attract even a bigger crowd and activities.
Bernard Buteera is the Communications Officer of the Mastercard Foundation Scholars Program at Makerere University.
Reappointment of Professor Barnabas Nawangwe as Vice Chancellor of Mak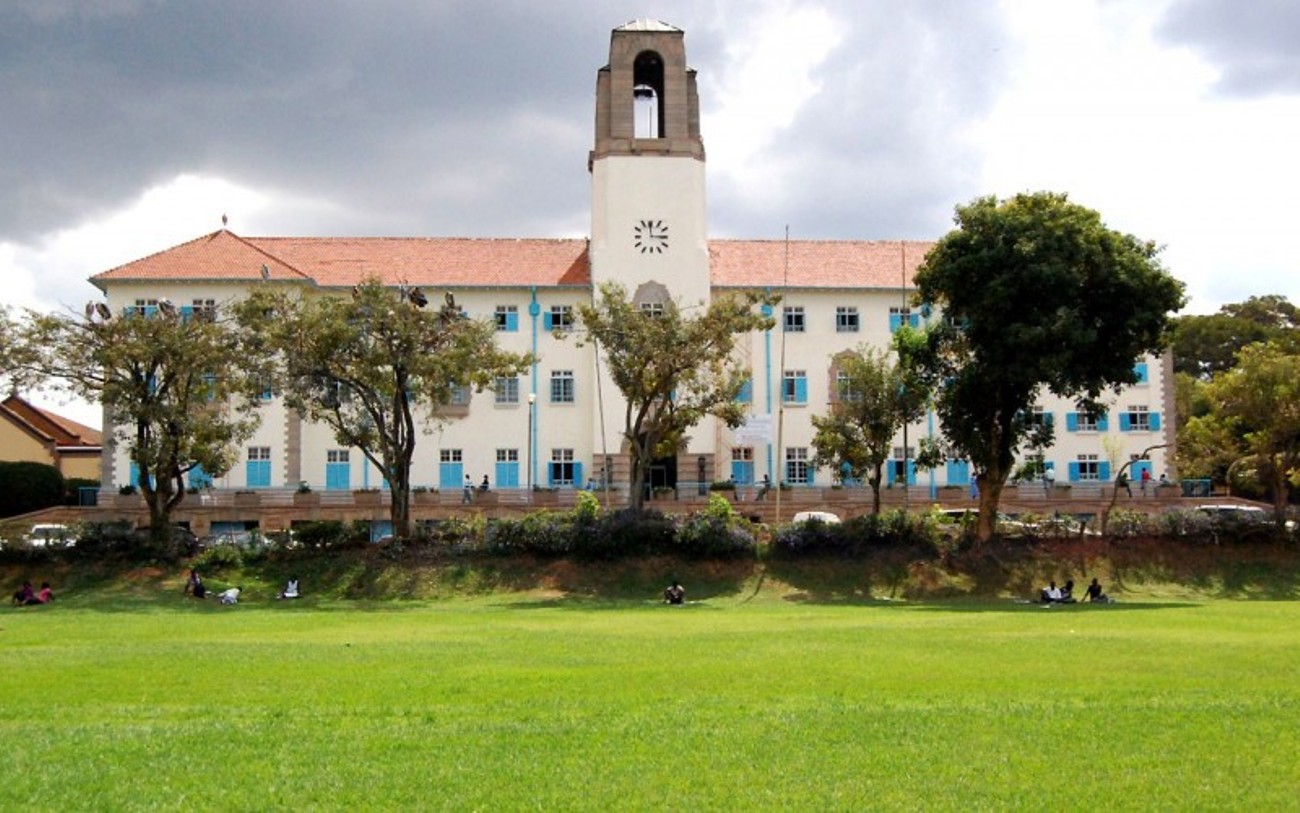 12th August 2022
All Staff and Students
MAKERERE UNIVERSITY
RE: REAPPOINTMENT OF PROFESSOR BARNABAS NAWANGWE AS VICE CHANCELLOR OF MAKERERE UNIVERSITY
Following the provisions of Section 31(4) of the Universities and Other Tertiary Institutions Act, 2001 (as amended), and on the recommendation of the University Council, the Chancellor has reappointed Professor Barnabas Nawangwe for a second five-year term as Vice Chancellor of Makerere University with immediate effect.
We express our deepest gratitude to the Chancellor and the University Council for recognising Professor Nawangwe's distinguished service and granting him the opportunity to serve another term as we celebrate 100 years.
The University community congratulates Professor Nawangwe on this appointment and guarantees continued collaboration and support as Makerere University enters a new century of service to humanity.
Yours faithfully,
Yusuf Kiranda
UNIVERSITY SECRETARY
MakSPH Celebrates Professor Bazeyo at 28 years of service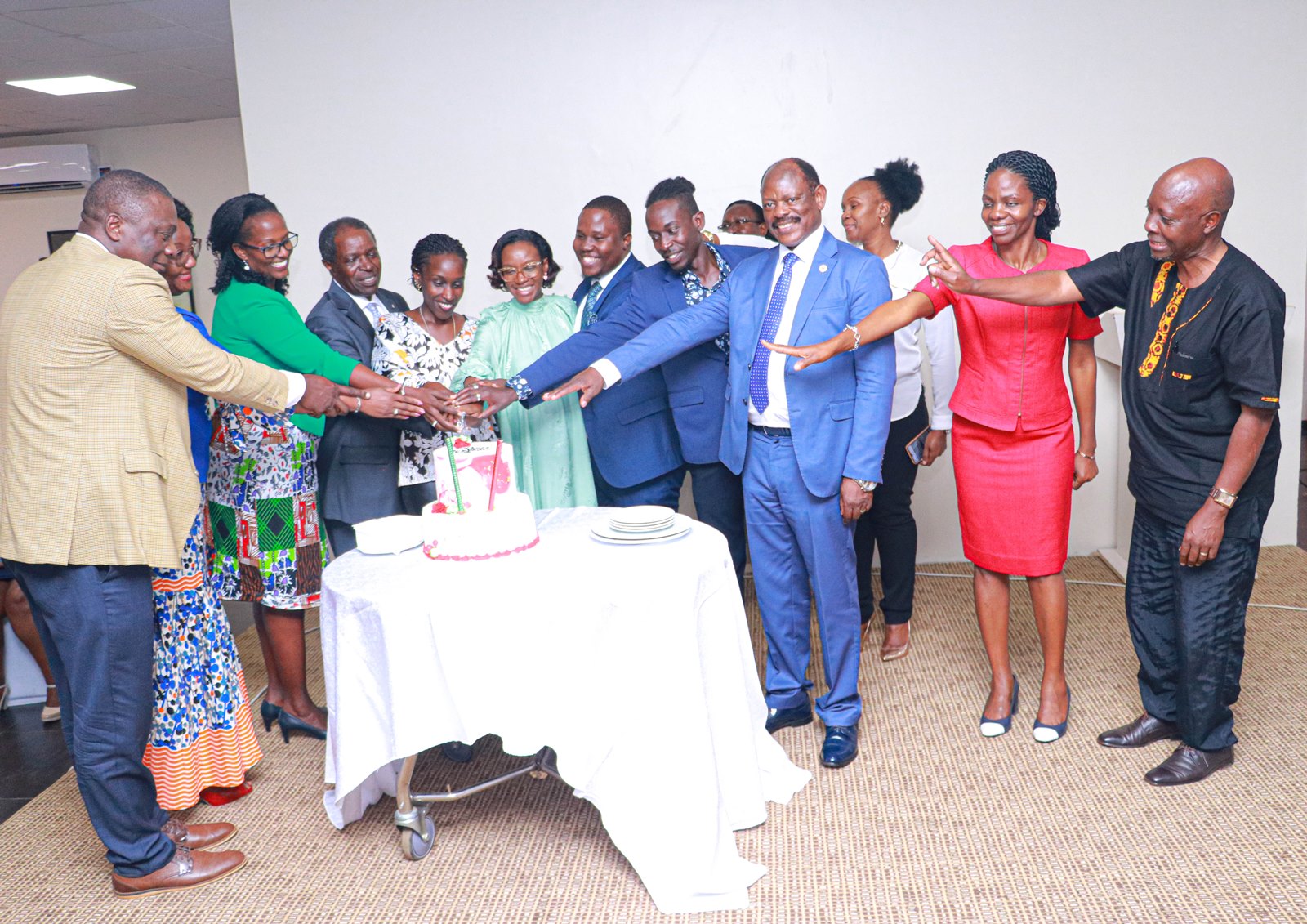 After an illustrious 28-year career, Makerere University School of Public Health's Former Dean Dr. William Bazeyo officially retired from university service.
Dr. Bazeyo, a Professor of Occupational Medicine walked onto Makerere University in August 1993 after being appointed as a Lecturer of Occupational Health at the School of Public Health.
At a Dinner organised by the Makerere University School of Public Health's Department of Disease Control and Environmental Health held on Tuesday August 9 at Skyz Hotel, Kampala, Makerere University Vice Chancellor Professor Barnabas Nawangwe said Professor Bazeyo has selflessly served and made "incredible contributions" to the century old institution and the country.
"Professor Bazeyo is one of the very few Ugandans with whom I have had a lot of pleasure to work with. He is one of the very few people who genuinely loves their country. He is a true patriot. One of the things I found pleasure in working with Prof. Bazeyo is he is very open," said Prof. Nawangwe.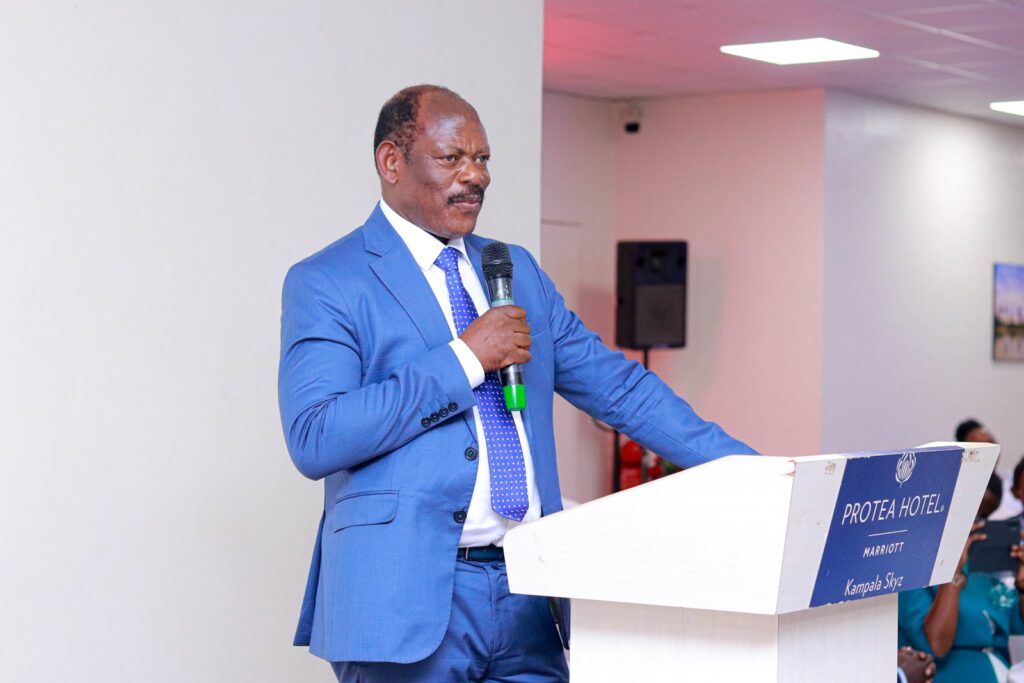 He adds that Professor Bazeyo was a true asset attesting to his leadership abilities during the time he worked as Deputy Vice Chancellor, Finance and Administration.
"In that very short time that we worked together, we gained so much as Makerere University. We did so many things that had failed Makerere University in over 30 years. One time he told me I never take a no for an answer. Every assignment he goes on, he comes with an answer," Prof. Nawangwe.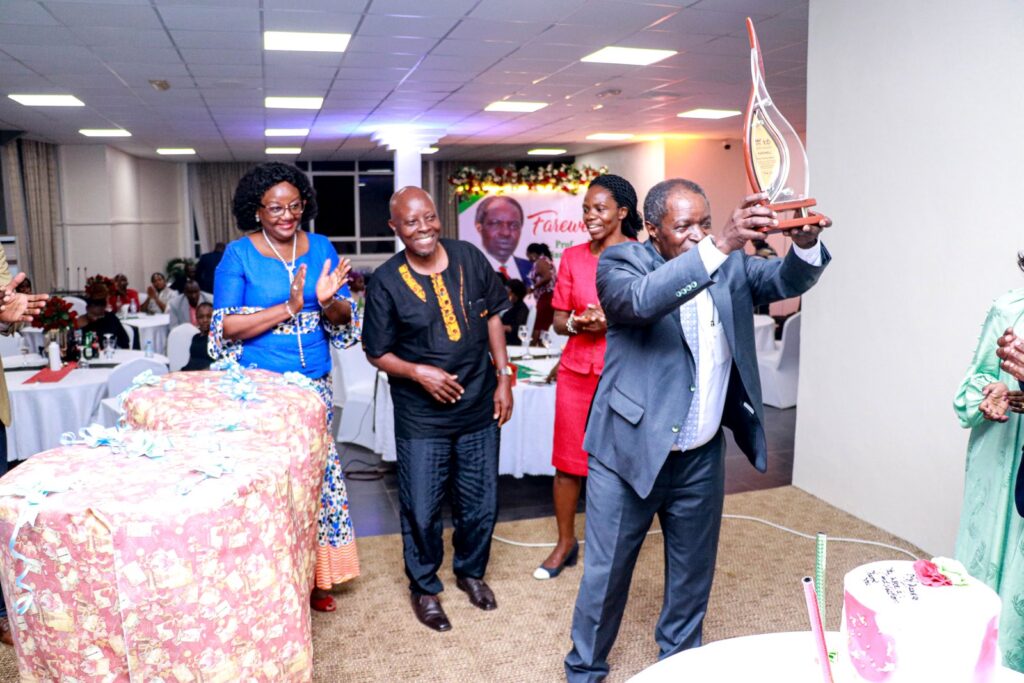 Among some of the achievements credited to Professor Bazeyo according to the Vice Chancellor was his great negotiation skills with government and several stakeholders that saw reduction of a long-standing debt from Ugx120bn to now less than Ugx.10bn.
The vice chancellor also urged staff to emulate Professor Bazeyo by having a positive attitude.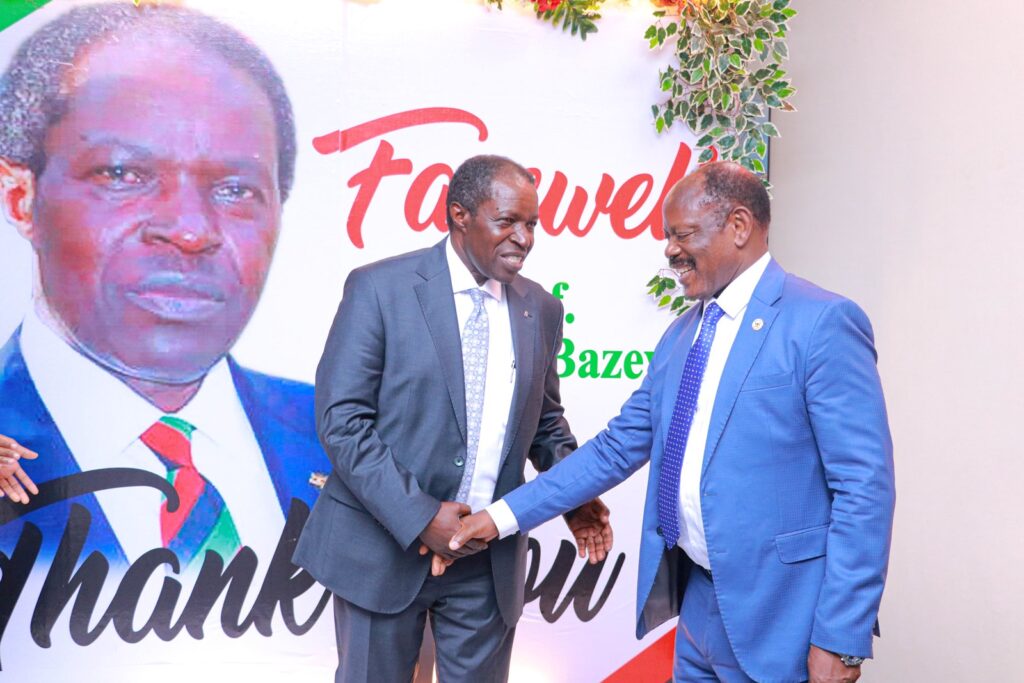 "He [Prof. Bazeyo] has demonstrated how much he loved Makerere University. Even when he left, he still comes and offers guidance. Thank you very much for having that kind of heart. It is very important to have a positive attitude to serve humanity," Prof. Nawangwe.
Mrs. Lorna Magara, the Makerere University Council Chairperson described Bazeyo as a "larger-than-life" figure with a kind and generous heart.
"On this day Professor Bazeyo we celebrate the man you are. We thank God for who He has made you to be. God packages us uniquely. Just hearing the impact, you have had on so many lives, we thank you!" Mrs. Lorna Magara said.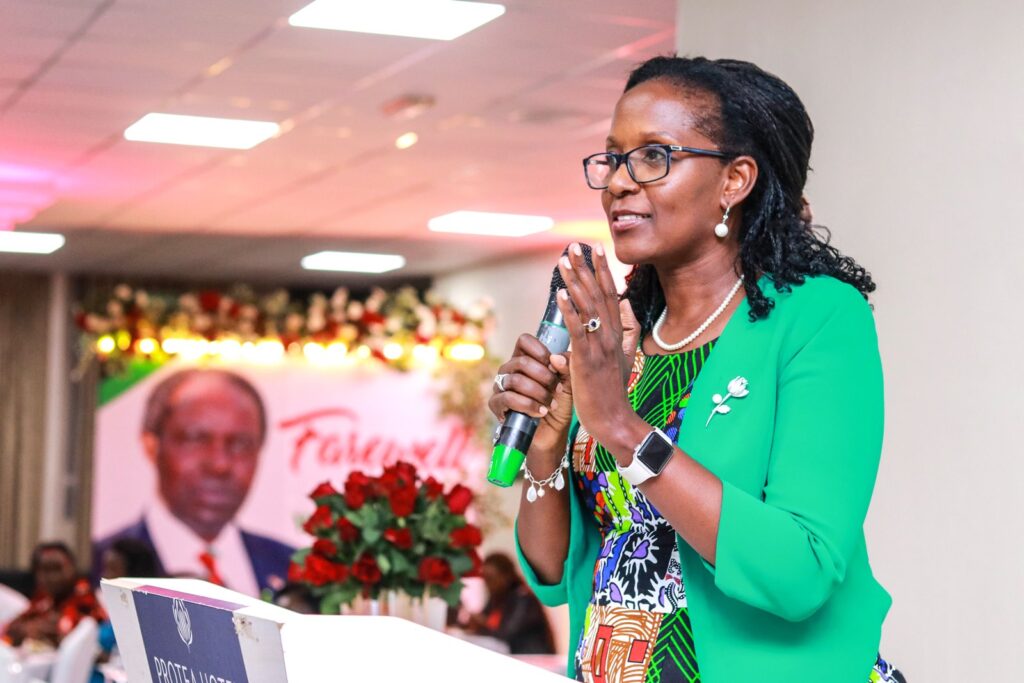 She further praised Prof. Bazeyo for being a down-to-earth person citing that that he easily identifies with ordinary people irrespective of his status in society.
"Professor dines with the rich and the top of the tops but he will know the name of the person who is at the door. He will know the lady in the kitchen. Thank you for a large heart and for knowing even those that are faceless," says Mrs. Magara.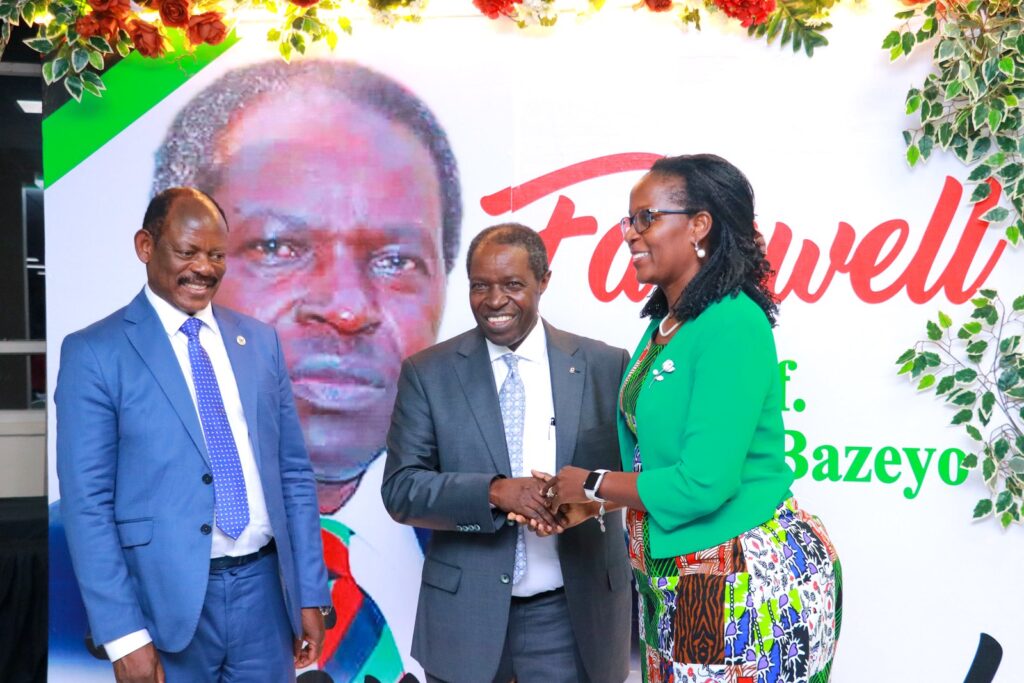 On her part, Dean, Prof. Wanyenze hailed Prof. Bazeyo for his significant contribution to Makerere University and particularly the School of Public Health.
"If you had not done your part, we couldn't be where we are today. I picked on from you and everything you left I was able to move on with it because I was building on a strong foundation. I hope you will continue to support us," said Prof. Wanyenze.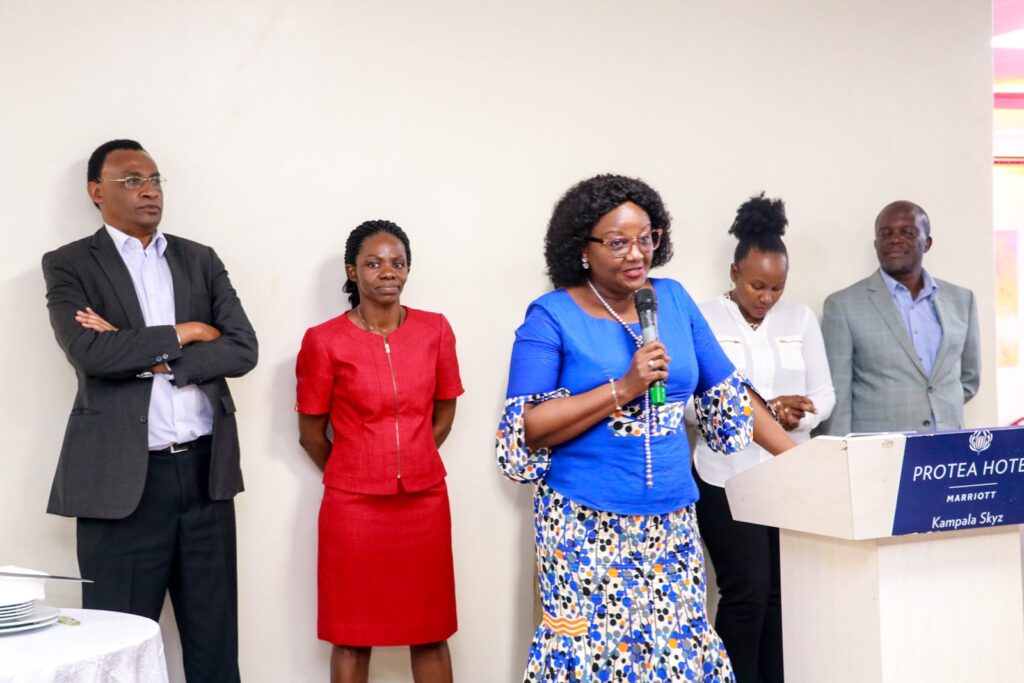 She emphasized that the School of Public Health has been privileged with successive strong and progressive leadership that has continued support the School even when they leave. She thanked the previous leadership of the School including Prof. David Serwadda, Prof. Fred Wabwire-Mangen, Prof. Kakitahi, Prof. Bukenya, Prof. Namboze, among others for their incredible leadership.
"People who have been part of MakSPH are always a part of us—please keep with us. We pray for excellent health for you and for a peaceful retirement." Prof. Wanyenze said.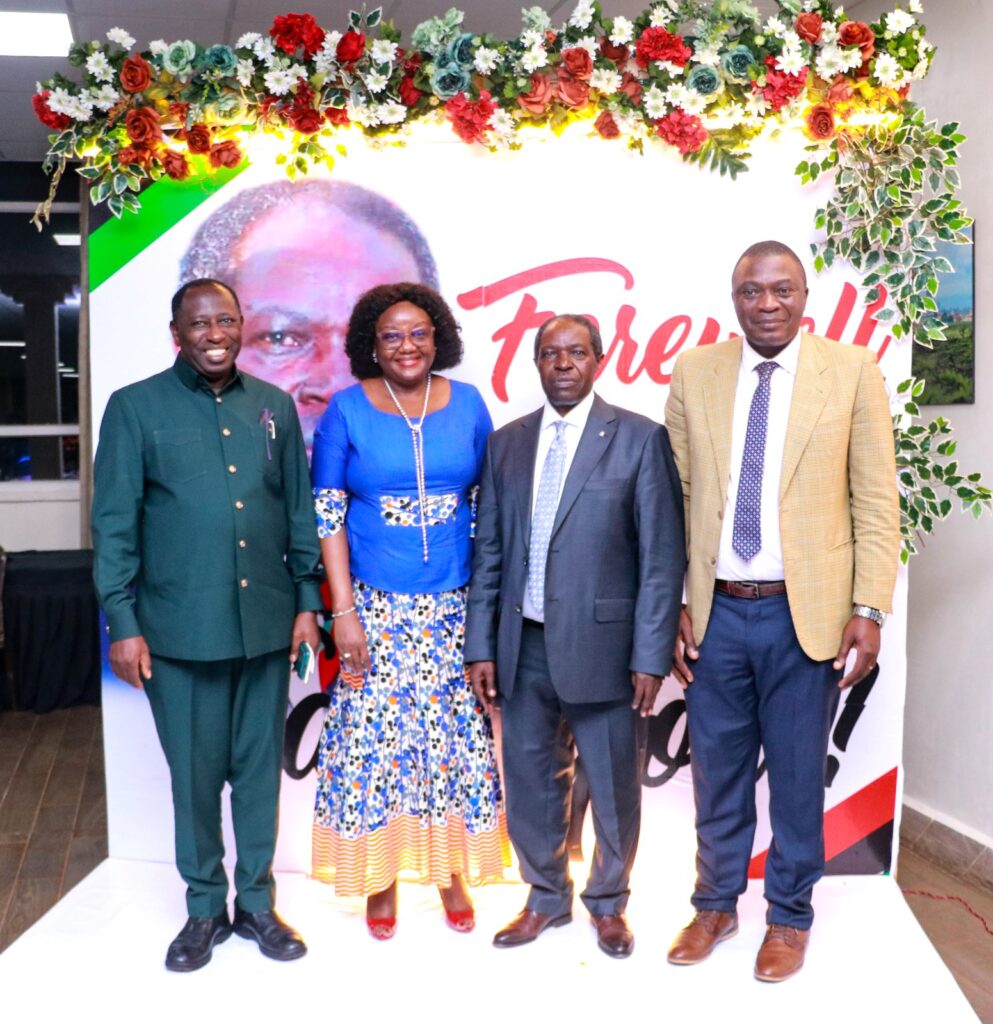 Representing the Principal, Professor Isaac Kajja, the Deputy Principal of the Makerere University College of Health Sciences urged the School of Public Health not to lose a person of Prof. Bazeyo's stature.
Prof. Kajja praised Professor Bazeyo for his kindness and his passion for farming.
"I briefly interacted with Prof. Bazeyo as a Student in my 4th year medical school. But he left something to us. He was kind to us and I remembered how kind you are until I started working with you. Indeed, what these people from School of Public Health have said is right. He is a very kind gentleman. Sincerely that kindness, you will not go away. Even if you try to leave Makerere, with that kindness I know you will come back," Prof. Kajja said.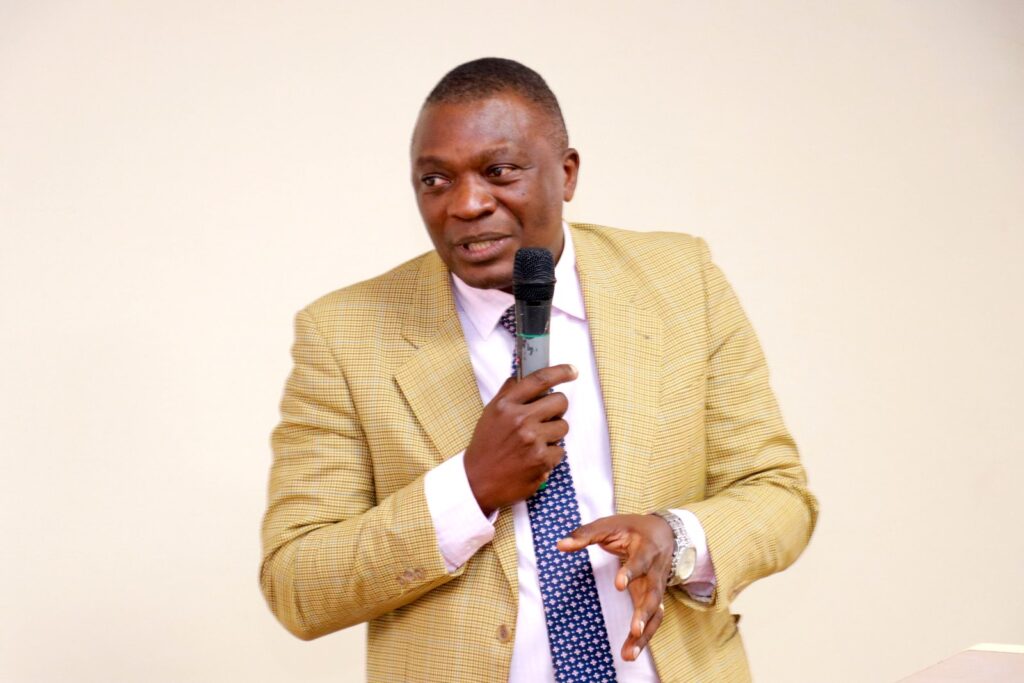 He also requested Prof. Bazeyo to continue working and support the School of Public Health and the entire College of Health Sciences.
Prof. Kajja equated the gesture of thanking its staff and those retiring to his former Mentor's advice the late Church of Uganda Archbishop Dr. Livingstone Mpalanyi Nkoyoyo who preached about thanking people always.
"It is extremely important to thank people in a timely manner. Immediately thank people when they are still available. That is what I learnt from Archbishop Mpalanyi Nkoyoyo. Why am I saying this? Professor Rhoda Wanyenze and your team, thank you for thanking Professor Bazeyo in a timely manner. When I also leave, the office of the Deputy Principal please thank me. Organize a thank you for me. Don't wait to thank somebody when we are burying him. Let us develop a culture of thanking people when they are still alive," Prof. Isaac Kajja appealed.
Professor Bazeyo has been instrumental in fundraising for the new building for MakSPH. Prof. Rhoda Wanyenze revealed at the function that she inherited approximately 1.9bn Uganda shillings from Prof. Bazeyo for construction of the MakSPH building at his handover. She says this money has now increased to more than 12 billion shillings, thanking Bazeyo and the former leadership for having the School at heart.
What staff say about Bazeyo
Prof. David Serwadda, a former Dean of MakSPH says the School has for long dreamed of having a spacious home. "Infrastructure was always on everybody's mind right from Prof. Gilbert Bukenya's time through to Prof. Wabwire's time and to date. Dr. William was very proactive in building and going through various stages of designs and also fundraising for the School."
Prof. Serwadda says Dr. William Bazeyo was his successor as the Head of Department of Disease Control, his Deputy Dean as well as Dean.
"The School of Public Health has been lucky. Every leader that has come on as far as I can remember builds on the previous leaders' achievement and the School of Public Health is where it is now because of contribution from each of the previous leadership. Professor Bazeyo definitely did build on," says Prof. Serwadda.
Associate Prof. John C. Ssempebwa, a former Head of Department of Disease Control and Environmental Health congratulated Professor Bazeyo on his retirement and cited that Department had benefited greatly from his contribution.
"It was an honor to work with a person who was committed to the success of their co-workers. I have learnt a lot from working with you over the years. I do remember when you used to come to our offices mainly in the mornings to check on us how we are doing socially but also professionally. We really loved that and it encouraged us," Dr. Ssempebwa said.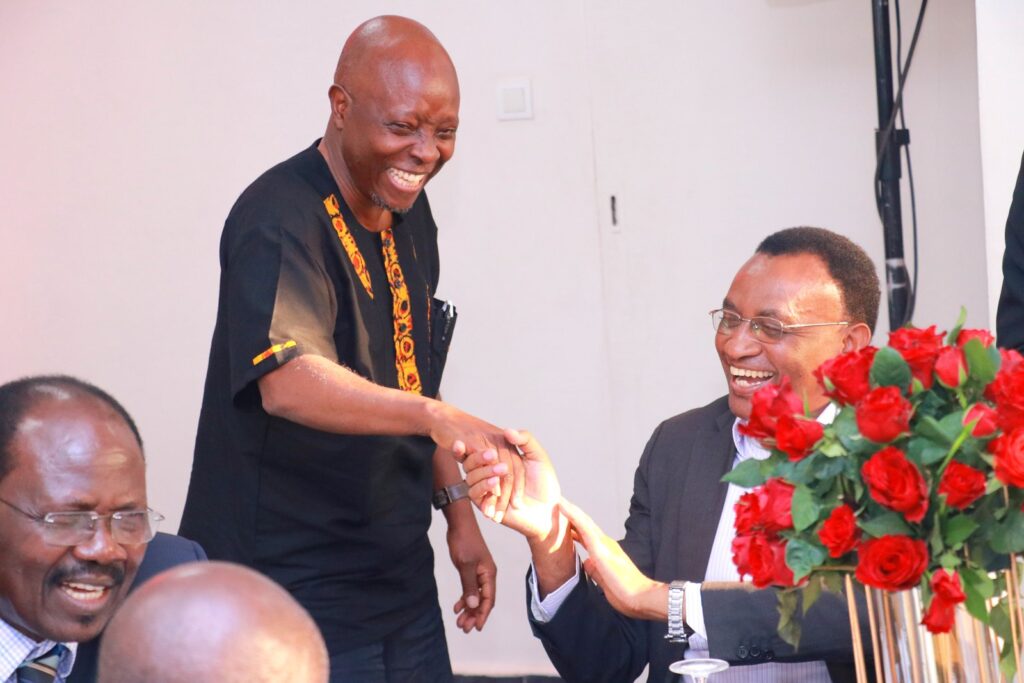 Associate Prof. Esther Buregyeya, the Head of Disease Control and Environmental Health Department just like Professor David Guwatudde hailed Bazeyo for his great lobbying skills that have seen the Department, School and University benefit immensely from the networks.
"As you usually say, I negotiate till I get YES for an answer, indeed Professor Bazeyo that is what you are," said Dr. Buregyeya.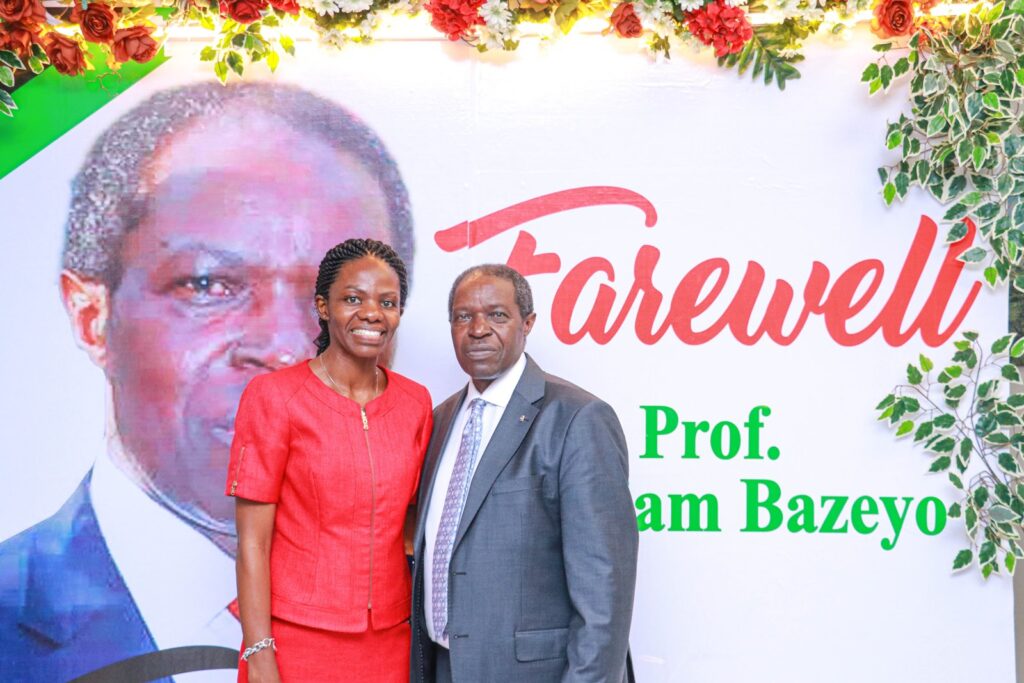 According to Dr. Lynn Atuyambe, an Associate Professor in the Department of Community Health and Behavioral Sciences, Professor Bazeyo's reign at MakSPH saw a log growth in the grant portfolio, academic growth and finance.
Mr. Amos Ashaba Dembe, the internal auditor at MakSPH hailed Prof. Bazeyo for his availability to offer quick solutions and being able to network the School in the entire Makerere and across the various government institutions.
"He would have right and valid contacts at any one time you approached him with a challenge. Sometimes when we are implementing the researches that we manage, you may get stuck either because of policy gaps but whenever you would call on Prof. Bazeyo, he would have the right contacts," said Ashaba Dembe.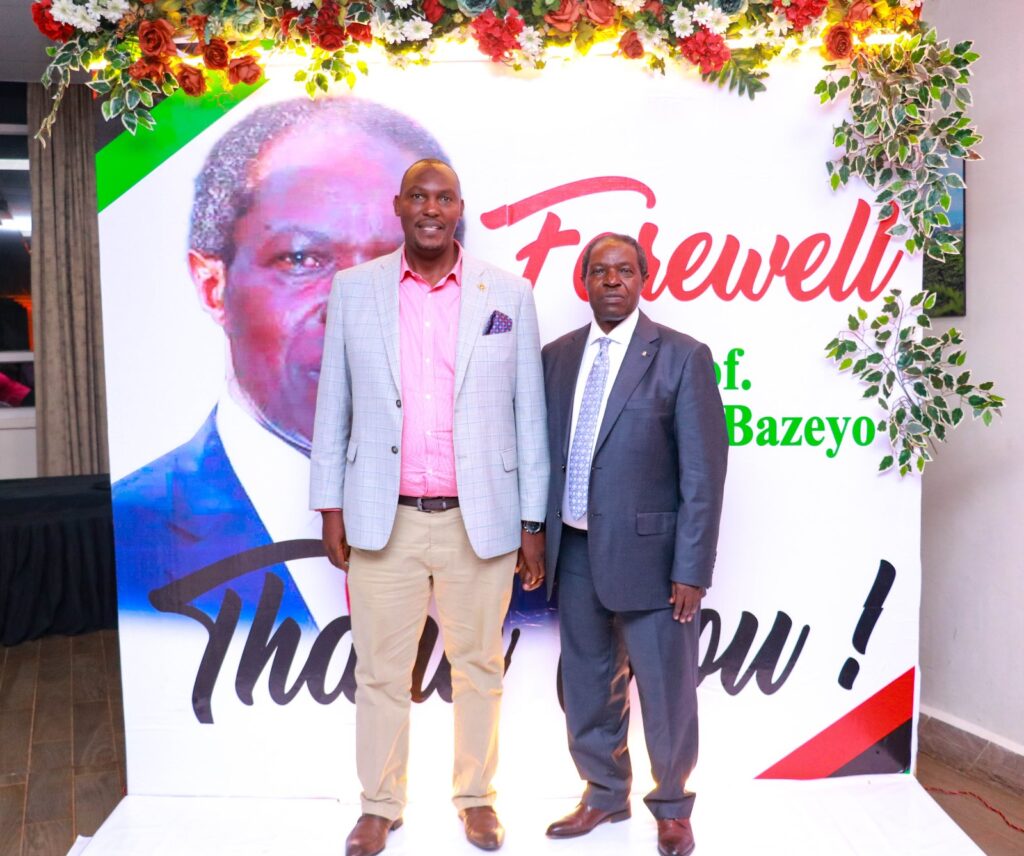 Dr. Fredrick Edward Makumbi, Associate Professor and former Deputy Dean thanked Bazeyo who through his ambitious targets nurtured and saw the establishment of the Staff SACCO which he said had benefited several staff.
In equal measure, Ms. Enid Kemari said; "I think this Sacco has not left us the same. Most staff who have joined this SACCO, their financial status has improved. We have been able to save, but also do some investments which I think is very good."
Professor Christopher Garimoi Orach praised Prof. Bazeyo for being a result-oriented person; "Apart from fighting for what he believes in very firmly, William is a doer and focused on results. It is really very pleasant to work with him."
Dr. Elizeus Rutebemberwa, Professor and Deputy Dean MakSPH says he learnt a lot during his time at the helm of the School as someone that wished to see everyone contribute.
"He once narrated how he went to China and visited a factory. In the evening as workers were leaving, each would say, I have been a contribution. And to me, the take home message was every day, one comes to work, one should not just take tea and breathe air but be a contribution to solving challenges facing our country," Prof. Rutebemberwa.
Professor Bazeyo speaks out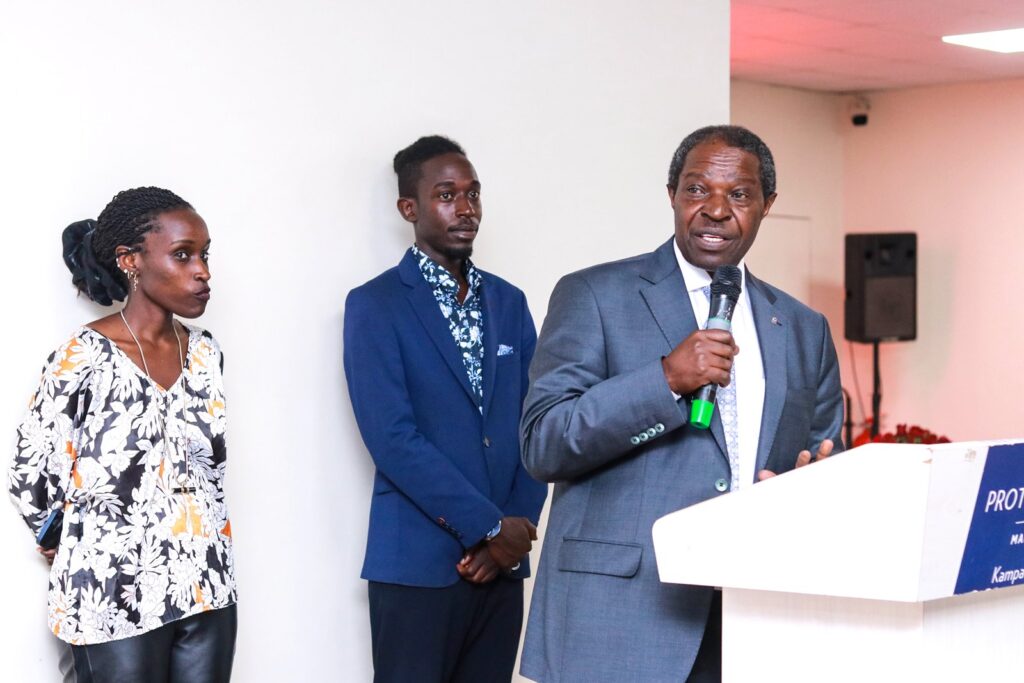 While delivering his remarks, Prof. William Bazeyo thanked Makerere University for the opportunity to serve the nation. He also urged all university staff to always leave a trail in all their work so that they are remembered for their good deeds.
"I want to thank God for this time. I listened to the memory lane and I have listened to what a lot of people have said and it brings me a lot of memories. I want to thank God again for our institution. That you come into an institution, it nurtures you. When the Vice Chancellor talks about these negotiations, meeting donors and so on. Not that you go and say I must! But you have that inside power that it is not yours," Prof. Bazeyo highlighted.
"It is what you decide to be that you become. I want to thank the university management and council for approving the Master of Environmental and Occupational Health which I for long has been passionate about. If I was allowed, I would come and give some introductory lectures.
I want to thank the university for nurturing me and accepting me. I am not very simple. Some of you know. As they said I don't take no as an answer and I don't believe in failure. And I don't believe that we can't do a lot. I thank the University for having been patient with me, especially the Vice Chancellor for accepting me to be his Deputy," Bazeyo says.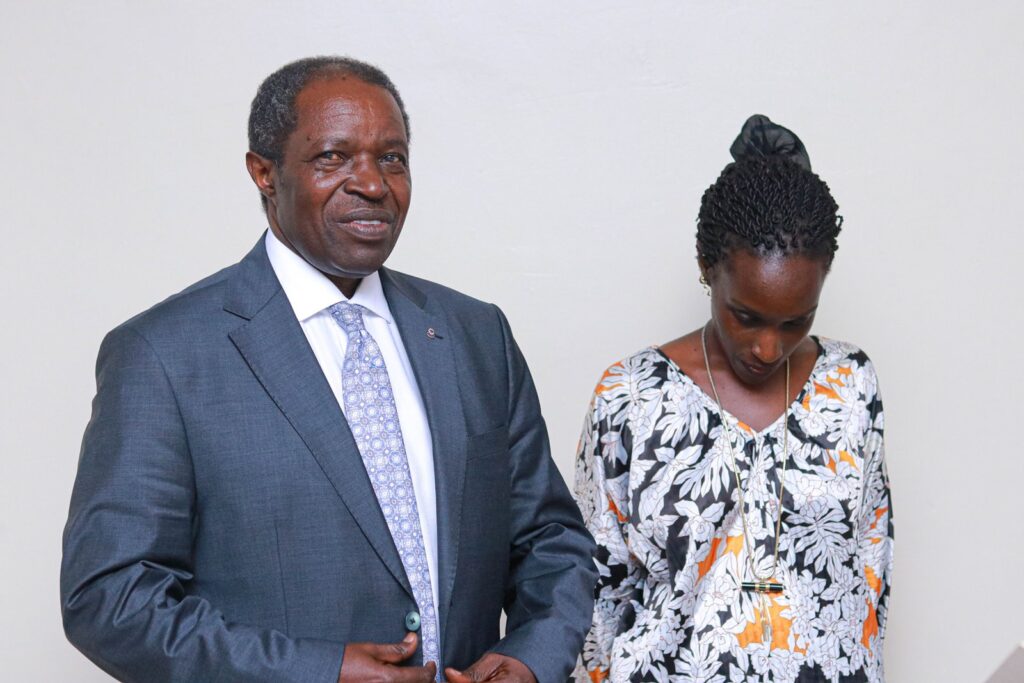 He thanked the School of Public Health, his mother Department for nurturing him and equally urged the staff to build networks.
"Professor Rhoda said money or resources do not make everything. Indeed, they don't. Because all those things come from partnerships and friends. If you don't have them, you have nothing. She has told us the partnerships that the School has, and that is why the School is ranked high. Let your address be that that means something to communities, humanity, to donors and to other institutions," Prof. Bazeyo.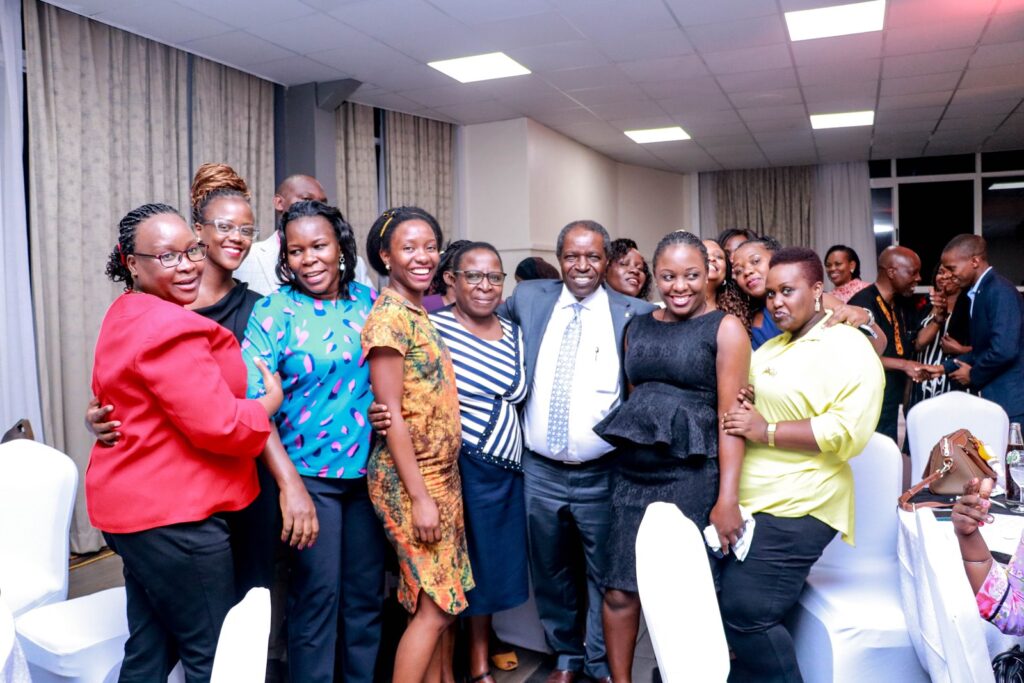 Professor Bazeyo apologized for errors and mistakes that he could have made while at Makerere University and asked for forgiveness from those that were hurt by his actions.
"I want to sincerely apologize if in the time I was at the School, I could have offended you either in writing, talking­­­ Forgive me those whom I hurt," Bazeyo remorsefully said.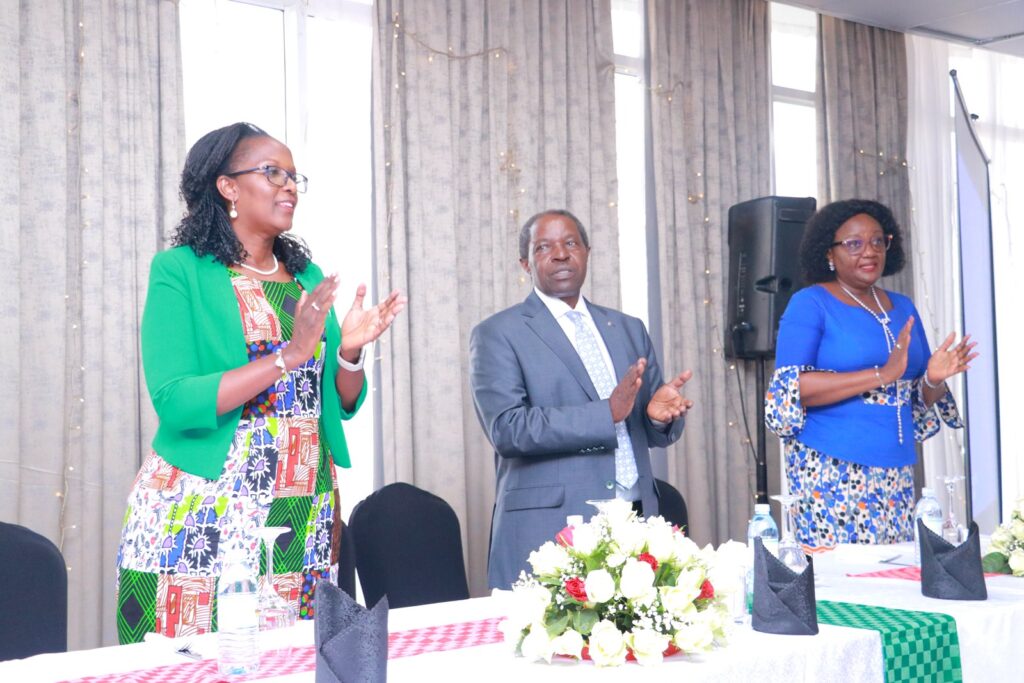 About Bazeyo
Born on June 22nd, 1957, Professor Bazeyo clocked mandatory retirement age of Makerere University on September 22nd 2017 having joined the University in 1993. He was offered a post retirement contract for four years as a Professor, in the Department of Disease Control and Environmental Health running from June 2017 to June 2021.
In March 1998, Prof. Bazeyo was promoted to rank of Senior Lecturer, Makerere University and subsequently secured a promotion to the rank Associate Professor in 2011 and later Professor in 2015.
In September 2009, Professor Bazeyo was named Dean, a position he held until September 2017 when he handed over to the current Dean, Prof. Rhoda Wanyenze upon completion of his term of office.
Professor Bazeyo later rose through the university leadership ranks to become Deputy Vice Chancellor, Finance and Administration, Makerere University and later the Head, Grants Administration and Management Support Unit (GAMSU)
During his tenure in MakSPH, he served as the Head of Department of Disease Control and Environmental Health in 2003.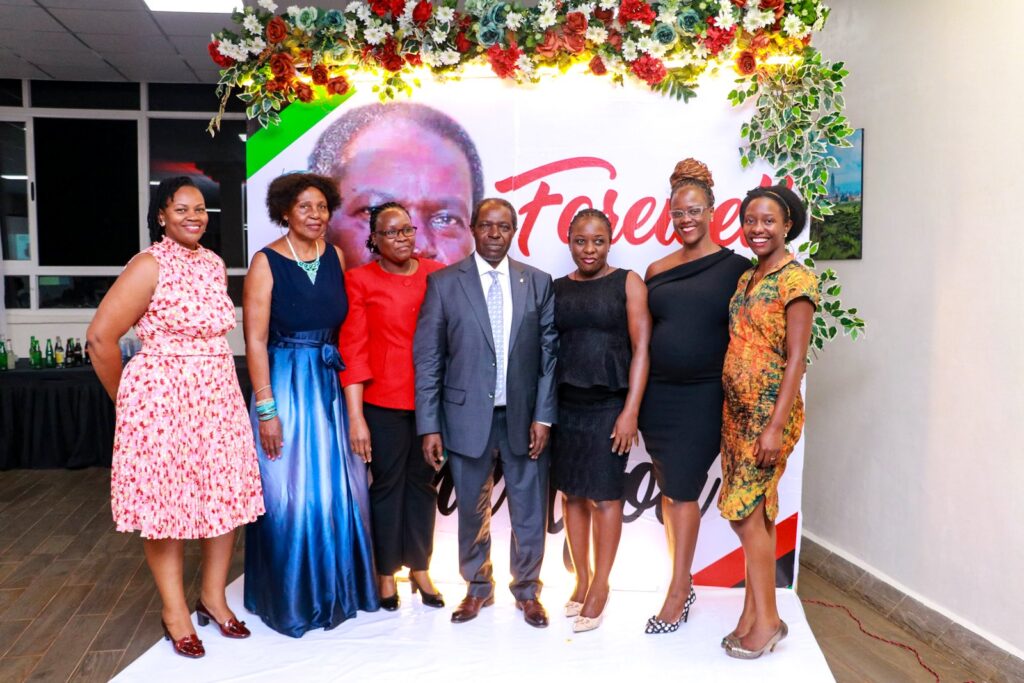 Makerere University Launches the MakAdvance System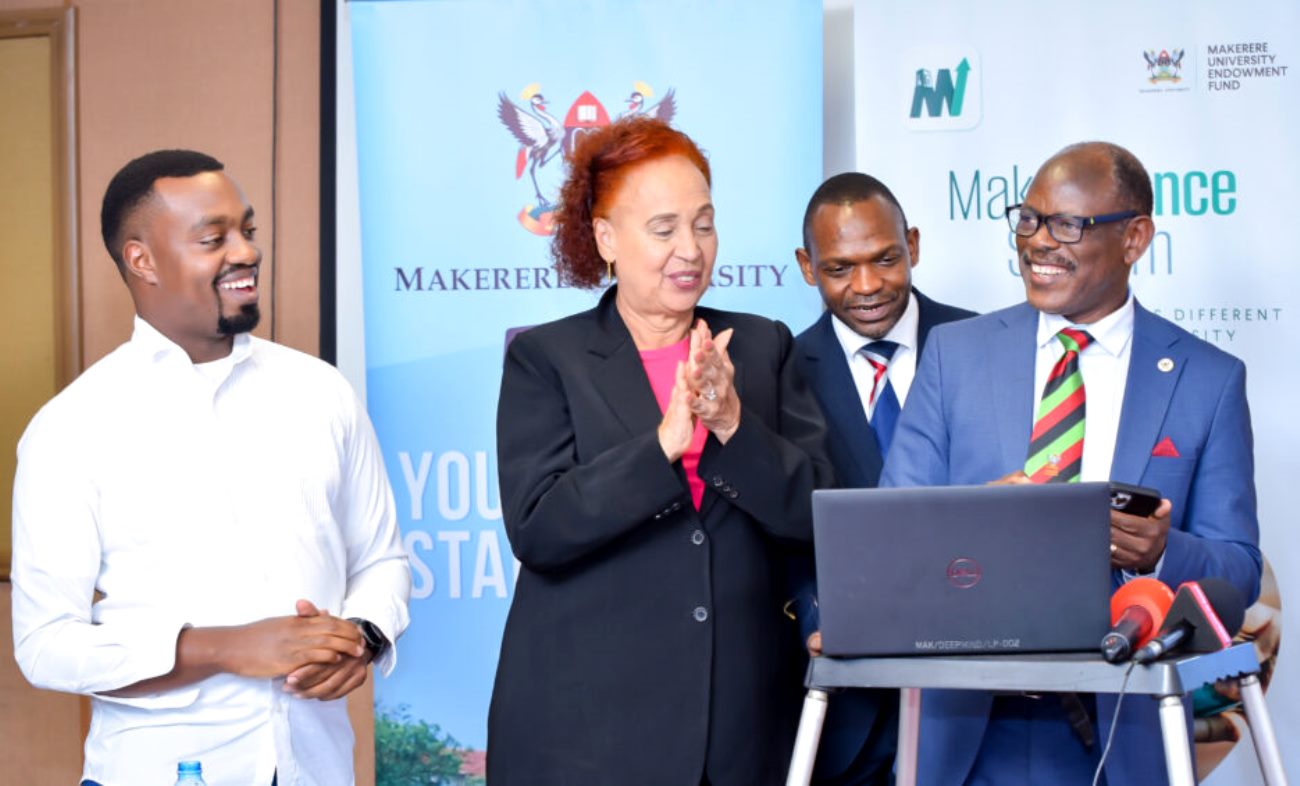 Makerere University Endowment Fund on Tuesday, 2nd August, 2022 launched the MakAdvance System at the Frank Kalimuzo Central Teaching Facility. The system aims at not only automating and streamlining efforts by the University to raise funds towards different purposes and causes, but also building a digital and interactive alumni database.
The event was attended by the Vice-Chancellor, Prof. Barnabas Nawangwe, the Deputy Vice-Chancellor and a member of the Endowment Fund, Assoc. Prof. Umar Kakumba, the Chairperson of the Board of the Makerere University Endowment Fund, Prof. Margaret J. Kigozi and many other people from the university administration and media houses.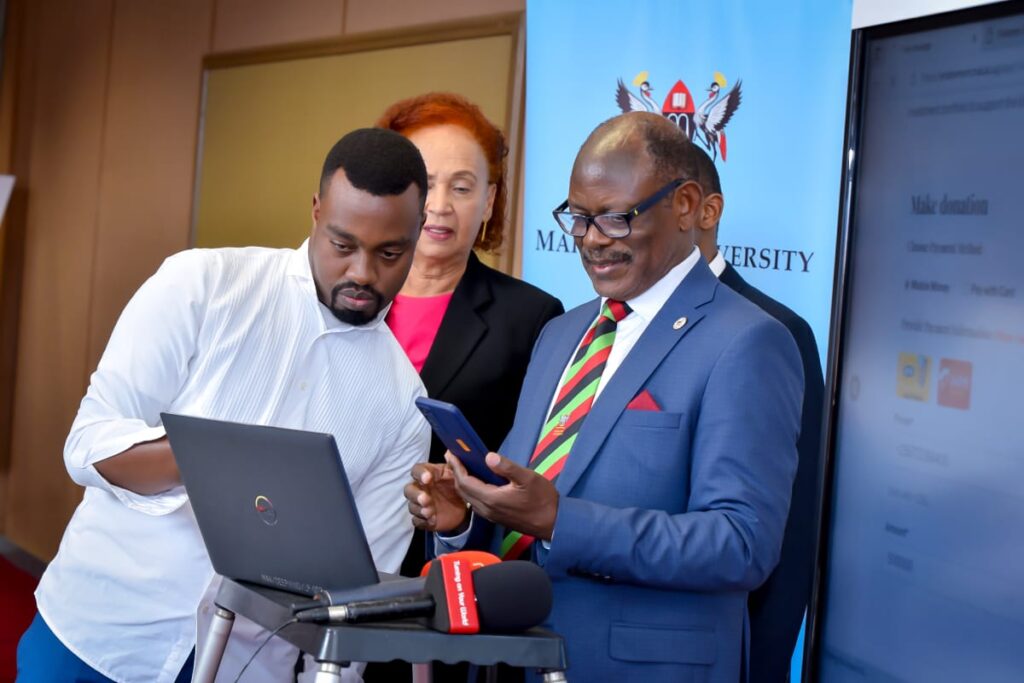 The university intends to engage its many alumni and members of the extended Makerere community to give back to their alma mater and participate in building Makerere for the next hundred years as it celebrates its first centennial anniversary.
Speaking at the event, Prof. Nawangwe highlighted that one of the causes that will be supported by the MakAdvance system is the scholarship scheme.
"We are introducing scholarships for minorities in Uganda. We have some groups in Uganda where none of the members has ever accessed university education," he said.
The scholarship program will benefit from the resource envelope which will have been mobilised through this new system.
He also emphasised that the activities of the Makerere University Endowment Fund were not new, having their origin in the 1930s when a group of former Makerere teachers living in Britain decided to set up the fund for Makerere University.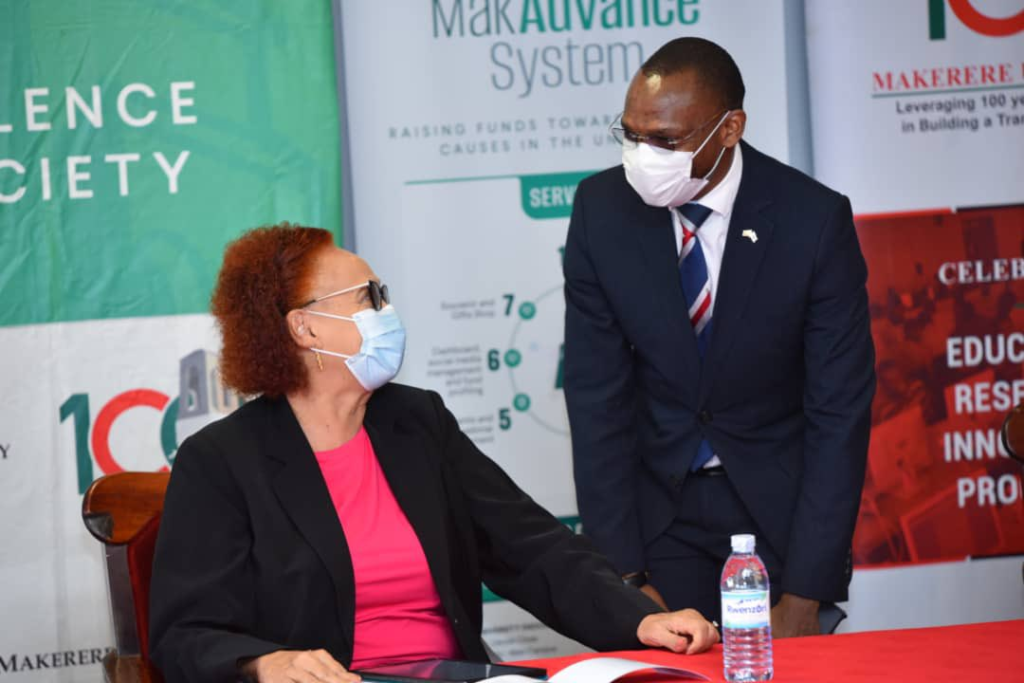 With real-time updates on events and projects going on at the University, the MakAdvance system has been purposed to improve the relaying of information to stakeholders and consequently the mobilisation of the requisite resources for ongoing projects in the university.
Prof. Umar Kakumba intimated on the necessity and importance of the endowment fund.
"All higher institutions worth their names across the globe heavily thrive on endowments. So this is an opportunity for Makerere to redeem its endowment and I am confident that the MakAdvance system will play a vital role," he said.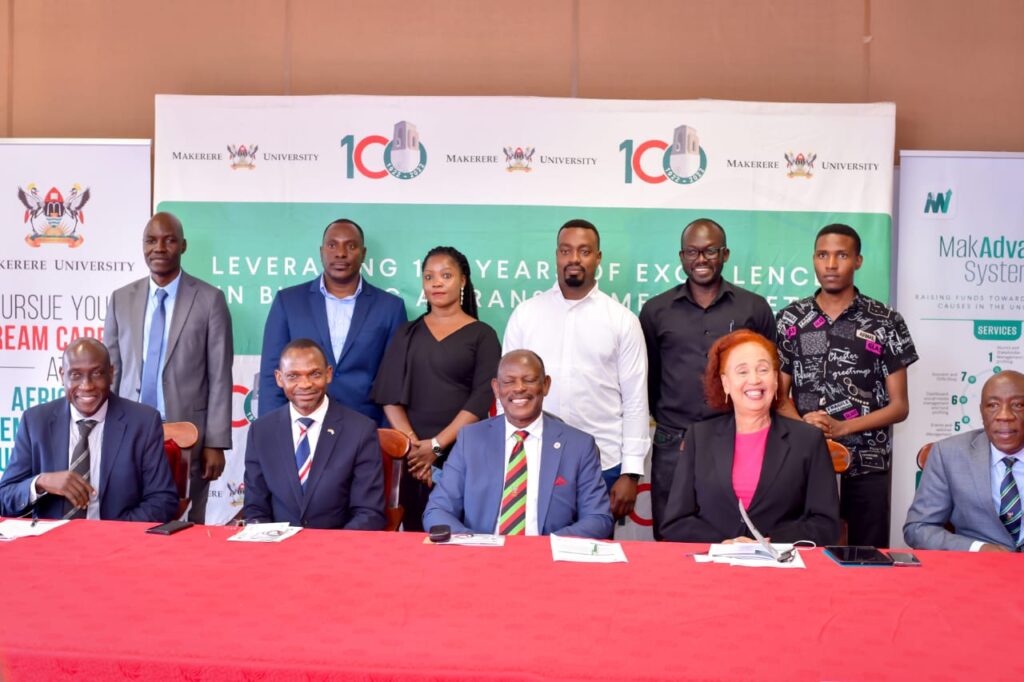 Dr. Margaret Kigozi appealed to all alumni to participate in this endeavour. She intimated that this was an opportunity for them all to give back to the university that has impacted their lives. "Your endowment fund is moving, let your former classmates know about this, if your name is not in the database, let us know," she added.
The system is going to cover the alumni and stakeholder management and profiling by managing the information through registering the alumni, enrolling different alumni chapters, allowing different alumni societies to register and listing a full alumni directory. As of this moment, information of over 300,000 alumni has been obtained.
With regards to donations to the university from the alumni and public at large, it will also cover Payment Management and Donor Ranking. The former option provides convenient payment options for soliciting donations towards the different causes in the university whereas the latter recognizes donors in different categories based on the amounts they donate.
It will also be useful in organising the activities taking place at Makerere through its Cause Management option which will distinguish between those that are time sensitive and those that are long term. The Events and Webinar Management option will also facilitate these efforts.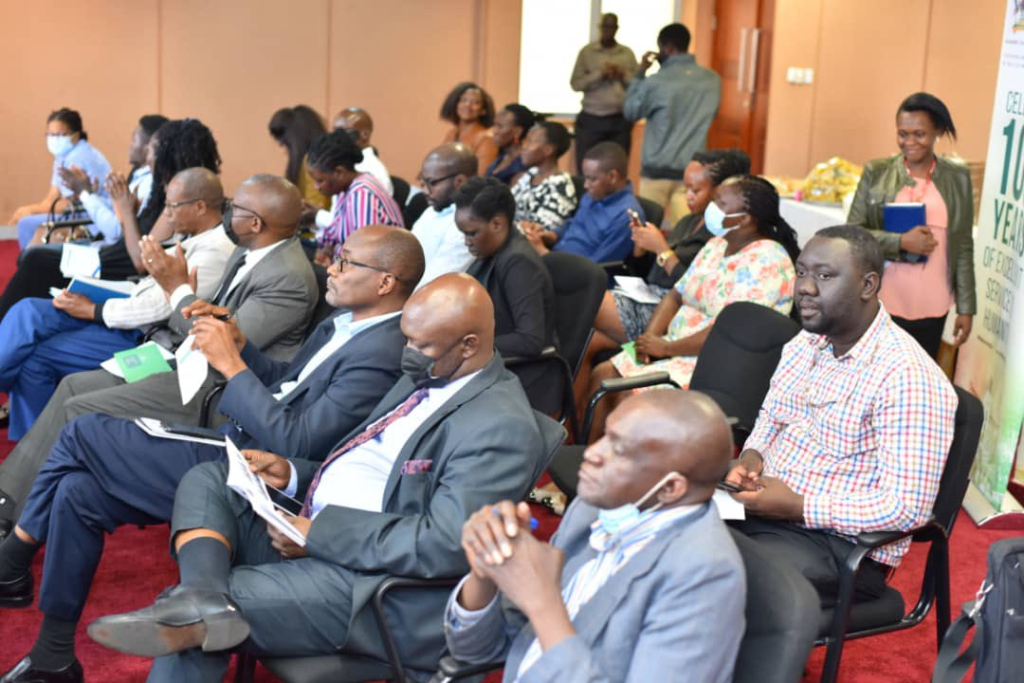 Communications of the MakAdvance system will be coordinated by the Dashboard, Social Media Management and Fund Profiling options which will enable the administration of information in the system and the generation of reports on the ongoing activities.
Finally, it will also provide access to the university Souvenir and Gift shop which has a number of memorabilia and University branded materials for sale to students, alumni and the general public. The Souvenir and Gift Shop has both an E-commerce and online presence and a physical address which is the ground floor of the Frank Kalimuzo Central Teaching Facility.
For more details about the MakAdvance System, visit https://endowment.mak.ac.ug