DRIAR Project Field Training School – 11th-22nd July 2022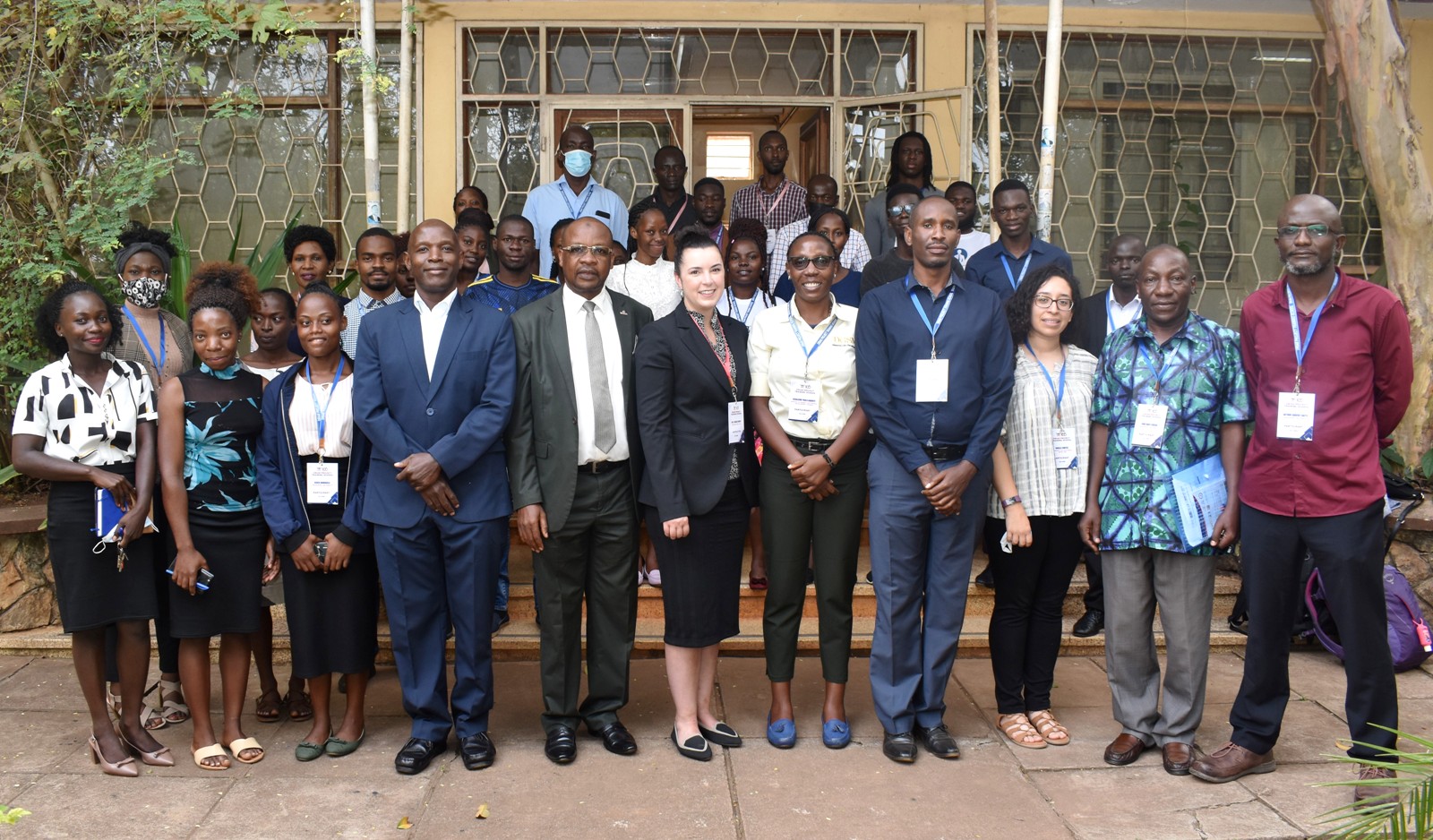 Dry-Rifting in the Albertine-Rhino Graben (DRIAR) Project
Makerere University signed a Memorandum of Understanding with Virginia Polytechnique Institute and State University, the leading institution of the consortia of universities participating in the Dry-Rifting in the Albertine-Rhino Graben (DRIAR Project), to conduct geophysical, geochemical and geological studies of the Albertine-Rhino Graben in Uganda.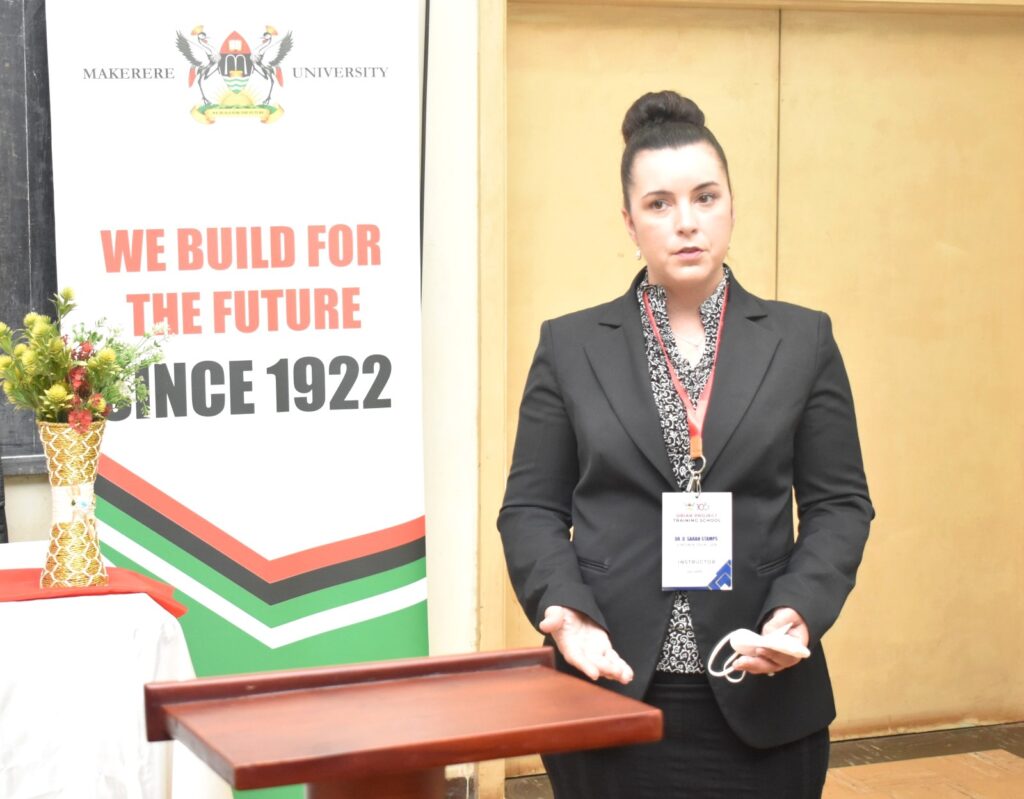 As part of the activities, the DRIAR Project in conjunction with the Ministry of Energy and Mineral Development – Uganda is conducting a two-week field training school for staff and students from the Department of Geology and Petroleum Studies and the Department of Physics at Makerere University. The training taking place at Botany-Zoology Lecture Theatre, College of Natural Sciences (CoNAS) was officially opened by the Acting Principal, Prof. Juma Kasozi today, 11th July 2022.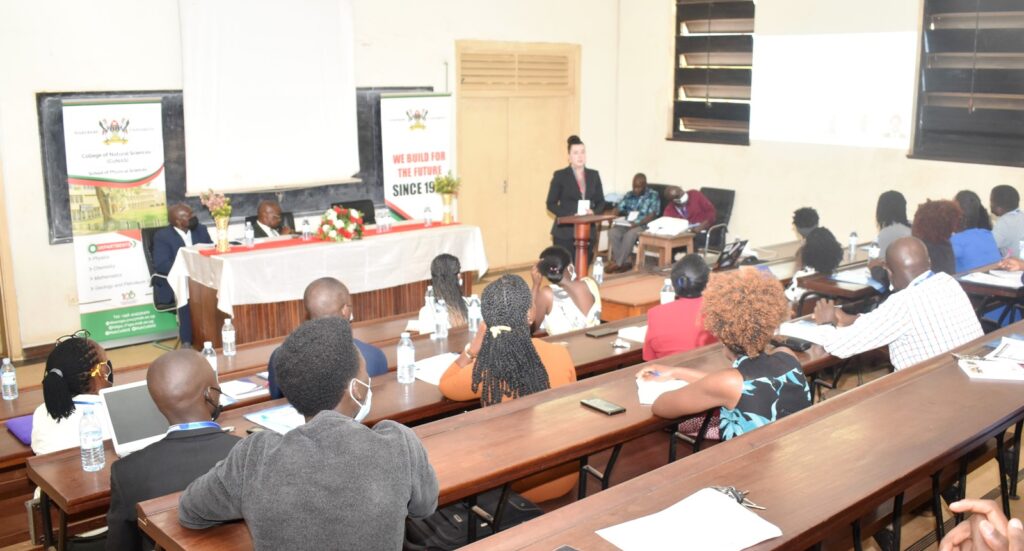 It will cover modules including; GNSS Geodesy, Magnetotellurics, Active Seismology, and Passive Seismology.  Fieldwork will be conducted in; seismology, structural geology, geochemistry, and magnetics. Trainers include: Dr. Sarah Stamps, Associate Professor in the Department of Geosciences at Virginia Tech, also Principal Investigator, DRIAR Project; Dr. Fola Kolawole, Assistant Professor at Columbia University; Prof. Rob Evans, Woods Hole Oceanographic Institution; and Prof. Suzan van der Lee, Northwestern University, USA.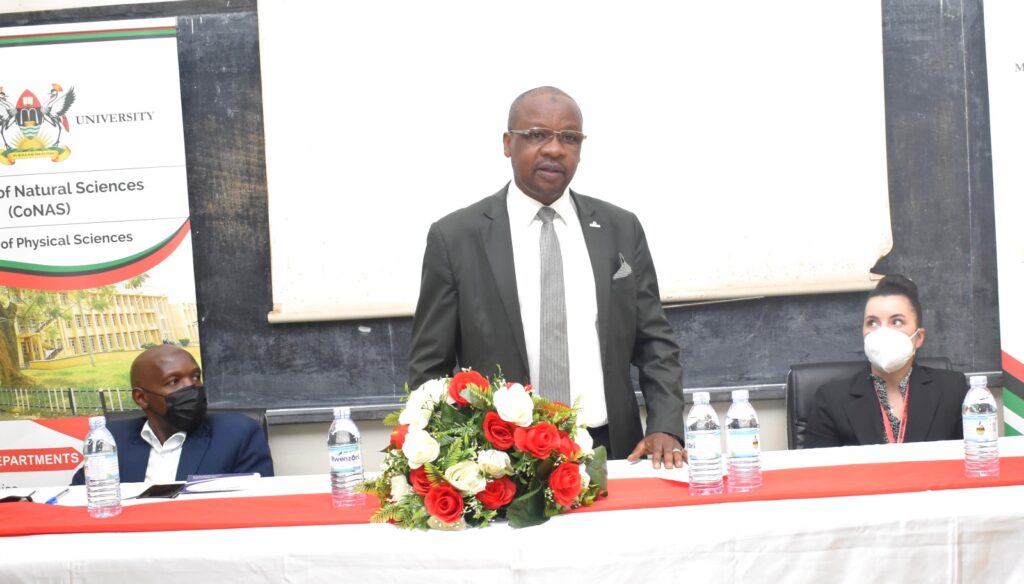 About the Dry-Rifting in the Albertine-Rhino Graben (DRIAR) Project
The DRIAR project funded by the United States National Science Foundation is international collaborative group aimed at addressing geological questions surrounding magma-poor continental rifting in the Albertine-Rhino grabens. The three-year project (December 2020 to November 2024) consists of leading geoscientists from multiple disciplines across the United States and around the world. The project goal is to apply geophysical, geological, geochemical, and geodynamic techniques to investigate the Northern Western Branch of the East African Rift System in Uganda.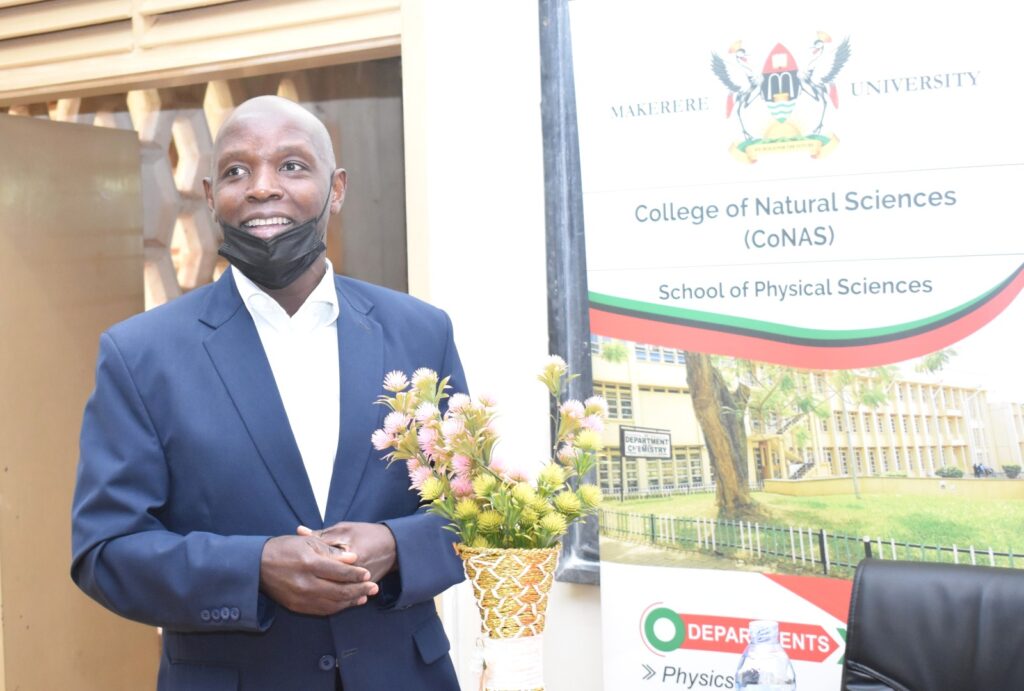 Under the project, a wide range of geophysical, geological, and geochemical observations will be collected, and numerical modeling of the region will be performed to advance understanding of how the magma-poor rifts form and evolve. The project team seeks to unravel the physics leading to the new breakage of the earth's crust in the region, in addition to better understanding of continental rifting. Additionally, the project seeks to improve data on estimates of carbon dioxide transfer into the atmosphere that occurs during continental rifting, advancing rifting models used for exploring natural resources, and creating new insights into seismic hazards associated with active faulting. The project will involve analysis of Global Navigation Satellite System data collected in Uganda. The scientific results of this project will be communicated, in part, through short educational videos geared towards public audiences.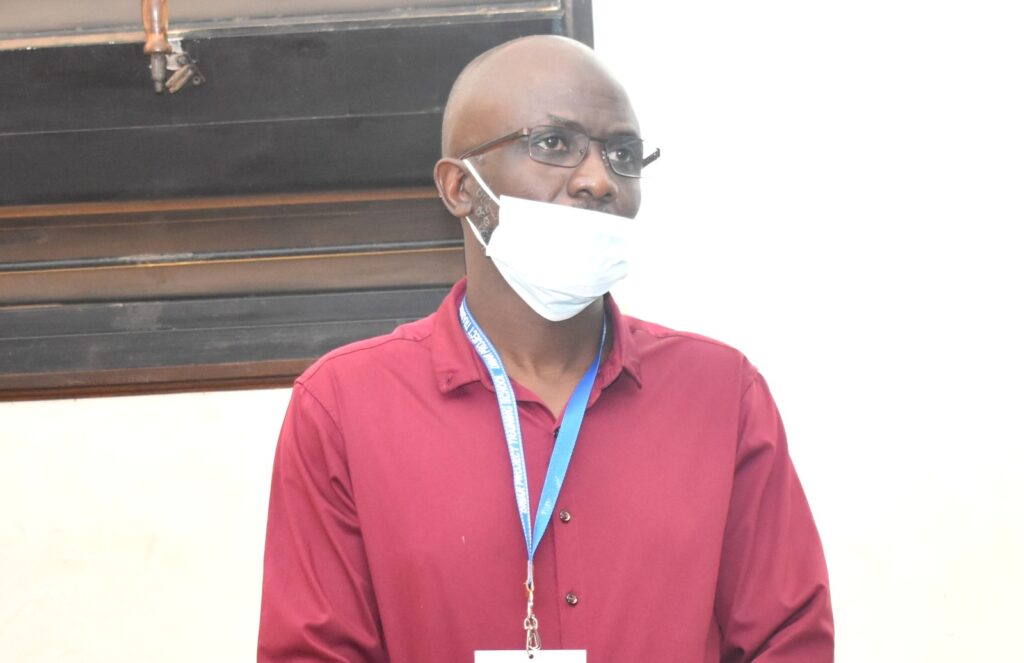 The Project supports three Ugandan PhD students based at universities in the United States namely: Ms. Asenath Kwagalakwe, Virginia Tech; Mr Hillary Mwongyera, University of Kansas; Mr. Albert Kabanda Northwestern University.
Details on the project at: https://vtx.vt.edu/articles/2021/12/science-eastern_africa_fift_sarah_stamps_lab.html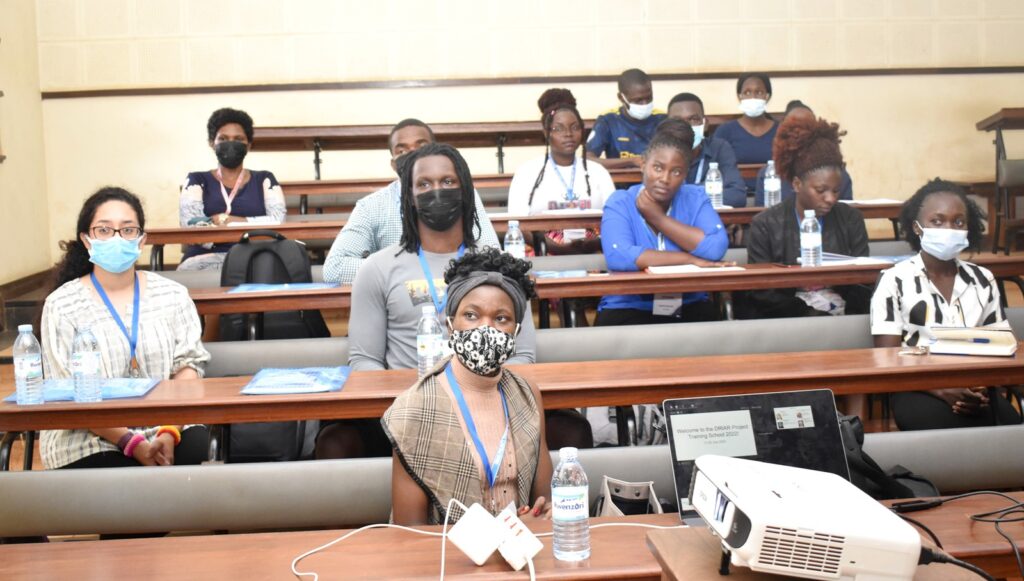 Dr. Alice Nabatanzi Wins Prestigious US$ 50,000 OWSD Award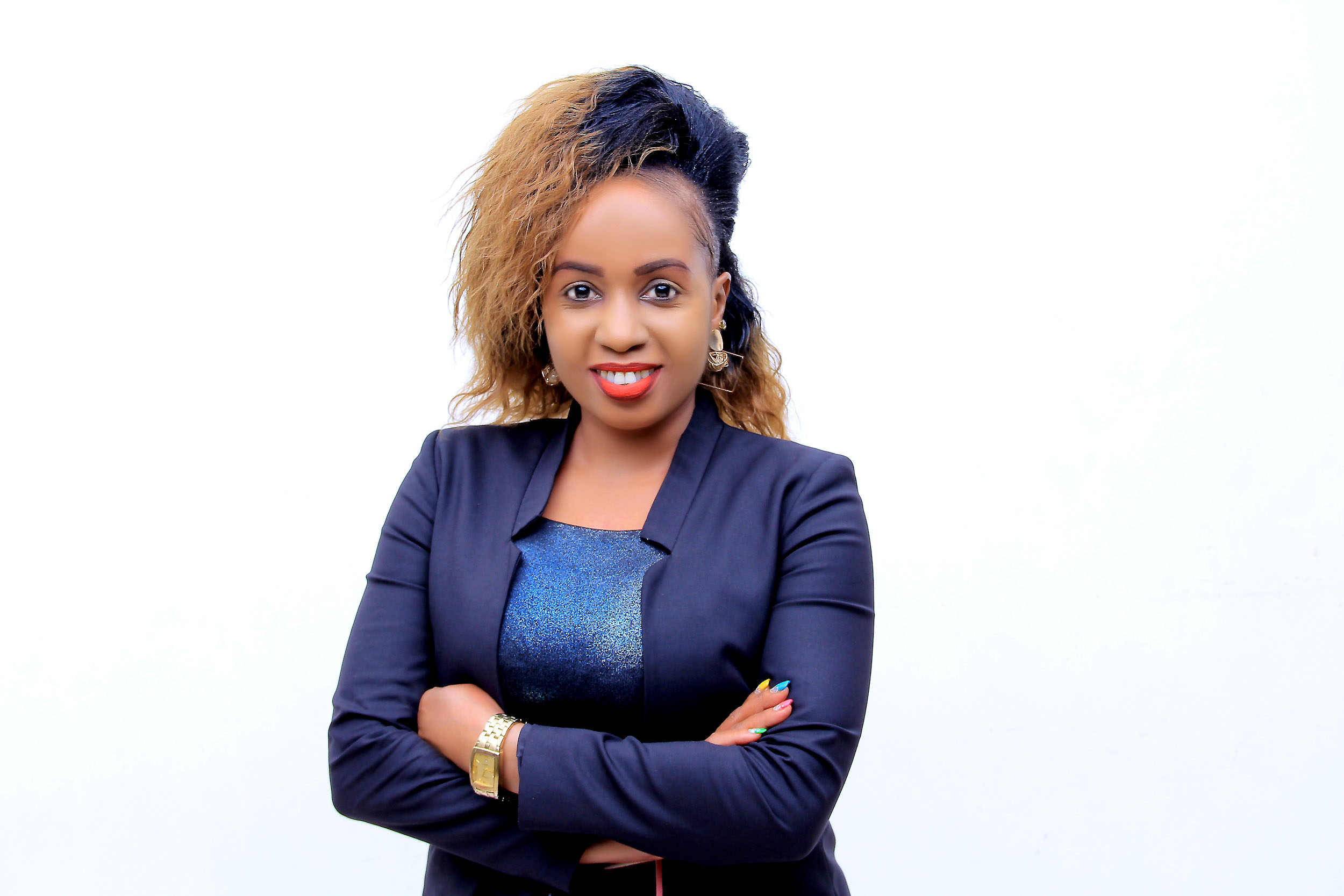 Dr. Alice Nabatanzi a Lecturer in the College of Natural Sciences (CoNAS) has won the prestigious Organization for Women in Science for the Developing World (OWSD) award worth US$ 50,000.  This prestigious award is purposed to support Dr. Nabatanzi to establish an environment at Makerere University where she can maintain an international standard of scientific research and attract scholars from all over the world to collaborate.
OWSD is an international organization founded in 1987 and based at the offices of The World Academy of Sciences (TWAS), in Trieste, Italy. OWSD is the first international forum to unite eminent women scientists from the developing and developed worlds with the objective of strengthening their role in the development process and promoting their representation in scientific and technological leadership. OWSD is creating a network of outstanding women scientists who can provide mentorship and be role models for the next generation of women leaders in STEM (Science, Technology, Engineering, and Math).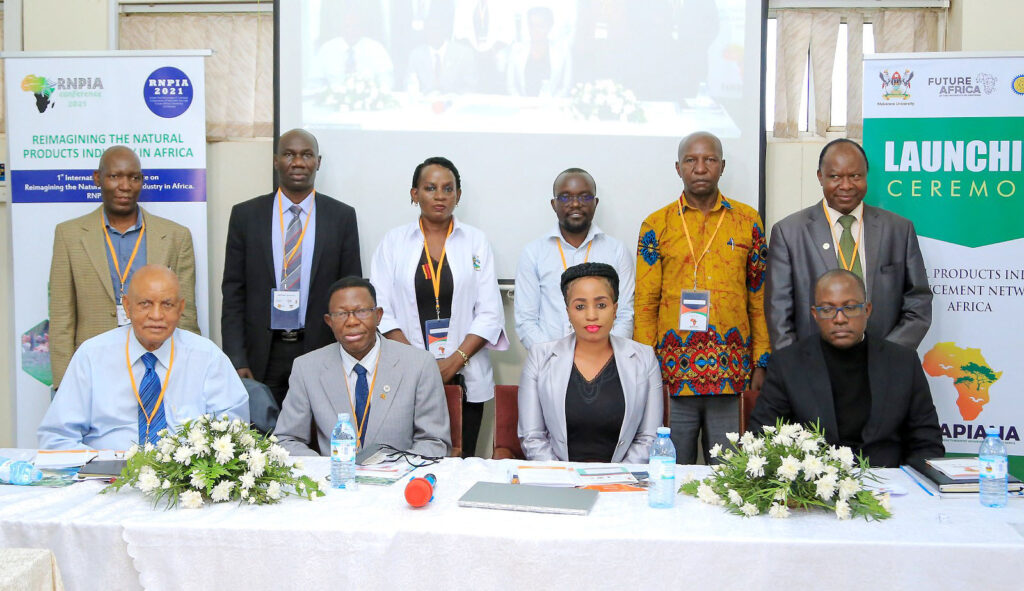 Dr. Nabatanzi will for the next three years build on her leadership and management skills, and develop connections with public and private sector partners to convert her scientific research findings into marketable and patentable products. She believes unexploited biomolecules are the answer to the cure for new disease pathogens and health conditions affecting the majority of Ugandans and the world at large. Africa is a hub of biomolecules, majority of which have not yet been exploited. For her OWSD AWARD, Dr. Nabatanzi's major research focus will be the burden of postpartum hemorrhage in Uganda.
Additionally, she is enthusiastic about undertaking society-changing research, especially in line with easing the burden of non-communicable diseases in African societies. Dr. Nabatanzi is keen on addressing nutritional deficiencies among the vulnerable marginalized groups, particularly pregnant women, school-going children, people living with HIV/AIDS, and the elderly.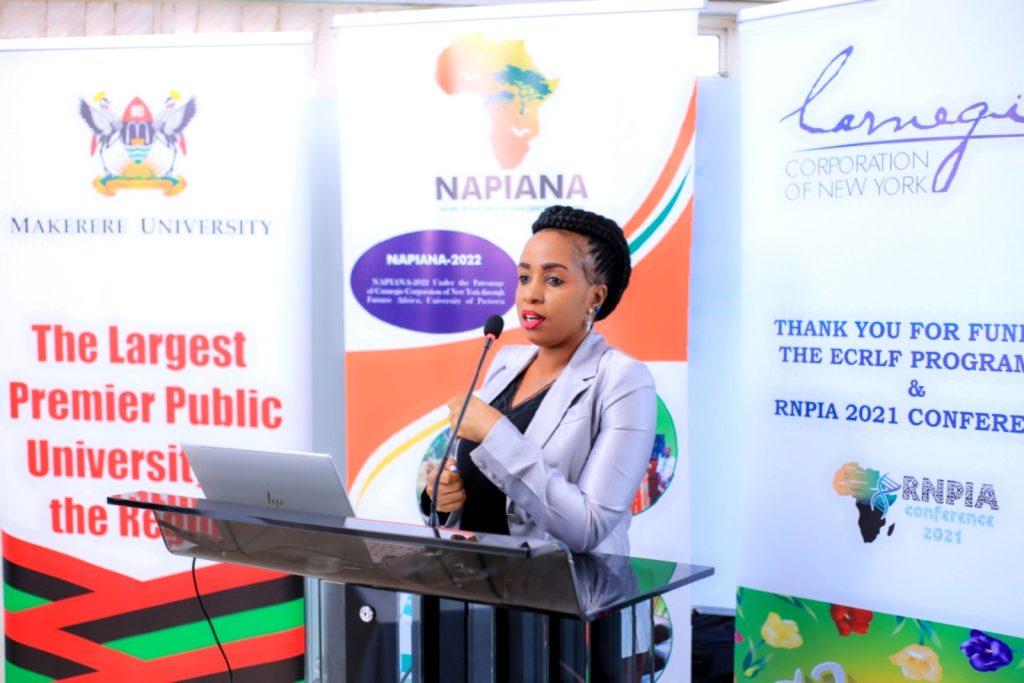 Through her already established NAPIANA (Natural Products Industry Advancement Network Africa) network, (see related story: https://cns.mak.ac.ug/blog/makerere-hosts-1st-napiana-symposium) Dr. Nabatanzi will strengthen linkages with the local communities, private sector, Government agencies and international community in a bid to promote her research and standardized natural products thereby bridging the gaps in the natural products value chain.
Two Nutrifish-sponsored PhD students win awards of best oral presentations at ICAFA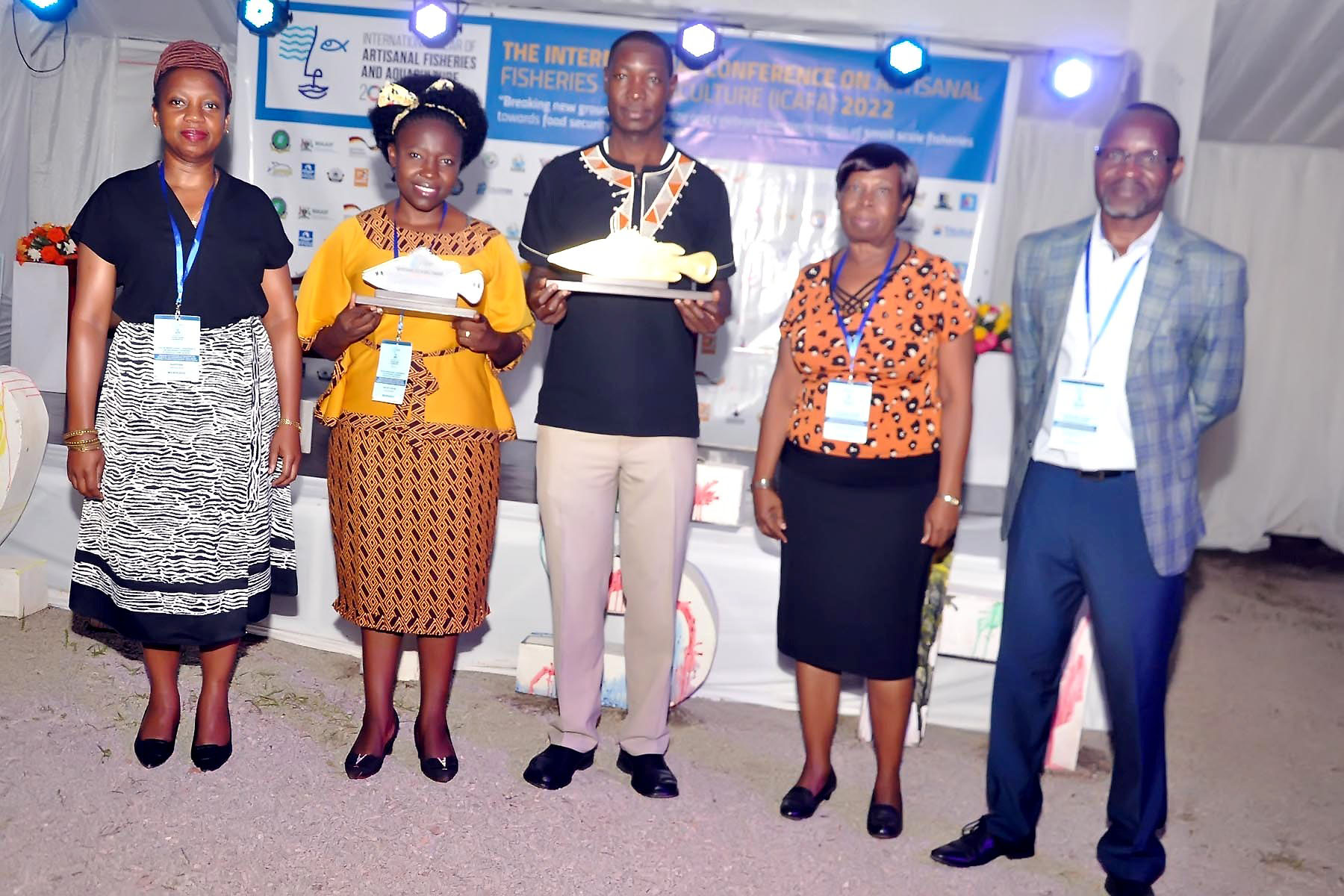 Two of the NutriFish-sponsored PhD students, Nakiyende Herbert and Julliet Nafula Ogubi won the awards for the best and second-best oral presentations in the young scientists' category at the International Conference on Artisanal Fisheries and Aquaculture (ICAFA) held in Jinja, Uganda from 1st-3rd September 2022.  The conference was organized under the theme "Breaking new grounds to recognize and celebrate the contribution of small-scale fisheries towards food security and nutrition".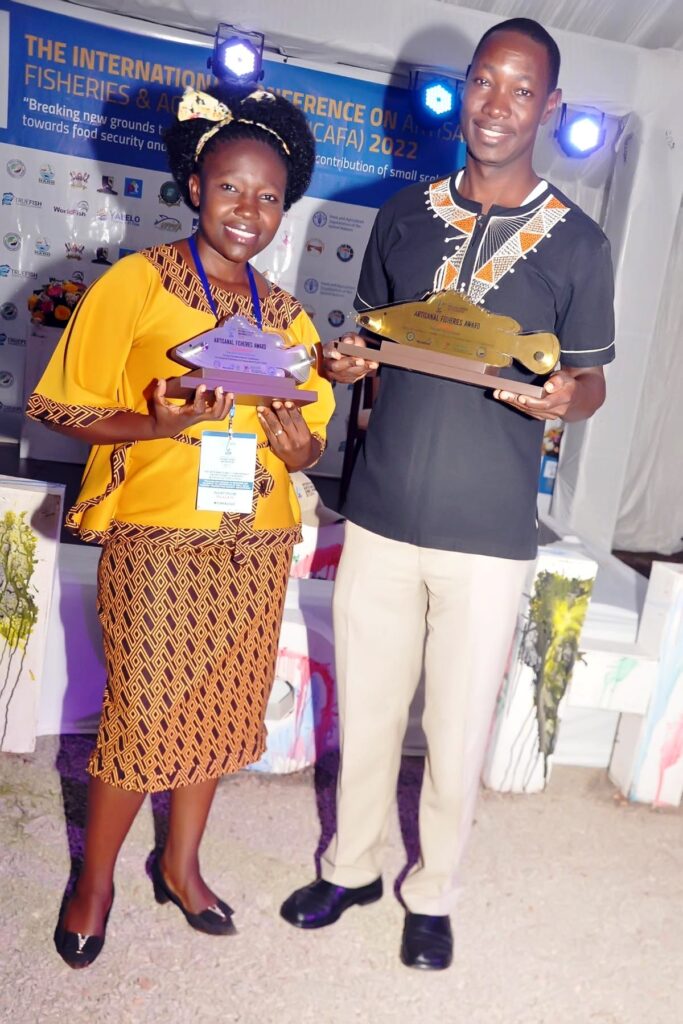 Supported by the International Research Development Centre (IDRC) and the Australian Centre for International Agricultural Research (ACIAR) through their joint programme, Cultivate Africa's Future Fund (CultiAF), NutriFish aims to address the nutritional needs of vulnerable groups that cannot afford expensive commercial fish but are in critical need of high quality nutritious diets. The Project is coordinated by Dr. Jackson Efitre, Senior Lecturer in the Department of Zoology, Entomology and Fisheries Sciences, College of Natural Sciences (CoNAS), Makerere University.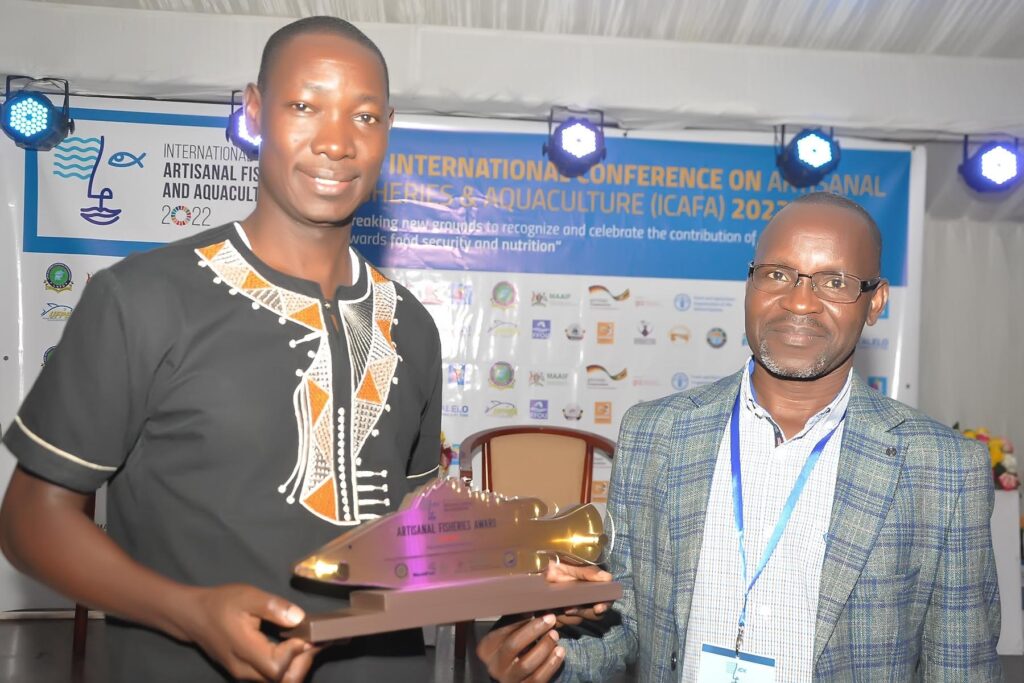 The title for Nakiyende Herbert's presentation was: "Are small pelagic fisheries a blessing or curse? Understanding fisher community perceptions towards light fishing on Lake Albert, Uganda".
Light fishing, the technique of catching fish by light attraction was introduced to Lake Albert, Uganda around early 2000s, to target two small pelagic species (SPS), Engraulicypris bredoi (muziri) and Brycinus nurse (ragoogi). The introduction of light fishing coincided with a period when stocks of large-bodied fishes, such as Tilapia spp, Lates niloticus, Bagras bajad, Alestes baremose, and Hydrocynus forskahlii in the Ugandan waters of Lake Albert had started to decline. Although Lake Albert is shared by Uganda and the Democratic Republic of Congo (DRC), light fishing is prohibited in DRC waters. This study evaluated socio-ecological consequences of light fishing on the fisheries and lakeside communities of Lake Albert in Uganda, to inform sustainable management. Data was collected in April 2021 from three landing sites (Ntoroko, Kaiso, and Dei), through semi-structured interviews and focus group discussions. Light fishing has transformed the lake's annual fish catch from < 60,000 tonnes (t) in early 2000s, mainly of large species to about 330,000 t, dominated by SPS (60 – 80%) by 2021. The SPS light fishery currently engages over 30% of total fishing boats and 60% of fishers in the Ugandan waters of the lake. The technique has also led to conflicts with fishers targeting the large-bodied species, the main concerns being: i) excessive light fishing effort; ii) competition for fishing grounds; iii) high by-catch (~10%) dominated by juveniles of the large species; and iv) destruction of passive fishing gears used in the large-bodied species fisheries. To ensure co-existence in the multi-species fishery and continued livelihood benefits (employment, income, and food) of the SPS light fishery, resting and closed periods and light-fishery effort control were proposed by 95.4% of respondents. Detailed scientific investigation of the light fishing methods is recommended, to guide on the proposed closed season and fishing effort controls.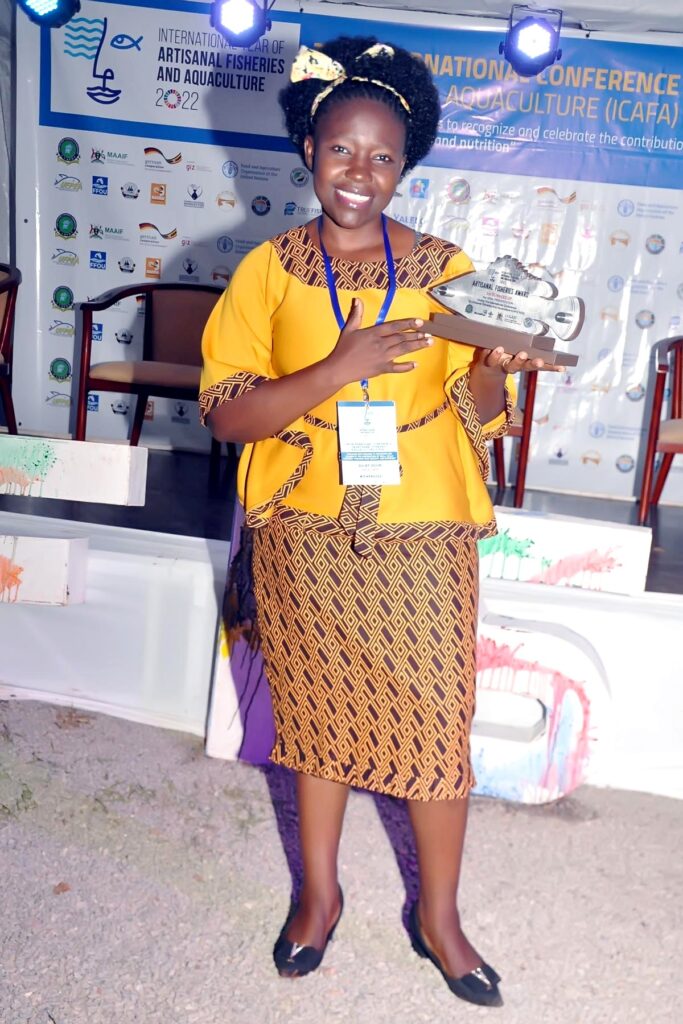 Julliet Nafula Ogubi's presentation was on: "Spoilage mechanisms and associated drivers in post-harvest loss management in freshwater small pelagic fishes in Africa".
Small pelagic fishes (SPFs) are steadily being recognized for their contribution to livelihoods, food and nutritional security especially in developing countries. The SPFs are schooling fishes with a total length of 20 cm, preserved mainly by open sun-drying. Despite the bulk harvests, post-harvest losses associated with spoilage continue to hamper their availability, accessibility and consumption. A review of available literature on similar marine species revealed that spoilage commences immediately after harvest and progresses through three cascading but overlapping processes: autolytic (enzymatic), microbial and chemical reactions causing physical, quality, nutritional and economic losses. Spoilage in SPF is accelerated by i) their large surface to volume ratio; ii) the reliance on fluctuating sun radiation for drying which depends on prevailing weather condition; c) limited drying spaces for large quantities landed. With regard to magnitude of losses, spoilage-related quality deterioration and nutritional changes in fish are rarely evaluated, hence associated economic value is lacking. The magnitude of losses attributed directly to the spoilage mechanisms have not been determined in freshwater SPFs, yet cost-effective interventions target significant processes. Handling practices, especially stacking and mixing of different fish hauls as drivers of spoilage mechanisms have not also been evaluated. In addition, the effect of prolonged trips and lack of controlled temperature on-board, are less understood. Therefore, an urgent in-depth assessment of quality and nutritional losses and the associated economic value; the contribution of each spoilage mechanism to the magnitude of losses and the effect of handling practices on the rate of spoilage among freshwater SPFs is needed.
 (https://sf-initiative.org/conference/)
Dr. Perpetra Akite wins British Ecological Society Marsh Award for Ecologists in Africa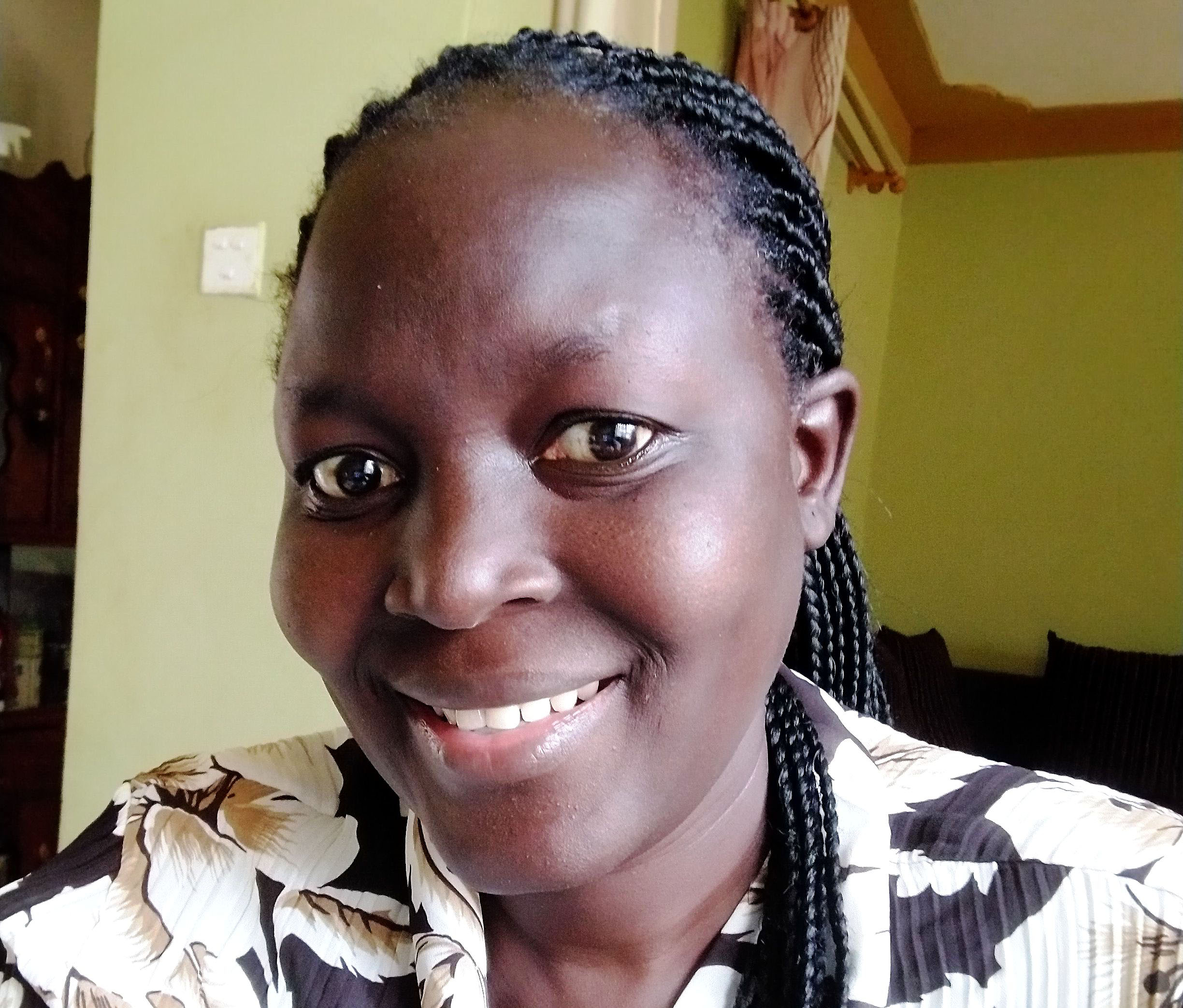 Dr. Perpetra Akite has been awarded the Marsh Award for Ecologists in Africa.  This prize aims to celebrate the significant scientific achievements of African ecologists and raise their profile in the UK. It is provided by the Marsh Charitable Trust and administered by the British Ecological Society.
Dr. Akite is one of Uganda's leading entomologists and experts in butterflies. She has made important advances in improving knowledge around insects in Uganda, contributing to assessing and mapping key ecologically sensitive species in the country. She has even had a moth named after her.  
Dr. Akite is also passionate about passing on her knowledge to younger generations and takes part in a great deal of outreach activities at both school and university level. Her goal is to encourage more young people – especially African girls – to begin a career in science.
The winners will be presented with their prizes during a ceremony held at the BES Annual Meeting which runs from 18th – 21st December in Edinburgh. The meeting will bring together over 1000 ecologists (in person and online) to discuss the latest advances in ecological research across the whole discipline.