Medical School Class of 1976 Visits Mak, Applauds Progress & Evolution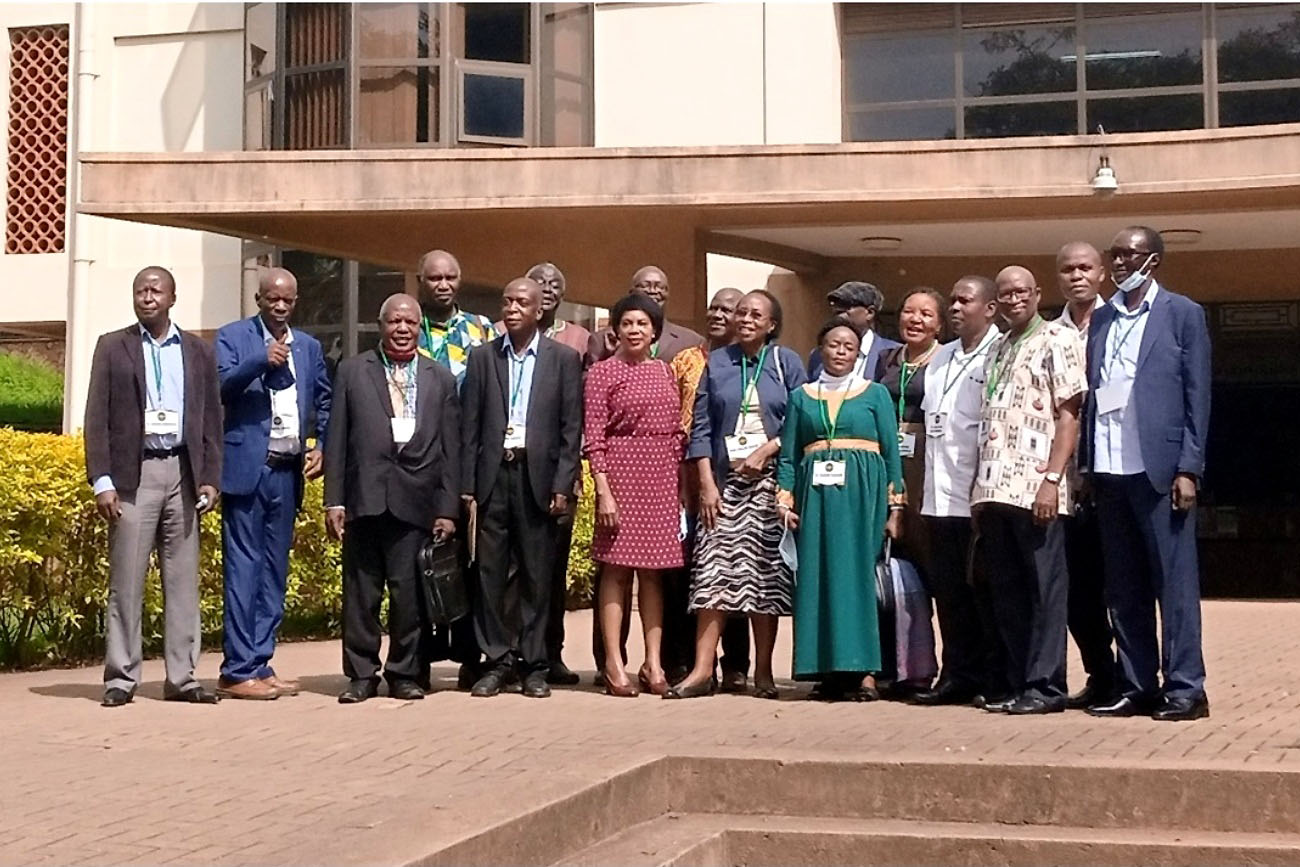 On Saturday 12th March 2022, the Medical School class of 1976 visited Makerere University their alma mater and an institution that laid the foundation for them to become successful professionals.
The historic visit took place after 46 years (1976-2022) and comes at a time when Makerere University is celebrating 100 years of existence (1922-2022)!
With beaming smiles, their eyes widened and faces sparkled as they entered the Main Campus through the Makerere University Main Gate. You would tell that our alumni were happy to be back home! Throughout the tour, a wave of home coming, a sense of belonging, attachment and true love filled the spaces!
The alumni led by Dr. Phillipa Musoke, a Professor at the School of Medicine, Makerere University College of Health Sciences (CHS) and their Chairperson, Dr. Yiga Matovu toured key University spaces and facilities including Makerere University Central Teaching Facility 1 that houses the University Administration and lecture spaces, the Freedom Square, Senate Building, Main Library, Africa Hall, Livingstone Hall, the Dental School and Makerere University Hospital.
According to Dr. Phillipa Musoke, they decided to visit Makerere University to re-ignite the fond memories, to have an experience of Makerere University of the times, and to appreciate the changes and developments.
In line with their desire, the Principal Public Relations Officer of Makerere University, Ms. Ritah Namisango lined up a team of experienced university staff who interacted with the Medical School class of 1976.
Speaking to the writer, Ms. Namisango revealed that she planned the tour focusing on the need for our alumni to see and appreciate the transformation of Makerere University from the time they were at this great institution (1976) to date. "I briefed the Members of staff who were designated to interact with our alumni to gladly share the story of evolution and continued growth," she remarked.
At the Main Library, the alumni were received by Mr. Patrick Sekikome who briefed them on the shift from manual access of library services to the digital services. The alumni could recall the times (1976) manual catalogues and were pleased to see the new catalogues and technological innovations that are used to access books both online and within the Library.
"Access to Library services has evolved with the times. If you need to get a book from the Main Library, you don't need to go to those stands as you used to, you only go to the Library website, we have the online catalog and once you get here, you check for any book of your interest. All the guides are uploaded online," Mr. Sekikome explained.
At Makerere University Hospital, the alumni were welcomed by the Director Makerere University Health Services Prof. Josaphat Byamugisha. He shared with joy the history and journey of the health facility that has evolved from a sick bay to a hospital status.
"I am very happy to receive you at Makerere University Hospital. This Hospital is now under Makerere University College of Health Sciences. This was done to ensure that the hospital is aligned to the health services as well as to improve the services for provision of better health care. I was part of the team that formulated the idea. What we have gotten so far from literature and what is available online is that prior to 1972. The University maintained the health post known as Makerere University Students health service or sick bay, and then it acquired premises formerly known as the Nile Nursing Home that was owned by the Indian community. In 1978, the then President Idi Amin crowned the sick bay, the hospital status. Around 2017, the management of the University hospital was delegated to the College of Health Sciences," Prof. Byamugisha explained.
Commenting about the evolution of dental services at Makerere University, he said: "It is true that at one time, the dental school was closed and later re-opened in 2019 after acquiring enough space for construction of the school and hospital. I am glad that you are visiting at a time when the Makerere University Dental School is fully operational. It is one of the best dental hospitals in the region."
On behalf of the alumni, Dr. Philippa Musoke applauded the University administration for the tremendous work done to ensure that Makerere University continues to grow by adapting to the times.
"It has been a very big difference. When I was here as a student in 1976, I stayed in Africa Hall and I used to walk through Katanga to go to the Medical School. Today, Saturday 12th March 2022, we have visited the Library, it was a small Library then now it is expanded, also technology is being used. They showed us how you can access books and periodicals online as well as journal articles. Then we went to the University Hospital. We used to call it the sick bay but it's now a very nicely renovated hospital and we are amazed by what their plans are but also what is being done already. The compound is also expanded and there are many more buildings than when we were here. Many more colleges, Departments have put up buildings such as Computer Science, Economics, Women and Gender Studies," she noted.
Dr. Musoke requested the University Council and Manaement to use the available space to construct more halls for students to stay on campus and also reconstruct the Main Building that was gutted by fire in September 2020.
"We look forward to the restoration of the Main Building. I have observed that there are a lot of buildings, we didn't see new halls/hostels at the Main Campus. It's nice if there is space to provide a place where students can stay on campus."
Dr. Yiga Matovu was pleased to note that in addition to re-connecting with their alma mater, the visit provided new learning experiences especially in the area of health training.
"Our visit will be memorable. It is great that we have learnt about the progress being made in the area of training of health professionals and the plans the University has for training programs. I am really uplifted by the good plans. Let us implement them for the good of the nation," Dr. Yiga said.
Dr. Bira Ann Migrate, a Lecturer at the Dental School and Clinical Head at the Dental Hospital was humbled and delighted to receive and interact with guests of that caliber. She hailed them for their roles in making Makerere University Dental School great again.
"We are happy to show them that we have grown from that small corridor in Mulago to a hospital at the University Campus.  We are really glad to have hosted them and we hope they can come and visit us more often. Most of them have actually supported the development of this Dental Hospital. It may not have been directly, but some of them played a significant role to ensure that the Dental School remained open. They supported us in the background through their networks, so we are happy to receive them here at the Dental School. It is a testimony that we have moved on," Dr. Bira said.
The Medical Class of 1976 that visited on 12th March 2022
Dr. Deogratius Iga Matovu; Senior Consultant Radiologist, retired private practitioner
Dr. Margret Kasande; retired private practitioner
Dr. Sabastiano Nkakyekorera; Radiologist, retired
Dr. Cephas Mijumbi; Senior Consultant Anesthesiologist, Uganda Heart Institute (UHI)
Prof. Josephine Namuganwa Kasolo; Physiologist, College of Health Sciences (CHS), Makerere University
Dr .V. B. Joseph Tindimwebwa; Anaesthesiologist, Lecturer and Former Head of Anaesthesia, College of Health Sciences (CHS), Makerere University, retired
Dr. Adrigwe Joseph; Internist/Physician, RSA, private practitioner
Prof. Phillipa Musoke; Paediatrician, Makerere University-Johns Hopkins University Research Collaboration (MUJHU) and Board Member Mulago Hospital
Prof. Jehu Erapu Iputo, Physiologist, Busitema University
Dr. Jullie Mbisirikire K. N; Senior Consultant Obstetrician and Gynaecologist, Rubaga Hospital
Dr. Peter Musoke; Psychiatrist, RSA, retired
Dr. Davis Mubeezi; Public Health expert, retired private practitioner
Dr. Buwembo-Kakande M.B.; Lecturer, Islamic University In Uganda (IUIU)
Dr. Jaffer Sadiq Balyejjusa; Senior Consultant Surgeon, Busitema University
Dr. Patrick Byaruhanga; Public Health expert, retired
Dr. Kaguna Amooti; Public Health Expert, private practitioner
Dr. George Unyuthi; private practitioner
Dr. Francis Adatu Engwau; Epidemiologist, retired
Dr. B.D. Mugisa; Cardio-Thoracic Surgeon, Senior Lecturer, Nsambya Hospital
Written by: Alex Mugalu (Finalist-Journalism and Communication), Makerere University
Makerere Medical Journal: Golden Jubilee Edition 2022
It's with great pleasure that I welcome you to the Golden Jubilee edition of this phenomenal journal. Yes, The Makerere Medical Journal marks 50 years of publication with this year's edition and all this has been made possible by the endless efforts and contributions of the Makerere University College of Health Sciences Staff and students because without your research submissions and financial support, the journal wouldn't have made it this far. To you reading this, thank you for contributing to the sustainability of this great project, year in year out.
Here's a quote to ponder on as you delve into this year's well-crafted articles and it's by Zora Hurston (1891-1960), "Research is formalized curiosity. It is poking and prying with a purpose." And doesn't that just define our purpose as researchers?!
This edition's articles cover pertinent topics ranging from Antimicrobial Stewardship, COVID-19 interventions, Oral Health amongst others. It also features student projects, write-ups on student-led organizations and societies that are making a difference in the life of a health sciences' student and many more interesting writings. Featured in this issue are international manuscripts from countries like Nigeria and we were also honored to work with other universities within the country and feature some of their students' articles.
I would like to extend my most sincere gratitude to my team of editors that engaged in a rigorous peer review process to ensure that the articles published are up to standard. As the editorial team, we are quite pleased to see the number of undergraduates involved in research steadily increasing and all the efforts that have been put in by the different stakeholders to see this happen are commendable.
With that said, I hope you enjoy every second of your read!!!
LINDA ATULINDA,
MBChB IV
EDITOR-IN-CHIEF,
Research and Writers' Club 2021-2022
Call for Applications: HEPI Masters Support Fellowship
Applications are invited for the Health Professional Education Partnership Initiative (HEPI-SHSSU) Masters fellowship programme support from postgraduate students of:
Makerere University College of Health Sciences (MakCHS)
Kabale University School of Medicine
Clarke International University
Faculty of Health Sciences, Busitema University
The programme will support graduates in their final year of training leading to the award of a Masters degree on any of the Master's graduate training programs at the stated University for a maximum of 19 successful candidates.
The closing date for the receipt of applications is 30th September 2022.
Inquiries and Applications must be submitted to hepishssu@gmail.com
See attachment for more details 
Call for Applications: Faculty Research Training
Applications are invited from faculty at Makerere University College of Health Sciences, Kabale School of Medicine, and Clarke International University to undertake training in research.
Limited research funding will be available for research focusing on community-based, clinical, operational, health professions education, epidemiological, biomedical, and research in Communicable Diseases (e.g. HIV/AIDS, malaria, tuberculosis, etc.) or non-communicable diseases of importance to Uganda.
Up to 15 applicants will be selected and they will undergo a brief (2 days) didactic training in research proposal development prior to embarking on their research projects. Up to 4,000 US dollars per applicant (depending on budget) will be available to support the research.
The closing date for the receipt of applications is 3rd October 2022.
Inquiries can be forwarded to the PI, HEPISU Program on hepishssu@gmail.com
See attachment for more details