Uganda's Ministry of Health Embraces Family Planning Data, PMA Data to Influence Policy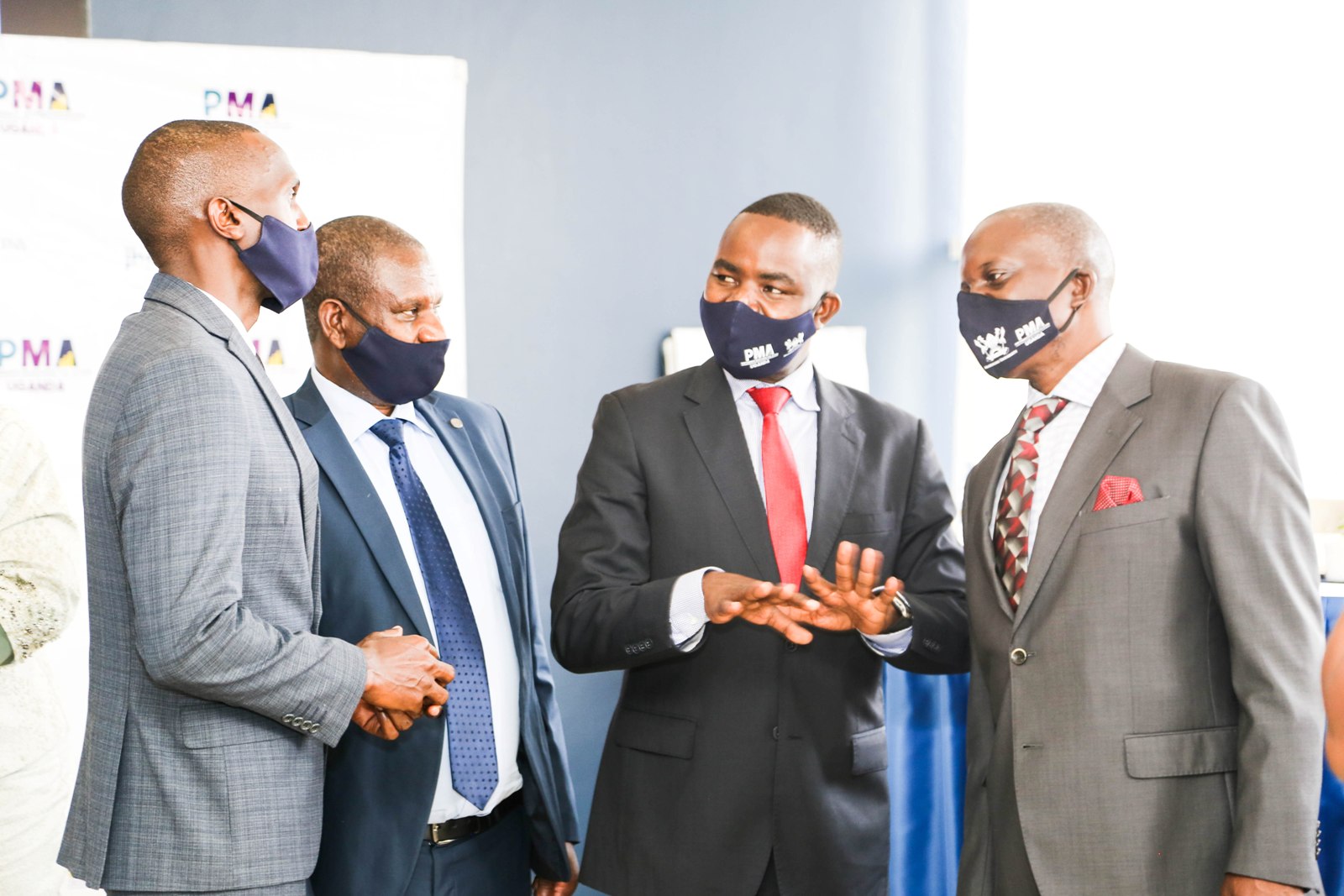 Kampala, Uganda, Feb. 16, 2022 (MakSPH) – Commissioners at Ministry of Health in Uganda have applauded the Performance Monitory for Action -PMA Uganda project for its robust research in family planning.
Dr. Olaro Charles, the Director Health Services- Curative Services at the Ministry of Health says the Ministry is grateful for the work that PMA does, citing that it would cost government a lot of money since such work would require a consultant to do it.
"The data collected in this PMA survey inform monitoring and assessment, assessing the progress of the targets as we set in the Family Planning 2030 commitments and the costed implementation plan. I am happy that all of you were involved during the formulation and official launch of these commitments," Dr. Olaro said at a recent dissemination of panel survey results for phase 2 at Golden Tulip Hotel in Kampala.
PMA Uganda, a Bill and Melinda Gates Foundation funded project at Makerere University School of Public Health (MakSPH), a leading public health institution in Uganda and within the East and Central Africa region uses innovative mobile technology to support low-cost, rapid-turnaround surveys monitoring key health and development indicators.
Between September and November last year, MakSPH-PMA project led by Principal Investigator Dr. Fredrick Makumbi and Co-Principal Investigator Dr. Simon Peter Kibira conducted a survey from 4,399 households where 4,346 females of ages 15-49 were interviewed. Also, data was collected in 384 health facilities and 2,370 client-exit interviews conducted.
According to the results, the trends in use of Contraception among all women of age 15-49 increased from 35% in 2020 to 40% in 2021 in all methods. On further analysis, those using modern methods of contraception increased from 29.5% to 34% while those using traditional methods of birth control rose slightly from 5.5% in 2021 to 5.9%.
"I am also happy to mention that I sit in the FP20 global committee, and as you know this is great not only for our country but as well as the region. From the first PMA survey, we were seeing the country making progress, however slow it is towards increasing modern contraceptive usage. As you all know the FP2030 objectives were launched and we need to be able to work. I will soon share with you the considerable plan, which is also a precursor for us to be able to achieve our Family Planning 2020," said Dr. Olaro.
The Government of Uganda set an ambitious goal to increase the modern contraceptive prevalence rate to 50% by 2020. This however was not achieved. In acknowledging this, Dr. Olaro notes that there are still unsolved challenges with the quality of family planning services especially the counselling of users.
"If you go to back to our commitments, one of them is purposed to address this challenge. To address family planning misconceptions, government committed to improve counselling and in it, we provide what options are available, possible side effects and how we manage them, and how the users pick on a different component. So, with implementation and measurements, we shall be able to overcome the challenge," says Dr. Olaro.
Hons. Catherine Namuddu, Sylivia Bahireira, Joel Ssebikaali, Charles Ayume, Hope Nakazibwe, Ronald Bagaga and Bayiga Rulume, all Members of the Health Committee of Parliament attended the dissemination.
Professor of Disease Control, Researcher, Public Health Expert and Dean, MakSPH, Dr. Rhoda Wanyenze says a lot of the work that done at MakSPH is geared towards ensuring equity and through evidence. According to Prof. Wanyenze, PMA program is one of the projects at MakSPH where researchers generate evidence and continue facilitating policy formulation.
"This program shows this because on the data we have generated, has to be used by all these stake holders here with us today. For example, we have just used the PMA data to inform Uganda's FP2030 commitments and before that we were also looking at this data while implementing the costed development plan," she said.
Speaking to an audience that had legislators under the umbrella of the Health Committee of Parliament, Professor Wanyenze said improving health requires holistic approach that includes several other sectors of development including education. She also appealed to the legislators and the sector planners to re-orient health by investing more in promotion of health and prevention of disease than focus only at treating people.
"We can also generate more evidence. You can tell us where it is that you need more evidence that you do not have so that we can work together to generate evidence. We are available and ready to work with you so you can make more evidence-based interventions," she said.
In light of the Makerere University centenary celebrations, Dean Rhoda pledged continued generation of evidence that adds value.
Dr. Olaro paid emphasis on need for concerted efforts of Ministry of Health an its partners required to solve family planning challenges.
"We need to develop and adopt the use of innovative strategies to inform programming in an effort to address some, if not most of these challenges and I want to implore you to implement what works based on the findings," Dr. Olaro said.
Further adding that; "These statistics that guide in programming should be progressively pursued and we are looking forward to continue good working relationships as we strive for better health of our communities in which we serve and live."
Dr. Richard Mugahi Adyeeri, the Assistant Commissioner in charge of Reproductive and Infant Health said MoH appreciates Dean Rhoda's comments especially the call for evidenced based Interventions and the ability of the ivory tower, to keep producing this evidence whenever it is needed.
"We also appreciate your comment about the partnership with education, given the fact that the determinants of health, some of them fall in education, others are housed in agriculture, and we need a total rethink of our post pandemic public health interventions," Dr. Mugahi observes.
The Head of surveys at Uganda Bureau of Statistics (UBOS) Mr James Muwonge, while representing the Executive Director Dr. Chris Ndatira Mukiza congratulated MakSPH for pulling off this national survey and for having consistent data.
He encouraged research entities to continuously share information and best practices, as well as coordinate research efforts across different agencies. He also committed on behalf of UBOS to continue working together with MakSPH.
"The Dean has talked about the need to utilise information. There is a lot of information that is collected, but probably not much is being used but looking at the audience in here, I am encouraged and feel contented that the information is getting as far as the parliament because it influences policy and the fact that within the audience we have the policy makers, to me it is a testimony and really important," said Muwonge.
National Population Council (NPC) Director General, Dr. Jotham Musinguzi said they advised Parliament on the need to invest in the population, reduce fertility in this country, and investments in education as a means to reduction of fertility.
NPC was established by the National Population Council, Act 485, 1994, to advise Government on all population matters. Dr. Musinguzi observes that if we do not reduce fertility fast enough, we will not be able to benefit from the demographic dividend.
"We have an opportunity now that Fredrick (Makumbi) and Simon (Kibira) have shown us that we can impact on contraceptive work, we can push it firmly, we need to make sure that education, health are working together so that the population moves from a pyramid that is very heavy at the bottom, to a pyramid that has a lot of people in the middle and these people get education, health and have skills," he said.
In the last decade, Dr. Musinguzi says Uganda has been reducing on mortality and fertility rates citing that that's when the country enters the realm of opportunity.
"I want say that this is something very important and we need to continue leaning to reproductive health and family planning especially use of contraceptives and through working with the Ministry of Health and other development partners. That is the only way we are going to achieve big impact on health, education of the population," he said.
Dr. Betty Kyadondo, the head of Family Health Department at NPC noted that while there was an increase in the uptake of family planning services and that modern contraceptives, the country still needed to do more.
She says great attention to the issues of use of contraceptive by certain groups such as adolescents and men, that are largely under looked and misrepresented is important.
"They don't get adequate counselling in times they need the service but we are seeing an increasing number of teenage pregnancy rates and if we don't work with these young people, its risky and sensitive issue and many people are shy to talk about it but its high time we faced it and addressed sexually active adolescents about the use of family planning methods," Dr. Kyadondo says.
She advances the need to leverage on the existing efforts in improving family planning service delivery such as human capital development program, community mobilisation and mindset change to reduce negativity and misconceptions about family planning, utilization of the parish development model through its pillars as well as integration of integrate technology into our family planning agenda.
Mak's GMI Labs Authorized to Conduct DNA Paternity Testing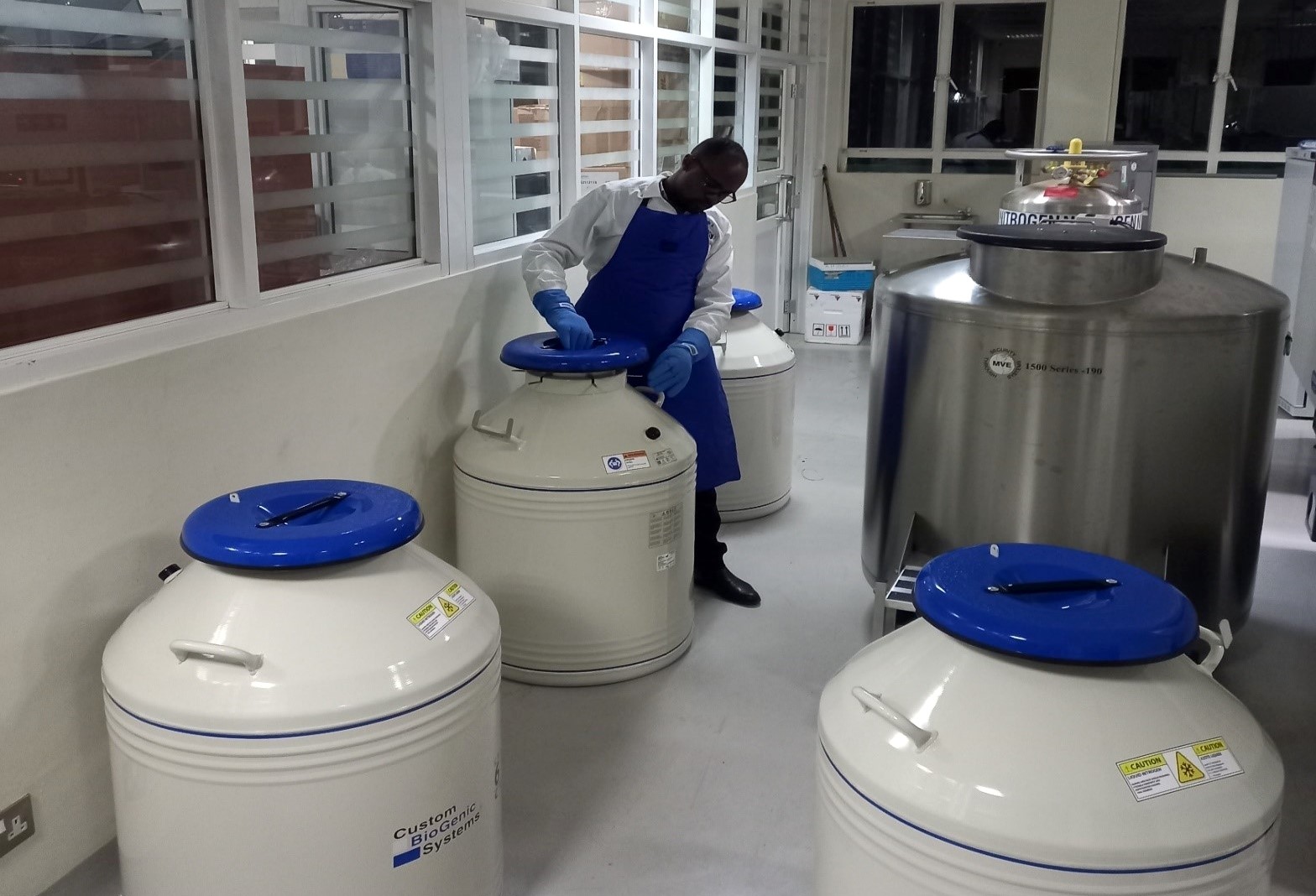 The Genomics, Molecular, and Immunology Laboratories (GMI Labs), operating under the auspices of the Makerere University Biomedical Research Center (MakBRC), have achieved another significant milestone in their journey of diagnostic excellence. The labs, renowned for their pivotal role in infectious and non-infectious disease research, have received official approval from the Director General Health Services at the Ministry of Health (MoH), Uganda, to conduct DNA Paternity Tests.
Situated at the Dept of Immunology & Molecular Biology under the School of Biomedical Sciences at the College of Health Sciences, Makerere University, the GMI Labs have been at the forefront of cutting-edge research, diagnostic testing, and training initiatives. Their remarkable contributions during the COVID-19 pandemic, where they conducted nearly a million PCR tests, underscored their unwavering commitment to public health and scientific advancement. The labs' exemplary performance and reliability were further highlighted by their successful management of two critical COVID-19 prevalence surveys. The findings of these surveys served as foundational data for crucial decisions guiding the country's lockdown strategies and phased reopening, earning commendation from the President and the Ministry of Health.
This latest authorization from the Ministry of Health marks a significant expansion of the GMI Labs' diagnostic capabilities. With the approval to conduct DNA Paternity Tests, the labs are now equipped to offer a crucial service addressing the need for accurate and reliable genetic testing for determining biological parentage. In a letter dated 22nd November 2023, the Director General Health Services emphasized the laboratory's rigorous adherence to international standards, proficiency in molecular biology techniques, and their proven track record in delivering precise and credible results. This approval further solidifies the labs' position as a trusted institution for advanced genetic diagnostics in Uganda.
Prof. Moses L Joloba, the Director of the GMI Labs, expressed immense pride in the team's dedication and expertise that led to this authorization. He highlighted the labs' commitment to upholding the highest standards of ethical practice, confidentiality, and accuracy in DNA paternity testing, ensuring the delivery of dependable results crucial for legal, personal, and familial purposes.
The inclusion of DNA Paternity Testing within the GMI Labs' list of services aligns with their overarching goal of advancing healthcare through state-of-the-art diagnostics, research, and education. This milestone represents not only a significant achievement for the labs but also a valuable resource for individuals seeking reliable and comprehensive genetic testing services. As the GMI Labs continue their unwavering commitment to excellence in healthcare and research, this new capability reaffirms their pivotal role in advancing the frontiers of molecular diagnostics and genetic testing in Uganda, working closely with reputable institutions such as Makerere University Hospital and other top-notch health facilities.
MNCH e-Post Issue 121: Learning from Nsambya Hospital Human Milk Bank to inform national scale-up & save preterm babies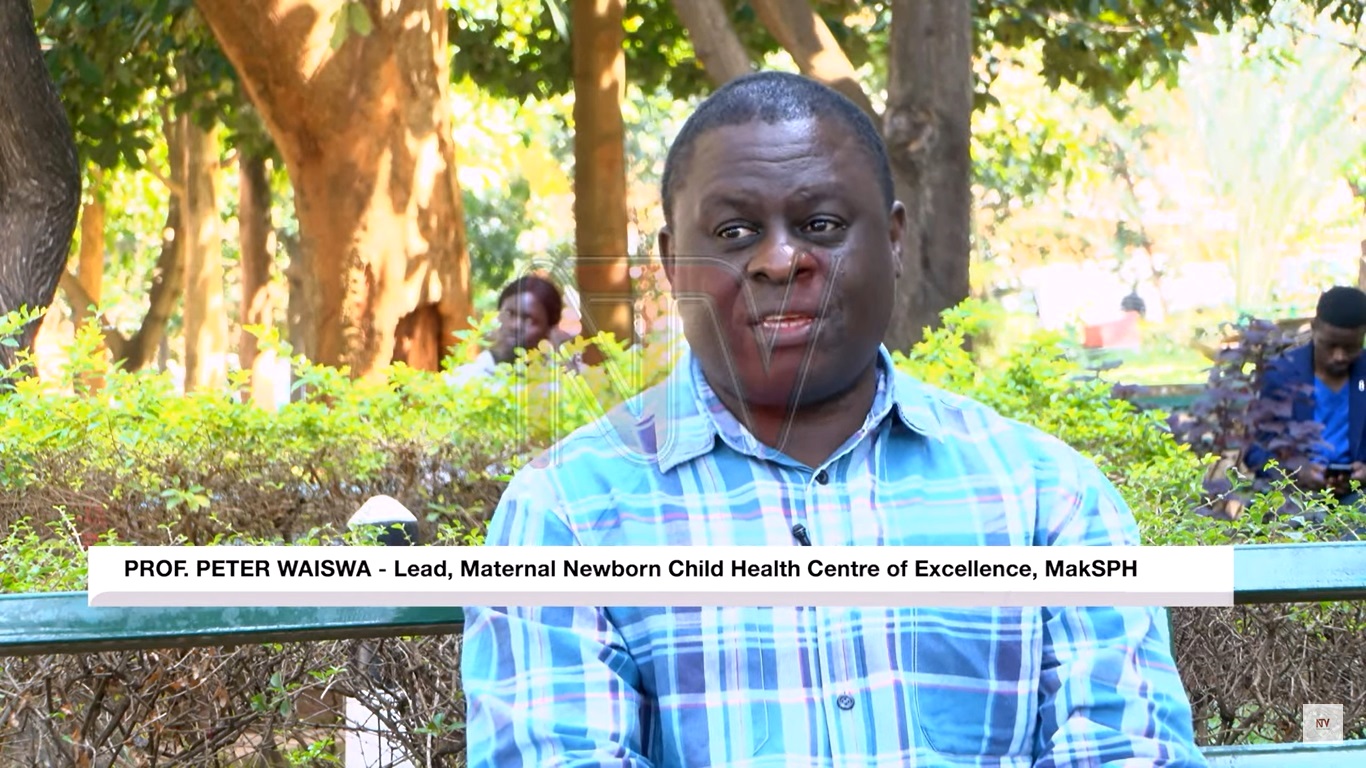 Welcome to this exclusive interview with Prof. Peter Waiswa, lead expert from the Makerere University Centre of Excellence for Maternal, Newborn, and Child Health. Dr. Victoria Nakibuuka from St. Francis Nsambya Hospital, and Dr. Jesca Nsungwa from Ministry of Health Uganda. In this video, they discuss a groundbreaking innovation in Uganda's healthcare landscape: the country's first-ever human milk bank at St. Francis Hospital Nsambya. This initiative represents a significant stride towards improving the survival rates of premature and vulnerable infants by ensuring access to essential breast milk, even when mothers are unable to produce enough. Watch Video
Click here to View the full MNCH e-Post Issue 121
METS Newsletter October 2023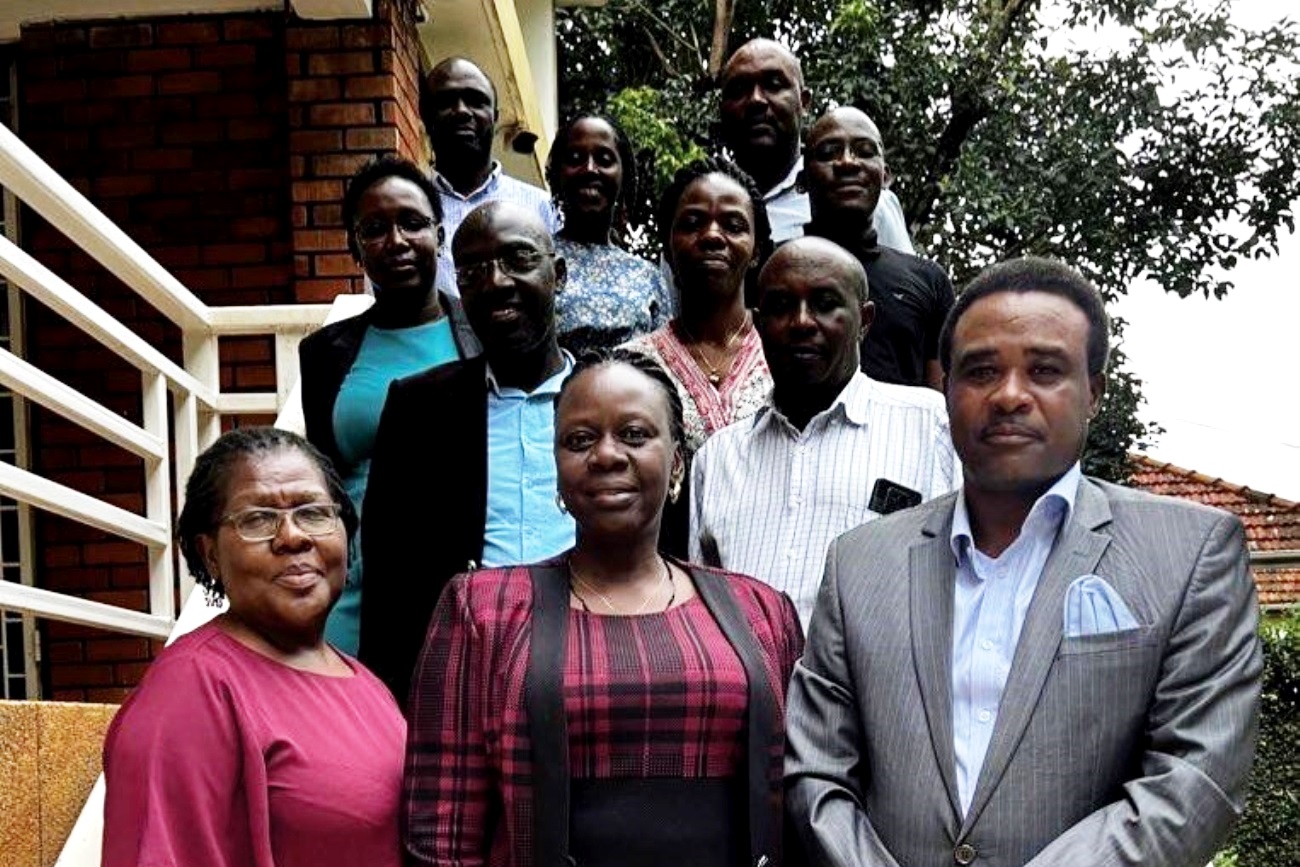 The Monitoring and Evaluation Technical Support (METS) Program is a 5-year CDC-supported collaboration of Makerere University School of Public Health (MakSPH), the University of California San Francisco (UCSF) and Health Information Systems Program (HISP Uganda).
Highlights of the METS October 2023 Newsletter
Strategies for Enhanced Disease Surveillance and Public Health Response in Uganda

The MoH Department of Integrated Epidemiology Surveillance & Public Health Emergencies (IES&PHE) Head, Commissioner Allan Muruta (Dr) visited METS to acquaint himself with the various surveillance activities supported by the Program.
Commissioner Muruta emphasized the need to build the capacity of districts and regions to conduct surveillance activities by training the relevant staff and establishing surveillance focal points at health facility levels.
He further emphasized the importance of linking laboratory data to the District Health Information System (DHIS2) and ensuring that different systems are interoperable.

Improving quality of data for HIV testing services (HTS) through regular assessments

MoH has been conducting Data Quality Assessments and Improvement (DQAI) activities to inform program planning, monitoring, and performance management. HIV testing services (HTS) inter was conducted in 16 regions, 81 districts, and 111 health facilities in partnership with 26 Implementing partners.
The HTS DQA has improved data management, infrastructure, and understanding of indicators. Specific staff assignment at each HTS entry point has proven effective, and use of the UgandaEMR system for reporting has yielded positive results.

Shaping Uganda's Healthcare Data Landscape

METS has maintained a strong collaboration with the Ministry of Health (MoH) providing invaluable technical support in developing various strategic guidelines for the country. These guidelines include the Uganda Health Information Exchange and Interoperability (HIE) Guidelines, the Uganda Health Data Protection and Confidentiality (HDPC) Guidelines, and the Uganda Health Data Sharing, Access, and Use Guidelines.

HIE and HDPC guidelines have received the endorsement of the Health Information, Innovation and Research (HIIRE) Technical Working Group (TWG), awaiting presentation to the senior management team at the MoH for final approval.

Empowering Health Professionals: PrEP Training in Hoima District

MakSPH-METS has taken a proactive stance in supporting Monitoring and Evaluation (M&E) for key populations through the development, management, and conducting trainings on the use of the PrEP tracker system across various agencies.
METS conducted a 5-day training on the KP/PrEP Tracker system in Hoima district. Moving forward, facility staff will be able to enter data on PrEP services into the system in a timely manner, analyze the data, and use it for program improvement.

Gallery

HIV testing services (HTS) Data Quality Assessments and Improvement DQAIs
Interagency cervical cancer on-site mentorships
Orientation in KP tracker-Soroti
TDY from CDC headquarters visit to METS
M&E orientation meetings for new Implementing Partners
Planning meeting for Cross Border Data Sharing-Busia