Dr. Kiggundu Appointed Head, Department of Humanities & Language Education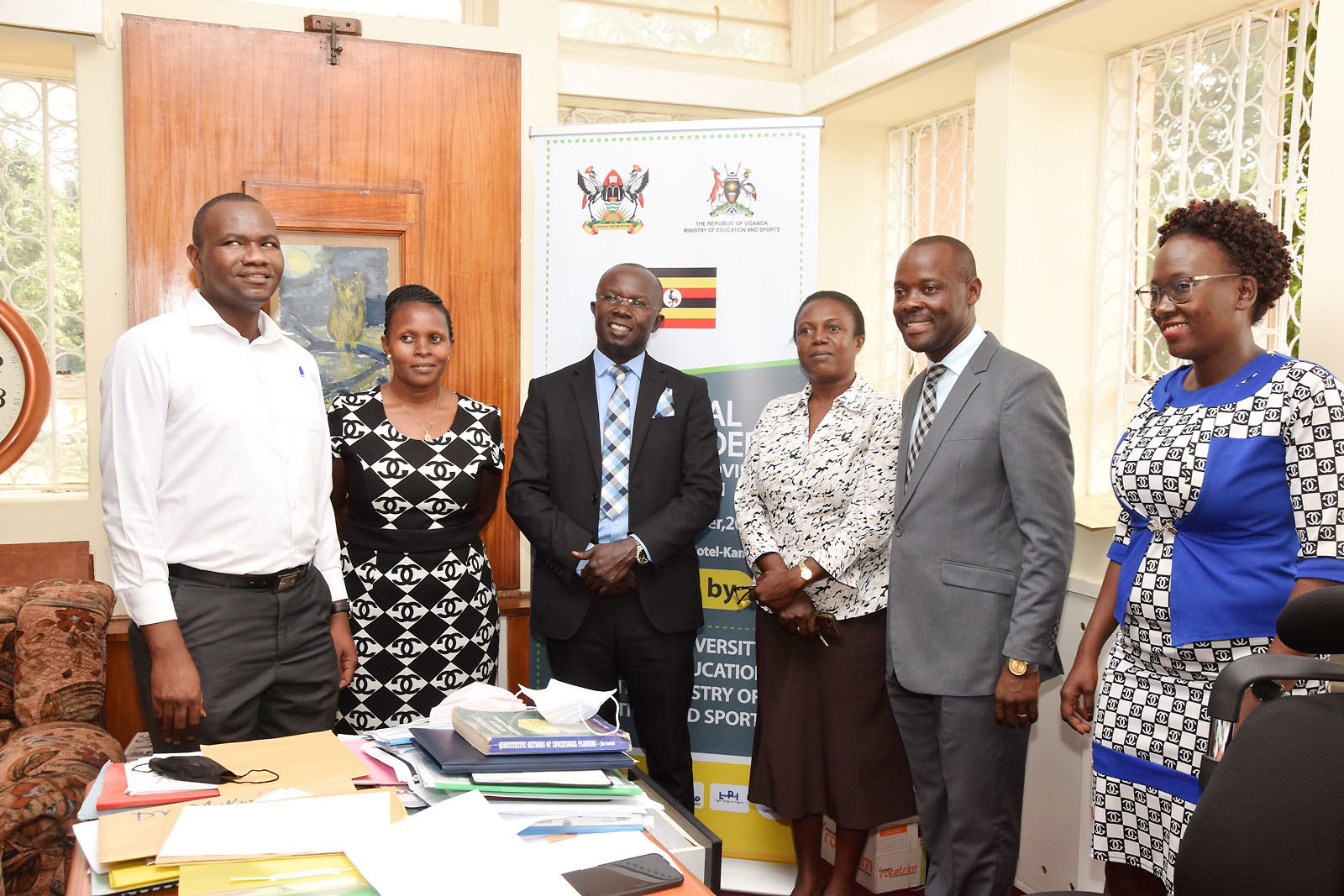 The Department of Humanities and Language Education, College of Education and External Studies today January 13, 2022 received a new head following the expiry of Dr. Nambi Rebecca's tenure.
Dr. Nambi handed over office to Dr. Muhammad Musoke Kiggundu after serving 4 months as acting head of the department. Dr. Nambi highlighted some of her achievements which included the introduction of seminar series, which have resulted in the publication of 13 papers, three staff promotions to the rank of senior lecturer. Three staff graduated with PhDs. She also introduced the Display Board where staff display their publications. Dr. Nambi welcomed Dr. Kiggundu and wished him a good tenure. She thanked management for the opportunity to serve her department and the staff for the support given to her during the term of office.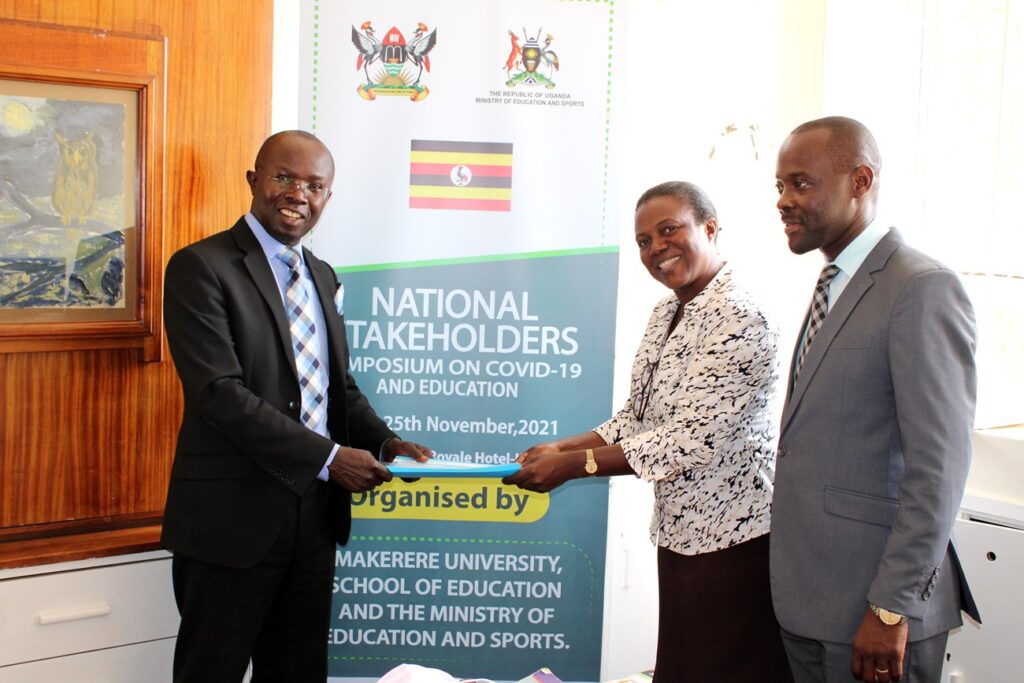 She requested the incoming head to conduct staff trainings for the new curriculum and also spear head curriculum review which is already in the pipeline.
Dr. Kiggundu thanked the staff of the department for the overwhelming support given to him during the voting process and pledged build on the achievements of Dr. Nambi.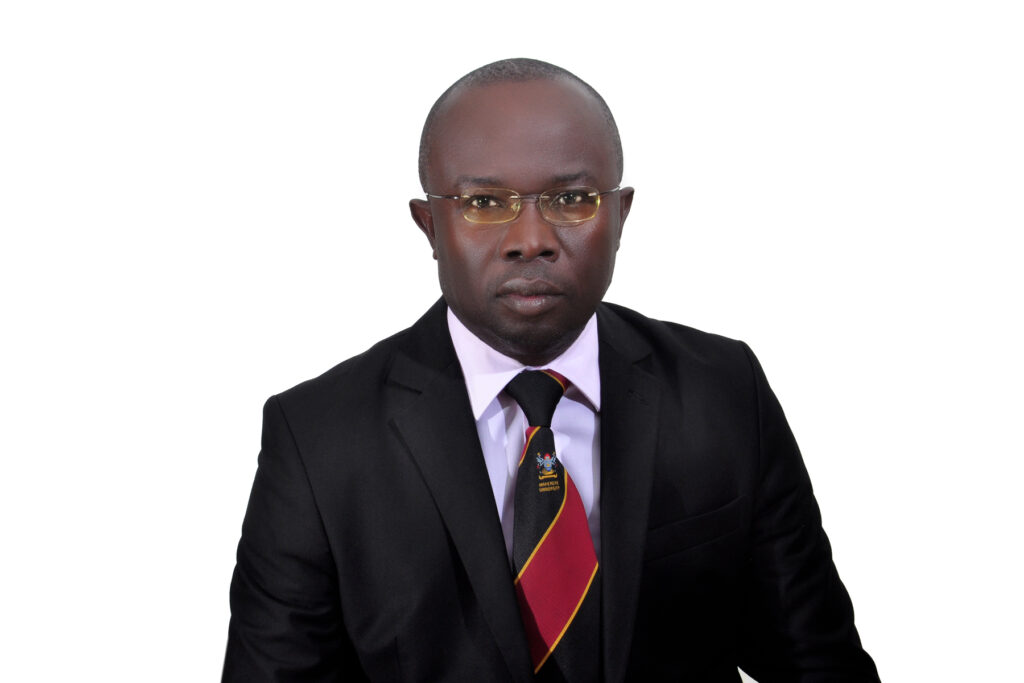 Some of the activities he plans to undertake include retooling of the students the college is training so that they fit the new curriculum issued by the Ministry of Education and Sports. Dr. Kiggundu noted that the department needed more research projects, saying they would be a good incentive for the staff. He called for the support of the Principal and the departmental staff in this endeavor. "I am happy to take on the responsibility given to me and with your support I know that we will achieve a lot," Dr. Kiggundu said.
On his part, the Principal, Dr. Fred Masagazi Masaazi, thanked Dr. Nambi for holding fort during her tenure and congratulated Dr. Kiggundu upon his election as Head. He cautioned that with the new curriculum, there is need to conduct in-house trainings for staff to bring them to speed with the new teaching and learning methods. He called on the new Head of Department to read his terms of reference in order to avoid conflict. "It is important to know what is expected of you and the reporting hierarchy," Prof. Masagazi said.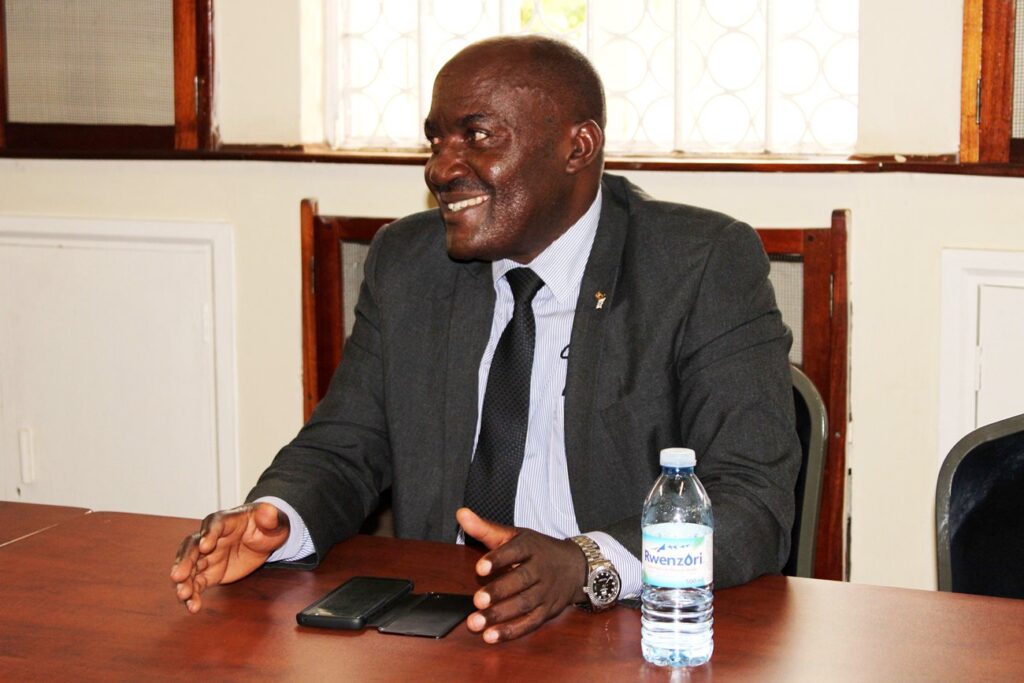 He also advised Dr. Kiggundu to ensure proper record keeping, saying even documents as old as 100 years are still important. The principal concluded by pledging his support to the new head of department.
The handover was also attended by the Dean of the School of Education, Dr. Mathias Mulumba who thanked Dr. Nambi for steering the college to higher horizons, pointing out that she took over leadership of the department at a difficult time when the university was in the process of conducting online examinations but she effectively managed the period. He congratulated her upon the introduction of seminars and leading the curriculum review process.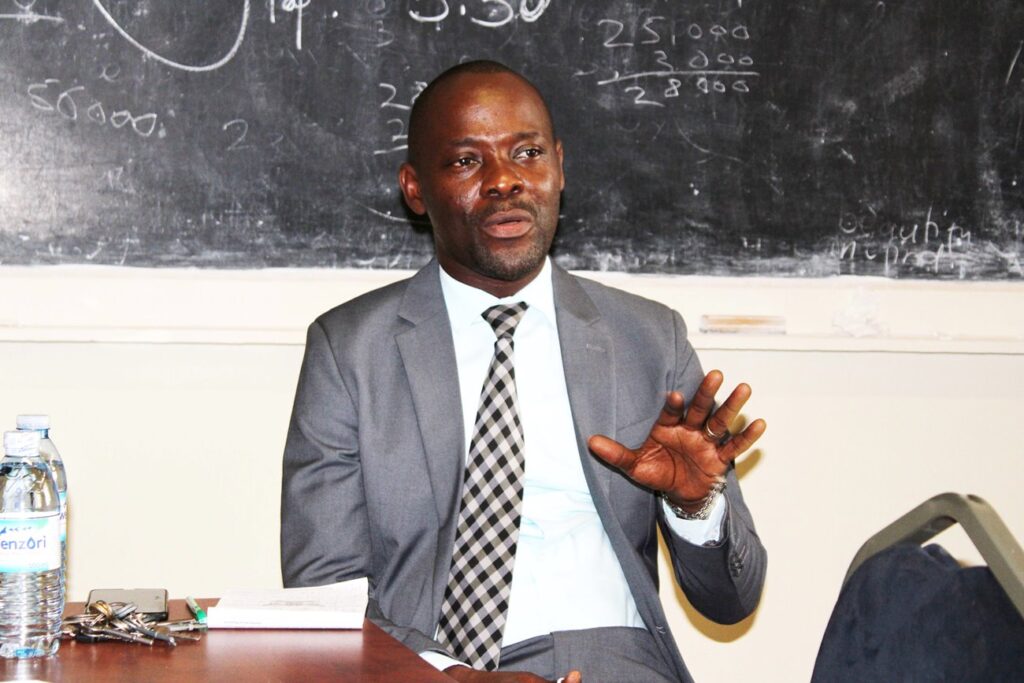 He congratulated Dr. Kiggundu, saying "I know you are a people person which give me pleasure to see you coming in as HoD". The Dean cautioned Dr. Kiggundu against fights with both his seniors and his juniors. He asked him to always reach out to colleagues and solve all the challenges and differences they may be experiencing. "Conflicts are too costly so solve them as soon as they arise," Dr. Mulumba advised.
He asked him to serve all people fairly, follow the university structures and also familiarize himself with the university policies especially those in regards to examinations and teaching and learning.
The handover was also witnessed by the Human Resources Officer of the college, Mr. Godfrey Makubuya, Dr. Josephine Kakeeto, Prof. Anthony Muwagga Mugagga, Mr. Mark Rujumba and Ms. Betty Kyakuwa among others.
Memorial Lecture: Nsumba-Lyazi's unforgettable Legacy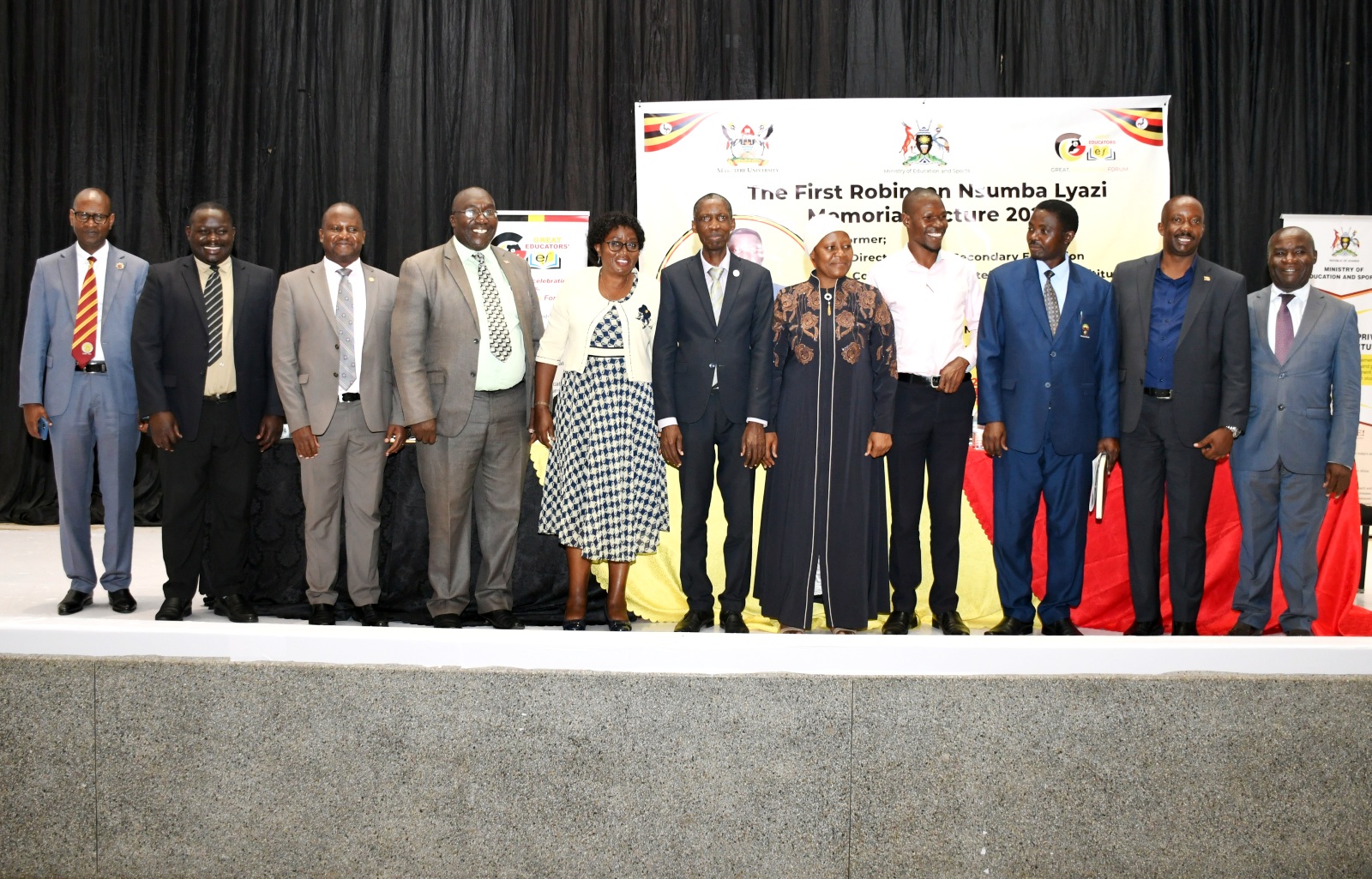 He was a great educator, a loving father, very calm despite his level of education, a good listener, a smart guy, punctual, disciplined, religious, social, trustworthy, dependable, cooperative and a great mentor were some of the words used to describe the Late Robinson Nsumba-Lyazi.
Speaker after speaker poured praises on the fallen Robinson Nsumba-Lyazi, a great educationist, to whom many owe their success.
This was during the maiden Memorial Public Lecture in his honour, held on Wednesday 25th January 2023 at the Makerere University Yusuf Lule Central Teaching Facility.
Nsumba-Lyazi is said to have died a contented man in 2022 after 40-years of service to the education sector.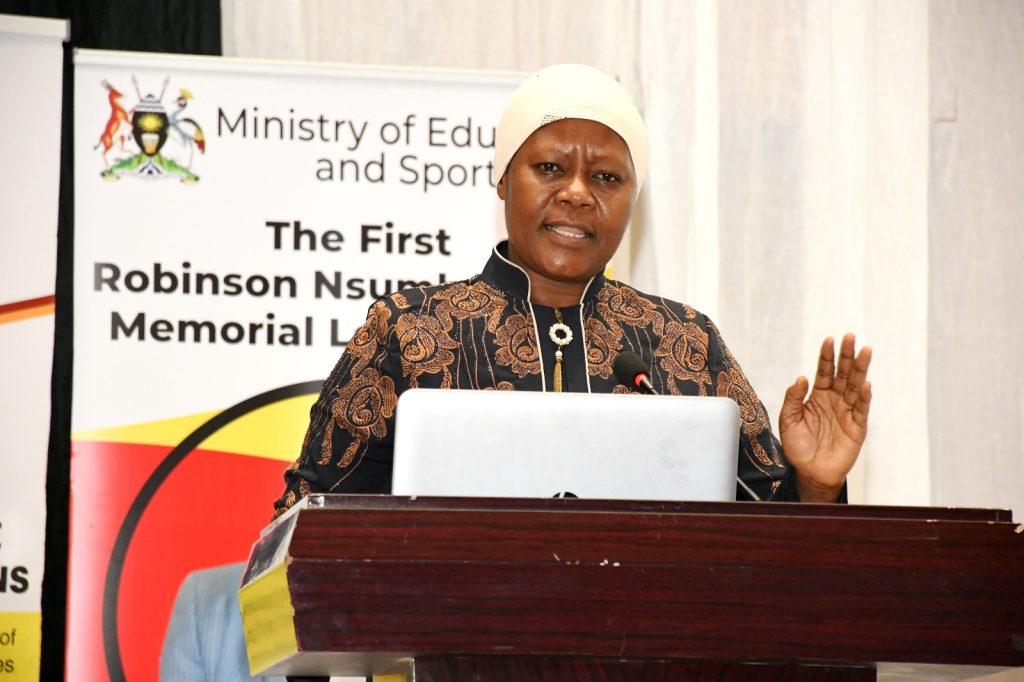 "It takes a lot to raise men and women who are admired and we can stand up and speak about them. If you evaluate yourself, will you have people to celebrate and speak about you when we are gone?" asked Hajjat Zaujja Ndifuna, the Director of Mbogo Schools during her keynote address.
Speaking about Nsumba-Lyazi, Hajjat Zaujja said he always emphasized to people that 'Our beginnings do not define our future'. Having been born to peasant parents in Mityana, Nsumba-Lyazi rose to the rank of Director Basic and Secondary education. Before serving in that capacity, he served as the Commissioner Private Schools and Institutions, Assistant Commissioner Comprehensive Education, Chairperson Church of Uganda Schools in Uganda, Head teacher Mityana SS and Head of Laity Mityana Diocese.
The public lecture was attended by different dignitaries including; his family members, officials from the Ministry of Education and Sports, Makerere University, different secondary schools among others.
In his speech read to the congregation by Prof. Anthony Muwagga Mugagga, the Vice Chancellor of Makerere University  Prof. Barnabas Nawangwe praised Lyazi as a great Educationist.
"Robinson Nsumba-Lyazi attended Makerere during a period of great political upheaval. Academic and Administrative staff had fled into exile and only a handful remained holding fort; doing their best to ensure that Makerere continued producing graduates despite economic hardships that characterized the period," he said adding,
"Specifically, the University's plan 1980-1986 outlined efforts to reintroduce correspondence courses or distance education courses, which included External Degrees. Distance education courses are particularly designed to take the University to the people. This was Makerere's way of recognizing the challenges at hand and in response, extending the principles and quality of University education to the greater majority of people who are unable to attend full-time courses due to work, financial and other obligations,"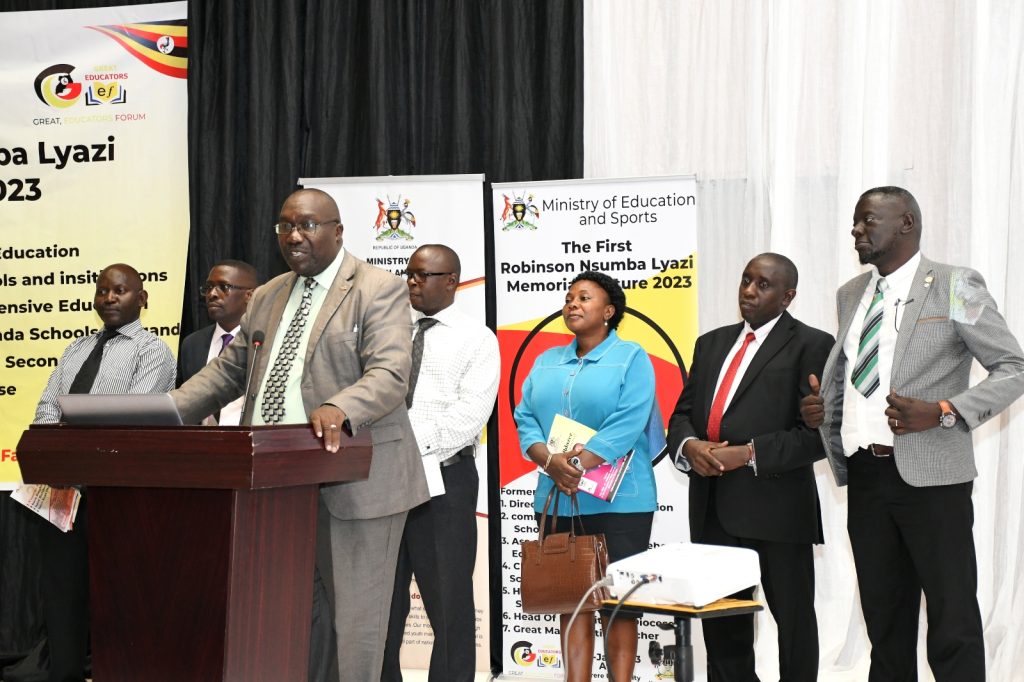 This strategic move by the University, he said, could have inspired Robinson Nsumba-Lyazi to pursue a postgraduate diploma in Education immediately after completing his Bachelor of Science to enable him teach Physics and Double Math at Secondary school level.
"Looking back, I think Nsumba-Lyazi was not going to wait for the people to come to the University. He wanted to inspire them even before they embarked on their respective Higher Education journies," the Vice Chancellor said.
"As one who had witnessed firsthand what his parents' entrepreneurial skills had helped the family achieve, Robinson Nsumba-Lyazi's exposure to higher education and science subjects in particular made him an even stronger advocate for the value that education adds to our God-given talents. Education unlocks one's potential and in so doing, opens many more doors for that talent to shine even brighter".
It is against this background that Robinson Nsumba-Lyazi was a strong advocate for the competence-based curriculum, and worked hard to ensure that its implementation gains traction before his retirement.
"It is very important that our young men and women graduate with skills and competencies that empower them to make meaningful contributions to society," he added.
Despite being born to peasant parents, Nsumba-Lyazi according to Speakers broke the chains and became a great person who worked tirelessly to promote private schools not only in Mityana but Uganda as a whole.
"He was passionate about teaching right from his early days, after S.6 he was invited in Mityana to teach fellow students which he took on. He rose through the ranks of a teacher to lead and education institution and finally to the Ministry of Education," Hajjat Zaujja noted adding,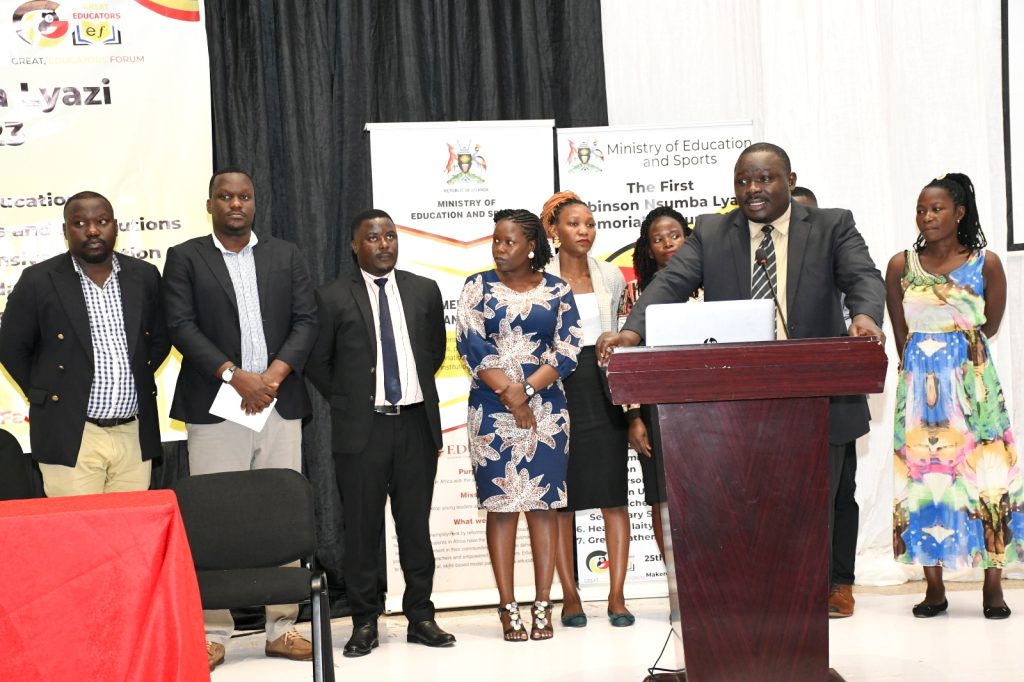 "His family members described him as a great husband, father, relative who worked towards instilling humility, discipline, respect in everyone that knew him."
Dr. John Chrysostom Muyingo the State Minister of High Education in a speech read for him by Mr. George Mutekanga, Commissioner of Private Education Institutions, asked the audience to emulate the works of the late Nsumba-Lyazi whom he said gave his best to humanity.
Nsumba-Lyazi, Dr. Muyingo said, walked away from the Ministry with satisfaction that he had done his part.
"We liked the way he did his work, there a number of lessons: our beginnings should not define our destiny," he said
Nsumba-Lyazi's services, the Minister noted, were always with a smile that lit up the room.
He is credited for having developed education standards in Mityana and also started the association of Private Academic institutions in an effort to ensure that the schools had a voice and could participate in the decision making at the Ministry of Education and Sports.
Nsumba-Lyazi is said to have loved a quote by Martin Luther King, "If you can't fly then run, if you can't run then walk, if you can't walk then crawl, but whatever you do you have to keep moving forward." He is said to have been moving until his death in 2022.
Scholarships for the MSc in Digital Education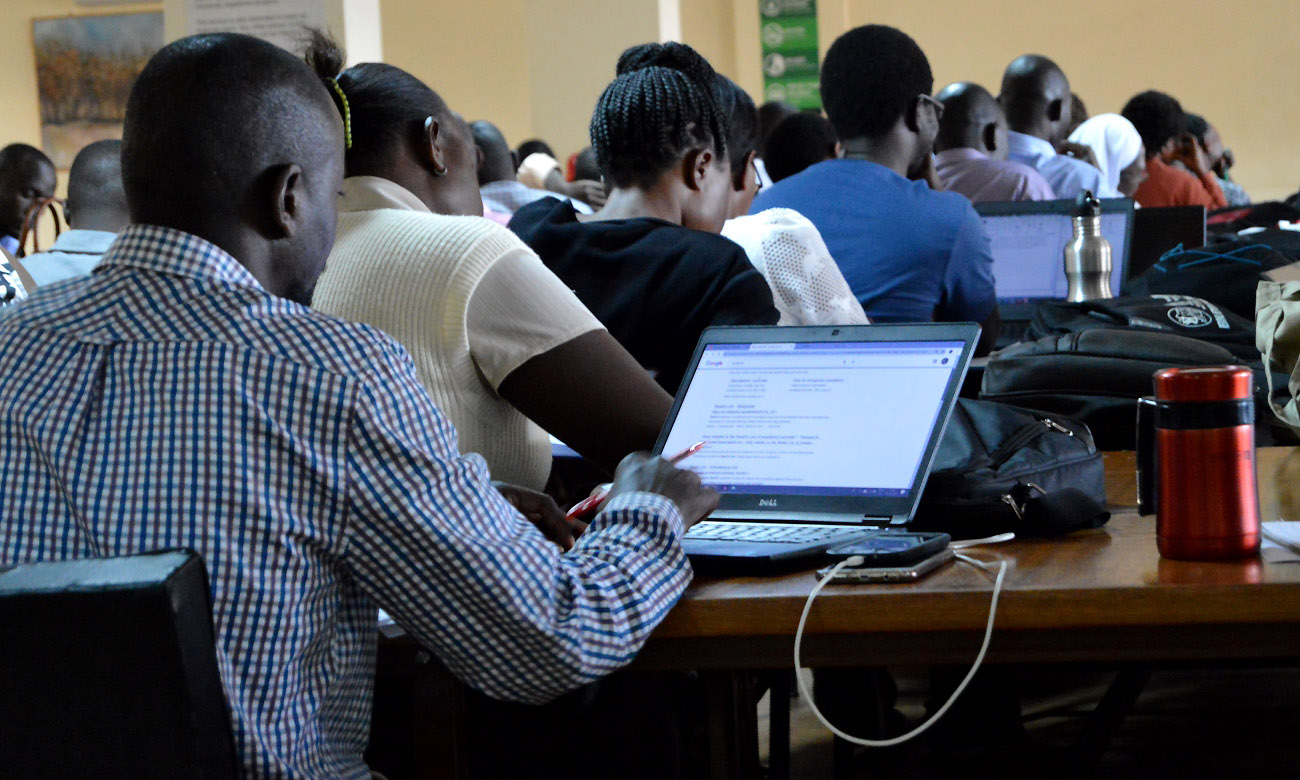 The role that digital education plays and might continue to play in providing access to higher education throughout sub-Saharan Africa is both promising and perilous. No single approach to digital education will effectively scale in the manner intended and will potentially exacerbate the marginalization that these groups experience. What does scale, however, are the multiplier effects of education itself.
Active academics from Makerere University, Bugema University, Gulu University, Uganda Martyr's University (Nkozi), Kyambogo University, and Nkumba University will study on the MSc in Digital Education at the University of Edinburgh, and further that education in dedicated cohorts designed to translate their critical experiences on the programme into tangible policy, strategy, and practice instruments for their institutions.
Potential candidates need not have any technological skills or background. Rather, they should be interested in the role that digital technologies might play in Ugandan higher education, particularly for marginalised groups such as women, displaced populations, and those with disabilities.
When does it start?
The programme will start in September 2023. We are accepting applications for this programme currently.
Contact Information
The Institute of Open, Distance and E-Learning (IODeL) will be the support centre for Makerere University staff enrolled on the programme.
See below for the full advert.
CEES hosts 21 students from University of Agder, Norway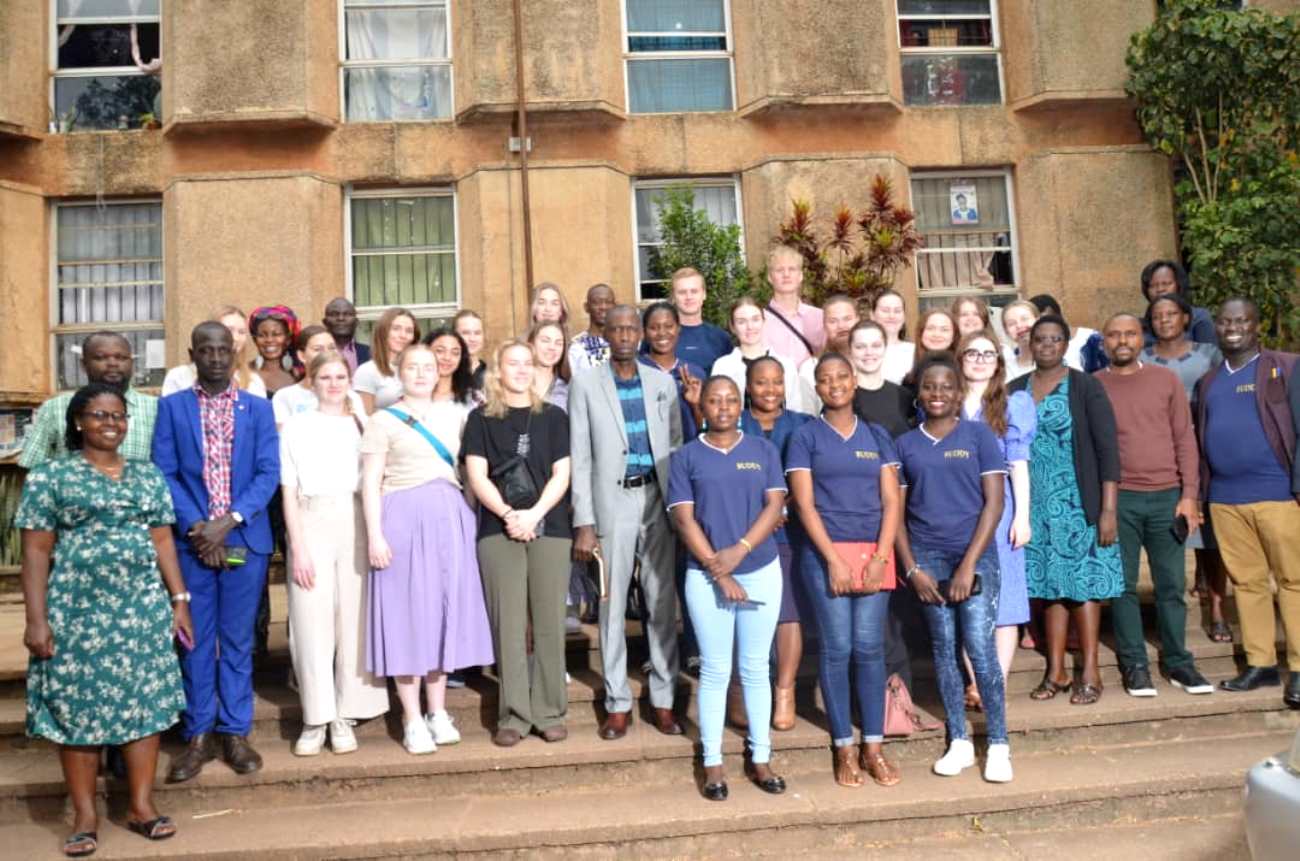 Students in the country for a one-month field course
The Department of Adult and Continuing Education is hosting about 21 students from University of Agder, Norway, on a student exchange program. The students, most of them first year students of Development studies will be in Uganda for one-month undertaking field studies in different parts of the country.
As part of their training, the students will live in Luweero with host families for a duration of one week. The students will be expected to learn from the communities and also share ideas on how to develop the different homesteads.
The students will then move to Mbale where they will live and study for another one-week. They will be working with different non-profit organizations in the area.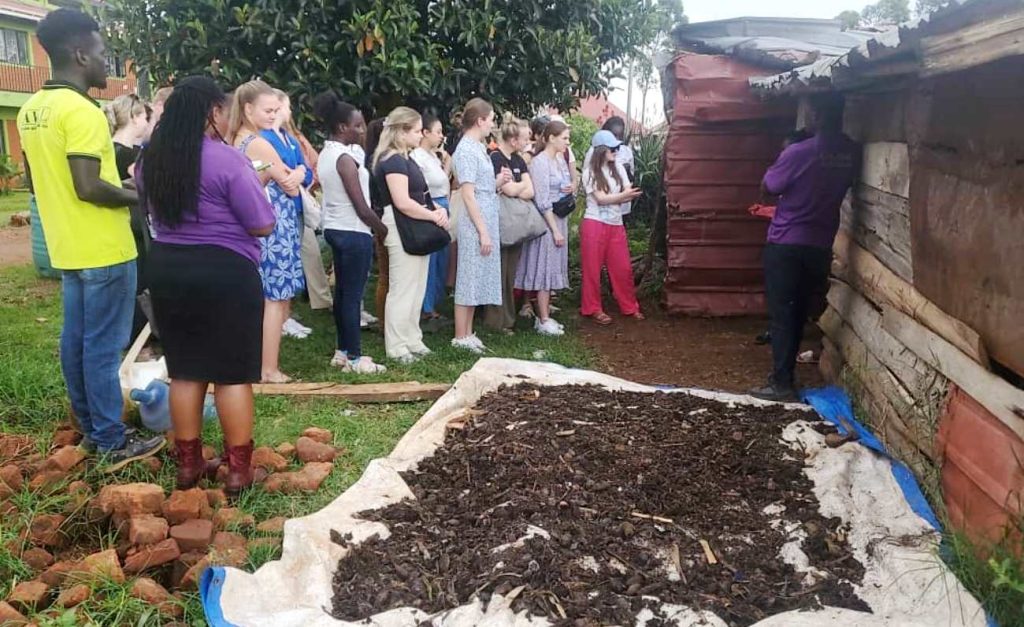 Speaking during the debrief of the students, on January 9, 2023, the Principal Prof. Anthony Muwagga Mugagga welcomed them to Uganda and asked them to ensure they enjoy their stay in Uganda. He however, cautioned them about ensuring their own safely.
He informed the students that Uganda was a beautiful country with sociable people. Prof. Mugagga encouraged the students to learn the Ugandan culture which will help ease the process of working with the communities in the different parts of the country.
He cautioned them about the cultural differences they may experience but reminded them that it is normal for things to be different because of the different cultures and upbringing the host communities have. "Have an open mind so that you can learn and above all, have fun," Prof. Mugagga said.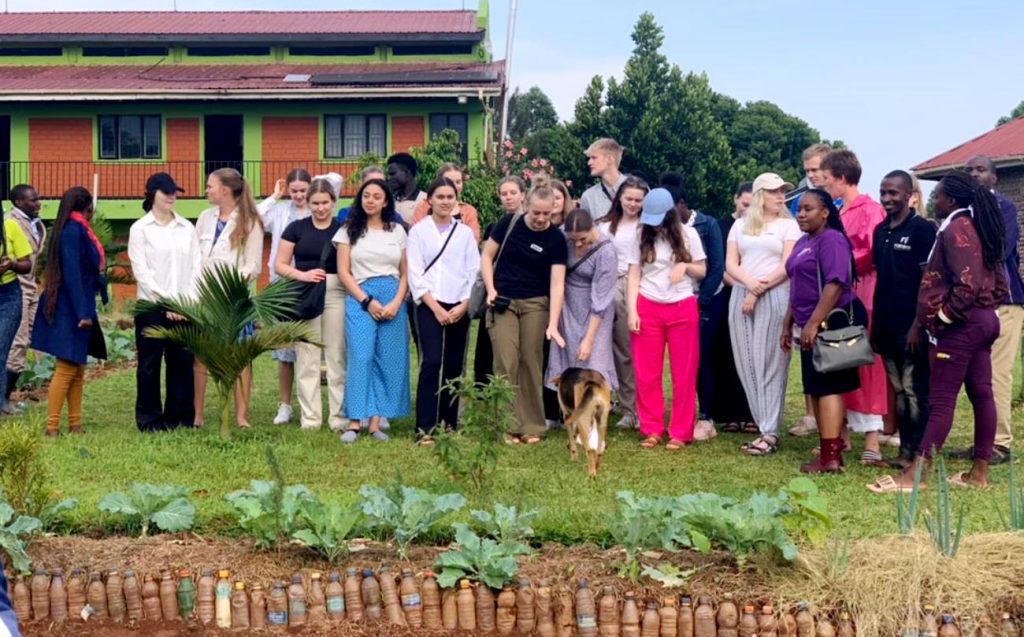 The Head of Department, Dr. Sanya Rahman, welcomed the students to Uganda and encouraged them to have an open mind so that they can learn and also unlearn certain things they know about Africa. He shared with the students the courses taught at the department and the opportunities available for exchange students.
The students had an opportunity to learn about the culture and norms of Ugandans. Dr. Constance Mudondo shared with the students about Uganda. She informed them that we have over 50 languages spoken by different groups of people. She informed them that greeting is an important aspect of our culture that they must learn to observe. She cautioned them about dress code, saying they must be decent at all times, especially in the rural communities where they will be spending most of their stay in Uganda. Dr. Mudondo informed the students that prayer is an important part of our lives and should be respected. "If the family you are living with sits down to pray, please join them as a sign of respect for their values and beliefs," she said. She cautioned them against smoking in public and ensuring their safety and that of their property.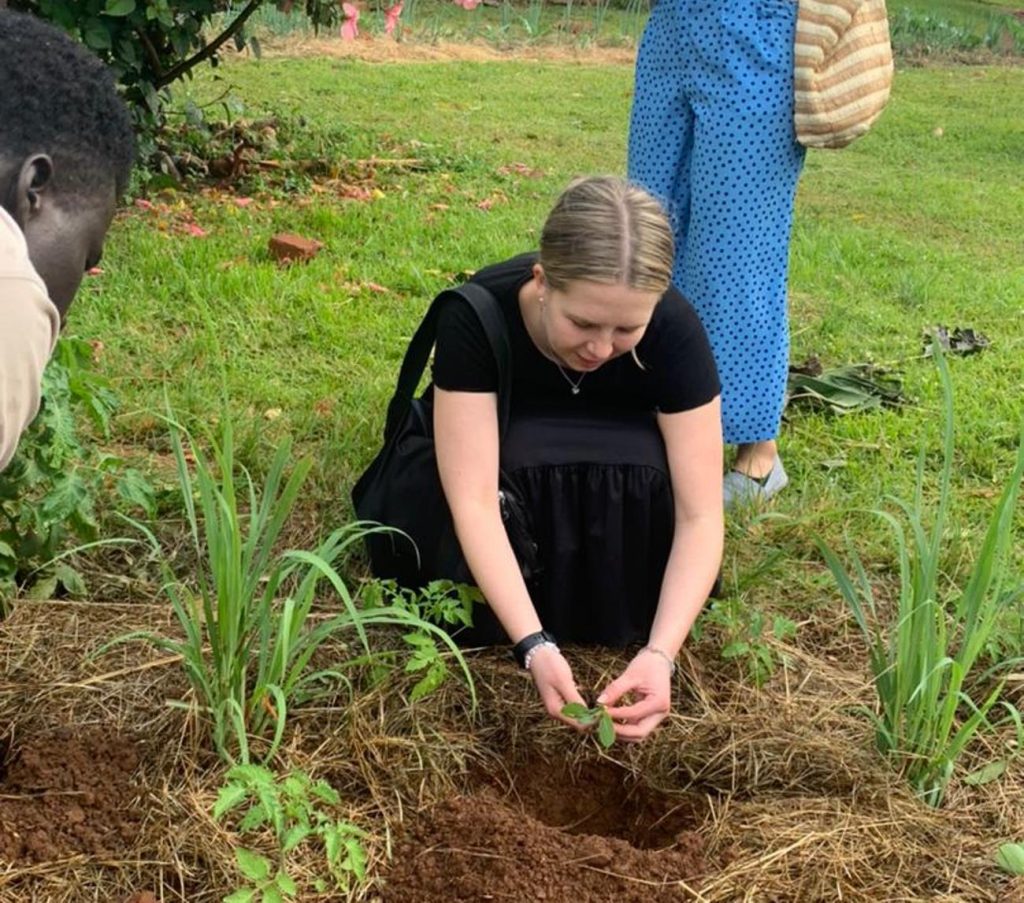 According to Mr. Joseph Watuleke, the coordinator of the student exchange program this is the sixth field study that students from the University of Agder are undertaking.
The students on January 11, 2023 visited Jangu International, in Mpigi District. Jangu International is an NGO that offers an innovative place where marginalized youth and refugees are empowered to create a future for this and upcoming generations.
Jangu International tackles the failing education of vulnerable groups by providing a "freesponsible" learning space with interactive workshops on personal development and social entrepreneurship.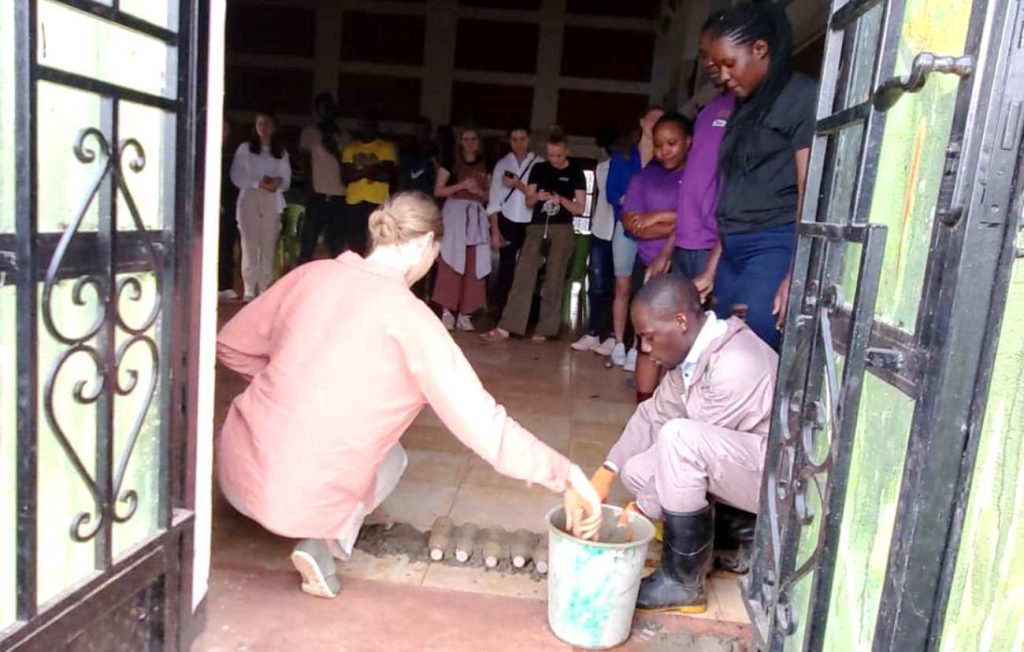 The students of the University of Agder described the visit as empowering, interesting and a learning experience for all of them. The students found a group of teenagers that was building houses with bottles, which they said was innovative and a good way to conserve the environment.