Call for Applications: PAIRWISE Msc Research Scholarships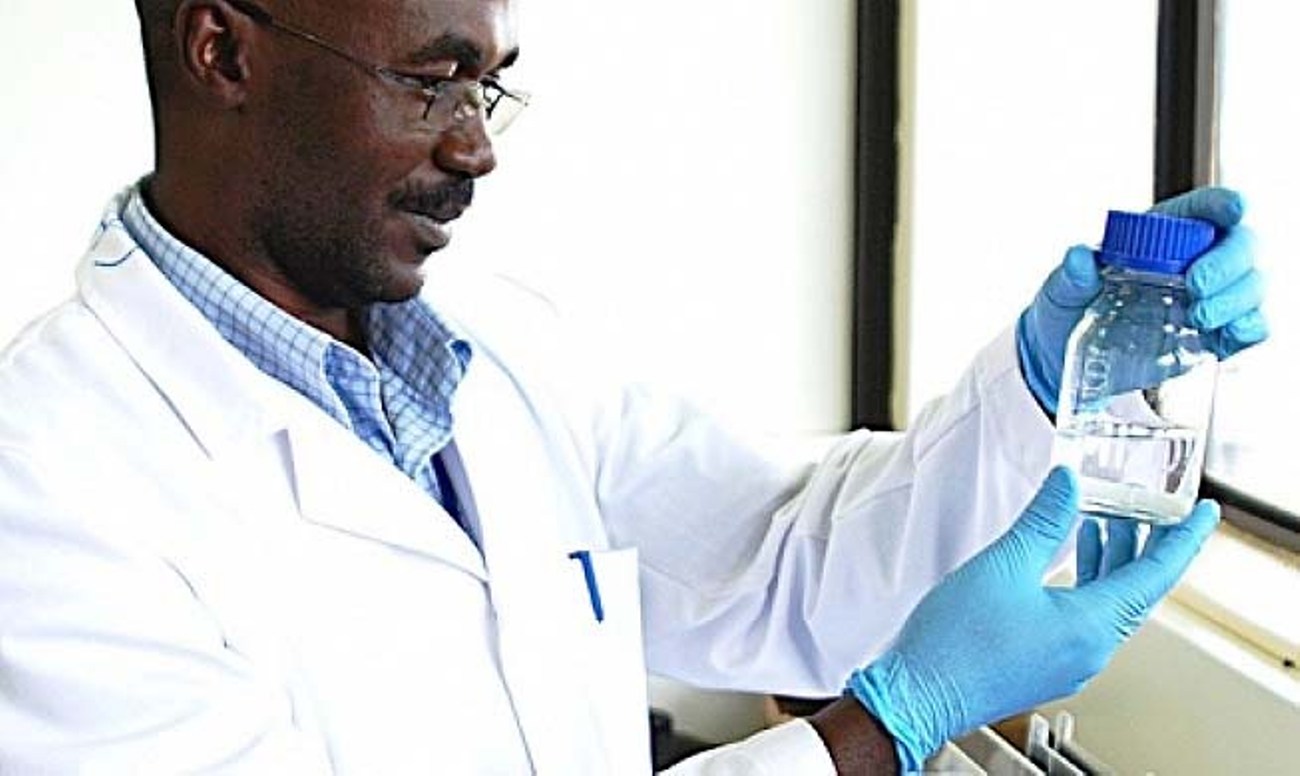 A. Background
Dispersal of Antibiotic Resistance and antibiotics in Water ecosystems and Influence on livestock and aquatic wildlife (PAIRWISE) project focuses on dispersal and dynamics of antibiotic resistant bacteria (ARB), antibiotic resistance genes (ARG) and antibiotics (ATB) in aquatic environments affected by wastewater treatment plants (WWTPs), with a 'One Health' perspective (https://www.jpiamr.eu/projects/pairwise/) in the catchments of both River Rwizi and Aswa.
The overall goals are to evaluate: i) dispersal of ARB, ARG and ATB in surface waters downstream of WWTPs; ii) carriage of ARB and ARG in livestock linked to surface waters influenced by WWTPs; and iii) role of aquatic birds in dispersal of ARB and ARG. 
B. The Scholarships
As previously mentioned, and as part of the PAIRWISE capacity building component, we are inviting applications for a One (1) Year research scholarship tenable at Makerere University:
MSc Scholarships and respective research areas
MSc.1 – Assessment of the level and dispersal of ATB in river water upstream and downstream of wastewater treatment plants and hospital effluent. 
MSc.2 – The dispersal of antimicrobial resistance bacteria and genes through aquatic birds under different climatic and geographical conditions.
MSc.3 – Characterisation of clinically important antibiotic resistant bacteria and genes in river waters upstream and downstream of WWTPs and hospital effluent.
​​​​​​ C. Scholarship Benefits 
The scholarship will support tuition, research costs, and a modest stipend. The applicants must therefore be full-time students. The support is available to applicants who are nearing successful completion of year one, and preparing to start research projects in the 2021/2022 Academic Year.
D. Eligibility
The scholarships are open to eligible MSc. students who are duly registered for programmes in the disciplines of Biology, Zoology, Biochemistry or Wildlife. 
Applications from suitably qualified females are particularly encouraged.
Laboratory skills in microbiology and molecular genetics will be of added advantage.
Willingness and ability to work in remote areas of western and northern Uganda.
 E. Application process 
The application package should include: 
One-page motivation letter on the research topic of interest.
Curriculum vitae (maximum 2 pages).
Copies of academic documents.
Evidence of registration on an MSc. programme at Makerere University.
Recommendation letters from two academic referees.
F. Application Deadline
Applications should be compiled into a single PDF file and submitted electronically to the 
Principal Investigator, Assoc. Prof. Charles Masembe (charles.masembe[at]mak.ac.ug), and a copy to Dr. Robinson Odong (robinson.odong[at]mak.ac.ug), by 14th January 2022.
Call for Applications: Masters & PhD Scholarships at Mak, KYU, JOOUST in Collaboration with BOKU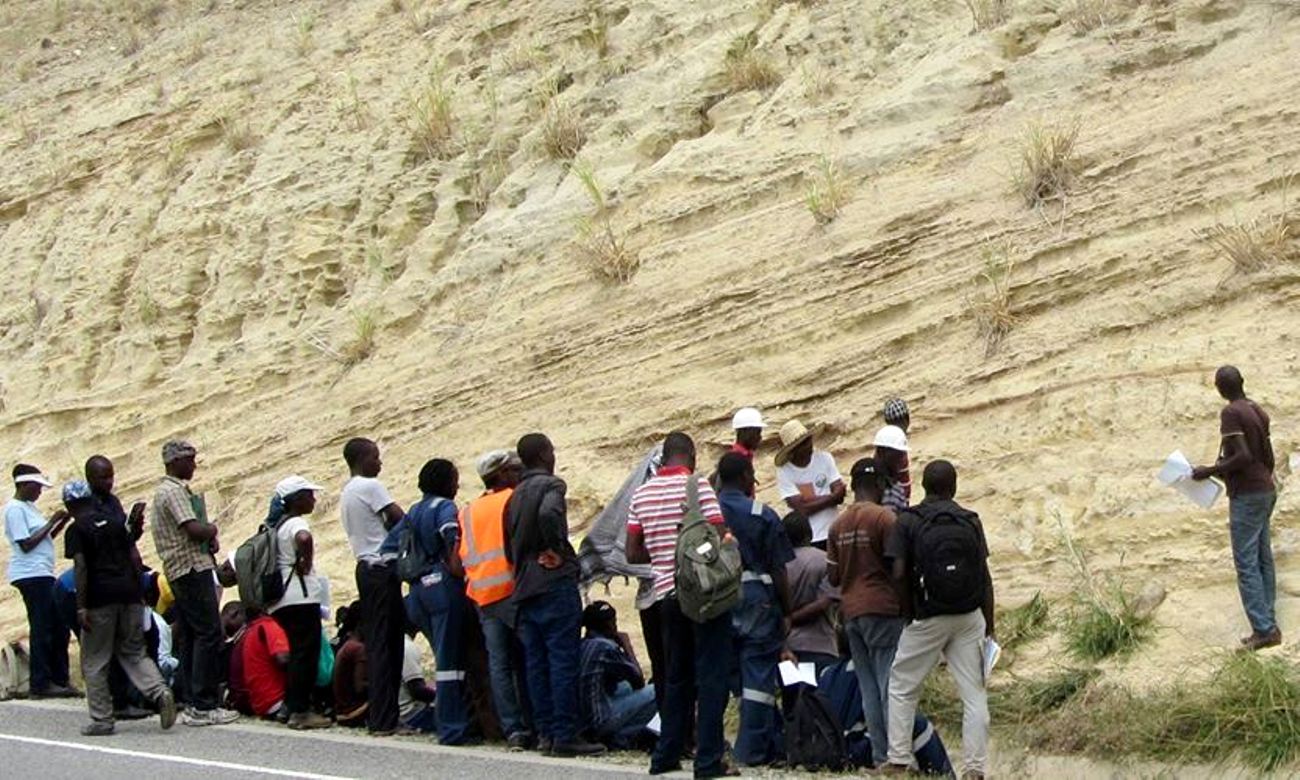 Call for Applications for Masters and PhD Scholarships Tenable at Makerere University (MAK), Kyambogo University (KYU) and Jaramogi Oginga Odinga University of Science and Technology (JOOUST) in collaboration with University of Natural Resources and Life Sciences, Vienna (BOKU) under The APPEAR Academic Partnership Project 'Environmental Chemistry for Sustainable Development (ECSDevelop)'

Project background
East Africa faces serious environmental challenges in relation to atmospheric, soil and water pollution. The Lake Victoria basin and the Albertine Graben have not been spared either. The Lake basin, which is being shared by Uganda, Tanzania and Kenya has been undergoing rapid urbanization in the last three decades; the high population density, rapid industrial growth and waste-water treatment plants in vicinity of Lake Victoria basin have been reported as sources of environmental contaminants such as plastic debris and endocrine disrupting chemicals (EDCs). It is expected that both Lake Victoria and Nile River act as sinks for pollutants e.g., microplastics (MPs); however, the extent of these interactions and MPs entrapment rates will be governed by many physical, biological and chemical factors. In addition, the project explores L. Victoria point source pollution identification and remediation. Since most of the pollutants on the Kenyan side of lake have been identified, stratified sampling of known pollutants will be done and mechanisms of removing the pollutants at its source determined. A policy brief will be prepared and made available to concerned authorities for action.
Furthermore, Uganda has established an ambitious agenda for its future with its 2040 Vision acting as a blueprint and framework envisaging a middle-income economy, and its hopes for infrastructural and social development are hinged on revenues expected from oil production in the Albertine Graben. In 2013, Uganda's oil reserves were estimated to be 3.5 billion barrels, and were expected to yield at least USD $2 billion per year for 30 years once oil production commences. The Albertine Graben, covering an exploration area of about 25,000 km2 contains substantial oil seepages that lead to environmental degradation and thus impose threats to people's health through food chains. Many bioremediation and chemical oxidation studies have been carried out but with limited remediation efficiency. In this project, candidates will explore multifaceted application of nanotechnology in the field of bioremediation of petroleum hydrocarbons. Understanding the interaction between the contaminant, the microorganism, and the nanomaterials is of crucial importance since positive and negative effects may be produced.
Project Objectives/Outcomes:
It is expected that through this project, we shall;
Exploit regional capacities to jointly streamline existing curricula on environmental chemistry and ecotoxicology.
Develop a novel cost-effective state-of-the-art technology to track and clean up contaminants in waste water.
Develop efficient remediation technologies for crude oil contaminated soils and water of the Albertine graben, Uganda.
Investigate seasonal fluxes, sources and trophic transfer of microplastics within the aquatic ecosystem of Lake Victoria and River Nile.
Scholarship design:
The project offers financial support to academically skilled master's and PhD students with main focus on aforementioned priority areas. 4 PhD scholarships (2 tenable at MAK -Uganda, 1 tenable at KYU-Uganda, and 1 tenable at JOOUST-Kenya), and up to 5 Master scholarships (3 tenable at MAK, 1 tenable at KYU, and 1 tenable at JOOUST) will be considered for funding by ECSDevelop project. 50% of the scholarships will be awarded to females.
The scholarship covers:
Full tuition fees: Payable directly to the University according to an official invoice;
Stipend: EUR 2,400 and EUR 3,600 for MSc and PhD students, respectively, per year to support living expenses during project duration;
Field visits, study materials and laboratory consumables: One-off allowance;
Workshops on renewable resources/analytical skills and webinar series on biorefinery;
Research fellowships in BOKU, Austria: Students will be provided with money to cover their costs for accommodation, insurance and upkeep while in Austria at the University of Natural Resources and Life Sciences, Vienna (BOKU).
Interested applicants should submit the following sets of documents:
An application letter for a Master's or PhD scholarships;
A current CV (at most 2 pages), including a detailed description of the previous education at the University level (all courses and grades) and a description of current research interests in line with the stated ECSDevelop project areas of focus;
Citizenship Proof – Copy of national identity card or passport;
Three recent passport size photos;
A certified copy of the bachelor's degree & certificate for Master's applicants; Master's degree & certificate for PhD applicants;
A copy of admission letter to the MSc. Program at MAK or KYU or JOOUST for Master's applicants;
A research Concept Note maximum 5 pages with a detailed description of the applicant's research interest.
A motivation letter showing why they are interested in pursuing Masters or PhD studies and expected outputs from their master's or PhD studies.
At least two recommendation letters from your academic referees. The reference letters should be sent together with the application.
Application procedure:
All application documents must be zipped up in one file folder;
Electronic submission of application for scholarship with supporting documents should be sent to the Overall Project Coordinator of ECSDevelop, Dr. Christine Betty Nagawa on e-mail christine.nagawa[at]mak.ac.ug with a copy to ECSDevelop Project Coordinator at JOOUST, Dr. Solomon Omwoma Lugasi on e-mail slugasi[at]jooust.ac.ke; and to the ECSDevelop project Coordinator KYU, Dr. Christine Kyarimpa on email ckyarimpa[at]kyu.ac.ug
No hard copies of application documents will be required given the prevailing covid-19 situation;
Deadline for submission of applications is 30th January, 2022 17:00 hours, EAT. Only the shortlisted candidates will be contacted for interviews.
Selection Process:
These are competitive Masters & PhD scholarships. The applications shall be vetted by a selection panel consisting of professionals from MAK, KYU, JOOUST and BOKU. Previous working experiences with research projects will be an added advantage.
Please see Download below for detailed Call for Applications.
Mak-CoNAS Researchers Launch Project to Explore Forage Resources for Stingless Bees in Uganda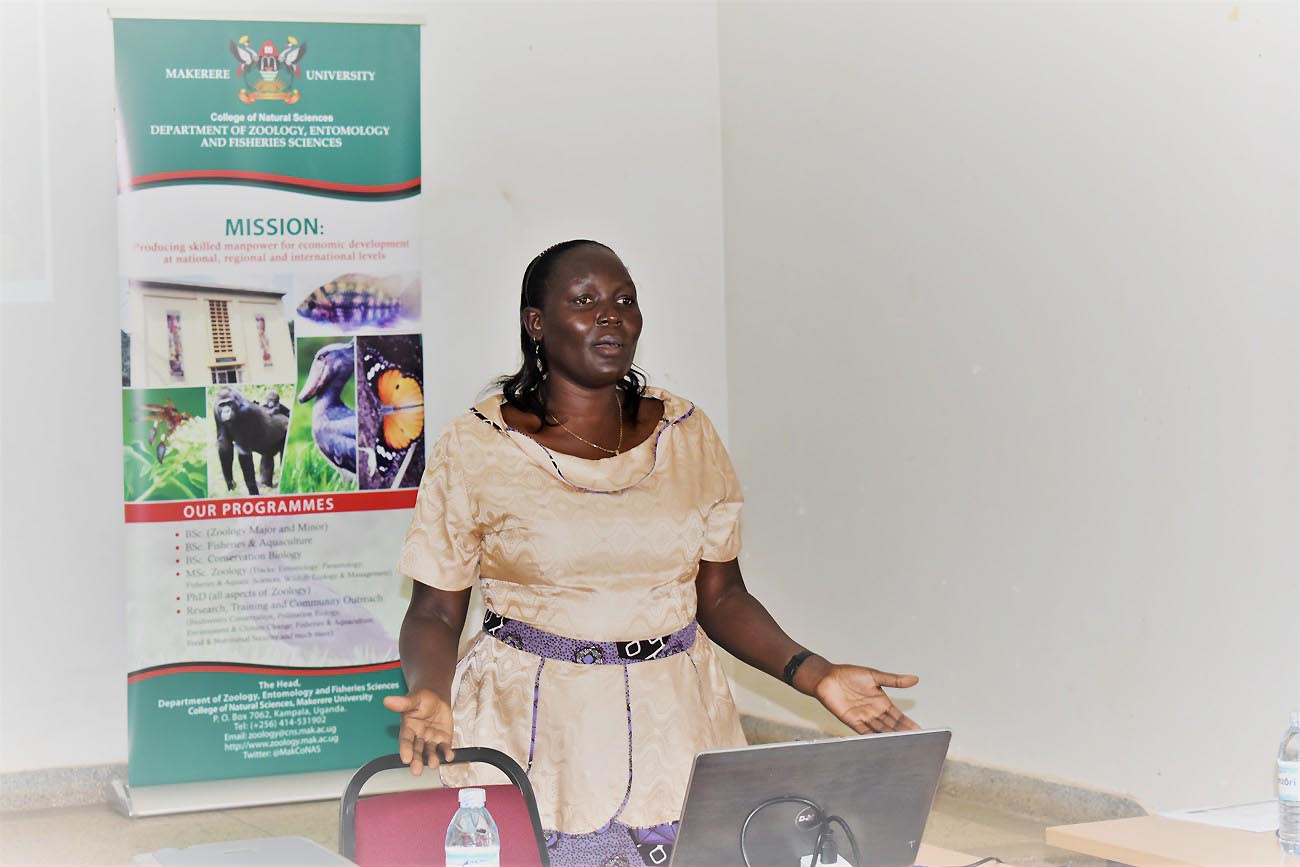 Preamble
The products from stingless bees may be little but are so valuable. Stingless bees have many benefits to various sectors of the economy, more especially the Health and Agricultural sectors. The project titled – "Exploring Forage Resources for Stingless Bees in Uganda: The Case of Meliponula bocandei"seeks to preserve them and to maximize their benefits to the economy.
It is led by Dr. Perpetra Akite, Lecturer in the Department of Zoology, Entomology and Fisheries Sciences and supported by the Government of Uganda through the Makerere University Research and Innovations Fund (Mak-RIF).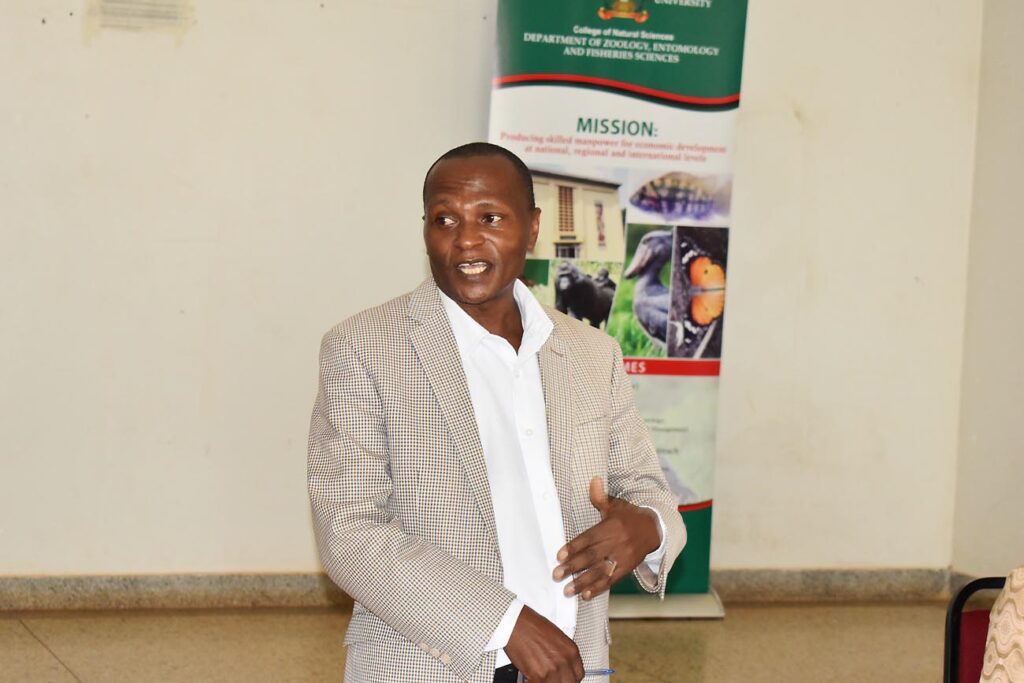 Launch of the project
Researchers from the Department of Zoology, Entomology and Fisheries Sciences, College of Natural Sciences (CoNAS), Makerere University on 18th November 2021 launched a project to explore forage resources for Stingless bees in Uganda, with special focus on the Meliponula bocandei species. The launch held at the National Livestock Resources Research Institute (NaLIRRI) in Nakyesasa, Wakiso District was presided over by the Commissioner, Entomology at the Ministry of Agricultural, Animal Industry and Fisheries (MAAIF), Mr Lawrence Tusimomuhangi. It was grace by among others, the current Head, Department of Zoology, Entomology and Fisheries Sciences, Dr. Eric Sande, and former heads, Prof. William Banage, Prof. Gilbert Isabirye Basuta and Prof. Anne Mary Akol.
Objectives of the project
Supported by the Government of Uganda through the Makerere University Research and Innovations Fund (Mak-RIF), the project seeks to profile forage resources for Meliponula bocandei in the Western highlands and Lake Victoria Crescent AEZs of Uganda. It also aims to characterize pollen in honey of Meliponula bocandei collected from the Western highlands and Lake Victoria Crescent AEZs of Uganda. Under the project, the researchers plan to develop a Meliponula bocandei beekeeping calendar for Uganda. Once developed, the beekeeping calendar will guide farmers on the approximate date and duration of the blossoming periods of the important honey and pollen plants in their area, and the kind of flowers available for the bees in the course of the year.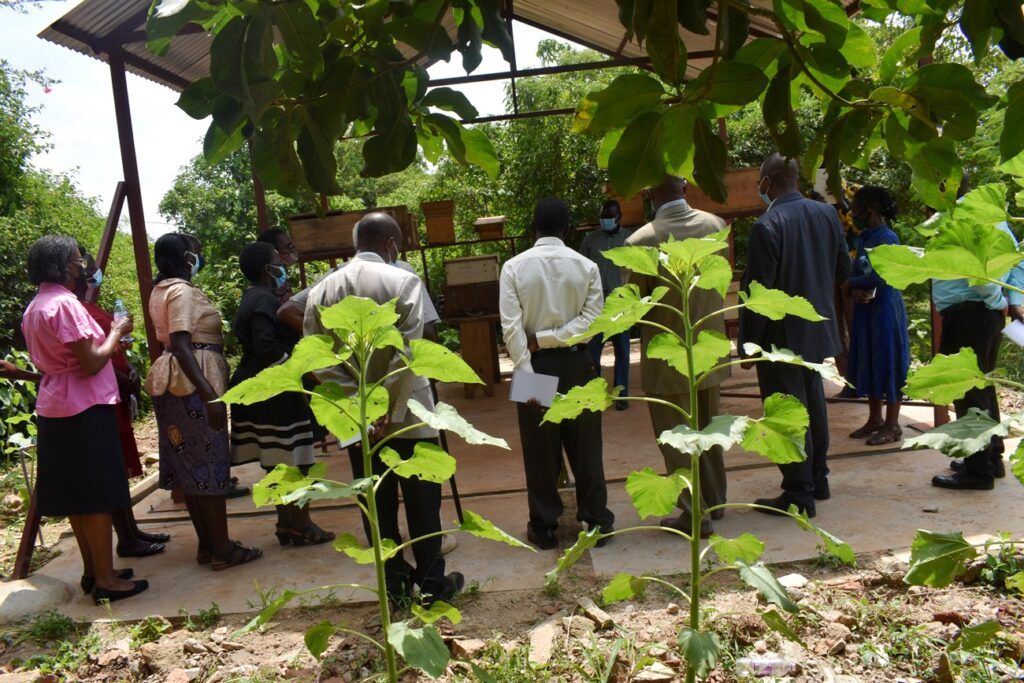 The study follows two previous research projects that sought to domesticate stingless bees in Uganda and to explore the nutritional and medicinal values of their products.
According to the research team, stingless bees present enormous benefits to the Health and Agricultural Sectors. Their products have high nutritional and medicinal values. The pollination services associated with the stingless beekeeping industry can boost crop production especially in the urban settings. The stingless beekeeping industry also has great potential to generate employment. However, the continued destruction of the environment through deforestation and soil pollution presents a major challenge to the survival of the bees since they feed on restricted plant species. It is on this basis that the researchers have set out to study and preserve forage resources for stingless bees.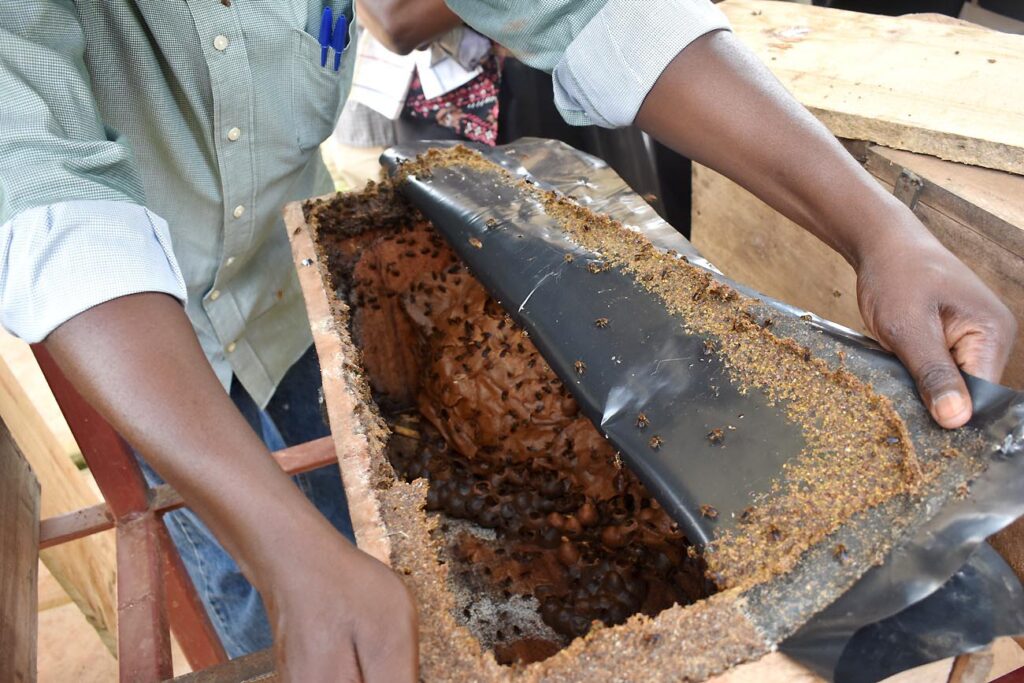 Expected outcomes
Presenting an outline of their study, the Principal Investigator, Dr Perpetra Akite said the project will largely contribute to the development of the stingless beekeeping industry in Uganda. "The project will impact positively at several frontiers, especially on the role played by stingless bees in crop pollination for food security. Scientists and other key actors will benefit from the knowledge generated from this action research on the identification of forage for stingless bees in Africa, and the economy will largely improve due to increased participation in stingless bee enterprises," she noted. Other expected outcomes include; a baseline information and platform for developing stingless bee forage in Uganda, a stingless beekeeping calendar to promote meliponiculture and improvement in livelihoods.
Government expectations
Addressing participants, the Commissioner, Entomology at the Ministry of Agriculture, Animal Industry and Fisheries, Mr. Lawrence Tusimomuhangi applauded the researchers for the initiative. "The Government is deeply interested in insect related interventions. However, many questions in the area of entomology remain unanswered. There is need for substantive research into productive insects and Makerere should lead on this.We need to invent technologies for continuous production of insects like grasshoppers that have high commercial benefits. The Ministry of Agriculture, Animal Industry and Fisheries is relying on Makerere and other research institutions to guide on the development of appropriate technologies for insect management interventions, and the promotion of agro industrialization in line with the National Development Plan III," he explained. NDP III seeks to promote sustainable industrialization for inclusive growth, employment and wealth creation.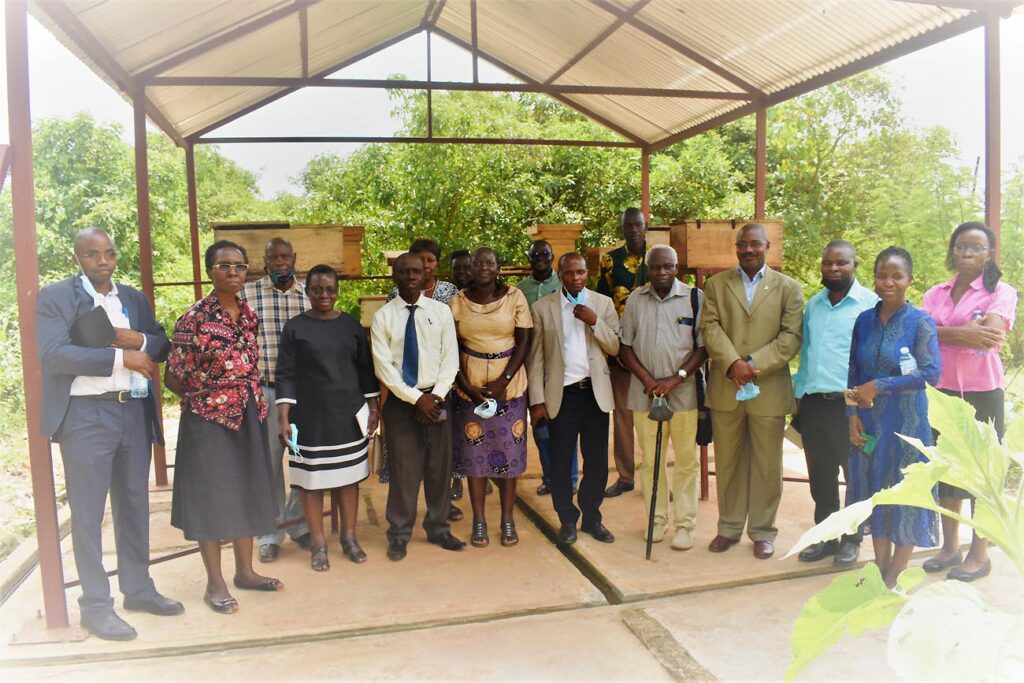 Proposals by participants
During the engagements, participants observed that there was need to study the behaviour of stingless bees at different locations (adaption to the environment) and variations in seasons before designing the beekeeping calendar. They also noted that it is important to collect data during both the dry and wet seasons for better results. Additionally, participants called for studies on the toxicological effects of agrochemicals on stingless bees.
In his remarks, the Head, Department of Zoology, Entomology and Fisheries Sciences at Makerere University, Dr Eric Sande commended the research team for writing a successful project. He appreciated the Government of Uganda for the enormous support towards research activities at Makerere. "Exploring Forage Resources for Stingless Bees in Uganda: A Case of Meliponula bocandei" is one of over 700 projects that have so far been supported by the Government of Uganda through Mak-RIF.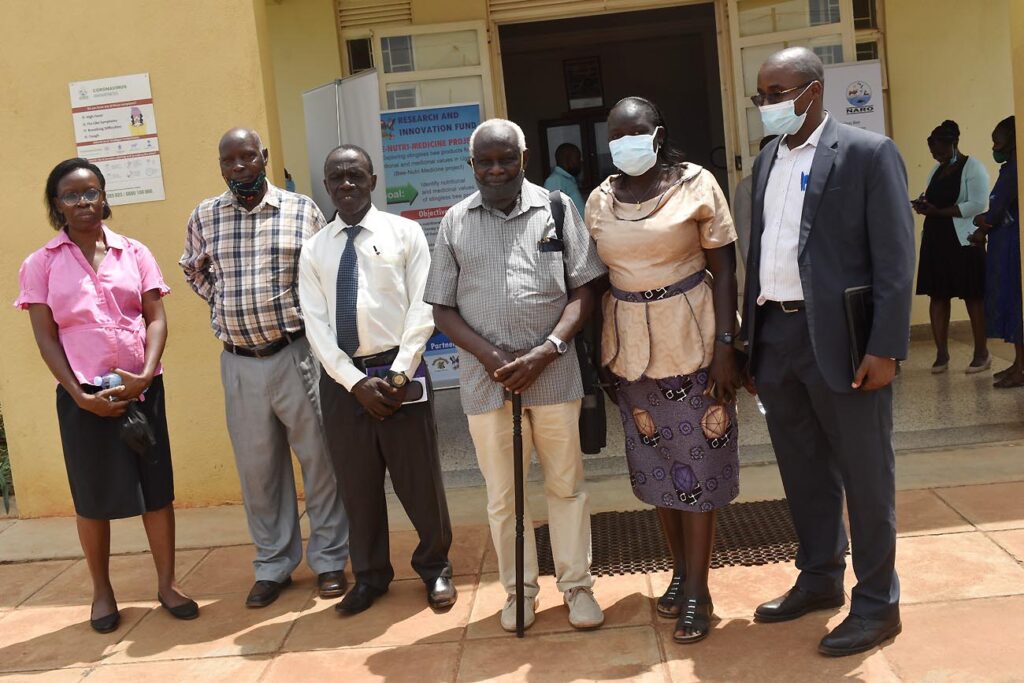 Additionally, Dr Sande acknowledged the presence of the former heads at the event and their continued support towards the development of the Department.
About NaLIRRI
Briefing participants on the NaLIRRI, the representative of the Director, Dr Patrice Kasangaki appreciated the long standing collaboration between the Institute and Makerere University Department of Zoology, Entomology and Fisheries Sciences. The Department has collaborated with the NaLIRRI on several research projects and continues to offer practical training as well as supervision of students. NaLIRRI supported the department in research on domesticating stingless bees and exploring the nutritional and medicinal values of their products. The Institute has pledged support for the current project aimed at exploring forage resources for stingless bees in Uganda.
As part of the project launch activities, participants toured the Meliponary at NaLIRRI to learn more about the preservation of stingless bees.
Commemorating World Fisheries Day – Stakeholders call for more Investment in Fish Farming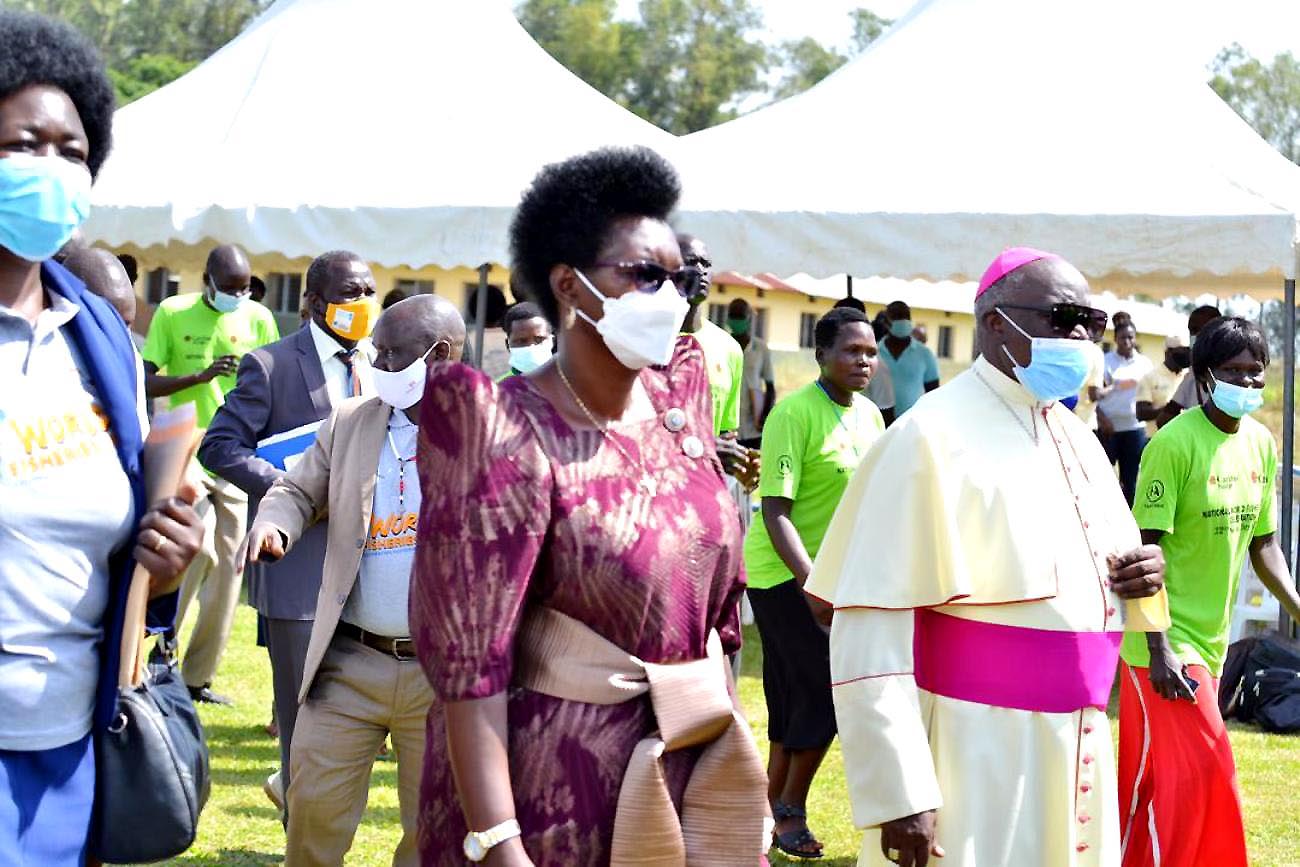 Theme of the 2021 World Fisheries Day celebrations:"Recognizing and Supporting the Contribution and Sustainable Development of Small Scale Artisanal Fisheries and Aquaculture"
The World Fisheries Day celebrated on 21st November annually presents an opportunity for stakeholders in the fishing industry to reflect on the state of Fisheries resources.
On 22nd November 2021, Uganda joined the rest of the world to commemorate the day. The celebrations to mark the day were held at St. Isidoro (Negri) Bar-Dege, Layibi Division in Gulu City. The event was presided over by the Minister of State for Fisheries, Hon. Hellen Adoa and attended by major actors in the fisheries industry in Uganda as well as political and religious leaders from Gulu District.
Highlighting the achievements and challenges faced by the fisheries sector globally, participants expressed concern over the continued depletion of fish from water bodies as a result illegal and unregulated fishing methods.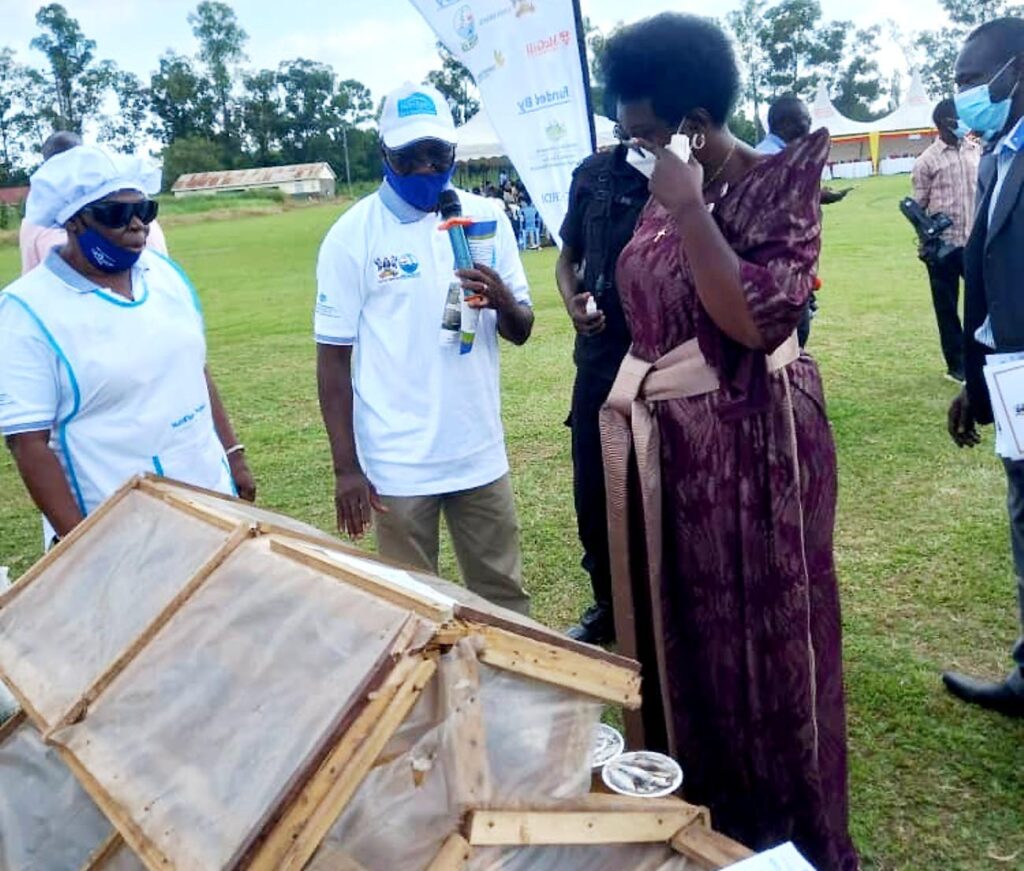 Addressing participants, the Minister of State for Fisheries, Hon. Hellen Adoa called for more investment in fish farming to salvage the industry. "The fishing sector is faced with numerous challenges. The persistent use of illegal fishing gears and methods has resulted in catching and processing of immature fish. This has led to the decline of fish stocks reducing fish catches and consequently undermining the contribution of the sector to the economy," she explained, calling on the general public to embrace aquaculture.
"Uganda is well endowed with water resources, good climate and raw materials for the production of fish feeds. With all these, we are well positioned to undertake aquaculture. Aquaculture can be practiced on commercial scale, in ponds, tanks and cages and has great potential to fill the gap created by the declining fish catches from natural water bodies. It also has potential to provide employment," she noted.
The Minister acknowledged the support rendered by various actors towards the development of the fishing industry, one of the country's major foreign exchange earners.
Emphasizing the contribution of the Fisheries Sector to the economy, the Director Fisheries at the Ministry of Agriculture, Animal Industry and Fisheries (MAAIF), Ms Joyce Ikwaput Nyeko called for concerted efforts to address the challenges affecting the industry.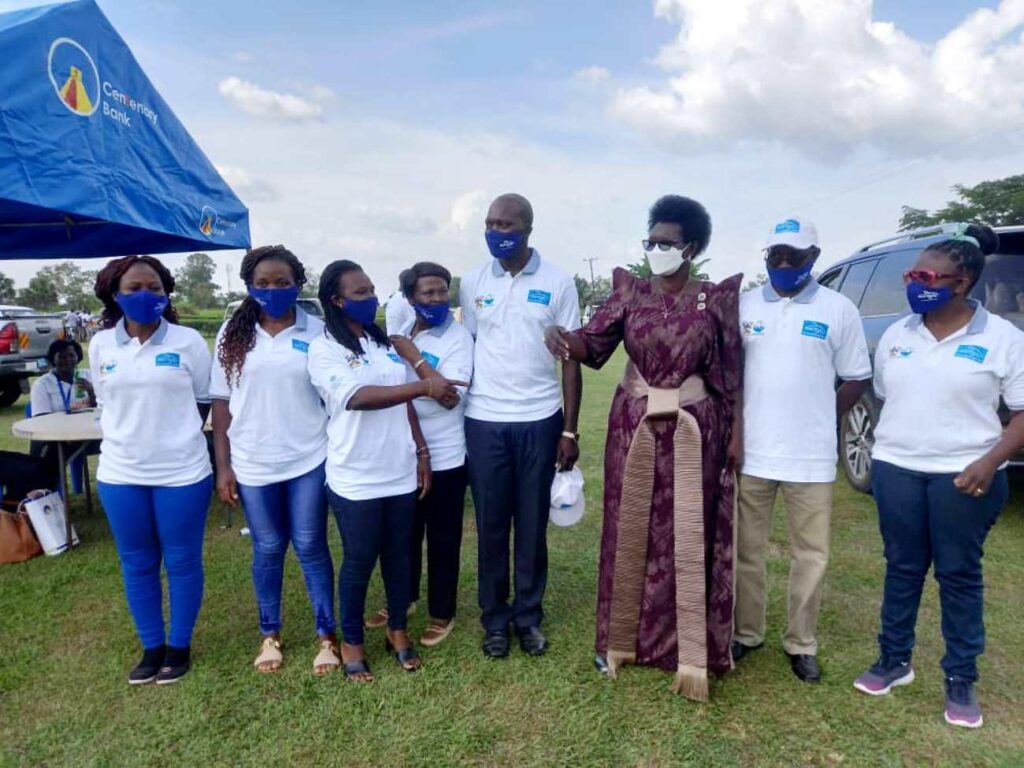 "Uganda is blessed with a lot of water resources with 20% of our surface area covered by lakes, rivers, swamps, and has potential to provide 1.7 million tonnes from both aquaculture and capture fisheries. This is however undermined by numerous challenges including unregulated fishing, lost fish habitats and global warming. This calls for drastic interventions to sustain the industry," she said.
Currently, Uganda exports fish worth USD 177 million and is second to coffee in foreign exchange earnings from non-traditional exports. The fishing industry in Uganda provides employment to 1.2 million people and supports 5.3 million people. Besides the commercial benefits, fish and fisheries products play an important role in food and nutritional security around the world.
Representing Hauge Aqua, Dr. Ronald Semyalo, a Lecturer at the Department of Zoology, Entomology and Fisheries Sciences, College of Natural Sciences, Makerere University called for more training and skilling of youth in Fisheries and Aquaculture as a measure to minimize unemployment. The Department of Zoology, Entomology and Fisheries Sciences, Makerere University supports training in fisheries and aquaculture at various institutions in the country.
Exhibitions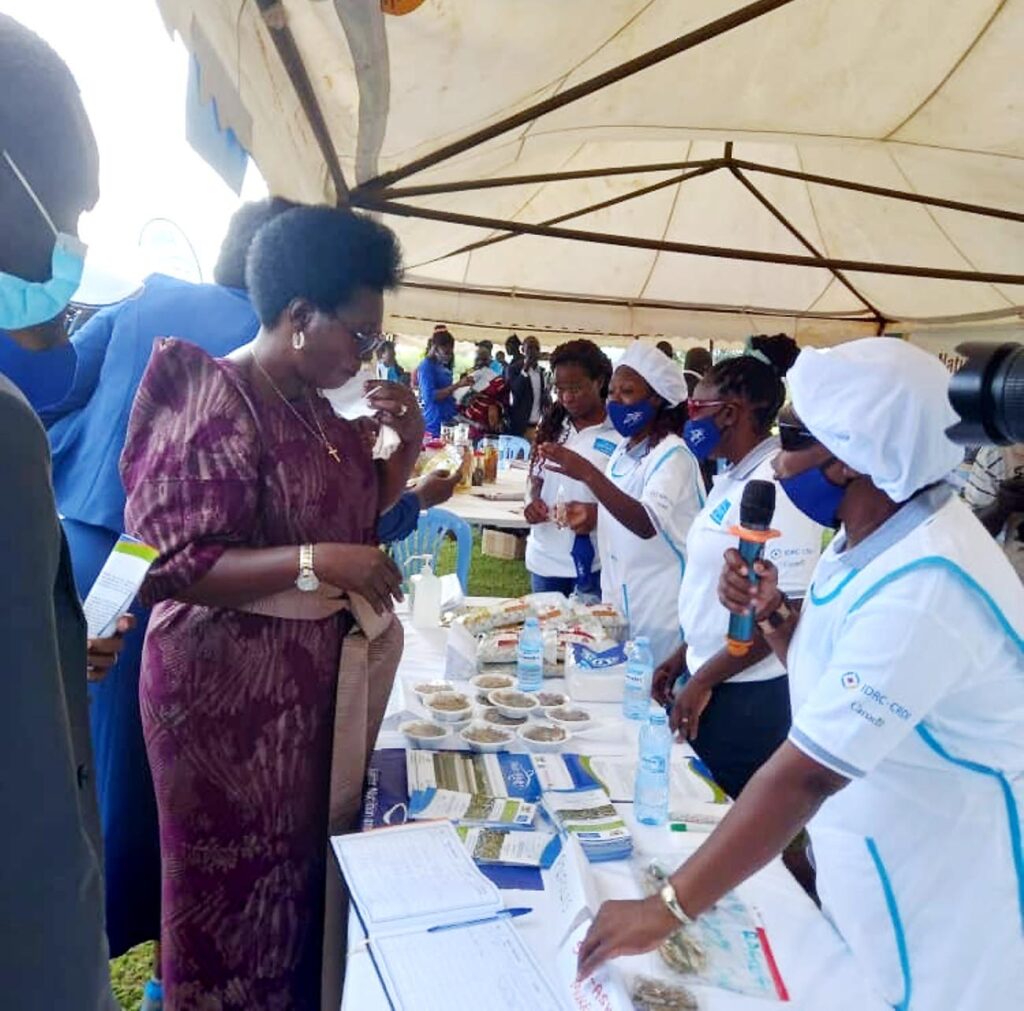 As part of the activities to mark the day, key stakeholders in the fishing industry including the Ministry of Agriculture, Animal Industry and Fisheries; the National Agricultural Research Organization (NARO); NutriFish Uganda; and the National Fisheries Resources Research Institute (NaFIRRI) showcased some of their products.
Exhibition by NutriFish Uganda
Supported by the International Research Development Centre (IDRC) and the Australian Centre for International Agricultural Research (ACIAR) through their joint programme, Cultivate Africa's Future Fund (CultiAF), NutriFish aims to address the nutritional needs of vulnerable groups that cannot afford expensive commercial fish but are in critical need of high quality nutritious diets.
As key stakeholders in Uganda's fishing industry, the project team led by Dr Jackson Efitre actively participated in the exhibition to mark World Fisheries Day in Gulu City. At their stall, the researchers showcased some of their products from small pelagic fish, actively engaging and explaining to participants the nutritional benefits and the product flow process of the fish. Some of the products showcased included, composite flour enriched with mukene (silver fish), Baghia from Nile Perch, fish sauce with mukene, instant porridge enriched with mukene, fish seasoning with mukene, mukene snack and the solar tent drier.
Graduation Ceremony – Award of a Certificate in Community Aquaculture, Level 1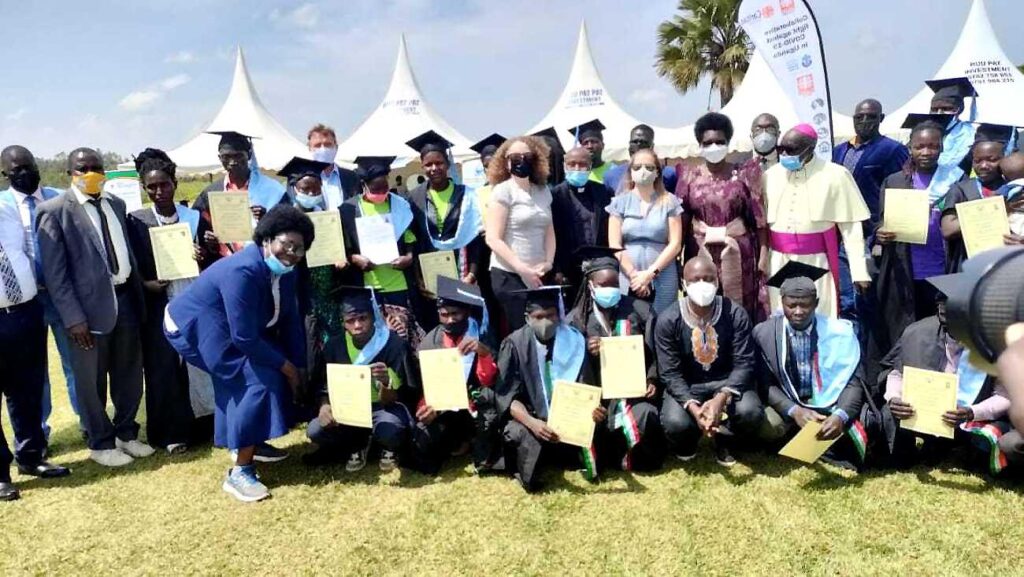 During the ceremony, 100 students from two community aquaculture schools in Arivu, Arua District and at St. Isidoro Farm in Gulu District graduated with a Certificate in Community Aquaculture, Level 1. The graduation ceremony was presided over by Gulu Archdiocese Archbishop, His Grace John Baptist Odama.
The two schools were established with support from Caritas International as part of the contribution of the Catholic Church towards the development of aquaculture in Uganda, and eradication of poverty and hunger in line with sustainable development goals 1 and 2. The project aims to uplift the lives of the vulnerable and unemployed youth and women through creating skills in fish farming, entrepreneurship, and cooperatives for marketing products in the fish value chain. To date, 1,051 students have completed training at these schools.
In his remarks, the National Director, Caritas Uganda, Msgr. Dr. Francis Ndamira appreciated the support rendered by Makerere University Department of Zoology, Entomology and Fisheries Sciences towards the training of students.