MakCHS Student Innovation shines at HIHA 2021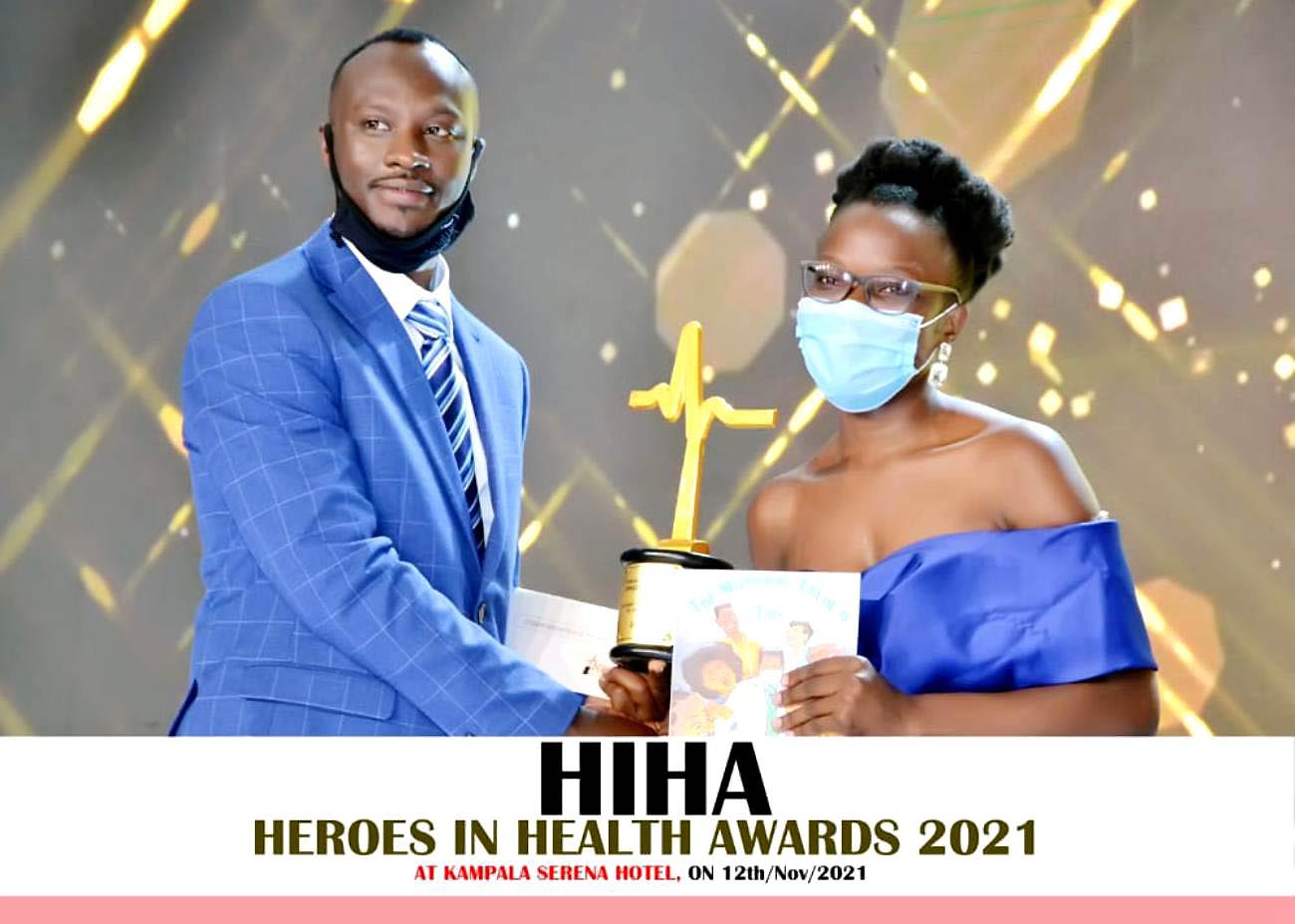 A team of students led by Ms. Anna Maria Gwokyalya – 4th year student of Medicine and Surgery at the College of Health Sciences (MakCHS), Makerere University won the award of 'Student Innovation of the Year' at the Heroes in Health Awards (HIHA) held on the 12th November, 2021. Her innovation was a book "The Mugishas' COVID-19 Tale" designed to help children be more involved in the fight against the Covid-19 pandemic.
Inaugurated in 2019, The Heroes in Health Awards (HIHA) is a public private initiative adopted by the Ministry of Health with the support of Xtraordinary Media to offer opportunity to members of the public to motivate Uganda's excellent health sector players, recognize and encourage new innovations that will transform our health care system.
Anna Maria shares the experience of the team in an interview below:
Tell us more about your team
We are a team of five students who have worked on numerous research projects and online campaigns to increase awareness of Antimicrobial Resistance under ARSU (Antimicrobial Resistance Stewardship Uganda). Whereas I was the leader of this comic book project, it's the brainchild of the entire team, an indicator of respect, mutuality and friendship.
Describe your innovation and what motivated you to work on it
This book entitled, "The Mugishas' COVID-19 Tale" contains fascinating illustrations with simplified information on symptoms, transmission and prevention of COVID-19 that includes both observation of the standard operating procedures and vaccination.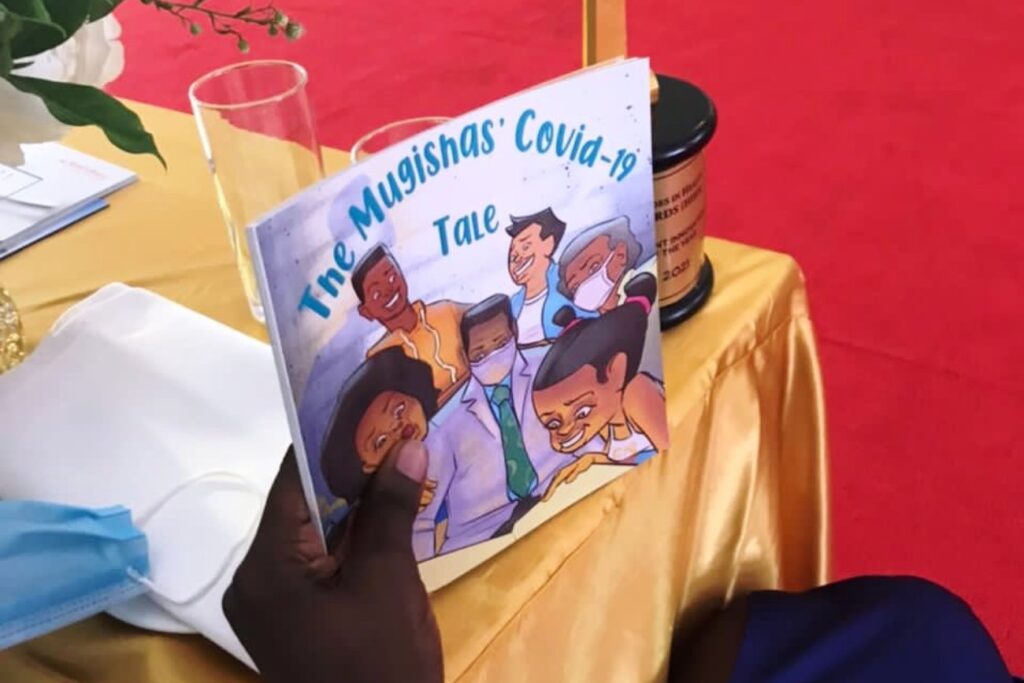 The book is a means of creating awareness on COVID-19 disease and its prevention among children below 12 years, a vulnerable group that is not eligible for vaccination (as per Uganda's Vaccination Guidelines) against this disease, we designed the book to help children be more involved in the fight against this disease.
Infection prevention and control is not only pertinent to fighting Antimicrobial Resistance but also to promotion of health and wellbeing of the people. Writing this book is our contribution to controlling of infection as well as prevention, an important aspect of primary health care.
What is the impact of the book from your perspective?
Since the comic book is very illustrative and appealing to the eye, we anticipate that the children will gain knowledge on COVID-19 as they enjoy the illustrations. We also hope that they will be agents of change through sharing this knowledge with their peers both at home and at school, protecting them against the disease in the long run.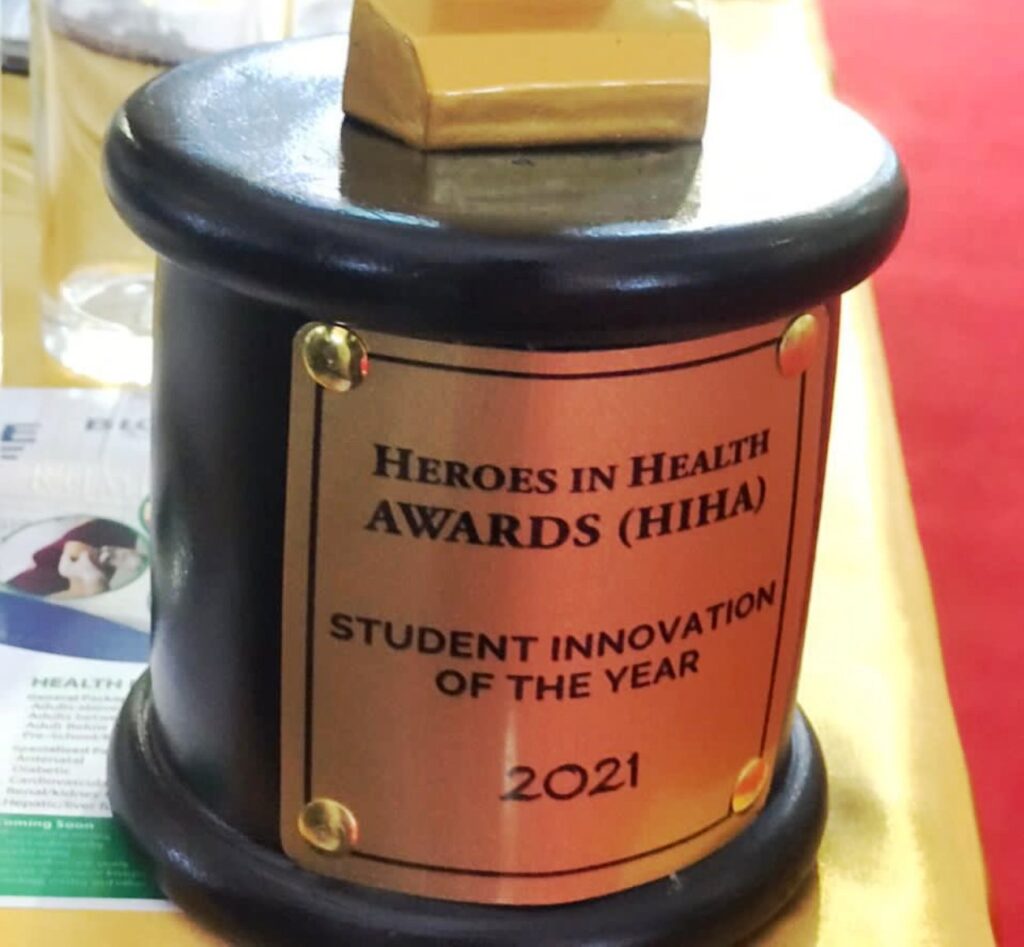 What is your advice to others about new ideas and innovations?
My advice is drawn from two quotes;
Quote 1: "Find something you're passionate about and keep tremendously interested in it." – Anonymous
Quote 2: "Teamwork is the secret that makes common people achieve uncommon results" –Ifeanyi Enoch Onucha
Innovations by MakCHS Research teams were exhibited at the HIHA Awards as well. These included:
VITEX (Medical Assistance Tool): Vitex is an integrated system that utilizes antimicrobial and affordable 3D plastics made out of 80% waste plastic, making it eco-friendly. The device sterilises wards up to 99.9%, thus preventing nosocomial infections by employing powerful pulsating U.V engine and spots latest in artificial intelligence to improve patient care and practitioner assistance.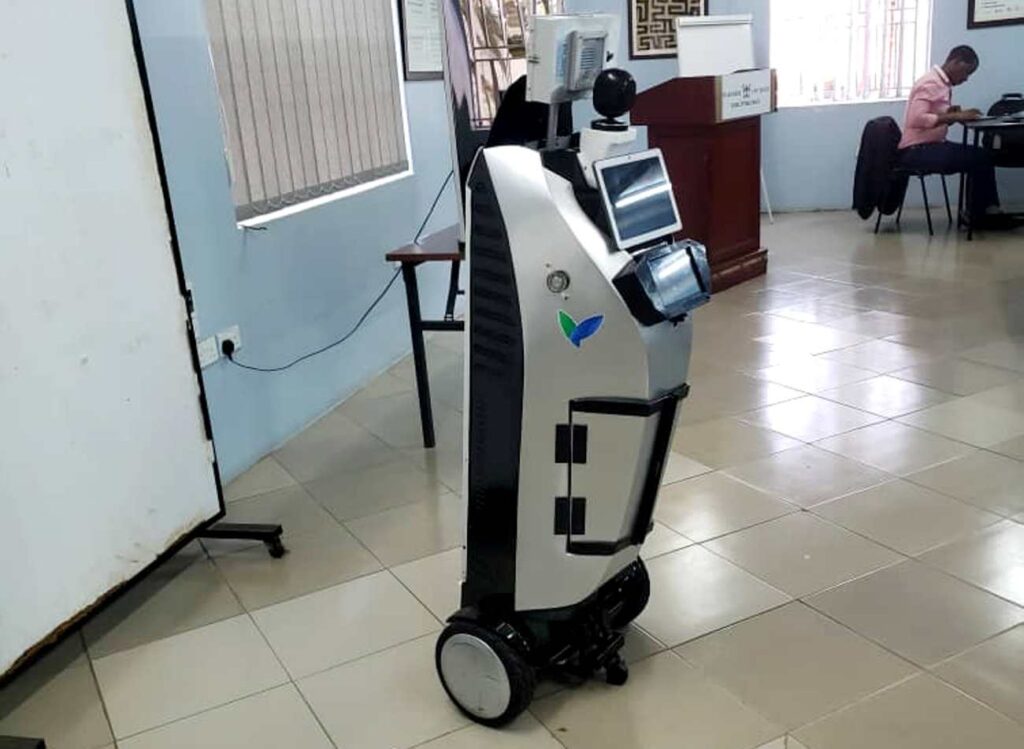 Vitex is intended to improve health professionals' quality of work by reducing workload and deters transmission of highly contagious infections such as COVID-19. It also improves access to vital medical literature, facilitates electronic consultation, service delivery in the medical environment, including carrying out consistent patient monitoring and reducing prescription/medication errors.
The device spots a Powerful Artificial Intelligence package that incorporates Intel RealSense, auto-follow, video capture, touch & voice control, playful expressions, and personality to keep patients in a cheerful mood. Vitex includes over-the-air updates making it viable for endless integration, including providing seamless data access for important time-sensitive decision-making through elaborate integrations.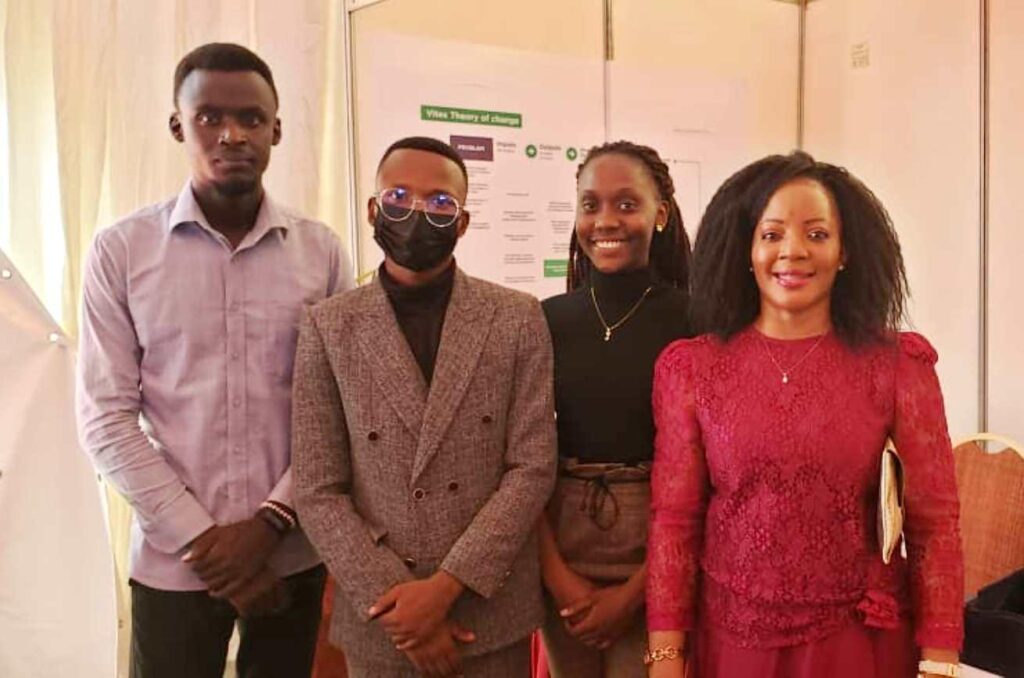 Team: Dr. Justine Nnakate Bukenya (PI), Ainembabazi Samantha, Joeltta Nabungye, Kiirya Arnold, Mugisha Gift Arnold
The Early Preeclampsia Detection Strip (EPED Strip): The Early Preeclampsia Detection (EPED) Strip is a urine-based point-of-care detection strip for preeclampsia that pregnant women can use at home to self-screen for the condition. Preeclampsia is a maternal condition characterized by high blood pressure of 140/90mmHg and proteinuria after 20 weeks of pregnancy. Worldwide the condition is responsible for over 500,000 infant deaths and 70,000 maternal deaths annually. By seeking medical care at the early onset of preeclampsia, the condition can be appropriately monitored and controlled, thereby reducing the detrimental health impacts of undiagnosed preeclampsia which is a health burden to LMICs. Thus, the EPED strip is being designed to diagnose this condition early and functions very similar to a pregnancy test where urine is applied to one end of the strip, and pulled across it by capillary attraction to where antibodies specific to the biomarkers are immobilized. In the reaction matrix there are two lines, a test line and a control line. The presence or absence of the control and test lines indicates the presence or absence of the captured conjugates. This is designed with adaptation from the existing lateral flow assay (LFA) technology. While the primary goal of the EPED strip is to be a home-based early detection tool, the EPED strip can also be used to assist the diagnosis of preeclampsia in a clinical setting from large-scale national hospitals to remote health clinics.
Team:Prof Paul Kiondo (PI), Brian Matovu, Zoe Ssekyonda, Calvin Abonga, Olivia Peace Nabuuma, Dr. Robert Ssekitoleko
The Maternal PPH Wrap: The maternal PPH wrap; a wearable device strapped around the mother's waist; affordable compared to the other devices that is able to carry out external compression of the uterus through the abdominal wall in order to stimulate myometrium contraction. The design is based on already used bimanual uterine compression techniques which are manually done by qualified and skilled personnel.
Despite the number of interventions, postpartum haemorrhage still remains the leading cause of maternal death globally. Most of the interventions that are recommended under standard clinical practical guidelines such as uterotonic drugs, therapeutic devices or even surgery are unavailable in the communities of low and middle income countries including Uganda simply because they are unaffordable and most times require qualified/skilled personnel and highly sterile environments.
The device will rely on an inflatable rubber bag to provide the pressure to do the sustained compression. The inflation will be done using a bulb similar to the one used by a sphygmomanometer. This is way less labour intensive than the procedure of bimanual uterine compression. The overall aim Is to create an efficient device that is affordable in Uganda and all developing countries' healthcare markets as a leading lifesaver of mothers.
Team: Owen Muhimbisa, Kiwanuka Martin, Arinda Beryl, Maureen Etuket, Denis Mukiibi, Robert Ssekitoleko.
Zaam Ssali is the Principal Communication Officer SoL & MakCHS
Makerere Medical Journal: Golden Jubilee Edition 2022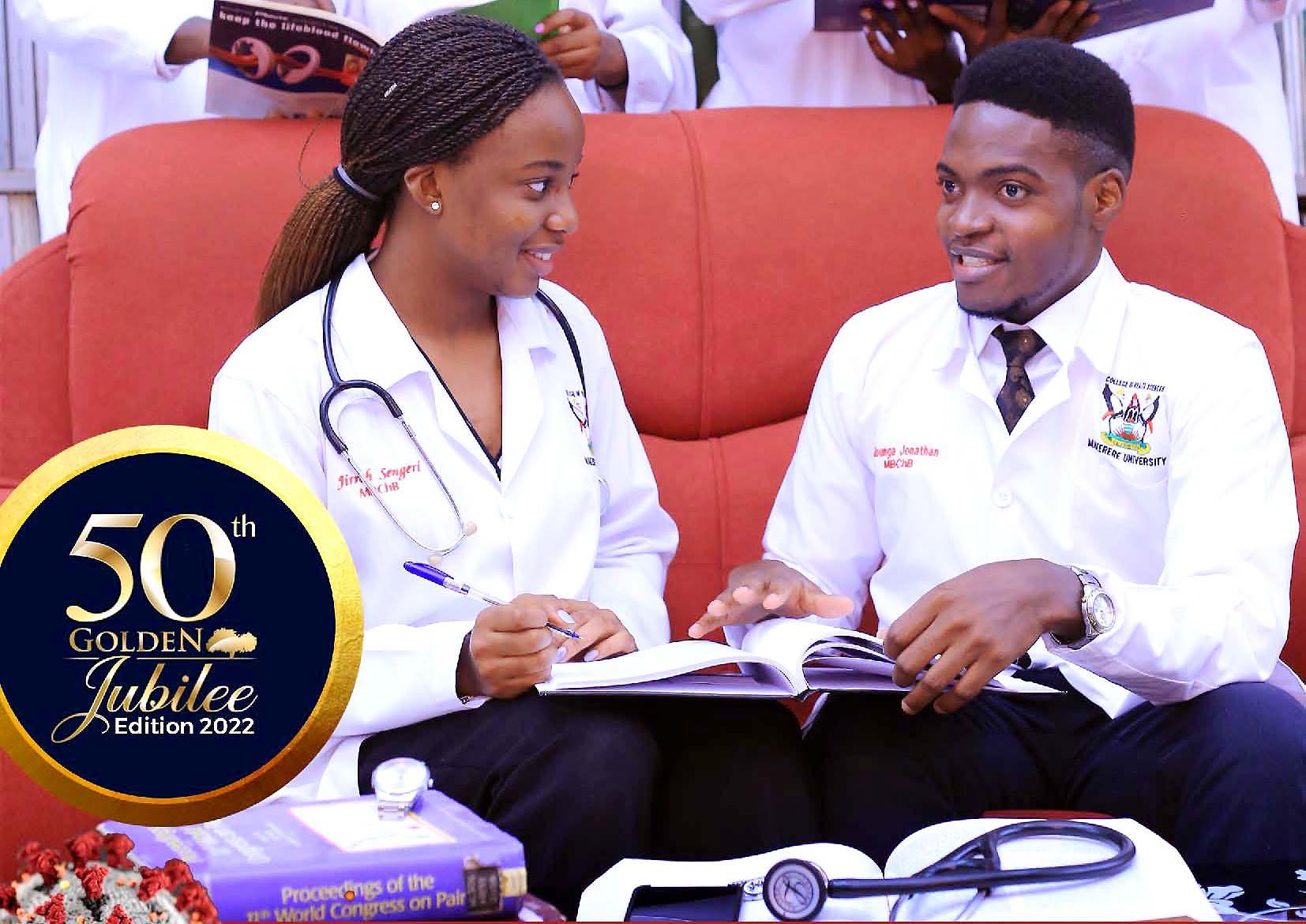 It's with great pleasure that I welcome you to the Golden Jubilee edition of this phenomenal journal. Yes, The Makerere Medical Journal marks 50 years of publication with this year's edition and all this has been made possible by the endless efforts and contributions of the Makerere University College of Health Sciences Staff and students because without your research submissions and financial support, the journal wouldn't have made it this far. To you reading this, thank you for contributing to the sustainability of this great project, year in year out.
Here's a quote to ponder on as you delve into this year's well-crafted articles and it's by Zora Hurston (1891-1960), "Research is formalized curiosity. It is poking and prying with a purpose." And doesn't that just define our purpose as researchers?!
This edition's articles cover pertinent topics ranging from Antimicrobial Stewardship, COVID-19 interventions, Oral Health amongst others. It also features student projects, write-ups on student-led organizations and societies that are making a difference in the life of a health sciences' student and many more interesting writings. Featured in this issue are international manuscripts from countries like Nigeria and we were also honored to work with other universities within the country and feature some of their students' articles.
I would like to extend my most sincere gratitude to my team of editors that engaged in a rigorous peer review process to ensure that the articles published are up to standard. As the editorial team, we are quite pleased to see the number of undergraduates involved in research steadily increasing and all the efforts that have been put in by the different stakeholders to see this happen are commendable.
With that said, I hope you enjoy every second of your read!!!
LINDA ATULINDA,
MBChB IV
EDITOR-IN-CHIEF,
Research and Writers' Club 2021-2022
Call for Applications: HEPI Masters Support Fellowship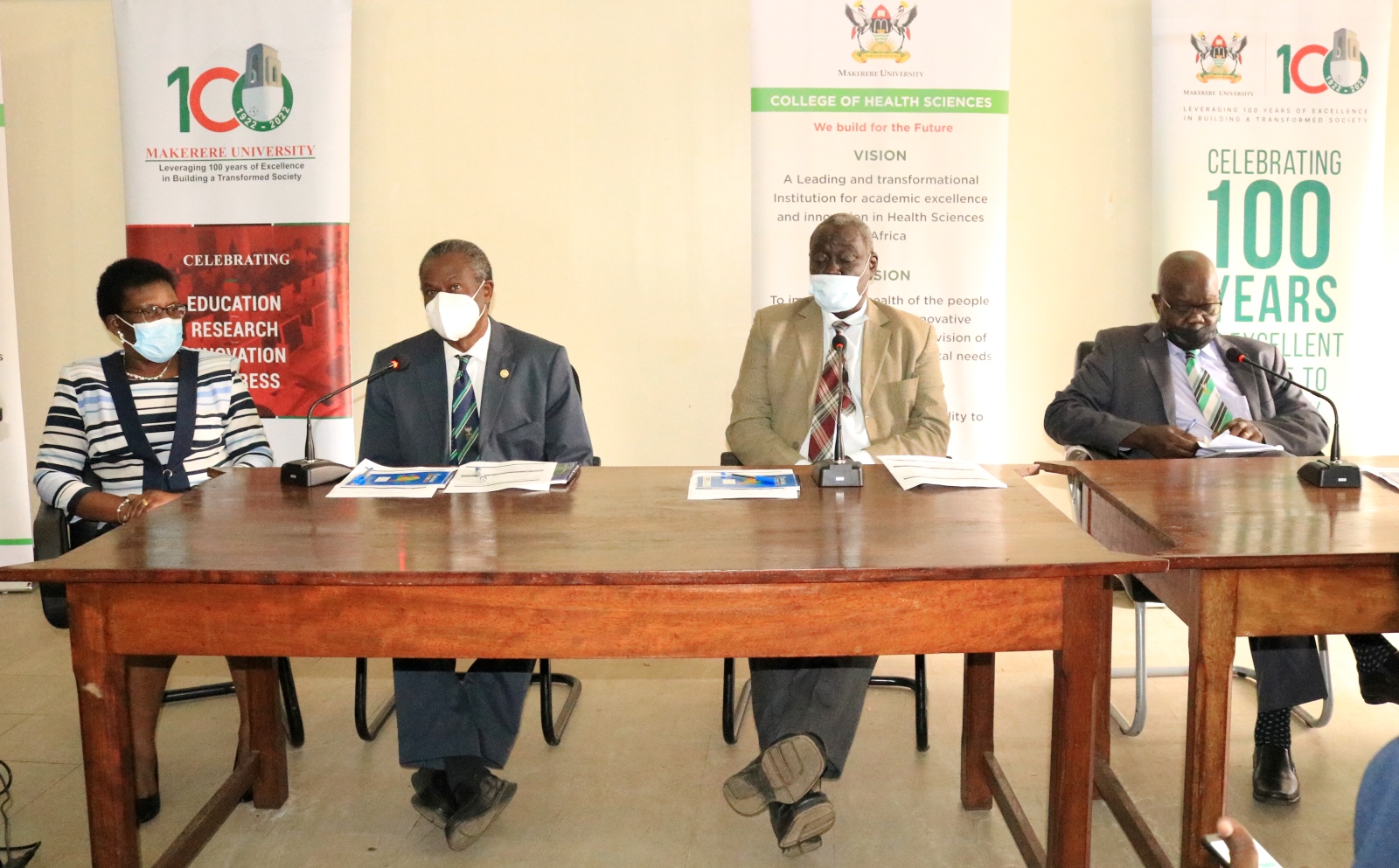 Applications are invited for the Health Professional Education Partnership Initiative (HEPI-SHSSU) Masters fellowship programme support from postgraduate students of:
Makerere University College of Health Sciences (MakCHS)
Kabale University School of Medicine
Clarke International University
Faculty of Health Sciences, Busitema University
The programme will support graduates in their final year of training leading to the award of a Masters degree on any of the Master's graduate training programs at the stated University for a maximum of 19 successful candidates.
The closing date for the receipt of applications is 30th September 2022.
Inquiries and Applications must be submitted to hepishssu@gmail.com
See attachment for more details 
Call for Applications: Faculty Research Training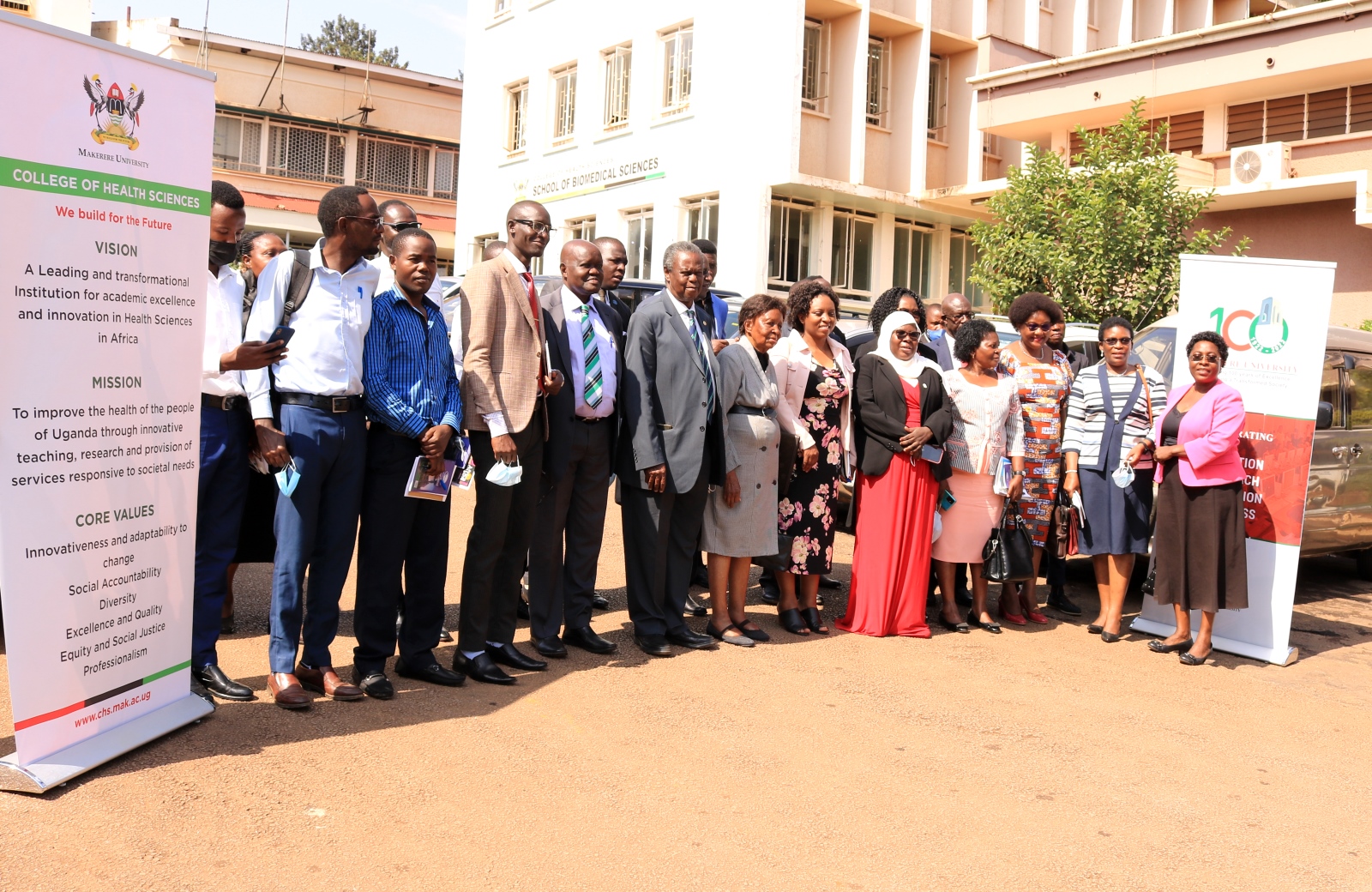 Applications are invited from faculty at Makerere University College of Health Sciences, Kabale School of Medicine, and Clarke International University to undertake training in research.
Limited research funding will be available for research focusing on community-based, clinical, operational, health professions education, epidemiological, biomedical, and research in Communicable Diseases (e.g. HIV/AIDS, malaria, tuberculosis, etc.) or non-communicable diseases of importance to Uganda.
Up to 15 applicants will be selected and they will undergo a brief (2 days) didactic training in research proposal development prior to embarking on their research projects. Up to 4,000 US dollars per applicant (depending on budget) will be available to support the research.
The closing date for the receipt of applications is 3rd October 2022.
Inquiries can be forwarded to the PI, HEPISU Program on hepishssu@gmail.com
See attachment for more details