Minister Monica Musenero Unveils Locally-made Diesel Engine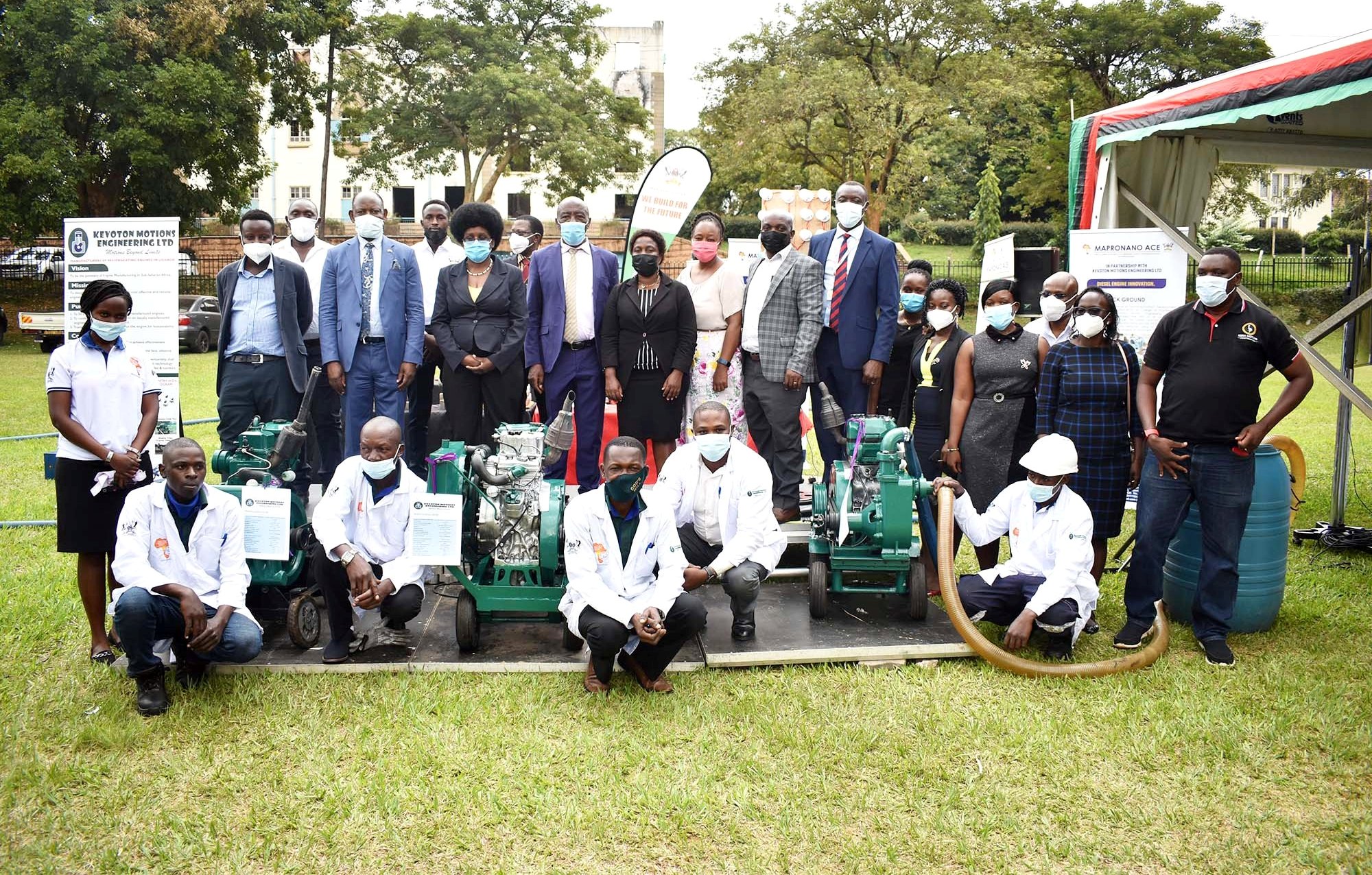 It was a show of innovations geared towards mechanisation of farming processes as the Minister for Science, Technology and Innovations, Dr. Monica Musenero, launched locally made engines today August 19, 2021.
A team of researchers from the African Centre of Excellence for Material science and nanotechnology (MAPRONANO) partnered with artisans from Kevoton Engineering, to design and assemble a diesel engine, the first of its kind in Uganda.
It is a single cylinder 4 stroke engine with 13 horse power and consumes 1 litre of fuel per hour. The engine is a water-cooled and therefore does not heat up.
The engines are able to run a generator and a water pump to facilitate irrigation on farms. The generator, is single phase and can therefore be used to power home appliances and small workshops.
According to Mr. Mubiru Rogers of Kevoton Engineering, work on the engines started in 2017, but they were not able to make much progress until 2019 when they partnered with MAPRONANO ACE. The centre of excellence was then able provide training and technical advice, designing and student attachments to the project.
The Minister commended the MAPRONANO team, led by Prof. John Baptist Kirabira, for various innovations that the team in churning out, which included a sanitizer made in Makerere, solar panel slasher, and a mini tractor.
Dr. Musenero challenged researchers to have a mindset change and also change the pedagogy to reposition theory to practical works. "We need to teach the students knowing that they are going to design and develop an engine or a brake system," Dr. Musenero emphasised. She encouraged innovators to ensure their products do not stay on the selves, saying the biggest role of science and innovation is economical. The Minister said, for this reason, PRESIDE which she chairs focused on equipping laboratories in universities so as ensure that scientists receive the facilitation that they require. "Research is like a river which needs an outflow and the Ministry is here to provide that outflow," she said.
She advised the university to prioritise certain areas of research when it comes to grants instead of awarding small grants to different projects which only end up being a drop in the ocean. Dr. Musenero thanked the President for his continued support and belief in science and technology.
The minister advised that the prototypes be refined so that they are genderised to allow women to be able to operate the generator and water pump.
The Vice Chancellor, Prof. Barnabas Nawangwe, called on the minister to support the introduction of an innovation park in Makerere University, saying the park would be able to spinoff companies. Giving an example of Instabul University, the Vice Chancellor said the university has been able to produce 300 companies over the last one year, saying Makerere University should be supported to do the same.
Integration of Building Information Modelling (BIM) into Construction Education; A stake holder engagement held.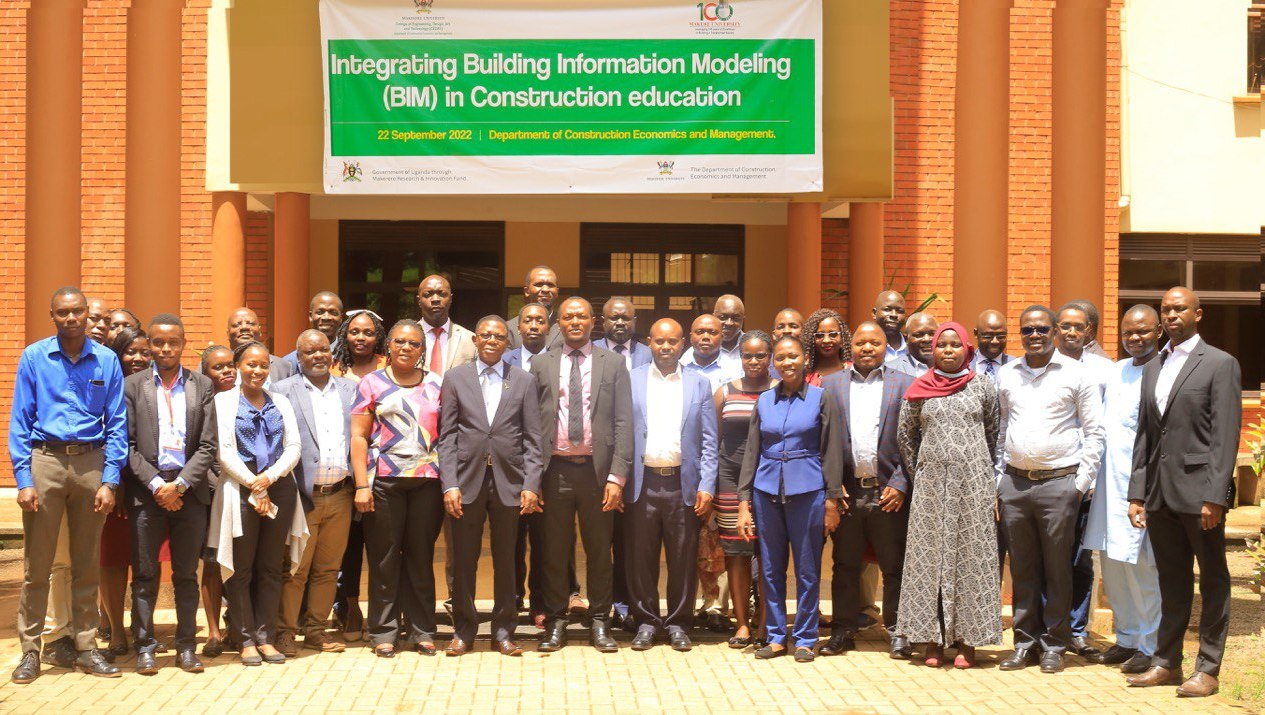 The Construction and Economics Department at the College of Engineering, Design, Art and Technology (CEDAT) is undertaking a study to explore the possibilities of mainstreaming Building Information Modelling (BIM) into the curricula.
A study supported by the Government of Uganda through the Makerere University Research and Innovations Fund (MaKRIF) is conducted by a team led by Dr. Pamela Achieng, lecturer in the Department of Construction Economics and Management at CEDAT.  The Research team is comprised of Ms. Wesonga Rachael, Mr.  Semanda Julius, Mr. Odongkara Billy Brian, Mr. Tom Mukasa and the Departmental Head, Dr. Nathan Kibwami.
MTSIFA gets into partnership with the University of Bergen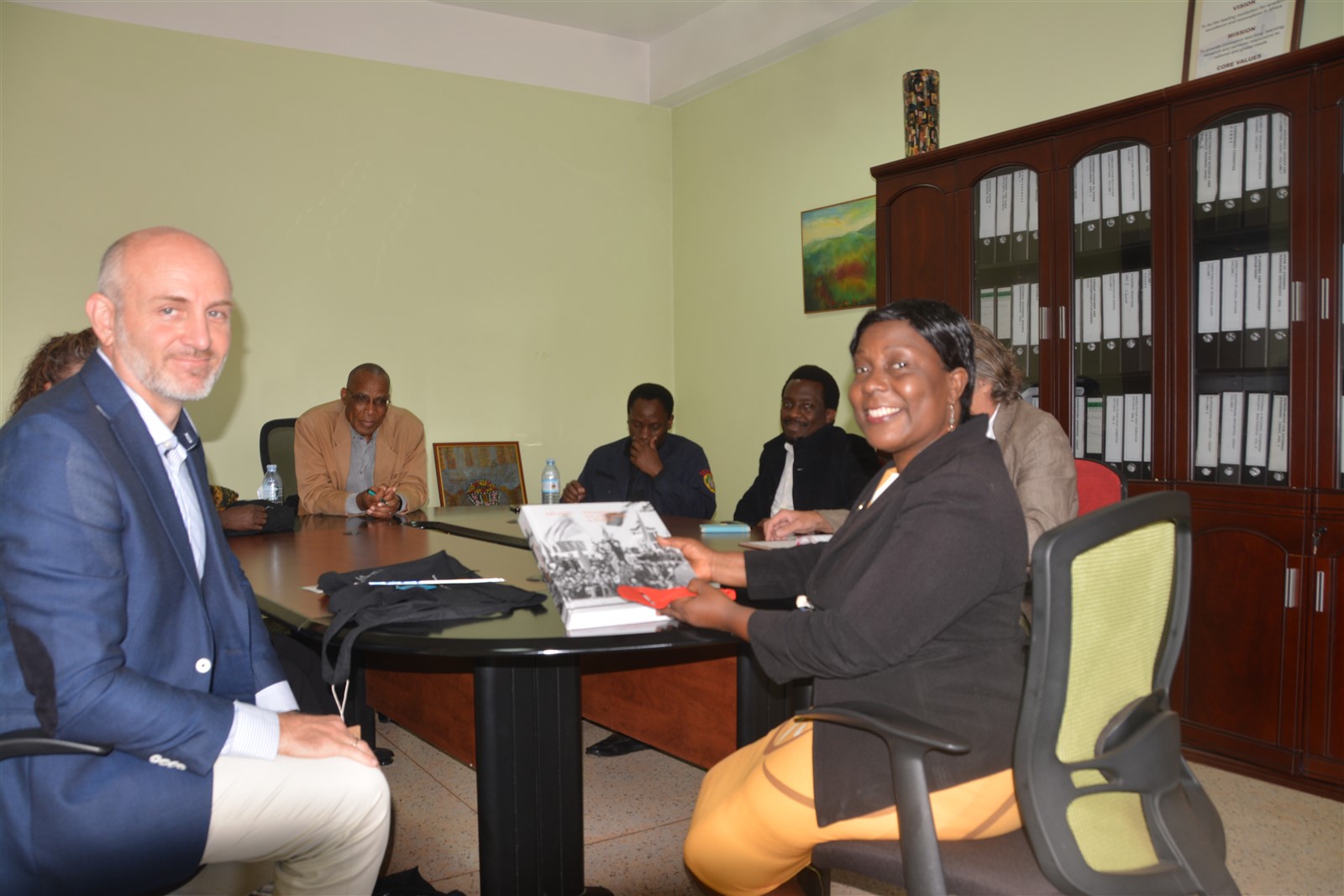 The Margaret Trowel School of Industrial and Art (MTSIFA) in the College of Engineering, Design, Art and Technology (CEDAT) Makerere University has entered into a partnership with the University of Bergen (UIB), Faculty of Art, Music and Design to work towards internalizing and nurturing local indigenous knowledge.
The project will contribute to a multidisciplinary internationalization of higher education between global south and north with art, design, music, involving the two universities and independent enterprises linked to these disciplines.
Teams from the two Universities met at the College of Engineering to further discuss the implementation details and paid a courtesy call on the Deputy Principal, Dr. Venny Nakazibwe.
Janet Goldner Fulbright Specialist Catalogue Department of Fine Art CEDAT Makerere University August 2022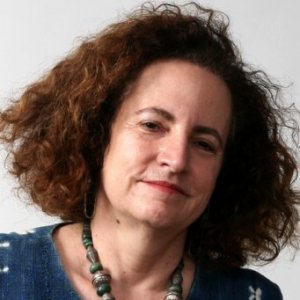 Janet Goldner
It was a pleasure to spend six weeks teaching in the Fine Art Department of Makerere University as a Fulbright Specialist. I want to thank Dr. Lilian Mary Nabulime and Mr. Edward Balaba for their vision for the project that brought me here, their faith in me, and their guidance during this successful program. I also enjoyed meeting and working with Ms. Fedelis Nabukenya, Assoc. Professor George Kyeyune, and Assoc. Professor Rose Kirumira.
Dr. Nabulime's and Mr. Balaba's idea to focus on found and local materials as art materials is an excellent and timely one. As artists, this focus trains us to be sensitive to our daily surroundings. It guides us to look carefully at the beauty and utility of the "trash" that others discard. It becomes our job as artists to reclaim and repurpose it. The use of found materials as art materials is also important since more traditional art materials are expensive for any art student or artist for that matter. Finding these "gifts from the street" requires highly honed creative skills of observation and transformation. And the use of found materials has an important role in raising awareness about climate change. Use of found and local materials lends itself to examining social issues.