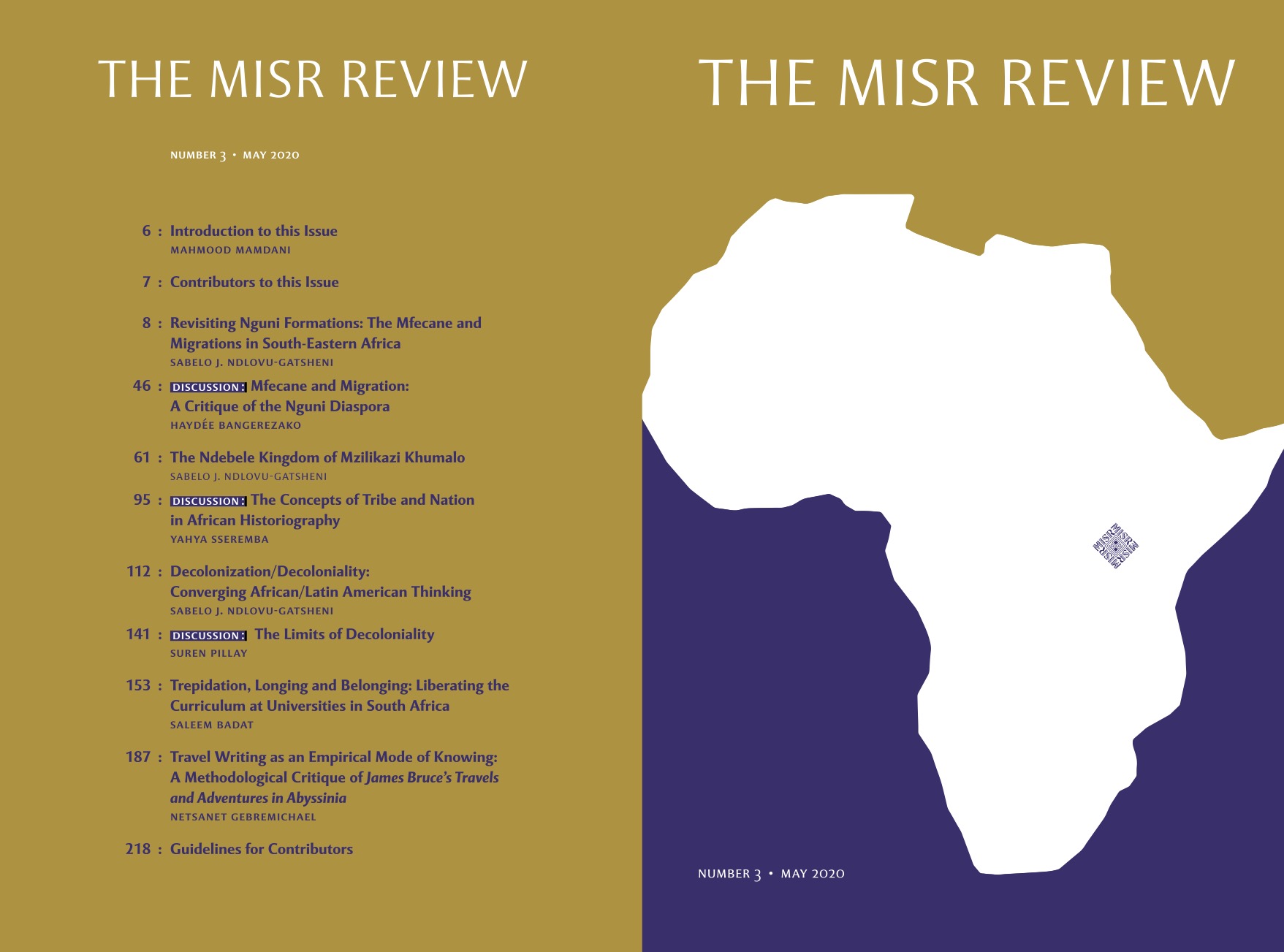 This issue appears more than a year after its scheduled publication. We have no alibis to offer, just an admission and a request that this be taken as an illustration of the continuing steep learning curve at MISR.
Key to research, we argued in Our Mission in 2016, is formulating the problem of research. Acknowledging that this would require a long journey, we dedicated The MISR Review to a double endeavour: one, to broadcast the intellectual work undertaken at MISR, particularly by advanced doctoral students, to the wider scholarly community; and two, to energize and promote debate in that community.
This issue introduces a mode of debate that we hope will take us a step further in the journey we began in 2012. The core of this issue are three articles by Sabelo J. Ndlovu-Gatsheni: "Revisiting Nguni Formations: The Mfecane and Migrations in South-Eastern Africa"; "The Ndebele Kingdom of Mzilikazi Khumalo"; and "Decolonization/Decoloniality: Converging African/Latin American Thinking". Given as a set of lectures at Makerere Institute of Social Research, they have been revised for publication. We have invited three different scholars to contribute a critical discussion, one on each lecture.
The issue also contains two stand-alone articles. Netsanet Ge- bremichael, at the time a doctoral student at MISR, explores travel writing as an empirical mode of knowing. Saleem Badat joins a critical discussion on decolonizing the curriculum in universities, a subject to which we hope to devote more space in future.
We invite readers so inclined to send short responses (maximum 1,000 words) to the above contributions.
Mahmood Mamdani | Lyn Ossome | Suren Pillay | Samson Bezabeh March, 2020
TRF Canada Announces Endowment for Mak Rotary Peace Centre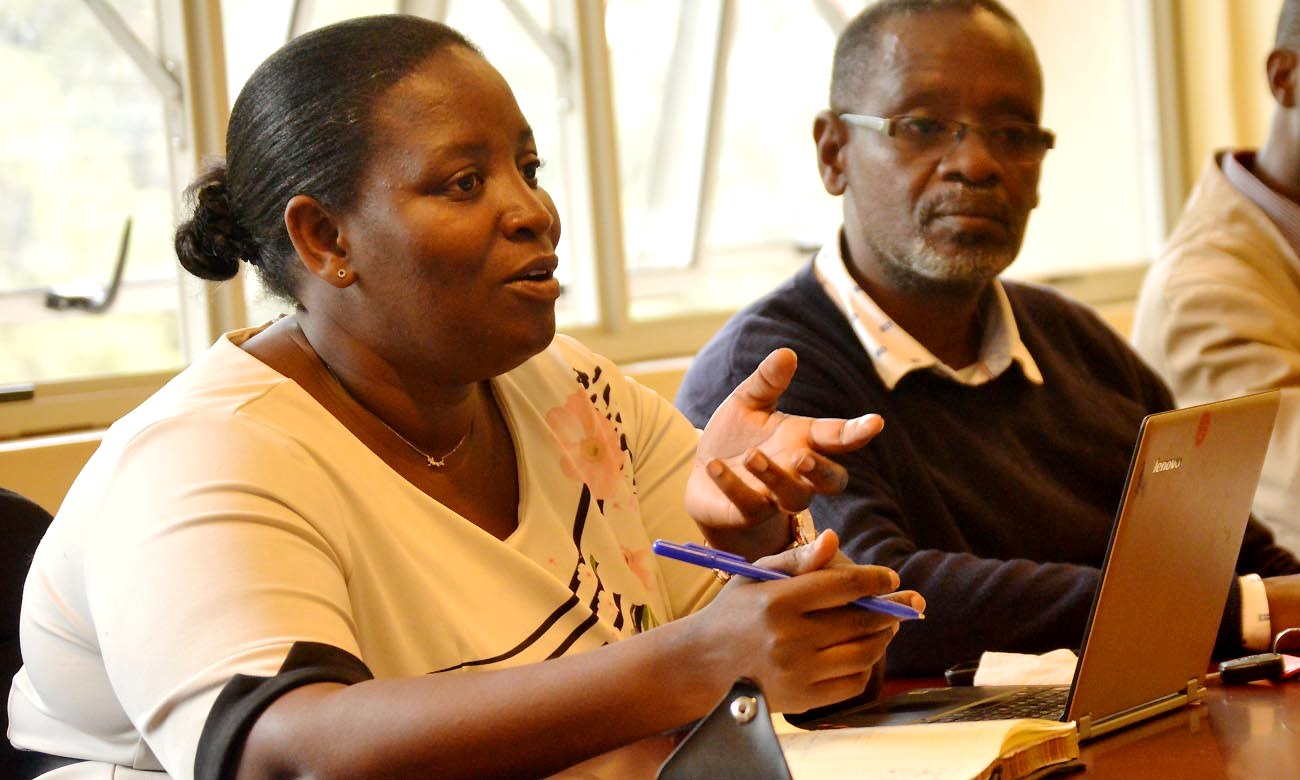 The Rotary Foundation (TRF) Canada has on behalf of Canadian Rotarians announced an endowment fund to support the annual capstone seminar at Rotary's newest Peace Centre at Makerere University in Kampala, Uganda.
The endowment was established with a gift of CAN$125,000.00 (US $100,000) to The Rotary Foundation. The seminar is an opportunity for peace fellows to reflect and report on their social change initiative efforts to an audience of peers, Rotarians, and experts in the field. The year long certificate courses at Makerere overlap allowing current and incoming fellows  the opportunity to network and build fellowship.
We congratulate the Director of the International Rotary Peace Centre at Makerere University, Dr. Helen Nambalirwa Nkabala upon yet another meritorious award.
Prof. Mamdani Shortlisted for 9th British Academy Book Prize 2021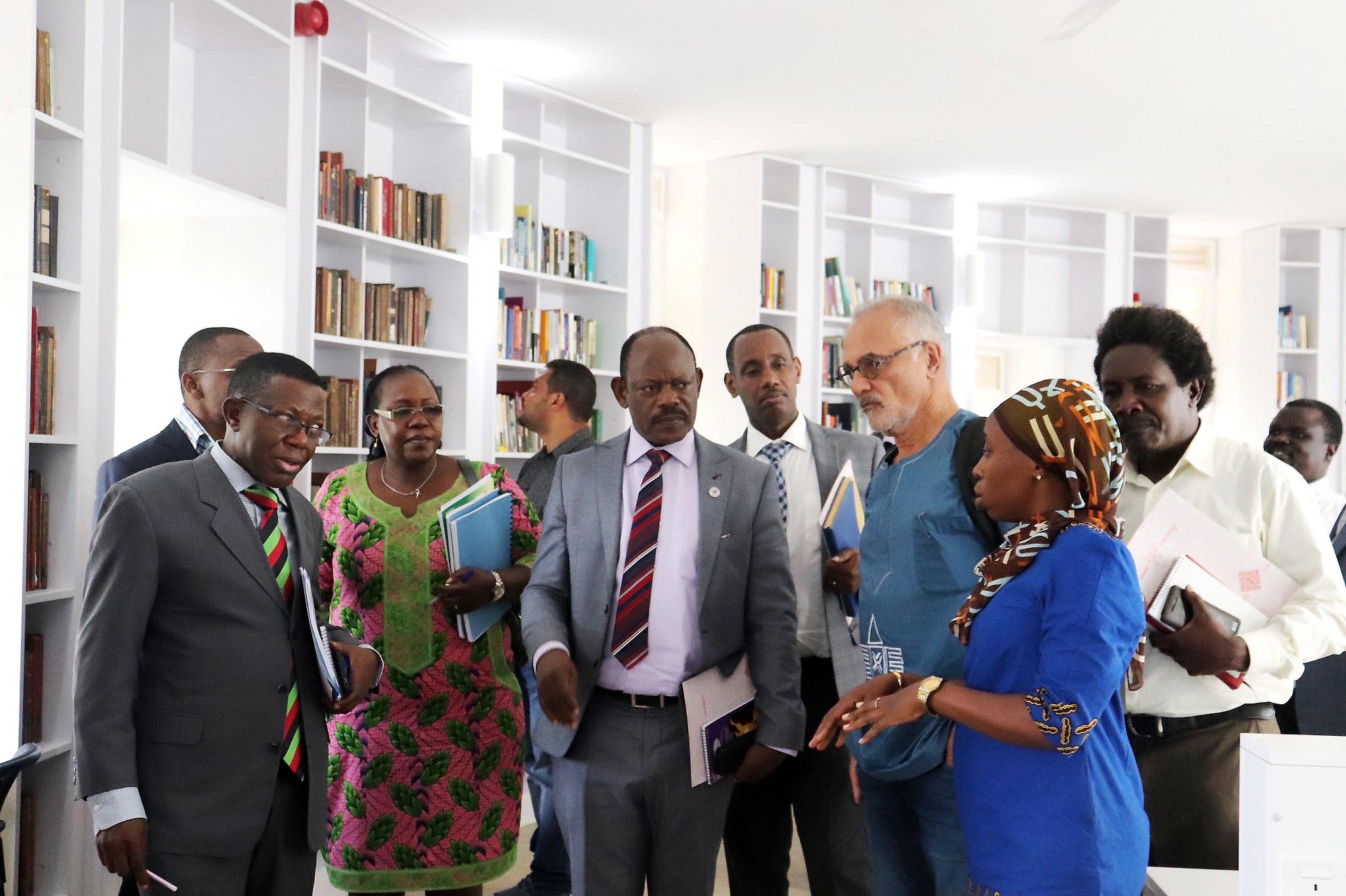 Professor Mahmood Mamdani, Director of the Makerere Institute of Social Research (MISR)'s book Neither Settler nor Native: The Making and Unmaking of Permanent Minorities has been shortlisted as one of four for the British Academy Book Prize for Global Cultural Understanding (2021).
According to the announcement released on Tuesday 7th September, 2001 on the British Academy website, the international book prize, worth £25,000, rewards and celebrates the best works of non-fiction that have contributed to public understanding of world cultures.
The other books shortlisted among Prof. Mamdani's include; Islands of Abandonment: Life in the Post-Human Landscape by Cal Flyn, Begin Again: James Baldwin's America and its Urgent Lessons for Today by Eddie S. Glaude Jr. and Waves across the South: A New History of Revolution and Empire by Sujit Sivasundaram.
The four 2021 shortlisted writers will be brought together from around the world for a special live online event, in partnership with the London Review Bookshop, on Wednesday 13 October and the winner will be announced on Tuesday 26 October.
Click here for the full announcement.
Mak Launches Multimedia Production Hub to Improve Research Dissemination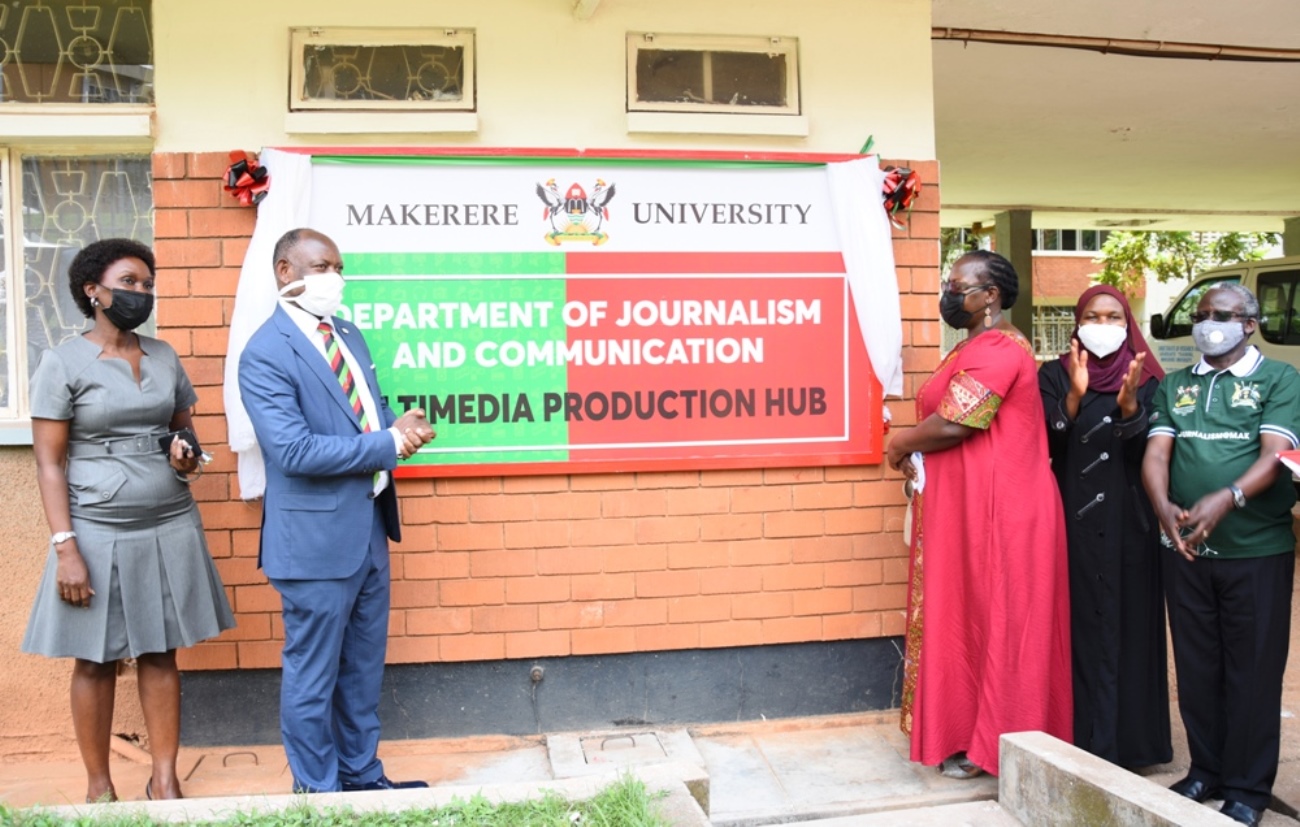 Makerere University through the Department of Journalism and Communication has set up a Multimedia Production Hub to improve research dissemination. Established with funding from the Government of Uganda through the Makerere University Research and Innovations Fund (Mak-RIF), the Hub is intended to equip Makerere researchers and innovators with practical skills to transform their research and innovations into publicly-oriented multimedia content. It is one of the outputs of a wider research project titled, "Harnessing Multimedia Production for increased uptake and visibility of Research and Innovations at Makerere University".
The Hub was officially launched by the Vice Chancellor, Prof. Barnabas Nawangwe at the research dissemination seminar for the project held at Makerere University on 7th September 2021. Addressing participants, the Vice Chancellor commended the project team for the great initiative. He said disseminating research was paramount for addressing challenges affecting society. "Many people are struggling to address issues that have been widely researched. If we disseminate all the work done at this University, we can transform the economy of our country very fast. The Hub is a great opportunity for us to do so. I implore the Mak-RIF to make this a permanent project so as to boost our research dissemination efforts," he noted. He appreciated the Government of Uganda for the continued support towards research and innovations at Makerere University. "In the midst of shortage of funds, the Government has continued to fund research and infrastructure development at Makerere University. We are deeply indebted". Since 2019, the Government of Uganda has funded 580 research projects in various fields at Makerere University. The Vice Chancellor applauded Mak-RIF for rigorously managing the Fund and ensuring it achieves its intended objective. "As a University, we must demonstrate why the Government must continue supporting research. We should therefore do research in a way that positively impacts our economy. On behalf of Management, we commit to continue supporting all staff whose projects demonstrate ability to make Makerere a research-led University," he explained.