Experiences of Ageism among Older Persons in Uganda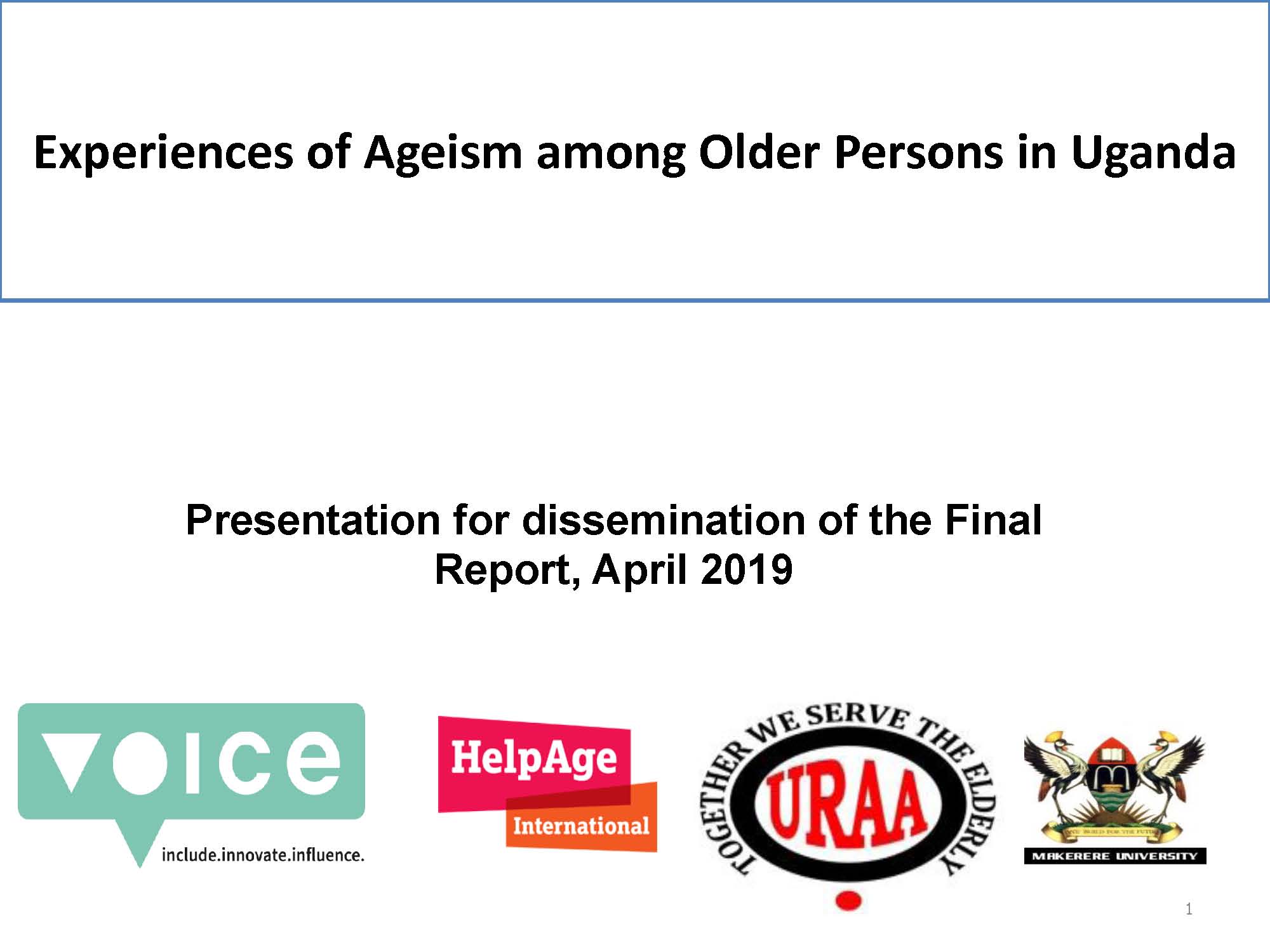 Staff in the Department of Population Studies, School of Statistics and Planning (SSP), College of Business and Management Sciences (CoBAMS), Makerere University, conducted a survey of ageism in Uganda in 2018. The included; Dr. Stephen Ojiambo Wandera, Dr. Fred Maniragaba, Mr. Joshua Byenkya, Dr. Betty Kwagala and Mr. Ronald Naitala.
The aim of the study was "To understand ageism, its manifestations, causes and consequences among older persons and strategies to mitigate against it in Uganda".
Findings revealed that 45.8% of respondents were aged between 60 and 69, 29.9% between 70 and 79, while the 24.2% were above 80. In terms of socioeconomic characteristics, 47.5% had not attained any education, while 41.2%, 8.3% and 3.0% had attained Primary, Secondary and post-secondary education respectively. In terms of marital status, 50.9% were married, 39.6% widowed, while 9.4% reported neither being married nor widowed.
Please click here for a copy of the presentation of findings.
For the detailed final report, please contact Dr. Wandera using the particulars on the final page of the above linked presentation.
Highlights of 16 Years of Soybean Research at Makerere University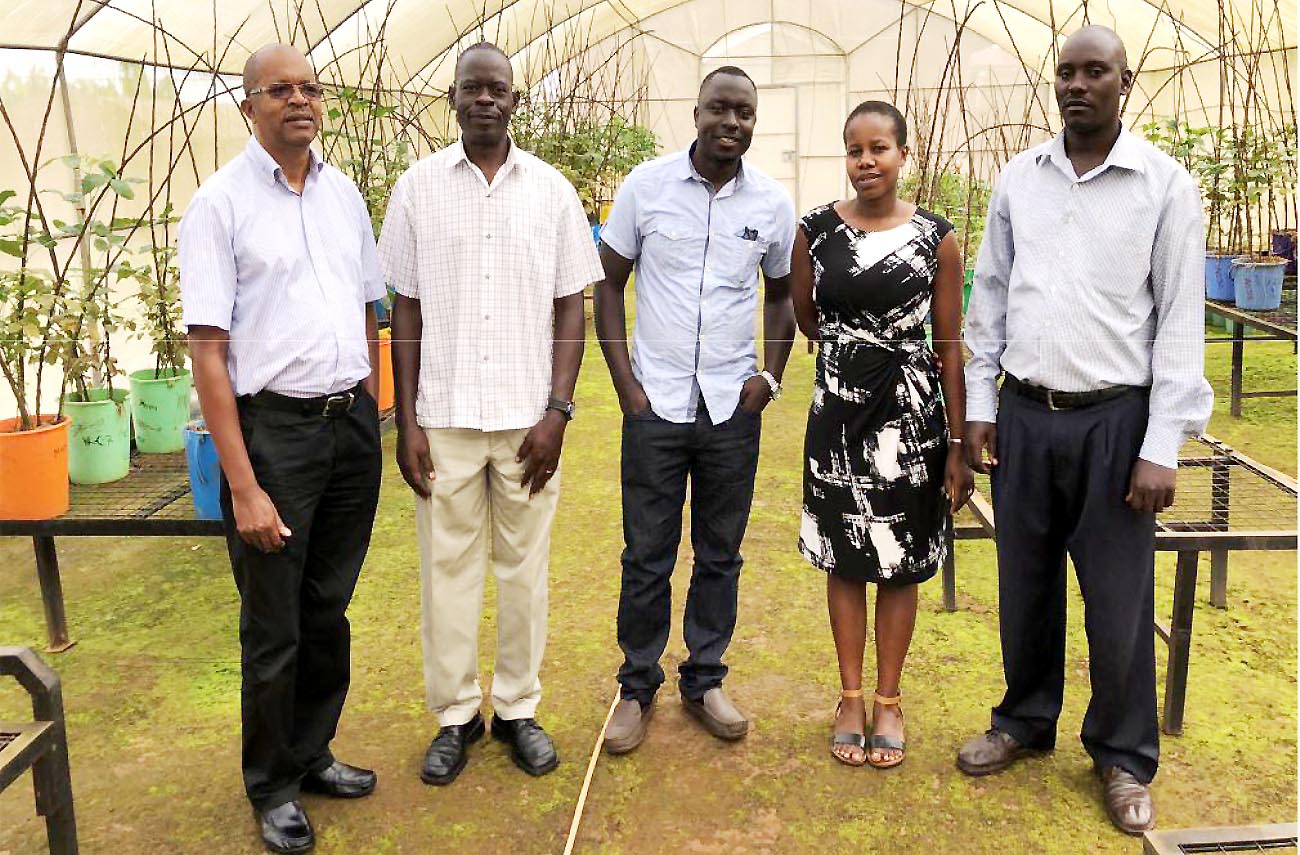 Sixteen years of soybean research at Makerere University have led to a rapid increase in the number of industries engaged in processing soybean in Uganda and neighbouring countries.
This report provides highlights of the contribution of rust-resistant soybean varieties to the agricultural sector in Uganda. It contains forward-looking research results based on current research findings and forecasts made by the Centre for Soybean Research and Development from 2002 to 2018.
Soybean was first introduced in Uganda way back in 1908. Its production was emphasized to combat malnutrition and to provide soldiers with highly nutritious food during the Second World War. Like most new crops, soybean was not readily accepted by the local people based on claims that it depleted soil fertility, could not be cooked like commonly known legumes, had beany flavor and lacked a readily available market.
The soybean crop was also not given consistent recognition by the National Agricultural Research System (NARS) and suffered decline in production due to a major out break of soybean rust disease in 1996.
Makerere University in collaboration with the National Agricultural Research Organization (NARO) and Vegetable Oil Development Project (VODP) of the Ministry of Agriculture Animal Industry and Fisheries (MAAIF) undertook research to control soybean rust disease and to promote and disseminate soybean seed of locally developed superior varieties.
Through efforts of the Centre for Soybean Improvement and Development (MAKCSID), the soybean rust pandemic was brought under control, through breeding and dissemination of superior varieties to the farming communities. Currently over 93% of these varieties are grown across the country.
These efforts were spearheaded by Prof. Phinehas Tukamuhabwa from the Department of Agricultural Production.
Please see Downloads for the detailed report.
Uganda launches its first meeting to kick off the "Unlocking Resilient Benefits from African Water Resources" project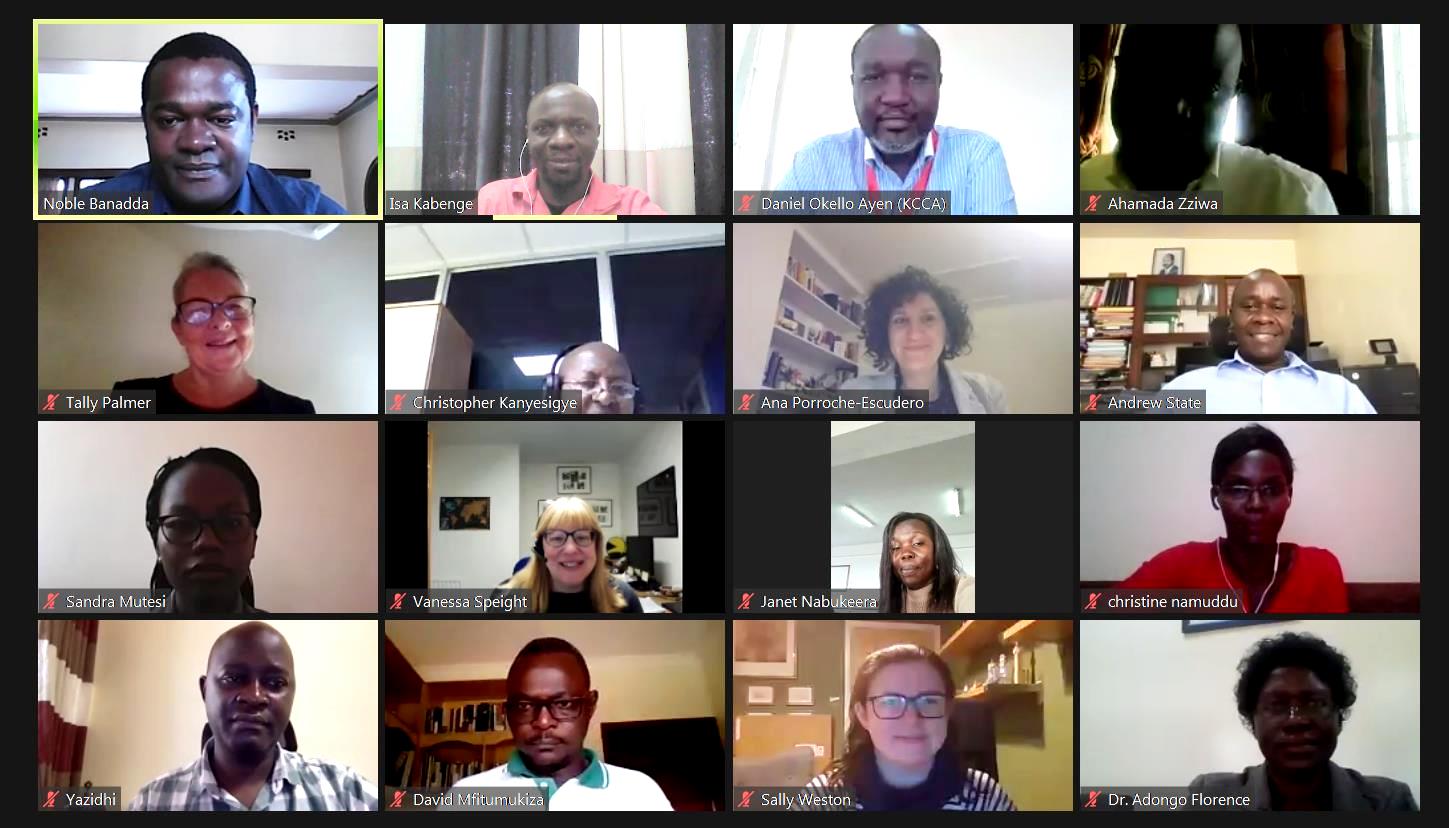 Story highlights
Makerere University convened its first high level meeting virtually to introduce Uganda's participation in the international project "Unlocking Resilient Benefits from African Water Resources".
The project is funded by UKRI GCRF through the ARUA Water Centre of Excellence at Rhodes University, South Africa, and it involves six nodes in Ethiopia, Uganda, Rwanda, Senegal, Tanzania, Nigeria, South Africa as well as UK partners.
The Ugandan node will look at the sources, pathways and impact of pollution in urban water.
While the meeting was well represented by top academics from Makerere University and formal water institutions at different levels of government, the node is in the process of revisiting its approach to engaging a wide range of stakeholders including local residents, civil society, non-governmental organisations and private business, government ministries, local governments, water management agencies  and
By bringing together a wide array of knowledges from Uganda, and in partnership with African countries and the UK, the project aims to shift water development practice towards greater equity and sustainability.
Makerere University has committed to continue the momentum on the international project "Unlocking Resilient Benefits from African Water Resources" (known as RESBEN). The project involves six nodes in Ethiopia, Uganda, Rwanda, Senegal, Tanzania, Nigeria, South Africa as well as UK partners. It is funded by UKRI through the ARUA Water Centre of Excellence at Rhodes University, South Africa. The super goal of this project is to produce knowledge that shift water development practice towards greater equity and sustainability.
After a lot of background work dealing with administrative hoops presented by international grants, COVID challenges and cross-country logistics, Uganda convened the first RESBEN country meeting on Feb 5, 2021.
Uganda brought together 17 stakeholders from a mix of backgrounds from formal water institutions including the Ministry of Water and Environment and the National Water and Sewerage Corporation, Kampala Capital City Authority as well as top academics from the Universities of Makerere, Rhodes (South Africa, SA), Sheffield and Lancaster (UK).
Prof. Noble Banadda, node lead for Uganda and OR Tambo Research Chair and Chair of the Department of Agricultural and BioSystems Engineering at Makerere University, opened the session and welcomed participants. After participants' short introduction, Professor Tally Palmer, Principal Investigator of RESBEN, gave a project overview and explained the Adaptive Systemic Approach that underpins RESBEN. This approach considers the close interconnection of complex social and ecological systems. In attending to complexity, Prof Palmer stressed the importance of linking social sciences with natural sciences as well as the equal representation of diverse stakeholders at the discussion table.
The opening was followed by Prof Banadda's presentation of the background to project in Uganda. In particular, he explained the Ugandan node will look to understand the sources, pathways and impact of pollution in urban water and will compare findings with other urban water research nodes in Lagos (Nigeria) and Cape Town (SA)
MA students recruited as research assistants will play an important role in shedding light on the backbone of pathways of water pollution. Sandra Mutesi and Christine Namuddu gave two sterling presentations about preliminary thoughts on their research directions. Ms Mutesi, who will complete a MA in natural sciences, is considering looking at pollutants in Nakivubo water drainage channel and fish at Ggaba landing site and into Lake Victoria, including pollutants in fish and water. From the social sciences angle, Ms Christine Namuddu plans to examine the relationship between the local people and the water governance institutions and identifying potential indicators of change.
After the presentation, Prof Banadda opened the floor to questions. Dr Florence Adongo from the Ministry of Water expressed her interest in being involved in the project and facilitating data for the MA students to conduct their literature review. Similarly, Chris Kanyesigye from NWSC reported that they have done two phases of Lake Victoria Environmental Management Project (LVEMP) research into this area and is happy to share findings to inform the literature review and methodology.
Other participants including Prof Vanessa Speight, Dr Sally Weston (Sheffield) and Dr Ana Porroche-Escudero (Lancaster Environment Centre) agreed that the research projects look exciting and proposed ways to facilitate methodological and contextual dialogue between the two students so their work complement and strength each other.
The Ugandan node is in the process of revisiting its approach to engaging a wide range of stakeholders including local residents, civil society, non-governmental organisations and private business and
Although the agenda was busy and the meeting was well attended, the chair managed to create an engaging and dynamic atmosphere and kept the meeting running to time!
Mak-RIF Plugs Tax Education Gaps in Uganda's Informal Sector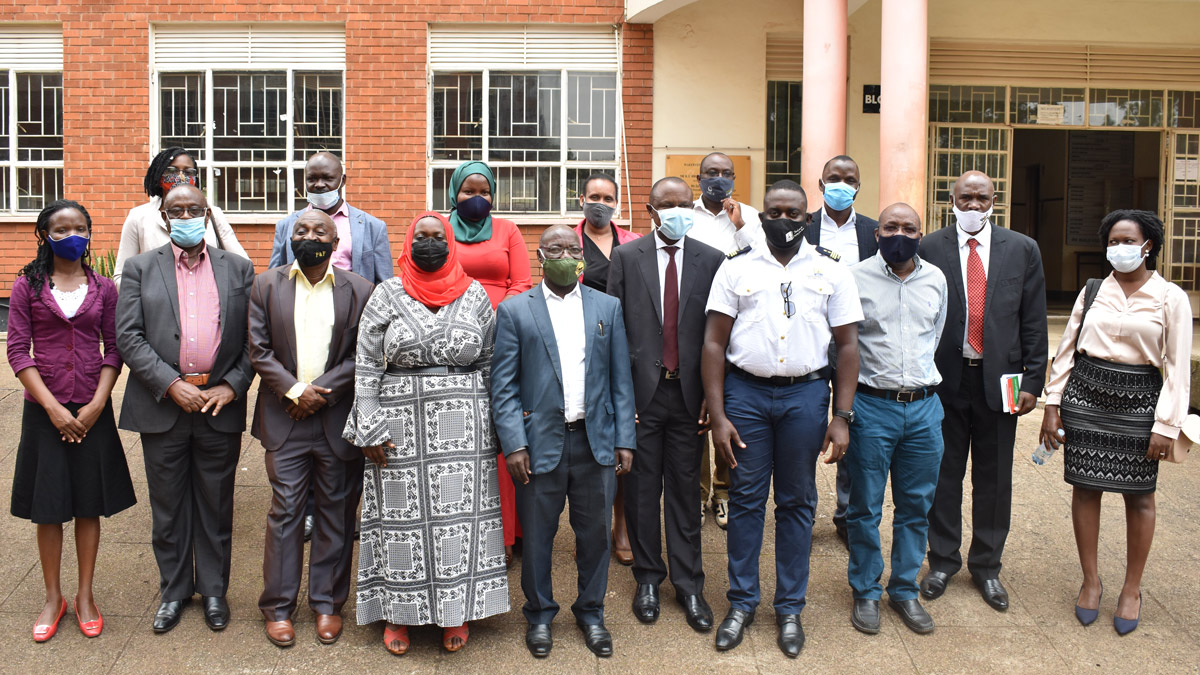 According to statistics from the Uganda Revenue Authority (URA) Annual Data Book 2018/19, at 12.44%, Uganda's average tax to GDP ratio over the last five years is one of the lowest in the region, and far below the sub-Saharan Africa average of 16%. Simply put, the total tax collected by URA has on average over the past five years accounted for only 12.44% of the size of Uganda's economy. Comparatively, Kenya, Tanzania, Rwanda and Burundi recorded average tax to GDP ratios of 16.10%, 12.83%, 15.80% and 13.55% respectively over the same period.
This should not come as a surprise, given that 2016 statistics from the Uganda Bureau of Statistics (UBOS) indicated that approximately 98% of Uganda's population of working age (14-64) were engaged in the informal sector. The title of a 2017 article published by the Economic Policy Research Centre (EPRC) based on the same statistics put it aptly, "Informality Growing Faster than Formality".
Expanding the tax base by tapping into semi-formal economic activities is going to be one of the major focus areas in the Third National Development Plan (NDPIII) 2020/21-2024/25. It is against this background that researchers in the College of Business and Management Sciences (CoBAMS) led by the Principal, Dr. Eria Hisali conducted a study that sought to understand which gaps exist in tax education and how these gaps can be packaged into improving compliance and subsequently broadening the tax base in Uganda.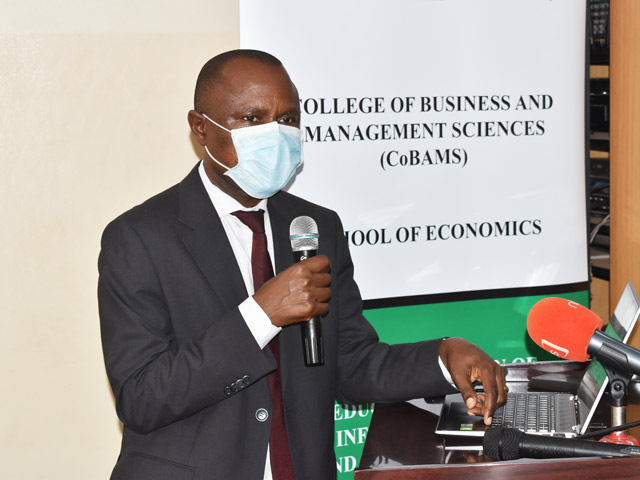 Funded by the Government of Uganda through the Makerere University Research and Innovations Fund (Mak-RIF) the research undertaken in 2020 targeted over 500 respondents with particular focus on the informal sector. In addition to the Principal Investigator (PI) Dr. Eria Hisali, the research team consisted of Dr. Ismail Kintu, Dr. Fred Bateganya, Ms. Marion Atukunda, Ms. Winfred Nalwoga, Mr. Nicholas Musoke, Mr. Patrick Lumala and Dr. Kagarura Willy.
Speaking at the research dissemination workshop held on 10th February 2021 in the School of Business Conference Room, Dr. Hisali shared that "The research advocates for a comprehensive review of Uganda Revenue Authority's tax education programme with focus on linking tax collection to better service delivery,"
The research team's interaction with members of the informal sector revealed that tax education being provided is not well suited to the informal sector. "For instance, tax exhibitions, messages on websites and brochures do not provide the best approach to reach out to the informal sector. The informal sector needs more engagement with emphasis on field visits and face-to-face interaction," explained Dr. Hisali.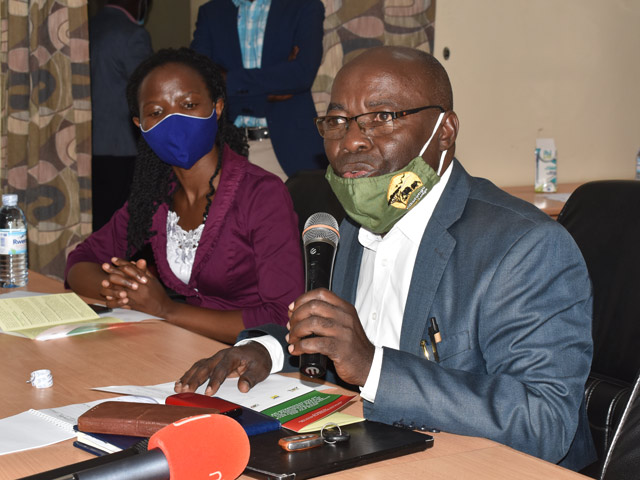 The Principal Investigator however pointed to some quick wins that could be adopted as URA evaluates and updates its tax education programme. He noted that approximately UGX 6 Trillion had been allocated to livelihood programmes by the Government of Uganda between the 2018/19 and current financial years. "How can tax education be included as part of the package that these Government livelihood programmes contain? I think we could see some quick wins because as recipients benefit from livelihood programmes, they could be asked to register as tax payers."
Findings shared by the research team further revealed a limited coverage of tax education. Whereas 53% had been told or heard about the importance of paying taxes, only 40% had received education on how to register for taxes while only 38% had heard about filing tax returns. Furthermore, only 32% had received tax education on fines and penalties, 29% on the benefits of paying taxes and only 16% on audits and assessments.
Nevertheless, some of the registered respondents who admitted to not paying taxes cited low tax morale as well as poor service delivery and unfairness as reasons for their noncompliance. Researchers further took note of the limited personal touch with potential taxpayers in the informal sector, disconnect between the current taxpayer education modality and unique features of the informal sector, as well as the cost implications and overly technical language in existing modalities as some of the reasons for nonpayment of taxes.
The Study concluded that:
Majority of the respondents had limited or no knowledge about the Tax Identification Number (TIN), a critical requirement for tax payment. More than half of respondents did not know how to acquire a TIN.
Actors in the informal sector cannot differentiate between taxes paid to URA and those paid to local governments and other bodies that bring together operators.
Most respondents did not know how to formalize their business/enterprise, another important factor for tax registration.
There exists some form of registration of informal businesses/enterprises upon which formalization can build.
The URA tax education campaigns messaging and targeting has left out some potential tax payers. Messaging and targeting of tax education is key to realizing intended results of growing the tax base and ultimately the tax revenues.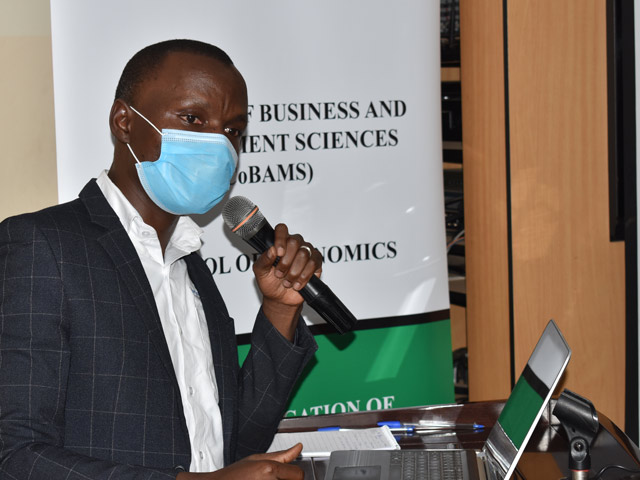 The Research Dissemination attracted participants from URA, Kampala City Traders Association (KACITA), Academia, Private Sector, Civil Society, the Media, Mak-RIF Grants Management Committee (GMC) as well as staff and students from Makerere University.
Painting a picture on the new ideas and innovations to foster a taxpaying culture through tax education, URA's Mr. Nicholas Musoke who represented the Assistant Commissioner Research Planning and Development-Ms. Milly Nalukwago, noted that whereas Uganda's population is approximately 45.7million, the taxpayer register stands at only 1.59million. Approximately 953,000 of those registered are active taxpayers, while 906 URA clients pay 80% of the tax. The informal sector currently contributes less than 1% (0.03%) of tax collected.
To help achieve this, URA plans to roll out the AEN strategy. AEN stands for Awareness, Empower and Nurture. Under Awareness, URA intends to intentionally engage the public on tax laws, roles, rights, obligations and opportunities relating to tax. Under Empower, URA will guide taxpayers on their rights as well as how and when to fulfil their tax obligations, while under Nurture, the Authority will set up and support mechanisms to cultivate and maintain a taxpaying culture.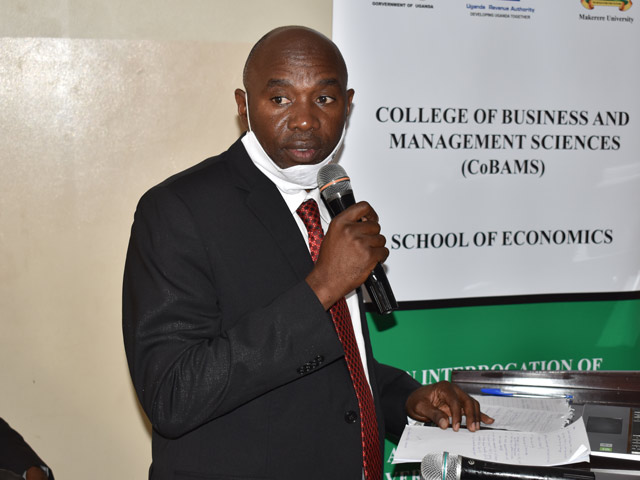 Dr. John Mutenyo who represented the Chairperson of MakRIF GMC- Prof. William Bazeyo in his address commended the Government of Uganda for prioritizing research at Makerere University. "In phase One of Mak-RIF, the Government committed UGX 30billion and this was one of the research projects that
was funded under that phase. To date, over 500 competitive research grants have been supported."

Prof. Bazeyo congratulated Dr. Hisali and the entire research team for undertaking a study geared towards strengthening the implementation of NDPIII and supporting the development of Uganda. "Most importantly, I would like to thank Dr. Hisali and the team for having a collaborative study that involved the key stakeholders such as URA. These are the stakeholders that are going to make it easy to buy into and implement the outcomes of this research."
Commenting on the findings, the other stakeholders at the research dissemination workshop pointed out the need to embark on trust building programmes with the taxpayer. They equally emphasised the need to consider reducing the load on the tax payer. The taxpayer in Uganda is subject to taxes such as;
Value Added Tax (VAT), Pay As You Earn (PAYE), Customs, Demurrage, Income Tax, Withholding Tax, Excise Duty, Over-The-Top (OTT)/Social Media Tax among others.
Article by Public Relations Office