First Belt and Road Initiative Lecture Outlines Benefits of Global Connectivity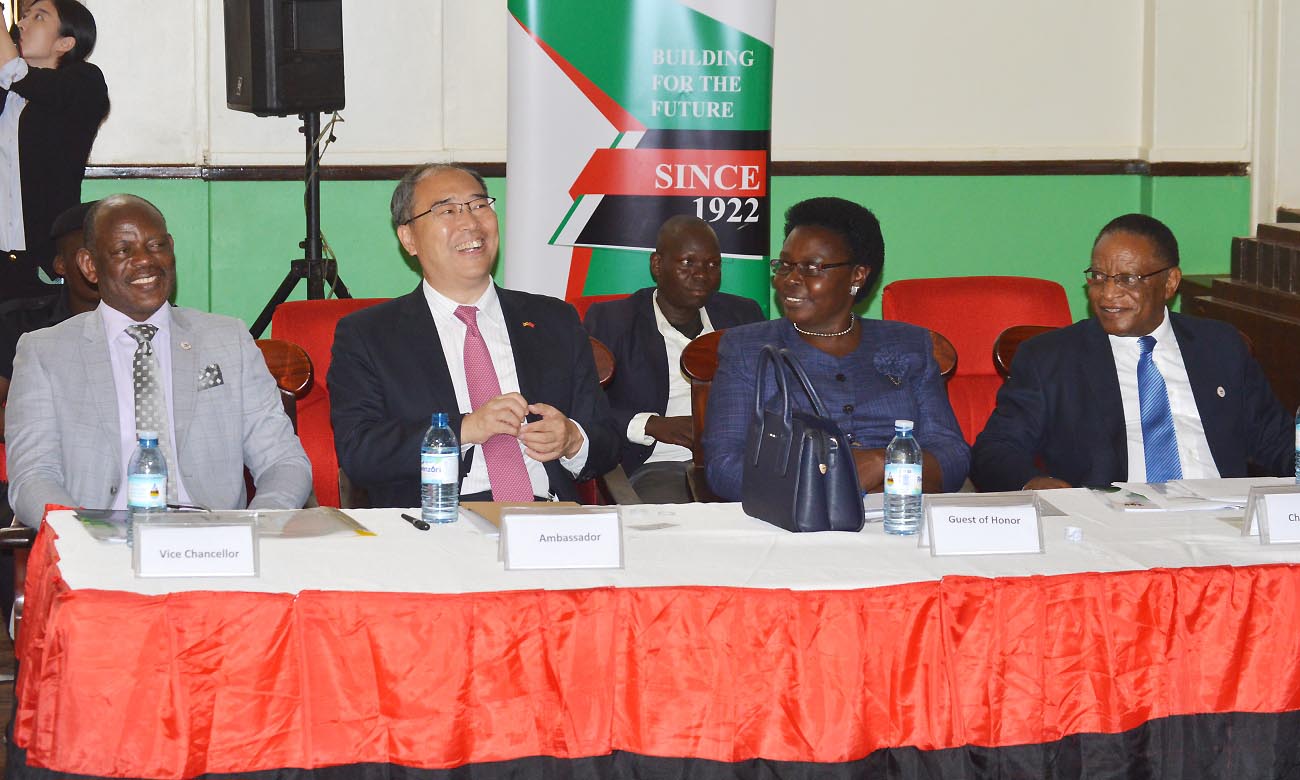 The First Belt and Road Initiative (BRI) Lecture hosted by Makerere University on 27th February 2020 in the Main Hall has outlined a series of benefits that Uganda, Africa and the World stand to gain by embracing the largest infrastructure project ever undertaken in history. The Lecture was presided over by Hon. Grace Freedom Kwiyucwiny, the State Minister for Northern Uganda who represented the Prime Minister, Rt. Hon. Dr. Ruhakana Rugunda.
Delivered by the Ambassador of the People's Republic of China to Uganda, H.E. Zheng Zhuqiang, the three-part lecture was discussed by the Chancellor, Prof. Ezra Suruma and a panel of eminent persons made up of; Dr. Maggie Kigozi, Eng. Ayub Sooma and Dr. Godfrey Akileng moderated by Dr. Josephine Ahikire, the Principal College of Humanities and Social Sciences (CHUSS).
Welcoming guests, the Host and Vice Chancellor, Prof. Barnabas Nawangwe thanked Ambassador ZhuQiang for accepting to deliver the lecture at a time when his home country was trying to come to terms with the devastation caused by the ravaging Novel Coronavirus (COVID-19). "We stand in solidarity with the People's Republic of China in general and our partner in the Confucius Institute; Xiangtan University, in particular."
"I was deeply touched to learn that early this week Professor Barnabas Nawangwe flagged off a batch of surgical masks donated by Makerere University to Xiangtan University, her main collaborating university in China where more than 60 Ugandans mostly from Makerere are studying" Ambassador Zhuqiang remarked in response. "This is an epitome of the solidarity between Ugandan people and Chinese people" he added.
Delving into his presentation, the Ambassador outlined: the origin of the BRI, its main features, achievements, potentials and opportunities; opportunities the BRI brings to Africa; and opportunities the BRI brings to Uganda in particular, as the three parts of his lecture.
The BRI has its origins in the ancient Silk Road, formed over 2,100 years ago to connect China to Middle Asia and Europe over land, and to South East, South and West Asia, as well as East Africa over the sea. "I think the ancient Silk Road might be the first attempt in the human history for globalization, a trend that is still developing now" explained Ambassador Zhuqiang.
In September 2013, H.E. XI Jinping, President of the People's Republic of China launched the current concept of the BRI or Silk Road Economic Belt and the 21st-century Maritime Silk Road as it is officially known, in Kazakhstan and Indonesia.
"Today, the BRI has become a major initiative in the broad international community, with the United Nations General Assembly welcoming it through Resolution A/71/9 on November 17, 2016. By the end of March 2019, the Chinese government had signed 173 cooperation agreements with 125 countries and 29 international organizations, including over 40 African countries" highlighted the Ambassador.
He went on to state that the fundamental element of the BRI was to offer connectivity to the global village on five fronts namely; Deepening policy, Enhancing infrastructure, Increasing trade, Resourceful financial support and Strengthening people-to-people as well as state-to-state relations.
On the opportunities it brings to the 1.3billion strong, natural and human resources-rich Africa, Ambassador Zhuqiang noted that the BRI seeks to address three bottlenecks hindering sustainable development namely, "lagging infrastructure, underdeveloped talents and shortage of funds."
He articulated that infrastructure challenges not only push up the cost of domestic and regional trade but also hinder the continent's efforts to attract foreign investment, a bottleneck that seems to have already been overcome by countries where the BRI has made landing. Citing Djibouti as an example, Ambassador Zhuqiang shared that the Nation's railway and port development had helped with "job creation, economic development and created tax revenue and foreign exchange earnings for this country."
Bringing the discussion home, the Ambassador shared; a stable political environment, rich natural and human resources, good investment policies and a hard-working and intelligent people, as the four strategic advantages Uganda has in further deepening its cooperation with China.
"On the front of infrastructure connectivity, one outstanding and tangible fruit would be the Kampala-Entebbe Expressway, the Ugandan gateway to the world. With the launch of the expressway in 2018, the commuting time between Kampala and Entebbe has been reduced from more than two hours to just about 30 minutes!" remarked Ambassador Zhuqiang.
On the trade front, he outlined six industrial parks opened by Chinese entrepreneurs, which have created more than 80,000 jobs. These include; Shandong Industrial Park in Luzira, Tiantang Industrial Park in Mukono, Liaoshen Industrial Park in Kapeeka, Uganda-China (Guangdong) Free Zone of International Cooperation in Sukulu, Mbale Industrial Park and Kehong Agricultural Industrial Park in Luweero.
Citing the Goodwill Tile Factory in Kapeeka, Ambassador Zhuqiang shared that in addition to creating 2,000 jobs, the facility reduced the price of tiles in Uganda by 25%, saved the nation foreign exchange worth US$35million in import substitution and generated US$10million in exports annually.
He touched on the current project to expand and upgrade Entebbe International Airport, which will enable the cargo centre to handle up to 150,000 metric tonnes of goods annually, up from 69,000 metric tonnes, after completion of the first phase. The project is being undertaken with financial support of US$200 million concessional loans from China.
In the discussion that followed, the Chancellor, Prof. Ezra Suruma applauded Ambassador Zhuqiang for demystifying and reducing to bare bones the hitherto mammoth and complex concept of the BRI. "I think that we can now say that we are better informed as a result of what you have told us."
Speaking as an Economist, the Chancellor restricted his discussion of Ambassador Zhuqiang's lecture to the three aspects of; infrastructure, trade and capital flows. On the infrastructure front, he noted that the coming in of China had brought great relief to Government's efforts to build Karuma dam. "Your Excellency, we do welcome China's willingness to provide alternative sources of capital, infrastructure and I think we are cooperating very well on these lines."
He added that support to establishment of the Tororo Sukulu Phosphate project to produce organic fertilizer was extremely important to Uganda as an agricultural country and the region at large. "We had been wanting to build this factory for a long time with little success but the entry of China into the global arena brings alternative financing and alternative options for infrastructure development."
On the trade front, the Chancellor mentioned the need to balance the trade between Uganda and China. He shared that whereas Uganda imports goods in excess of US$1billion from China, its exports to the same are worth less than US$30million. He nevertheless lauded the Chinese government for setting aside a special loan for the development of African Small and Medium size Enterprises (SMEs) under the Forum on China Africa Cooperation (FOCAC) arrangement. This, he thought, would be a good opportunity for the youth to secure gainful employment as they add value to agricultural produce.
Touching on the capital flows from China, the Chancellor emphasized the need to tread carefully by engaging in negotiations that will not put the Country into too more debt than we can handle. "As Minister of Finance, it would take me two to three years to negotiate a debt with the West. With China, it only takes two to three months. It is much easier but I hope we will be more careful so that we do not take on too much that we overburdened with debt."
Prof. Suruma also stressed the need for countries to negotiate for capital flows under regional bodies like the East African Community (EAC) so as to increase individual nations' bargaining power. "This is an important point that we shall hopefully consider going forward."
The Chancellor emphasized the need to engage China so as to learn the strategies they deployed to achieve unprecedented speed in economic development. "In the past, we prided ourselves in being a mixed economy that is private sector-led" remarked the Chancellor. "I believe it has helped us as a country but we can move faster by learning from China which has in the last 20 to 30 years gone on to become the second largest economy in the world."
He concluded his discussion by pointing out the need to maintain our freedom as a Nation. "We have a history of colonialism and neocolonialism which we are trying to shake off. We hope that as we move into the future, we will move with faster economic growth but also with freedom."
Hon. Grace Freedom Kwiyucwiny in her closing remarks on behalf of the Prime Minister thanked Ambassador Zhuqiang for an illuminating lecture, Prof. Suruma for an articulate discussion and Makerere University for being proactive by organizing the event. "The Belt and road Initiative is set to transform the way global trade is done. The countries which will understand the initiative and tap into it at the right time will reap a lot of benefits."
She noted that the BRI shows us that China has already positioned itself as a country that is offering solutions, which should prompt us all to think about solutions for Africa. "We should also place ourselves at a global level otherwise we shall be left out" she cautioned.
The State Minister lauded various infrastructure developments supported by China that are already transforming the country and called for additional interventions that can strategically create employment. She noted that land has already been identified in Northern Uganda, which offers virgin territory in as far as developing industrial parks is concerned.
Article by Public Relations Office
Veteran Professor changed Makerere and Higher Education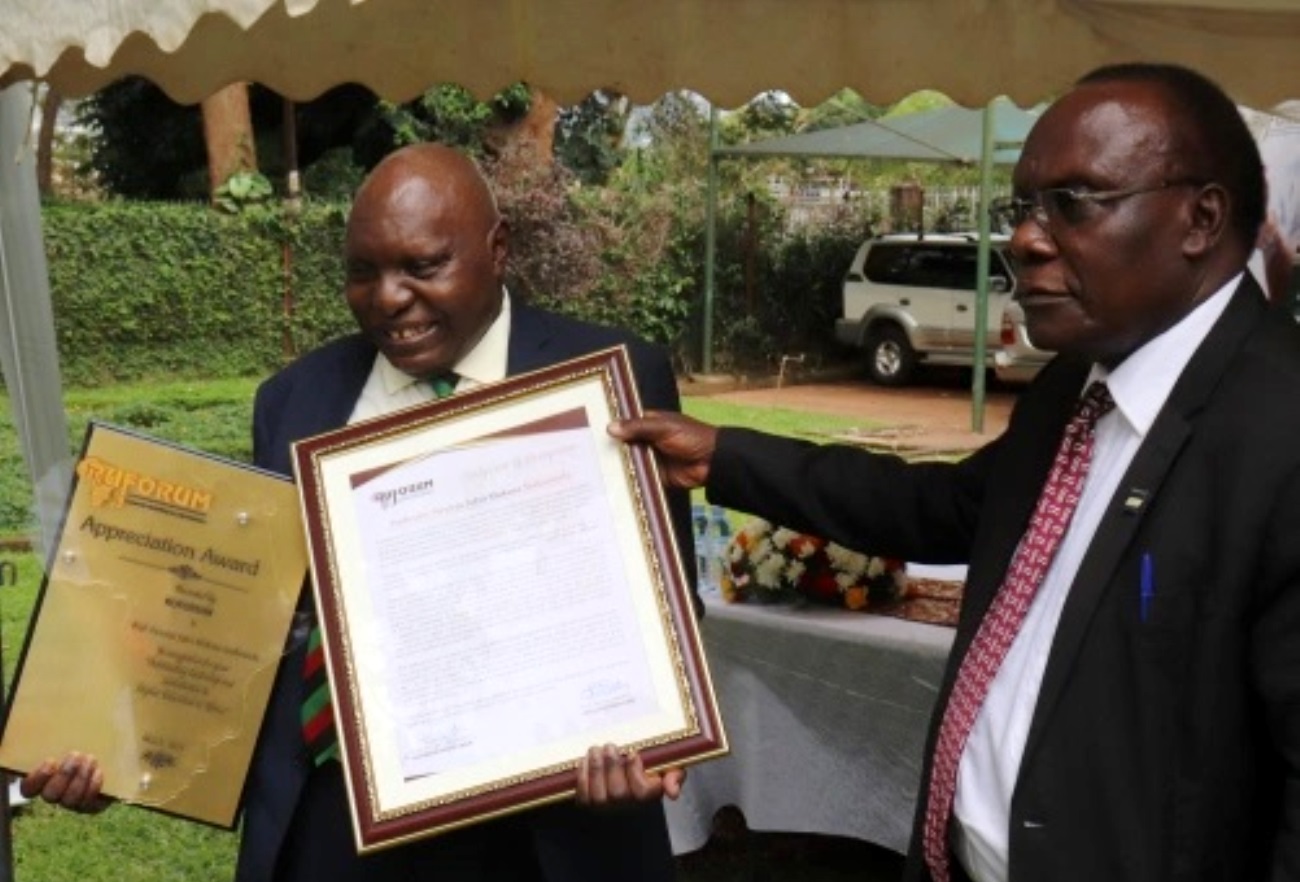 When Professor John Ssebuwufu ambled up to receive a certificate of recognition for his 'exceptional' contribution to higher education from the Regional Universities Forum for Capacity Building in Agriculture (RUFORUM) at Makerere University (MU), he was thinking of many things, such as rewarding staff, that he could have done differently to impact university education more.
But he did what he could have done, under the circumstances.
He presided over MU (in 1993) when student enrolment was 5,000 and left in 2004 when the population was surging to more than 15,000.
He emphasised the use of information communication technologies in almost all the institutions he had been involved in and sent many academic staff on exchanges to boost research and innovation. Now, more African universities engage in ground-breaking research.

So, he proceeded to accept his recognition and make his acceptance speech, which was mostly about gratitude.
Ssebuwufu, 74, who is currently the chancellor at Kyambogo University and the vice-chancellor of the University of Kisubi, is credited for his exemplary leadership and pragmatic methods that have shaped higher education in Uganda and Africa as a whole.
Japan Africa Dream Scholarship (JADS) Program 2021/2022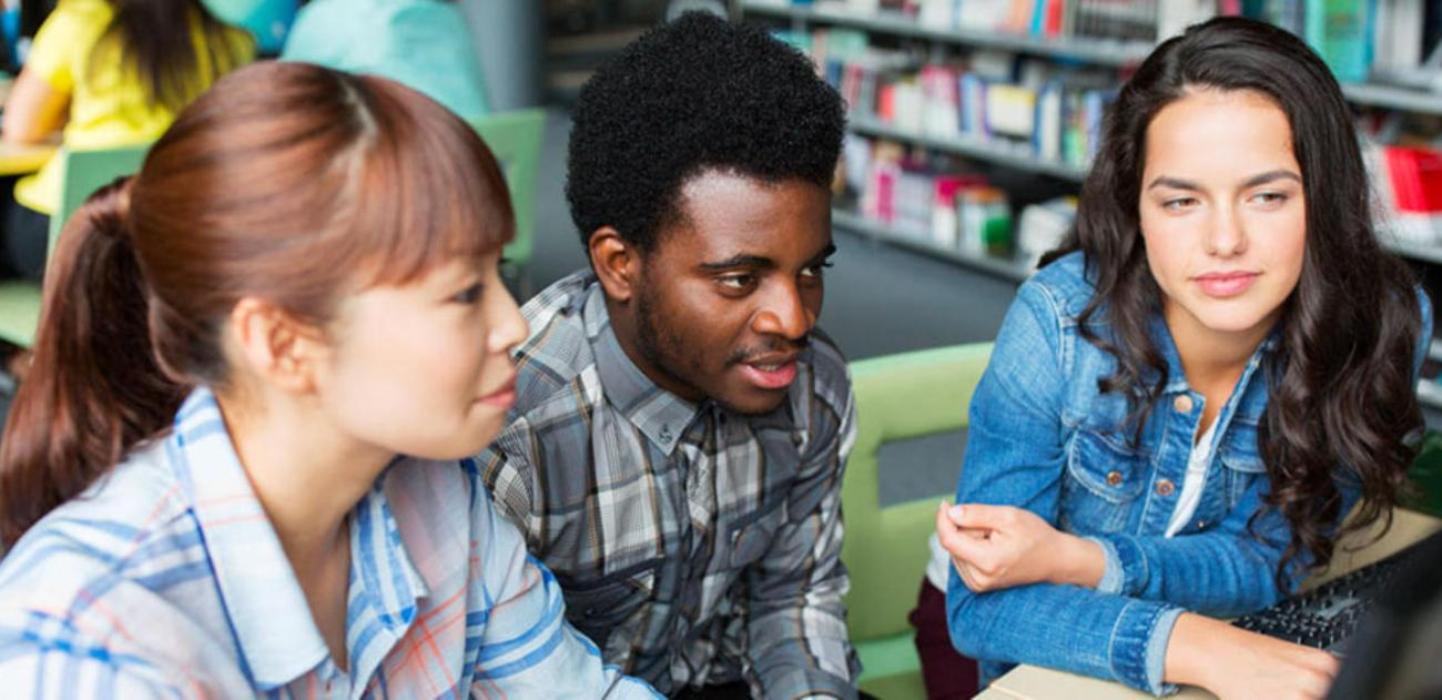 The Japan Africa Dream Scholarship (JADS) Program is a capacity building project by the AfDB and Japan which was initiated in 2017 with the aim of providing two-year scholarship awards to highly achieving African graduate students to enable them to undergo post-graduate studies (i.e. a two-year Master's degree program) in selected priority development areas on the continent and Japan. The overarching goal the AfDB and the Government of Japan seek to attain is to enhance skills and human resources development in Africa in under the Bank's High 5s agenda (i.e. "Feed Africa", "Light up Africa", "Industrialize Africa", "Integrate Africa" and "Improve the quality of life of the people of Africa") and key Japanese development assistance initiatives. JADS core areas of study focus include energy, agriculture, health, environmental sustainability, and engineering. The program also seeks to promote inter-university collaboration and university-industry partnerships between Japan and Africa. Upon completion of their studies, the JADS scholars are expected to return to their home countries to apply and disseminate their newly acquired knowledge and skills in the public and private sectors, and contribute to national and continental socio-economic development.
About the JADS program
The JADS Program is open to applicants from AfDB member countries with relevant professional experience and a history of supporting their countries' development efforts who are applying to a graduate degree program in energy development and related discipline. The program does not provide scholarships to any other graduate degree program.
The scholarship program provides tuition, a monthly living stipend, round-trip airfare, health insurance, and travel allowance.
Upon completion of their studies, the beneficiary scholars are expected to return to their home countries to apply and disseminate their newly acquired knowledge and skills, and contribute to the promotion of sustainable development of their countries.
Who is Eligible to Apply?
The program is open to those who have gained admission to an approved Masters degree course at a Japanese partner university. Candidates should be 35 years old or younger; in good health; with a Bachelor's degree or its equivalent in the energy area or related area; and have a superior academic record. Upon completion of their study programs, scholars are expected to return to their home country to contribute to its economic and social development.
Application Procedures
Applicant requests for information and application forms and procedures from the chosen JADS partner university. For any inquiries, please contact JADS@AFDB.ORG
Applicant completes required documents and sends them to the university.
University evaluates and selects applicants.
University sends selected candidates to the AfDB.
AfDB reviews submissions from universities, prepares and approves the final list.
AfDB contacts selected awardees, and informs the universities.
WHS Regional Meeting Africa 2021: Finance Chairperson's Update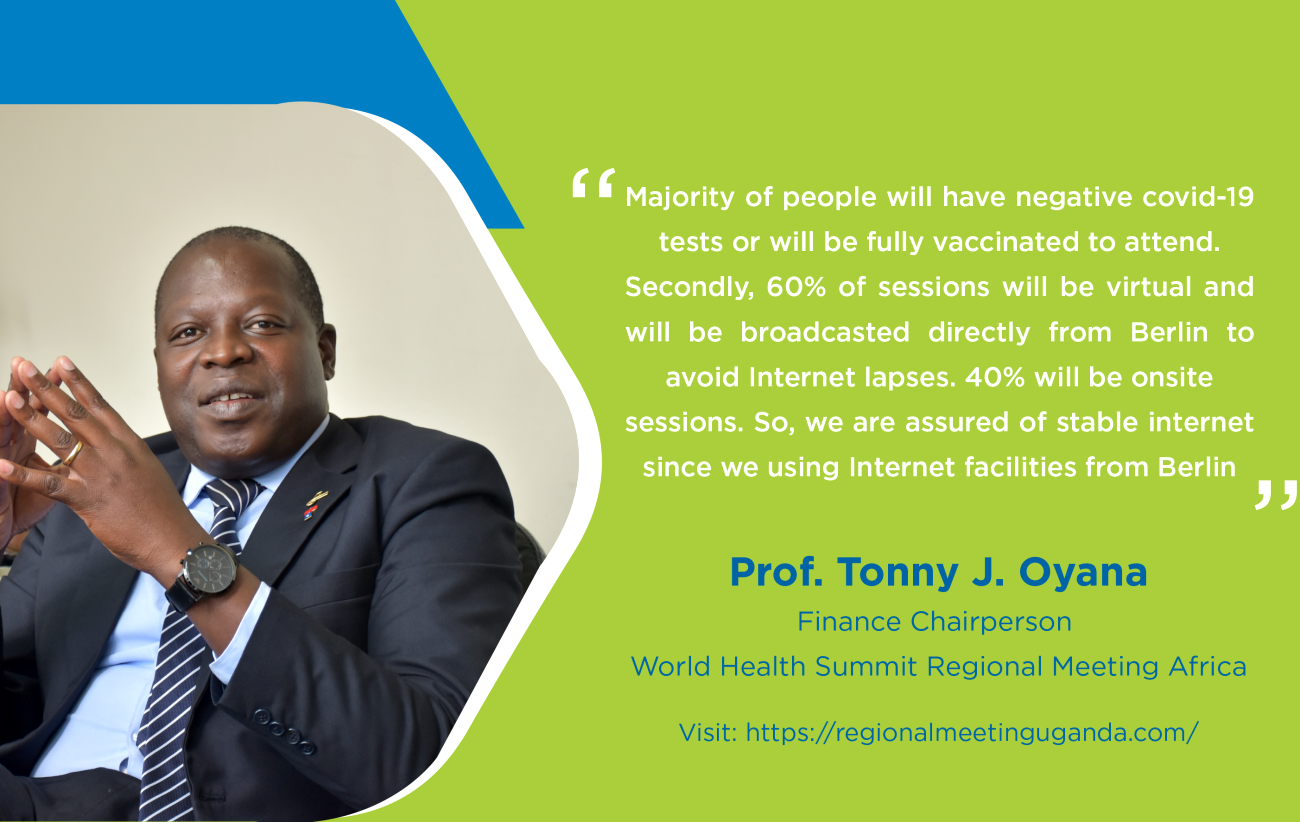 SOPs: Our plan is to have 200 sets of people in different spacious rooms…

Prof. Tonny j. oyana, finance chairperson whs regional meeting africa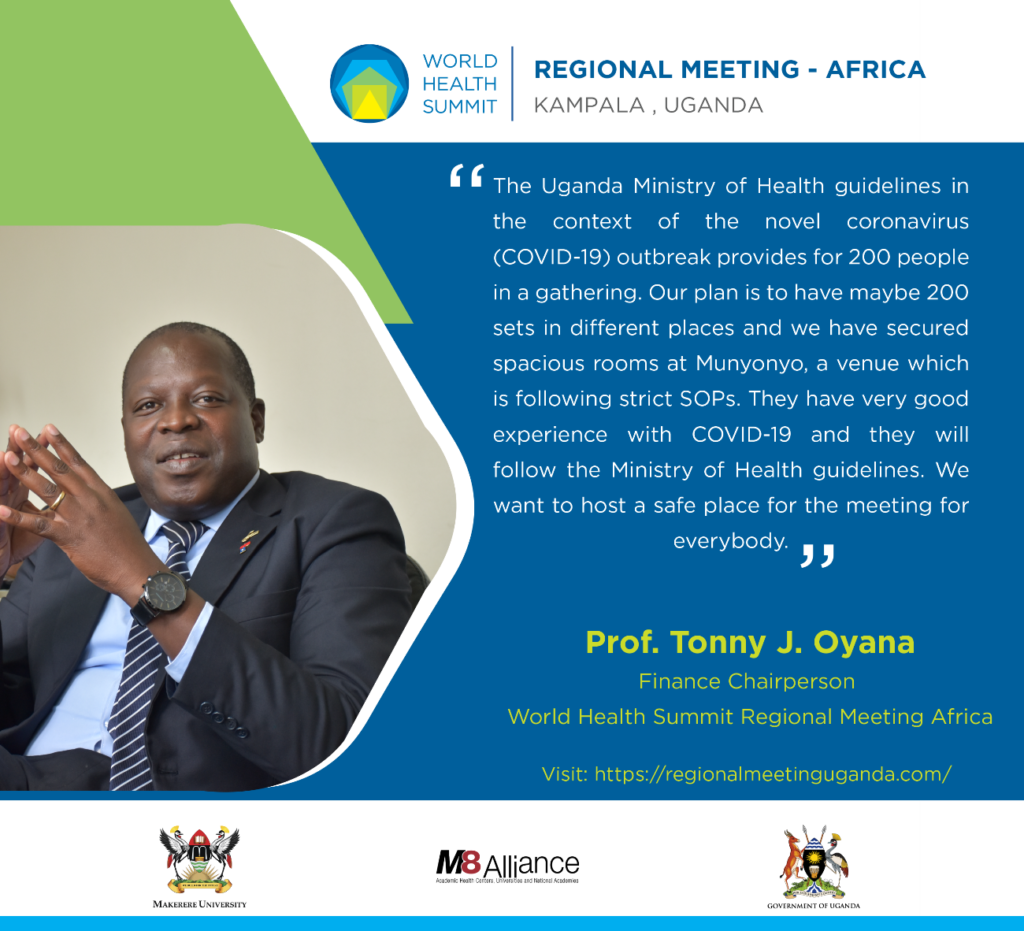 We are sincerely grateful to our sponsors…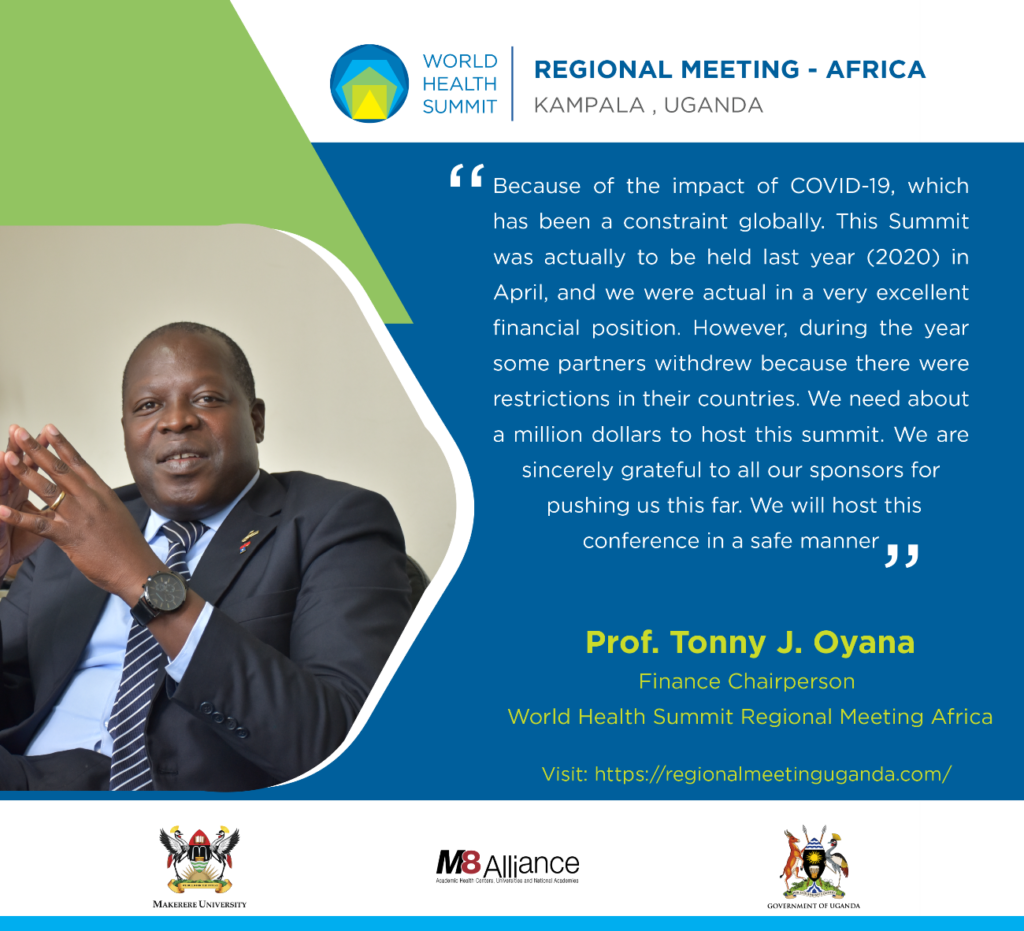 Over 15 core sponsors…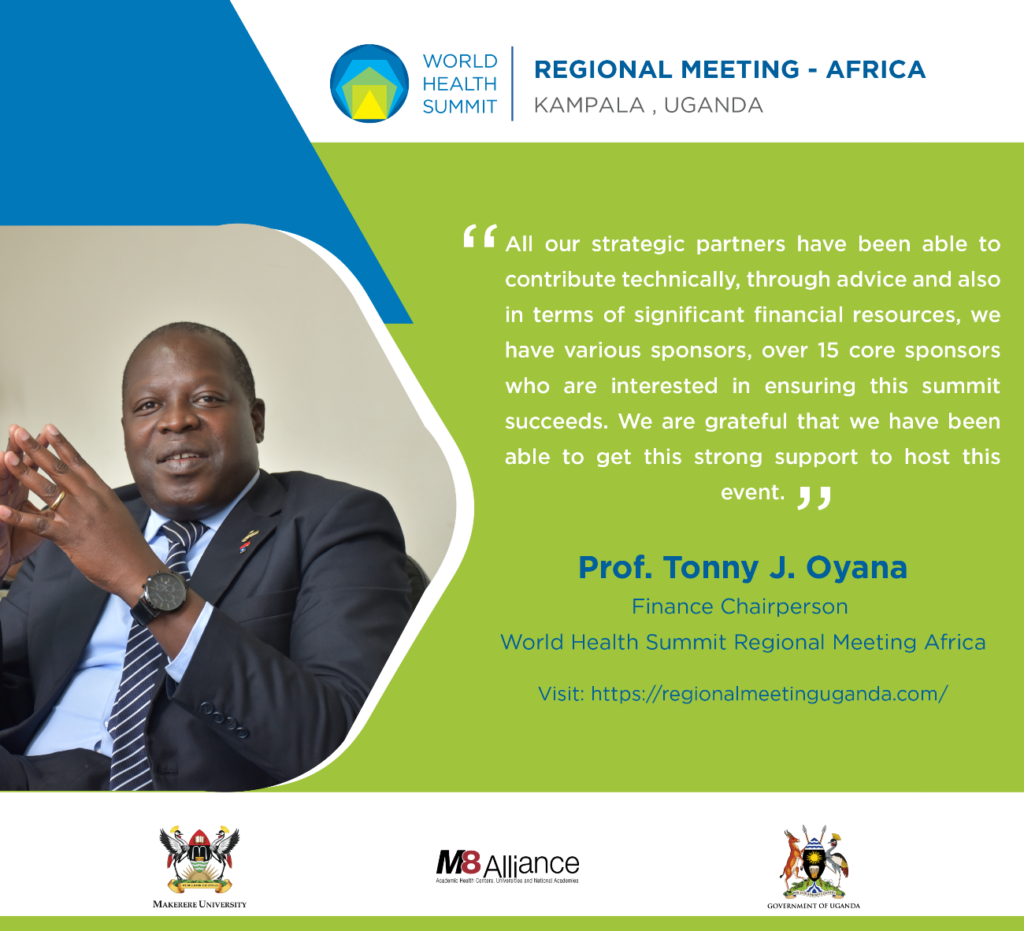 Sessions: 60% Virtual, 40% Onsite…