Mak Hosts Inter-University Dialogue on Sexual Harassment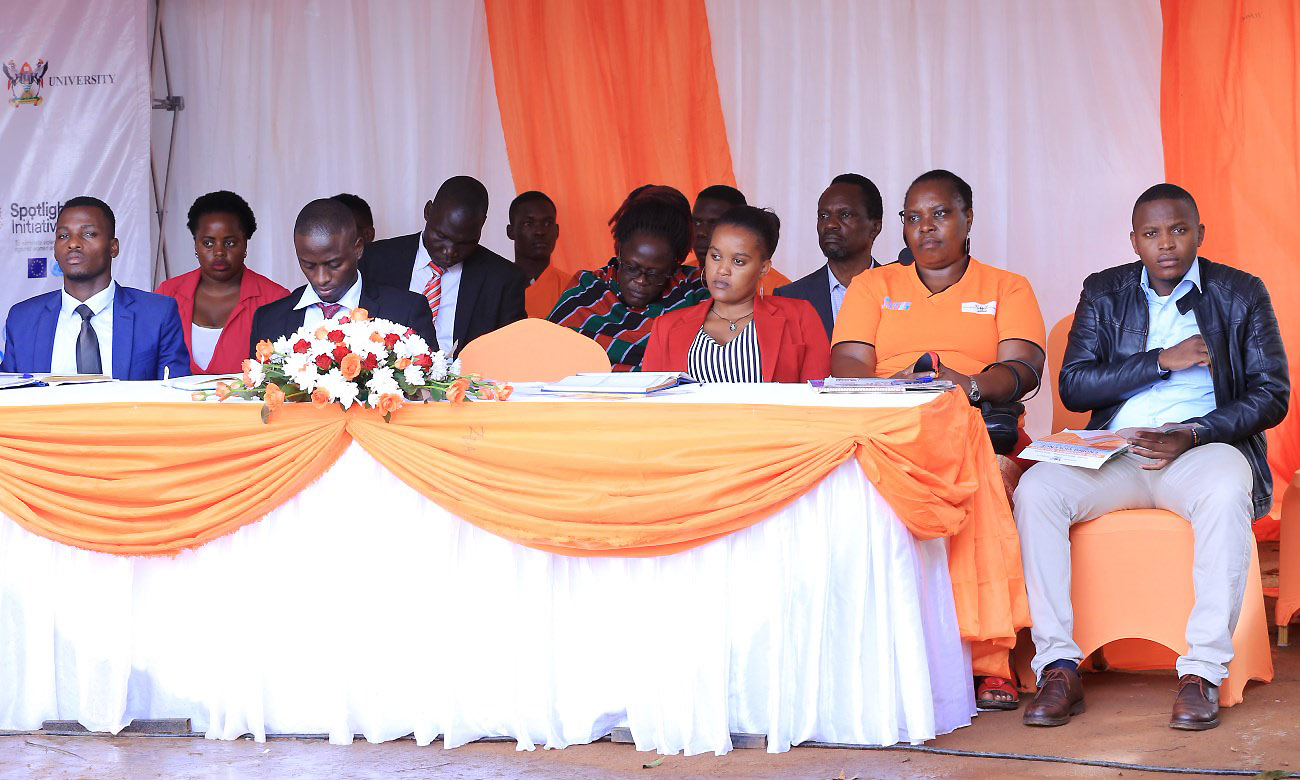 The Makerere University Gender Mainstreaming Directorate (GMD) in partnership with UN Women with financial support from Spotlight Initiative and the Government of Sweden organized a two-day exhibition and Inter-University Dialogue under the theme; Orange the World, Generation equality stands against rape. Stakeholders including; TASO, Mak Health Services, FIDA, among other Non-Government Organizations, that fight against Gender Based Violence (GBV) in Uganda took part in the event. The exhibition was held on 27th and 28th November 2019 as part of the annual 16 Days of Activism, where countries from all over the world come out to sensitize and increase awareness against GBV.
Panelists at the dialogue held on 28th November 2019 were Guild Presidents from six Universities. These included; H.E. Kateregga Julius of Makerere University, Ms. Ninsiima Hellen-Vice Guild President Kyambogo University, H.E. Mboga Patrick of Uganda Martyrs University Nkozi, H.E. Waywoma Moses of Ndejje University, H.E. Johnson Noowe of Gulu University and representative of the Guild President, Kampala International University Hon. Ayinamani Kizito
The Keynote Speaker Dr. Amon Ashaba Mwiine who is also a Lecturer at the School of Women and Gender Studies, Makerere University said that 75% of the women suffer beatings and other forms of domestic violence which are perceived as normal in society. This is in actual sense against human rights and the Speaker called upon men to have respect for every human being regardless of their gender.
He noted that cases of sexual harassment have been registered not only in educational intuitions but other places as well. The Keynote Speaker added that a few cases have been handled so far and called upon everyone to take a stand and put an end to sexual harassment by following the policies and other guidelines against the immoral act.
"Sexual harassment exists but the challenge is the victims fear to come out and report the perpetrator. This is one reason why sexual harassment is increasing but my advice to all the victims is this, come out, break the silence and have the criminal punished," said Dr. Mwiine
He condemned the act of gender imbalance among institutions and other places of work and commended Makerere University for promoting Gender equality as shown by recruitment of staff and admission of students to the university. Dr. Mwinne also thanked GMD for the efforts put place to ensure that the immoral act of sexual harassment is pushed out of the University through programmes such as the 2 for 1 challenge, peer trainers, among others.
The Director, GMD, Dr. Euzobia Mugisha Baine shared that all the 6 universities present at the dialogue were invited as participants running the Safer University project, which is aimed at promoting gender equality in higher institutions of learning.
She revealed that this year's theme: "Orange the world, generation equality stands against rape," takes into account all rape cases regardless of gender, although women suffer more than men. However, she noted that all measures have been put in place to respond to rape and all other cases of sexual violence.
Dr. Mugisha Baine further shared that Makerere University has a newly revised policy on sexual harassment and advised all institutions of higher learning to put in place policies to end sexual harassment and have monitoring mechanisms to see that their policies are working.
The Senior Gender Officer GMD, Mr. Eric Tumwesigye advised students to respect and treat each other as human beings as one way to end violence. He explained that Gender Based Violence causes not only physical but also emotional harm and advised people to fight against it.
"Gender Based Violence is a very abstract form of violence for people that have not come close to it. Don't wait for it to come, use experiences that have been shared to put an end to sexual harassment," echoed Mr. Tumwesigye.
The Vice Guild President Kyambogo University, Ms. Ninsiima Hellen defined Gender Based Violence as an injustice in community which affects the victim's physical and psychological wellbeing and advised men to put aside their ego and speak out when offended.
According to the Guild President Gulu University, H.E. Johnson Noowe, Gender Based Violence or sexual harassment stems from people of power to those they lead as it's those with authority that mishandle the reported cases. He added that this demoralizes the victim and also promotes the immoral act as the offender goes unpunished.
Addressing the dialogue, the 85th Guild President H.E. Kateregga Julius, thanked GMD for the way they are handling sexual harassment cases and also for the revised policies against the immoral act. These actions, he shared, include suspending the reported offender in order to avoid interferences with the investigations.
He also expressed gratitude with the way gender equity is promoted at Makerere University especially in admission of students. H.E. Katerega further revealed that Students Guild Leaders were given an opportunity to participate in the Vice Chancellor's roster for 100; another initiative to end sexual harassment in the University.
Giving advice on how to end sexual harassment, the Guild President Uganda Martyrs University Nkoozi H.E. Mboga Patrick, tipped fellow students to speak out whenever offended. He also cautioned the university stakeholders to implement whatever they propose and discuss.
The Guild Represntative Council (GRC) Ndejje University, said that Ndejje has joined hands with Reproductive Health Uganda to kick the vice out of the university.
Representing the Guild President Kampala International University, Hon. Ayinamani Kizito urged fellow students to report the case to the persons responsible and tasked the people in charge to take immediate action.
The panel was moderated by Ms. Prosscovia Nabatte from the Public Relations Office, Makerere University and Mr. Nicholas Kamwesigye, Head of Peer Trainers at Makerere University.
Article by Rachael Kanyi, Volunteer, Mak Public Relations Office
UNMA Advisory on Agriculture and Food Security Jun-Aug 2021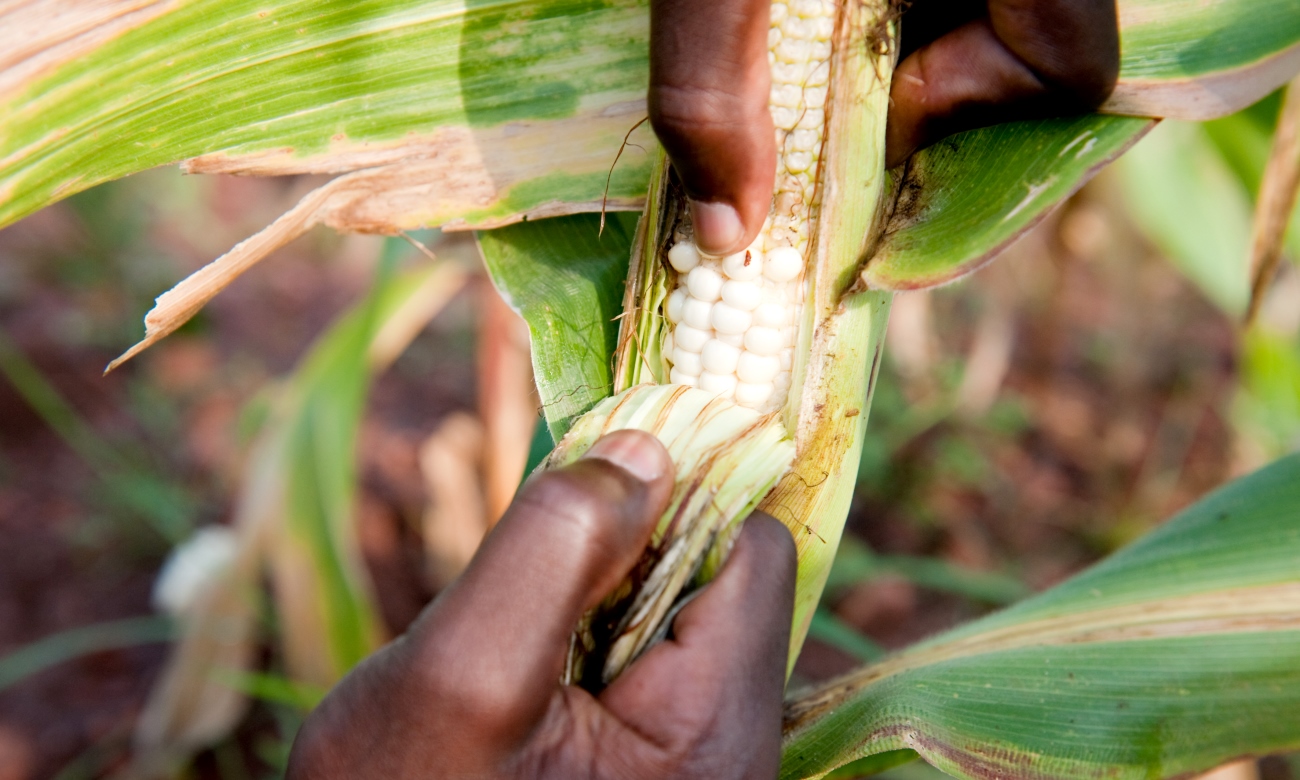 The Uganda National Meteorological Authority (UNMA) on 7th June 2021 released the seasonal rainfall outlook for the June-July-August (JJA) 2021 period. Contained in the outlook were advisories to various strategic sectors of the economy.
Particularly, the advisory to the Agriculture and Food Security sector was;
JJA season is often part of the normal dry season in the areas of South-western, western, parts of the eastern, and central Uganda. The farming communities in these areas are therefore advised to be vigilant during post-harvest handling by considering proper drying of the harvest on clean surfaces, use of tarpaulins and drying on racks;
Preparation of good storage facilities of produce to avoid compromising on quality and safety;
Channeling of the run-off water into the gardens in order to maximize on the soil moisture conservation;
For those areas where near normal to above normal rainfall is expected (most parts of northern and eastern Uganda), farmers are encouraged to continue with regular weeding, pest and disease surveillance and control;
Due to the expected enhanced rainfall in those areas, water logging and proliferation of fungal and bacterial crop diseases are likely to occur.
Open drainage channels around household and gardens to reduce risks from stagnant water causing damage to root tuber crops;
Flash floods and waterlogging are highly anticipated to occur in low lying areas expected to receive enhanced rainfall such as Katakwi and Kapelebyong. Therefore, communities are encouraged to keep watch over their crops, animals and property;
In Karamoja sub-region, where wetter conditions are expected, the pastoral communities are advised to diversify into boosting the production of cereals (sorghum, millet, and maize), beans, and ground nuts and sustain pasture availability for livestock.
Please see Downloads for the detailed outlook.
4th Call For Applications: MURBS Departmental Ambassadors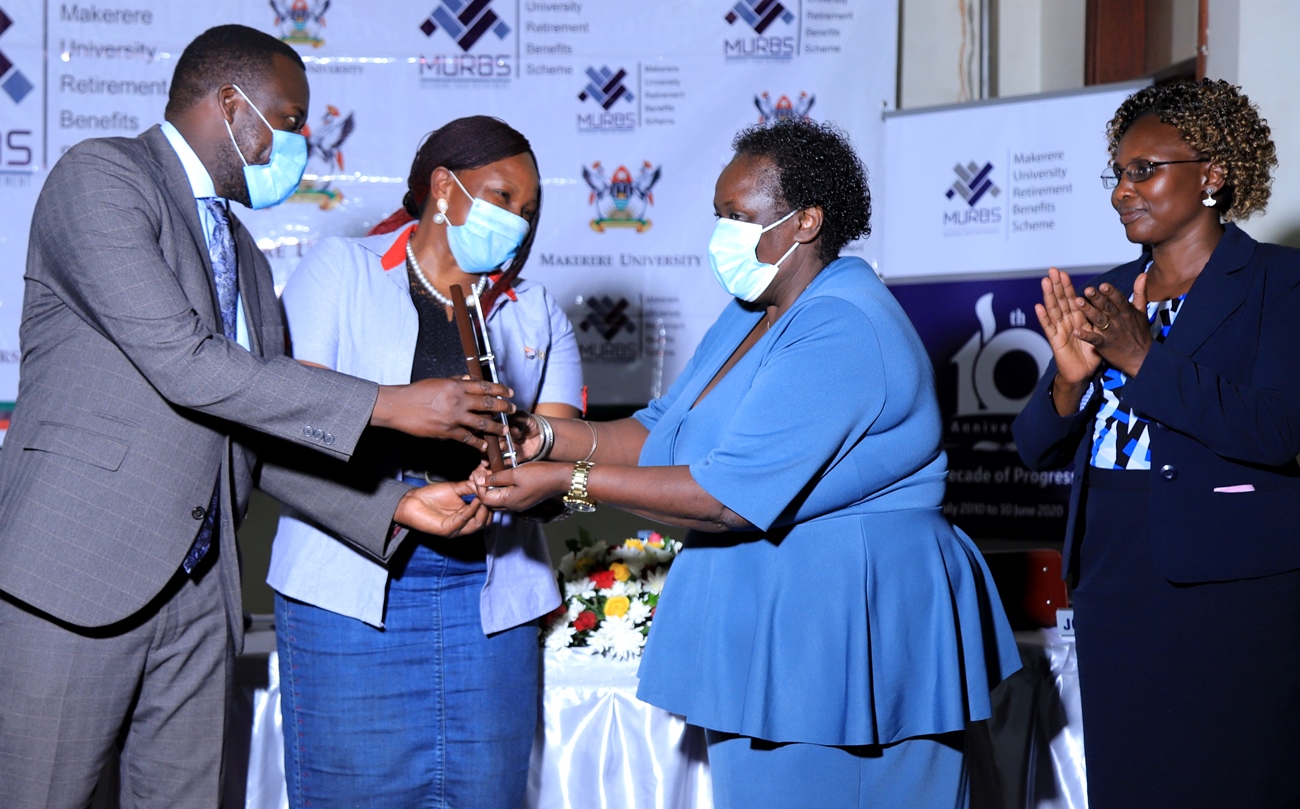 In February 2018, the Makerere University Retirement Benefits Scheme (MURBS) launched the Departmental Ambassadors Programme. MURBS hopes to use this Ambassadors Programme to engage more directly with its membership and enhance member education. MURBS further perceives this Programme as a means to mitigate succession planning risks.
MURBS Fund Value continues to grow, and as at 31st March 2021, it stood at Ushs 235.5bn as compared to Ushs 209.6bn as at 30th June 2020. Given this growth, there is increased need for prospective Trustees, who are well equipped with relevant knowledge and skills, and with practical exposure to the management and governance of MURBS.
Eligibility
Must be employed by the University on permanent terms
Must be an Active Member of the Scheme (currently contributing to the Scheme) and appear on the Official Register of the MURBS Active Membership as at 30th April 2021.
Must be willing to commit time to trainings and other ambassadorial activities organised by the Scheme.
Mode of training for 4th Cohort of Ambassadors
Training for this (4th) Cohort of Ambassadors is envisaged to be conducted over the zoom online platform only, due to Covid-19 restrictions. The Scheme does not envisage any face-to-face interactions.
Tenure of Office & Termination or Withdrawal
There is no tenure of office for the Departmental Ambassador. As long as a member is willing to continue serving as an Ambassador, and the Ambassador continues to satisfy the eligibility criteria above, she or he will remain a MURBS Ambassador.
How to Apply
Interested members should complete the MURBS Departmental Ambassador Application Form 01-0218. The completed Form together with the requested attachments should be sent to info[at]murbs.mak.ac.ug and copy to wilber.naigambi[at]mak.ac.ug no later than 5:00 p.m. on Monday, 14th June 2021. We discourage hand delivery of applications.
Confirmation/Approval Process
MURBS shall acknowledge receipt of each application received within 12 hours and will respond to the applicants to confirm the status of their application in writing (by e-mail). Upon approval of the application, the name of the approved Ambassador together with the Department and School/Unit will be updated on the list of the MURBS Departmental Ambassadors in the Group 4 category and published on the MURBS website.
NOTE: There is no limit as to the number of ambassadors that MURBS can have in a department.
Please see Downloads for the detailed call and application form.
Chair Council Communication on Closure of Makerere University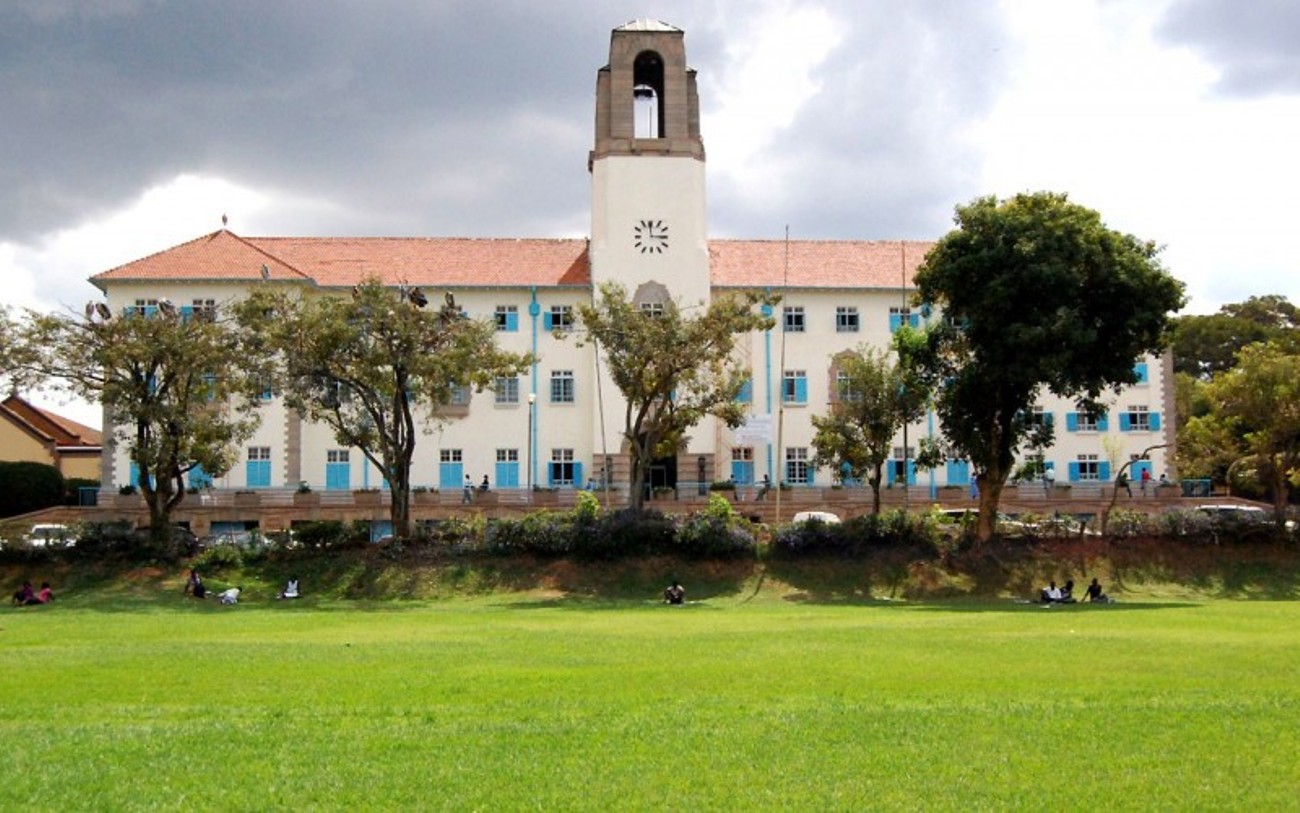 7th June 2021
All Members of Staff
All Students and Stakeholders
Makerere University
RE: CLOSURE OF MAKERERE UNIVERSITY
Following the address to the Nation by H.E. Yoweri Kaguta Museveni, President of Uganda, on 6th June 2021, this is to inform you that the University will be closed with effect from today 7th June 2021 for 42days.
During the closure, the University shall observe a 30% physical presence of staff while other faculty and administrative staff shall continue to work online.
Management will inform staff and students on the implementation of teaching, learning, and research activities online. Construction activities shall continue as per the President's directives and with strict adherence to the COVID-19 SOPs.
Yours sincerely,
Lorna Magara (Mrs.)
Chairperson, Makerere University Council