Prof. Nawangwe Leads Delegation to Zurich for 4th Mak-UZH Joint Symposium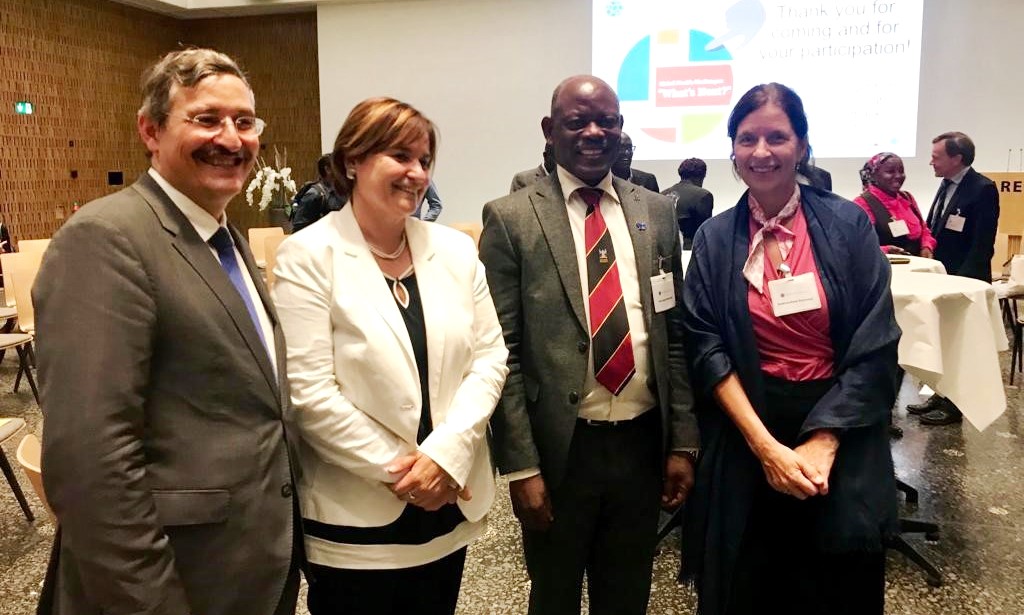 The Vice Chancellor Professor Barnabas Nawangwe was at University of Zurich, Switzerland to attend the Dialogue Days under the theme, Global Health Challenges: What Next? Held from 9th to 11th September 2019, the event was organised by the Infectious Diseases Institute (IDI), Makerere University in collaboration with the University of Zurich (UZH) and the Careum Auditorium.
Dialogue Days is a two-day event (symposium) on Global Health sponsored by UZH, University Hospital Zurich, Researchers for Global Health,
Makerere University
and the Infectious Diseases Institute. The Dialogue days were interactive sessions and discussions with experts and emerging leaders on climate change, migration and infectious diseases. The focus of the dialogue was the interconnectedness of the global community, the challenges faced in different parts of the globe and what can be done to solve the future global health challenges. The event was open to the public and many scientists from Italy, other universities in Switzerland, Belgium, German and UK all joined the discussions.
Prof. Nawangwe was accompanied by the Principal College of Health Sciences (CHS), Prof. Charles Ibingira and the Head of Dept of Biosecurity, Ecosystems and Veterinary Public Health Dr. Clovice Kankya, who also represented Prof. J.D. Kabasa – Principal College of Veterinary Medicine, Animal Resources and Biosecurity (CoVAB). He was also accompanied by the Dean School of Medicine – Prof. Moses Kamya, former Dean School of Medicine – Prof. Harriet Mayanja Kizza, Executive Director IDI – Dr. Andrew Kambugu, Director of the Human Rights and Peace Center (HURIPEC) – Dr. Zahara Nampewo and Ms. Martha Muwanguzi – Head International Office at
Makerere University
. Also in attendance were senior researchers, young scientists, laboratory technologists, Clinicians and PhD students, among others.
The joint scientific symposium is held every other year at UZH and Mak alternately. In 2008, Mak signed a Memorandum of Understanding (MoU) with UZH to facilitate the forging of a mutually rewarding academic partnership. The MOU has fostered the establishment of multi-disciplinary partnerships across diverse fields including philosophy, social anthropology, ethics, health sciences, veterinary sciences and law.
One such partnership is the collaboration between the Epidemiology, Biostatistics and Prevention Institute of UZH and IDI. The partners exchanged visits including the co-hosting of scientific symposia in their respective institutions over the last ten years.
Presentations at the symposium were made on Communicable Diseases in Animals and Climate Change and the impact on our health. As the human population increases, the wrath has been meted on our environment, cutting down trees for firewood and charcoal as well as building houses.
This implies that wild animals which were living far away from us have now moved nearer to our homes and have infected our pets with diseases. Without proper vaccination, diseases are transmitted from pets to the humans. Not only to the humans but also to other domestic animals that we keep such as like pigs, goats and cows.
Migration is another important and key factor in spreading communicable diseases. From time immemorial, people have been on the move from their original places of abode to new places in search of jobs, and others as a result of wars, conflict and even epidemics in some instances. The migrants normally move with their animals such as goats, sheep and cows into new places.
Urbanisation has also contributed to the spread of Communicable diseases in big cities where many people are living in unhygienic conditions in slums. In such places, the HIV/AIDS prevalence is high, while cholera, bilharzias and other diseases are a common occurence. Neglected tropical diseases, rabies, scabies, Non-Communicable Diseases (NCDs), oncology, mental health, maternal and child health also pose a big challenge towards our health.
The easiest way to deal with some of the health challenges is through advocacy and thorough sensitization of the masses about the dangers of the diseases. The saying goes that "prevention is better than cure ". It was emphasized by the symposium that Leadership for global health has to be visionary and pragmatic, a voice for the voiceless and one that will look into the future of its citizens and plan for better health.
Participants were hosted to a dinner at the University cafeteria UniTurm which was attended by H.E. Christopher Onyanga Aparr, Uganda's Permanent Representative to the United Nations and Other International Organisations, Geneva. In his speech, H.E welcomed the visitors from Uganda led by the Vice Chancellor and appreciated the hospitality by University of Zurich. He hailed the leadership of the two institutions for keeping the platform alive for the last ten years.
"Uganda and Switzerland enjoy cordial bilateral relations. The two respective governments have set in motion the requisite foundation upon which both parties can build on. It goes without saying that people to people relations are at the core of any country's relations and I hence congratulate you for this great initiative.
It is worth noting that the Government of Uganda under its Vision 2040, being implemented through the five-year phased development plans, has earmarked Science, Technology. Engineering and Innovation (STEI) as one of the key sectors of the economy where it has and will continue to employ and support policies aimed at its leapfrogging, as we work towards transforming the Ugandan society from a peasant to a modern and prosperous country within 30 years including changing from a predominantly low income to a competitive upper to middle income country" remarked H.E. Onyanga Aparr.
The question of who is responsible for global health, kept recurring. Is it the developed world acting against the developing worlds through manufacturing expensive drugs for various illnesses in order to continue offering markets for their pharmaceutical companies? Do we have to train more people to handle the health challenges? Is it a political issue and some countries are out to make money and therefore not concerned about the health of others? Is it a leadership of our countries that is responsible?
Professor Christoph Lubbert, a senior researcher from Leipzig University Hospital, Germany said that global health challenges are due to multi-drug resistance in the treatment of illnesses. In many countries such as Uganda, people suffer from more than one disease. Treatment is given for the different illnesses and medication is taken at the same time. Many medicines taken together have an impact and form resistance in the body. There is constant use of antibiotics for treatment but at times, patients mistake the prescribed doses and the sickness does not go away. Doctors are forced to change the drugs of one illness which combine with drugs of another sickness which also form resistance in the body.
Dr. Christine Sekaggya-Wiltshire elaborated on drug resistance in TB patients. She studied her PhD at Makerere University
and was also recognized by the UZH and given the joint (Mak-UZH) supervision arrangements for the degree. She said that, drug resistance was a result of several factors namely; poor adherence to medical prescriptions, late presentation whereby patients report to health facilities late when then sickness is advanced, drug interactions (many drugs at the same time) leading to resistance; some patients are too weak to tolerate drugs taken for a long period of time such as anti-TB drugs. There was a general feeling that drug concentrations manufactured for developing countries are low compared to those manufactured for developed countries. The drugs do not completely cure but provide relief to patients.
The Migration 'Boma' (fireside chat) was opened by Prof. Marina Carobbio, President of the Swiss National Council and moderated by Mr. Rudolf Kung, a renowned BBC journalist. It had four panelists discussing migration of humans and animals and its effects on health. Dr. Zahara Nampewo, Director of the Human Rights and Peace Centre (HURIPEC), School of Law discussed migration at the intracontinental level between countries starting in Africa mostly due to armed conflict.
Uganda is a hosting around one million refugees from South Sudan, DR Congo, Burundi, Somalia, Rwanda, Eritrea, Sudan and Ethiopia. The Government of Uganda's open door policy is a disadvantage to the local population whose land is freely given out to the refugees without compensation. The health care facilities in the refugee camps are far better than what the locals have for their communities. This creates tension and conflicts between the local communities and the refugees. Refugees normally move with their animals which bring diseases to animals in the host communities. Since migration is not about to end, it will remain a future global health challenge.
Prof Beatrice Beck Schimmet, the Vice President of Medicine at the University of Zurich, Prof. Marina Carobbio, the President of thw Swiss National Council participated at the closing of the event. Both highlighetd the the importnace of discussing these complex topics so that, together we can confront them. The dialogue at the tea breaks, lunch and coffee breaks was the highlight of the event.
Participants had the opportunity to engage with collegues from different fields and expressed interest in working together in the future. It is evident that global health challenges call for global solutions and what unites us is greater than what separates us. Future global health challenges can only be propoerly addressed in an international framework, in which everyone; NGOs, politicians, scientists, pharmaceutical companies and scholars need to operate with a global vision and awareness.
Uganda's policymakers implored to address forest loss, plastic & water pollution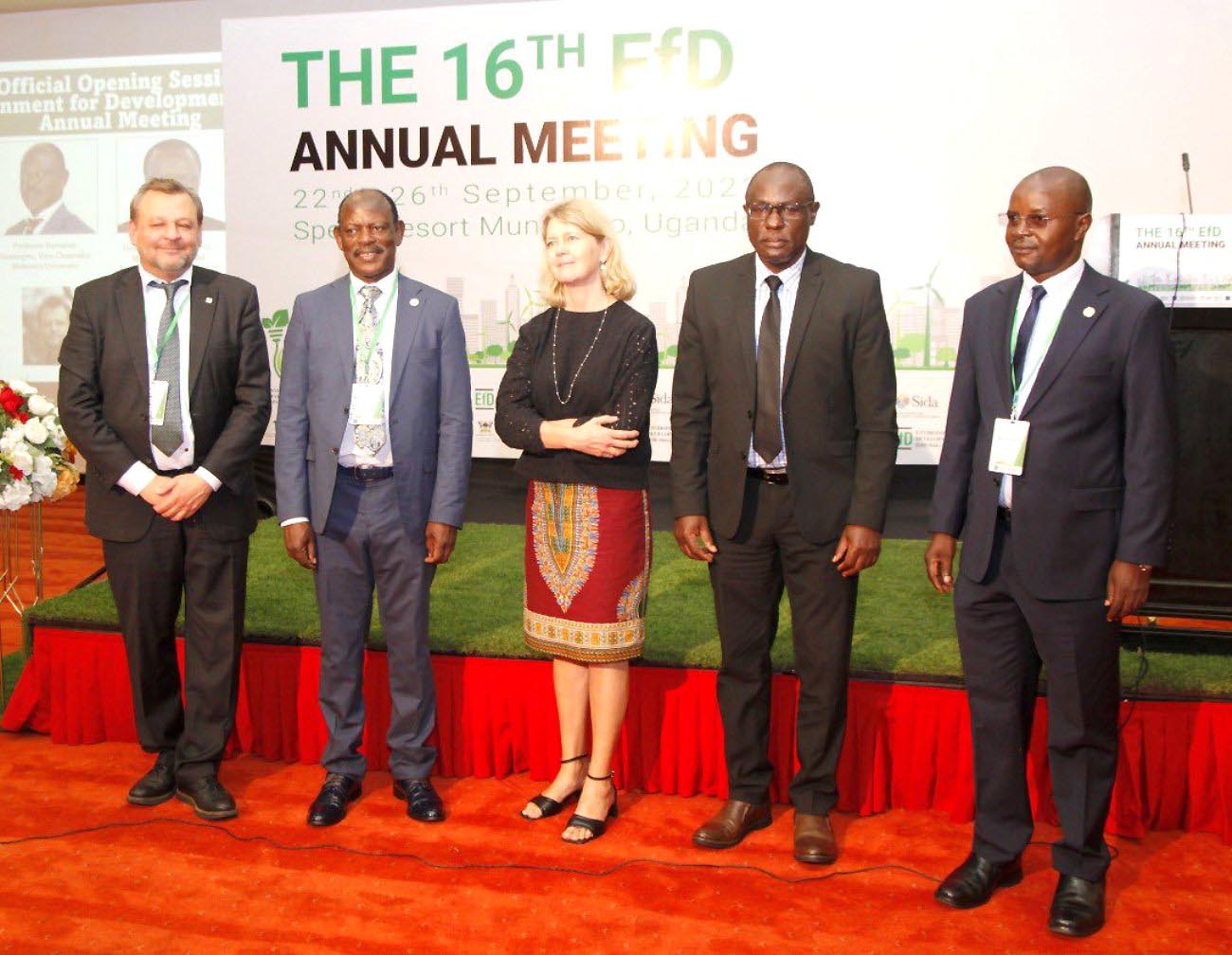 The Vice Chancellor Professor Barnabas Nawangwe on Thursday 22nd September, 2022 participated in the opening of the EfD Annual meeting hosted by Makerere University at Speke Resort Munyonyo where he appealed to government to implement the ban on kaveera and address other environmental issues.
The opening ceremony moderated by the EfD Global Hub Manager Gunnar Köhlin and was graced by Uganda's Minister for Water and Environment represented by the Commissioner for Water, Mr. Julius Mafumbo and the Swedish Ambassador to Uganda, H.E. Maria Håkansson.
Prof. Nawangwe urges Makerere University community to support the Mastercard Foundation E-learning Initiative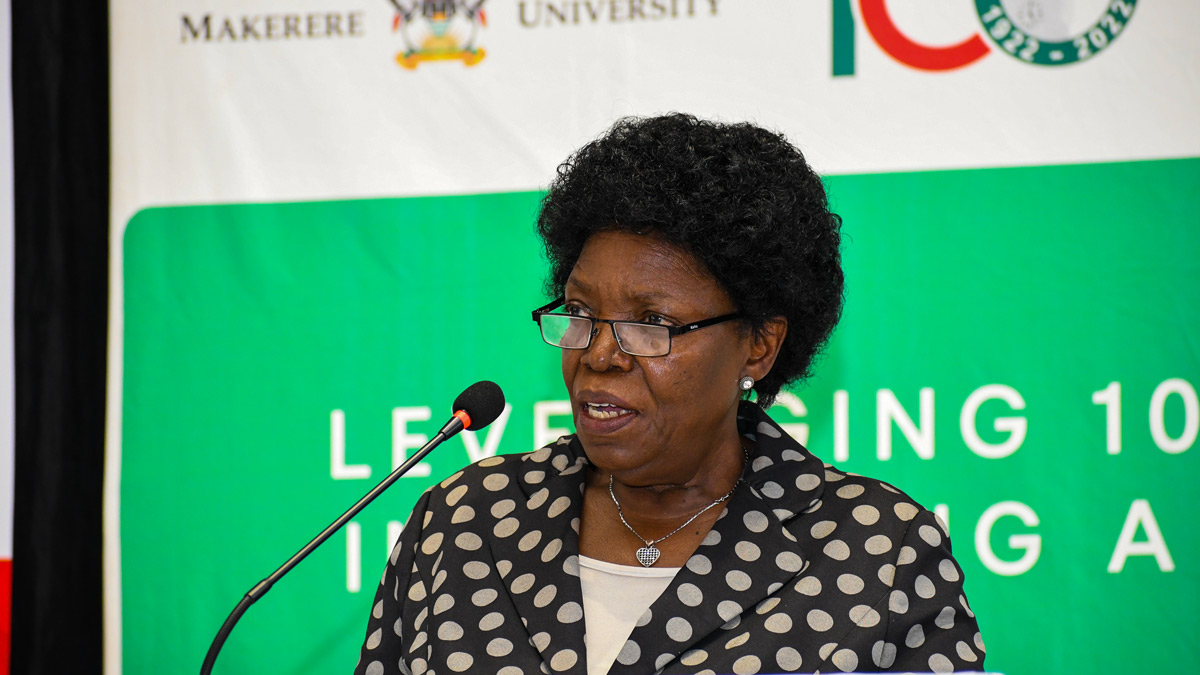 By Bernard Buteera
Makerere University has launched a two million dollar E-learning Project, dubbed The Mastercard Foundation Scholars Program E-learning initiative.  
The launch was held on Tuesday 20th September 2022 at Makerere University, Yusuf Lule Central Teaching Facility Auditorium. It attracted over 200 participants, who included members of University Management, College Principals, School Deans, Academic and Administrative staff, students and the general university community.
While addressing the gathering, the Chief Guest, Prof. Mary Okwakol, the Executive Director of National Council for Higher Education (NCHE), congratulated Makerere University for winning such a huge grant, which will go a long way in transforming the eLearning infrastructure at Makerere University.
"I am happy to be joining you in launching a project that is at the heart of National Council for Higher Education. Online learning is at the heart of the Council, not only because of the challenges presented by the Covid-19 pandemic, but also the world is now a digital world." Prof. Okwakol remarked.
Prof. Okwakol thanked Mastercard Foundation and other development partners who have continued to support initiatives that help transform higher institutions of learning in Uganda.
"I sincerely thank the Mastercard Foundation and other partners who have continued to support higher education in Uganda, especially in the area of research and online learning. Globally, the outbreak of the COVID-19 pandemic, greatly disrupted education systems forcing learners and some schools to shift to virtual learning to curb the spread of the pandemic." Prof. Okwakol pointed out.
On his part, the Vice Chancellor, Prof. Barnabas Nawangwe urged the university community, especially the academic staff to take advantage of the Mastercard Foundation E-learning initiative to develop e-content across all Colleges of the University, to enhance capacity for eLearning at Makerere University.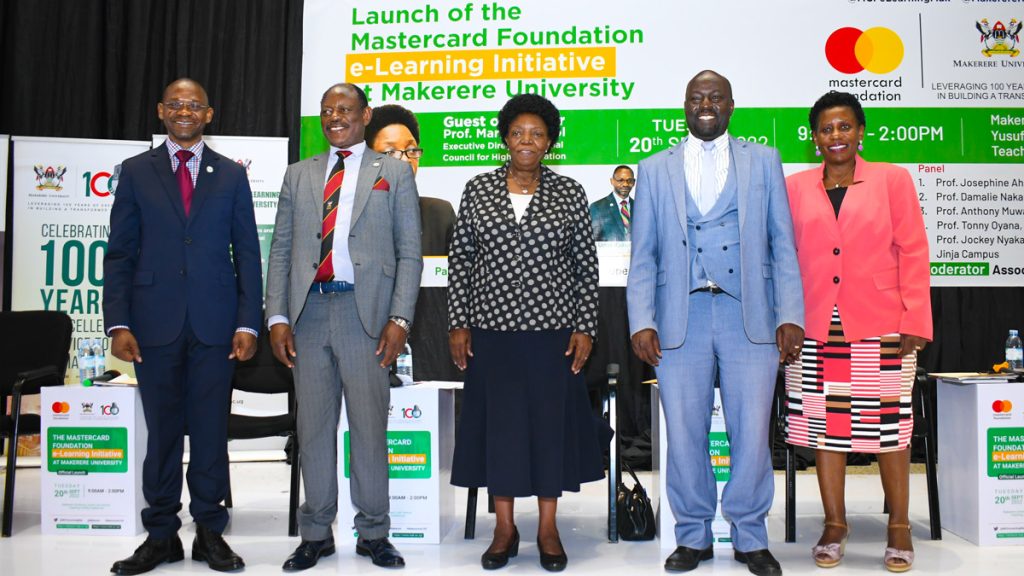 "I appeal to the Colleges to embrace this project and have as many courses adopt this pedagogy development system, even though students will continue with face-to face and phyisical learning, they should be allowed the option of online learning. The platforms that are going to be built, will give our students an opportunity to interact with international students, scholars, teachers and with each other." Prof. Nawangwe applealed.
The Vice Chancellor, further called upon all other development partners to emulate Mastercard Foundation in supporting Makerere University and other universities on the entire African continent in strengthening digital literacy, so that Africa is not left behind.
"In 2018 I attended a conference on E-learning in Beijing China, where a critical question was asked; Will Africa be left behind again? This was in reference to many advancements that were taking place in the western world, in which Africa had been left behind." The Vice Chancellor reminded the audience.
Prof. Nawangwe further emphaised the importance of e-learning as one of the critical modes of teaching and learning in the 21st first century.
"Ladies and Gentlemen, I cannot over emphasise the importance we attach to e-learning the 21st Century, that is why we took a decision to elevate the Department of Open and Distance Learning into an Institute of Open and Distance E-learning with an intention of having e-learning extended to other Colleges of the university." Prof. Nawangwe pointed out.
The Deputy Vice Chancellor Academic Affairs, and Chairperson of the Steering Committee of the E-learning Initiative, Prof. Umar Kakumba, rallied the University community to support the implementation of the project in the University.
"The Mastercard Foundation Scholars Program E-learning initiative could not have come in at a better time than post COVID19 era. A pandemic, which exposed our systems and methods of teaching and learning. You all recall, when were hit by the pandemic, with lockdowns and closures of institutions of learning, we all went into a panicky mode on how were going to cope with online learning. I therefore call upon every member of the university to give this project the support it deserves.
Prof. Kakumba reminded the audience the importance and relevancy of online learning at Makerere University and other universities in Uganda.
"The online method of learning is best suited for everyone. This digital revolution has led to remarkable changes in how the content is accessed, consumed, discussed, and shared. Office goers and stay home mothers can take up online educational courses too, at the time that suits them. Depending on their availability and comfort, many people choose to learn at weekends or evenings." Prof. Kakumba remarked.
Prof. Paul Birevu Muyinda, the Coordinator of the Mastercard Foundation E-learning Initiative, informed the audience the importance of the project and the expected outcomes for the University.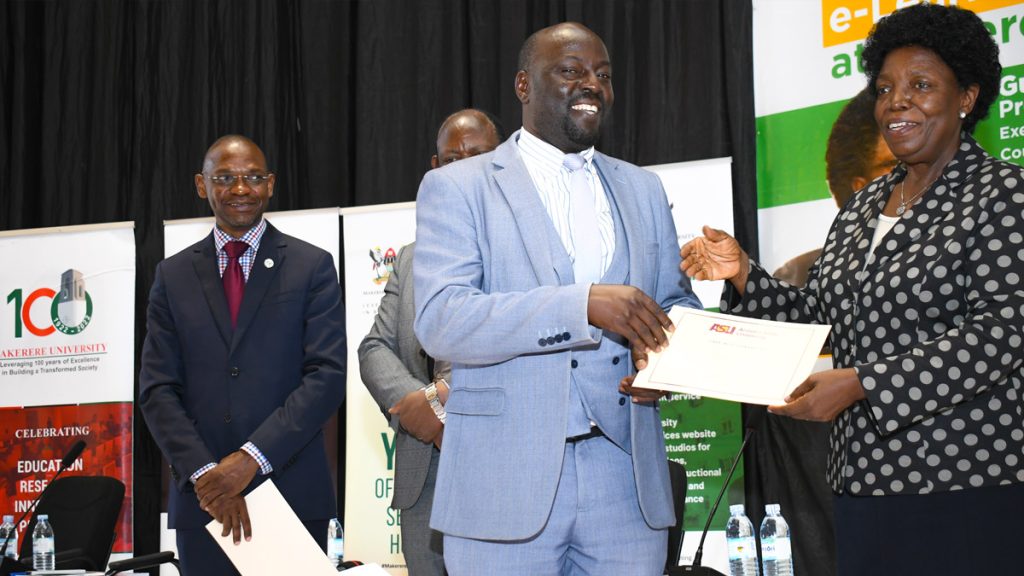 "The Mastercard Foundation e- Learning Initiative is a Project funded by Mastercard Foundation aimed at addressing the negative impact of COVID-19 pandemic that constrained access and continuity of teaching, learning, research and community engagement activities at Makerere University" Prof. Muyinda pointed out.
Prof. Muyinda further thanked the team that he worked with in putting up the proposal in a very short time that yielded such an important grant for the University.
"I thank the team that spent sleepless nights putting together the proposal that resulted into this project. I must report that Makerere University is privileged to be having the most highly qualified persons in online instruction design and online pedagogy at the IODeL and beyond. It is now up to Makerere University in particular and the Country in general to make use of these persons to transform the terrain of online, blended distance and e-learning education." Prof. Muyinda remarked.
Prof. Justine Namaalwa, the Program Coordinator for Mastercard Foundation Scholars Program at Makerere University, informed the audience, that the E-learning initiative was one of the many partnerships between Mastercard Foundation and Makerere University geared at supporting the young people to succeed on the African continent.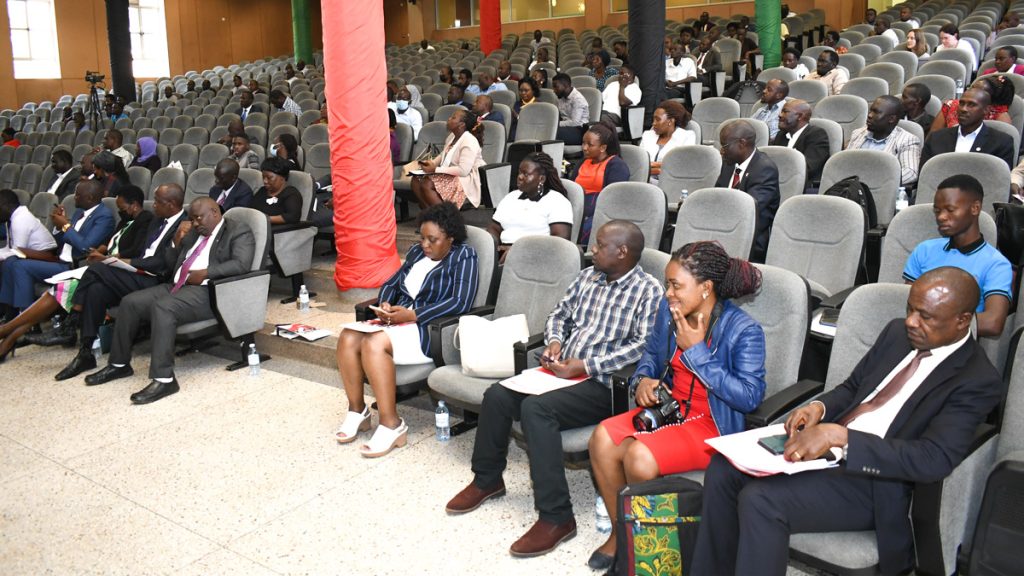 "The Mastercard Foundation Scholars Program continues to recognize that in order to enable young people across Africa to succeed, there is need to; Address systemic barriers in Higher education, Strengthen the capacity of Institutions that serve the Young People, and Support innovative solutions across critical sectors." Prof. Namaalwa remarked.
The colourful launch ended with a panel discussion in which panelists digested the importance and opportunities for open distance and eLearning in higher institutions of learning.
Bernard Buteera is the Communications Officer of the Mastercard Foundation Scholars Program at Makerere University.
Supplementary Admissions to Bachelor of Laws Under Private Sponsorship 2022/23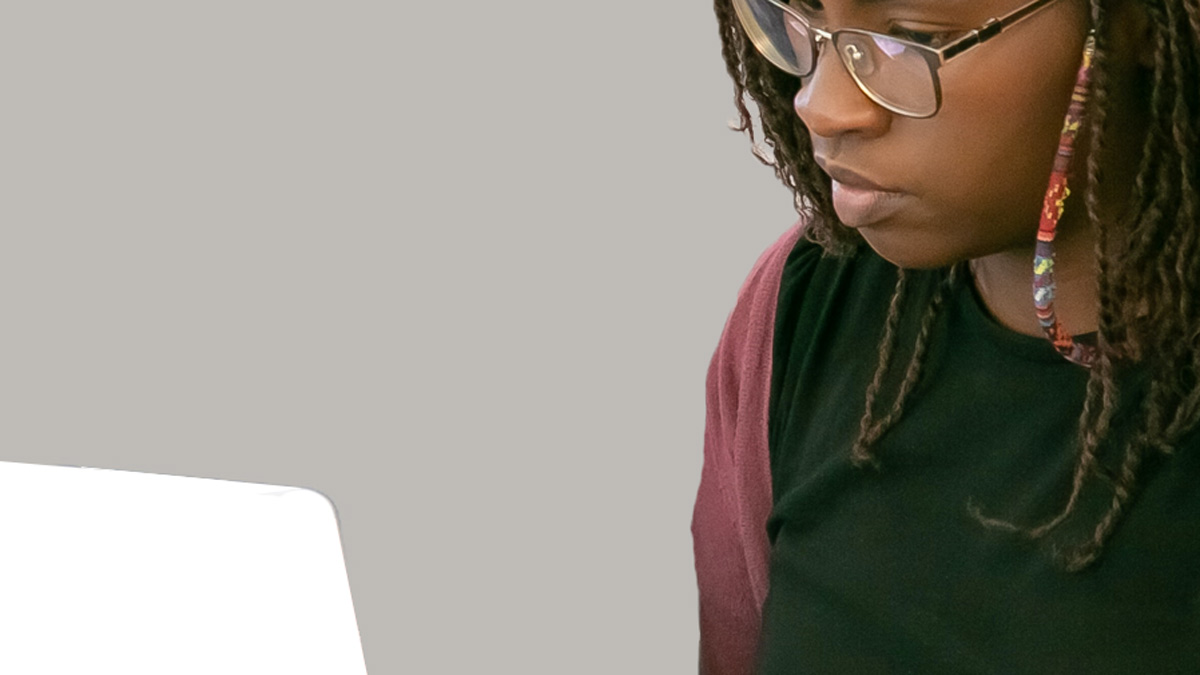 The Academic Registrar, Makerere University, informs applicants wishing to be admitted to Bachelor of Laws Private for 2022/2023 Academic year but failed to submit their application online to submit their applications from Friday 23rd to Friday 30th September, 2022 at a non-refundable fee of 50,000/= (Fifty thousand shillings only).
The applicants MUST have passed the Pre-entry Examinations for Bachelor of Laws.
Diploma/Degree holders should submit certified copies of their academic transcript to Room
315 Level 3, Senate Building.
Applicants who have already been admitted need not apply.
For any additional information, contact Undergraduate Admissions Offices 301/303 for A'Level Applicants and Office 315 for Diploma/Degree holders.
ALFRED MASIKYE NAMOAH
AG. ACADEMIC REGISTRAR
Date: 22nd September, 2022