GREAT Project 4th Course on Gender Responsive Breeding Attracts India, Thailand Teams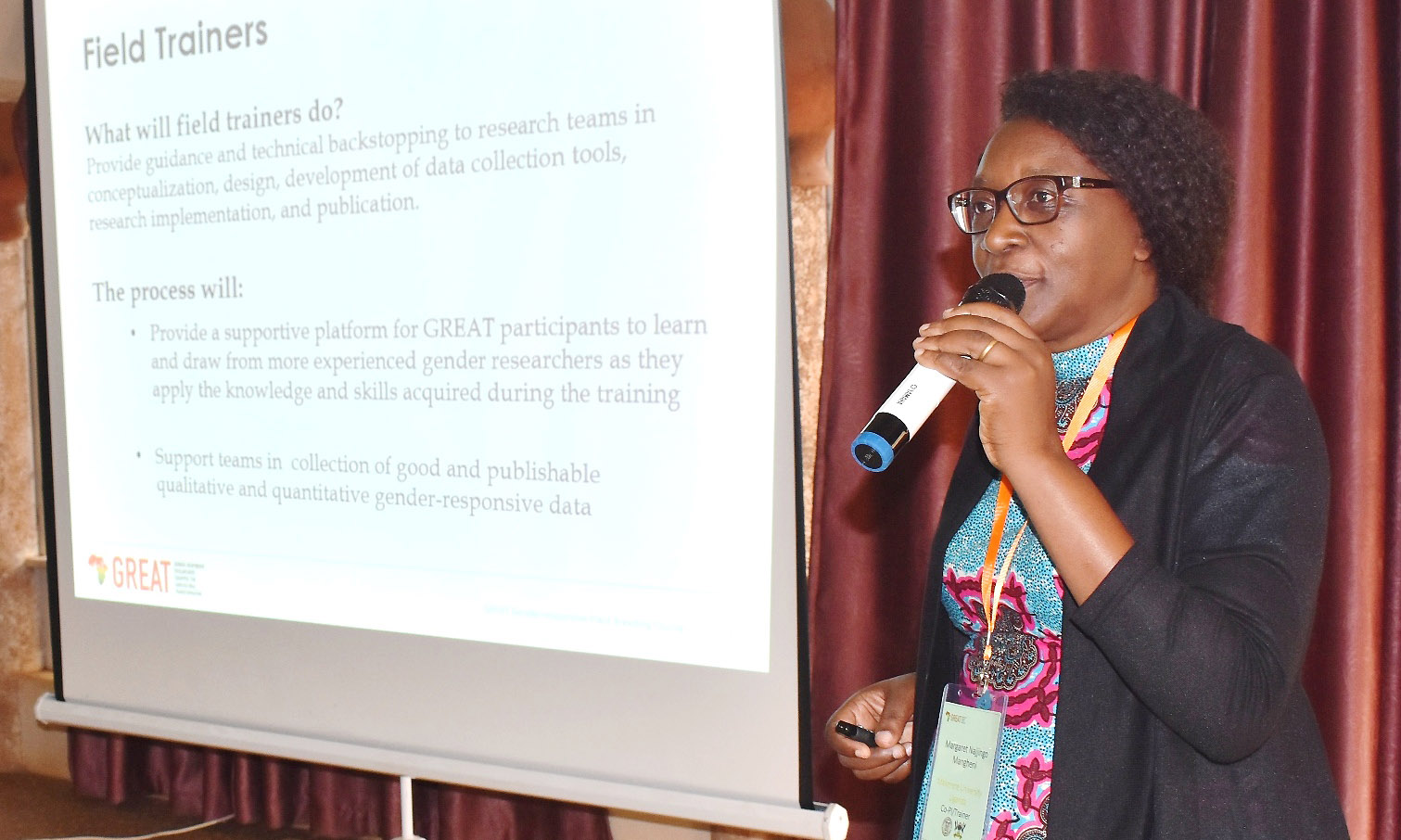 The GREAT Project has opened its 4th training and General course on gender responsive plant breeding attracting more men and other participants beyond Sub-Saharan Africa (SSA).
Gender-responsive Researchers Equipped for Agricultural Transformation (GREAT) is a 5 year (2015-2020) Makerere University (Uganda) and Cornell University (USA) joint certificate program in applied gender training for agricultural researchers funded by the Bill and Melinda Gates Foundation.
It offers skills in gender-responsive research tailored to assisting agricultural researchers to address gender issues along the design, implementation, evaluation, and communication pathway of their research projects.
At Makerere University, the project is jointly implemented by the College of Agricultural and Environmental Sciences (CAES) and the School of Women and Gender Studies (SWGS). The project has been operational for the past three years.
Week 1 of the fourth training was officially opened by Makerere University's GREAT Project PI Prof. Margaret Najjingo Mangheni at the Forest Cottages in Bukoto-Kampala on 22nd July 2019.
The training brought together social scientists and plant breeders from East, West and South Africa as well as Asia. The participants included research teams from India, Thailand, Benin, Cameroon, Ethiopia, Ghana, Malawi, Niger, Sierra Leone, Tanzania, Togo, Uganda, Kenya and Zimbabwe.
Speaking during the opening ceremony, Prof. Mangheni said, the GREAT Project has been in operation for the last three years where three cohorts have been trained in different commodities.
"The first one was focusing on breeders doing work on root tubers and bananas. The second one was on cereal grains and the third one was on legumes.
This year, we have opened up so that we are working with breeding programs focusing on a whole range of crops not restricted to a commodity. But still, they are coming as an interdisciplinary team of social scientists working with a breeder on a breeding program." The PI explained.
Prof. Mangheni said the goal of the trainings is to strengthen the capacity of these research teams to be able to conceptualize, design, implement and communicate gender responsive research within a breeding program.
This year, the course attracted more men than women with other participants coming from as far as India.
"Actually we are excited with this cohort because we have been able to broaden the reach of GREAT. Initially, we were targeting Sub-Saharan Africa but when we sent out the call for applications, it attracted a broad range beyond the anticipated target catchment area of SSA.
We have a team for this course from the World Vegetable Centre (Worldveg) South Asia/Central Asia based in Hyderabad India working on Mechanised Mungbean Harvesting in Bangladesh, Myanmar and Pakistan and they have come in to train alongside the SSA research counterparts," Prof. Mangheni explained.
She said the GREAT Project is funded by Bill and Melinda Gates Foundation but the model had inbuilt models for sustainability so that progressively, the funding by the project decreases and the funding from participants increases.
"We hope that next year we shall run a course that is 100 percent funded by participants based on demand. This time, we have seen a significant increased level of funding from participants themselves, self-supported teams but we are also funding some participants from the project, so it is a mix". Prof. Mangheni said.
In her key message Prof. Mangheni emphasized that Gender responsiveness needs to be the norm in terms of breeding.
"The emphasis we have is that when we breed varieties, we send them out there through the seed system and we need to be cautious about stakeholders and cultural context from which they come and; this cultural context shapes and positions men and women differently and if one is not paying due attention to these socio-cultural contexts, you may end up causing unintended harm," Mangheni explained
The nine day training program focuses on different aspects including Gender concepts and why gender matters in Agriculture, What men and masculinity have to do with gender and agriculture, Why gender matters in plant breeding, Positionality, The science of gender and plant breeding, Principles of quantitative gender research,
Quantitative gender analysis plan, Setting breeding priorities, and Qualitative gender research methods, mixed methods and practical sessions on interviewing techniques and Field case studies among others.
The courses are being delivered by a team of over 15 facilitators from Makerere University's College of Agricultural and Environmental Sciences (CAES), the School of Women and Gender studies, staff from collaborative research institution, and consultants from abroad.
"I am very excited to deliver the gender responsive course which is this time broadened in approach compared to the previous ones that we held focusing on specific commodities.
This time it is breeding of different types of commodities. We don't want to leave any one behind in the breeding world. We have brought most people on board, those breeding tomatoes, beans, maize, cowpeas and animal breeding commodities.
This is our fourth year of the course and we hope we shall harness the opportunities and knowledge brought from the commodity-based training now to this broad spectrum," Dr. Brenda Bonabaana from the CAES Department of Forestry Biodiversity and Tourism, CAES narrated.
She was proud of the high diversity of the current cohort saying, the course was becoming more demanded with more participants from West, South and East Africa than before.
Dr. Bonabaana who is also an Associate Coordinator of GREAT project will be delivering sessions on principles of qualitative and quantitative gender research with a focus on data collection methods and tools, session on women empowerment and also coordinating the mentorship program.
Delivering on gender concepts and why gender matters in agriculture, Dr Peace Musimenta from the School of Women and Gender Studies described gender as development issue adding that Human Development, if not engendered, is endangered.
She noted that women's domination or exclusion from participation in agricultural opportunities raises gender issues in agriculture as a sector in as far as the division of labour, land ownership and control, decision making and agricultural marketing and irrigation are concerned.
"Agriculture is the backbone of many economies of the developing countries…if women had access to the same productive resources as men, they could increase yields on their farms by 20-30%.This could in turn reduce the number of hungry people in the world by 12-17 % .
Women compared to men are 10 times likely to invest more of their earnings in their families' well-being," Dr. Musimenta asserted.
She said although many women depend on agriculture for their livelihoods, they face numerous gender based constraints or barriers such as unpaid care work, stereotypes, low education, discriminatory laws e.g on land, limited access to productive resources, limited mobility and inability to make independent decisions. She advised gender responsive researchers to strive for rigorous gender focused research.
"Aim at conceptual clarity, achieve greater precision in terminology, collect data carefully and accurately, avoid stereotypes; build the evidence base, and recognise that gender equality is good for communities, families, women and men, is key to achieving sustainable development," Dr. Musimenta advised.
Speaking on Gender and Agricultural Development and what men and masculinities have got to do with it, Dr. Amon Ashaba Mwiine from the School of Women and Gender Studies said men are unavoidably involved in gender concerns including control of equitable resources, decision making and being custodians of traditional knowledge.
"Some forms of masculinities can be harmful to men and women and detrimental to development. The subordination of women and other men, the desire to control agricultural technologies, marketing, networks, information, proceeds and men withdrawing labor from agricultural production raises gender concerns". Dr. Mwiine said.
The don emphasized the need for gender responsive researchers to involve men in their research programs to realize gender equitable development.
"Expectations, attributes, behaviors and roles associated with men can hinder or promote agricultural innovations. In your research outputs, technologies and interventions, consider men's ways of living and relationships, Dr. Mwiine advised.
About the GREAT theme Four training
The course has three components: Week 1 of classroom work (22-31 July 2019) and Field work with support from Field trainers.
Week 2 of classroom work will take place on 13-17 January 2020. The course includes a variety of applied learning activities.
During Week 1, each participating team will complete a plan for data collection to be conducted in their field site for analysis during Week 2 of the course.
At the end of Week 1, participants are expected to come up with a Gender research question related to participants' projects, a sampling framework and design, draft data collection methods and tools, a Research plan and timeline and a draft budget for the field research grant
During the Field Training Phase, participants are expected to come up with Qualitative and quantitative data sets to be analyzed during Week 2.
During Week 2 participants will write a Seed grant proposal. For teams selected for seed grants, a detailed timeline and budget for ensuing work will be submitted.
Funding for the fieldwork phase will be supported by teams' research projects, except one team. The cost is about $1000.
Teams will develop the fieldwork concept and tools progressively during the course and the final product presented on Day 9 for trainers' feedback. Teams will present a well thought out research plan covering the Brief contextual background and the Case Study description.
Competitive research grants of $5000-10,000 for each of the top three teams or individual participants will be available post Week 2.
Evaluation based on criteria will be shared during the course. Field trainers will support in completing seed grant research work, and publication of outputs.
Two social scientist who have demonstrated competency and have an interest in further developing their gender research skills will be selected as GREAT Gender Fellows (GGFs) at the end of Week 2: Other opportunities include professional mentorship and additional research funding and getting positions on the GREAT CoP Advisory Board.
Report compiled by:
Jane Anyango,
Principal Communication Officer, CAES
A Successful Ph.D. Defense by Vianney Andrew Yiga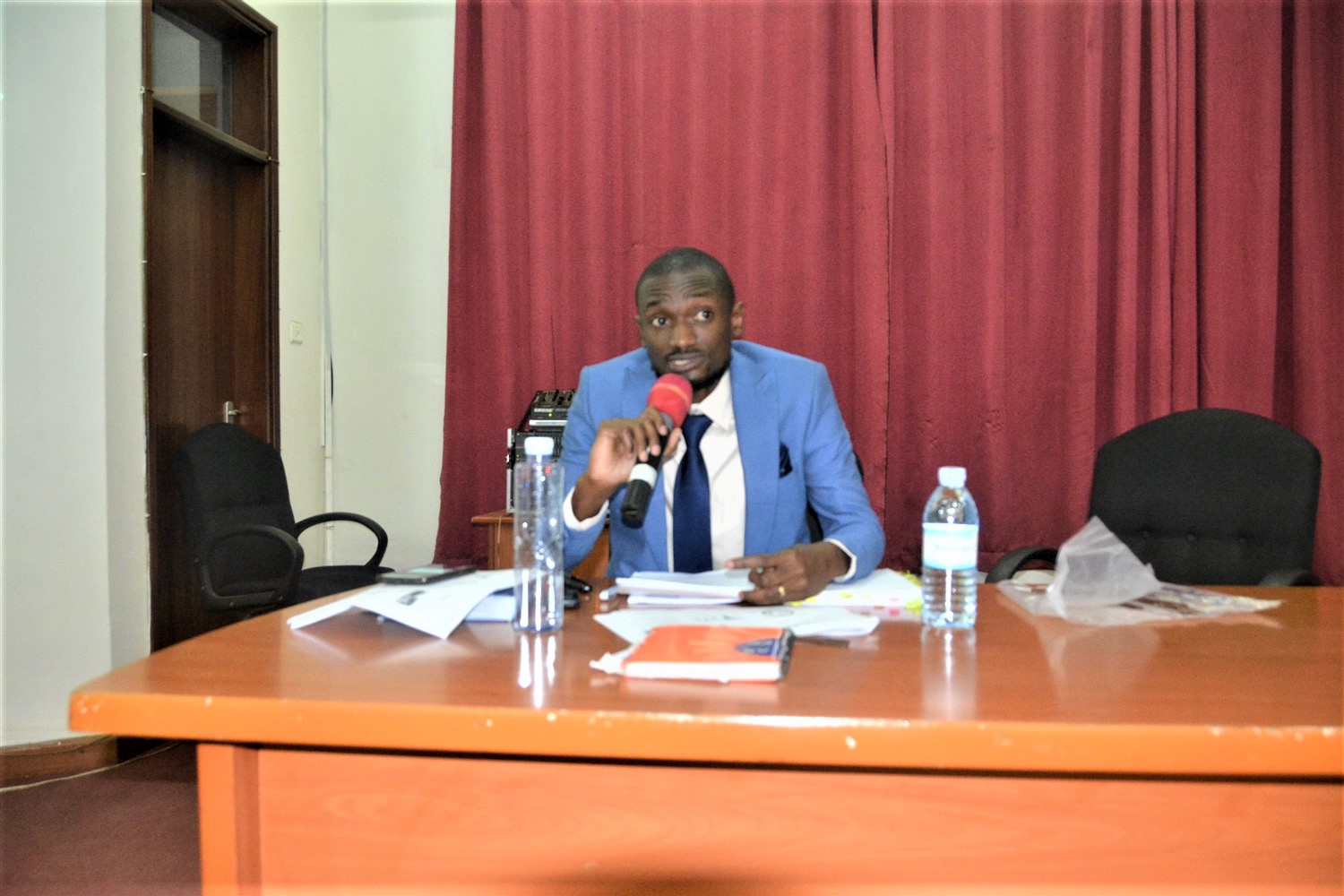 The CEDAT community is proud to share our congratulations to Vianney Andrew Yiga following his successful Ph.D. defense that happened yesterday Monday 3rd October 2022 at the College of Engineering, Design, Art, and Technology (CEDAT).
His Thesis was titled; Thermal Stability of Fiber- Reinforced Polylactic Acid Composites for Flameretarded Applications.
The candidate was supervised by Eng. Dr. Michael Lubwama and Eng. Dr. Peter W. Olupot both from the Department of Mechanical Engineering, at CEDAT.
Dr. John Wasswa, Department of Chemistry, College of Natural Sciences (CONAS), Makerere University was the opponent that interrogated the candidate to enable a clear understanding of the study.
Makerere University Launches National Parenting Draft Manual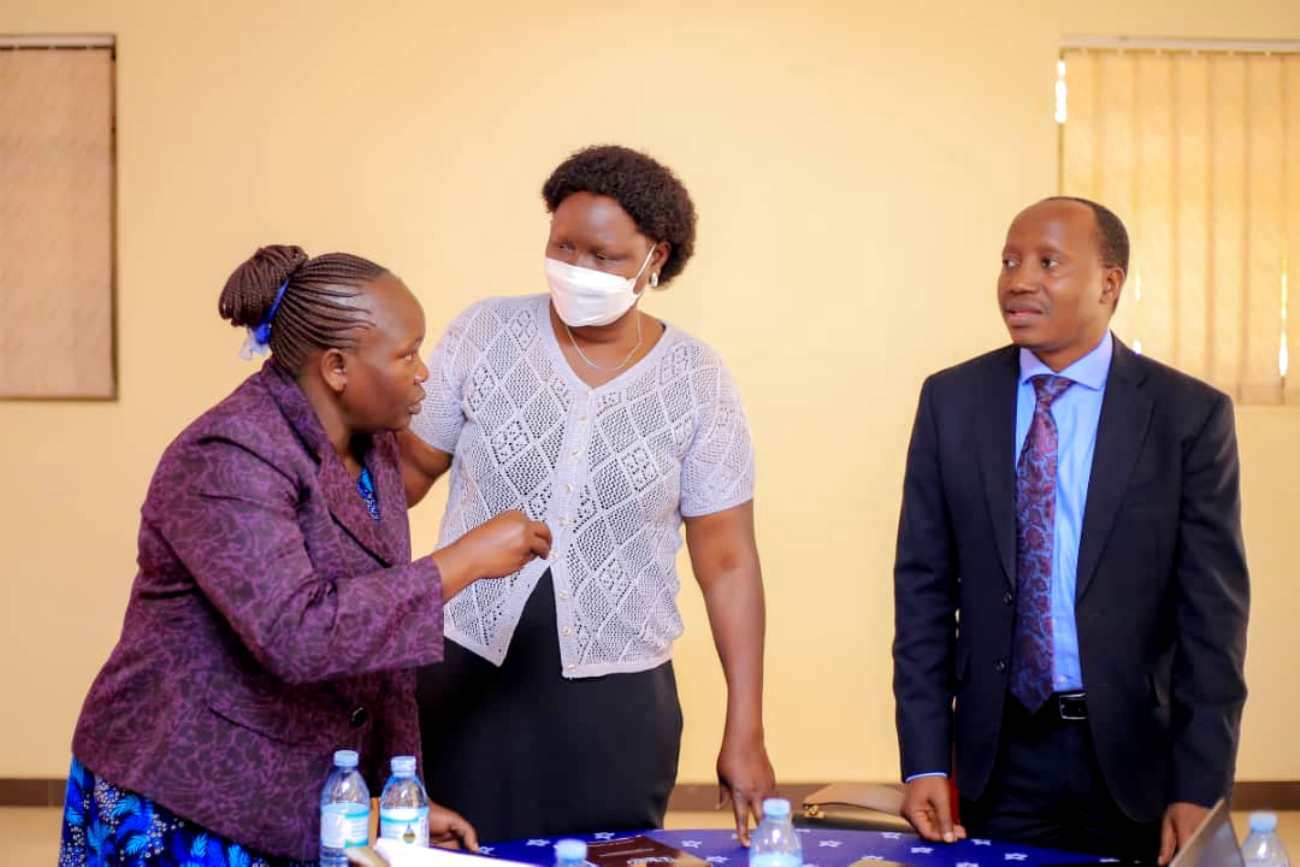 By Agnes Namaganda
On July 22nd 2022, Makerere University–Child Health and Development Centre (Mak–CHDC) launched a draft manual for the National Parenting Standards. The Centre has been working together with the Ministry of Gender, Labour and Social Development (MGLSD) with funding from UNICEF (United Nations Children's Emergency Fund), to develop standards that are agreeable to all organisations in the country that are involved in parenting work. The draft manual was being presented to members of a consortium that brings together all these organisations together, called the Parenting Agenda Consortium.
"We produce many documents and they are shelved," Irene Ayot Chono, who was speaking on behalf of UNICEF said. "We hope that this document will not be one of them," she emphasized.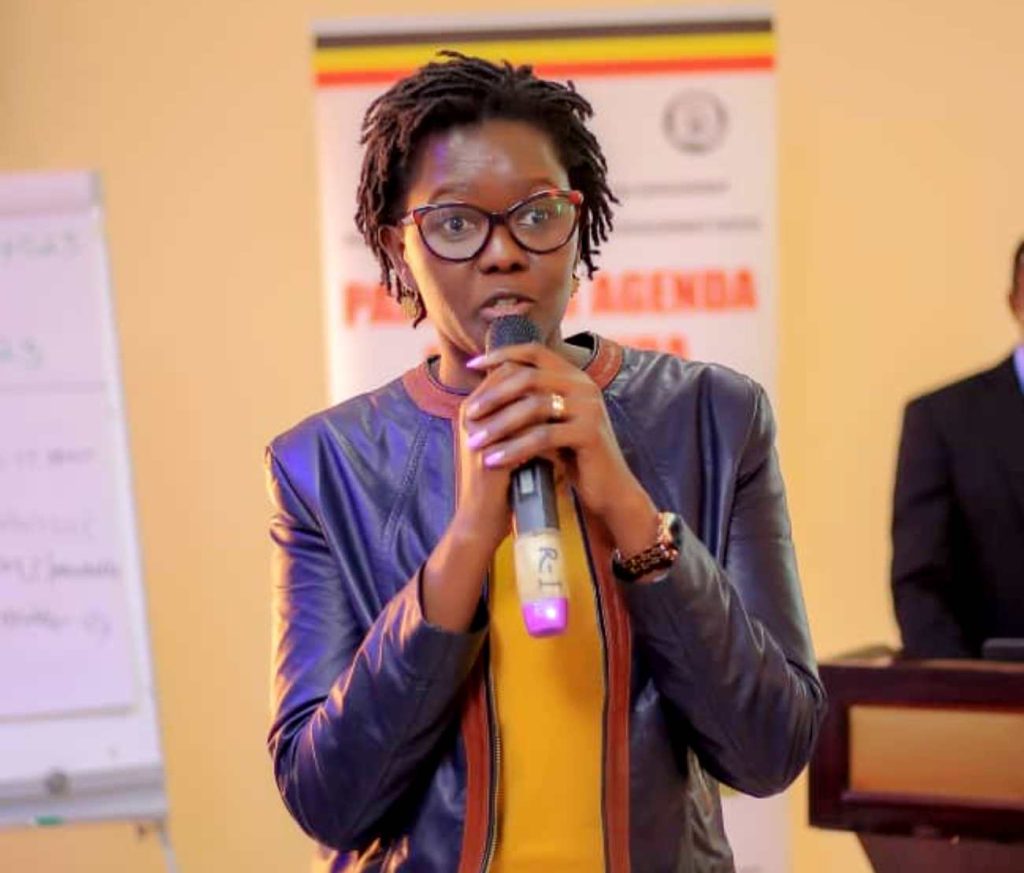 Dr. Godfrey Siu, the Principal Investigator from Mak-CHDC who presented the draft manual to participants, emphasized that if any organization is doing parenting work, there should be a minimum package that they should offer.
Draft Manual Content
The manual which will have several modules. These modules will be delivered face-to-face in 1.5 hour sessions. Some of these include; Module 6 which will focus on "understanding responsible masculinity and fatherhood" and on "understanding the concept of head of family."The draft manual also proposed that Module 11 focuses on Parenting in the 21st Century. Some of the sessions in this module will include Children and Technology, Contemporary Influence on Children and Modernity, Culture and Morality.Module 9 will focus on Parenting for Adolescents and some of the suggested sessions within this module are Needs for Adolescents and The Art of Communicating with Adolescents. Module 5 will focus on Preventing Violent Parenting and Promoting Alternative Discipline Strategies while Module 10 will be about Parenting to Address the Mental Health for Children and Adults.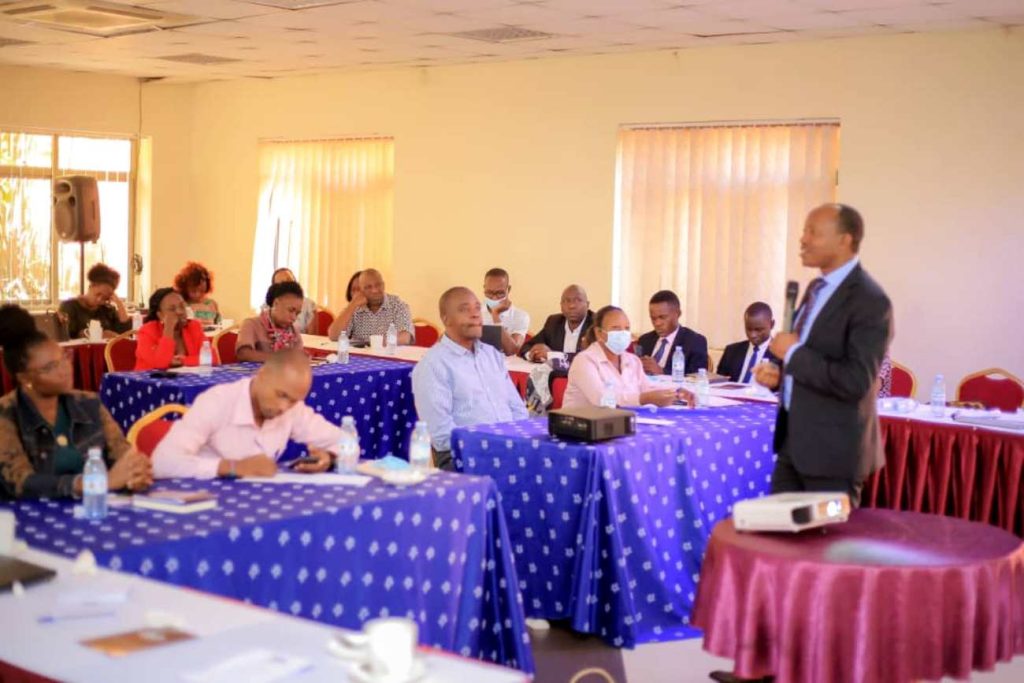 Participants' suggestions
After the presentation, participants raised several suggestions for discussion and consideration. These included whether there should be a module on spirituality since Uganda is a strongly religious nation. There was also the concern of how children in remand homes should be parented. Another concern raised by a participant was as to whether teachers who make an undeniable contribution to parenting, should be taken through the parenting manual.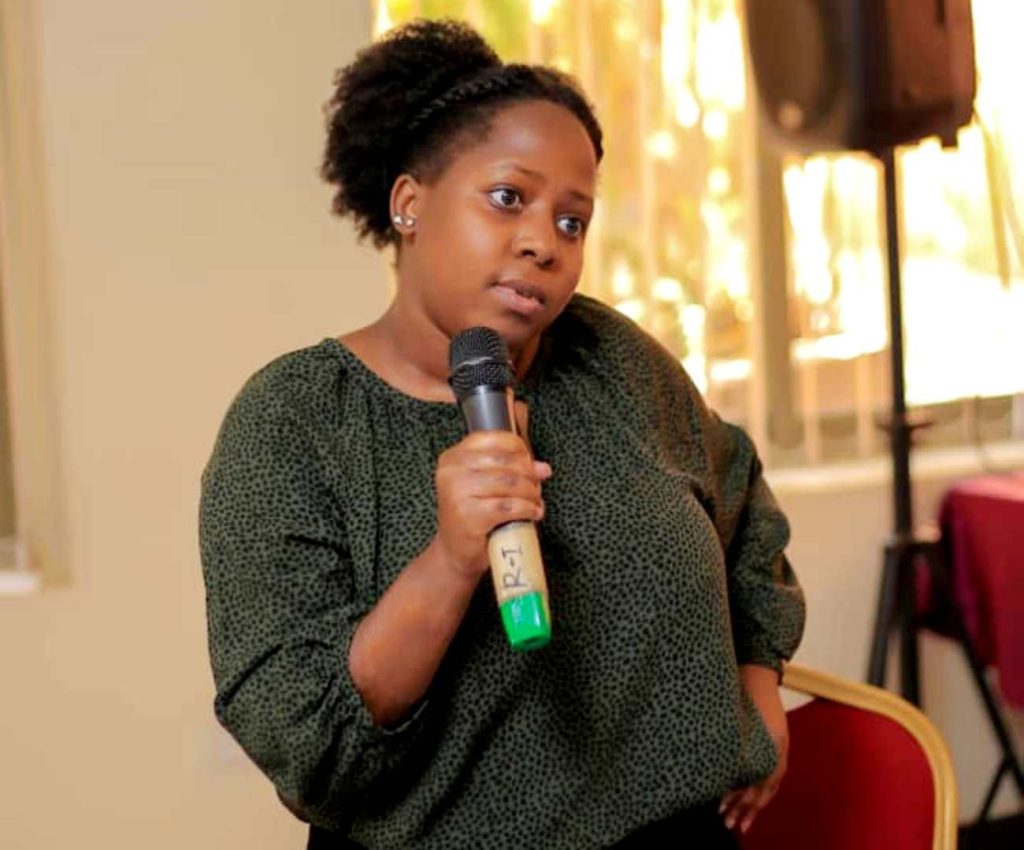 In her closing remarks, Ms. Juliana Naumo Akoryo, the Director of Cultural Affairs at the Ministry of Gender, Labour and Social Development (MGLSD) said that the manual is for the parenting organisations to utilize and not for MGLSD.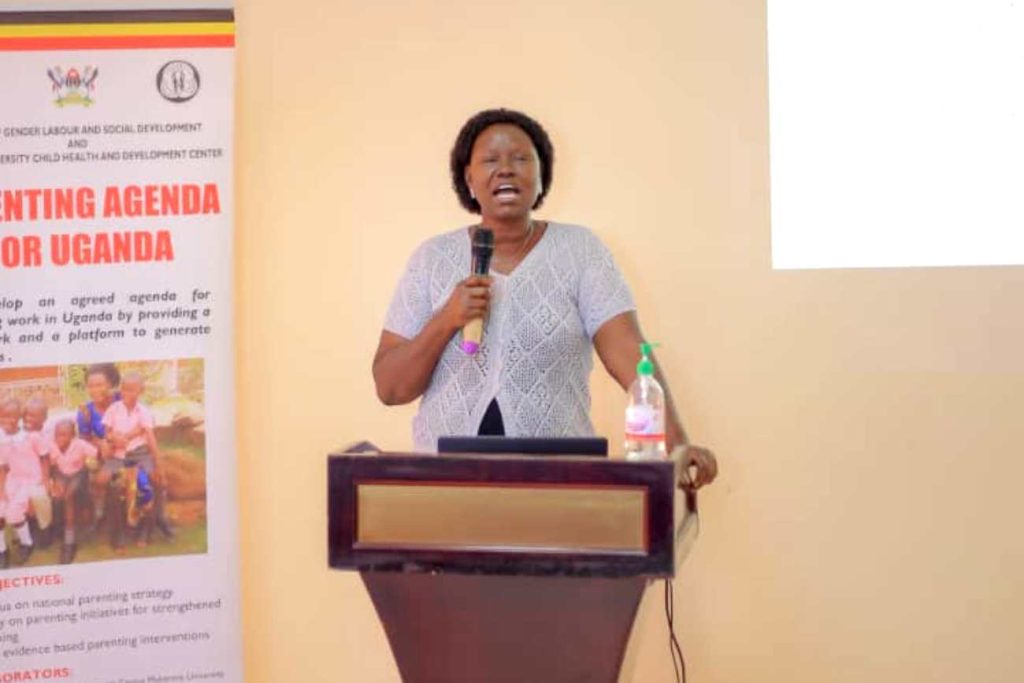 Ms. Chono also adjured the team behind the manual to use picture illustrations in the manual that can be relatable by the Ugandan parents.
Contact: Agnes Namaganda – agnesvioletnamaganda@gmail.com
Launch of Mak-RIF Round 4 Awards & PhD Call for Proposals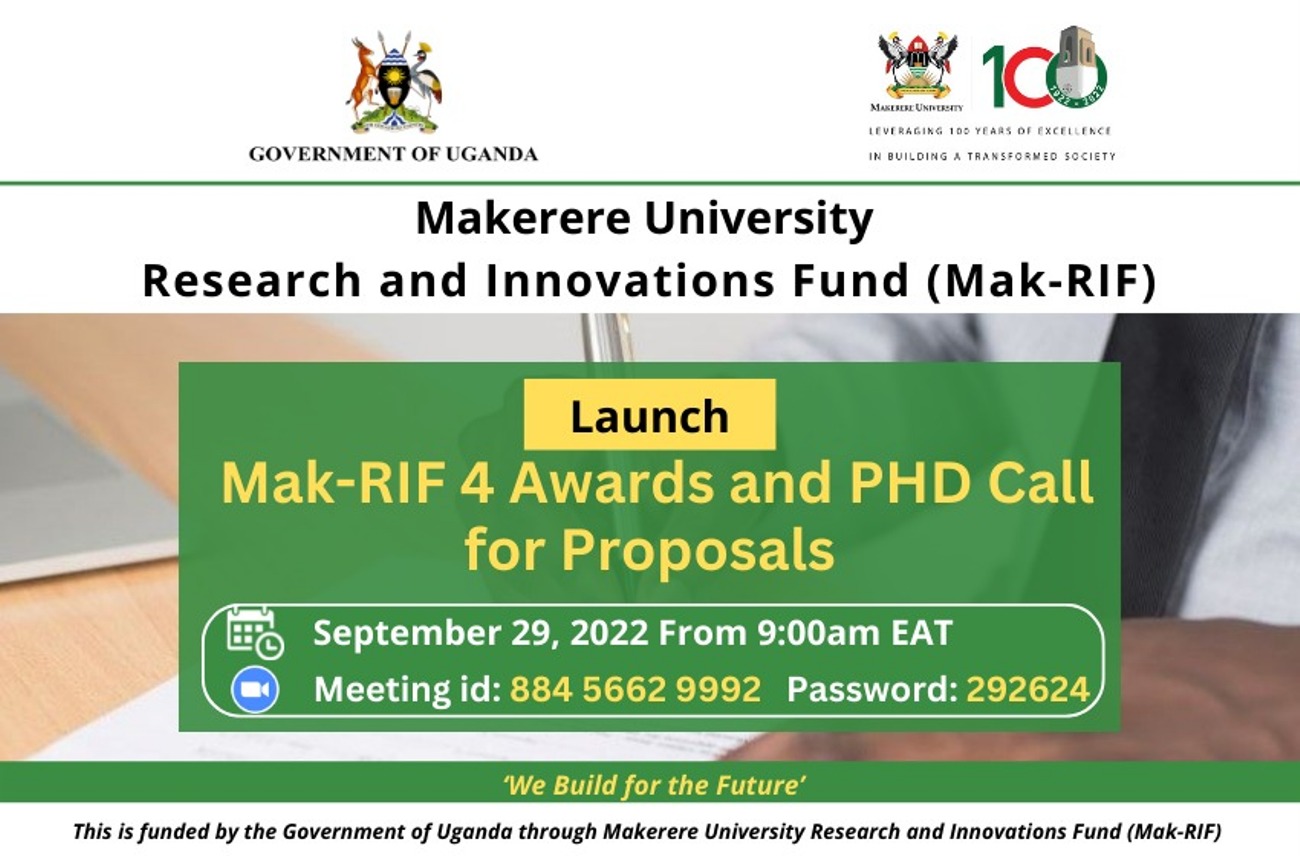 Makerere University received funding from the Government of the Republic of Uganda, earmarked to support high impact Research and Innovations. This unique initiative arose after engagements between the top University Management and the Government of Uganda. This fund illustrates the increasing importance that the Government attaches to Research and Innovation as a driver of development and transformation. The objective of the fund is to increase the local generation of translatable research and scalable innovations that address key gaps required to drive Uganda's development agenda. 
In the Financial years 2019/2020, 2020/2021 and 2021/2022 the Government of the Republic of Uganda through Mak-RIF has funded implementation of over 750 multidisciplinary research and innovations within the various Colleges, while engaging multiple stakeholders within and outside Makerere University. The Grants Management Committee (GMC) has finalized the award process for the Mak-RIF round 4 call for funding for this Financial Year 2022/2023.
The Grants Management Committee (GMC) hereby invites you to the Launch of the Mak-RIF Round 4 awards and PhD Call for Proposals scheduled to take place tomorrow Thursday 29th September 2022 from 9:00 to 10:00 a.m. EAT. 
Please use the following details to join the launch.
Register in advance for this meeting:
https://us06web.zoom.us/meeting/register/tZwpcu-urDIjE9ZgxdsbEmA2IkNMMiJVECt_ 
Meeting ID: 884 5662 9992
Password: 292624