Gender Mainstreaming Directorate Tips Students on Personal Branding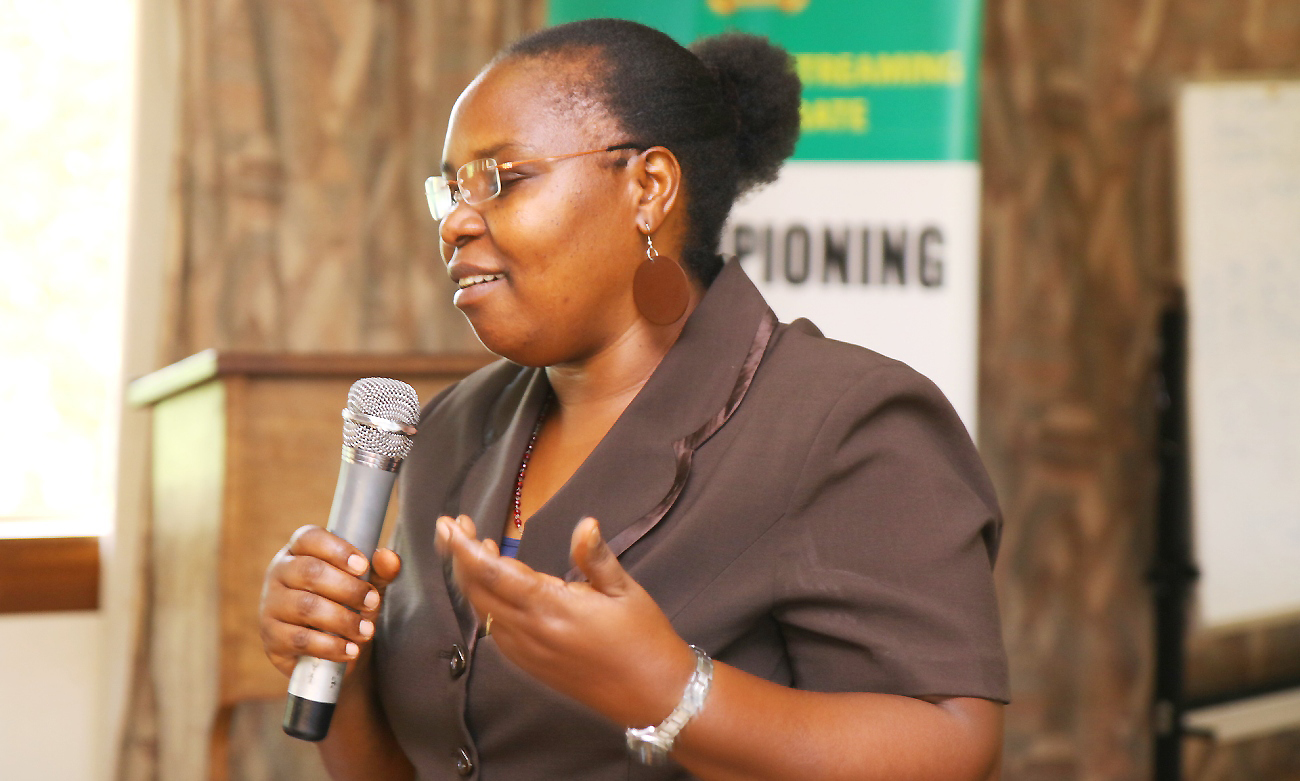 "Change your mindset and stop giving reasons, which reasons don't put food on the table. This world has two types of people; the result people and the reason people. Which one are you?" Daniel Choudry asked his audience. "The reason people will give all excuses as to why they can't do or achieve something and end up blaming everything around them including their parents, but can't blame themselves. The result people are those who have an "I CAN" internal dialogue and see the opportunities and possibilities in everything," he further explained.
On Thursday, 18th April 2019, 100 students gathered in the Senate Conference Room to participate in a workshop on how to get jobs and handle life after campus. The session was organized by Gender Mainstreaming Directorate (GMD), Makerere University as part of their program of training the scholarship beneficiaries.
The Guest Speaker and Director of the Daniel Choudry Sales Institute Mr. Daniel Choudry advised the students to always have a unique identity that makes them stand out in the job market by building a personal brand.
Giving the opening remarks, the Director Gender Mainstreaming Directorate (GMD), Dr. Euzobia Mugisha Baine thanked Daniel Choudry for accepting to pass on life changing tips and advised the students to take note of every single word. She called upon the students to adopt some life principles such as integrity, patience, trust and faithfulness which may not be taught in class but are essential for any employer before he/she entrusts anyone with his/her business. Dr. Euzobia also urged the students to develop an attitude of hard work if they are to become successful.
"I know that you all want to be successful people in this country but what are you doing to achieve this? Your performance decides which position you should be; schedule yourselves and know where you are to be at any given time. Take advantage of the free time you have by doing productive things that will result in good fruits," said Dr. Euzobia
She called for teamwork among students while at their places of work and advised them to develop passion to learn what they don't know as well as being flexible in all situations and jobs.
"Have one thing in you that will always make you stand out and that one thing will always qualify you for a job. The bosses in those companies are looking for one unique element in you that others may not have. Always strive to build a personal brand and that brand will take you where you want to reach; have a good identity and people will look for you," advised Mr. Choudry as he started out.
He further encouraged the students to have personal ambitions, belief and trust in even before others see the potential in them.

"There is no such a thing as a man who was born great, instead, they were just once like you and with positive mindsets, aggressiveness, good attitude and belief and trust in themselves, they stretched to be productive and became what we see and admire in them now," remarked Daniel, citing examples such as the President H.E. Yoweri Kaguta Museveni and the Vice Chancellor, Prof. Barnabas Nawangwe.
He advised them to make good use of all networking opportunities as it helps them generate new knowledge and ideas from people who have succeeded in life. Networking, he added, also helps to create new friends and pave way for job opportunities.
Mr. Choudry further called upon the students to be persistent. He shared an example of a scientist who made the bulb but failed 99 times and only succeeded on the 100th try. He continued and encouraged them to take all the little steps that come their way other than seating back waiting for the bigger opportunities.
"It's always better to start with the small opportunities. Sometimes you have to first get some experience for before you actually get there. Pay the price and you will get where you want to be. You can't seat home and spend every single day watching television and doing nothing and then expect to compete for a job market with someone who has been gaining some experience elsewhere. Remember we are all competing for the same piece of cake," he illustrated.
He condemned the act of pride, ego, attitude and foolishness exposed by the youth which characters don't draw responsible people towards them but instead pushes them away, reminding them that only the humble succeed in life.
"Showing off prominent body features doesn't portray sense in you, be a woman of virtue and dignity and avoid hopeless relationships. When you look smart, you attract people; being a slayer takes you nowhere but simply indicates the level of your unseriousness. To the men, it's useless to look hot or handsome when your pocket is penniless. Don't objectify women. If you don't mean to be with her, don't mess with her emotions; you need people to like you because if they don't then they won't give you opportunities," Daniel advised.
He amused the audience when he stated that bosses in the job field don't recruit based on impressive papers but rather based on the person's ability. Here he clearly illustrated that first class degrees are not what employers are looking for as there are many people with good papers but can't justify their performance by producing good results in their job placements.
Mr. Pade Brian from Daniel Choudry Sales Institute additionally advised students to develop hunger for jobs if they are to enter into the competitive job market. He also advised them not to undermine any job that comes their way as long as it's a clean job.
He echoed that a degree is just a stepping stone in one's job and tipped the students on the A life principles namely: Accept who you are; Adopt what you are; Advance what you have achieved for a better level of life; and Attitude, passion and skill in combination.
Mr. Pade also advised them to avail themselves for volunteering opportunities that come their way and avoid priotizing money at the top of everything.
"Most of you mind about money, but money comes at a certain time. Sometimes you have to volunteer as it's through those volunteering opportunities that you will be able to get job connections that will lead you to where the money is," advised Pade.
Ms. Justine Nakanwagi a Mak alumni thanked the Directorate for organizing the life changing seminars as they impact a lot on students' careers. She revealed that she was once a student sponsored by Mak Gender Mainstreaming Directorate and out of similar life changing seminars, she was able to get in touch with Daniel Choudry Sales Institute and was later employed as a Senior Sales Associate.
She advised her fellow youth to have the passion to doing things they have never done and to develop goals and work hard to see that they are all fulfilled.
Article by Rachael Kanyi, Volunteer, Mak Public Relations Office
UNMA Advisory on Agriculture and Food Security Jun-Aug 2021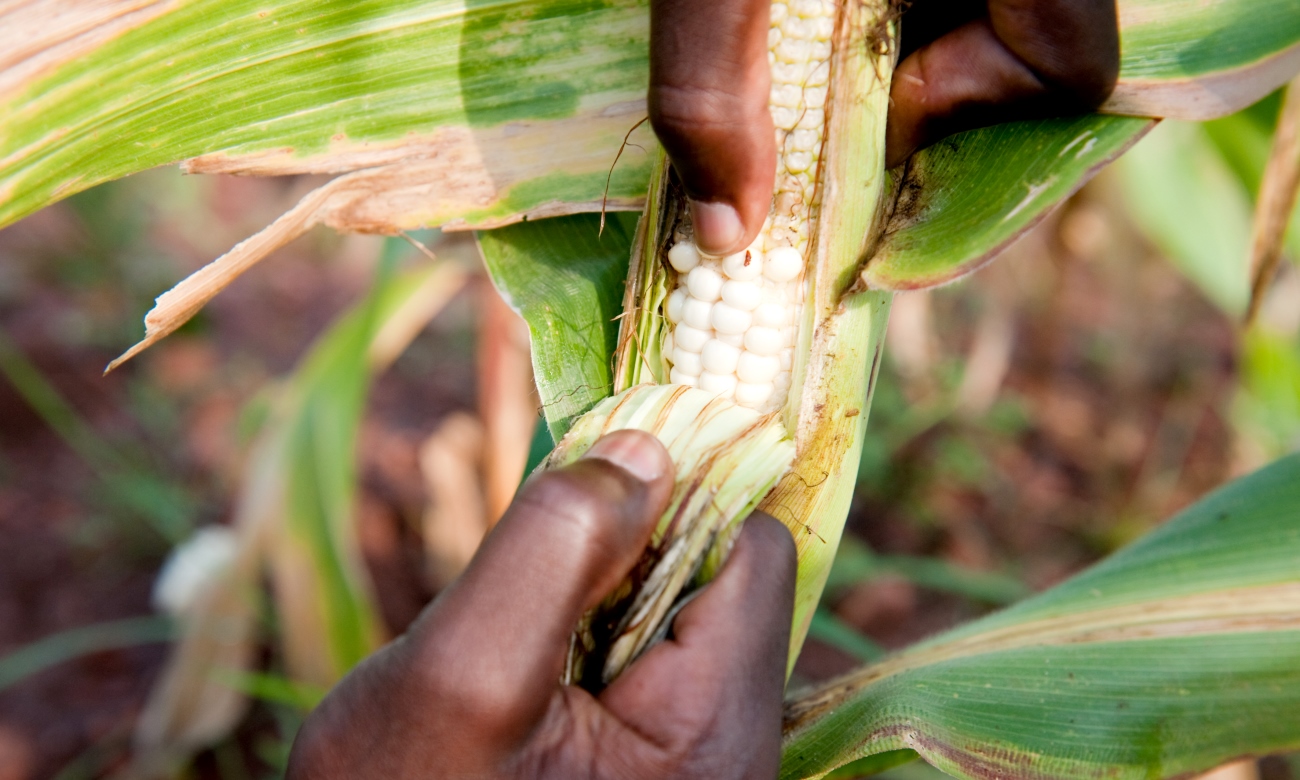 The Uganda National Meteorological Authority (UNMA) on 7th June 2021 released the seasonal rainfall outlook for the June-July-August (JJA) 2021 period. Contained in the outlook were advisories to various strategic sectors of the economy.
Particularly, the advisory to the Agriculture and Food Security sector was;
JJA season is often part of the normal dry season in the areas of South-western, western, parts of the eastern, and central Uganda. The farming communities in these areas are therefore advised to be vigilant during post-harvest handling by considering proper drying of the harvest on clean surfaces, use of tarpaulins and drying on racks;
Preparation of good storage facilities of produce to avoid compromising on quality and safety;
Channeling of the run-off water into the gardens in order to maximize on the soil moisture conservation;
For those areas where near normal to above normal rainfall is expected (most parts of northern and eastern Uganda), farmers are encouraged to continue with regular weeding, pest and disease surveillance and control;
Due to the expected enhanced rainfall in those areas, water logging and proliferation of fungal and bacterial crop diseases are likely to occur.
Open drainage channels around household and gardens to reduce risks from stagnant water causing damage to root tuber crops;
Flash floods and waterlogging are highly anticipated to occur in low lying areas expected to receive enhanced rainfall such as Katakwi and Kapelebyong. Therefore, communities are encouraged to keep watch over their crops, animals and property;
In Karamoja sub-region, where wetter conditions are expected, the pastoral communities are advised to diversify into boosting the production of cereals (sorghum, millet, and maize), beans, and ground nuts and sustain pasture availability for livestock.
Please see Downloads for the detailed outlook.
4th Call For Applications: MURBS Departmental Ambassadors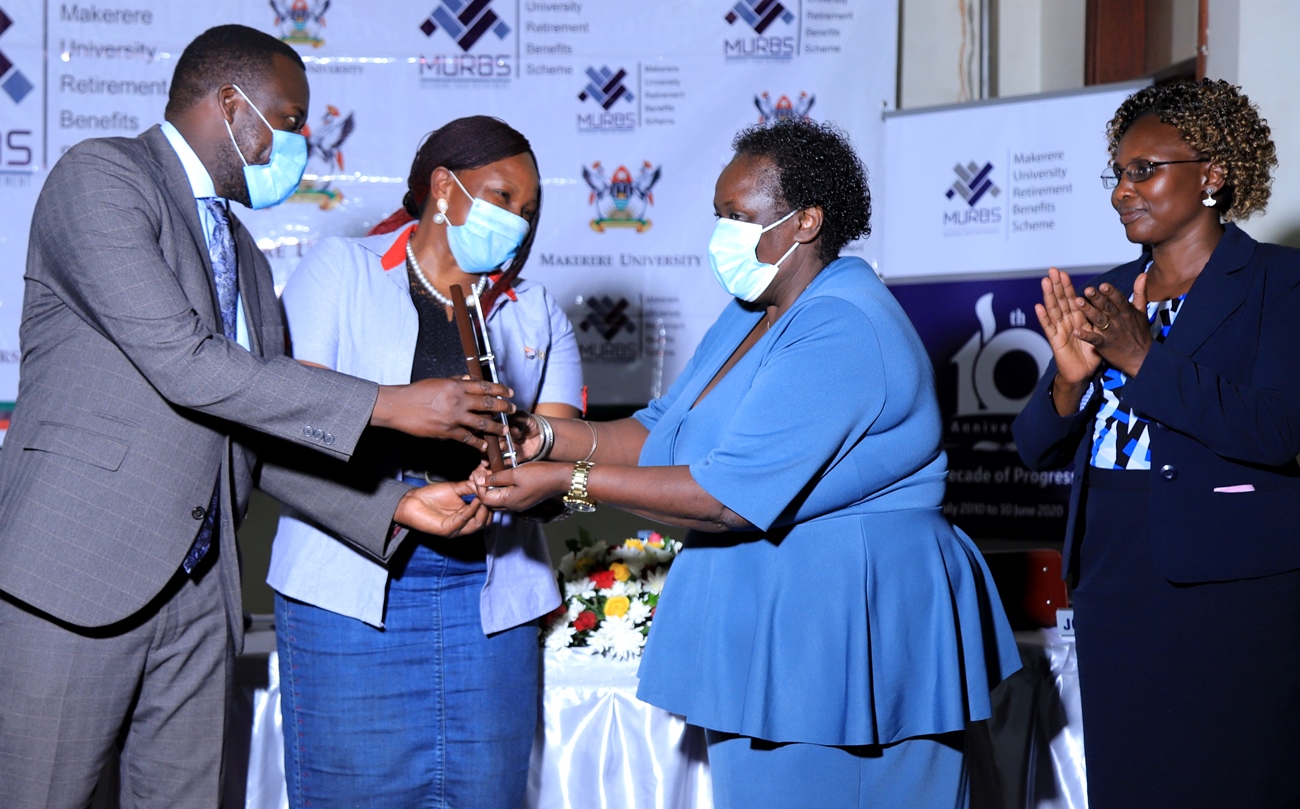 In February 2018, the Makerere University Retirement Benefits Scheme (MURBS) launched the Departmental Ambassadors Programme. MURBS hopes to use this Ambassadors Programme to engage more directly with its membership and enhance member education. MURBS further perceives this Programme as a means to mitigate succession planning risks.
MURBS Fund Value continues to grow, and as at 31st March 2021, it stood at Ushs 235.5bn as compared to Ushs 209.6bn as at 30th June 2020. Given this growth, there is increased need for prospective Trustees, who are well equipped with relevant knowledge and skills, and with practical exposure to the management and governance of MURBS.
Eligibility
Must be employed by the University on permanent terms
Must be an Active Member of the Scheme (currently contributing to the Scheme) and appear on the Official Register of the MURBS Active Membership as at 30th April 2021.
Must be willing to commit time to trainings and other ambassadorial activities organised by the Scheme.
Mode of training for 4th Cohort of Ambassadors
Training for this (4th) Cohort of Ambassadors is envisaged to be conducted over the zoom online platform only, due to Covid-19 restrictions. The Scheme does not envisage any face-to-face interactions.
Tenure of Office & Termination or Withdrawal
There is no tenure of office for the Departmental Ambassador. As long as a member is willing to continue serving as an Ambassador, and the Ambassador continues to satisfy the eligibility criteria above, she or he will remain a MURBS Ambassador.
How to Apply
Interested members should complete the MURBS Departmental Ambassador Application Form 01-0218. The completed Form together with the requested attachments should be sent to info[at]murbs.mak.ac.ug and copy to wilber.naigambi[at]mak.ac.ug no later than 5:00 p.m. on Monday, 14th June 2021. We discourage hand delivery of applications.
Confirmation/Approval Process
MURBS shall acknowledge receipt of each application received within 12 hours and will respond to the applicants to confirm the status of their application in writing (by e-mail). Upon approval of the application, the name of the approved Ambassador together with the Department and School/Unit will be updated on the list of the MURBS Departmental Ambassadors in the Group 4 category and published on the MURBS website.
NOTE: There is no limit as to the number of ambassadors that MURBS can have in a department.
Please see Downloads for the detailed call and application form.
Chair Council Communication on Closure of Makerere University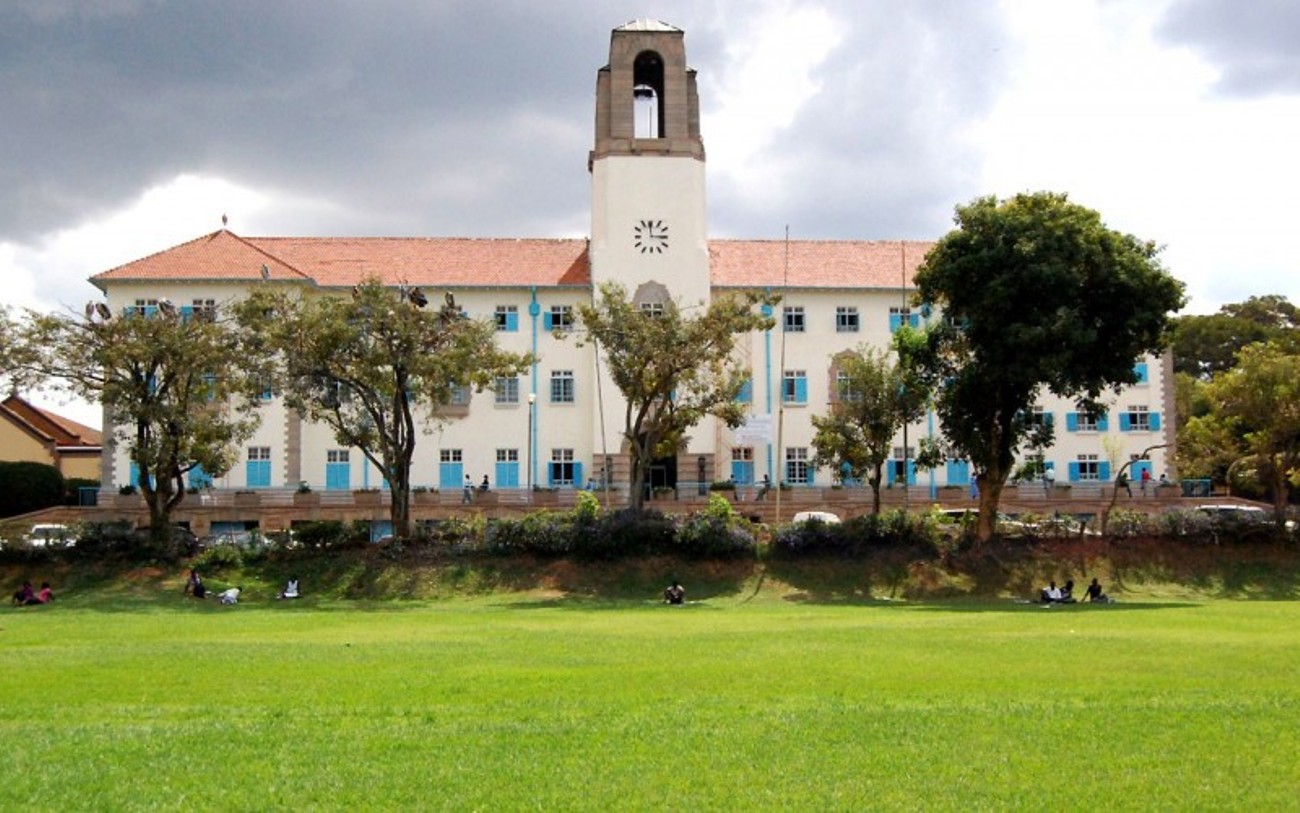 7th June 2021
All Members of Staff
All Students and Stakeholders
Makerere University
RE: CLOSURE OF MAKERERE UNIVERSITY
Following the address to the Nation by H.E. Yoweri Kaguta Museveni, President of Uganda, on 6th June 2021, this is to inform you that the University will be closed with effect from today 7th June 2021 for 42days.
During the closure, the University shall observe a 30% physical presence of staff while other faculty and administrative staff shall continue to work online.
Management will inform staff and students on the implementation of teaching, learning, and research activities online. Construction activities shall continue as per the President's directives and with strict adherence to the COVID-19 SOPs.
Yours sincerely,
Lorna Magara (Mrs.)
Chairperson, Makerere University Council