Makerere Orients Cohort VI Students Under MaRCCI Program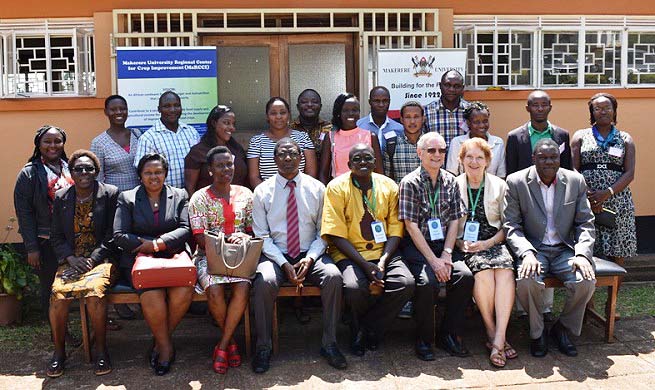 Academicians, breeders and administrators inspire students
Over 40 MaRCCI sponsored and private PhDs and MSc Students took part.
Makerere University College of Agricultural and Environmental Sciences (CAES) has started orientation of Cohort VI students under the Regional Centre for Crop Improvement (MaRCCI) Program.

On Monday, 10th September 2018, over 40 MSc. Plant Breeding and Seed Systems and PhD Plant Breeding students admitted from across the continent converged at the Continuing Agricultural Education Centre (CAEC) at the Makerere University Agricultural Research Institute (MUARIK) for the three day orientation program.


The function, slated to end on 13th September 2018 attracted prominent academicians from within and outside Uganda, plant breeders and technicians, administrative staff, security and Local Council officials among others

Cohort VI is composed of 40 students from different countries including Burundi, Ethiopia, Kenya, Rwanda, Tanzania and Uganda. Most are sponsored under MaRCCI while others are privately sponsored.
Student orientation programs are designed to integrate the newly admitted first-year students into the academic, cultural, and social climate of the University.
The orientation provides students with attitudes, knowledge, skills and opportunities that will assist them in making a smooth transition to university or college community thereby allowing them to become engaged and productive community members.
The Director MaRCCI Dr. Richard Edema while addressing the new students stressed that the orientation is part of the culture of Makerere University where admitted students are started on the right footing for them to understand how things are done on top of introducing foreign ones to the country.
"When we do that right, we set students on the right path so that they can plan and organise their life well which increases their success rate, focus and completing on time,
This new cohort with over 50% students being foreign from 13 countries across East, West, North and South, makes the program a pan-African project, "he said.
He explained that out of 200 applicants from all over Africa, only forty (40) were considered competitively.
Edema defended the fact that students have started a bit late saying that international students always need time allowance for proper preparation.
"We gave them three weeks because they hold jobs that make it hard for whoever is admitted to report immediately, given the fact that they need to prepare for travels, "he said.
He gave an example of Rwanda where a student has to get approval from his or her immediate boss, Director of Research, Ministry of Agriculture, Ministry of Education, Ministry of Foreign Affairs and from the President's office, which necessitates more time.
"We need to factor this back into the Makerere system whereby the more we internationalize our programs, the more we need to give space and time to international students because they are special to us, "said Edema.
He expressed happiness about the big number of female applicants who successfully competed against their male counterparts, saying this reduced the need for affirmative action.
"These energized us because we treat our females very well; when they come with their babies we give them the appropriate accommodation, we pay for the air ticket for the babies to come in addition to the mother, insure everybody, in that even when they want to deliver they can do so in the best hospitals like IHK and Nakasero Hospital, "he added.
He applauded the students for turning up for the long awaited orientation. "We are happy to report to the Vice Chancellor, the College Principal, Dean and the heads of department who have been very supportive in selecting the students in a timely manner that we are ready to kick start the process of paying tuition, "he said.
Edema challenged the students to concentrate, saying they benefited from a premier program which is admired by many people not only in Uganda but across Africa and the world.
"Enjoy the study and become scientists of the future that will help feed this continent and the world, this program can make the dreams of Africa come true, "he said.
The students, he said, will undertake key course units like molecular biology, statistics, genetics, social research methods, and population genetics among others, which demonstrate how resistant or nutritious plants can be produced.
Speaking on the need for plant breeders to rise to the challenge of feeding Africa and the world, MaRCCI Deputy Center Director Prof. Paul Gibson said most of the undernourished population resides in Africa hence the need for the continent to produce better cultivars.

Prof. Gibson noted that the World population is estimated to hit more than 9 billion by 2050 with increased meat consumption in emerging economies as the standard of living increases, and yet there is no appreciable change in available crop land, globally worsened by falling water tables and risks in crop production associated with climate change.


Gibson said global crop yields must double by 2050 to meet the projected demand for food while crop production in Africa needs to double between now (2018) and 2035

Prof. Gibson reported that the World outside Africa needs increased Food Production in Africa because of hunger and poverty that lead to political instability. He enumerated other factors such as Humanitarian concerns; Rising world population; Middle-income countries demanding more food, more meat, more dairy products; Land loss to non-agricultural uses and land degradation as reasons for Africa to boost its food production.

"Extremely high production levels of some major producers are unsustainable because of reduced availability, rising cost of inputs, environmental concerns and ecological factors or climate change", stated the Deputy Director, adding that:


"MaRCCI's vision is to see the African continent free from hunger, malnutrition, and poverty while our Mission is to contribute to a secure and sustainable future of Africa's food supply and income generation by encouraging the development of improved varieties."

He said the MaRCCI strategy entails the provision of effective training, research, and outreach that produce applied knowledge and plant breeders who use the most current approaches to rapidly develop and deploy improved crop varieties that meet stakeholders' needs and preferences across the region.

He outlined the three pillars of the MaRCCI Program namely; Graduate training in MSc and PhD in Plant Breeding; Research on cowpea and sorghum breeding for drought prone areas, serving as models of modernizing and optimizing breeding pipelines.


The third pillar he said focuses on; Trainings for Skill Enhancement for practicing Scientists and Technicians in Breeding program design, pipeline optimization, management, Biotech/bioinformatics, Seed testing , Experimental design and analysis, Scientific Writing, Electronic data acquisition and management and, Soft skills like leadership/teamwork, communication, critical thinking.

He further explained that the program is expected to produce graduates who have the scientific and practical skills to manage an effective crop improvement program, developed critical thinking and creative problem solving skills sufficient to understand and apply continuing developments in crop breeding approaches.

The expectation from graduates according to the Deputy Director include having sufficient academic background to successfully undertake a PhD at a world class institution, developed broad and strong linkages with other plant breeders in sub-Saharan Africa (SSA) and beyond and being strongly motivated to contribute to the agricultural development of their own country and SSA.


Prof. Gibson gave an overview of MaRCCI's history saying it begun in 2008 as Makerere University's regional PhD and MSc. programme for plant breeders, initiated by RUFORUM to produce Fit-for-Service graduates to meet development needs of the region and Competency-based curriculum based on wide stakeholder input.

Since that time, Gibson noted that the program has been strengthened through expertise available in the region and beyond and was designated a World Bank African Center of Excellence in 2016.

"Virtually all graduates are employed in national crop improvement in their home countries or regional centers.


PhD graduates have become Deans, Heads of Departments. Heads of significant research programs while MSc. graduates have excelled in international-caliber PhD programs.
All graduates have been highly successful and strongly commended in their places of work," Prof. Gibson explained

Gibson also said this year's cohort has attracted students from across Africa totaling to 19 PhD's (15 New, 4 from 2017) and 28 MScs (24 New, 4 from 2017)

He added that MaRCCI Objectives as stated in the ACE 2 Project is to train 70 graduate students from across Africa, Provide in-service training courses targeting a variety of clientele who contribute to crop production needs in the region, Improve curriculum and delivery of MSc and PhD courses and programs, including incorporating material cooperatively developed under the Plant Breeding e-Learning in Africa (PBEA) project and obtain international accreditation for the PhD and MSc programs.
The centre is also expected to: Conduct research relevant to improving varieties for the region; Develop Cowpea and Sorghum improvement programs to serve the needs of farmers and end-users while exemplifying "state-of the art" "best-practices" in plant breeding and involving students in these activities; Improve infrastructure that support MaRCCI (classroom, laboratory, greenhouse, seed storage, office and housing facilities) and Improve efficiency and management of MaRCCI programs by employing additional administrative and teaching personnel.
By 2022, the professor reported that MaRCCI is expected to have enrolled 35 PhD students (15 of these females) and 60 MSc students (25 of them females).

The centre is also expected to have an output of 90 publications in internationally recognized research publications in disciplines supported by the ACE program and regional co-authors and externally generated revenue of US$ 3 million.


The Professor told students that plant breeding is all about the art and science of developing genotypes of plants that better serve the needs of man. He underscored the role of motivation for any successful plant breeder for improved livelihoods citing the bible in Isaiah 58:10-11.

"To really have an impact, you must be highly motivated.
Desire for money and success is not enough to make you a successful scientist that has a real contribution to reducing hunger and poverty.
We must be motivated by something greater and much bigger than ourselves," The Professor advised.

Prof. Albert Kiteka, a visiting scientist from Zimbabwe who is at Makerere to serve as an instructor emphasised passion as the key to becoming a successful plant breeder. He shared that plant breeding does not happen in one day but takes either one or more than two years which calls for personal commitment to see the product.


He expressed optimism that the students have the talent and energy to take the world where it should be and everyone was looking up to them to succed.

"In a population of one million people we need 100 scientists. In Africa the number of scientists is far below that average expectation.

The world is driven by technology and this is the foundation of development and plant breeders need this", Kiteka said.

He expressed happiness over working with MaRCCI saying, he looks forward to giving the best of his knowledge and experience to meet the students expectations.


Speaker after speaker including; the College Registrar Mr. Edward Obura, the College Accountant Mrs. Vianney Baguma, Assistant Registrar School of Agricultural Sciences Ms. Hilda Makune, and the LC 1 Chairperson Ssalongo Frank oriented the students into university system.

Students were addressed on number aspects including university policies, general conduct, academics, discipline, security, finance management, health and social aspects among others.
Students were informed about the university processes, requirements and rules for registration as key essentials for recognition of students in the university, fees payment, library access, pass marks and penalties for non compliance with the academic conduct which include suspension and dismissal from the university.
The new students were also cautioned against anti-social behaviour including drunkenness, fighting, involvement in strikes, disrespect of fellow students and staff and to be mindful of their personal and property security.
Story compiled by;
Jane Anyango and Agnes Nankebe Nantambi;
CAES Communication Office
WHS Regional Meeting Africa 2021: Finance Chairperson's Update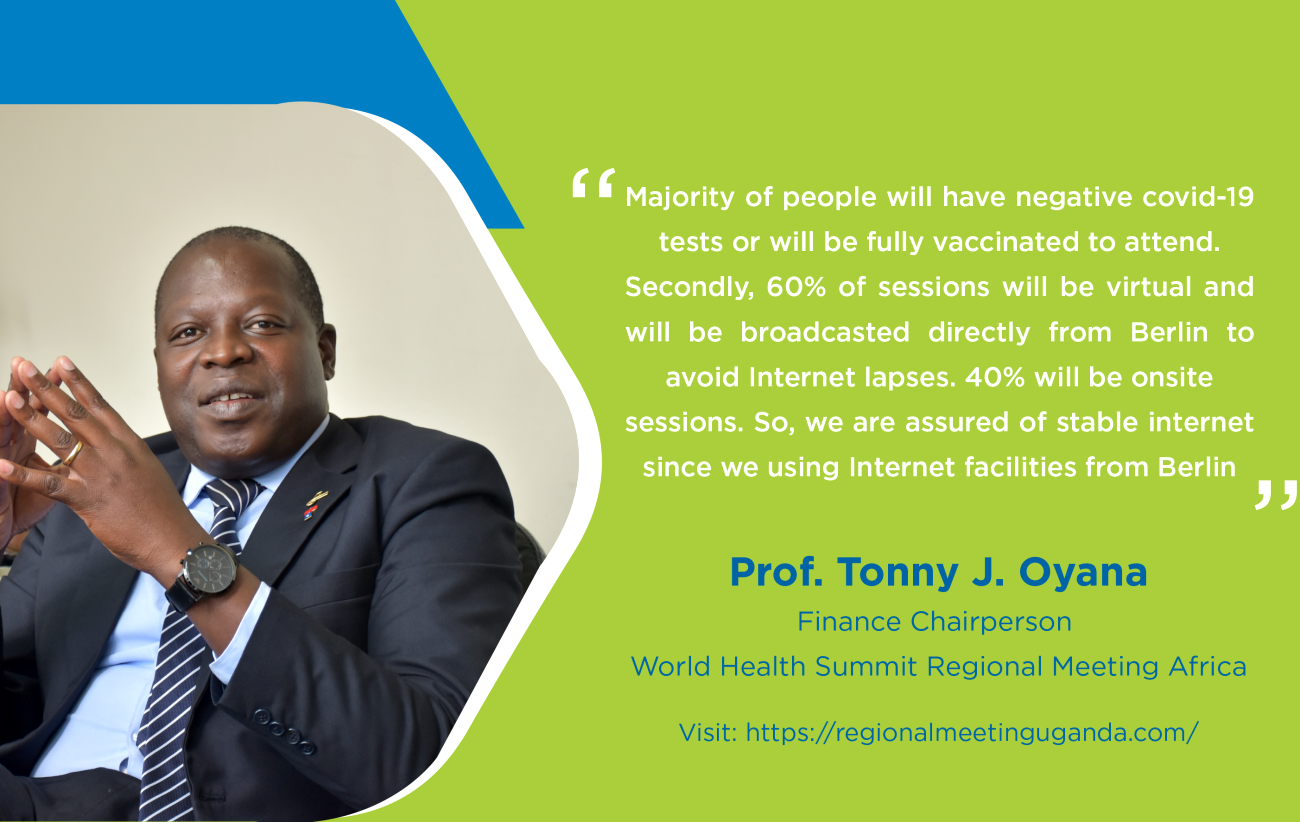 SOPs: Our plan is to have 200 sets of people in different spacious rooms…

Prof. Tonny j. oyana, finance chairperson whs regional meeting africa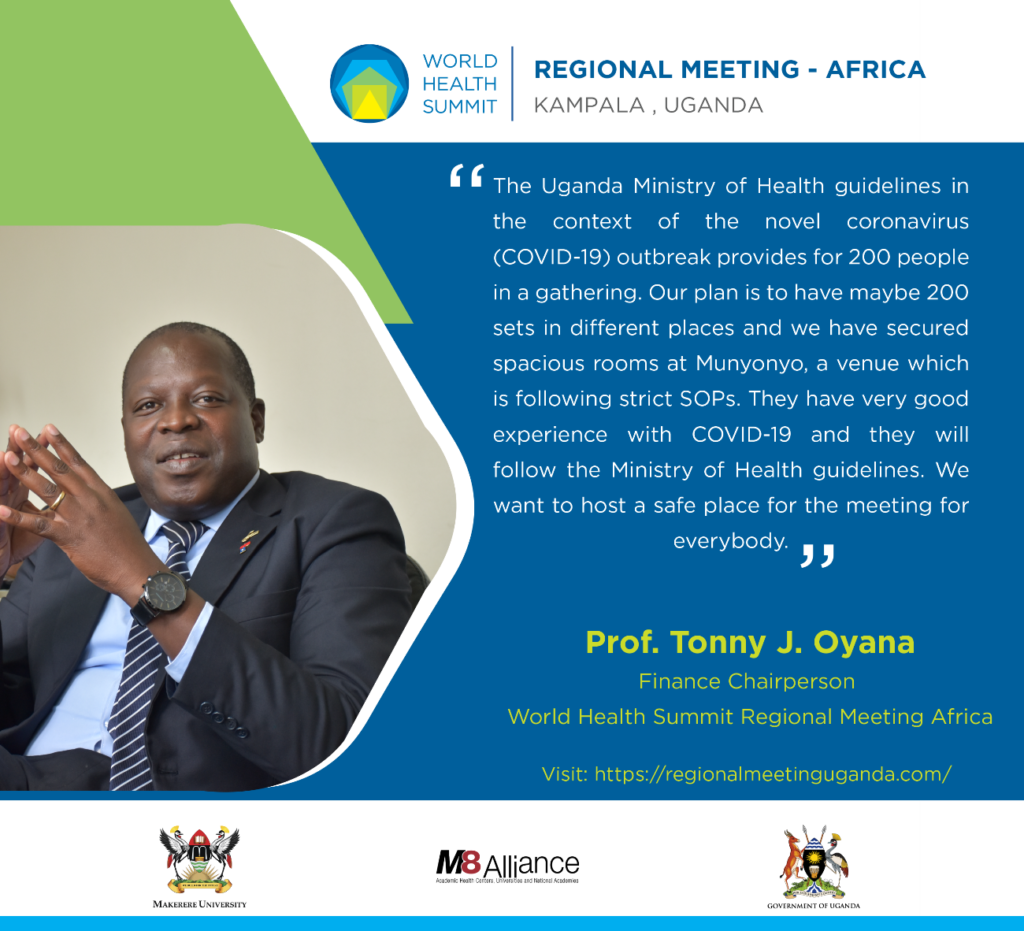 We are sincerely grateful to our sponsors…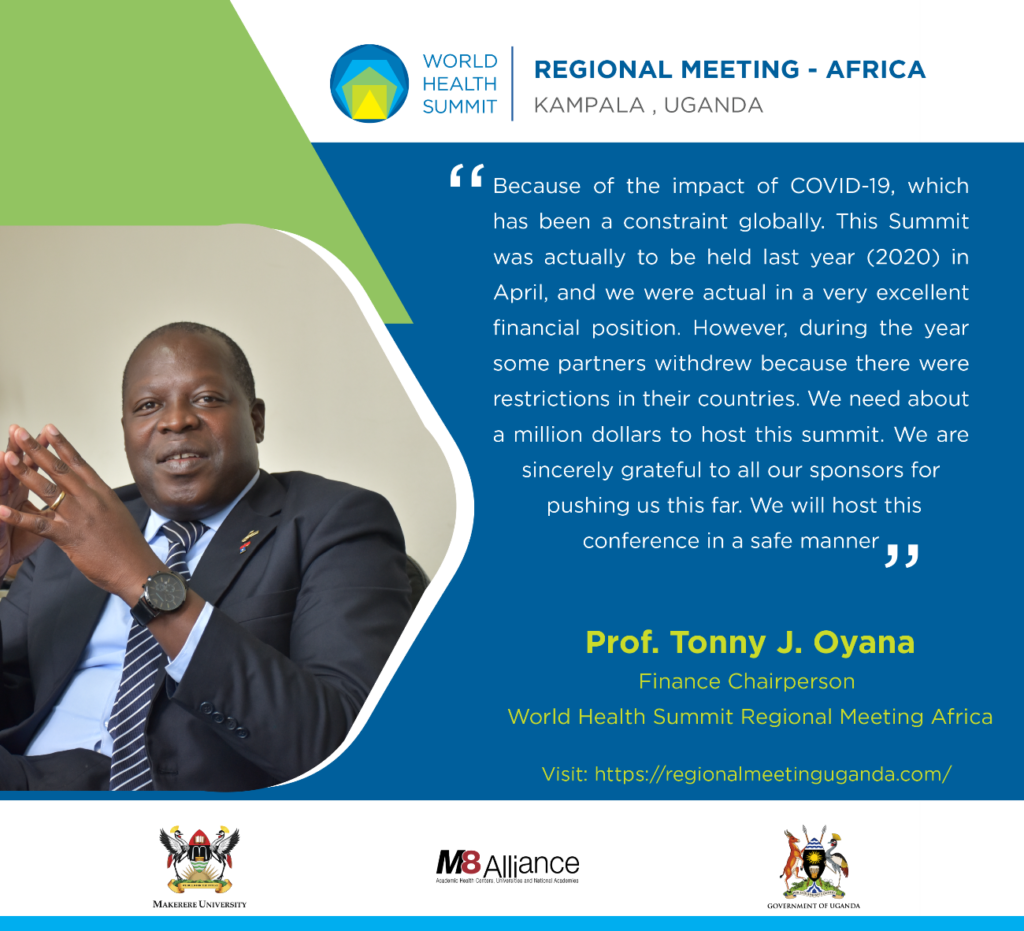 Over 15 core sponsors…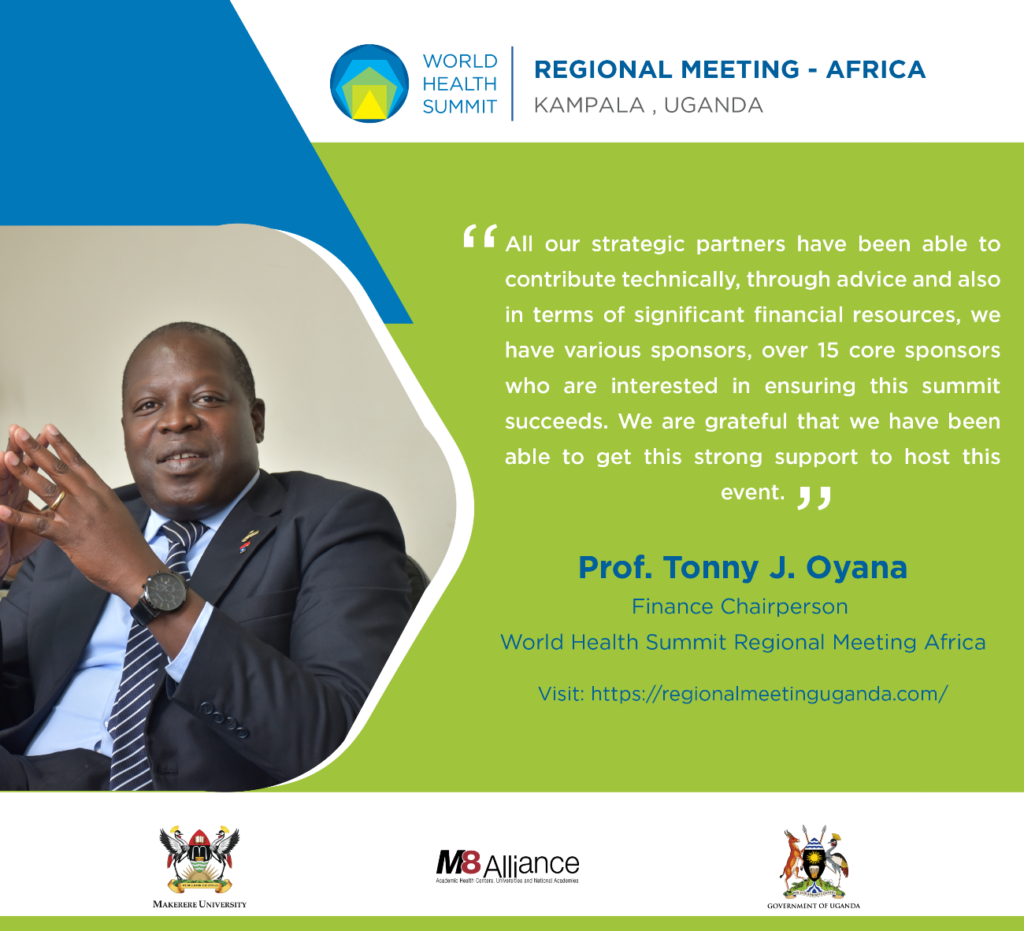 Sessions: 60% Virtual, 40% Onsite…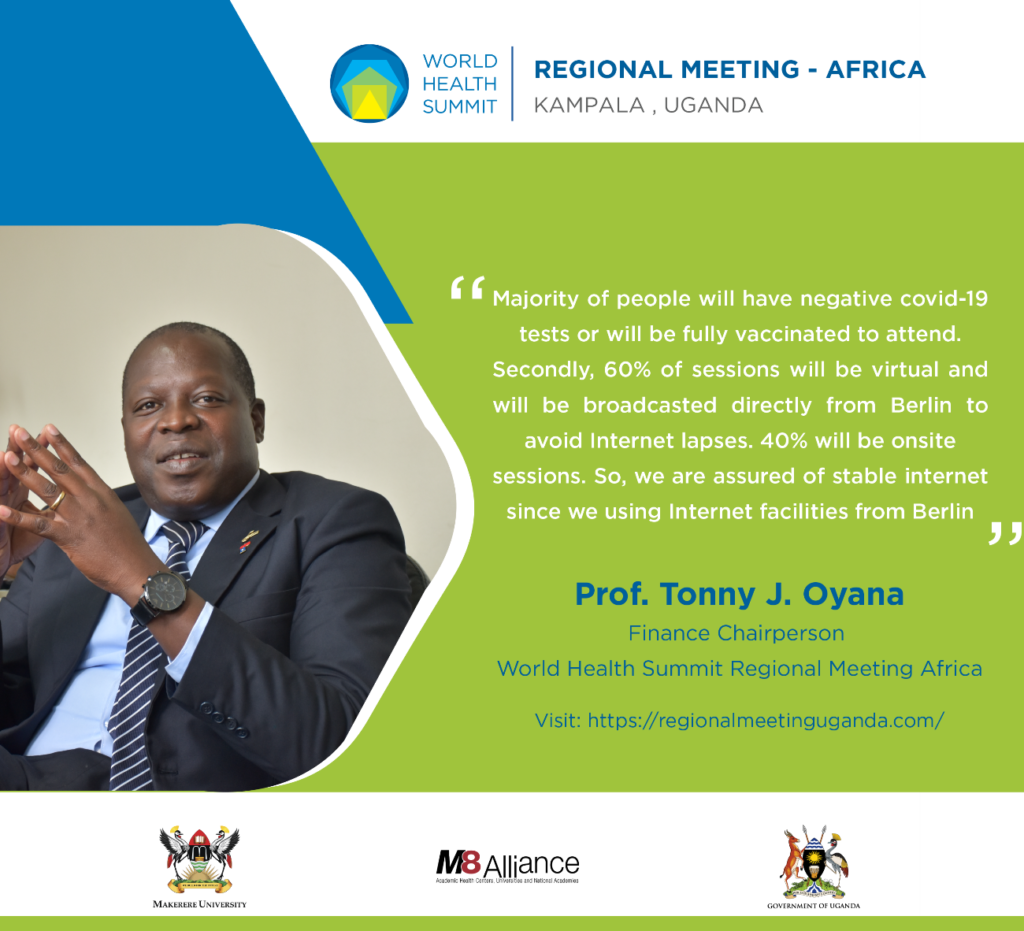 HERS-EA Fourth Leadership Academy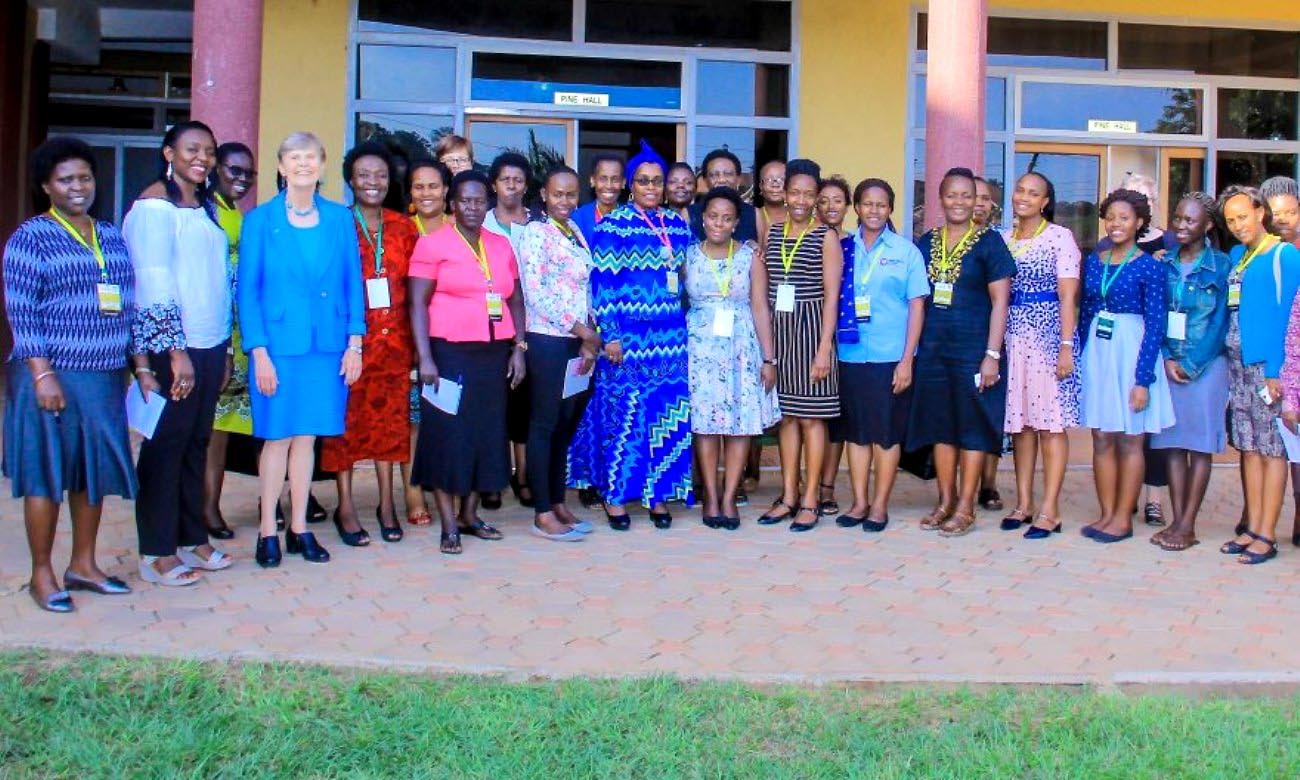 The Higher Education Resource Services-East Africa (HERS-EA) provides an intensive residential one-week leadership and management development curriculum focused on women, mainly in higher education institutions and administration.
In response to the current Covid-19 pandemic, HERS-EA Fourth Academy will be a totally virtual one. As such, the Academy previously scheduled to take place between June 28th – July 3rd has been postponed by one week to July 5th-9th. 
Theme: "Positioning Women for Leadership in Higher Education"
A. Institutional Development
1. Managing and Leading Change
2. Reframing Organizations for effective work
3. Developing Effective Partnerships in Higher Education for Women and gender focused advancement
B. Personal Development
4. Career Mapping/building dossier/personal development
5. Professional Women's economic empowerment through Enterprise development and management for profit maximization
6. Research and Publishing; Leadership and Fundraising for projects including research and publication.
C. Networking
7. The Power of Mentoring; Networking
Who Should Attend?
HERS-EA expects many diverse and dynamic women leaders to attend the ACADEMY, to share and learn from multiple institutional perspectives with guidance from women with a wealth of experience in higher education, national academic organizations, government and non- governmental organizations. Participants are expected hold mid to senior-level positions and bring expertise from all parts of a college or university. They also represent a range of national groups, ages and years of experience in higher education and other fields.
Applying to the ACADEMY:
The deadline for registration has also been extended to June 30th. For more information regarding registration, please visit the website: www.hersea.org Completed registration forms should be emailed, with a scanned payment slip to: info@hersea.org, by 5.00 p.m. on Wednesday 30th June.
A complete application includes:
a) CV
b) A self-descriptive letter (not > 500 words) to include:
Current Title (e.g. Associate Professor of Economics; Deputy Dean, e. t. c.)
Name and Contact Information for 2 Recommenders (e.g. Vice Chancellor, Head of Department, Chief Officer in your area, and/or direct supervisor)
Short- and long-term career goals
Your expectations for the HERS-EA ACADEMY.
c) Passport size photograph
d) A developmental project you have been assigned or you would like to initiate at your campus (maximum 500 words)
e) Registration fee of $100, please attach a copy of the deposit slip to your application (Bank A/C details below):
Contact Information
If you have any further questions, please email:
info[at]hersea.org or call the HERS-EA Administrator on: +256 (0)772082011 Please,also, visit the HERS-EA website for further updates: www.hersea.org.
Payment Bank Account Details:
Account Name: Higher Education Resource Service East Africa
HERS-EA US $ ACCOUNT
Name of Bank: DFCU Bank
Makerere University Branch
A/C No: 02083553153181
Swift Code: DFCUUGKA
HERS-EA UGX ACCOUNT
Name of Bank: DFCU Bank
Makerere University Branch
A/C No: 01083553153172
Mak Commissions CoVAB@50 Celebrations, Awards Certificates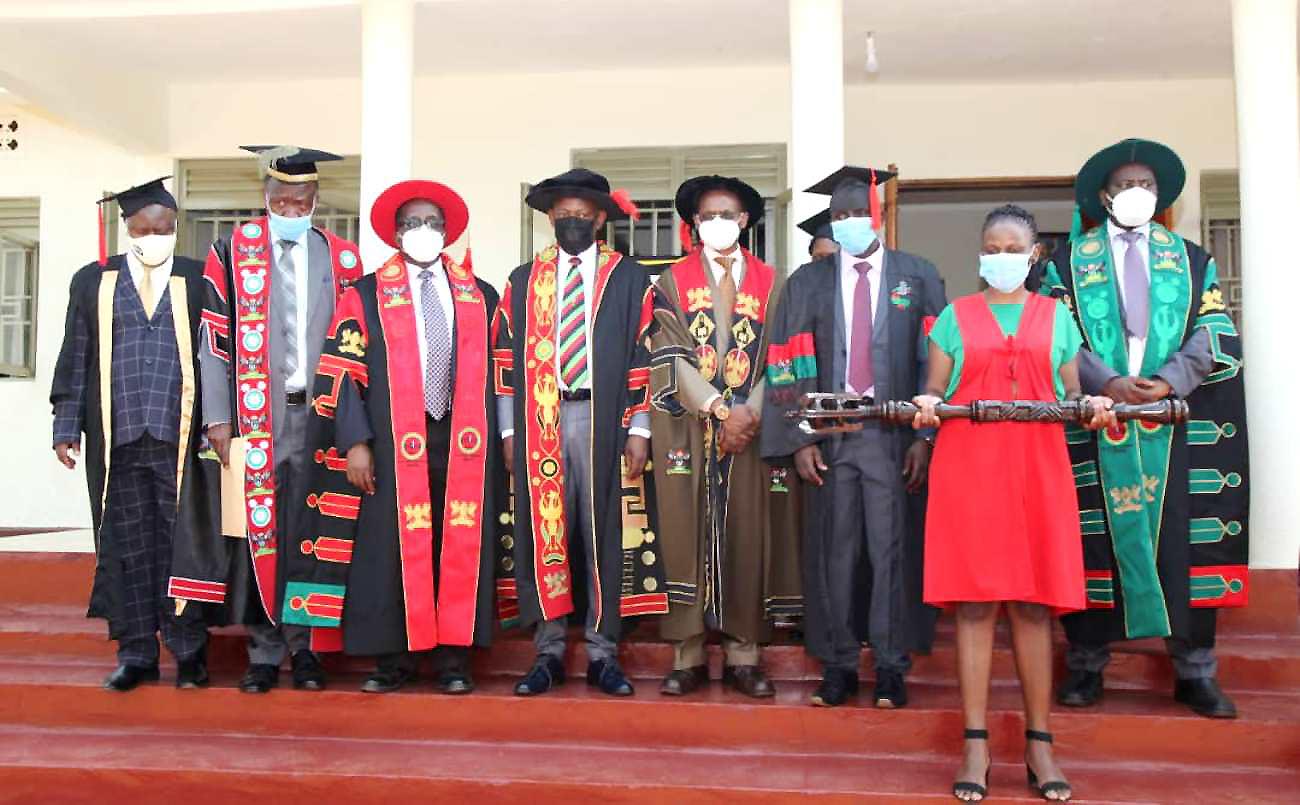 The College of Veterinary Medicine, Animal Resources and Biosecurity (CoVAB) on Thursday 17th June, 2021 commenced celebrations to mark 50 Years of Veterinary Higher Education, Science, Technology, Innovation and Services (HESTIS) in Uganda. The blended event held at the Industrial Livestock Research, Incubation and Skilling (ILRIS) Center at Nakyesasa, Namulonge as well as online was presided over by the Chancellor, Prof. Ezra Suruma and First Lady and Minister of Education and Sports (MoES), Hon. Janet Museveni both represented by the Vice Chancellor, Prof. Barnabas Nawangwe.
The event, held as part of Makerere University Centenary Celebrations (1922-2022) was a moment of celebration for 1,930 skilled livestock agribusiness entrepreneurs who were awarded certificates in recognition of completion of their respective courses. Owing to the strict Standard Operating Procedures (SOPs) instituted by the Ministry of Health (MoH) to curb the spread of COVID-19, the students from Incubation Hubs in Atiak, Butaleja, Mubende, Nakyesasa, Sheema and Wakiso were awarded their certificates virtually.
In her remarks read by Prof. Barnabas Nawangwe, Hon. Janet Museveni thanked Makerere University for supporting grassroots level development through groundbreaking innovations under the Africa Institute for Strategic Services and Development-Skills for Production Enterprise Development and Accreditation (AFRISA-SPEDA) model.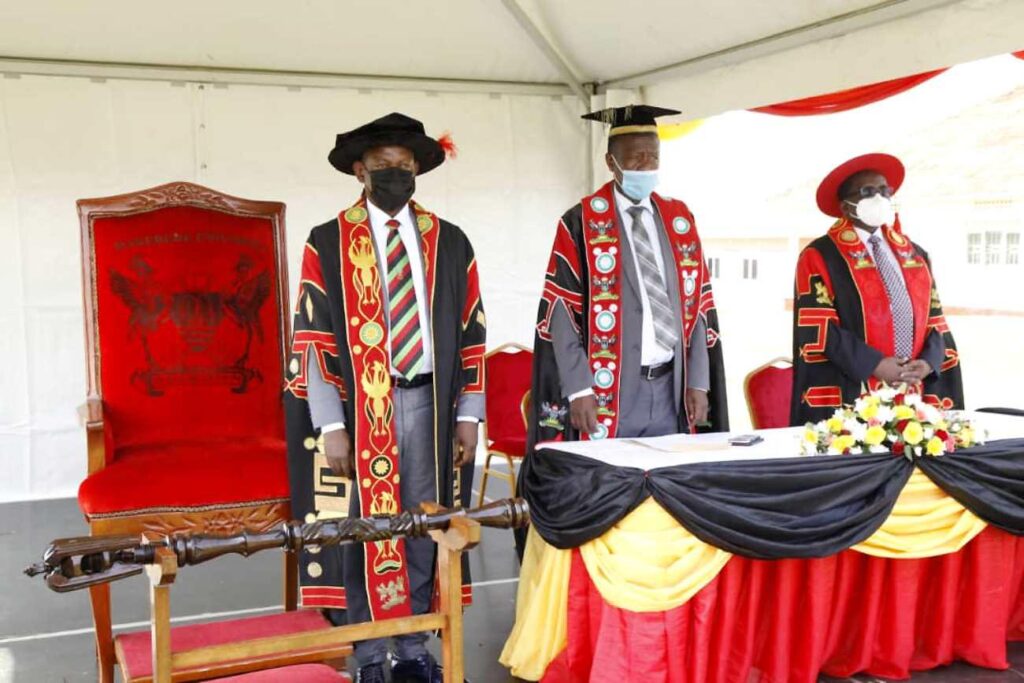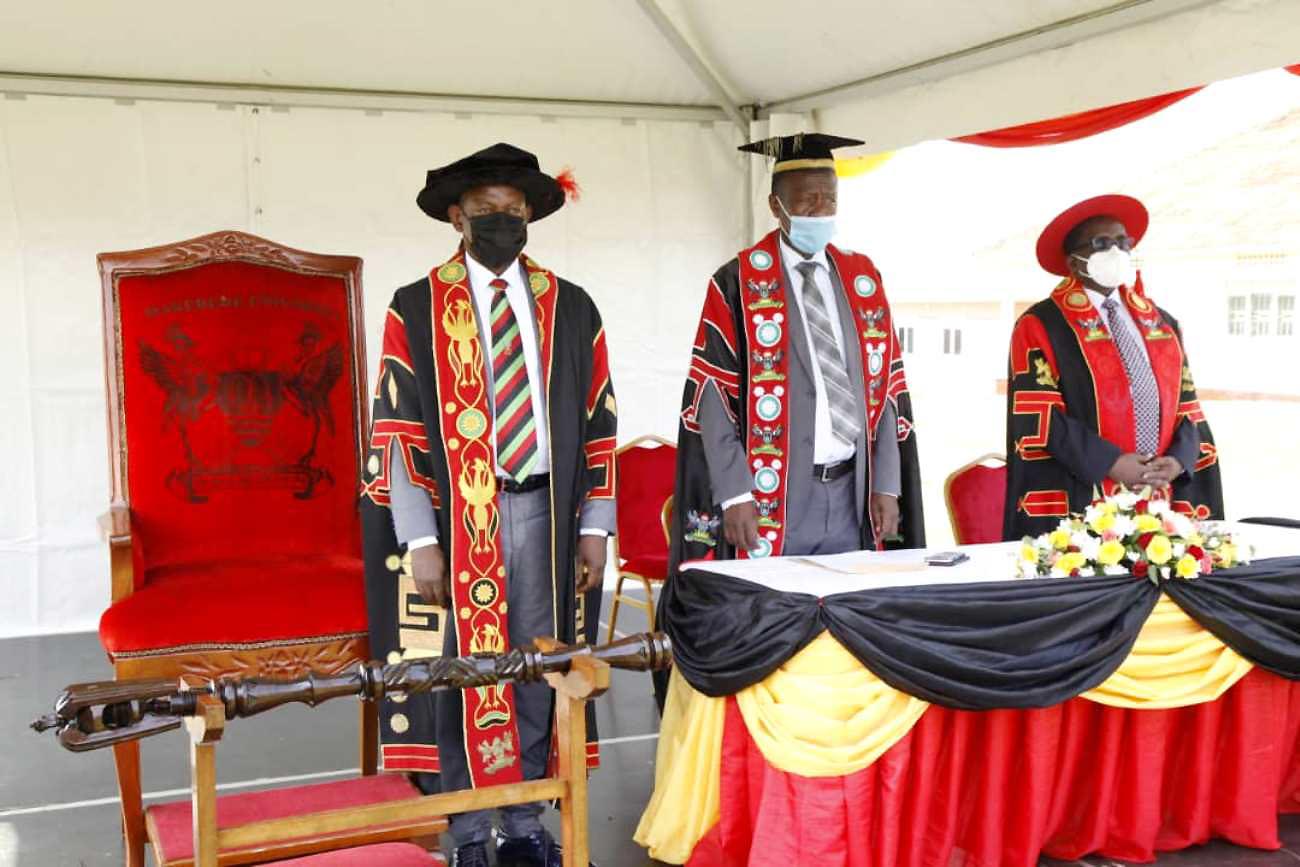 "I am extremely pleased that Makerere University, through those innovative approaches, has developed and launched the alternative approach to building human capital and transferring knowledge to enterprises in communities.
"I would like to encourage all those involved in skills development to adopt methodologies that transform those trainees that go through these programs in ways that enable them also transform the societies they live in" read the Minister's remarks.
She further noted that commissioning of the CoVAB@50 celebrations was both timely and rewarding. "The commissioning of the college innovations indeed has made meaning. This is a true path to growth of an Academic and Development College of the University, and we congratulate you again."
Addressing the congregation as Chancellor, Prof. Barnabas Nawangwe congratulated CoVAB alumna and incoming Minister of Science, Technology and Innovation (MoSTI) under the Office of the President, Dr. Monica Musenero upon her recent appointment. "We thank His Excellency the President for identifying you. Science is in good hands."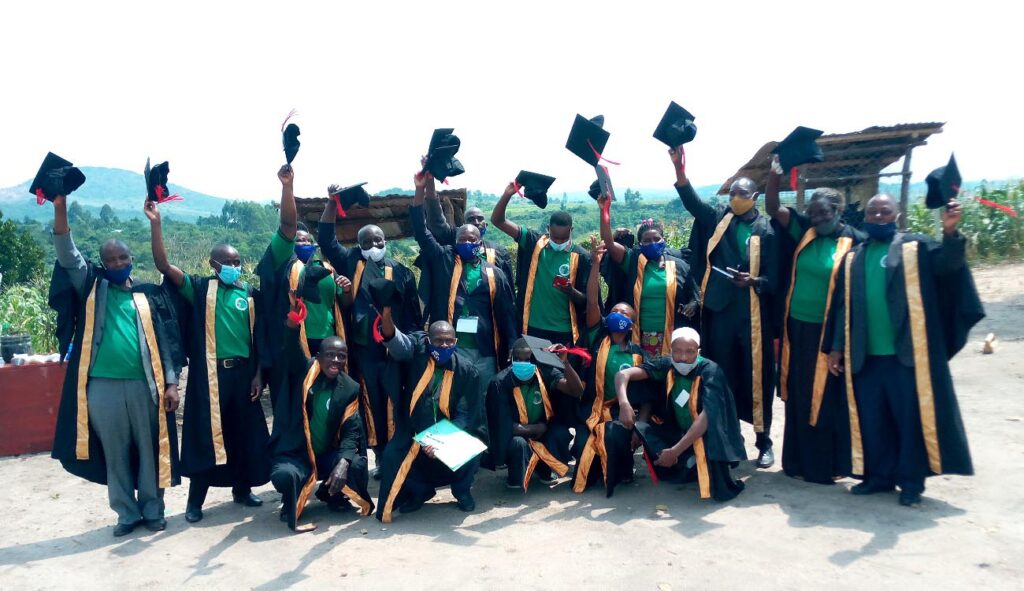 Prof. Nawangwe urged Dr. Musenero to address the structures of managing research and innovation in Uganda, "including the role of the Uganda National Council for Science and Technology and the apparent need to establish a Research Council for Uganda."
In the same breath he thanked the outgoing and pioneer Minister of Science, Technology and Innovation, Hon. Dr. Elioda Tumuwesigye, for his role in ensuring that the ministry is empowered to carry out its mandate.
The Chancellor congratulated CoVAB upon training the bulk of Veterinary Doctors in Uganda over the last 50 years and more recently, Laboratory Technologists at the highest level. He recognised Makerere University's obligation to contribute to the economic self-determination of Uganda and thanked CoVAB for conducting research that addresses hindrances to national development, especially in the livestock industry.
"The anti-tick vaccine is one of such innovations which will solve the huge problem of tick-borne diseases that have caused enormous losses to our farmers. There are many other problems on which the college is researching and we thank you for the enthusiasm" he added.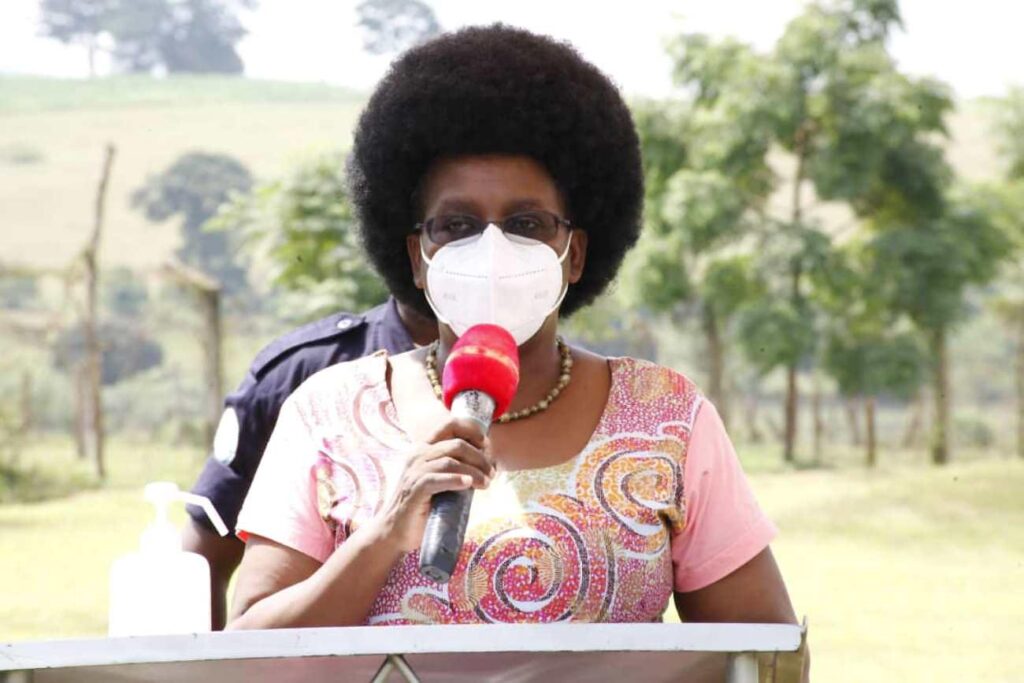 The Chancellor commended CoVAB for being the vanguard of transformation of the grassroots communities through the SPEDA model. "I urge Government to fund this important initiative so that it can more meaningfully contribute to solving the big problem of youth unemployment."
In her remarks, Dr. Monica Musenero commended the Principal, CoVAB, Prof. John David Kabasa for fulfilling the College's dream of enabling the masses who drop out of the education value chain as well as those who complete education but have no skills for livelihood, to attain certification in agribusiness entrepreneurship.
"Many people attain academic success and write papers, publish and they become professors but without demonstrable impact on their nation. You have shown by the thousands that you have touched nationwide that indeed you are a professor of national transformation. Congratulations," remarked Dr. Musenero.
She therefore congratulated the teams at CoVAB and AFRISA upon successfully conceiving and executing a model that is non-traditional, informal, not easily understood and not documented in any textbooks.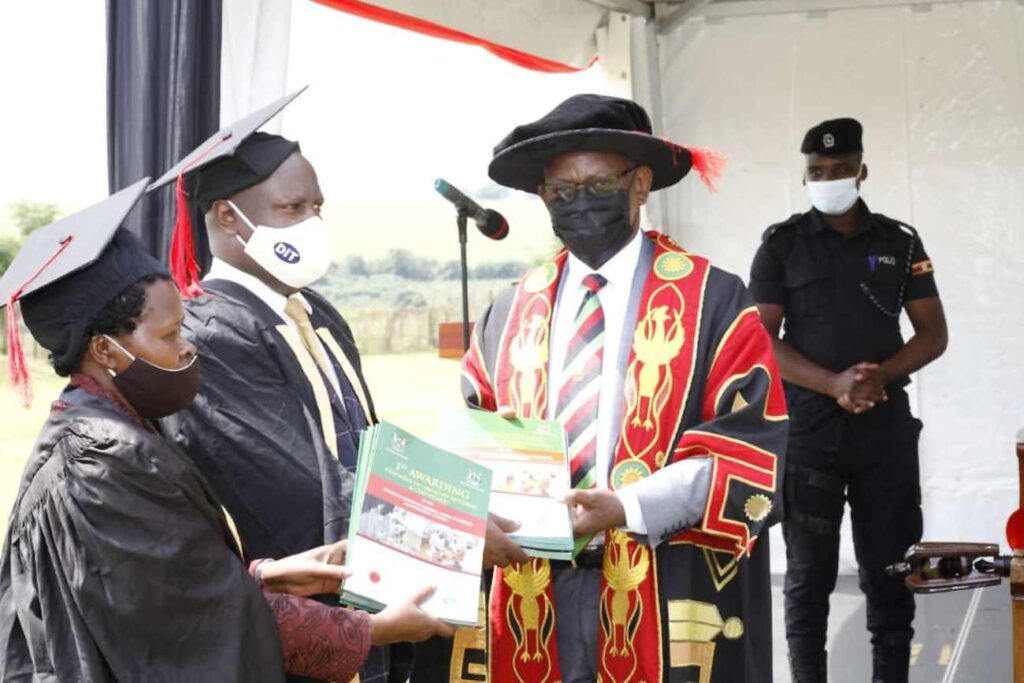 As Minister, Dr. Musenero noted that witnessing thousands of individuals from across the country whose skills had been honed through a university programme receiving certificates gave her a lot of hope and material to embark on her tenure with. "I will be looking forward to harnessing these resources as we initiate work on the next leg of Science, Technology and Innovation in the country under the President's Office."
The invitation to the Principal, CoVAB to present students for the award of the ordinary diplomas, ordinary certificates and artisan certificates was given by the Deputy Vice Chancellor (Academic Affairs), Dr. Umar Kakumba. He congratulated the awardees upon successfully completing their respective courses and graduating with evidence on an enterprise.
Prof. Kabasa clarified that the approach used to train the day's awardees was not simply a vocational skilling. "The combination of action research with knowledge transfer, skilling, plus assessment and accreditation processes done by organs like the DIT (Directorate of Industrial Training, MoES) has given us this result, for the University to provide true leadership and transformation of the community."
Present at the celebrations were the Director, DIT, MoES-Mr. Byakatonda Patrick and the Deputy Commissioner Social Services Development, MoES Madam Elizabeth Bateme who have worked through the Academic-Community-Public-Private-Partnership model to ensure that students graduate as entrepreneurs with micro enterprises.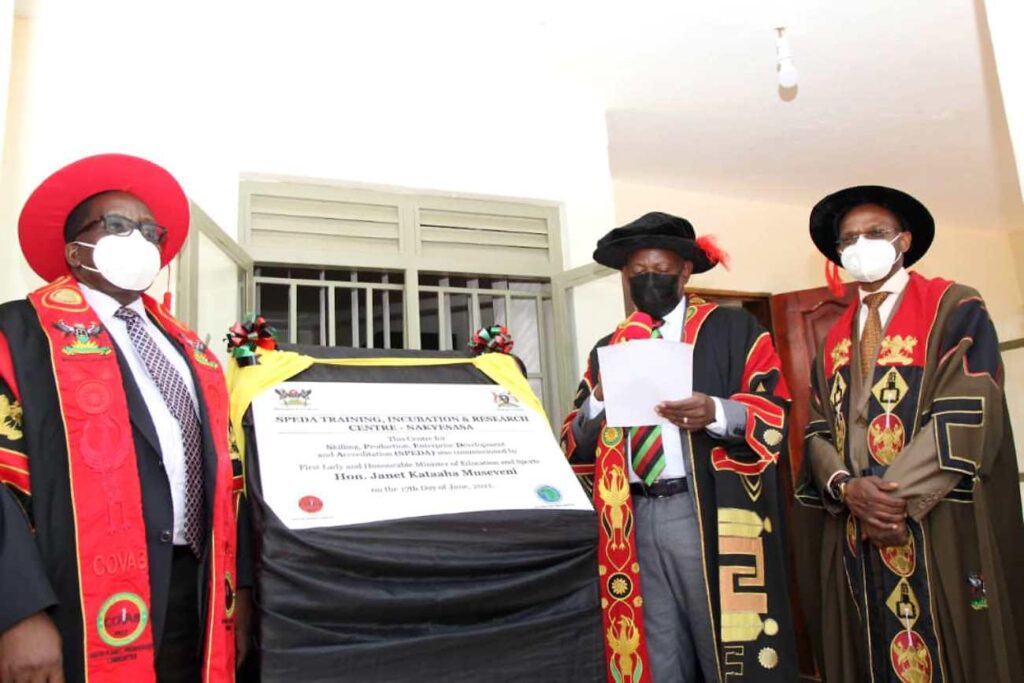 Prior to presiding over the ceremony, Prof. Barnabas Nawangwe, on behalf of the First Lady and Minister of Education and Sports officially commissioned the SPEDA Training, Incubation and Research Centre – Nakyesasa.