Mak Management and Director General NARO Officially Welcome MaRCCI Cohort VI Graduate Students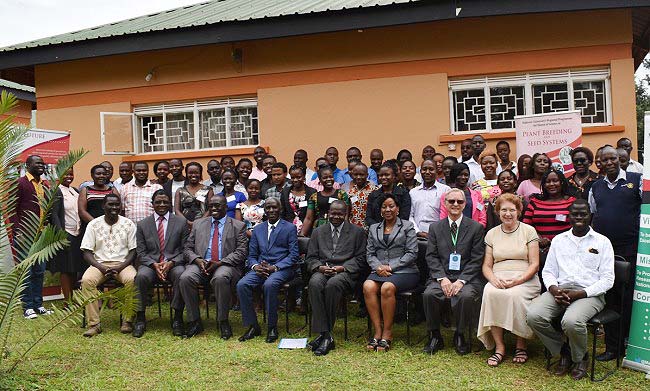 Students tipped on becoming better breeders back home
DGRT proposes turning MUARIK into a graduate training school for Mak
Makerere University Deputy Vice Chancellor in charge of Academic Affairs (DVCAA) Dr. Ernest Okello Ogwang has officially welcomed the new MSc and PhD students admitted under the Regional Centre for Crop Improvement (MaRCCI).
This was during the second day of orientation on Tuesday, 11th September 2018 where over 40 students from 13 sub-Saharan African countries are being inducted at the Continuing Agricultural Education centre (CAEC) at the University Research Institute in Kabanyolo.
The three day orientation concludes on Thurday, 13th September 2018 with briefing from Bankers and Insurers, a familiarization tour of the Makerere University main campus and briefing on programme activities and expectations from MaRCCI Administrative staff.
In his speech, Dr. Okello Ogwang commended the program for taking into account the gender aspect. The 2018 intake consists of 15 PhD students (8 females and 7 males) and over 20 MSc. students (12 females were present), representing a 1:1 ratio.
Dr. Okello Ogwang commended MaRCCI upon transforming itself from the Makerere Regional Graduate programmes in plant breeding initiated in the Department of Agricultural Production with support from RUFORUM in 2008.
He further acknowledged the 127 MSc and 57 PhD students trained since the programme was initiated, saying that as a result, Makerere has attained global reputation for the quality of its graduates who have stayed in the region applying the skills they have acquired.
"Plant Breeding is a discipline that has tremendous potential to improve the food and nutritional security and livelihoods of small scale farmers who represent 70% of the population of Uganda and sub-Saharan Africa", Ogwang noted.
He said Plant Breeding and Seed Systems (PBSS) and Plant Breeding and Biotechnology (PBB) training operates as a model programme – designed to produce fit-for purpose, market ready graduates who have the competencies and mentality to develop crop varieties that are responsive to the value chain needs, including producers, processors and consumers.
Dr. Ogwang noted that in order to address significant problems in crop production, the centre has exemplary cooperation with NARO and other national, regional and global institutes and universities. He expressed happiness that the management of the center is overseen by an advisory board of world class scientists, educators and representatives of commercial seed companies.
Similarly he added that in order to deliver exceptional quality, the programme benefits from highly trained young scientists as well as regional and international experts such as Prof. Albert Chiteka.
Dr. Ogwang said in support of global academic excellence in the applied sciences, Makerere University administration fully backs the centre's model programme through which the university can adopt progressive approaches.
"We pledge our support to assist the centre overcome the challenges of inefficient administrative processes, uptake of staff into regular Makerere positions and operational sustainability.
We are indeed eager to see the centre continue to expand in scope and quality and confident that it can serve as model for other programmes, as we pursue the goal of becoming a progressive international, research-led university producing real innovations to solve national and regional problems". Dr. Ogwang promised.
In his welcome remarks, Prof. Bernard Bashaasha, the Principal, College of Agricultural and Environmental Sciences (CAES) represented by his Deputy Dr. Gorettie Nabanoga welcomed students to CAES and Uganda.
Nabanoga was grateful for the program's culturally diverse intake, describing Uganda as a beautiful country where students will enjoy their stay and studies.
"Count yourselves privileged for having chosen Makerere so as to be part of the team developing the world in terms of food. You have the best course at heart and that is the reason you chose Uganda. Makerere sets the scene for you to become the greatest leaders, plant breeders and agriculturalists", Nabanoga told students, adding that:
"This is the best place you can ever find. It is by design that you are in Kabanyolo, a stone's throw away from a leading research centre. We are blessed to have the Director General NARO here today, a sign of our warm collaboration".
Dr. Nabanoga applauded the program choice of 50% gender distribution, saying that any successful intervention must put women at the forefront to realize success. She reassured students that despite the fact that they are going to study from Kabanyolo, they are part of Makerere and would have some time to spend on the main campus to interact with other students.
"Our role is to make it possible for you to go through the academics. MaRCCI is a centre of excellence and the programmes are designed by the Department of Agricultural Production where you belong, which falls under the School of Agricultural Sciences and then the College of Agricultural and Environmental Sciences.
As you stay at Kabanyolo, you will interact with research stations, learn the challenges we have, bring your wealth of experience, share and find solutions for a better Africa". Nabanoga implored.
"We are training you to surmount challenges and to advise management on what can be done. Be very proactive in solving problems and be sure to communicate because our role is to make your stay comfortable, "the Deputy Principal advised.
Nabanoga however told students that little can be adjusted in some areas like stipend and allocations for research because these were terms and conditions they appended signatures to upon admission.
She said the University's role is to ensure that the teaching is done and supervisors assigned to the students. The Deputy Principal advised students to fulfill their roles, balance their time and finish on time.
She also advised foreign students to establish networks with local students for guidance and to enable them cope with the social and academic work.
Dr. Nabanoga further implored students to be good flag bearers of their countries and to avoid leaving bad memories. She thanked DVCAA for the support extended from the University Administration, NARO, Dr. Richard Edema and other staff for crafting and working so hard to put the program together.
The Deputy Director General, National Agriculture Research Organisation (NARO) Dr. Yona Baguma stressed that in order to have a functional breeding program, there must be a good human resource base which must have the capacity to manage data, be able to do quality phenotyping, do quality genotyping and also have the capacity to create a clear and functional breeding pipeline.
"By the breeding pipeline, we mean that if you are breeding for drought adaptation, you must know what it takes you from the point you select the parents through crossing them, up to the time when you get the product that is adapted to drought, "he said.
He pointed out that at present time, if you are breeding for resistance to fall army worm; the pest that is ravaging the maize, it means that from the time you select the parents, make the crosses and then select the best candidates for resistance or tolerance to the pest.
Dr. Baguma also the Board Chair MaRCCI noted that the best functional breeding program must have the capacity to design products that are suited to different industries for food, feed and for nonfood applications.
He observed that most breeding programs in Africa today have a lot of challenges ranging from low human capacity which require continued training of more plant breeders.
"They are very low in terms of funding and above all they are low in terms of their capacity to manage quality data that can be used for reference in future, you are on board because you have the capacity to manage a breeding program, without data you will walk along streets well knowing that you are not breeders", he added.
He stated that MaRRCI has got a good international rating noting that the students are lucky to be part of it to get knowledge and other tips which can help their respective countries get to another level.
Baguma applauded Dr. Edema and his Deputy Prof. Paul Gibson for writing the proposal which materialized into a centre of excellence. He told the students not to focus on the infrastructure but on the academics noting that while he was at Makerere in 1986, the whole research institute was filled with bushes.
"It was emerging out of the bush war and it was the dining and the lecture room that were visible, we persevered and studied and changed its look. This centre which stemmed from a small meeting at royal suites where the proposal was written, has given it a different look, "he revealed.
He challenged the students to understand how to do things that will benefit their countries, saying that a degree that is not beneficial to society is as good as nothing.
"You must know from today that if you fail to learn, you will never learn. You need to create demand around yourself because if you miss out on this, you will be like any other person. Commit time and put away all the destructions surrounding you.
Africa is looking for high quality experienced experts and if you are the leaders of tomorrow, you need to emerge as experts, "Dr. Baguma encouraged.
He expressed pride at being associated with NARO which has the best human resource base with the highest number of PhDs.
The Deputy Director, Directorate of Research and Graduate Training (DRGT) Assoc. Prof. David Okello Owiny hailed Dr. Edema and Prof. Gibson for the initiative and keeping the fire burning. He also congratulated students upon getting the award to study under MaRCCI.
Owiny implored students to be mindful of what they want to achieve at the end and advised them to register so as to qualify as students of Makerere. He however decried the delaying tactics by some supervisors who make it hard for students to complete on time and advocated for expansion of the scope of supervision to ensure timely graduation by bringing on board expertise from private universities.
Dr. Owinyi informed students that teaching; supervision and examination will be handled by the CAES and NARO. He implored program directors not to restrict supervision only to crop scientists, saying supervision can be done by veterinarians especially in aspect of technology.
Advising students on their social life, Dr. Owinyi implored those with families to keep in touch so as to avoid crumbling, "find a way of killing boredom by visiting friend's functions, engaging in church activities and playing games."
He reported that in the January 2017 Graduation, CAES presented 18 PhD students out of the 72 university wide number.
"Last year, CAES was second to the College of Health Sciences which had 19 PhDs. Makerere is moving to a research-led university and this means an increase in our graduate output and number of foreign students and impact, number of staff and research output and publications.
Dr. Owiny however said the university should know that there other new entrants in graduate output including MUBS which is set to present its highest number of PhDs from 1 – 11 at the next graduation ceremony.
He attributed this to their strategy of having a special school to train graduates. He proposed the need for Makerere to turn MUARIK into a school for graduate training for all university units.
"MUARIK has a good environment. Why not turn this research institute into a graduate school for all MSc and PhD programmes. MUBS has succeeded by creating such a school headed by the Dean.
This will strengthen the college because we already have the basic infrastructure.
Given the capacity of 500 graduate students who cannot be handled at the main campus, yet most of the research is done at Kabanyolo, this can easily increase on the number of students recruited.
It will also increase the research output in terms of publications and graduate students who will complete and in turn increase the visibility of Makerere University. This in one way answers the quest for Makerere to be a research led university.
What we need here are student's hostels and university buses running say in two hour intervals so that if you are a lecturer, you know and plan accordingly.
Let's make the lives of international students easy," Dr. Owiny suggested.
He also implored students to avoid dirty politics and troublesome spots that may land them into problems and always seek advice in case of challenges.
Article Compiled by;
Jane Anyango and Agnes Nankebe Nantambi,
Communication Office CAES.
Ambassador of Sweden to Uganda calls for full involvement of men and boys in achieving Gender Equality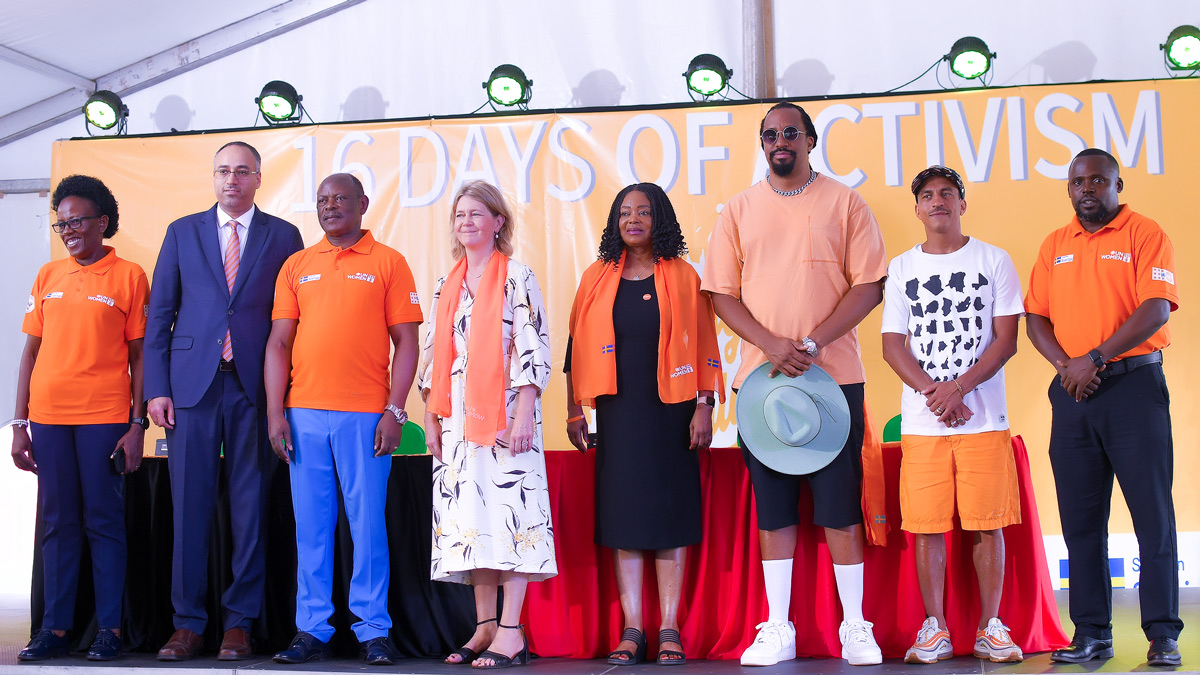 The Ambassador of Sweden to Uganda Her Excellence Maria Håkansson has emphasized the need to fully engage men and boys in all the initiatives geared towards achieving Gender Equality in Uganda and other parts of the world. She said this on 28th November 2023 at a press conference organized by the Embassy of Sweden in close collaboration with Makerere University Gender Mainstreaming Directorate, UN Women and United Nations Population Fund (UNFPA) to unveil the National Orange Pledge campaign and officially launch the 16 Days of Activism against Gender-Based Violence.
The press conference was headlined by a Ugandan rapper and record producer Daniel Lubwama Kigozi, popularly known by his stage name Navio and his fellow from Sweden Jason Michael Bosak Diakité popularly known as Timbuktu. Over 200 students both male and female from Makerere University and other institutions of higher learning attended the press conference at Makerere University Rugby Grounds.
According to Her Excellence Maria Håkansson, Gender Equality cannot be achieved without involving men and boys to take their responsibilities and be the drivers of change. "For real change to happen, we need to change attitudes and norms that might cause Gender Based Violence, one of the social ills in Uganda and an extreme of gender inequality that occurs at all levels of society," she said.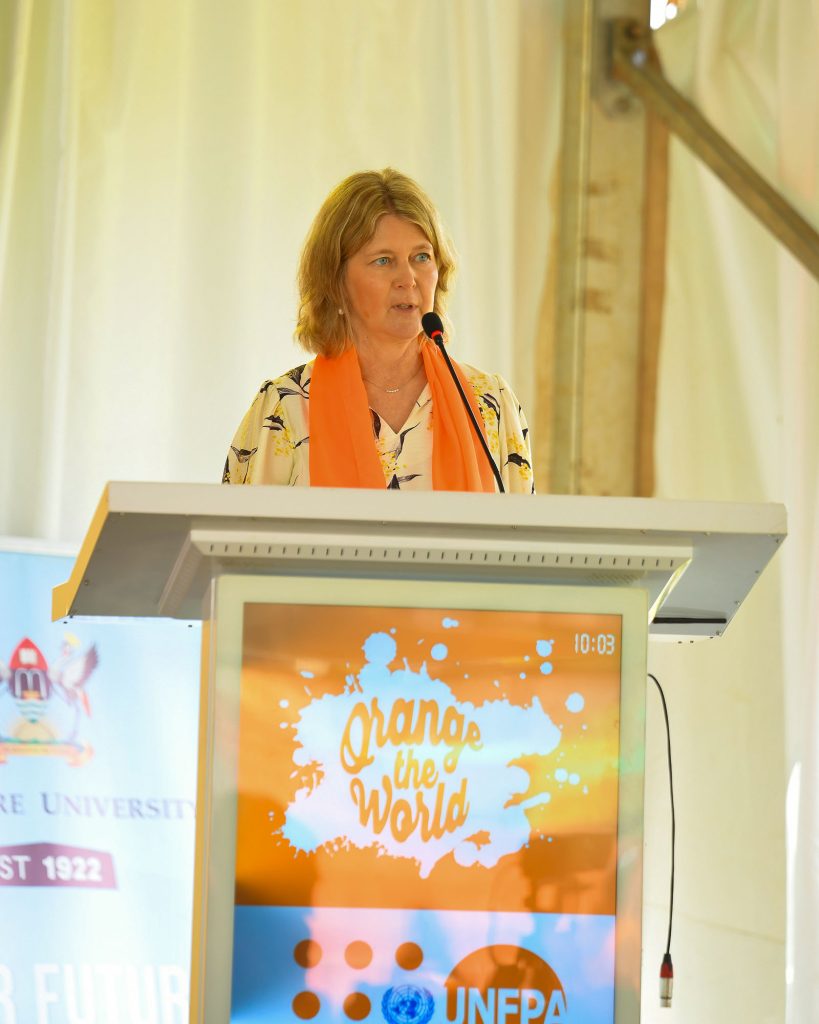 Referring to the national survey conducted in 2020, the Ambassador was concerned about the escalating burden of gender based violence in Uganda when she said, "the Survey highlighted that 95% of women and girls experience physical or sexual violence since the age of 15."
She therefore emphasized the Global 16 Days of Activism as key international movement to increase awareness and advocate for an end to Gender Based Violence. The Ambassador also mentioned that preventing and responding to Gender Based Violence is a cornerstone for Sweden's commitment to promote democracy, human rights and gender equality and this is done as an investment in a society that upholds the principles of equality, dignity and justice.
She acknowledged the full participation of university students in all campaigns and activities geared towards achieving gender equality as well as ending Gender Based Violence when she said, "You are the leaders of tomorrow and you have an opportunity to build a future where everyone can thrive. So please use today to take an active stand against Gender Based Violence."
Every year Uganda joins the rest of the world to enhance the global campaigns on 16 Days of Activism against Gender-Based Violence and also add a voice to the call for an end to violence against women and girls.   These campaigns run from 25th November (the International Day for the Elimination of Violence against Women) until 10th December of the Human Rights Day.
The United Nations Secretary-General's UNiTE by 2030 initiative calls for global action to increase awareness, galvanize advocacy efforts and share knowledge and innovations to help end all types of violence against women and girls.  This year 2023, the UNiTE campaign theme is; Invest to Prevent Violence against Women & Girls.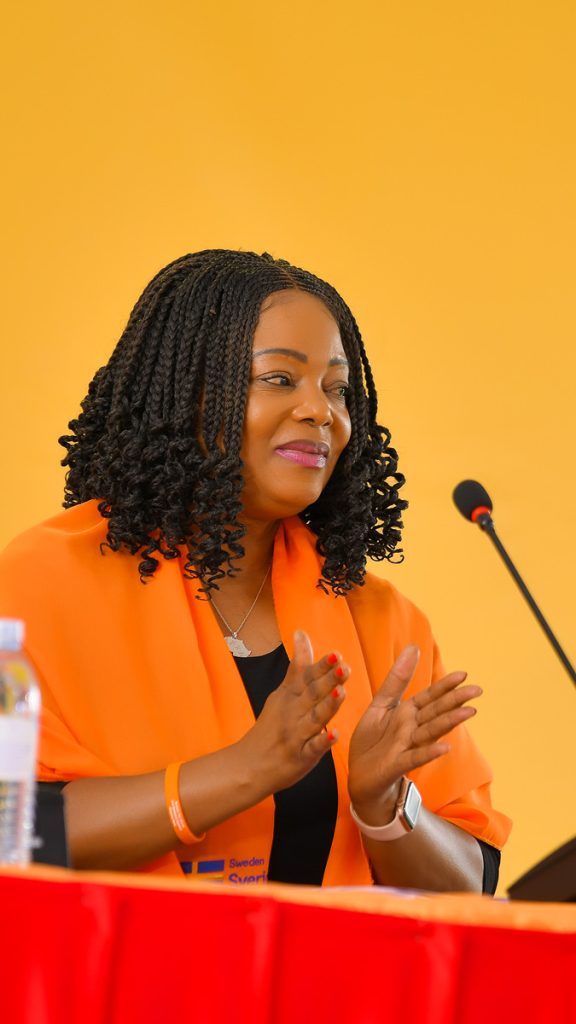 Over the years, Makerere University through its Gender Mainstreaming Directorate and School of Women and Gender in partnership with UN Women and many other partners have been at the fore front to support the campaign on 16 Days of Activism against Gender Based Violence in Uganda. This has been done through debates, theatre forums, student dialogues, thematic artistic presentations, media exposures, drama and music skits presentation, and student peer led discussions and quarterly competitions.
This year 2023, the University in partnership with the Embassy of Sweden, UN Women and United Nations Population Fund (UNFPA) unveiled the Orange Pledge. According to Eric Tumwesigye the Senior Gender Specialist at Makerere University Gender Mainstreaming Directorate, this campaign calls upon government, policymakers, activists, civil societies, academicians, students and all members of community from all parts of the country to make their heartfelt pledges towards ending Gender Based Violence in Uganda and the rest of the world.
The UN Women Country Representative Paulina Chiwangu recognized the investment Makerere University, the Embassy of Sweden and UNFPA have made to end violence against women and girls. "Thanks to our collective efforts, the silence that used to shroud violence against women has now been broken" said.
In the same spirit, she acknowledged the progress Makerere University has made in establishing and implementation of the University's Policy and Regulations against Sexual Harassment to protect students and staff from potential abuses of power and conflict of interest. She also applauded the increased support and training for students and the strengthened mechanisms for investigations that allow students and staff to anonymously report sexual misconduct.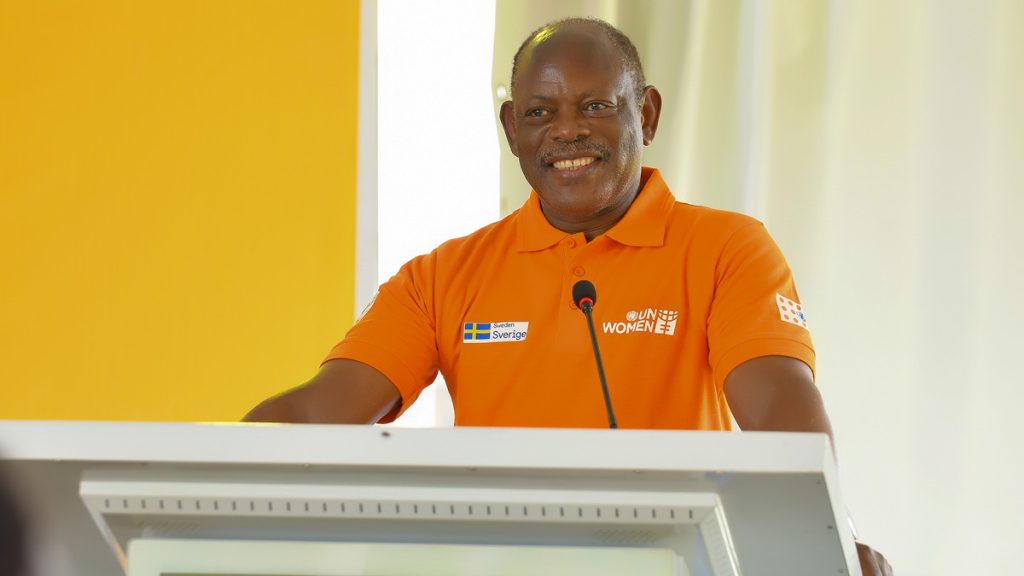 "We are however, aware that despite this, sexual harassment is still happening in the university and that not many students report to the authorities when they experience it. It is therefore, our humble appeal to the university leadership to continue monitoring the implementation of the Policy and Regulations Against Sexual Harassment, take all allegations of sexual harassment and violence seriously, ensure that all personnel have information on available support services and take action to ensure that perpetrators are held accountable."
Reaffirming the University's position in fighting GBV and particularly sexual harassment, the Vice Chancellor of Makerere University Prof. Barnabas Nawangwe was highlighted the various measures Makerere University has put in place to prevent and respond to Gender Based Violence. To him, the Policy and Regulations against Sexual Harassment; the appointment and capacity building for the Vice Chancellor's Roster of 100 eminent people from the various colleges and administrative units; recruitment and training of the Gender Mainstreaming Programme Student Peer Trainers and setting up Sexual Harassment Investigation Committees are bigger milestones to celebrate.
He appreciated the move by the Gender Mainstreaming Directorate and all the partners to embrace entertainment and artistry as a critical advocacy and awareness tool to reach several communities especially the youth.
"We firmly believe in the transformative power of music and the arts in promoting social change. Music and art does serve as a powerful medium to advocate for the world free from violence especially violence against women," said to Mr. Dainel Alemu, the UNFPA Deputy Country Representative.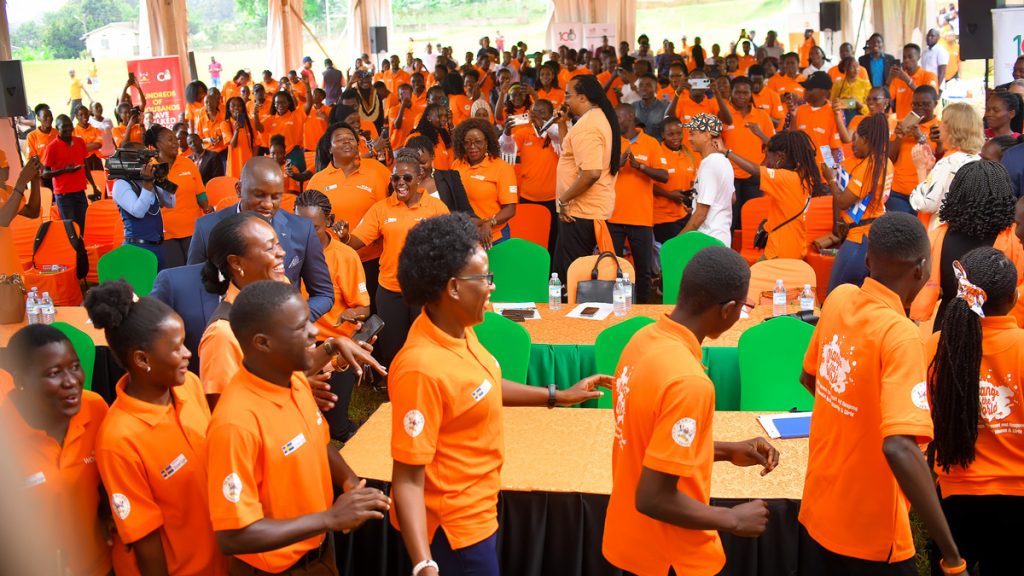 "It is heartening to see artists like Navio taking a stand and using their influence to challenge harmful norms. As we revel in the beats and melodies, let us not forget he underlying message that everyone , regardless of gender, has a role to play in fostering a world where everyone is free from shackles of gender based violence," he added.
Speaking at the Press Conference at Makerere University Rugby Grounds, Navio said that for the 20 years he has been an activist of Gender Based Violence, he has faced the reality of many young girls and women in Uganda being victims of sex and physical abuse. He therefore sent a huge condemnation to men especially artists that who are perpetrators of Gender Based Violence and called for serious government action and clear policies and laws against such injustices.
Navio applauded the women and men who have stood tall over the years to fight against Gender Based Violence in Uganda when he said, " As we launch the 16 days activism in Uganda and through these pledges we are making, let us be accountable for our actions. For long in our cultures, men have considered force and violence as power and protection. They have been tough to their children hence instilling fear to the extent that the children cannot freely interact with them on serious matters such as abuse and torture."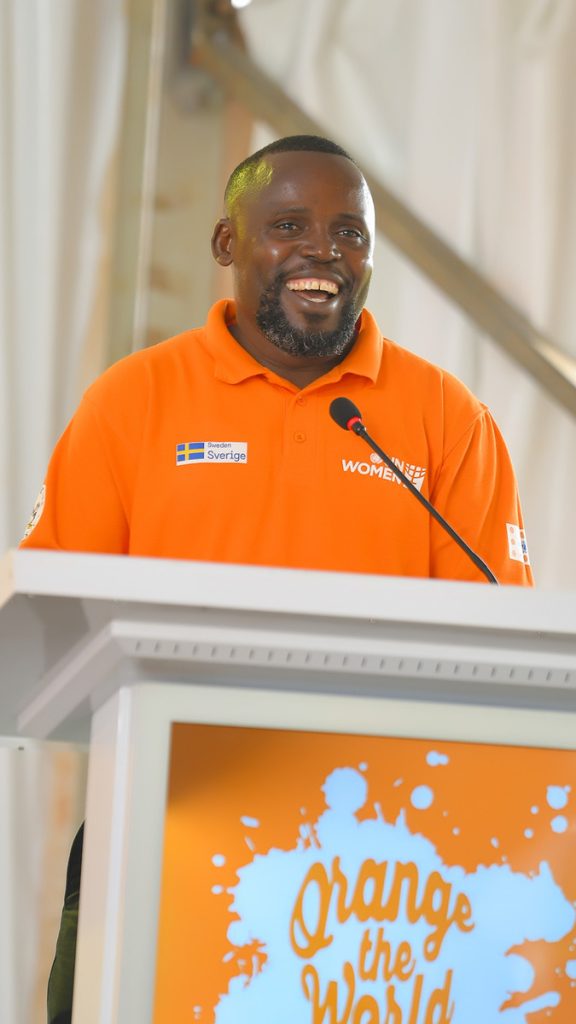 He applauded all families that have adopted the new parenting model of free conversations and interaction hence encouraging children to freely open up whenever they have challenges. Navio also acknowledged the role of his mother Mrs Maggie Kigozi as a human rights activist and a champion in fighting against Gender Based Violence in Uganda.
Jason Michael Bosak Diakité popularly known as Timbuktu from Sweden appreciated the wider platform provided by the music industry globally for artists to act as role models and champion of change. The rapper highlighted the need to respect women for their roles and support towards community development.
"I am a son and it is extremely important for me to respect my mother and all women. Also being a father to a beautiful daughter, I am always eager and looking forward to seeing the best future for her. I want daught to grow up in the world where she is able to feel safe and be allowed to freely associate without being discriminated or threatened because of her gender," he said.
Scholars & Alumni of Mastercard Foundation light up Achukudu Community, Napak District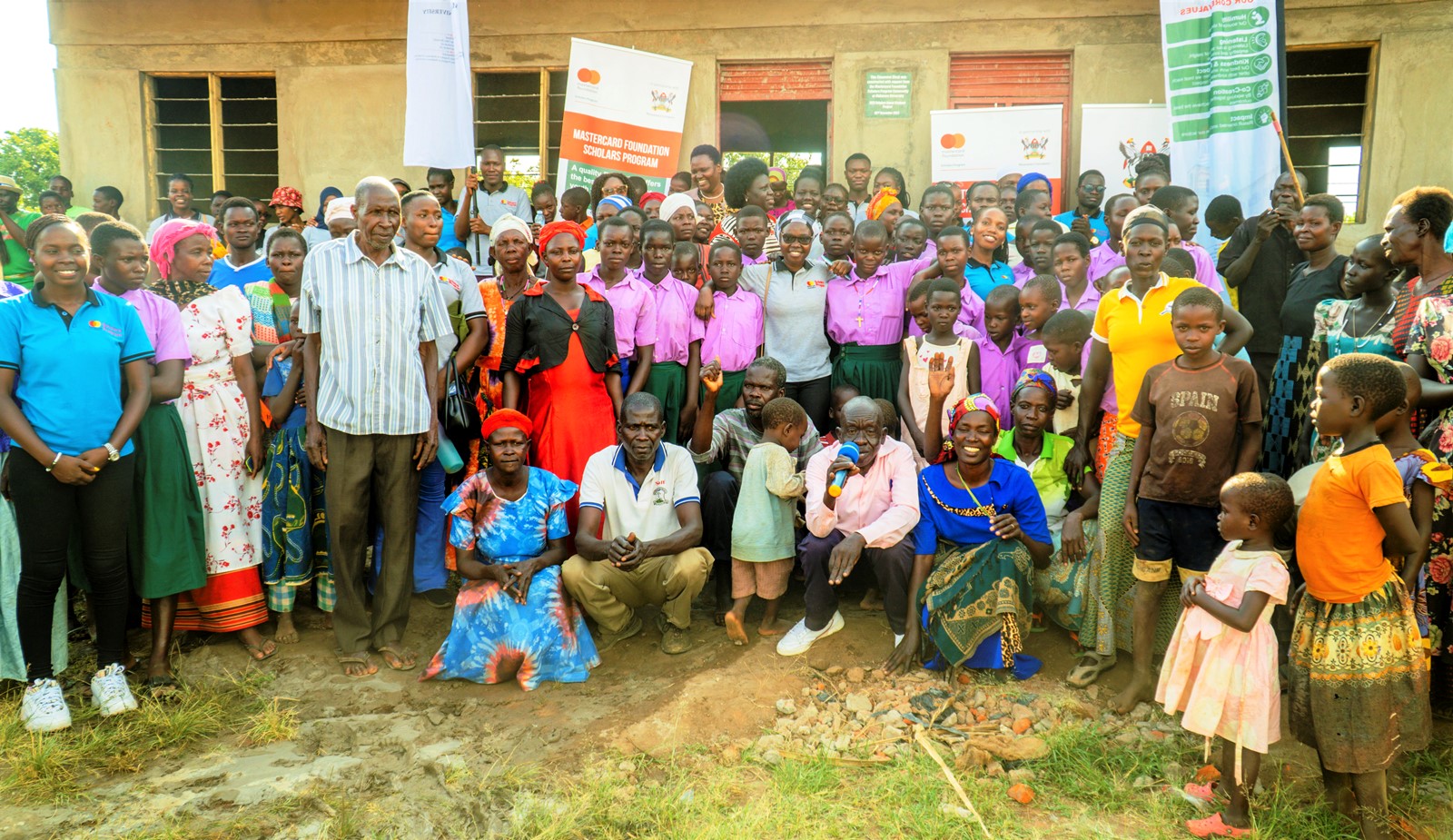 By Bernard Buteera
On Saturday 2nd December 2023, all roads led to Achukudu Community Primary School in Napak District, Karamoja sub-region, as the Scholars and Alumni of Mastercard Foundation at Makerere University commemorated their Scholars' Annual Day of Community Service (Giveback). The 2023 Scholars Annual Day of Community Service was held at Achukudu Community Primary School, Napak District in the Karamoja sub-region. Established in 2013, Achukudu Community School serves two ethnic communities—The Iteso and Karamojong.
With a total population of 1,097 pupils only three government-paid teachers, and nine community-paid teachers, the School faces a plethora of challenges. Key among the challenges is the lack of Classrooms, decent Ventilated Pit Latrines, and Desks. Therefore when the Scholars identified the School as one that deserved to be given a gift of a classroom block, it was a befitting choice!
The Scholars with support from the alumni, the Program Team, Members of the Steering Committee, and partners of the Scholars Program at Makerere University intervened by constructing a two-classroom block, which was supervised by one of the alumni who is an Engineer. Alongside the classroom block, the Scholars also provided 40 desks, helping the school meet UNEB Center eligibility criteria.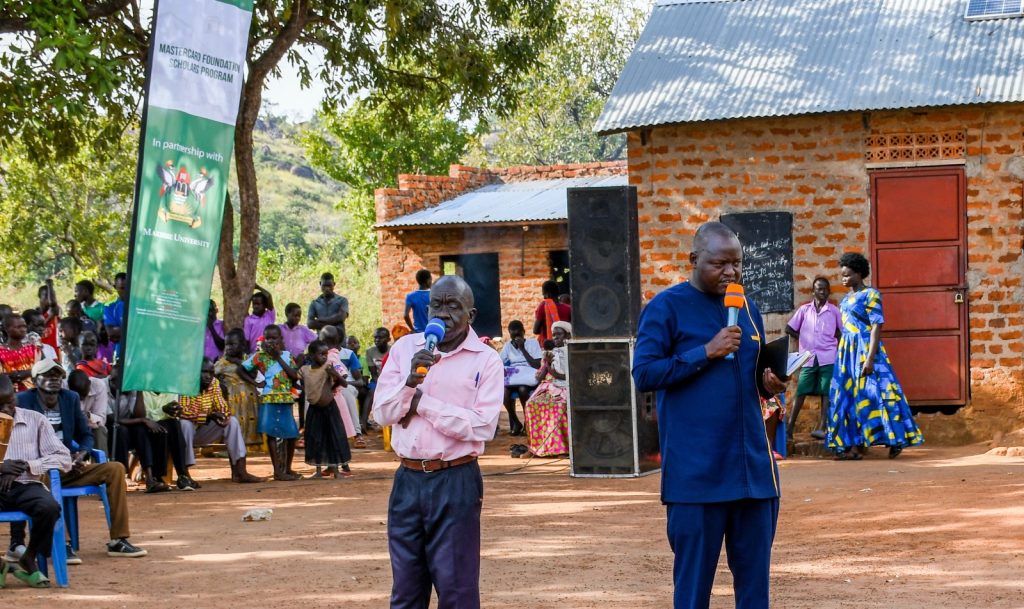 While presiding over the event, the area member of Parliament, Hon. John Bosco Ngoya, thanked the Scholars and alumni community at Makerere University for supporting the young pupils of Achukudu Primary School and the entire community by gifting them with a two-classroom block.
"Thank you Scholars and alumni of Mastercard Foundation at Makerere University for the Christmas gift of a classroom block to the young people and the entire community of Achukudu. This classroom block will go a long way in improving the learning environment of the young children of Achukudu primary school." Hon. Ngoya pointed out.
Hon. Ngoya called upon other people to emulate the Scholars and alumni of the Mastercard Foundation in embracing the spirit of giving back to the vulnerable people in the community. On his part, he donated One Million Five hundred shillings (1,500,000/=) to help the School purchase more desks, and he had earlier contributed One million shillings (1,000,000/=) towards the construction of the classroom block.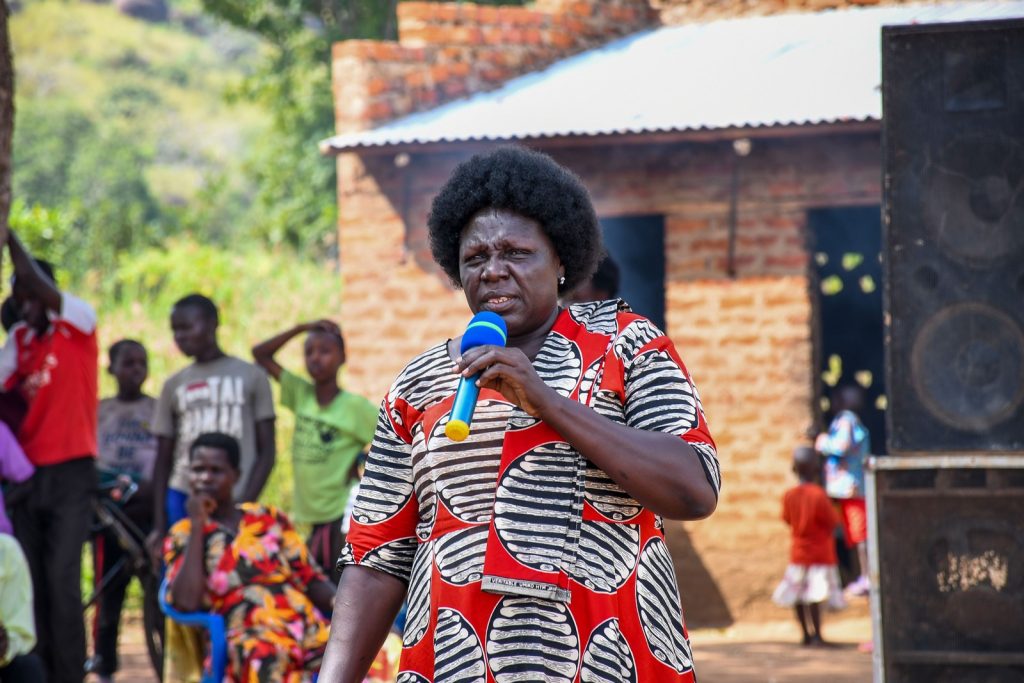 The District Education Officer (DEO) for Napak District, Ms. Joyce Nakoya, praised the Scholars Community for embracing and practicing the spirit of giving back to other people at an early age.
"Thank you Scholars and alumni of the Mastercard Foundation at Makerere for embracing the spirit of giving back to other people at such an early age. If all people gave back to the less privileged in our communities, we would have a better world for everyone." Ms. Nakoya pointed out.
Ms. Nakoya further pointed out every child deserves to study in a decent environment, therefore it was a befitting cause for the Scholars to construct a classroom block for the young pupils of Achukudu community primary school, who were studying in open grass thatched classrooms.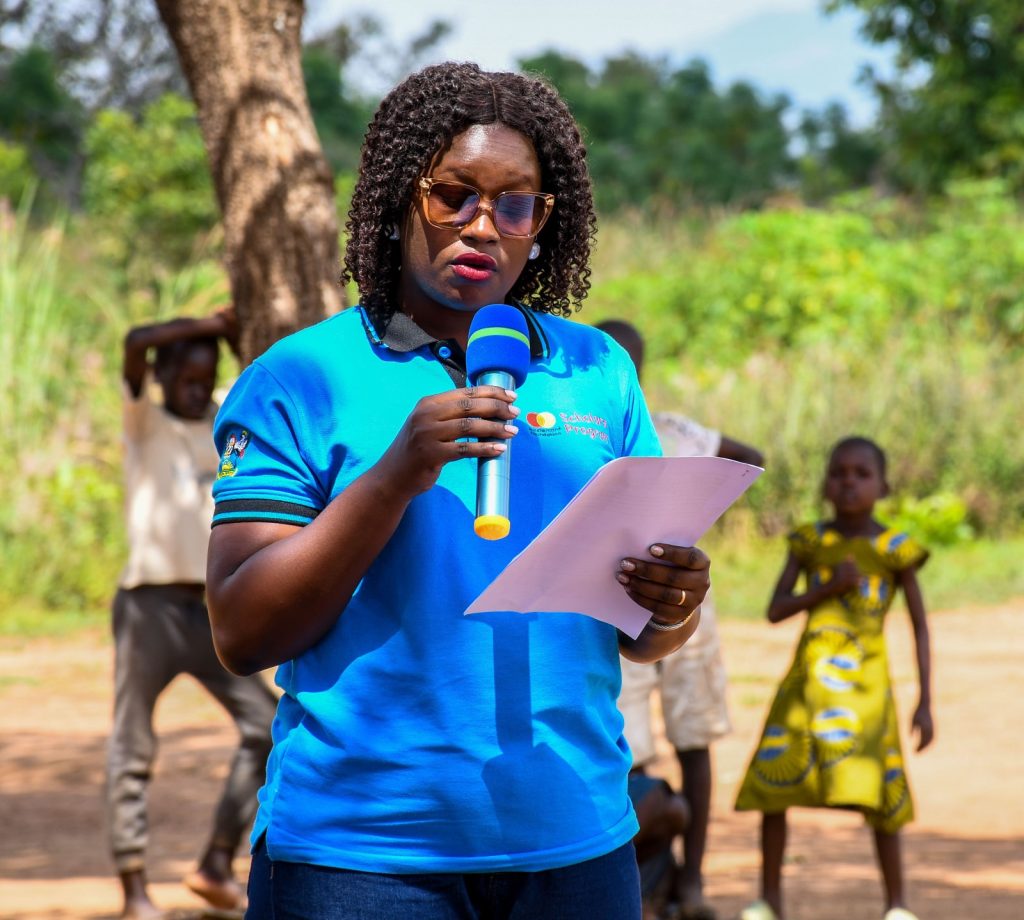 The Program Manager of the Mastercard Foundation Scholars Program at Makerere University, Ms. Jolly Okumu who led the team of Scholars, alumni, and staff to Karamoja thanked the community of Achukudu for supporting the Scholars to deliver the class block by contributing to the construction sand.
"We come here today to join with you as a community driven by a shared commitment to education, empowerment, and ethos of giving back. Today is a historic occasion as we celebrate the completion and commissioning of the classroom block, which is a remarkable testament to the transformative power of education and our unwavering spirit of community service." Ms. Jolly remarked.
The President of the Scholars Association, Mr. Godfrey Okello, thanked all the Scholars and alumni, and all stakeholders who contributed to the construction of the classroom block, which was a dream that became a reality.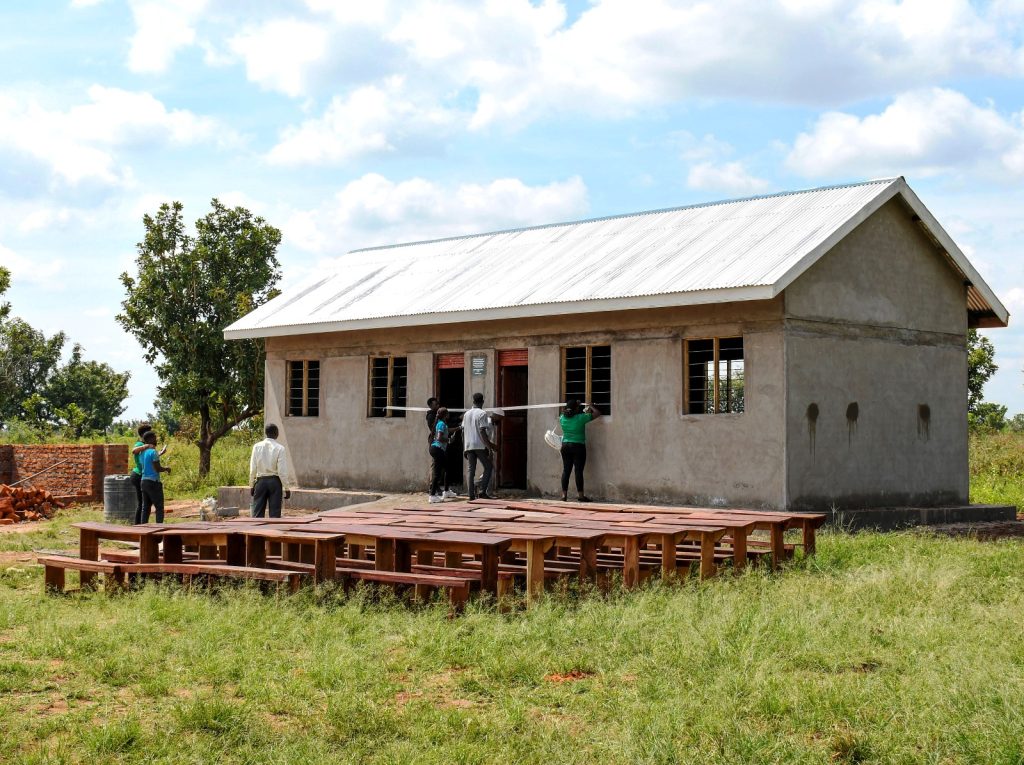 "I would like to thank my colleagues and people of goodwill who supported us to realize our dream of constructing this classroom for our young brothers and sisters of Achukudu Primary School. Together we can make a difference in the lives of our fellow young people in Uganda and Africa as a whole." Mr. Okello remarked.
The Headteacher of the School, Mr. Eryebu Raymond, who was visibly very excited was full of praises for Scholars and alumni of the Mastercard Foundation, for what he termed as an iconic classroom block they had gifted to his School.
"This day is very special to us, we will not see this day again. We are delighted to receive the Scholars and alumni of Mastercard Foundation from Makerere University, thank you for considering supporting our School" Mr. Eryebu excitedly remarked.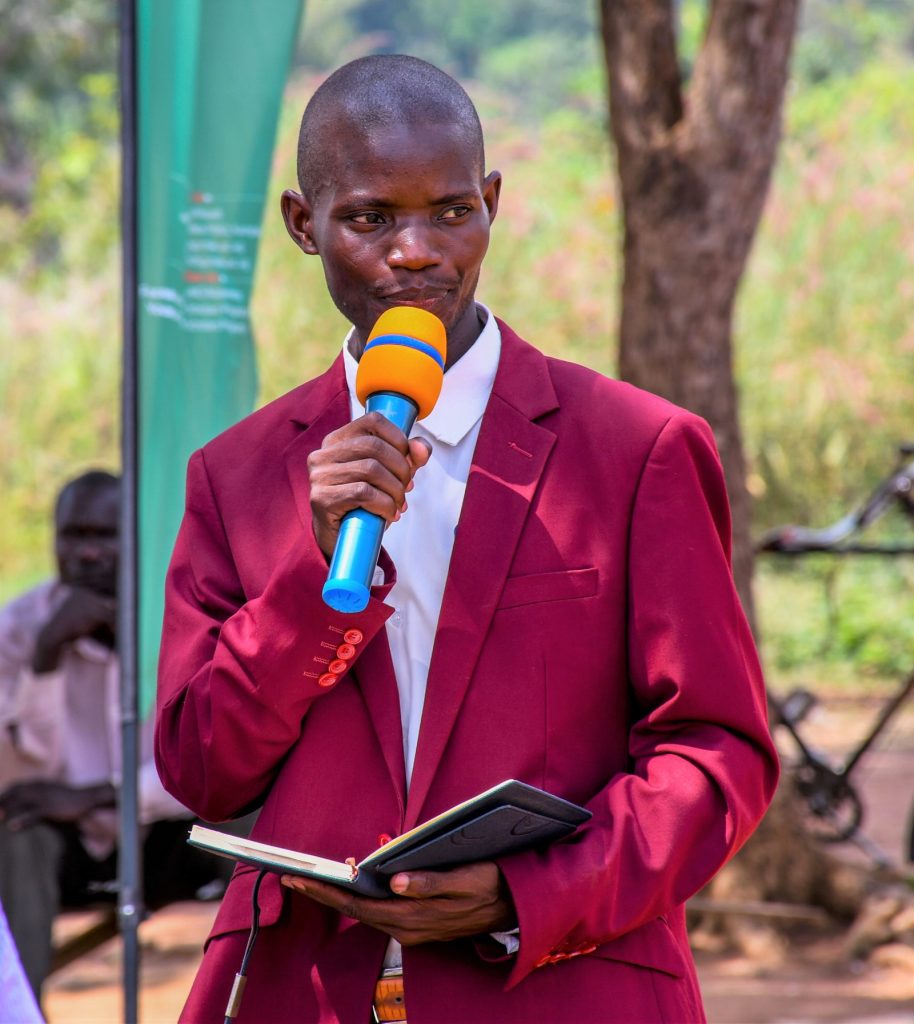 The Headteacher revealed that one of the major challenges the school was facing was an acute shortage of classrooms for his 1,097 pupils. He was therefore grateful to Mastercard Foundation Scholars for choosing to construct a two-class block for the School.
"This donation of a classroom block and Desks is a testament to your commitment to education and empowering the lives of the vulnerable people in the community. This classroom block and desks will go a long way in improving the quality of teaching and learning at our school." Mr. Eryebu further remarked.
The 2023 Scholars Annual Day of Community Service (Giveback) was punctuated with a lot of joy, pomp, and fanfare, as the pupils and the entire community of Achukudu danced and ululated at the commissioning of the classroom block. The construction of the classroom block and purchase of desks for Achukudu Community Primary School was made possible by generous contributions by the Scholars, alumni, the Program Team, and members of the Steering Committee.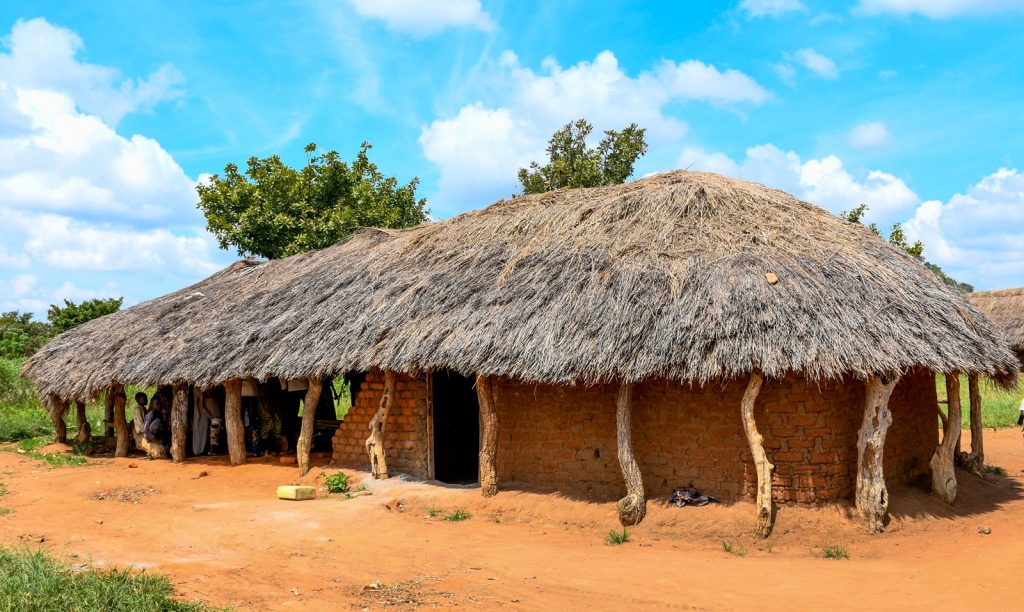 Among the Partners who made financial contributions towards the class block construction included; DFCU Bank, Post Bank, URA, Katumba Estates, Footsteps Furniture Ltd, and Sion Travels Ltd.
The Scholars and Alumni Day of Community Service (Give back) is an annual event, where Scholars and alumni of the Mastercard Foundation go out into the community to give back by providing solutions to challenges that a particular community is facing. Over the years Scholars have given back to the communities in numerous ways that range from offering professional services and erecting major projects like classroom blocks.
Bernard Buteera is the Communications and Public Relations Officer of the Mastercard Foundation Scholars Program at Makerere University.
Innovations using low cost locally available materials for point of use water treatment system unveiled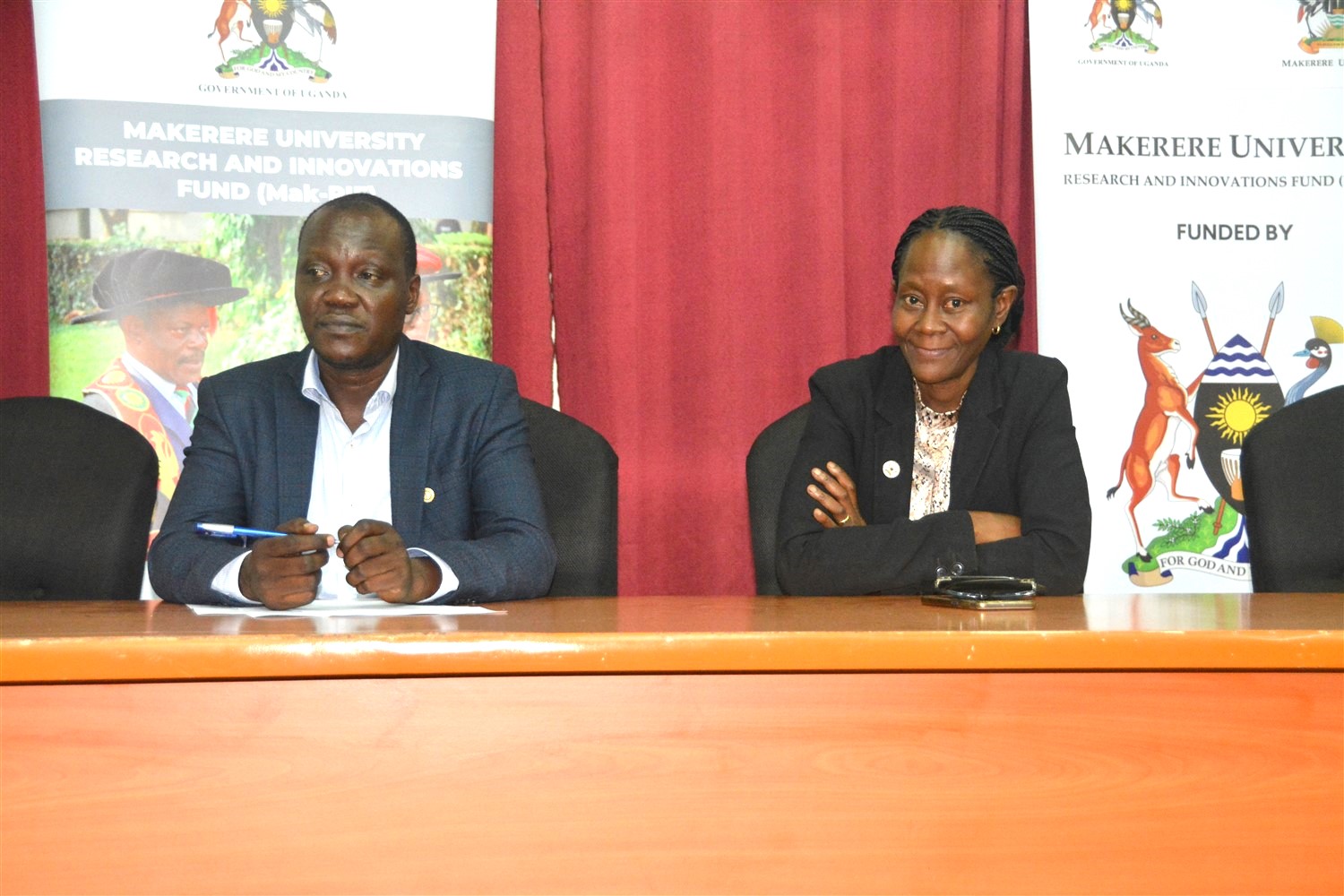 The College of Engineering, Design, Art and Technology (CEDAT) conducted a Research Dissemination of two studies aimed at the Development of Materials for point of use water treatment systems.
The investigations were conducted by a team of researchers comprised of P. W. Olupot, H. M. Kalibbala, E. Menya, G.M. Wangi, J. Jjagwe, J. Wakatuntu, M. Turyasingura, R. Walozi, C. Kanyesigye and R. N. Kulabako.
The dissemination event held on Wednesday 29th November 2023 follows the successful completion of two MakRIF supported Research projects namely; Development of rice husk based granular activated carbon for point-of-use water treatment systems and Development of zeolite-based nanocomposite filters for drinking water treatment.