Mak Management and Director General NARO Officially Welcome MaRCCI Cohort VI Graduate Students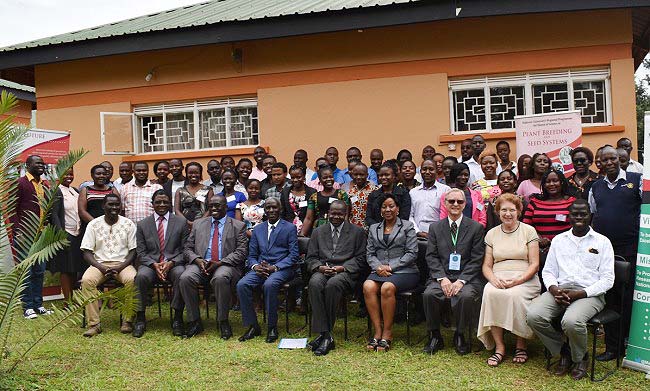 Students tipped on becoming better breeders back home
DGRT proposes turning MUARIK into a graduate training school for Mak
Makerere University Deputy Vice Chancellor in charge of Academic Affairs (DVCAA) Dr. Ernest Okello Ogwang has officially welcomed the new MSc and PhD students admitted under the Regional Centre for Crop Improvement (MaRCCI).
This was during the second day of orientation on Tuesday, 11th September 2018 where over 40 students from 13 sub-Saharan African countries are being inducted at the Continuing Agricultural Education centre (CAEC) at the University Research Institute in Kabanyolo.
The three day orientation concludes on Thurday, 13th September 2018 with briefing from Bankers and Insurers, a familiarization tour of the Makerere University main campus and briefing on programme activities and expectations from MaRCCI Administrative staff.
In his speech, Dr. Okello Ogwang commended the program for taking into account the gender aspect. The 2018 intake consists of 15 PhD students (8 females and 7 males) and over 20 MSc. students (12 females were present), representing a 1:1 ratio.
Dr. Okello Ogwang commended MaRCCI upon transforming itself from the Makerere Regional Graduate programmes in plant breeding initiated in the Department of Agricultural Production with support from RUFORUM in 2008.
He further acknowledged the 127 MSc and 57 PhD students trained since the programme was initiated, saying that as a result, Makerere has attained global reputation for the quality of its graduates who have stayed in the region applying the skills they have acquired.
"Plant Breeding is a discipline that has tremendous potential to improve the food and nutritional security and livelihoods of small scale farmers who represent 70% of the population of Uganda and sub-Saharan Africa", Ogwang noted.
He said Plant Breeding and Seed Systems (PBSS) and Plant Breeding and Biotechnology (PBB) training operates as a model programme – designed to produce fit-for purpose, market ready graduates who have the competencies and mentality to develop crop varieties that are responsive to the value chain needs, including producers, processors and consumers.
Dr. Ogwang noted that in order to address significant problems in crop production, the centre has exemplary cooperation with NARO and other national, regional and global institutes and universities. He expressed happiness that the management of the center is overseen by an advisory board of world class scientists, educators and representatives of commercial seed companies.
Similarly he added that in order to deliver exceptional quality, the programme benefits from highly trained young scientists as well as regional and international experts such as Prof. Albert Chiteka.
Dr. Ogwang said in support of global academic excellence in the applied sciences, Makerere University administration fully backs the centre's model programme through which the university can adopt progressive approaches.
"We pledge our support to assist the centre overcome the challenges of inefficient administrative processes, uptake of staff into regular Makerere positions and operational sustainability.
We are indeed eager to see the centre continue to expand in scope and quality and confident that it can serve as model for other programmes, as we pursue the goal of becoming a progressive international, research-led university producing real innovations to solve national and regional problems". Dr. Ogwang promised.
In his welcome remarks, Prof. Bernard Bashaasha, the Principal, College of Agricultural and Environmental Sciences (CAES) represented by his Deputy Dr. Gorettie Nabanoga welcomed students to CAES and Uganda.
Nabanoga was grateful for the program's culturally diverse intake, describing Uganda as a beautiful country where students will enjoy their stay and studies.
"Count yourselves privileged for having chosen Makerere so as to be part of the team developing the world in terms of food. You have the best course at heart and that is the reason you chose Uganda. Makerere sets the scene for you to become the greatest leaders, plant breeders and agriculturalists", Nabanoga told students, adding that:
"This is the best place you can ever find. It is by design that you are in Kabanyolo, a stone's throw away from a leading research centre. We are blessed to have the Director General NARO here today, a sign of our warm collaboration".
Dr. Nabanoga applauded the program choice of 50% gender distribution, saying that any successful intervention must put women at the forefront to realize success. She reassured students that despite the fact that they are going to study from Kabanyolo, they are part of Makerere and would have some time to spend on the main campus to interact with other students.
"Our role is to make it possible for you to go through the academics. MaRCCI is a centre of excellence and the programmes are designed by the Department of Agricultural Production where you belong, which falls under the School of Agricultural Sciences and then the College of Agricultural and Environmental Sciences.
As you stay at Kabanyolo, you will interact with research stations, learn the challenges we have, bring your wealth of experience, share and find solutions for a better Africa". Nabanoga implored.
"We are training you to surmount challenges and to advise management on what can be done. Be very proactive in solving problems and be sure to communicate because our role is to make your stay comfortable, "the Deputy Principal advised.
Nabanoga however told students that little can be adjusted in some areas like stipend and allocations for research because these were terms and conditions they appended signatures to upon admission.
She said the University's role is to ensure that the teaching is done and supervisors assigned to the students. The Deputy Principal advised students to fulfill their roles, balance their time and finish on time.
She also advised foreign students to establish networks with local students for guidance and to enable them cope with the social and academic work.
Dr. Nabanoga further implored students to be good flag bearers of their countries and to avoid leaving bad memories. She thanked DVCAA for the support extended from the University Administration, NARO, Dr. Richard Edema and other staff for crafting and working so hard to put the program together.
The Deputy Director General, National Agriculture Research Organisation (NARO) Dr. Yona Baguma stressed that in order to have a functional breeding program, there must be a good human resource base which must have the capacity to manage data, be able to do quality phenotyping, do quality genotyping and also have the capacity to create a clear and functional breeding pipeline.
"By the breeding pipeline, we mean that if you are breeding for drought adaptation, you must know what it takes you from the point you select the parents through crossing them, up to the time when you get the product that is adapted to drought, "he said.
He pointed out that at present time, if you are breeding for resistance to fall army worm; the pest that is ravaging the maize, it means that from the time you select the parents, make the crosses and then select the best candidates for resistance or tolerance to the pest.
Dr. Baguma also the Board Chair MaRCCI noted that the best functional breeding program must have the capacity to design products that are suited to different industries for food, feed and for nonfood applications.
He observed that most breeding programs in Africa today have a lot of challenges ranging from low human capacity which require continued training of more plant breeders.
"They are very low in terms of funding and above all they are low in terms of their capacity to manage quality data that can be used for reference in future, you are on board because you have the capacity to manage a breeding program, without data you will walk along streets well knowing that you are not breeders", he added.
He stated that MaRRCI has got a good international rating noting that the students are lucky to be part of it to get knowledge and other tips which can help their respective countries get to another level.
Baguma applauded Dr. Edema and his Deputy Prof. Paul Gibson for writing the proposal which materialized into a centre of excellence. He told the students not to focus on the infrastructure but on the academics noting that while he was at Makerere in 1986, the whole research institute was filled with bushes.
"It was emerging out of the bush war and it was the dining and the lecture room that were visible, we persevered and studied and changed its look. This centre which stemmed from a small meeting at royal suites where the proposal was written, has given it a different look, "he revealed.
He challenged the students to understand how to do things that will benefit their countries, saying that a degree that is not beneficial to society is as good as nothing.
"You must know from today that if you fail to learn, you will never learn. You need to create demand around yourself because if you miss out on this, you will be like any other person. Commit time and put away all the destructions surrounding you.
Africa is looking for high quality experienced experts and if you are the leaders of tomorrow, you need to emerge as experts, "Dr. Baguma encouraged.
He expressed pride at being associated with NARO which has the best human resource base with the highest number of PhDs.
The Deputy Director, Directorate of Research and Graduate Training (DRGT) Assoc. Prof. David Okello Owiny hailed Dr. Edema and Prof. Gibson for the initiative and keeping the fire burning. He also congratulated students upon getting the award to study under MaRCCI.
Owiny implored students to be mindful of what they want to achieve at the end and advised them to register so as to qualify as students of Makerere. He however decried the delaying tactics by some supervisors who make it hard for students to complete on time and advocated for expansion of the scope of supervision to ensure timely graduation by bringing on board expertise from private universities.
Dr. Owinyi informed students that teaching; supervision and examination will be handled by the CAES and NARO. He implored program directors not to restrict supervision only to crop scientists, saying supervision can be done by veterinarians especially in aspect of technology.
Advising students on their social life, Dr. Owinyi implored those with families to keep in touch so as to avoid crumbling, "find a way of killing boredom by visiting friend's functions, engaging in church activities and playing games."
He reported that in the January 2017 Graduation, CAES presented 18 PhD students out of the 72 university wide number.
"Last year, CAES was second to the College of Health Sciences which had 19 PhDs. Makerere is moving to a research-led university and this means an increase in our graduate output and number of foreign students and impact, number of staff and research output and publications.
Dr. Owiny however said the university should know that there other new entrants in graduate output including MUBS which is set to present its highest number of PhDs from 1 – 11 at the next graduation ceremony.
He attributed this to their strategy of having a special school to train graduates. He proposed the need for Makerere to turn MUARIK into a school for graduate training for all university units.
"MUARIK has a good environment. Why not turn this research institute into a graduate school for all MSc and PhD programmes. MUBS has succeeded by creating such a school headed by the Dean.
This will strengthen the college because we already have the basic infrastructure.
Given the capacity of 500 graduate students who cannot be handled at the main campus, yet most of the research is done at Kabanyolo, this can easily increase on the number of students recruited.
It will also increase the research output in terms of publications and graduate students who will complete and in turn increase the visibility of Makerere University. This in one way answers the quest for Makerere to be a research led university.
What we need here are student's hostels and university buses running say in two hour intervals so that if you are a lecturer, you know and plan accordingly.
Let's make the lives of international students easy," Dr. Owiny suggested.
He also implored students to avoid dirty politics and troublesome spots that may land them into problems and always seek advice in case of challenges.
Article Compiled by;
Jane Anyango and Agnes Nankebe Nantambi,
Communication Office CAES.
Prof. Bazeyo Named 2021 Tufts University Honorary Degree Recipient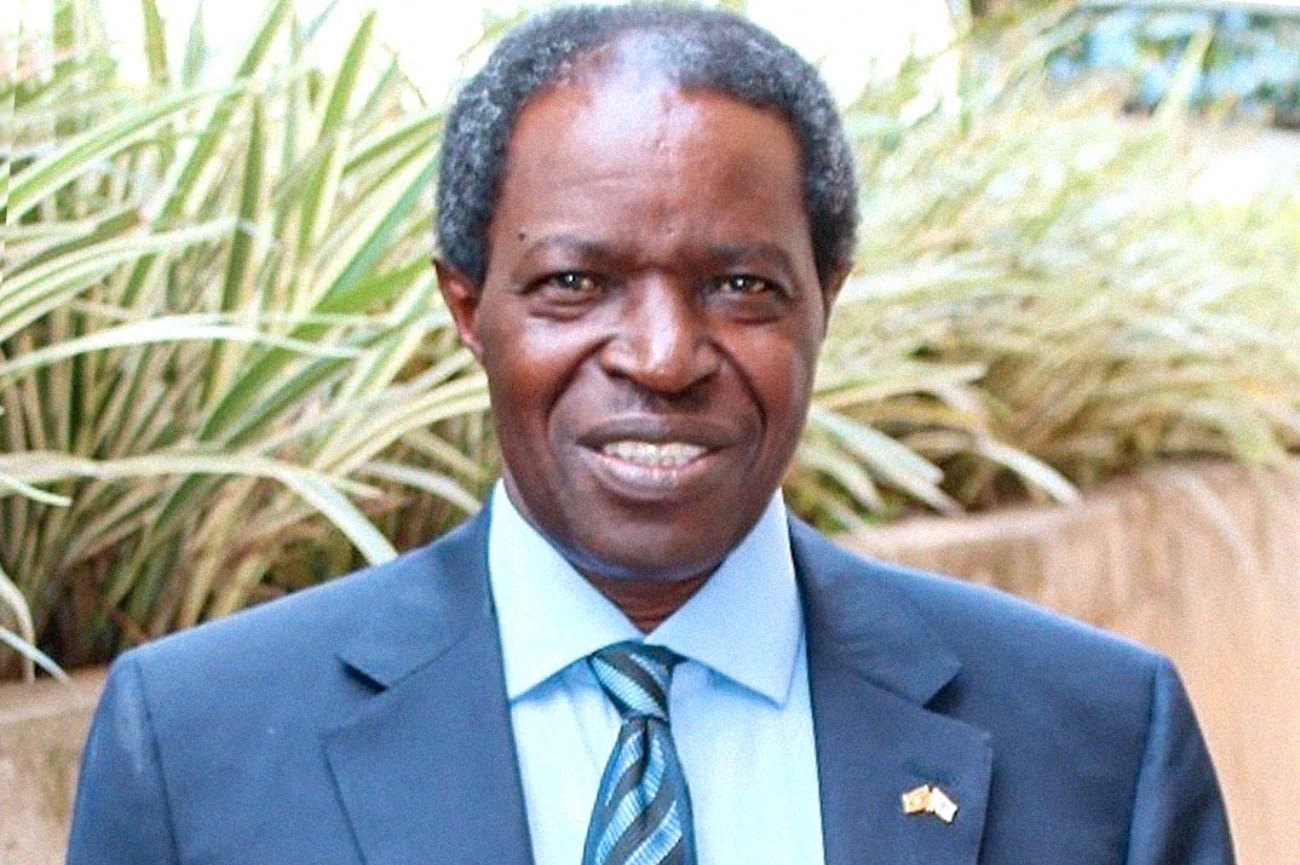 Professor William Bazeyo, a Professor of occupational medicine in the Makerere University School of Public Health (MakSPH) and former Deputy Vice Chancellor (Finance and Administration) has been named as one of six Tufts University honorary degree recipients for the Class of 2021. The announcement published 20th April 2021 on the Tufts University one-stop site for news mentions that Prof. Bazeyo will receive an honorary Doctor of Science degree.
The award is in recognition of Prof. Bazeyo's leadership in research focusing on One Health Innovation and Control of Tobacco use among others. The award also takes note of his service as former Dean MakSPH as well as chair of several boards including Uganda's National Research and Innovation Fund under the Ministry of Science, Technology, and Innovation.
The other recipients named alongside Prof. Bazeyo include; Maria B. Barrett-honorary Doctor of Public Service, Stacey B. Gabriel-honorary Doctor of Science, Hamdi Ulukaya-honorary Doctor of Humane Letters, Ofelia Zepeda-honorary Doctor of Letters, and Bryan Stevenson-honorary Doctor of Laws. The latter will also deliver the commencement address to the Tufts Class of 2021 in a virtual ceremony due to be held on 23rd May.
Makerere University congratulates Professor William Bazeyo upon his meritorious achievement.
Click here for the full announcement.
Embassy of Japan Donates Books to Mak Library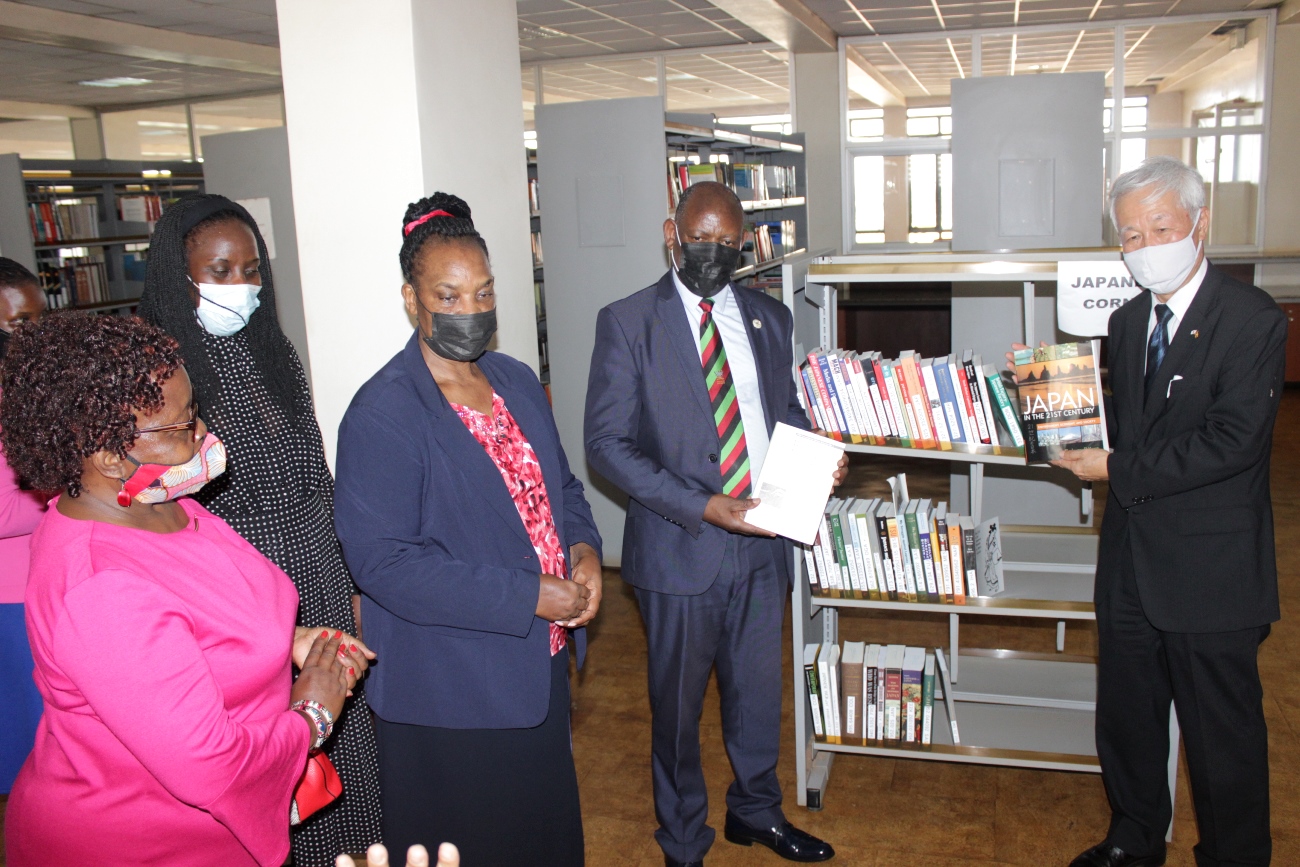 The Ambassador of Japan to Uganda H.E. Fukuzawa Hidemoto during his first official visit to Makerere University on 20th April 2020 handed over a donation 52 books and launched the Japanese Corner in the Main University Library. The donation of books on contemporary Japan was made possible by the Nippon Foundation through the "READ JAPAN PROJECT".
Welcoming the Ambassador, the University Librarian Dr. Helen Byamugisha shared that at over 12,000 square metres and seating capacity of over 2,800, the Library was one of the biggest in Africa. She added that the Library has special access and facilities for persons with disabilities (PWDs) and offers the Document Delivery Service for any materials that library users both on and off campus may require, among other services.
Turning to the benefits of digitization, the Librarian shared that though physically closed, the University Library continued serving users during the COVID-19 orchestrated lockdown thanks to its vast array of over 27,000 electronic journals and other digital resources. She therefore thanked the Ambassador for the book donation, which would enhance the library's ability to serve the needs of its diverse users.
"The book donation has already been processed by our staff and can be accessed through the electronic catalog on the Library's website from anywhere in the world" added Dr. Byamugisha.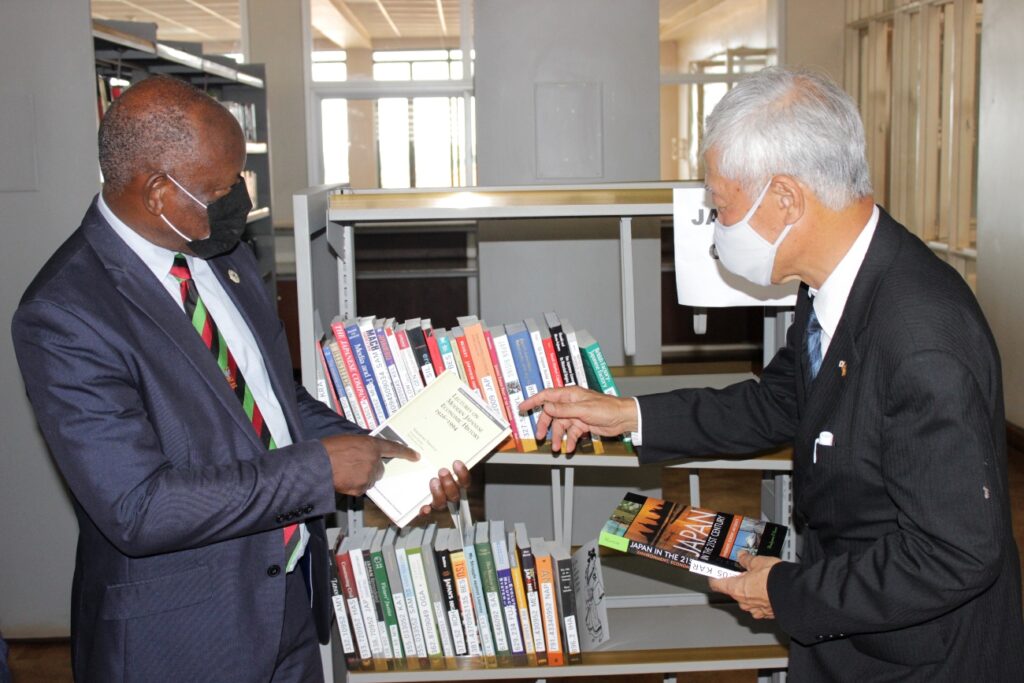 In his remarks, the Vice Chancellor, Prof. Barnabas Nawangwe said that Makerere University has enjoyed a good relationship with the Government and people of Japan, which resulted in the construction of the JICA (Japan International Cooperation Agency) building, home to the College of Natural Sciences (CoNAS). The building was officially handed over on 23rd January 1992.
He informed the Ambassador that the University, which will celebrate 100 years of existence in 2022, conducts a lot of research and is world-renowned for the large number of publications in clinical research as well as tropical medicine. The Vice Chancellor added that Makerere enjoys an excellent relationship with Japanese Universities through which staff and student exchanges are conducted.
"Japanese institutions have trained a lot of our staff and students particularly in geology and seismology and we sincerely thank you Ambassador and the people of Japan for this generous support" said Prof. Nawangwe.
The Vice Chancellor concluded by emphasizing that Makerere values her relationship with the Government and people of Japan and sincerely thanked the Ambassador for the book donation that will enhance knowledge about Japanese culture and economic success. "Makerere is an international university and we are always happy to bring more cultures and languages on board so as to further enhance the diversity of our community."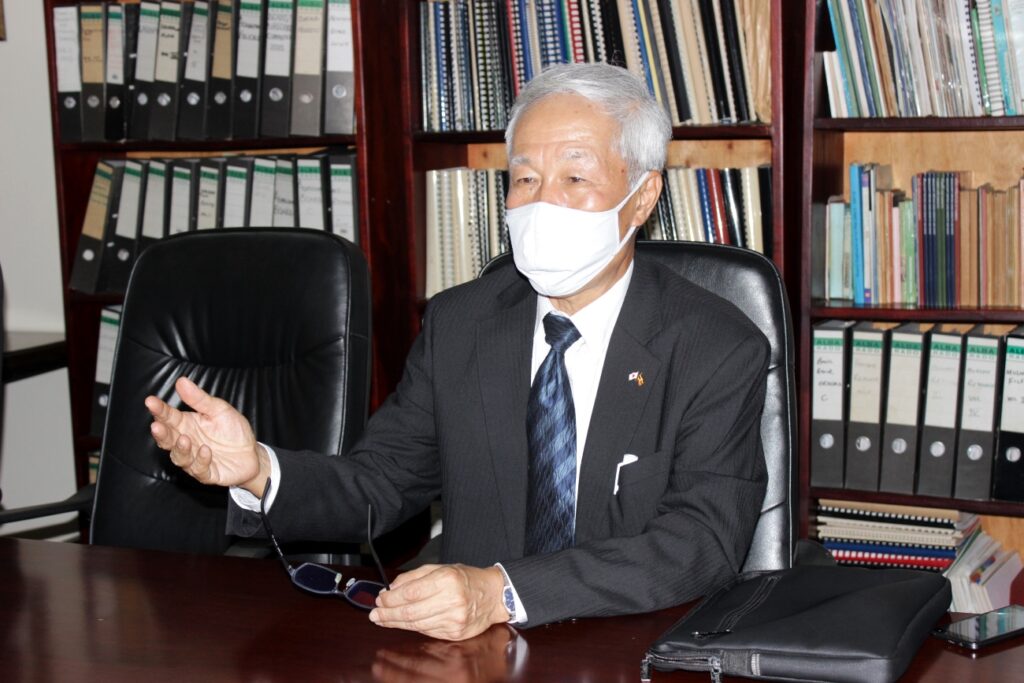 In his remarks, H.E. Fukuzawa thanked the Vice Chancellor, University Librarian and staff for the warm reception and noted that the donation was aimed at promoting the understanding of Japan among the people of Uganda, and especially students at Makerere.
"In particular, it (the donation) aims to reach out to young researchers who are interested in Japan, as well as opinion leaders and intellectuals specializing in areas other than Japanese studies" explained the Ambassador.
He reiterated that Japan has close ties with the University, by observing that eleven out of the twelve Japanese Universities that have partnerships in Uganda each have one with Makerere. "We have been sending Japanese government sponsored scholarship students to Uganda every year and many of them are graduates of this University."
H.E. Fukuzawa expressed happiness that the COVID-19 pandemic had not halted the enhancement of academic relations between Japan and Uganda and looked forward to continued collaboration with Makerere University.
The Ambassador was accompanied by his First Secretary-Ms. Tomoko Ohyama and Public Affairs Officer-Ms. Martha Nankasa. In attendance at the handover were the Deputy University Libarian-Dr. Ruth Nalumaga, Ms. Ferrie Nalusse-Head Technical Services, Ms. Maria Nankya Mwebe-Head Book Bank and Ms. Clementine Namusisi-Head Law Section. Also present was Dr. Edith Natukunda-Togboa, the Head, Department of European and Oriental Languages, College of Humanities and Social Sciences (CHUSS).
Mak Electoral Commission 2020/21 Position: Commissioner for Finance
Monday, 19 April 2021
All Students
ADVERT FOR THE POSITION OF COMMISSIONER FOR FINANCE FOR ELECTORAL COMMISSION 2020/2021
This is to inform you that the position of Commissioner for Finance of the Makerere University Electoral Commission 2020/21 has fallen vacant following the resignation of Mr. Lule Huzaifa (former Commissioner for Finance) on 19th April, 2021.
In accordance with article 50, 68 (2) and 68(4) of the Makerere University Students Guild Constitution as Amended 2016 and Makerere University Students Guild Constitution (Elections) Regulations No.1 of 2018, sections 5(b), 5b(2) and 5b(3) this is to therefore call upon persons who are interested in this position to apply to the Dean of Students.
The deadline for submission of applications is Thursday, 22nd April, 2021 at 5:00pm. Please attach a copy of University Identity Card, Admission letter and proof of registration as a student.
Yours sincerely,
Winifred Kabumbuli
Ag. DEAN OF STUDENTS