Committee Investigating Sexual Harassment at Makerere University Presents the Report to Stakeholders for Validation
On 2nd March 2018, the Vice Chancellor of Makerere University Prof. Barnabas Nawangwe appointed a five member committee headed by Prof. Sylvia Tamale to investigate the causes of the increasing cases of sexual harassment, review the Policy and Regulations against Sexual Harassment and make recommendations for its improvement, and receive submissions on sexual harassment at Makerere University. Consisting of Dr. Betty Ezati, Dr. Consolata Kabonesa, Dr. Christopher Mbazira and Dr. Aaron Mushengyezi and Gender Mainstreaming Directorate, the committee presented its first report to stakeholders for validation on 18th May 2018 in Makerere University Main Hall.
The Chairperson of the Committee Prof. Sylvia Tamale presented the report to students, staff, public and private partners of Makerere University. According to Prof. Tamale, the report provided preliminary findings of the committee on causes of sexual harassment at Makerere University, insights on the weakness and gaps in the Policy and Regulations against Sexual Harassment and suggested recommendations.
Some of the recommendations proposed by the Committee was the review of the Makerere University Policy and Regulations against Sexual Harassment and the following were suggested;
The revised document should clearly demarcate policy statement and procedural guidelines, the procedural guidelines should clearly enumerate the requirements that Adhoc committees must follow in hearing the cases.
It must emphasise that committees are quasai judicial which means that the basic principals of national justice must be observed, these include representation by Council. However, it should be clear that the committee is not a fully-fledged court, it enjoys greater flexibility, informality and freedom from strict rule of law and procedure.
The definition of students should be broadened to include former students of Makerere University.
The scope of the Policy should extend to suppliers and service providers of Makerere University.
Clause 7 which enumerates examples of sexual harassment should include examples of cyber-sex harassment such as coning through tweets, sex-texting and rape.
The Policy should not allow women attires to be imposed as a defence by perpetrators for extending away their sexually harassing behaviours.
Academic and administrative staff should fully disclose the extent and timing of their relationship whether they are marital, intimates with students and other staff members whom they are required to directly evaluate or assess.
Intimate relationship between students and university employees cannot and should not be prohibited. However, they should be strongly discouraged as they involve complications. The Policy should adopt the principal of mandatory supporting in which academic and administrative staff actively listen and be compassionate to the survivor of sexual harassment.
The Policy should not compel anyone particularly victims to report cases of sexual harassment and abuse. It is important that the decision to lodge a formal complaint is fully vested in the victim.
A penalty should be imposed on persons who take no action when a case of sexual harassment is reported to them.
Counselling and medical support to victims of sexual harassment is critical. The resources of the University Counselling and Guidance Centre should be enhanced to effectively handle the victims of sexual abuse.
The Penalties and disciplinary actions should be revisited to make them more comprehensive and should take into account the interest of the victim.
The Policy should provide for anonymous complaints, noting that such complaints are more difficult to investigate and results may be less satisfactory. The Committee noted that anonymous allegations are complicated but they should not be ignored. The University zero tolerance policy requires that we take all allegations seriously. Depending on the circumstances of each case for example how much information is provided? the university should investigate the merit of the circumstantial evidence and consider or not to pursue the case.
Makerere University should propose to parliament to amend the Education (Pre-primary Primary and Post Primary) Acts of 2008 as well as the Universities and other Tertiary Institution Amendment Act of 2006 incorporating issues of sexual harassment in educational institutions. Parliament should be advised to strengthen the Sexual Harassment Act in the Employment Act of 2006.in particular, to deal with the wrongful assumption that sexual harassment occurs only in workplaces with more than 25 employees or that it is only employers and their representatives who are capable of harassing.
Other recommendations included, the need to deeply investigate cases, providing a favourable campus environment to students and staff, awareness raising and training students and staff on sexual harassment issues.
"We are concluding the work we were assigned to do. We would like stakeholders to review the report and suggest important feedback. While handling the task, we were guided by a qualitative research method and also employed a random sampling approach. We were able to conduct 234 interviews but we deliberately interviewed more women compared to men. This is because we realised that ladies were more vulnerable to sexual harassment compared to men therefore, women comprised 59% of our respondents," she said.
She thanked management, staff, students and other stakeholders for supporting the Committee to ensure that it finalises its work on time. Prof. Sylvia Tamale acknowledged the tremendous role of respondents during the investigations. "I appreciate your cooperation and the information you provided made our work easier," she said. .
In the same spirit she acknowledged the role of media when she said, "the high profile cases that were reported in the media helped to create a spotlight on the evils of sexual harassment hence increasing awareness on the issue."
The Vice Chancellor of Makerere University Prof. Barnabas Nawangwe commended the work done by the Committee. In the same spirit he appreciated the support from partners to ensure that Makerere University is free from sexual harassment.
"Makerere University is the epitome of knowledge. The university is tasked to nurture and impart knowledge to people. It is expected that the people to whom we impart knowledge must be free from any impediment to learn. They should be free from any form of harassment. It is hard for a person to learn while facing sexual harassment. Sexual harassment is not only criminal but it is against human moral. It is the worst form of abuse against human dignity," said the Vice Chancellor.
In line with the Constitution of the Republic of Uganda that guarantees all Ugandans equality, dignity and non-discrimination, Makerere University reaffirms its zero tolerance for sexual harassment and is committed to creating an environment that respects and protects the rights of all its members, male and female.
The Makerere University Policy and Regulations against Sexual Harassment applies to students, academic staff, administrative staff, and support staff of Makerere University as well as to others who participate in Makerere programmes, activities and employment in both on-and off-campus settings.
"I would like to reiterate the University Council's decision that anyone facing allegations of sexual harassment should be suspended and investigations expedited. We are extremely clear that we shall not tolerate any form of sexual harassment by anyone to anyone," he emphasized.
During the interactive session chaired by the Dean School of Women and Gender Studies, Makerere University Dr. Sarah Ssali, selected prominent panellists discussed the draft findings presented by the chairperson of the Investigation Committee. These included the Vice Chairperson of Makerere University Council who is also the Executive Director of FIDA-Uganda Hon. Irene Ovonji Odida; Makerere University Guild President, H.E Papa Were Salim; Principal, College of Humanities and Social Sciences Prof. Edward Kirumira and the Director for Gender and Community Development in the Ministry of Gender, Labour and Social Development Ms Jane Mpagi. Drawing from their constituency representations and personal experiences, the panellists discussed the details of the report in relation to the institution's stand against sexual harassment and provided further input.
According to Hon. Irene Ovonji Odida, Makerere University leadership should take full responsibility of averting sexual harassment in the university. "We should be responsible for this at all levels of leadership with the top management inclusive," she said.
Ms Jane Mpagi, in her response to the findings revealed that there are so many sexual harassment cases reported not only from Makerere University but also in other societies. "Sexual harassment has not just started today. We also experienced it in our years though by that time the culture of silence was too much. Today we are receiving so many reports on sexual harassment not because the vice has escalated. It might be the limelight given to the issue," she said.
Ms. Mpagi thanked the Government of Uganda for providing a conducive environment that has enabled women and girls to be bold and speak on issues of sexual harassment. She also appreciated Makerere University for always being at the fore front when it comes to issues concerning academics in the country. "You were the first to come up with the policy on sexual harassment, then you established the Gender Mainstreaming Directorate and now you have championed the investigations against sexual harassment, thank you so much," she appreciated.
Prof. Edward Kirumira encouraged the University to implement a process of de-hierarcharisation to reduce on the bureaucratic nature of the institution. "We should find an easier way of moving institutional procedures in areas such as registration, marking, and activities in the examination period, clearance and reporting mechanism without using the long processes," he said.
"On top of creating awareness and sensitizing students on sexual harassment and the Policy, students should be confident that when they report their cases, the University leadership will take action. The Guild reaffirms its zero tolerance for sexual harassment and is taking awareness campaigns on sexual harassment a priority," said the H.E Papa Were Salim, Makerere University Guild President.
Article by Nabatte Proscovia, Mak- PR Office and Gender Mainstreaming Directorate

Resumption of Teaching and Learning for Final Year Medical Students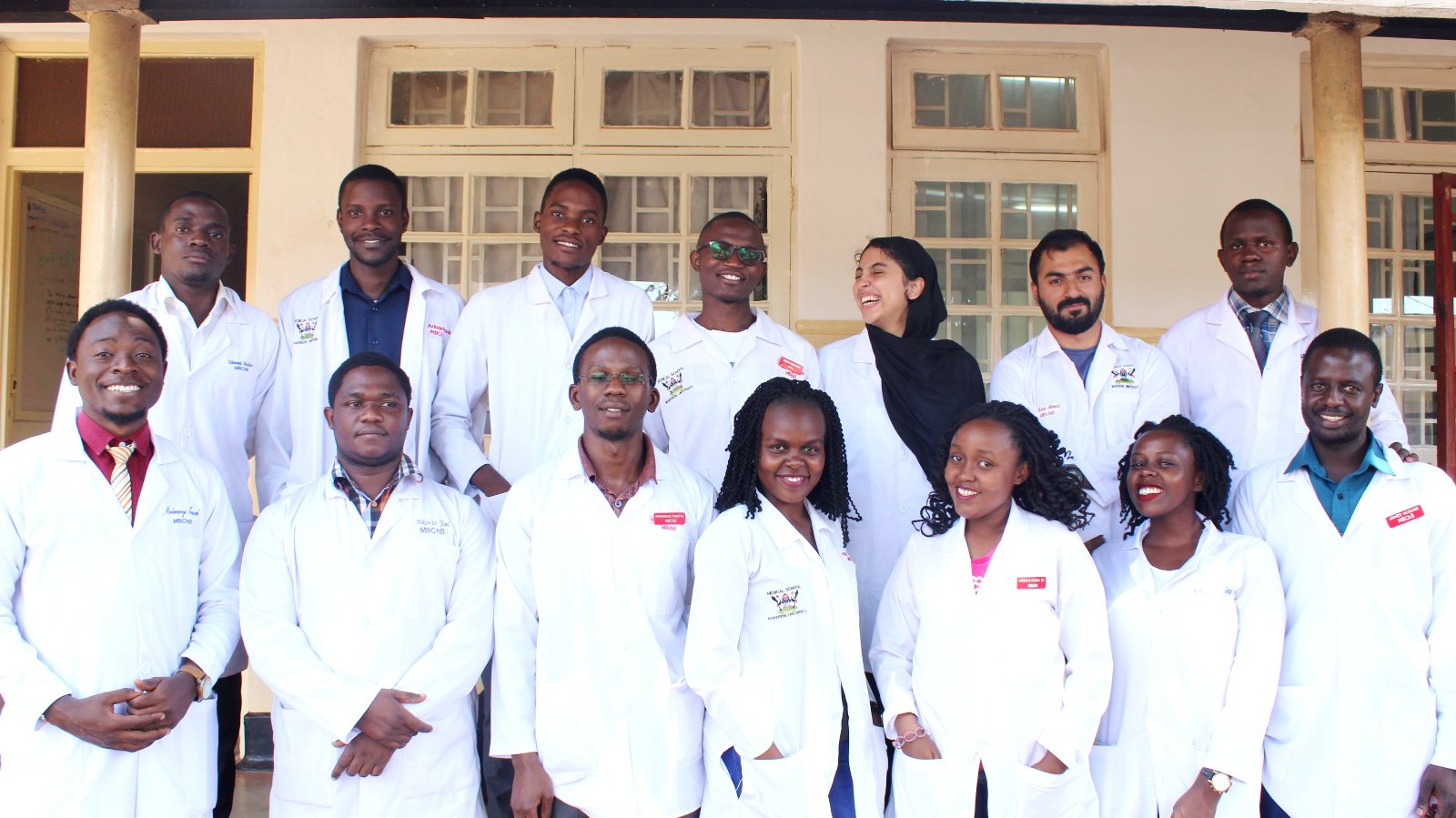 Featured image: Members of the Makerere University College of Health Sciences Students Association (MAKCHSA) pose for a photo ahead of their 1st College Open Day and Alumni Convention held on 1st November 2019.
This is to inform all Final Year Medical Students that teaching and learning activities which were halted following the closure of education institutions in a bid to prevent the spread of COVID-19, will resume on Saturday 3rd October 2020.
You are therefore required to report to your respective Deans in the College of Health Sciences for detailed information.
Note that you must strictly adheare to the Standard Operating Procedures put in place by the Ministry of Health to combat the spread of COVID-19 which include among others:
Mandatory wearing of a clean mask covering the mouth and nose
Social distancing
Washing of hands regularly and/or sanitizing hands
Further note that the schedule of the remaining semester shall cover 8 weeks (5 weeks for teaching and learning and 3 weeks of examinations).
Alfred Masikye-Namoah
ACADEMIC REGISTRAR
17th September 2020
IAEA Marie Sklodowska-Curie Fellowship Programme for Female Students
Featured image: Female graduands pose for the camera in January 2018 after a session of the 68th Graduation Ceremony, Makerere University, Kampala Uganda. Photo credit: GMD
The application process has opened for female students interested in applying for a scholarship from the IAEA Marie Sklodowska-Curie Fellowship Programme (MSCFP) towards their Master's degrees in nuclear science and technology, nuclear safety and security or non-proliferation. The fellowship will provide scholarships for up to 100 selected applicants annually, to help enhance the pool of qualified young women in the nuclear field. It also aims to support an inclusive workforce of both men and women for the future, contributing to global scientific and technological innovation from all over the world as diversity gives opportunity to greater creativity and productivity. Candidates have until midnight on 11 October 2020 to apply for the first 100 scholarships.
RUFORUM Thought Piece on COVID-19: Are we prepared for an integrated Africa?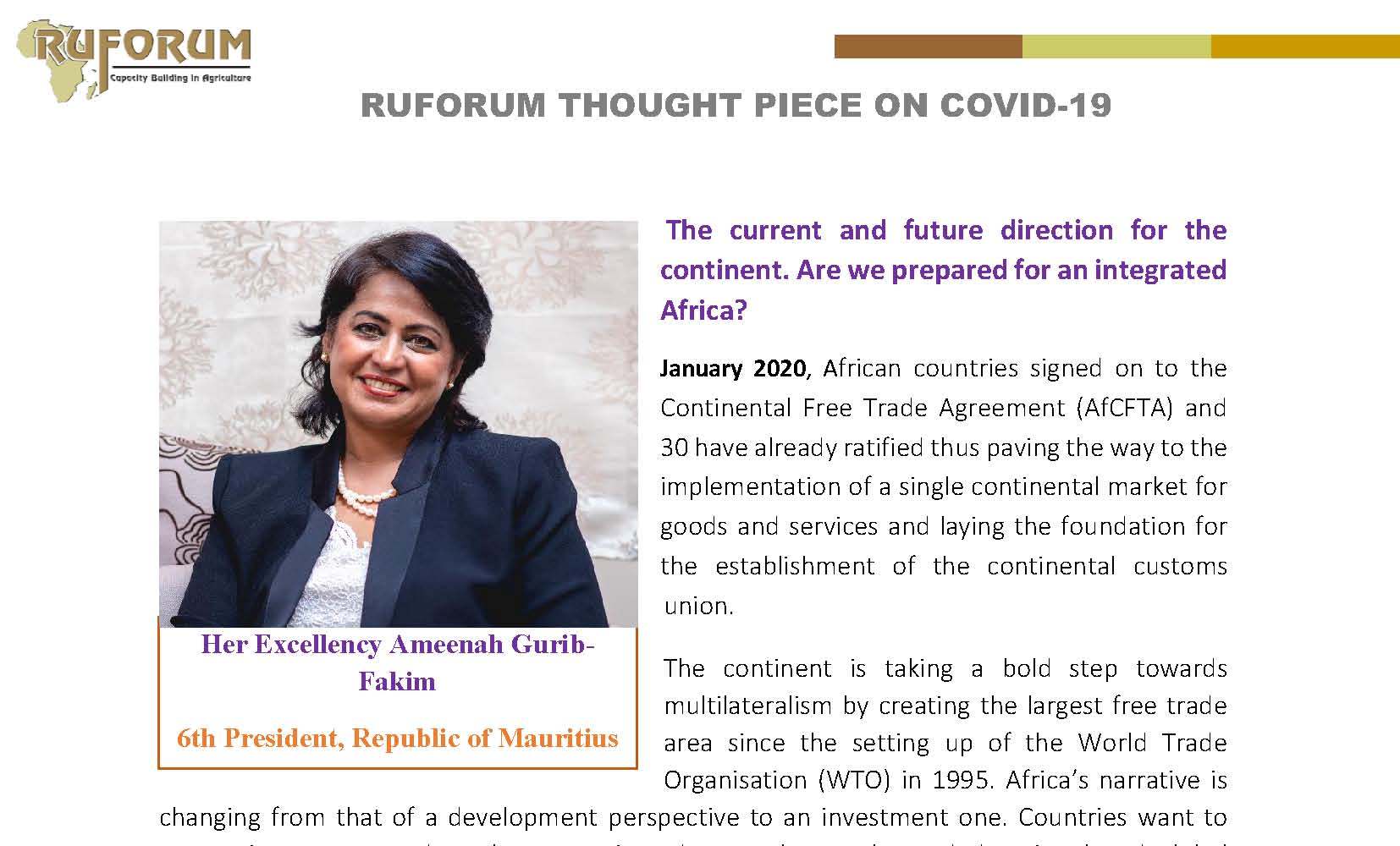 Featured image: RUFORUM Thought Piece on COVID-19 by Her Excellency Ameenah Gurib-Fakim, 6th President of the Republic of Mauritius
The current and future direction for the continent. Are we prepared for an integrated Africa?
January 2020, African countries signed on to the Continental Free Trade Agreement (AfCFTA) and 30 have already ratified thus paving the way to the implementation of a single continental market for goods and services and laying the foundation for the establishment of the continental customs union.
The continent is taking a bold step towards multilateralism by creating the largest free trade area since the setting up of the World Trade Organisation (WTO) in 1995. Africa's narrative is changing from that of a development perspective to an investment one. Countries want to attract investment and at the same time deepen the much needed regional and global engagement especially as we emerge out of the COVID 19 era.
Over the past few years, Africa's annual GDP growth has consistently outpaced the global average and was expected to remain at least 6% until 2023. Even if COVID 19 has changed these projections; it is a fact that by 2050, the continent's population is predicted to be over 2.5 billion, according to the United Nations and the World Economic Forum – more than the combined populations of China and India today. The richest 10% of the African continent will be driving demand for consumer goods and services and this represents at least 200 million people.