UBA Chairman Tony Elumelu Visits, Inspires and Challenges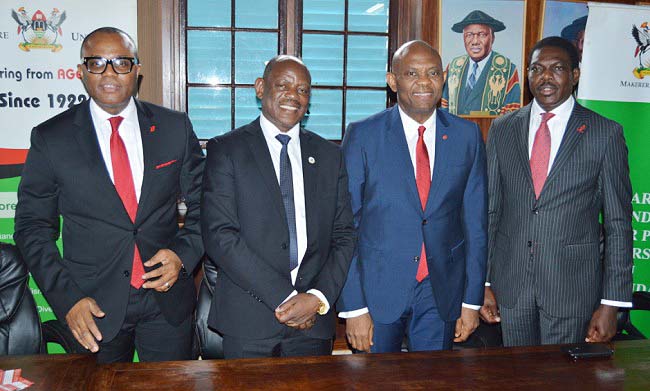 Mr. Tony Elumelu is a visionary Pan-African entrepreneur and philanthropist founder of Heirs Holdings; an African Investment Holding Company and the beneficial owner of the United Bank for Africa (UBA). UBA is the 9th largest commercial bank on the African continent with a global presence in New York, London and Paris. The fact that his Heirs Holdings is also present in twenty African countries is a good signal that the Nigerian economist, entrepreneur and philanthropist is a busy man. Nevertheless, Makerere University remained top on the agenda of his four day visit to Uganda.
The endless drizzles that preceded Mr. Elumelu's visit to Makerere University on 11th April 2018 could only be a sign of the blessings that were to follow. Upon arrival, he was received by the Vice Chancellor Prof. Barnabas Nawangwe and ushered into the Council Room where he met with Members of Central Management and the leadership of the College of Business and Management Sciences (CoBAMS).
Accompanied by the Regional Executive Officer, UBA Eastern Africa Divisional Office, Nairobi-Mr. Manz Denga, UBA Uganda Managing Director-Mr. Johnson Agoreyo and other officials, Mr. Elumelu could not hide his elation at making his maiden visit to Makerere University.
"I am honoured, pleased and happy be with you this afternoon" remarked the gentle speaking Mr. Elumelu, "It is a wonderful experience to be in Makerere University; a well known and one of the foremost Universities in Africa" he added.
He thanked the Vice Chancellor for the warm welcome and commended all Makerere staff for helping to advance research and knowledge not only in Uganda but on the entire African continent. He also thanked the University Leadership for admitting UBA into the Makerere community, noting that "Makerere's 45,000 student population is a tip that we can do more!"
After signing the visitors' book and receiving souvenirs of the Makerere neck tie and diary from the Prof. Nawangwe, Mr. Elumelu proceeded to the Main Hall, where he was greeted by thunderous applause from the staff and students who had convened to listen to his talk. "I am greatly humbled and pleased to see that the hall is overflowing and some people are still standing" he remarked good naturedly "I thank you all for coming and hope that our interaction will be enriching," he added.
The event took the form of a question and answer session moderated by the day's emcee, Mr. Peter Igaga. He shared with Mr. Elumelu that a sample of questions from the audience had revealed that capital was an outstanding issue of concern for budding entrepreneurs and asked the UBA Chairman share his views on the topic.
Mr. Elumelu firstly admitted that entrepreneurship is not a simple journey to embark on as it calls for patience and resilience. He then emphasised that; an idea of what one wanted to do and a proper definition of how one wanted to go about doing it formed the basis for attracting capital. "Most billionaires in the world today did not start out with a handful of money. While it is important, do not kill your good ideas just because you don't have a handful of money to start with."
He further opined that entrepreneurs need not start big and all that was needed was seed funding to prove one's concept or idea, which money can be raised from family, friends and a few willing venture capitalists. "Banks should be your last option as you start up" he warned, before adding "Banks by their nature are highly structured organizations and will only give you money to scale up your idea once it is up and running."
On the culture of saving, Mr. Elumelu noted that this was one of the most important attributes of any successful entrepreneur. He reemphasized the fact that entrepreneurship is a long journey and those who venture into it must be very disciplined and avoid any luxuries and unnecessary expenses that would deplete initial revenue.
"I also advise you to get good mentors" he continued "at the Tony Elumelu Foundation (TEF), we see capital as only one of the factors necessary for one to succeed. We also see training and mentoring as extremely important aspects of entrepreneurship. During our 12week mentorship programme, we ensure that you understand the basics of things such as good bookkeeping so as to prepare yourself for the future."
Mr. Elumelu added that it was only upon successfully completing the TEF training that entrepreneurs saw their first coin of seed capital, which also comes with mentors. "Our aim is to create entrepreneurs not grant seekers. We want to train people who will be able to support other entrepreneurs in the future."
Since the setting of this discussion was at the region's flagship University, the next topic sought clarity on the relevance of education to entrepreneurship, especially as a good number the world's top billionaires had admitted to dropping out of school to focus on their ideas. Mr. Elumelu tackled this topic by first and foremost admitting that education, awareness and knowledge were all critical for entrepreneurship.
He however sought to create a distinction between two definitions of education; just to get a certificate and to gain a thorough understanding of subject matter, the former being the wrong one. He reaffirmed that education is a critical success factor in understanding ones trade, as it helps to sharpen the brain to better understand concepts. "Nevertheless, what is important is knowing what is critical for success. Discipline, hard work and thinking long term are extremely important factors for success" added Mr. Elumelu.
He urged all entrepreneurs never to let the fear of making mistakes prevent them from daring to try out their ideas. "You will make mistakes" assured Mr. Elumelu. "As a business, we have made some decisions that led us to venture into a partnership with a leading global company but in the end we had to write off US$200million after it didn't take off as anticipated" he added, much to the hushed amazement of the audience.
Entrepreneurship without the right networks is a precarious journey to embark on. Tackling the question on the role of networks versus net worth, Mr. Elumelu shared that "Networks help you build net worth and net worth can help you extend your reach." He stressed that it is important to have partnerships but these have to be matched with an alignment of interests. "Misalignment will not help you to build net worth or to succeed" added Mr. Elumelu.
"My net worth is not really important to me because it is just a figure; it is not about how much you have in the bank. What is important however is what you do with your net worth because at the end of the day you move from wanting to survive to changing lives and building a legacy" counseled Mr. Elumelu.
The day's session would have been incomplete without a few testimonies from TEF beneficiaries. Mr. Joseph Ogwal is the Founder of Agro Supply Uganda Limited and a 2017 TEF Alumnus. His business was started with the aim of supplying smallholder farmers in the Acholi and Lango sub-regions with quality seeds. After completing his training with TEF, Joseph's business is now able to supply 10,000 farmers with 30metric tonnes of quality planting seed and is projected to supply up to 50metric tonnes by the close of 2018. The company has additionally set its sights on supplying new markets in Rwanda and Tanzania.
Hon. Grace Oburu is the proprietor of Pakoi Mixed Farm in Tororo District and a 2017 TEF Alumna. The former legislator of the 8th Parliament admitted to initially being chastised by her children for applying to a youth entrepreneurship competition. She however persisted and today, does not regret having made that decision, especially as with the help of the seed capital she expects to house 800pigs at her farm by the close of 2018.
"The Operation Wealth Creation has booked all piglets from my farm because I am rearing a good breed, I have offered employment to the previously jobless youth and young men in the community are learning how to make biogas for cooking which is saving the environment" added Hon. Oburu.
Addressing the audience, Prof. Barnabas Nawangwe thanked Mr. Tony Elumelu for putting Makerere University especially the interaction with budding entrepreneurs at the top of his agenda. He noted that Mr. Elumelu was one of the most enterprising entrepreneurs in Africa.
"I want to thank you Mr. Tony Elumelu for being a very generous person by supporting youths in Africa, irrespective of where they come from, so as to emancipate Africa from poverty. We are now past the stage of political emancipation and now is the time for economic emancipation" said Prof. Nawangwe.
He noted that Makerere University has produced some of the region's top leaders in all spheres of influence including former Presidents such as H.E. Mwalimu Julius Nyerere of Tanzania, H.E. Mwai Kibaki of Kenya, H.E. Milton Obote of Uganda, to mention but a few. Prof. Nawangwe also encouraged Mr. Elumelu to come back again and welcomed partnerships with UBA and TEF aimed at improving entrepreneurship skills among the students.
Article by Public Relations Office
Uganda's policymakers implored to address forest loss, plastic & water pollution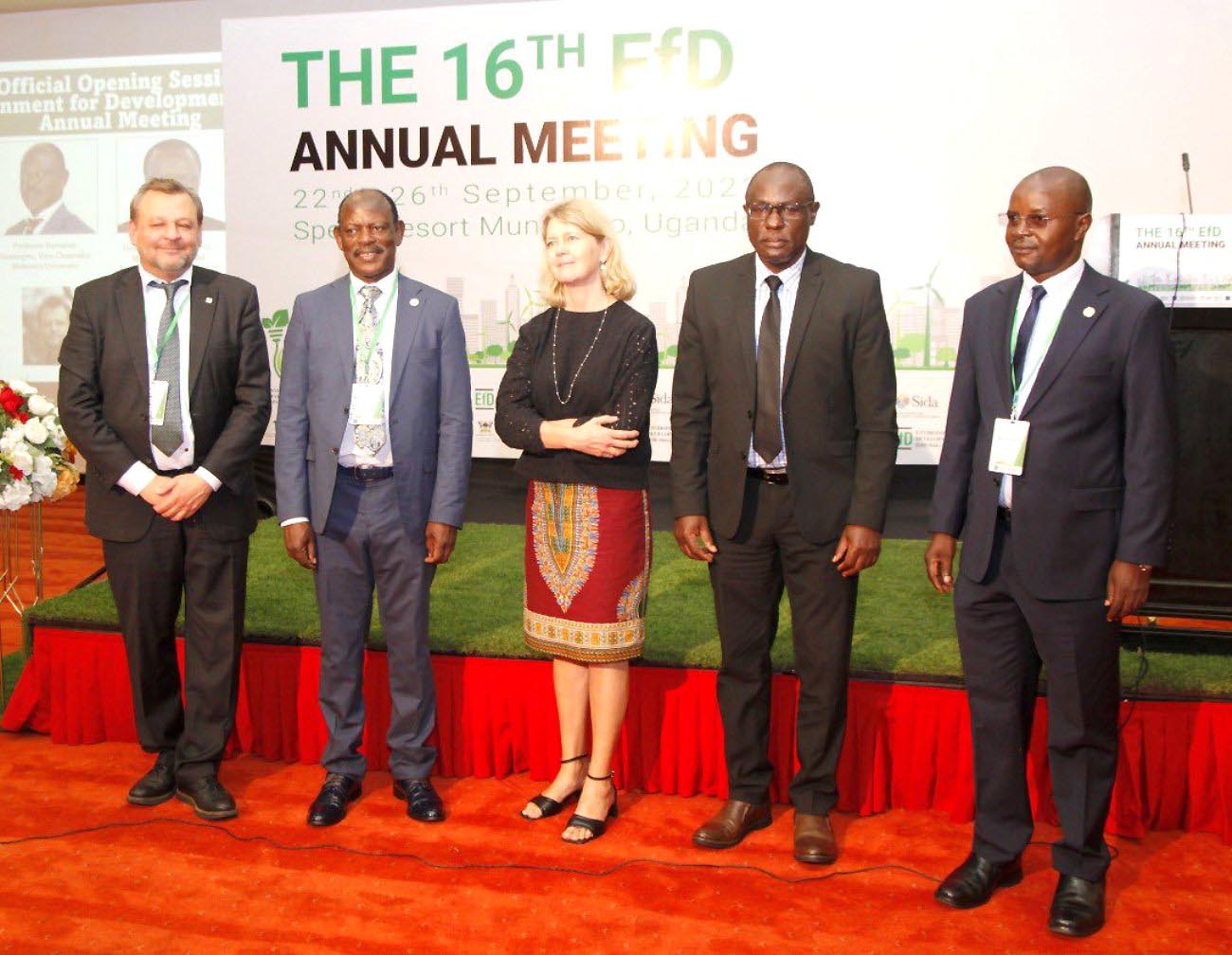 The Vice Chancellor Professor Barnabas Nawangwe on Thursday 22nd September, 2022 participated in the opening of the EfD Annual meeting hosted by Makerere University at Speke Resort Munyonyo where he appealed to government to implement the ban on kaveera and address other environmental issues.
The opening ceremony moderated by the EfD Global Hub Manager Gunnar Köhlin and was graced by Uganda's Minister for Water and Environment represented by the Commissioner for Water, Mr. Julius Mafumbo and the Swedish Ambassador to Uganda, H.E. Maria Håkansson.
Prof. Nawangwe urges Makerere University community to support the Mastercard Foundation E-learning Initiative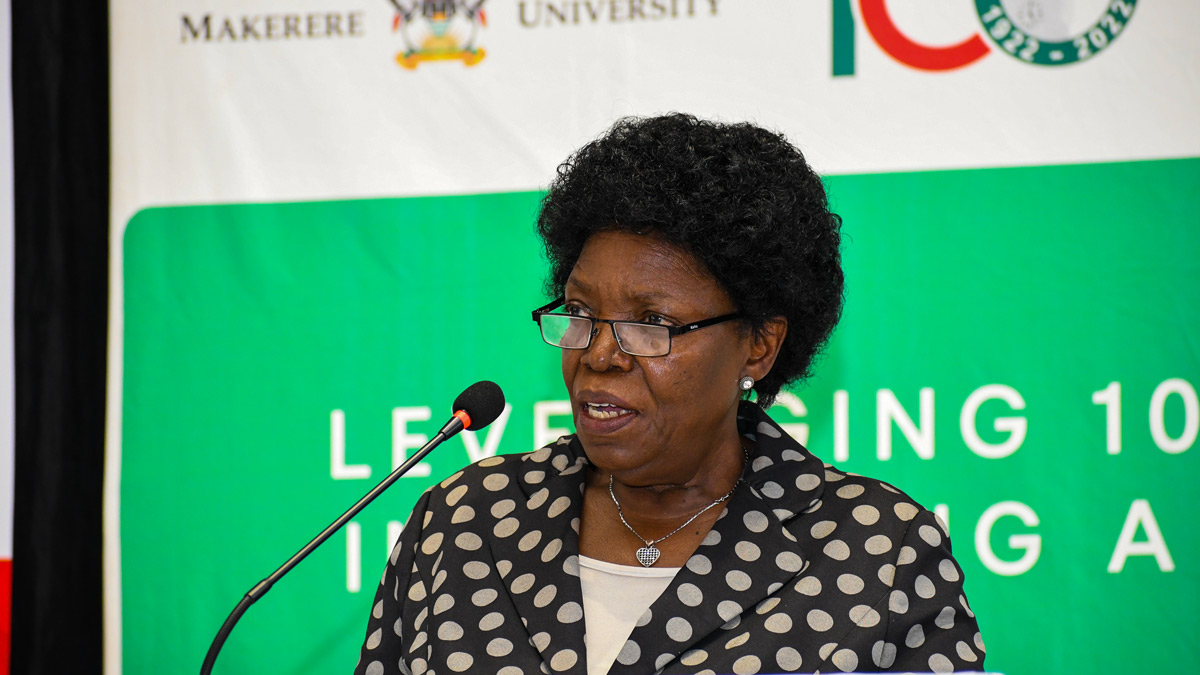 By Bernard Buteera
Makerere University has launched a two million dollar E-learning Project, dubbed The Mastercard Foundation Scholars Program E-learning initiative.  
The launch was held on Tuesday 20th September 2022 at Makerere University, Yusuf Lule Central Teaching Facility Auditorium. It attracted over 200 participants, who included members of University Management, College Principals, School Deans, Academic and Administrative staff, students and the general university community.
While addressing the gathering, the Chief Guest, Prof. Mary Okwakol, the Executive Director of National Council for Higher Education (NCHE), congratulated Makerere University for winning such a huge grant, which will go a long way in transforming the eLearning infrastructure at Makerere University.
"I am happy to be joining you in launching a project that is at the heart of National Council for Higher Education. Online learning is at the heart of the Council, not only because of the challenges presented by the Covid-19 pandemic, but also the world is now a digital world." Prof. Okwakol remarked.
Prof. Okwakol thanked Mastercard Foundation and other development partners who have continued to support initiatives that help transform higher institutions of learning in Uganda.
"I sincerely thank the Mastercard Foundation and other partners who have continued to support higher education in Uganda, especially in the area of research and online learning. Globally, the outbreak of the COVID-19 pandemic, greatly disrupted education systems forcing learners and some schools to shift to virtual learning to curb the spread of the pandemic." Prof. Okwakol pointed out.
On his part, the Vice Chancellor, Prof. Barnabas Nawangwe urged the university community, especially the academic staff to take advantage of the Mastercard Foundation E-learning initiative to develop e-content across all Colleges of the University, to enhance capacity for eLearning at Makerere University.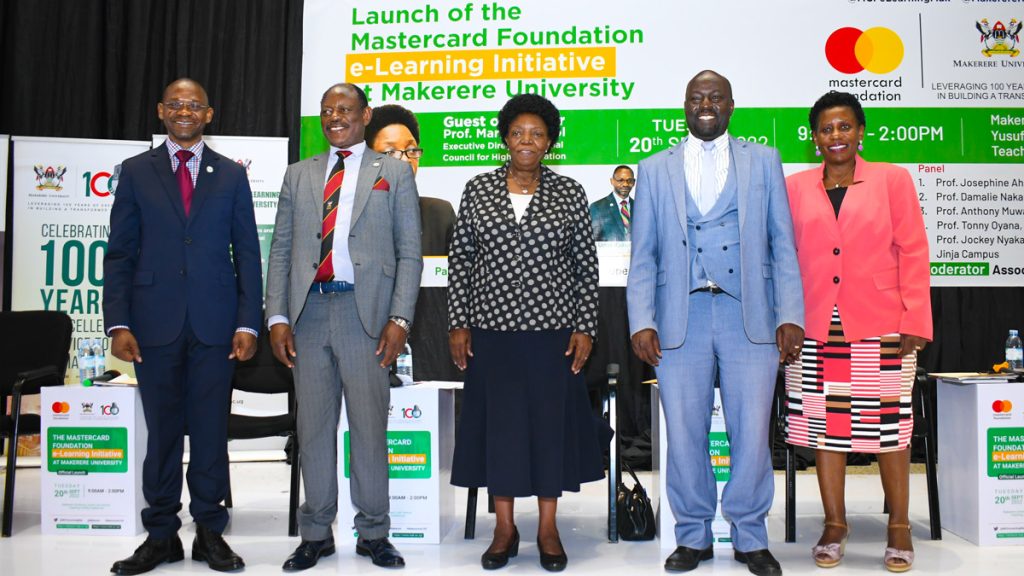 "I appeal to the Colleges to embrace this project and have as many courses adopt this pedagogy development system, even though students will continue with face-to face and phyisical learning, they should be allowed the option of online learning. The platforms that are going to be built, will give our students an opportunity to interact with international students, scholars, teachers and with each other." Prof. Nawangwe applealed.
The Vice Chancellor, further called upon all other development partners to emulate Mastercard Foundation in supporting Makerere University and other universities on the entire African continent in strengthening digital literacy, so that Africa is not left behind.
"In 2018 I attended a conference on E-learning in Beijing China, where a critical question was asked; Will Africa be left behind again? This was in reference to many advancements that were taking place in the western world, in which Africa had been left behind." The Vice Chancellor reminded the audience.
Prof. Nawangwe further emphaised the importance of e-learning as one of the critical modes of teaching and learning in the 21st first century.
"Ladies and Gentlemen, I cannot over emphasise the importance we attach to e-learning the 21st Century, that is why we took a decision to elevate the Department of Open and Distance Learning into an Institute of Open and Distance E-learning with an intention of having e-learning extended to other Colleges of the university." Prof. Nawangwe pointed out.
The Deputy Vice Chancellor Academic Affairs, and Chairperson of the Steering Committee of the E-learning Initiative, Prof. Umar Kakumba, rallied the University community to support the implementation of the project in the University.
"The Mastercard Foundation Scholars Program E-learning initiative could not have come in at a better time than post COVID19 era. A pandemic, which exposed our systems and methods of teaching and learning. You all recall, when were hit by the pandemic, with lockdowns and closures of institutions of learning, we all went into a panicky mode on how were going to cope with online learning. I therefore call upon every member of the university to give this project the support it deserves.
Prof. Kakumba reminded the audience the importance and relevancy of online learning at Makerere University and other universities in Uganda.
"The online method of learning is best suited for everyone. This digital revolution has led to remarkable changes in how the content is accessed, consumed, discussed, and shared. Office goers and stay home mothers can take up online educational courses too, at the time that suits them. Depending on their availability and comfort, many people choose to learn at weekends or evenings." Prof. Kakumba remarked.
Prof. Paul Birevu Muyinda, the Coordinator of the Mastercard Foundation E-learning Initiative, informed the audience the importance of the project and the expected outcomes for the University.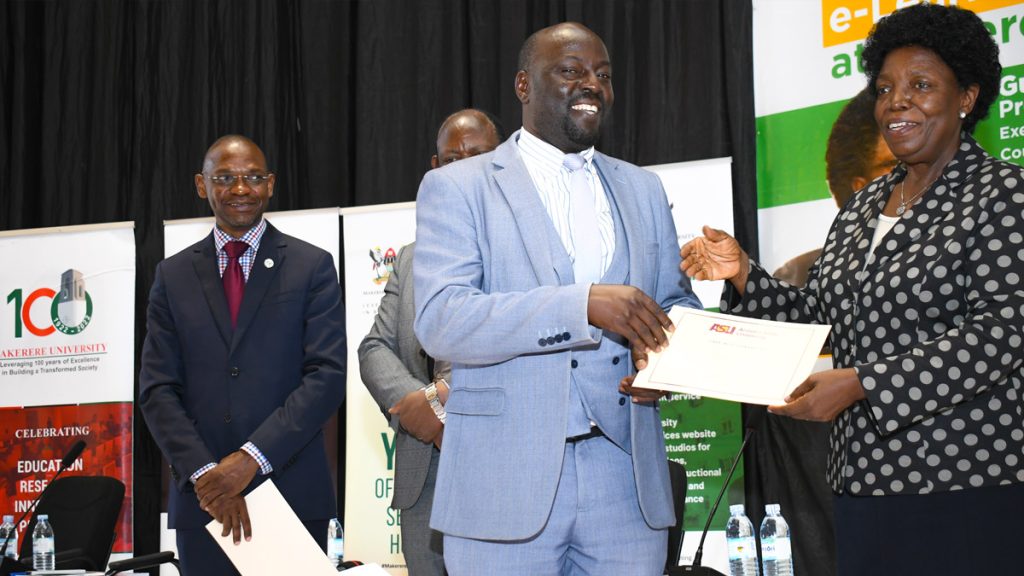 "The Mastercard Foundation e- Learning Initiative is a Project funded by Mastercard Foundation aimed at addressing the negative impact of COVID-19 pandemic that constrained access and continuity of teaching, learning, research and community engagement activities at Makerere University" Prof. Muyinda pointed out.
Prof. Muyinda further thanked the team that he worked with in putting up the proposal in a very short time that yielded such an important grant for the University.
"I thank the team that spent sleepless nights putting together the proposal that resulted into this project. I must report that Makerere University is privileged to be having the most highly qualified persons in online instruction design and online pedagogy at the IODeL and beyond. It is now up to Makerere University in particular and the Country in general to make use of these persons to transform the terrain of online, blended distance and e-learning education." Prof. Muyinda remarked.
Prof. Justine Namaalwa, the Program Coordinator for Mastercard Foundation Scholars Program at Makerere University, informed the audience, that the E-learning initiative was one of the many partnerships between Mastercard Foundation and Makerere University geared at supporting the young people to succeed on the African continent.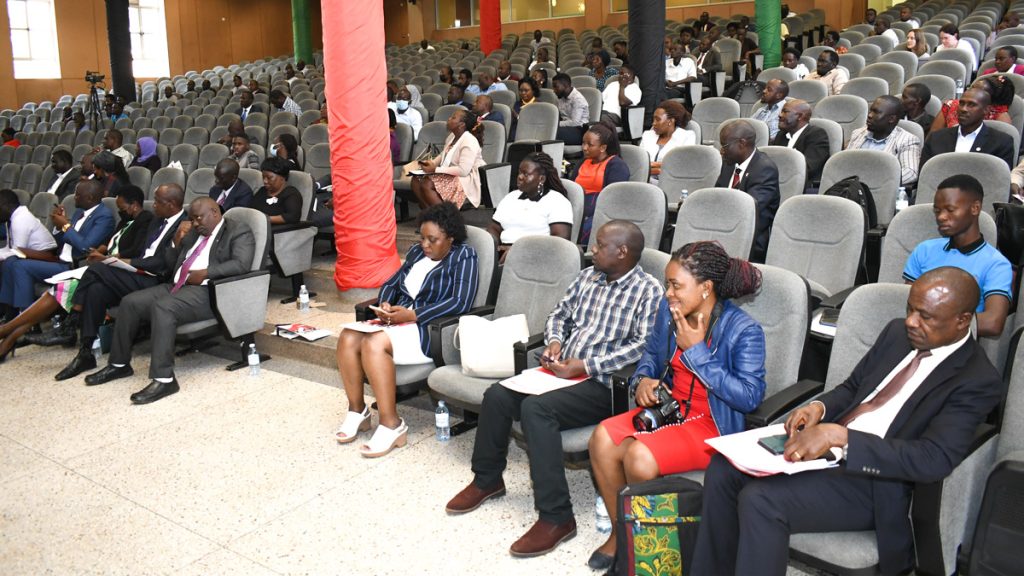 "The Mastercard Foundation Scholars Program continues to recognize that in order to enable young people across Africa to succeed, there is need to; Address systemic barriers in Higher education, Strengthen the capacity of Institutions that serve the Young People, and Support innovative solutions across critical sectors." Prof. Namaalwa remarked.
The colourful launch ended with a panel discussion in which panelists digested the importance and opportunities for open distance and eLearning in higher institutions of learning.
Bernard Buteera is the Communications Officer of the Mastercard Foundation Scholars Program at Makerere University.
Supplementary Admissions to Bachelor of Laws Under Private Sponsorship 2022/23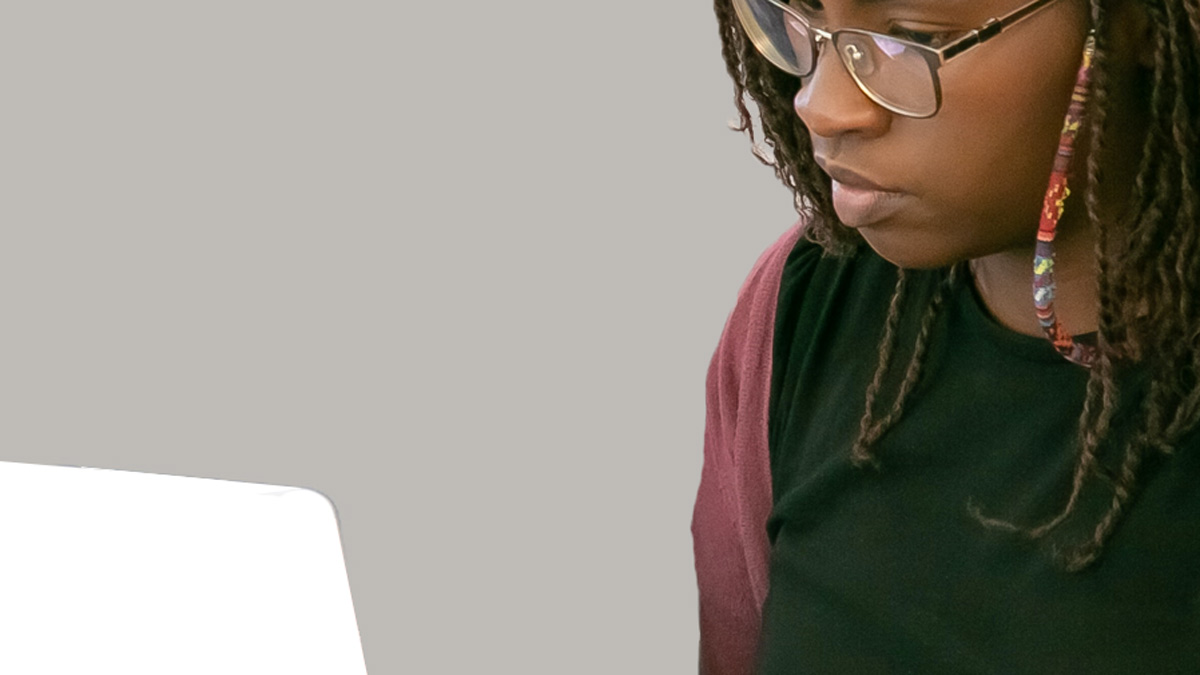 The Academic Registrar, Makerere University, informs applicants wishing to be admitted to Bachelor of Laws Private for 2022/2023 Academic year but failed to submit their application online to submit their applications from Friday 23rd to Friday 30th September, 2022 at a non-refundable fee of 50,000/= (Fifty thousand shillings only).
The applicants MUST have passed the Pre-entry Examinations for Bachelor of Laws.
Diploma/Degree holders should submit certified copies of their academic transcript to Room
315 Level 3, Senate Building.
Applicants who have already been admitted need not apply.
For any additional information, contact Undergraduate Admissions Offices 301/303 for A'Level Applicants and Office 315 for Diploma/Degree holders.
ALFRED MASIKYE NAMOAH
AG. ACADEMIC REGISTRAR
Date: 22nd September, 2022