Innovative Volunteerism Key to Africa's Transformational Change
The Conference Hall at the School of Food Technology, Nutrition and Bioengineering, Makerere University was abuzz with expectation on the hot Thursday afternoon of 8th February 2018 as students from Universities within Kampala and as far as Busitema University gathered to listen to Dr. Richard Munang demystify Innovative Volunteerism.
Dr. Richard Munang who is the United Nations Environment Programme (UNEP) Africa Regional Climate Change Programme Coordinator has been at the forefront of championing Innovative Voluteerism through UNEP's Ecosystem Based Adaptation for Food Security Assembly (EBAFOSA) where he is the Focal Person.
"Innovative Volunteerism is not blind optimism" declared Dr. Munang, before going on to explain "Innovative Volunteerism is pinned on the spirit of selfless commitment towards Africa's socio-economic development."
Dr. Munang asked his audience not to confuse Volunteerism with Innovative Volunteerism. "With volunteerism, you are offering your skills and labour free of charge while with Innovative Volunteerism, you not only do something with your skills that connects the dots or fills the gaps in agro-productivity but also benefits you as economic gain is eventually realised" he clarified.
He future expounded that Innovative Volunteerism is delivered through EBAFOSA where everyone is brought together for climate action and socioeconomic transformation through sustainable agriculture-led clean energy powered industrialization. "I challenge you to likewise embark on this transformational approach to doing business in Africa called Innovative Volunteerism" rallied Dr. Munang.
In his remarks, the Vice Chancellor, Prof. Barnabas Nawangwe who was represented by Prof. Bernard Bashaasha, Principal-College of Agricultural and Environmental Sciences (CAES) thanked UNEP and EBAFOSA for choosing Makerere University as a collaborative associate in organising the public lecture.
"I am therefore delighted to have all of you here at Makerere University to discuss how we can make Africa work through the power of Innovative Volunteerism. Makerere University hosts the biggest number of youth in Uganda's Higher Education. This is our biggest resource that can be tapped into in the quest to popularise innovative volunteerism," read Prof. Nawangwe's speech.
The public lecture was organised by the Makerere University Centre for Climate Research and Innovations (MUCCRI) under the theme "Engendering an Inclusive Africa under Climate Change: the Power of Innovative Volunteerism". MUCCRI was launched in 2013 under CAES to enhance climate change knowledge generation and dissemination.
"Through MUCCRI, the University brings together researchers and scientists from within and outside Makerere University, government officials, civil society, and private sector actors to collaboratively and locally address climate change, share information, and solve problems on adaptation technologies and research" added the Vice Chancellor.
Earlier, the audience had listened to the EBAFOSA Uganda Chapter President, Mr. Patrick Luganda, who explained that EBAFOSA is a pan-African platform based in 40 African countries that seeks to combat food insecurity and climate change using an inclusive approach that produces results at the grassroots level. He noted that each and every student present in the audience could easily join the EBAFOSA network, noting that the platform's impact in Africa thrives on a vibrant network of volunteers.
The public lecture was also addressed by Mr. Isaac Ndamuhaki from FIKA Africa Advocacy Foundation; a youth led non-profit organization focusing on empowering communities with sustainable solutions and empowerment programs in education, environment and agriculture, healthcare, financial literacy and life skills. He urged participants to join the foundations upcoming community awareness drive on autism.
Dr. Munang in his keynote address further noted that gatherings that brought together youth at higher education institutions such as the public lecture will "tap into our togetherness to tie down the lion of food insecurity."
"In the Democratic Republic of Congo, through the EBAFOSA Framework a group of graduate youthful agripreneurs have channeled their skills, networks and capital to optimise the cassava value chain. These young people process cassava into flour, package it, standardise it and sell to bakers. With this integration, the youth generate up to $4,000 as weekly income, translating to $16,000 monthly and $196,000 annually," shared Dr. Munang much to the amazement of his audience.
Touching on the EBAFOSA standards currently being domesticated in Uganda for the cassava value chain, Dr. Munang said that producers in Busiro stood a chance of tapping into the US$200million African market, which is way beyond their current market under the Uganda Breweries initiative. He shared that although Cassava is the second most important staple crop in Uganda, it has the most significant losses of up to 90% of its initial value – translating to over $30 million annually, as a result of poor postharvest handling techniques and lack of viable value addition initiatives.
As he concluded his keynote address, Dr. Munang pointed out that with Innovative Volunteerism, it is neither a top-down approach nor a bottom-up approach, but rather a blend of ideas from a host of individuals possessing different skill sets that works. He urged his listeners to shun attitudes that have previously kept Africa lagging behind and instead embrace authenticity and persistence, which hold the key to the success stories so far recorded under Innovative Volunteerism. "Attitude is not a way of life, it can be changed. Always aspire not to make a living but to make a difference" he concluded.
Moving a vote of thanks and giving the closing remarks at the end of the public lecture, the Coordinator MUCCRI and day's moderator Dr. Revocatus Twinomuhangi thanked Dr. Richard Munang for not only coming to Uganda but also agreeing to deliver the keynote address at Makerere University. He urged the audience to carefully consider the nuggets of wisdom given by Dr. Munang in his address and use them to make a difference in their community.
"I also urge you to take advantage of all the opportunities presented to you by EBAFOSA and MUCCRI to come up with a different way of doing business. In all we do, we need to make a difference" concluded Dr. Twinomuhangi.
Article by Public Relations Office
Government Sponsorship Admission Lists 2022/23 Verified by Districts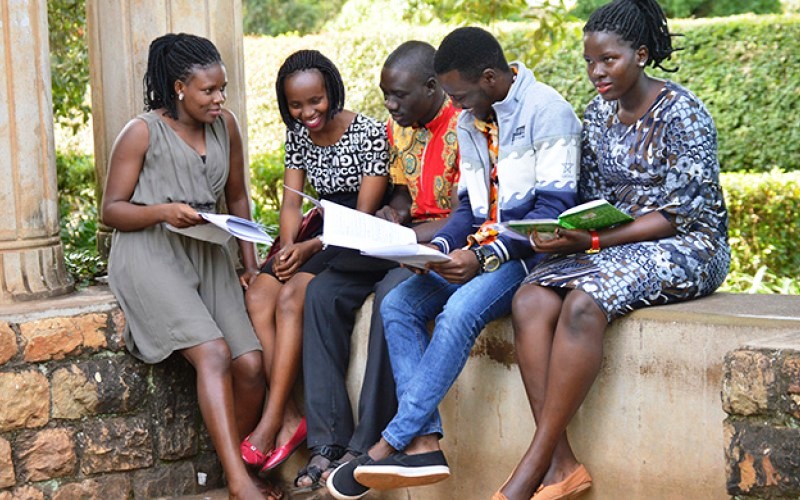 Student Registration for Semester I 2022/2023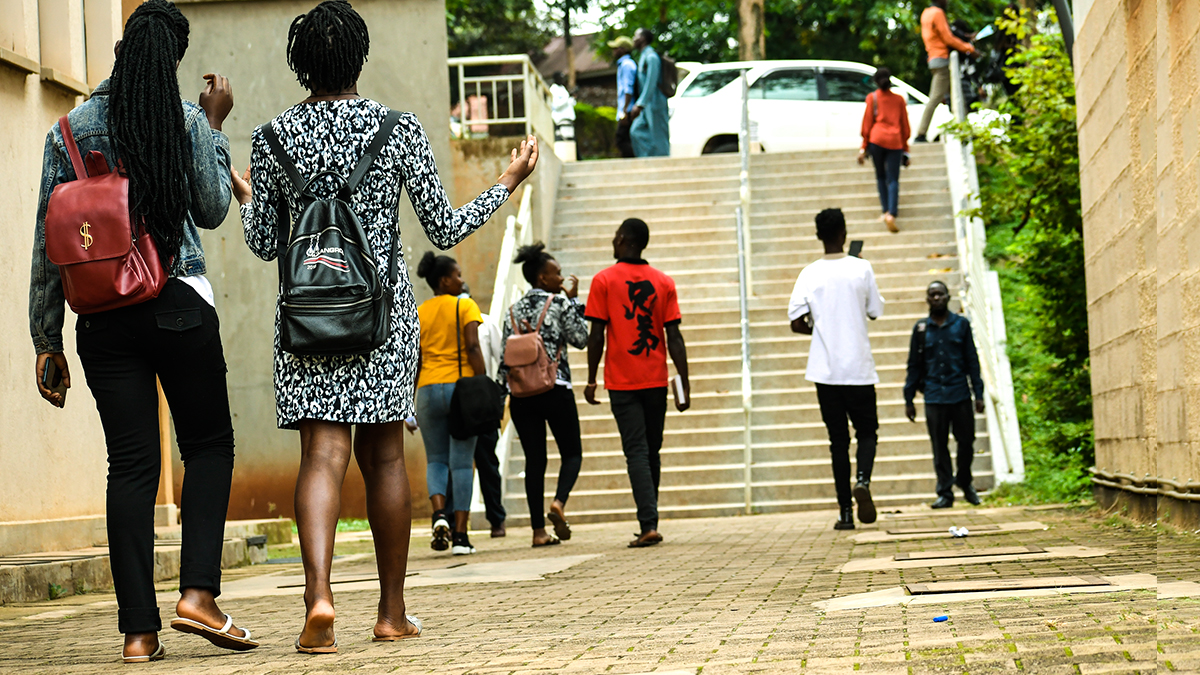 (a) First Years
Every new student admitted to a programme of study of Makerere University was issued a provisional admission letter with fees structure for payment of requisite fees. This enables privately sponsored first year students pay at least 60% tuition and all functional fees before issuance of original admission letters which should be collected from the respective Colleges/Schools.
For a candidate to qualify to be a bonafide student of the University, he/she MUST be
registered. Registration is a mandatory requirement of the University which must be
done within the specified time at the beginning of the semester. Failure to do so will
automatically lead to your place being forfeited to another candidate. Official
Registration/Verification of documents is on going using the Academic Information
Management System (ACMIS) used by Makerere University.
Ensure that you complete all the required registration formalities within the prescribed
time as per the Fees Payment Policy and registration programmes provided by your
respective Colleges. The system cycle will be closed on 3Qth November, 2022.
Registration Requirements
For registration purposes all first year students MUST produce their Original documents
as indicated on their admission letters for validation and verification purposes. At the end
of the online registration exercise, new students will be required to submit 3 photocopies
of their academic documents which will be dully signed and stamped by their Registrars
for record purposes.
(b) Continuing Students
Continuing students also use the Academic Information Management System (ACMIS) for
registration for Academic Year 2022/2023. Continuing students should register online by
accessing the registration Menu in the Student Portal and selecting the first option labeled
"Self Registration" and click the REGISTRATION NOW option.
The Cycle for online registration for the Academic year 2022/2023, Semester One is open
for all continuing students. The system cycle will be closed on 30th November, 2023.
(c) Students who belong to the under listed categories are advised to contact their College/School Registrars before they can register.
(i) Retakes Cases
(ii) Stay Put Cases
(iii) Withdrawal cases
(iv) Audited Courses
(v) Extension Cases
N. B. Each student should pay National Council for Higher Education fee of 20,000/ = per year and UNSA Subscription of 2,000/= per year before registration.
(d) In case of any problem, consult your College/School Registrar. College Accountants are responsible for providing the financial status to all students and generating lists of paid up students to the Deans. They will also clear paid up students to be issued the examination permits before sitting University examinations for Semester One, 2022/2023 Academic year.

Prof. Buyinza Mukadasi
ACADEMIC REGISTRAR
Download the Communication from Academic Registrar here
A Delegation from Netherlands Visits Makerere University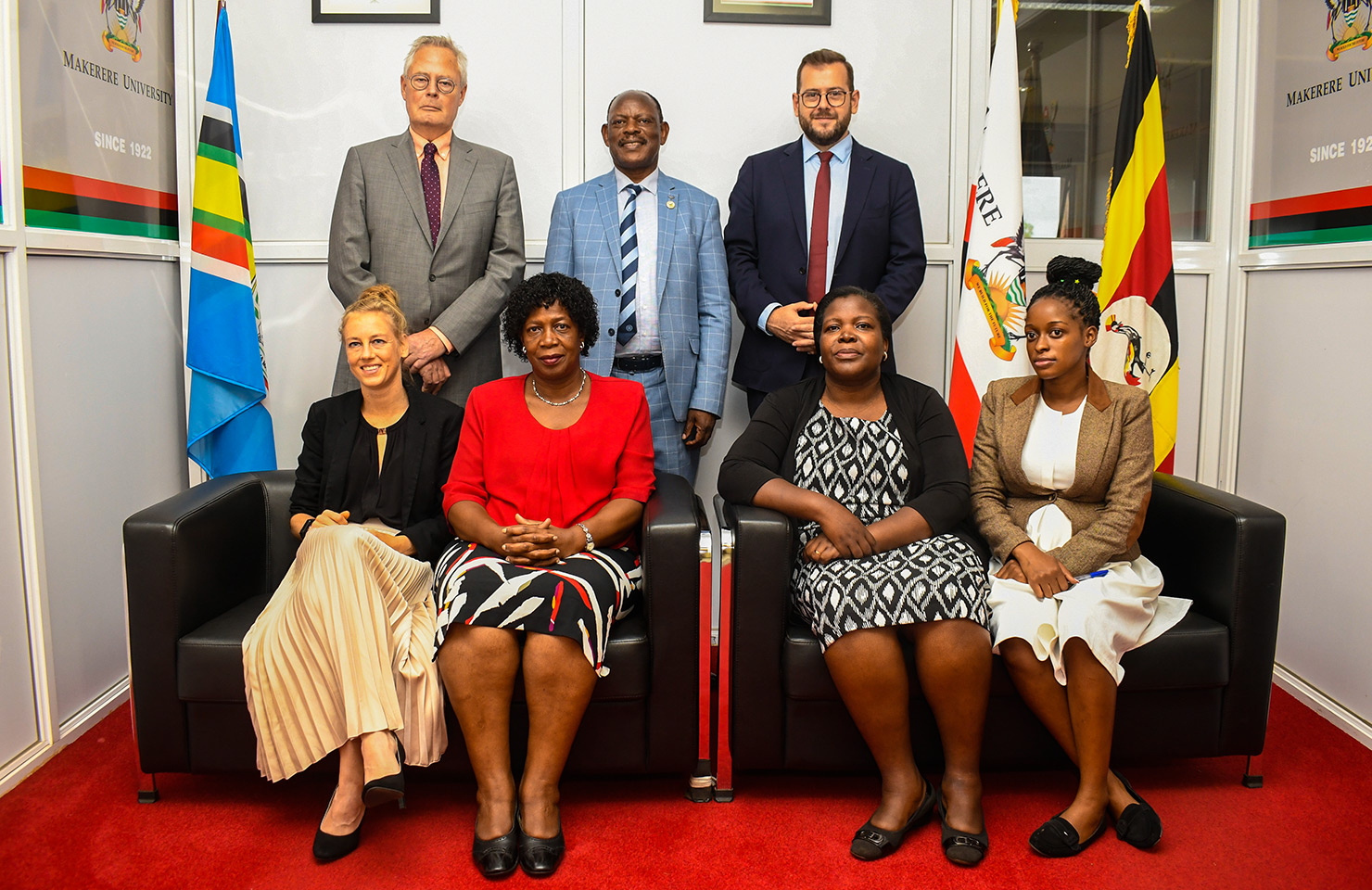 On Monday 14th November 2022, a delegation from the Royal Kingdom of the Netherlands visited Makerere University to discuss capacity building, scholarships, research and approaches to developing the Technical and vocational education and training (TVET) and Higher Education programme.
The visiting delegation consisted of Mr Siemen Tuinstra, Deputy Director, Department of Social Development; Mr Theodore Klouvasa, Coordination Policy Officer, Education & Youth Responsible for the development of the new TVET & Higher Education Programme; Ms Hilde de Bruijn – Senior Policy Officer and Ms Joy Acom-Okello, the Policy Officer Humanitarian Affairs and Migration at the Netherlands Embassy in Kampala.
Discussion with the Vice Chancellor
The Vice Chancellor, Prof. Barnabas Nawangwe welcomed the visitors to Makerere University and briefed them about the history of the University that started as a technical college in 1922 with 14 students. In 1949, it became a University College affiliated to the University College of London, offering courses leading to the general degrees of its then mother institution. With the establishment of the University of East Africa in June 29, 1963, the special relationship with the University of London came to a close and degrees of the University of East Africa were instituted. On July 1, 1970, Makerere became an independent national university of the Republic of Uganda, offering undergraduate and postgraduate courses leading to its own awards. In 1990, there was liberalization of university education after the World Bank and IMF decided that there should be less spending on university education and introduced structural adjustment programmes. The Government pays a lump sum to the university to sponsor some students and the rest are private students.
The Coordination Policy Officer, Mr Theodore Klouvasa informed the Vice Chancellor about the new programme on TVET and Higher Education that their government was developing. The purpose of their visit was to consult other stakeholders in higher education such as universities, ministries of Education and Sports, Agriculture, Gender and Youth and technical institutions to learn more about the existing collaborations between them and see where the Netherlands government can assist in developing a beneficial programme. How exactly do universities relate with Vocational Institutes and what is the education system in Uganda ad how do donors communicate with the major actors in the education system? How do universities relate with the private sector? If government sponsors some students, how can the scholarships be more inclusive and target the marginalized? Research is very important for all universities. How can they bring more research in the university and what can they add on the PhD infrastructure? Makerere University is strategic partner with the Netherlands having trained many PhDs at Wageningen University, Maastricht University, Vrije Universiteit Amsterdam; University of Groningen; Radboud University Nijmegen; Delft University of Technology.
Makerere University has many collaborations globally and has over the years increased partnerships with the government. The College of Health Sciences has done extensive research with the Military in the area of HIV/AIDS; with the Ministry of Water & Mineral Development in the area of water qualities and management; with UNRA with joint research and use of technologies for materials and road construction; with Ministry of Agriculture and Animal Industry and Fisheries in the area of cross boundary animal diseases; with Food processing industries with our School of Food Nutrition and Biotechnology; the Horticulture industries in controlling quality of products for export; the IT companies with our College of Computing and Information Sciences and also the College of Engineering, Design, Art and Technology. The University relates well with the Uganda Society of Architects and our architecture students are exposed to the new products on the market such as the new design of roofing tiles. The students share simple technologies learnt in class with the manufacturing companies which have helped in boosting production.
Uganda is affected by a high population growth and many graduates cannot find jobs. The education system needs to be geared towards problem solving techniques to be taught to learners/students at all levels. There is a need to change the mindset of the teachers/professors and the students as well. A mindset programme is to be introduced in the first year of studies for all programmes. Makerere University is also in the process of establishing an incubation hub where the good ideas of students can be developed to start a business. If you want to change the country, you engage the students to do more innovations and encourage production of their ideas. He informed the delegation that during Covid-19, the government of Uganda provided funds to Makerere University, which were used to equip laboratories and do more research and produce a vaccine. The University also operationalized the online learning by use of technology to minimize the effects of the pandemic.
The Vice Chancellor disclosed that there is an urgent need to re-tool the teachers in the Vocational institutes to upgrade their practical skills with the trends on the market. Therefore, the training and scholarship by Netherlands for vocational teachers to upgrade skills with latest technologies in universities would be appropriate.
Discussion with the College of Education and External Studies
The Deputy Principal, Dr. Ronald Bisaso received and welcomed the delegation. He represented the College Principal, Prof. Anthony Mugagga. The Deputy Principal highlighted that regarding the education system in Uganda, some areas have changed and others improved. He noted that many graduates lack the required skills for the job market. It would therefore be better if Makerere University also benefits from vocational studies and practice. Dr. Bisaso pointed out that the Department of Science, Technology and Vocation Education at the College of Education and External Studies offers a course on vocational studies and they expect to produce 1,500 graduates by 2025. The level of the vocational course offered is gauged by UBTEB (Uganda Business and Technical Examinations Board) that administers examinations and awards National Diplomas. The investment in the education sector by government is quite minimal with just 11.5% (Higher education getting 6.4% and TVET getting 5.1%). Capacity of the sector needs to be enhanced through training. Professors must acquire entrepreneurial skills before they occupy leadership positions instead of doing so when they are already in the positions. At the College of Education and External Studies (CEES) with a population of 4,000 students, there only 30 doctoral students. CEES partners with the Ministry of Education and Sports through projects such as the Early childhood and development projects. Individual staff are seconded to projects to train and even share experiences.
The Deputy Principal called upon the Netherlands to support knowledge and capacity building of early career academics and partnering with the TVET ecosystem. This includes interventions, trainings and exchanges at various levels and cooperation with different stakeholders such as the government, the private sector, civil society and the Vocational institutes. He advocated for strengthening of existing vocational institutes, establishment of vocational institutes were they do not exist and development of research infrastructure and adoption of TVET across the education system.