MAK Vice Chancellor tasks graduands to become change agents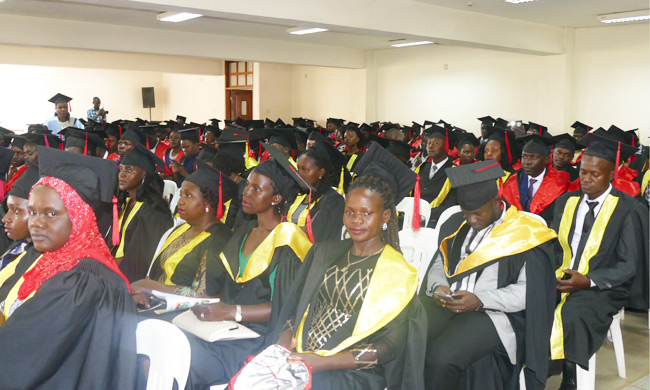 The Vice Chancellor of Makerere University, Prof. John Ddumba-Ssentamu has advised over 500 e-learning students who graduated on Friday 14th July 2017 to become champions of change in their communities.
"This is a golden possession which better positions you to favorably compete for employment or become job creators. You have worked hard and made sacrifices to earn the awards you receive today, you now embark on another phase of your lives as graduates. Use the qualifications acquired to be the champions of change in your respective disciplines,"said Prof. Ddumba-Ssentamu in a speech read by the Principal of Makerere University College of Computing and Information Sciences(CoCIS)-Prof. Constant Okello Obura.
The Vice Chancellor noted that the tele-education programmes at the College of Computing and Information Sciences supported by the Government of India are a direct response to national, regional and international demands to comprehensively expand and strengthen avenues for providing higher education in Uganda and the region. He added that enrollment levels for higher education in Uganda have lagged behind due to the orthodox thinking which confines education to being in the physical presence of a lecturer. According to the Vice Chancellor, the 4th Graduation Ceremony was a great testimony that technology is indeed changing that thinking.
He informed the graduands, parents and invited guests that Makerere University is proud to have successfully carried out online lectures in real time, highlighting that the growing number of students enrolling for such programmes indicated the high demand for higher education and an opportunity to gain more skills necessary for today's job market. He said that Makerere University continues to improve her teaching, learning and research facilities so as to create the very best environment for the students and staff.
The degrees and diplomas of Amity University and Indira Ghandi National Open University (IGNOU) were awarded premised on an agreement with the Government of India, Telecommunications Consultants India Limited and African Union in association with Makerere University under the Pan African e-Network project.
The Pan African e-Network Project is an initiative of the Indian Government in partnership with African Union to share Indian expertise in the fields of education, information technology and Health care with the African countries in order to accelerate socio-economic development of Africa. This is through providing e-services with priority on Tele-Education, Tele-Medicine and VVIP connectivity (Video conferencing and VoIP).
The Indian High Commissioner to Uganda, H.E Shri Ravi Shankar revealed that over 500 Ugandan students travel to India every year to study at various Universities. With the current trends in technology and e-learning, he said that it is now possible for them to study academic programmes offered in Indian Universities without leaving Uganda.
"With technology today, we can have education across a distance through e-learning. Most universities are embracing this technology. In order to provide education to the young and old people, e-learning will be a great education tool for the future. It is now the way forward," Mr. Shankar said.
The High Commissioner congratulated the graduands and commended the Government of Uganda and Makerere University for promoting education through e-learning which has started yielding good results. He assured the Makerere University Administration, graduands, parents and invited guests continuous support from the Government of India towards developing the human resource base through the education sector in Uganda.
"Our relationship with Uganda has always been very promising. India is working with Uganda to realize economic development and we have collaborated in a number of areas including investment. We have now focused on human resource development most especially through education sector. The Government of India stands committed to its promise of promoting education in Africa and particularly Uganda and extend education services to a greater number of students mainly through e-learning," the High Commissioner remarked.
Representing Amity University at the graduation, the Director Amity University Directorate of Distance and Online Education, Prof. Abhinash Kumar informed the graduands that the University was delighted by the excellent performance Ugandan students. He congratulated them upon completing their studies and thanked them for being part of Amity University.
"I am very happy to congratulate and convey greetings to you on behalf of the entire Amity University. We are privileged to have students from African Continent through this e-learning setting. This is a good concept in terms of building education. We are proud to teach and make you convergent to study as you do your best for your country and future. Endeavour to take your candidature to the rest of the world," Prof. Abhinash Kumar said.
He noted that the e-learning programmes have enabled mature people to take up courses they would not enroll for in the traditional classroom settings full of young students. He said, "This online setting is also helping students who are very mature in age, which indicates that learning never ends and we a proud of that."
Prof. Constant Okello Obura, Principal College of Computing and Information Sciences remarked that most of the courses offered in the project are outside computing, which is a clear indication that the college is well equipped to support all other programmes provided they are online and there is use of ICT applications. He advised the graduands on the need for professionalism in the different spheres of life.
"As you go out, we appeal to you to be professionally assertive and create impact in our communities as you serve. That is when the value of education will be recognized. Use your knowledge to cause positive change in the organizations you will serve, take life systematically and don't rush," Prof. Obura advised graduands.
He informed the congregation that when the Pan African e-Network project started in 2009, Makerere University was chosen to serve as the regional center to advance tele-education and technology in the East African Region in order to promote the activities of the project. As a result, the well-equipped E-learning center was set up at the then Faculty of Computing and information Technology, now College of Computing and Information Sciences. He added that the College has put in place strategic directions to partner with different units within Makerere University and outside for knowledge transfer and academic scholarships to significantly contribution to the development of the country.
The Principal thanked the Indian Government, Amity University, IGNOU, the Ministry of Education and Sports in Uganda, and African Union for availing online education through providing the Pan African E-Learning Network. He also thanked the telecommunication consultancy India Limited for executing the online program on behalf of the Indian Government and the staff at the College who have ensured that the program runs smoothly. Other seniour members of the College present were the Deputy Principal, Assoc. Prof. Agnes Rwashana and Dr. Peter Nabende-Head of Department of Information Systems in the College of Computing and Information Sciences.
Mr. Joseph Mary Ssemwogerere, the E-learning Coordinator at the College of Computing and Information Sciences thanked the Indian Government for sponsoring and funding the Pan African e-Network Project that has made it feasible for a number of African scholars attain affordable higher education.
"The degrees being received today were awarded by Amity University and IGNOU of India. We are very grateful for their collaboration with Makerere University. We thank the Indian Government that funds the project and the support towards education," Mr. Ssemwogerere said.
Representing the graduands, Mr. Madasi Bosco who graduated with a Masters of Business Administration thanked the Indian Government and Makerere University for enabling them fulfill their dream of attaining higher education at a subsidized cost. He urged his fellow graduands to wisely utilize the knowledge obtained for the betterment of society.
"The essence of having knowledge is to apply it. Today, knowledge is power; it is the access to opportunities and advancement but the power is realized only when you put it into good use," Mr. Madasi mentioned.
He commended the selfless service offered to them by the Programme Coordinators, Mr. Joseph Mary Ssemwogerere and Mr. Ronald Mwanje and requested that the project is extended so as to benefit a bigger number of Africans, particularly in Uganda.
It was noted that out of the 19 countries currently participating in the Pan African e-Network project, most of the medals that were awarded to the best performing students were received by Ugandan students at Makerere University.
The Pan African e-Network Project started at Makerere University College of Computing and Information Sciences in July 2009. The University signed a Memorandum of Understanding (MOU) with Amity University, India. Under this memorandum, Makerere University was selected to serve as the Regional Centre to advance Tele-education in the East African region. In May 2010, Makerere University, represented by the School of Computing and IT signed an MOU with IGNOU and the first students to be taken by IGNOU were enrolled in July 2011.
Starting with three (3) pioneer students in 2010, the number of students has grown tremendously over time. A total of 1,493 have graduated since the commencement of the project.
Article by: Mak Public Relations Office
Notice: Makerere Disability Scheme 2022/23 Medical Review Exercise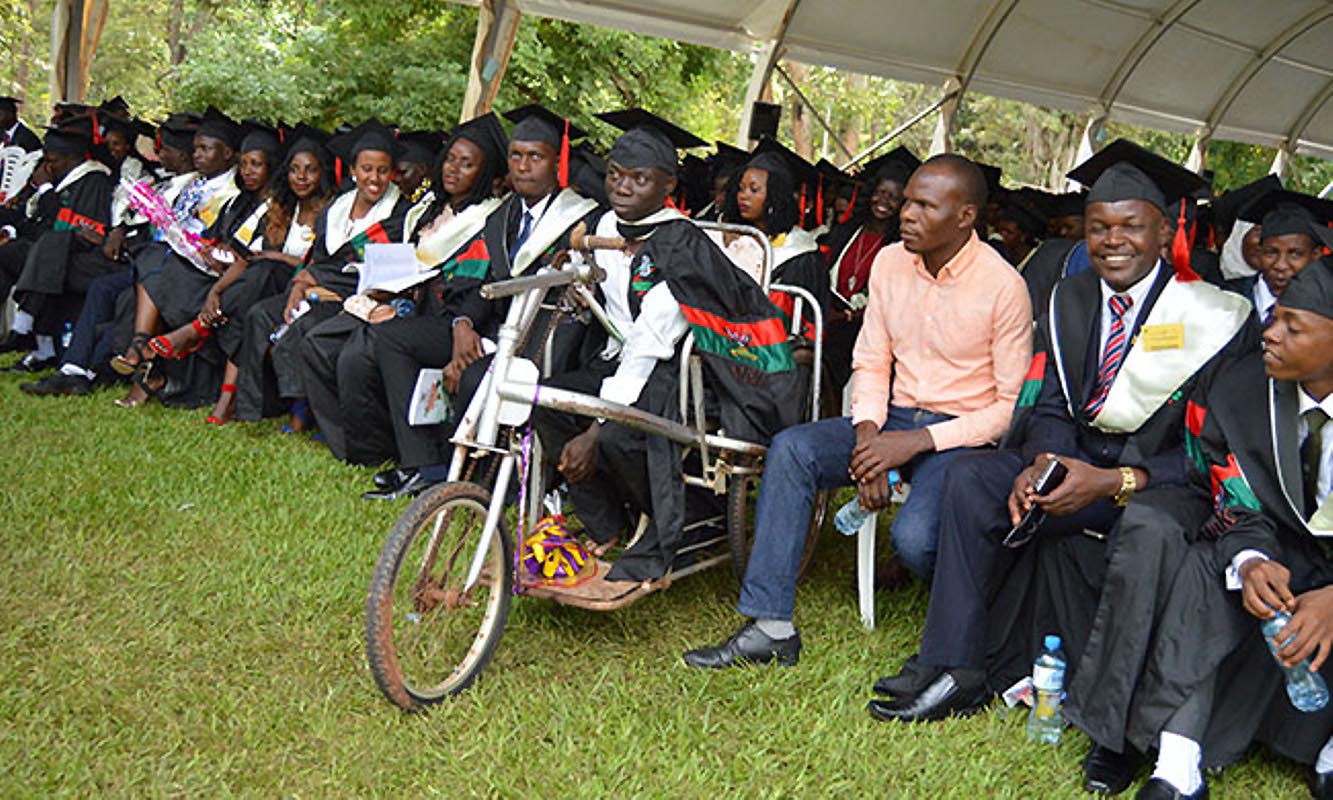 The Academic Registrar, Makerere University invites persons with disability who applied for admission to public universities under the disability entry scheme for 2022/2023 Academic Year to appear for medical/review exercise at Makerere Unive, Senate Building, Level Two (2) in the Telepresence Centre.
NOTE: Only those who have the minimum entry requirements of at least two principal passes at A' Level or its equivalent and at least five (5) passes at O' Level or its equivalent will be interviewed.
Only candidates who sat 'a' level in 2020, 2019 and 2018 are eligible for admission.
THE EXERCISE WILL BE CONDUCTED ON 3rd, 4th and 5th October, 2022 respectively from 9.00 A.M – 1.00 P.M each day.
IMPORTANT:
(i) If you fail to appear on any of the given days above, there will be no other chance for you.
(ii) Applicants with Government Scholarship for the previous years are not eligible for admission
ALFRED MASIKYE NAMOAH
Acting. ACADEMIC REGISTRAR
Uganda's policymakers implored to address forest loss, plastic & water pollution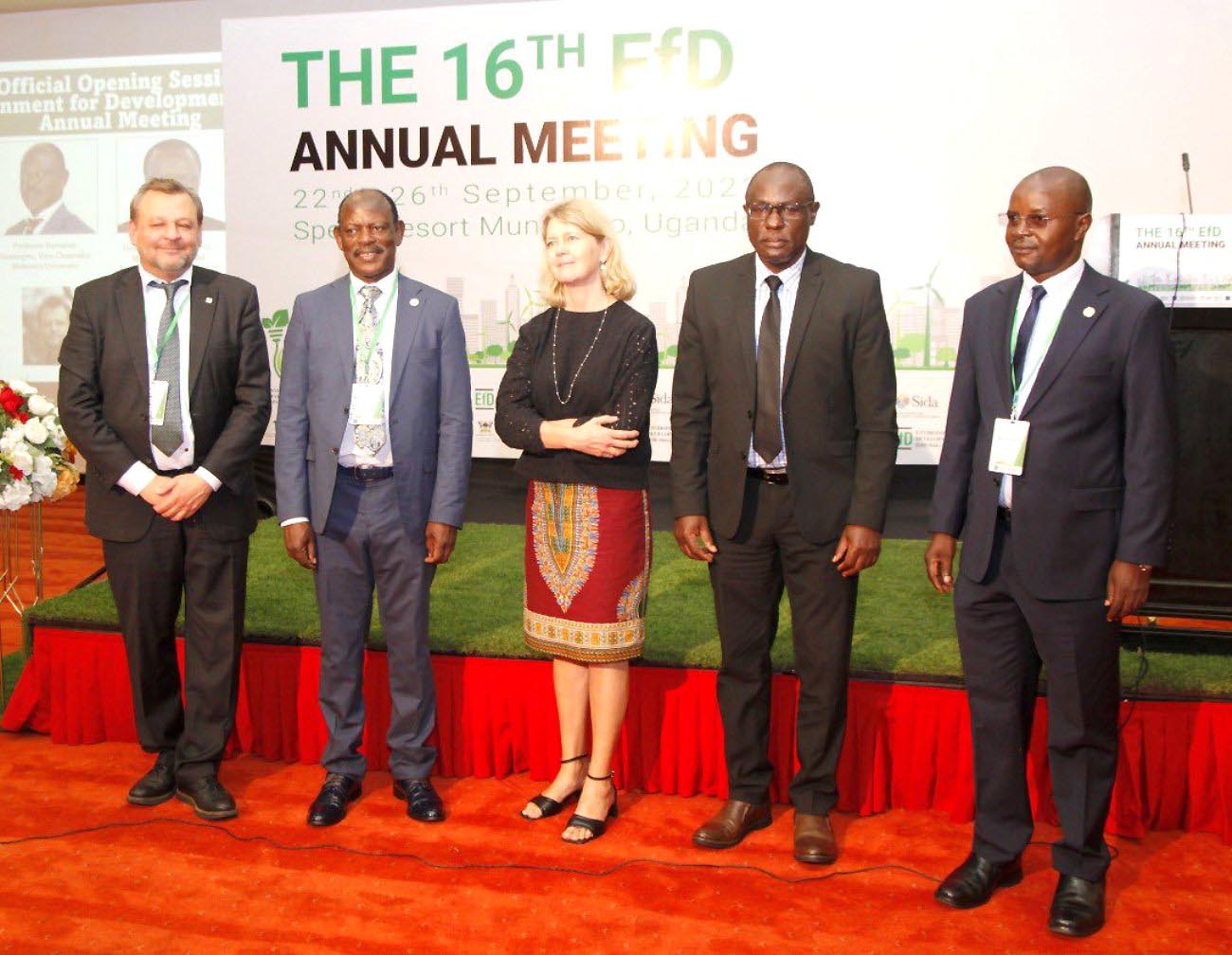 The Vice Chancellor Professor Barnabas Nawangwe on Thursday 22nd September, 2022 participated in the opening of the EfD Annual meeting hosted by Makerere University at Speke Resort Munyonyo where he appealed to government to implement the ban on kaveera and address other environmental issues.
The opening ceremony moderated by the EfD Global Hub Manager Gunnar Köhlin and was graced by Uganda's Minister for Water and Environment represented by the Commissioner for Water, Mr. Julius Mafumbo and the Swedish Ambassador to Uganda, H.E. Maria Håkansson.
Prof. Nawangwe urges Makerere University community to support the Mastercard Foundation E-learning Initiative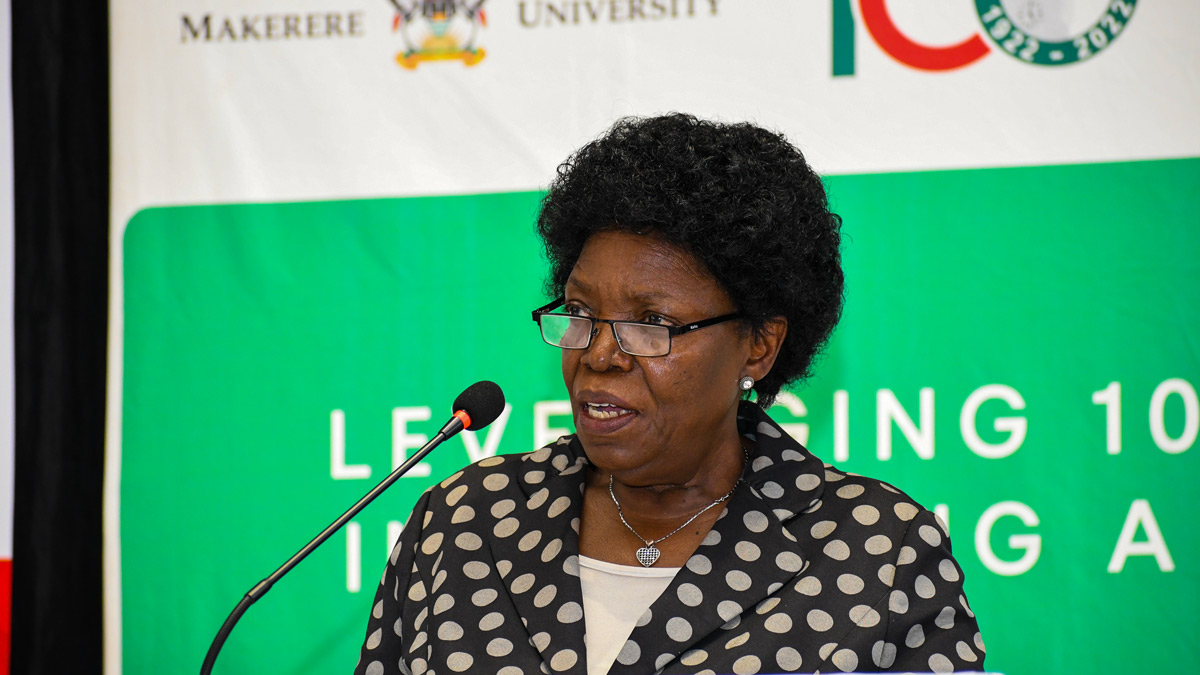 By Bernard Buteera
Makerere University has launched a two million dollar E-learning Project, dubbed The Mastercard Foundation Scholars Program E-learning initiative.  
The launch was held on Tuesday 20th September 2022 at Makerere University, Yusuf Lule Central Teaching Facility Auditorium. It attracted over 200 participants, who included members of University Management, College Principals, School Deans, Academic and Administrative staff, students and the general university community.
While addressing the gathering, the Chief Guest, Prof. Mary Okwakol, the Executive Director of National Council for Higher Education (NCHE), congratulated Makerere University for winning such a huge grant, which will go a long way in transforming the eLearning infrastructure at Makerere University.
"I am happy to be joining you in launching a project that is at the heart of National Council for Higher Education. Online learning is at the heart of the Council, not only because of the challenges presented by the Covid-19 pandemic, but also the world is now a digital world." Prof. Okwakol remarked.
Prof. Okwakol thanked Mastercard Foundation and other development partners who have continued to support initiatives that help transform higher institutions of learning in Uganda.
"I sincerely thank the Mastercard Foundation and other partners who have continued to support higher education in Uganda, especially in the area of research and online learning. Globally, the outbreak of the COVID-19 pandemic, greatly disrupted education systems forcing learners and some schools to shift to virtual learning to curb the spread of the pandemic." Prof. Okwakol pointed out.
On his part, the Vice Chancellor, Prof. Barnabas Nawangwe urged the university community, especially the academic staff to take advantage of the Mastercard Foundation E-learning initiative to develop e-content across all Colleges of the University, to enhance capacity for eLearning at Makerere University.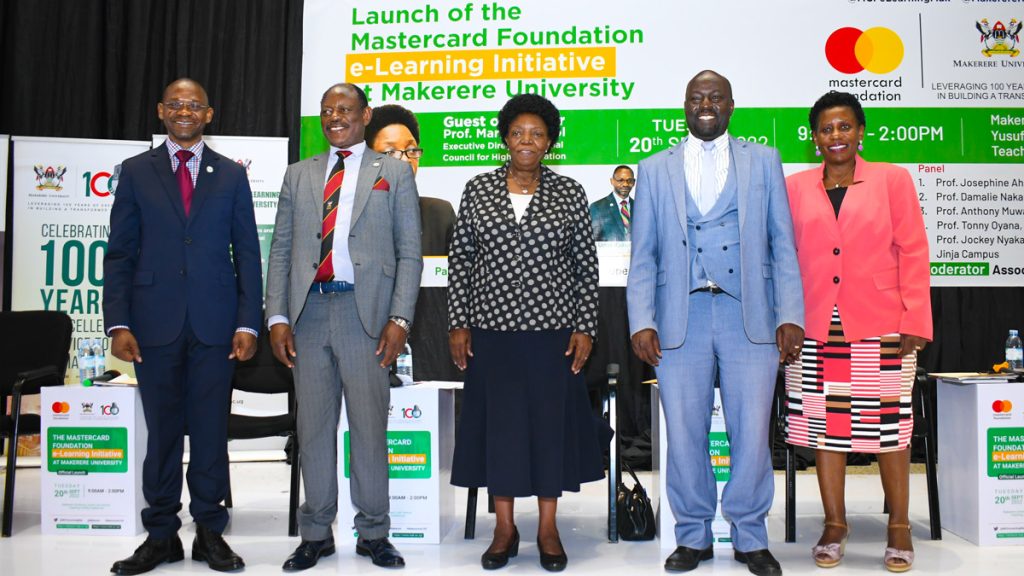 "I appeal to the Colleges to embrace this project and have as many courses adopt this pedagogy development system, even though students will continue with face-to face and phyisical learning, they should be allowed the option of online learning. The platforms that are going to be built, will give our students an opportunity to interact with international students, scholars, teachers and with each other." Prof. Nawangwe applealed.
The Vice Chancellor, further called upon all other development partners to emulate Mastercard Foundation in supporting Makerere University and other universities on the entire African continent in strengthening digital literacy, so that Africa is not left behind.
"In 2018 I attended a conference on E-learning in Beijing China, where a critical question was asked; Will Africa be left behind again? This was in reference to many advancements that were taking place in the western world, in which Africa had been left behind." The Vice Chancellor reminded the audience.
Prof. Nawangwe further emphaised the importance of e-learning as one of the critical modes of teaching and learning in the 21st first century.
"Ladies and Gentlemen, I cannot over emphasise the importance we attach to e-learning the 21st Century, that is why we took a decision to elevate the Department of Open and Distance Learning into an Institute of Open and Distance E-learning with an intention of having e-learning extended to other Colleges of the university." Prof. Nawangwe pointed out.
The Deputy Vice Chancellor Academic Affairs, and Chairperson of the Steering Committee of the E-learning Initiative, Prof. Umar Kakumba, rallied the University community to support the implementation of the project in the University.
"The Mastercard Foundation Scholars Program E-learning initiative could not have come in at a better time than post COVID19 era. A pandemic, which exposed our systems and methods of teaching and learning. You all recall, when were hit by the pandemic, with lockdowns and closures of institutions of learning, we all went into a panicky mode on how were going to cope with online learning. I therefore call upon every member of the university to give this project the support it deserves.
Prof. Kakumba reminded the audience the importance and relevancy of online learning at Makerere University and other universities in Uganda.
"The online method of learning is best suited for everyone. This digital revolution has led to remarkable changes in how the content is accessed, consumed, discussed, and shared. Office goers and stay home mothers can take up online educational courses too, at the time that suits them. Depending on their availability and comfort, many people choose to learn at weekends or evenings." Prof. Kakumba remarked.
Prof. Paul Birevu Muyinda, the Coordinator of the Mastercard Foundation E-learning Initiative, informed the audience the importance of the project and the expected outcomes for the University.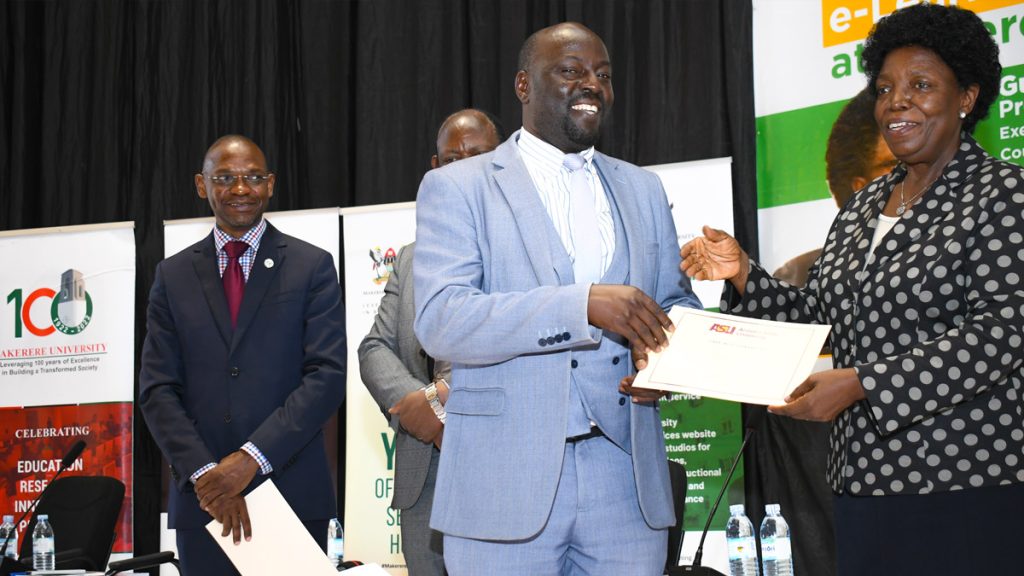 "The Mastercard Foundation e- Learning Initiative is a Project funded by Mastercard Foundation aimed at addressing the negative impact of COVID-19 pandemic that constrained access and continuity of teaching, learning, research and community engagement activities at Makerere University" Prof. Muyinda pointed out.
Prof. Muyinda further thanked the team that he worked with in putting up the proposal in a very short time that yielded such an important grant for the University.
"I thank the team that spent sleepless nights putting together the proposal that resulted into this project. I must report that Makerere University is privileged to be having the most highly qualified persons in online instruction design and online pedagogy at the IODeL and beyond. It is now up to Makerere University in particular and the Country in general to make use of these persons to transform the terrain of online, blended distance and e-learning education." Prof. Muyinda remarked.
Prof. Justine Namaalwa, the Program Coordinator for Mastercard Foundation Scholars Program at Makerere University, informed the audience, that the E-learning initiative was one of the many partnerships between Mastercard Foundation and Makerere University geared at supporting the young people to succeed on the African continent.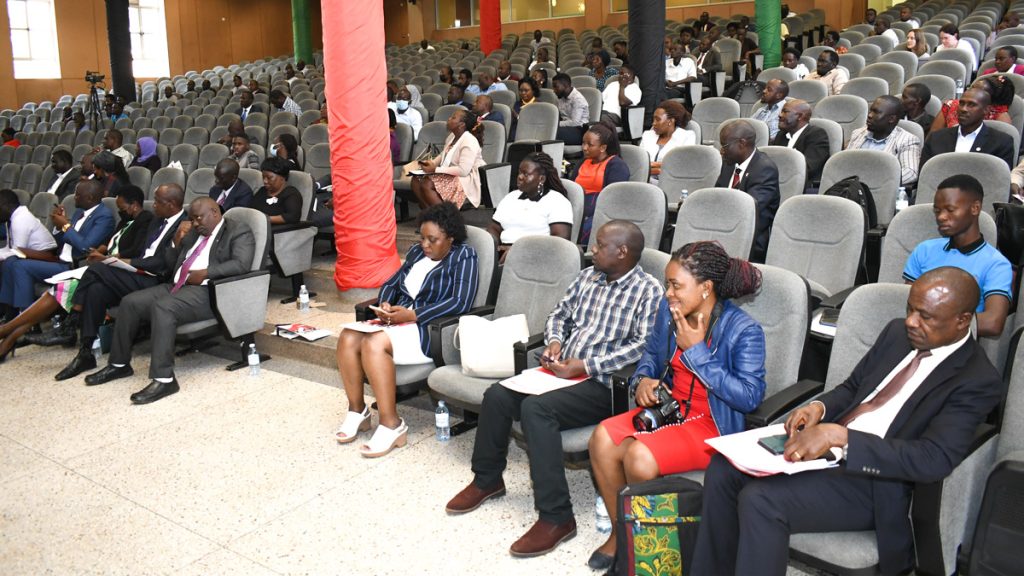 "The Mastercard Foundation Scholars Program continues to recognize that in order to enable young people across Africa to succeed, there is need to; Address systemic barriers in Higher education, Strengthen the capacity of Institutions that serve the Young People, and Support innovative solutions across critical sectors." Prof. Namaalwa remarked.
The colourful launch ended with a panel discussion in which panelists digested the importance and opportunities for open distance and eLearning in higher institutions of learning.
Bernard Buteera is the Communications Officer of the Mastercard Foundation Scholars Program at Makerere University.