Prof. Maria Musoke a solid bridge between Health and Information Sciences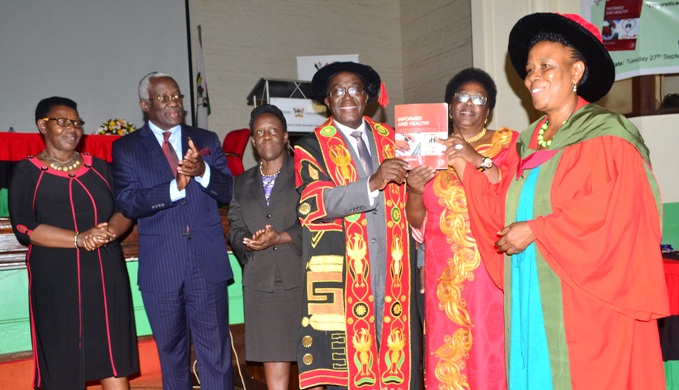 On 27th September 2016, the Prime Minister of the Republic of Uganda Rt. Hon. Dr. Ruhakana Rugunda hailed Prof. Maria Musoke for her tremendous work in bridging the gap between health and information. This was at a high profile launch of Prof. Maria Musoke's book Informed and Healthy: Theoretical and Applied Perspectives on the Value of Information to Health Care attended by renowned dignitaries, scholars, and academicians who convened in the Makerere University Main Hall. The launch was indeed a befitting celebration of their own; a renowned researcher, academician and mentor.
In a speech read by the Cabinet Minister in Charge of General Duties in the Office of the Prime Minister Hon. Mary Karooro Okurut, the Rt. Hon. Prime Minister congratulated Prof. Maria Musoke for adding to a body of knowledge by authoring a book that clearly articulates the great power that is embedded in information.
"This book is very relevant and timely, it is written in the language that does not need deciphering. It highlights the value of information and confirms that indeed information is power," he said.
The Prime Minister expressed gratitude for being selected by the author to write a foreword to the book when he said, "I am happy to write the Foreword to Dr. Musoke's book and I pledge to be the one of the key marketers not only in Uganda but in the global village."
In her own words, Hon. Karooro Okurut observed that whoever has worked with Prof. Maria Musoke can testify to her "Perennial hard work, dedication to duty, and focused and committed leadership," further adding "she is endowed with a tickling brain which she has put to good use."
In the same spirit, the Makerere University Vice Chancellor Prof. John Ddumba-Ssentamu applauded Prof. Maria Musoke's scholarly achievement in coming up with the book; a must-read for students and information professionals, Librarians and Professors of Information Science.
"Prof. Maria Musoke is an information authority in her own right, who made the most of her sabbatical leave to produce this important resource. Her work encourages us to achieve value for time during periods of research and sabbatical," he said.
Through her book the Informed and Healthy: Theoretical and Applied Perspectives on the Value of Information to Health Care, it is hard to underestimate the academic and scholarly efforts by Prof. Maria G N Musoke, to bridge the gap between health and information among people in the rural areas.
Informed and Healthy: Theoretical and Applied Perspectives on the Value of Information to Health Care is an asset focusing on the value attributed to information by users and its effect on health care. The book also provides a new model of information behavior in which the value of information drives various information activities. According to the author, the book also demonstrates the value of having an informed audience when it comes to health issues.
"The book confirms that when people are informed they are healthy and when the health workers apply the knowledge in their work, there are many benefits to health care. It is a valuable resource for health professionals, planners, and policy makers, as well as researchers interested in health information systems and their applicability in different environments," said Prof. Musoke.
To the Author, the book uses a case study of the health information system in Uganda and expands the analysis by comparing it to other systems utilized by different countries in diverse levels of development. It demonstrates the fitness of the value model for the phenomenon of information access.
Informed and Healthy: Theoretical and Applied Perspectives on the Value of Information to Health Care was compiled and completed basing on research on women and health workers in four districts of Uganda which included Lira, Mukono, Masaka and Bushenyi. It focuses on the distribution of information pertaining to health among rural people.
"If we have an informed society, the health status must improve… If all Ugandans were informed that we should wash our hands after visiting the toilet, there would be minimum disease spread," she said.
The book is currently on market in the various bookshops in Uganda at UGX 100,000 and can be accessed online at US$ 56.95.
During the launch, two renowned Scholars; Prof. Grace Ndeezi from College of Health Sciences (CHS) and Dr. Joyce Bukirwa Muwanguzi from College of Computing and Information Sciences (CoCIS) added value to the day's proceedings by authoritatively discussing Prof. Maria Musoke's Book.
In her discussion Prof. Grace Ndeezi a Professor of Pediatrics and Child Health said that Informed and Healthy: Theoretical and Applied Perspectives on the Value of Information to Health Care is a vital book that addresses a big gap most of other scholars have reluctantly over looked. According to Prof. Ndeezi, the book is very instrumental to information delivery, access, and use of critical information for public health.
"So many diseases and other related health problems can be solved by information. I therefore state that the title of the book is befitting," she remarked.
In addition, Dr. Joyce Bukirwa Muwanguzi observed that Prof. Musoke's book portrays a paradigm shift of information. Heralding the book as a great contribution to Information Science as a discipline, Dr. Bukirwa Muwanguzi noted that the publication also affirms Prof. Maria Musoke's passion for information dissemination. She highlighted the need to translate the book into several languages so as to benefit all the different people in the country. "Since the country is multilingual in nature, there is need to translate such literature for the benefit of all citizens," she said.
Citing the importance of authors in addressing the several challenges in this country and the world at large through scholarly writings and publications, Lady Justice Prof. Lillian Tibatemwa-Ekirikubinza said there is a need to improve the policies and laws governing authors and publishers in the country. This, she noted, would encourage more writers to come forth on the scene. She commended Prof. Musoke's commitment in translating knowledge into practice and examining the value of information and its ability to affect the bottom line of better health.
"I therefore say, if you want to author another book and another, you should focus on the joy and thrills that you meet on your journey as a writer," she said. The Lady Justice further said that authorship is a mark of academic growth and shared with the audience the challenge to write her own book describing her experience as a female Member of the Makerere University Management.
Introducing the author, the Deputy Principal, College of Computing and Information Sciences (CoCIS), Dr. Agnes Semwanga Rwashana presented Professor Maria G N Musoke as a lady of many firsts. She is and will always be remembered as the first Ugandan woman to get a PhD in Information Science in 2001, which she obtained from the University of Sheffield, UK. She was the first Ugandan woman to become a Professor of Information Science in 2010, the first Librarian from the Sub-Saharan Africa to chair the Health and Bioscience Section on the International Federation of Library Association and Institutions (IFLA), and the first Ugandan woman to head Makerere University Library Services in 2004, a post she held for two terms until December 2014.