MUEHSA 13th Annual Scientific Conference a Major Success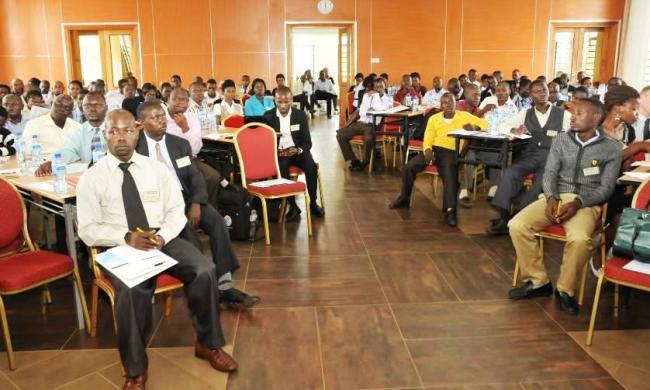 Makerere University Environmental Health Students' Association (MUEHSA) is a student-led association started in 2002 by students on the Bachelors of Environmental Health Science programme at Makerere University School of Public Health. With the aim of promoting environmental health in Uganda, the association holds a variety of activities including celebrating annual international health days, community outreach programmes and lobbying for improved environmental health.
Year after year, since 2003, the association has been organizing annual scientific conferences hosting participants from different countries and fields related to health. The scientific conferences provide a platform for discussion and presentation of environmental and public health work in Uganda and elsewhere in the world; giving an opportunity for comparison of systems. It is also an opportunity for presentation of innovations and research papers from students, organizational activities and findings in public health. The conferences increase knowledge of students in public health practice and enrich and rejuvenate practitioners' knowledge-base.
This year, the MUEHSA 13th annual scientific conference was held 7th – 8th April at Esella Country Hotel, Najjera near Kampala, under the theme "Intersectoral collaboration to enhance the role of Environmental Health towards achieving the Sustainable Development Goals." The conference aimed at providing a clear overview and understanding of the importance of collaborative action across different fields to achieving Sustainable Development Goals, especially in terms of health (defined as a state of complete physical, mental and social well-being and not merely the absence of disease or infirmity.) and stressing the role of environmental health.
In a keynote address, Dr. Sheba Gita noted that unlike the 8 Millennium development goals that were closed in 2015, the 17 Sustainable Development Goals emphasize 3 new aspects, i.e. universality (apply to every nation, sector, business, and organization,) integration (goals are interconnected. We need to achieve all goals, not just one,) and transformation to achieve (we require big changes to achieve the SDGs.) She therefore emphasized that the only way to achieve SDGs is through collaborative actions involving more than one agency. Dr. Gita also illustrated effective collaborative action with a case study on plague outbreak in Arua, 2008, in which an investigation team was set up, made of officials from Ministry of Health, Ministry of Agriculture, an entomologist, US Centres for Disease Control and Prevention officials, local government health practitioners, AFENET, Makerere University School of Public Health team, Veterinary doctors, engineers and anthropologists. They carried out activities including community sensitization on killing rats and keeping domestic animals out of their houses, radio talk shows on plague causes and control methods.
The Guest of Honour, Dr. Okello Ayen (Director of Public Health, Kampala Capital City Authority), hinted on the interface of urbanization and health in his address. He also mentioned that health needs to be seen as an environmental aspect and not simply a hospital issue. He gave an example of the very big solid waste management problem in Kampala affecting air quality. He expressed that Kampala is a lakeside city translating into increasing water contamination and eutrophication due to industrialization and poor waste disposal. Things such as these result in the population having the second largest lake in the world but with water that cannot be used, incurring high water treatment costs. He challenged the participants to do something about the construction of pit latrines in Kampala a largely wetland area and to pay attention to the growing non-communicable diseases burden in the country. In conclusion, he said "at the end of this conference, every person should be able to stand out and teach the public about health according to what we have learned. Publish out something, like a summary! And approach KCCA for help and advice."
Professor John David Kabasa, the keynote speaker of day 2, introduced the importance of the One Health concept. He said that one health is about policies and systems that will shape the next generation of youth 2035 – 2050. He mentioned that from the time of the industrial revolution and civilization set in, medicine has increasingly been available, there is a decrease in infectious disease mortality, life expectancy increase, population increase and exportation of western civilization among others.
"Today, there is shrinking earth paradigm indicated by overpopulation, global warming and climate change, resource and livelihood hunger and obscure future. As a result of high population, there is high demand for quality products and services, improvement in technology, while globalization and glocalization are running together. However, there are challenges among the youth that need to be addressed in international education and language i.e, integration, ideology, culture, politics, and religion", Professor. Kabasa said.
He added that the increased interface with the animal world has led to outbreaks of zoonotic diseases like Ebola and Marburg. While in the food industry, urbanization and income growth in Africa are driving a diet transformation, posing higher risks of biothreats. Africa is also the most severely affected region in global water scarcity.
Professor Kabasa said in order to address the challenges, knowledge, ability (skills), attitude, networks, and integrity will be crucial for competition.
The two-day scientific event hosted over 250 participants, including students and staff from 10 institutions of higher learning in Uganda, Cardiff Metropolitan, and Nottingham Trent University (both of the United Kingdom), representatives from district health departments, civil society organisations, among others. Up to 25 presentations were made by local and international participants, focusing on;
1. Partnerships for health
2. One Health concept
3. Air pollution, climate, and health
4. Affordable and clean energy
5. Water, sanitation, and hygiene
6. Food safety and food security
7. Reproductive health
8. Occupational health
9. Public health legislation
10. Opportunities for students


The MUEHSA patron, Ms. Ruth Neebye Mubeezi, commended the always growing enthusiasm of the students and appreciated the organizing committee. She noted that such conferences are important for health in the nation and that focusing on intersectoral collaboration this year is more than just a great idea for wider coverage but is also a perfect timing for the health systems which require more than independent silos but togetherness in action for health.
The outgoing MUEHSA president, Ms. Anyonga Prisca cherished the work of fellow students and gave open appreciations to all supporting partners especially the school administration, and gave tokens of appreciation, awards to different presenters and participants at the conference.
Article by OHCEA Communication Team
Uganda's policymakers implored to address forest loss, plastic & water pollution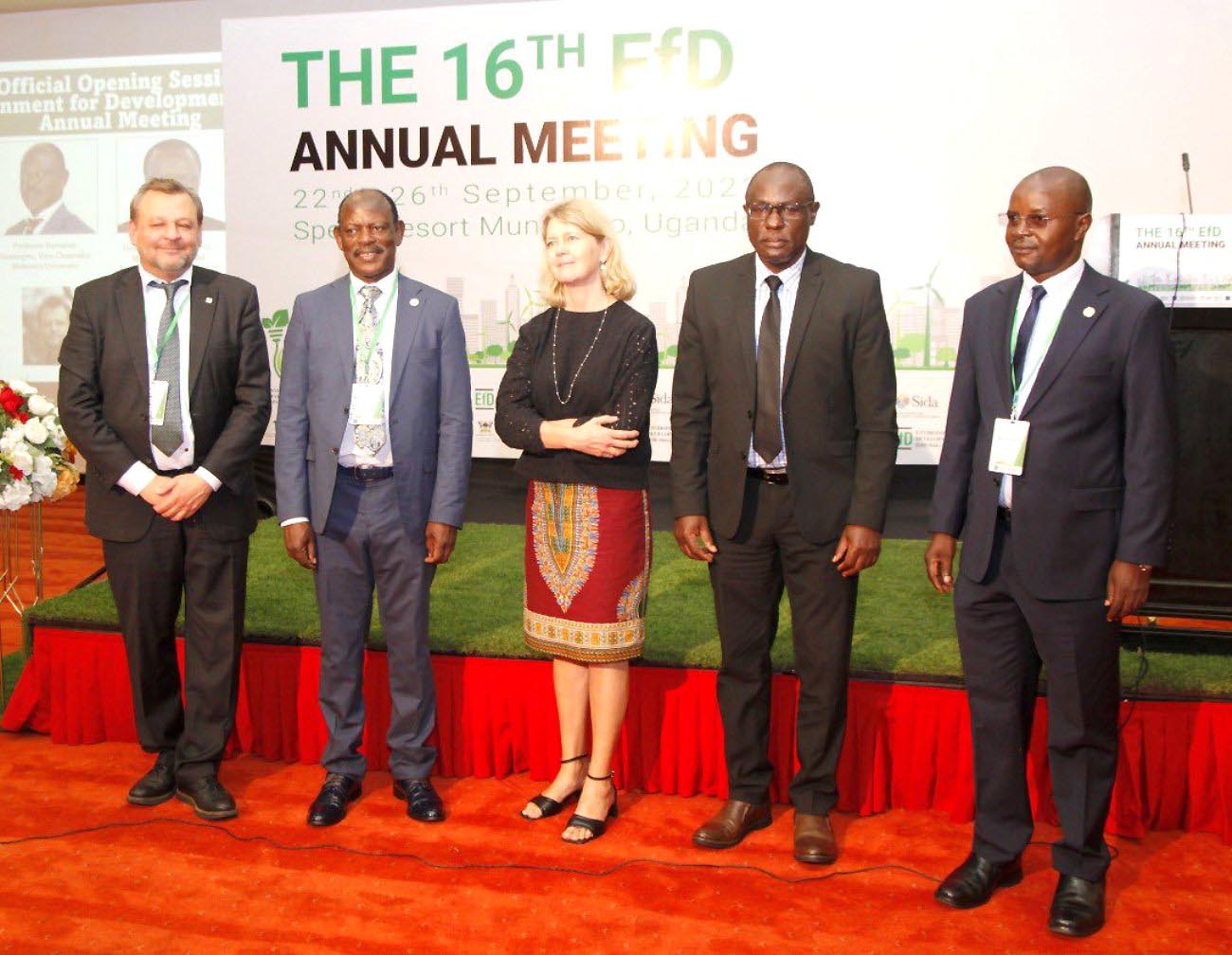 The Vice Chancellor Professor Barnabas Nawangwe on Thursday 22nd September, 2022 participated in the opening of the EfD Annual meeting hosted by Makerere University at Speke Resort Munyonyo where he appealed to government to implement the ban on kaveera and address other environmental issues.
The opening ceremony moderated by the EfD Global Hub Manager Gunnar Köhlin and was graced by Uganda's Minister for Water and Environment represented by the Commissioner for Water, Mr. Julius Mafumbo and the Swedish Ambassador to Uganda, H.E. Maria Håkansson.
Prof. Nawangwe urges Makerere University community to support the Mastercard Foundation E-learning Initiative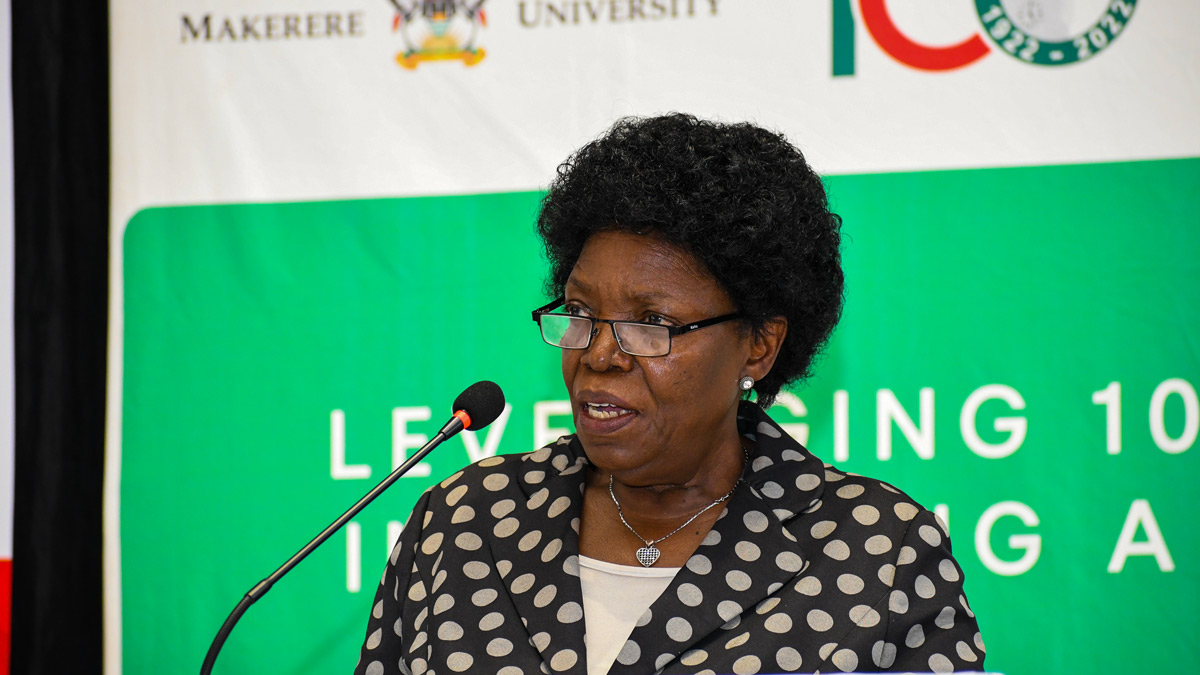 By Bernard Buteera
Makerere University has launched a two million dollar E-learning Project, dubbed The Mastercard Foundation Scholars Program E-learning initiative.  
The launch was held on Tuesday 20th September 2022 at Makerere University, Yusuf Lule Central Teaching Facility Auditorium. It attracted over 200 participants, who included members of University Management, College Principals, School Deans, Academic and Administrative staff, students and the general university community.
While addressing the gathering, the Chief Guest, Prof. Mary Okwakol, the Executive Director of National Council for Higher Education (NCHE), congratulated Makerere University for winning such a huge grant, which will go a long way in transforming the eLearning infrastructure at Makerere University.
"I am happy to be joining you in launching a project that is at the heart of National Council for Higher Education. Online learning is at the heart of the Council, not only because of the challenges presented by the Covid-19 pandemic, but also the world is now a digital world." Prof. Okwakol remarked.
Prof. Okwakol thanked Mastercard Foundation and other development partners who have continued to support initiatives that help transform higher institutions of learning in Uganda.
"I sincerely thank the Mastercard Foundation and other partners who have continued to support higher education in Uganda, especially in the area of research and online learning. Globally, the outbreak of the COVID-19 pandemic, greatly disrupted education systems forcing learners and some schools to shift to virtual learning to curb the spread of the pandemic." Prof. Okwakol pointed out.
On his part, the Vice Chancellor, Prof. Barnabas Nawangwe urged the university community, especially the academic staff to take advantage of the Mastercard Foundation E-learning initiative to develop e-content across all Colleges of the University, to enhance capacity for eLearning at Makerere University.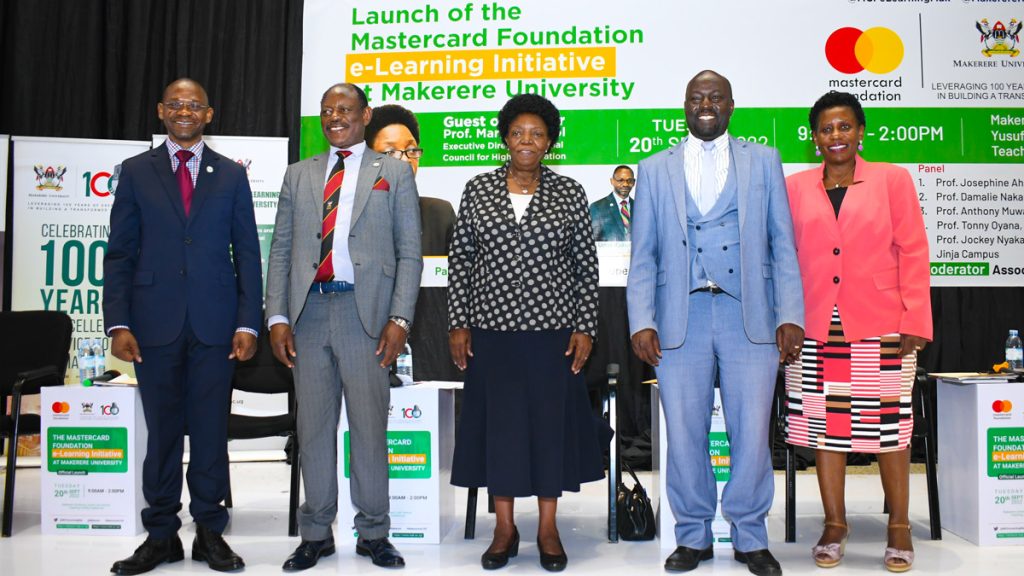 "I appeal to the Colleges to embrace this project and have as many courses adopt this pedagogy development system, even though students will continue with face-to face and phyisical learning, they should be allowed the option of online learning. The platforms that are going to be built, will give our students an opportunity to interact with international students, scholars, teachers and with each other." Prof. Nawangwe applealed.
The Vice Chancellor, further called upon all other development partners to emulate Mastercard Foundation in supporting Makerere University and other universities on the entire African continent in strengthening digital literacy, so that Africa is not left behind.
"In 2018 I attended a conference on E-learning in Beijing China, where a critical question was asked; Will Africa be left behind again? This was in reference to many advancements that were taking place in the western world, in which Africa had been left behind." The Vice Chancellor reminded the audience.
Prof. Nawangwe further emphaised the importance of e-learning as one of the critical modes of teaching and learning in the 21st first century.
"Ladies and Gentlemen, I cannot over emphasise the importance we attach to e-learning the 21st Century, that is why we took a decision to elevate the Department of Open and Distance Learning into an Institute of Open and Distance E-learning with an intention of having e-learning extended to other Colleges of the university." Prof. Nawangwe pointed out.
The Deputy Vice Chancellor Academic Affairs, and Chairperson of the Steering Committee of the E-learning Initiative, Prof. Umar Kakumba, rallied the University community to support the implementation of the project in the University.
"The Mastercard Foundation Scholars Program E-learning initiative could not have come in at a better time than post COVID19 era. A pandemic, which exposed our systems and methods of teaching and learning. You all recall, when were hit by the pandemic, with lockdowns and closures of institutions of learning, we all went into a panicky mode on how were going to cope with online learning. I therefore call upon every member of the university to give this project the support it deserves.
Prof. Kakumba reminded the audience the importance and relevancy of online learning at Makerere University and other universities in Uganda.
"The online method of learning is best suited for everyone. This digital revolution has led to remarkable changes in how the content is accessed, consumed, discussed, and shared. Office goers and stay home mothers can take up online educational courses too, at the time that suits them. Depending on their availability and comfort, many people choose to learn at weekends or evenings." Prof. Kakumba remarked.
Prof. Paul Birevu Muyinda, the Coordinator of the Mastercard Foundation E-learning Initiative, informed the audience the importance of the project and the expected outcomes for the University.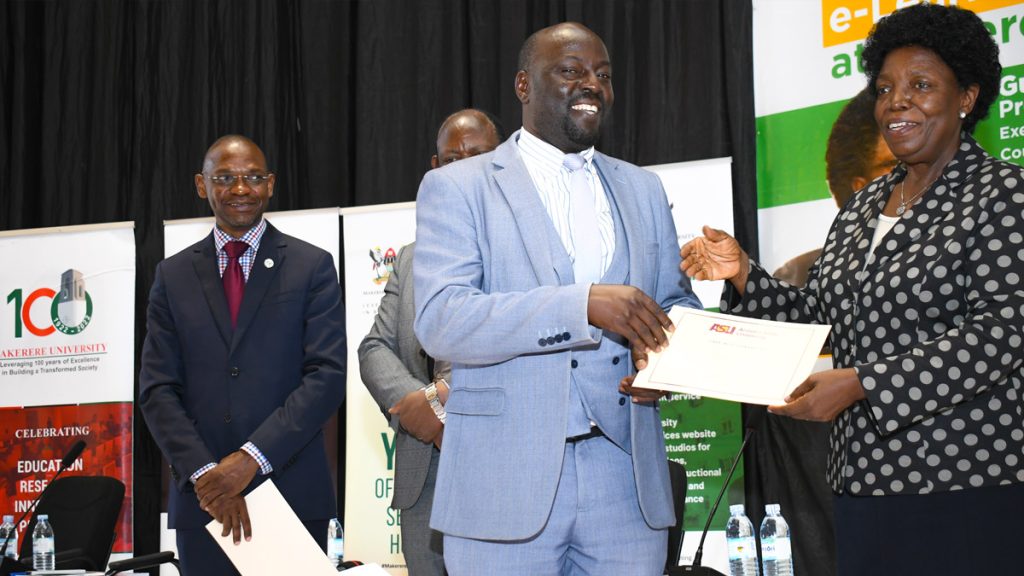 "The Mastercard Foundation e- Learning Initiative is a Project funded by Mastercard Foundation aimed at addressing the negative impact of COVID-19 pandemic that constrained access and continuity of teaching, learning, research and community engagement activities at Makerere University" Prof. Muyinda pointed out.
Prof. Muyinda further thanked the team that he worked with in putting up the proposal in a very short time that yielded such an important grant for the University.
"I thank the team that spent sleepless nights putting together the proposal that resulted into this project. I must report that Makerere University is privileged to be having the most highly qualified persons in online instruction design and online pedagogy at the IODeL and beyond. It is now up to Makerere University in particular and the Country in general to make use of these persons to transform the terrain of online, blended distance and e-learning education." Prof. Muyinda remarked.
Prof. Justine Namaalwa, the Program Coordinator for Mastercard Foundation Scholars Program at Makerere University, informed the audience, that the E-learning initiative was one of the many partnerships between Mastercard Foundation and Makerere University geared at supporting the young people to succeed on the African continent.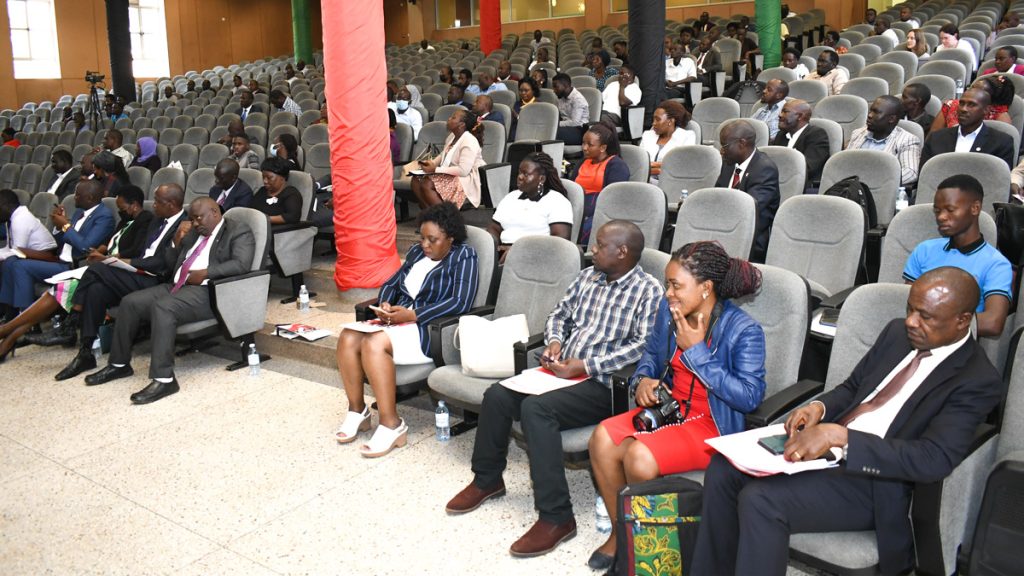 "The Mastercard Foundation Scholars Program continues to recognize that in order to enable young people across Africa to succeed, there is need to; Address systemic barriers in Higher education, Strengthen the capacity of Institutions that serve the Young People, and Support innovative solutions across critical sectors." Prof. Namaalwa remarked.
The colourful launch ended with a panel discussion in which panelists digested the importance and opportunities for open distance and eLearning in higher institutions of learning.
Bernard Buteera is the Communications Officer of the Mastercard Foundation Scholars Program at Makerere University.
Supplementary Admissions to Bachelor of Laws Under Private Sponsorship 2022/23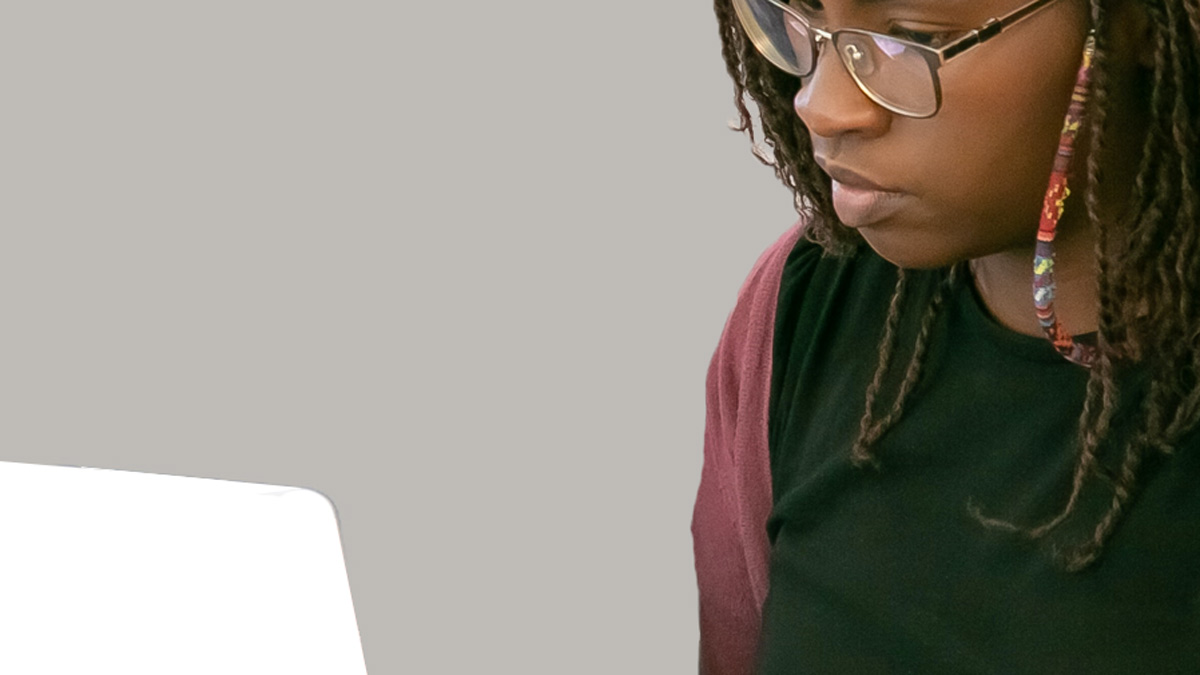 The Academic Registrar, Makerere University, informs applicants wishing to be admitted to Bachelor of Laws Private for 2022/2023 Academic year but failed to submit their application online to submit their applications from Friday 23rd to Friday 30th September, 2022 at a non-refundable fee of 50,000/= (Fifty thousand shillings only).
The applicants MUST have passed the Pre-entry Examinations for Bachelor of Laws.
Diploma/Degree holders should submit certified copies of their academic transcript to Room
315 Level 3, Senate Building.
Applicants who have already been admitted need not apply.
For any additional information, contact Undergraduate Admissions Offices 301/303 for A'Level Applicants and Office 315 for Diploma/Degree holders.
ALFRED MASIKYE NAMOAH
AG. ACADEMIC REGISTRAR
Date: 22nd September, 2022