Thousand bury Prof. Mazrui in Mombasa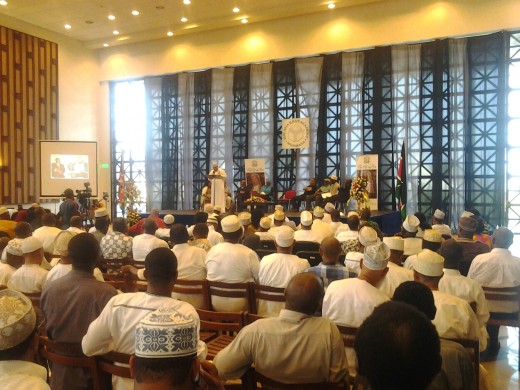 The burial of Kenyan Scholar Prof. Ali Mazrui, attracted thousands of people who came from all over the world, to pay their last respects. Prof. Ali Mazrui was buried on Sunday 19th October 2014 at his ancestral home in Fort Jesus, Mombasa. The burial was attended by high profile delegates and representatives from many parts of the world including the USA, Kenya, Nigeria, and Uganda – particularly Makerere University. A powerful delegation comprising of the Vice Chancellor of Makerere University, Prof. John Ddumba-Ssentamu, the Deputy Principal of the College of Humanities and Social Sciences, Prof. Abasi Kiyimba and Nuha Mwesigwa of the Makerere University Private Sector Forum, MUPSF, travelled on behalf of Makerere University. Mwesigwa narrates that this delegation was recognized and thanked for making it to the burial of Prof. Ali Mazrui – an acclaimed Ambassador of Makerere University. After the burial, a few invited guests headed to the Agha Khan high School hall where tributes were read.
In his condolence message, the Vice Chancellor said Makerere University would continue with the Mazuriana projects. "We at Makerere will always remember Prof. Ali Mazrui for his dedicated service to this institution for the ten years he spent with us. Prof. Mazrui consistently acknowledged Makerere University as the academic institution that made him who he was. He always paid tribute to his alma mater wherever he went, making him one of our most devoted Ambassadors. Makerere University is committed to carrying on the Mazruiana projects comprising of the Mazrui Endowment Chair and the East African Ali Mazrui Centre for Global Studies. This is our humble way of celebrating Prof. Ali Mazrui's long and illustrious academic life," he said.
Nuha Mwesigwa, who spoke on behalf of the Governor of Bank of Uganda Prof. Emmanuel Mutebile – the Chairman of MUPSF observed that, "The Mazrui Chair is intended to attract future scholars of exceptional distinction in the objective that any new holder would repeat Professor Mazrui's illustrious record. The Chair will support nationally and internationally credentialed research professors and lecturers in teaching, research, innovations and knowledge management and exchange plus those engaged in writing and publishing."
In her remarks, Prof. Mazrui's widow, Pauline Uti – Mazrui shared that her husband always insisted that he was to be buried in Mombasa besides his late father's grave. She was grateful that this request had been respected. She said Prof. Mazrui was a strong believer in God's providence and that their home was always welcome to; since God would provide.
At Makerere University, many who were not in position to travel to Mombasa wrote moving testimonies about the departed scholar in a condolence book opened in the office of the Vice Chancellor. This book is now in the custody of the Mazrui family. Below are some of the written messages in the book:
Prof. Apolo Nsibambi (Former Prime Minister of Uganda): Prof. Ali Mazrui was a versatile academic giant, an
orator, an excellent teacher, a loving critic of Governance and he published more than thirty books on topical issues. He was an effective Dean of the Faculty of Social Sciences and Head of the Department of Political Sciences and Public Administration. He started the tradition of holding public lectures in the Main Hall. The controversial lectures attracted members of staff, students and people from outside the University. He took the University to the public. We must operationalise the Chair which he started at Makerere University. May his soul rest in eternal peace."
Amb. Robert Ngesu, Kenyan Deputy High Commissioner (wrote on behalf of the High Commissioner and Staff of the Commission): "Prof. Ali Mazrui was a great Kenyan, a scholar, and an acclaimed academician who will be missed by many who interacted with him. Prof. Mazrui's academic life was launched at Makerere University where he taught for over ten years, His academic and Scholarly footprints will eternally be in this University."
Elizabeth Gabona (Commissioner for Higher Education in the Ministry of Education): Your legacy and inspiration will live on forever. Rest in peace.
Prof. Edward Kirumira, Principal of the College of Humanities and Social Sciences: "This is indeed a great loss to the social sciences and humanities fraternity at Makerere University and the continent. Our condolences. We pray that we uphold his legacy. May Prof. Mazrui's soul rest in peace."
Dr. Sallie Kayunga Simba (Mak, Department of Political Science and Public Administration), "Prof. Ali. Mazrui was a great man. I have an opportunity to read several of his books. I coordinated his visit to the Senior Staff and Command College, Kimaka. His suggestion towards conflict resolution in Africa is great. He was humble and easy to reach. I will miss him greatly."
Dr. Muhammad Kiggundu, Chairperson Makerer University Academic Staff Association: "We thank God for the gift of Prof. Ali Mazrui. Me in the field of the study of Islam and Diplomacy, I will always take him as my model. May Allah rest his soul in eternal peace."
Dr. Tanga Odoi (Makerere History Department): Prof. Ali Mazrui has held Africa and its heritage very well. He applauded the obvious fact that Africans had a history, culture and that the continent is the cradle of man, to the dismay of colonial-Euro centric scholars who thought otherwise. He remains alive through his revered works and we shall all keep him in our hearts. May his soul rest in peace.''
Jackie Ayorekire, Finance Department Makerere University: "I have always liked Prof. Mazrui for his objective debates and it was sad indeed to hear about his demise. As believers, we should accept that his time had come, and forever remember him and talk about him to the next generation."
Prof. P.E.T Mugambi (Uganda National Academy of Science): "I wish to pay a deep felt tribute to Prof. Mazrui for his singular contribution to Makerere University, Uganda and Africa as a brilliant intellectual. I joined Makerere University with him as an Academic member of Staff where we worked as colleagues."
David Kahundha Muhwezi (Makerere University Accounting Officer): "What a loss for Africa and Makerere University
. He has been a great man and son of Africa. May his soul rest in peace."
Hon. Irene Ovonji-Odida (Vice Chairperson of Makerere University Council): His contribution to intellectual thought made him a giant. May his soul rest in peace.
Ritah Namisango (Senior Public Relations Officer Makerere University): Prof. Mazrui as you meet your creator, may your soul rest in peace. Let your love for Makerere University continue to inspire us to build for the future.
Stephen Kateega (Deputy Dean of Students): Prof. Mazrui lit a light that will not be extinguished at Makerere University.
Mary Tizikara (Director Human Resources, Mak.): Your legacy will continue to inspire institutions. Rest in peace.
Prof. Maria Musoke (Makerere University Librarian): You have been our academic pillar and star. May your soul rest in peace.
Rosette Senoga (Finance Department): Rest in peace Prof. Mazrui. You have left a foot print.
And so many more…
Compiled by Marion Alina, Public Relations Office
Related articles:
http://news.mak.ac.ug/2014/10/mak-holds-dua-prof-ali-mazrui
http://news.mak.ac.ug/2014/10/makerere-staff-pay-tribute-prof-ali-mazrui
http://vc.mak.ac.ug/events/254-celebrating-prof-ali-mazrui-a-distinguished-alumnus.html
Prof. Ali Mazrui Launches Makerere Project – 11th August 2009
Uganda's policymakers implored to address forest loss, plastic & water pollution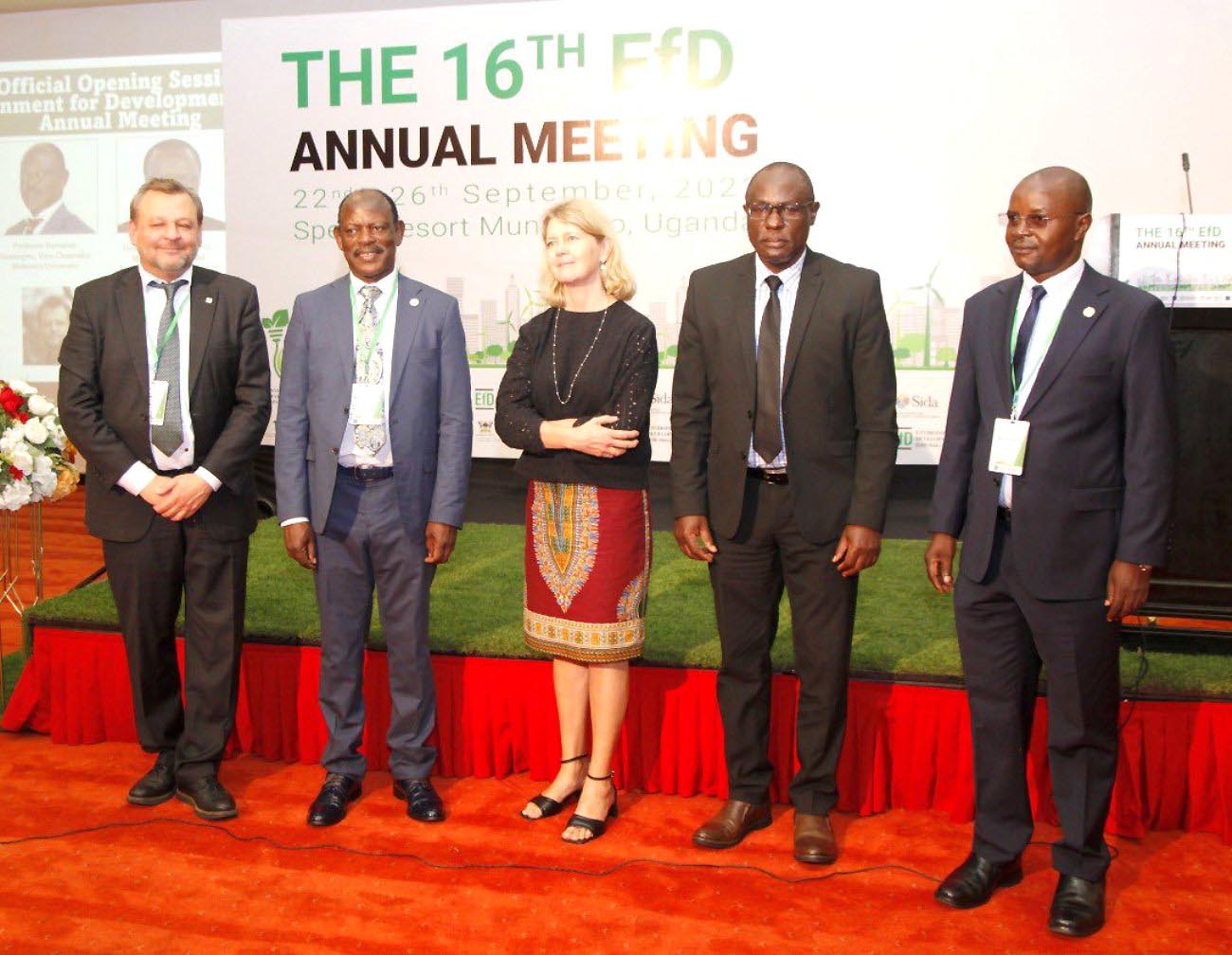 The Vice Chancellor Professor Barnabas Nawangwe on Thursday 22nd September, 2022 participated in the opening of the EfD Annual meeting hosted by Makerere University at Speke Resort Munyonyo where he appealed to government to implement the ban on kaveera and address other environmental issues.
The opening ceremony moderated by the EfD Global Hub Manager Gunnar Köhlin and was graced by Uganda's Minister for Water and Environment represented by the Commissioner for Water, Mr. Julius Mafumbo and the Swedish Ambassador to Uganda, H.E. Maria Håkansson.
Prof. Nawangwe urges Makerere University community to support the Mastercard Foundation E-learning Initiative