Why Not Uganda? Asks Amb Haskel on Farewell Visit to Mak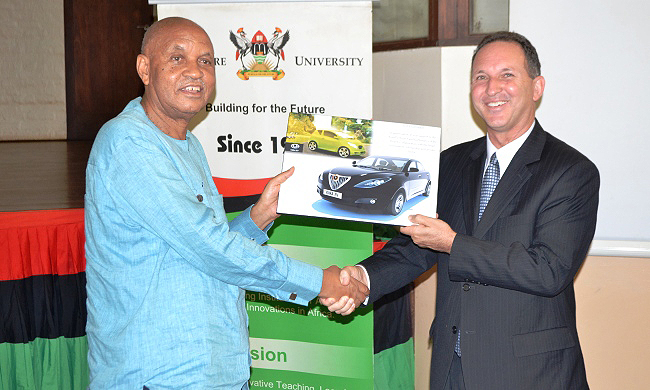 The Israel Ambassador to Kenya, Uganda, Tanzania, Malawi and Seychelles H.E. Gil Haskel paid a farewell visit to Makerere University as part of his end of duty visit to Uganda from 13th to 15th July 2014. Accompanied by his wife Mrs. Dalit Dassa Haskel, the Ambassador Haskel paid a courtesy call on the Vice Chancellor, Prof. John Ddumba-Ssentamu in his office on 14th July 2014, where he also met with the Chancellor, Prof. George Mondo Kagonyera, the Chairperson Council, Eng. Dr. Charles Wana Etyem, Representative to the Minister of Education and Sports and the Principal, College of Veterinary Medicine, Animal Resources and Biosecurity (CoVAB) Prof. John David Kabasa.
In his remarks, the Vice Chancellor Prof. Ddumba-Ssentamu thanked the Ambassador for including Makerere University on his farewell visit to Uganda noting that this was a true testament to the to the value the Government and people of Israel attach to academia and indeed to Makerere University.
"We sincerely thank H.E. Ambassador Gil Haskel for his personal contribution to the success of the Agrostudies Internship at Makerere University and the Nation. This internship has not only grown but also flourished under your term of office," said the Vice Chancellor in reference to the Agrostudies International Internship program increasing Uganda's internship slots from 41 to 192.
Speaking on behalf of the College of Agricultural and Environmental Sciences (CAES) which was the flagship college for the Agrostudies Internship, Prof. John Muyonga-Dean, School of Food Technology, Nutrition and Bioengineering on behalf of the Principal Prof. Bernard Bashaasha reiterated the Vice Chancellor's statement, "We are happy Your Excellency that in the College of Agricultural and Environmental Sciences, where we only had two programmes participating last year, we are going to have a total of five programmes participating this year."
Prof. Muyonga also expressed pleasure that more Colleges like CoVAB as well as other Institutions were also participating in the programme. "This is indeed the way to make the programme actually deliver for the country," he added. He further appreciated the value that the Internship added to all the theory the students learnt, noting that the College looked forward to interacting with even more institutions to mainstream skilling of its students.
As an outcome of the Makerere University Job Evaluation Task Force's benchmarking visit to Israel from 17th to 20th July 2012, the University signed a Memorandum of Understanding with Bar-llan University, Israel on 5th April 2013. The Principal, College of Natural Sciences (CoNAS) Prof. JYT Mugisha appreciated Bar-Ilan University's advancement in nano technology, computational sciences, astrophysics, biotechnology and bioengineering and hoped that the partnership would help broaden research cooperation in those disciplines.
"The College of Natural Sciences has written a project through which we can holistically partner with Bar-Ilan University. The project is aimed at bridging the Science, Technology, Engineering and Mathematics (STEM) gap in the rural and urban High Schools, also incorporating gender aspects," said Prof. Mugisha. "We hope that this project can be taken up under the Presidential initiative so that together with Bar Ilan University, we can popularize sciences in Uganda with the anticipation of a big boost to the number of science students in the next eight years," added the Principal CoNAS.
On behalf of the Makerere University Job Evaluation Task Force, Mr. George Piwang Jalobo who served as the Research Fellow on the same body borrowed a leaf from his theological background to illustrate how Israel's use of modern technology to turn desert and wilderness into Eden was prophesied by Isaiah 51:1-3.
"If Israel could turn desert and wilderness into lush agricultural land, what could their skills and competence do to the fertile well-fed soils that we have in Uganda?" he pondered. "The trick and the key is in the hands of you the students that are going as agricultural evangelists to Israel to be trained to transform Agriculture in Uganda," Mr. Piwang encouraged, further adding "That is the vision of His Excellency the President to transform agriculture in Uganda as embodied in Vision 2040 and you are the change agents. You are the cadres of agricultural modernization and transformation in Uganda. Don't waste that opportunity."
Speaking on behalf of CoVAB, the latest college to join the Agrostudies programme, The Principal Prof. John David Kabasa appreciated the timeliness of the Internship, noting that by 2040, it was envisaged that about 1billion people would be living in Cities of this region and would require safe and healthy animal products.
"Foot and mouth disease is one of those that can paralyze animal production. When this initiative came up, there was an opportunity to write a joint framework with partners from Ben-Gurion University of Negev-Israel, the US and Uganda Virus Research Institute to identify strains of the virus and come up with a vaccine to cordon it off. If we are able to do that, trading with Israel and other countries will be okay, and we hope, Your Excellency, that this programme will help to catalyse this initiative beyond other diseases which are also affecting the business," stated Prof. Kabasa.
Mr. Agaba Issa Mugabo the Agrostudies Coordinator for East and Southern Africa thanked the Ambassador for his support to the Agrostudies Internship programme at Makerere University and always making personal follow-ups on the Students' progress. He also prayed that the Ambassador would through his new office consider rounding off the Ugandan Internship slots to 200.
"Your Excellency, out of the 192 slots, we have interviewed close to 300 students from the five Institutions; Makerere University, Kyambogo University, Bishop Stuart University-Mbarara, Busoga University and Bukalasa Agricultural College, and we have shortlisted about 230 with only 8 slots for girls. Uganda is a gender-sensitive country and our prayer is that in your new capacity as Head of MASHAV, you will not only increase our total slots to 200 but also increase the slots for females," advocated Mr. Mugabo.
Out of the 192 slots confirmed by Agrostudies, 25 have gone to CAES, 40 to CoVAB, 20 to Kyambogo University, 32 to Busoga University, 15 to Bishop Stuart University and 60 to Bukalasa Agricultural College.
In his remarks, the Chairperson University Council, Eng. Dr. Charles Wana Etyem commended Ambassador Haskel for his keen interest in Makerere as demonstrated by his record-holding visits. "In the long and distinguished history of Makerere University, H.E. Gil Haskel indeed holds his own record not only as the first Israeli Ambassador but also the first foreign envoy ever to have visited Makerere University three times within a space of less than one and a half years. We pray that you may continue to break many more records here at Makerere University, especially as you take on your new assignment back home in Israel," said the Chairperson Council.
Eng. Dr. Wana Etyem further appreciated the Agrostudies Programme, as an opportunity for Ugandans to not only receive practical skills in the sciences but also change the mindset and attitude of students towards agricultural work and productivity. He prayed that any issues emanating from the programme which was approved by the Senate and endorsed by the Council would be appropriately handled without creating any anxiety on the part of any party.
In Reading the Minister of Education and Sports, Hon. Jessica Alupo's remarks, the Minister's representative expressed her appreciation to Ambassador Haskel on the progress of the partnership thus far "Your Excellency, the Government of Uganda is pleased that the Memorandum of Understanding between Makerere University and Bar Ilan University and the Agrostudies Agricultural Internship towards modernization of agriculture in Uganda and future collaborations with other Israeli Universities and Institutions are all geared towards promoting and scaling up the Presidential Initiative for Science, Technology and Innovations," read the representative.
"The Honourable Minster of Education and Sports also recommended to the Chancellor Prof. George Mondo Kagonyera to inaugurate H.E. President Yoweri Museveni as the Patron of the Presidential Initiative for Science, Technology and Innovation in Makerere University, as a Ugandan homegrown centre of excellence in Science Technology and Innovation in Africa," he added. This has been proposed to take place in October 2014, as part of Uganda's 52nd Independence Celebrations, in recognition of President Museveni being the first African Head of State to set up the Presidential Initiative in 2010/11 as a National Science, Technology and Innovation fund at Makerere in the context of the African Science, Technology and Innovations Consolidated Action Plan as approved by the African Union Heads of State in 2006.
In appreciation of the warm welcome that had been extended to His Embassy and all Israeli Nationals that had visited Makerere University, H.E. Ambassador Gil Haskel remarked that it was a huge honour for him to break the record by being the first foreign envoy to visit Makerere University three times in a space of less than one and a half years "But I think in return Uganda also broke a record in being the first Country to elevate the number of students to almost 200 in the second year. So we are now equal in terms of record breaking," remarked Ambassador Haskel amidst applause from the audience.
The Ambassador expressed his pleasure at being invited to address a distinguished audience which included the largest batch of students ever to be sent on Internship from Uganda to Israel. He however challenged the students to ask themselves one simple question 'Why Not?' in reference to why agro-technology and agricultural farming should not elevate itself in Uganda to the exact same level as it is in Israel.
"That question 'Why not?' should lead you in your future endeavours after you come back, because the whole idea of this programme is to allow our good friends in Uganda to adopt and adapt the technologies exercised in Israel. We are 66years old while Uganda is 52years old. We are not very much apart in age and so what we achieved in Israel can be achieved in Uganda," challenged Ambassador Haskel.
Addressing the gathering at the Chief Guest-Executive Director, Uganda Industrial Research Institute and Senior Presidential Advisor on Science and Technology, Prof. Charles Kwesiga noted that Uganda has a lot to learn from Israel which has debunked all theories, notions and even excuses that we give for our own slow pace of development. "Talk about political strife, they are never at peace; Israel is faced with intermittent wars and an implacable enemy that seeks its destruction and the economy is continuously strained by having to spend more per capita on its own protection than any other country in the world," he noted.
Prof. Kwesiga further challenged Africa not to use brain drain as an excuse because Israel, despite having many people of Jewish origin living outside her borders has still managed to produce many award winning innovations including Nobel Laureates "But how do they do it?" pondered The Chief Guest, before hastening to answer, "Israel manages to inspire its citizens and all the people of the Jewish faith to always think about and contribute to the betterment of their homeland." In the same vein, The Chief Guest decried the mockery made by Ugandans in the Diaspora of their own country, noting that such tendencies would only serve to hold us back.
Turning to the Internship-bound students, Prof. Kwesiga challenged "Israel has the highest ratio of University degrees to the population in the world. Israel produces more scientific papers per capita than any other nation by a large margin. My young students, why not cooperate and collaborate with a success story like Israel? On a per capita basis, Israel has the largest number of biotech startups. So as you go for Agrostudies, be on the lookout. You can learn a thing or two," said Prof. Charles Kwesiga.
The Chief Guest prayed that Ambassador Gil Haskel would continue with the good job of promoting collaboration between Ugandan and Israeli institutions and of enhancing even further the bilateral operations. He also appealed to the audience to take advantage of this goodwill from Israel so that Uganda can leapfrog some of her own problems.
Appreciating the Government of Israel's contributions to Uganda and Makerere, The Chancellor Prof. George Mondo Kagonyera presented H.E. Ambassador Gil Haskel with a souvenir. "Therefore Your Excellency, in appreciation of your support to the Kiira EV project and furtherance of the Project's collaboration with the Israel Government, Scholarship and Private Sector, it is our pleasure and privilege to give you this small souvenir so that you can still remember that there is such a thing as the Kiira EV project," said The Chancellor, thereafter encouraging the audience to visit the Centre for Research in Transportation Technologies (CRTT) Ntinda premises. "We have to learn to love our country especially you the young people. Get genetically engineered so that you can have a change of attitude. Choose to be different," added the Chancellor.
In moving a vote of thanks to the Chief Guest the Vice Chancellor Bishop Stuart University (BSU) and former Dean, School of Biosciences, CoNAS, Dr. Maud Kamatenesi appreciated Prof. Charles Kwesiga for his stimulating and inspirational address that had rallied students to go out and do their best. She thanked the Makerere University Council and Management for always mentoring and reaching out to BSU; the Agrostudies Internship being one of the avenues. She gave glory to God for the Nation of Israel's inspirational example to the rest of world in Science, Technology and Innovations.
Article by Public Relations Office
Veteran Professor changed Makerere and Higher Education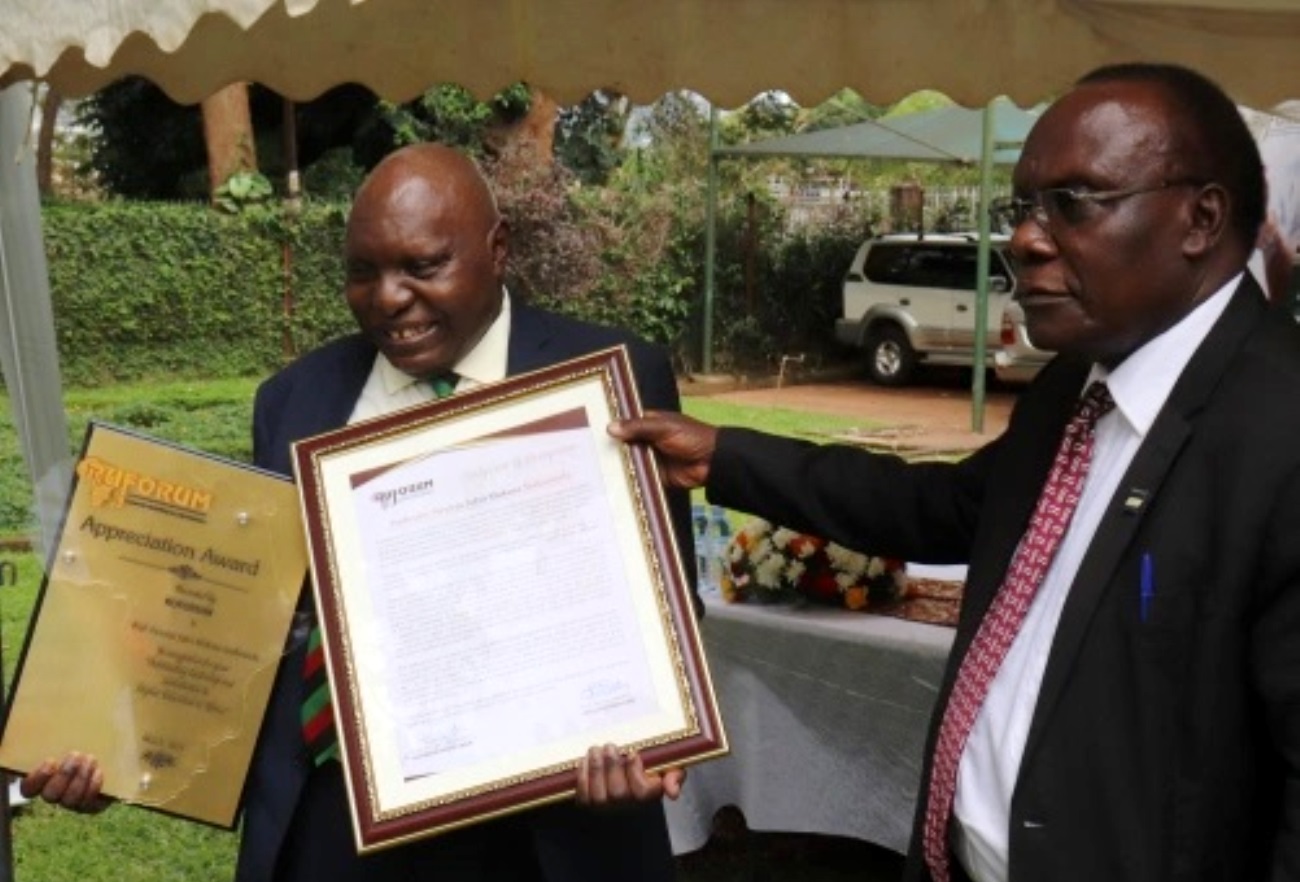 When Professor John Ssebuwufu ambled up to receive a certificate of recognition for his 'exceptional' contribution to higher education from the Regional Universities Forum for Capacity Building in Agriculture (RUFORUM) at Makerere University (MU), he was thinking of many things, such as rewarding staff, that he could have done differently to impact university education more.
But he did what he could have done, under the circumstances.
He presided over MU (in 1993) when student enrolment was 5,000 and left in 2004 when the population was surging to more than 15,000.
He emphasised the use of information communication technologies in almost all the institutions he had been involved in and sent many academic staff on exchanges to boost research and innovation. Now, more African universities engage in ground-breaking research.

So, he proceeded to accept his recognition and make his acceptance speech, which was mostly about gratitude.
Ssebuwufu, 74, who is currently the chancellor at Kyambogo University and the vice-chancellor of the University of Kisubi, is credited for his exemplary leadership and pragmatic methods that have shaped higher education in Uganda and Africa as a whole.
Japan Africa Dream Scholarship (JADS) Program 2021/2022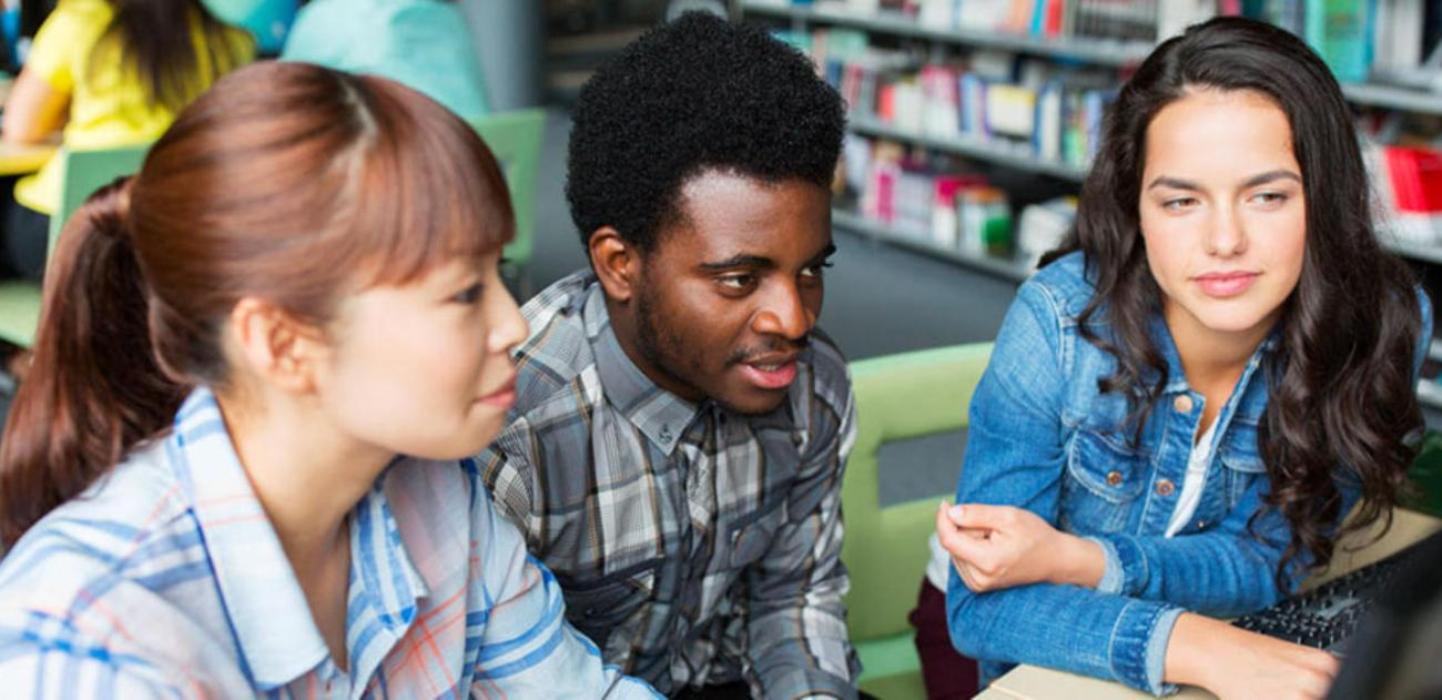 The Japan Africa Dream Scholarship (JADS) Program is a capacity building project by the AfDB and Japan which was initiated in 2017 with the aim of providing two-year scholarship awards to highly achieving African graduate students to enable them to undergo post-graduate studies (i.e. a two-year Master's degree program) in selected priority development areas on the continent and Japan. The overarching goal the AfDB and the Government of Japan seek to attain is to enhance skills and human resources development in Africa in under the Bank's High 5s agenda (i.e. "Feed Africa", "Light up Africa", "Industrialize Africa", "Integrate Africa" and "Improve the quality of life of the people of Africa") and key Japanese development assistance initiatives. JADS core areas of study focus include energy, agriculture, health, environmental sustainability, and engineering. The program also seeks to promote inter-university collaboration and university-industry partnerships between Japan and Africa. Upon completion of their studies, the JADS scholars are expected to return to their home countries to apply and disseminate their newly acquired knowledge and skills in the public and private sectors, and contribute to national and continental socio-economic development.
About the JADS program
The JADS Program is open to applicants from AfDB member countries with relevant professional experience and a history of supporting their countries' development efforts who are applying to a graduate degree program in energy development and related discipline. The program does not provide scholarships to any other graduate degree program.
The scholarship program provides tuition, a monthly living stipend, round-trip airfare, health insurance, and travel allowance.
Upon completion of their studies, the beneficiary scholars are expected to return to their home countries to apply and disseminate their newly acquired knowledge and skills, and contribute to the promotion of sustainable development of their countries.
Who is Eligible to Apply?
The program is open to those who have gained admission to an approved Masters degree course at a Japanese partner university. Candidates should be 35 years old or younger; in good health; with a Bachelor's degree or its equivalent in the energy area or related area; and have a superior academic record. Upon completion of their study programs, scholars are expected to return to their home country to contribute to its economic and social development.
Application Procedures
Applicant requests for information and application forms and procedures from the chosen JADS partner university. For any inquiries, please contact JADS@AFDB.ORG
Applicant completes required documents and sends them to the university.
University evaluates and selects applicants.
University sends selected candidates to the AfDB.
AfDB reviews submissions from universities, prepares and approves the final list.
AfDB contacts selected awardees, and informs the universities.
WHS Regional Meeting Africa 2021: Finance Chairperson's Update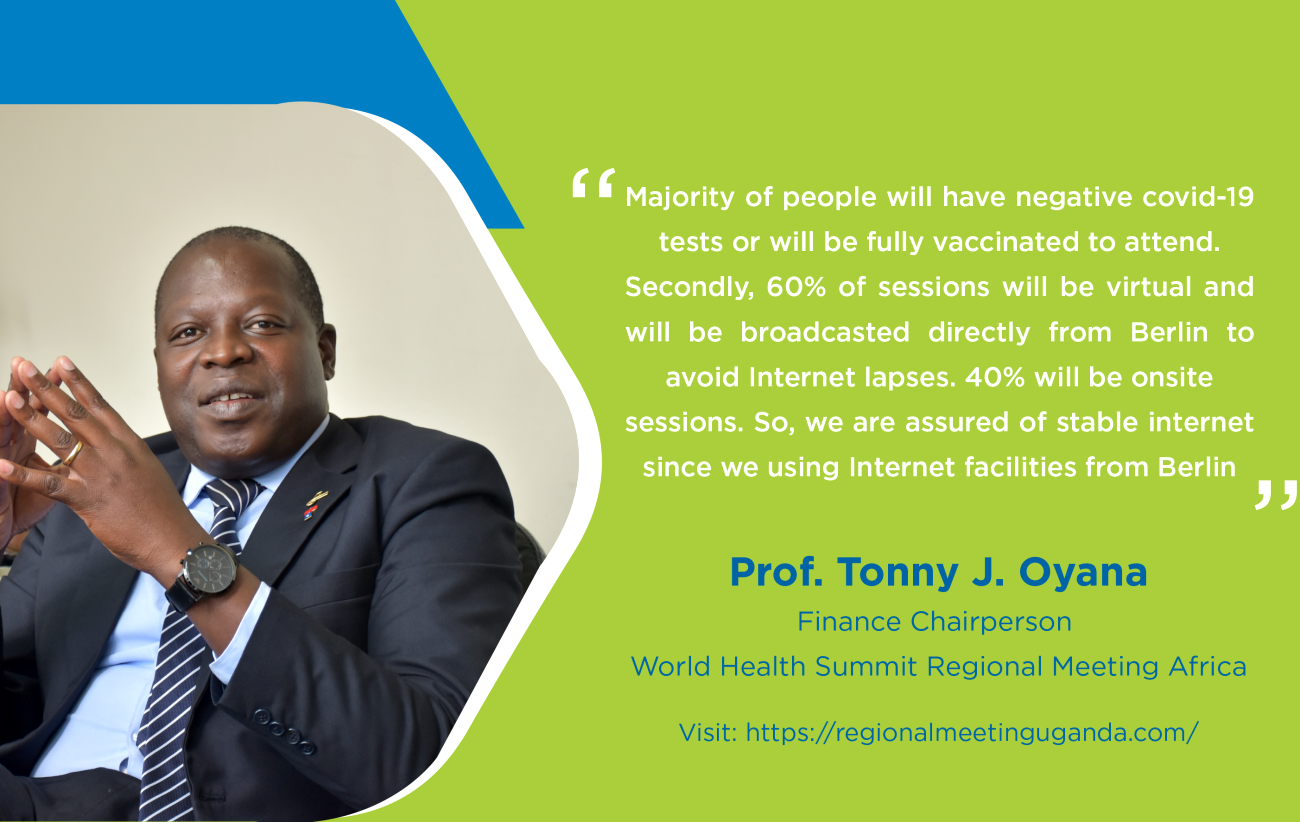 SOPs: Our plan is to have 200 sets of people in different spacious rooms…

Prof. Tonny j. oyana, finance chairperson whs regional meeting africa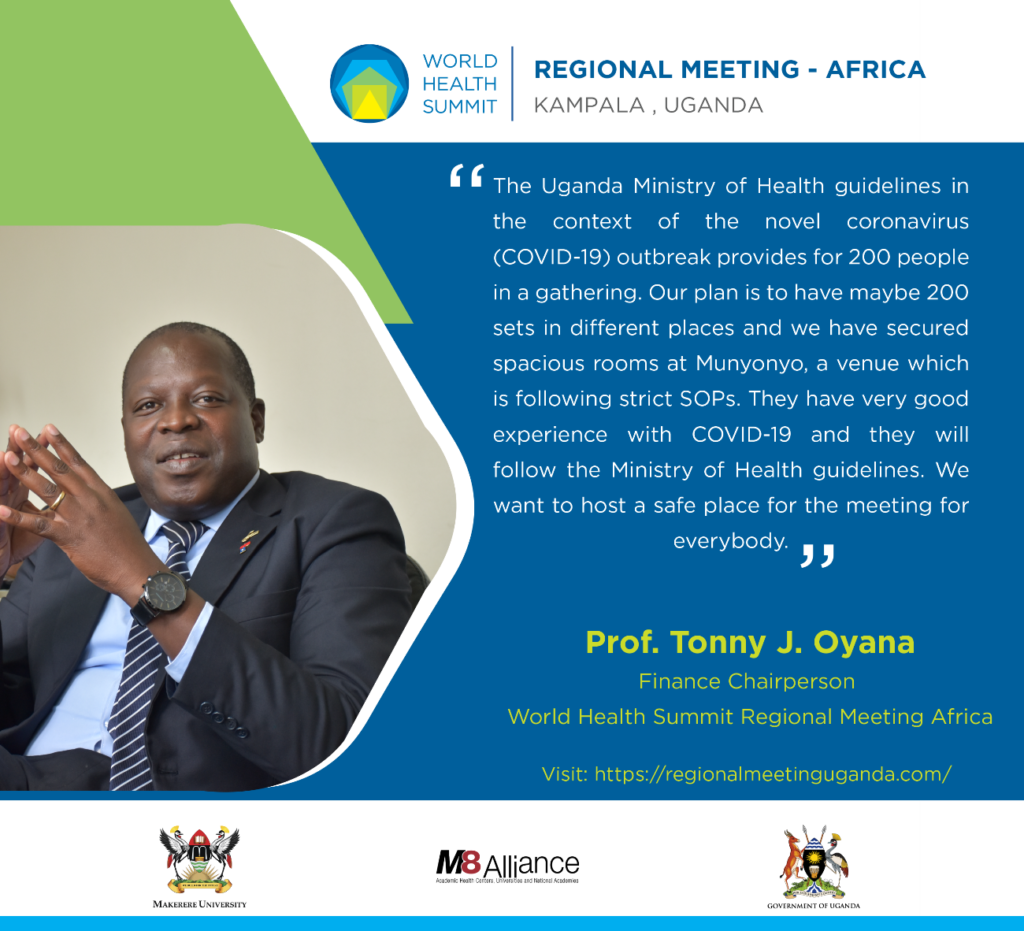 We are sincerely grateful to our sponsors…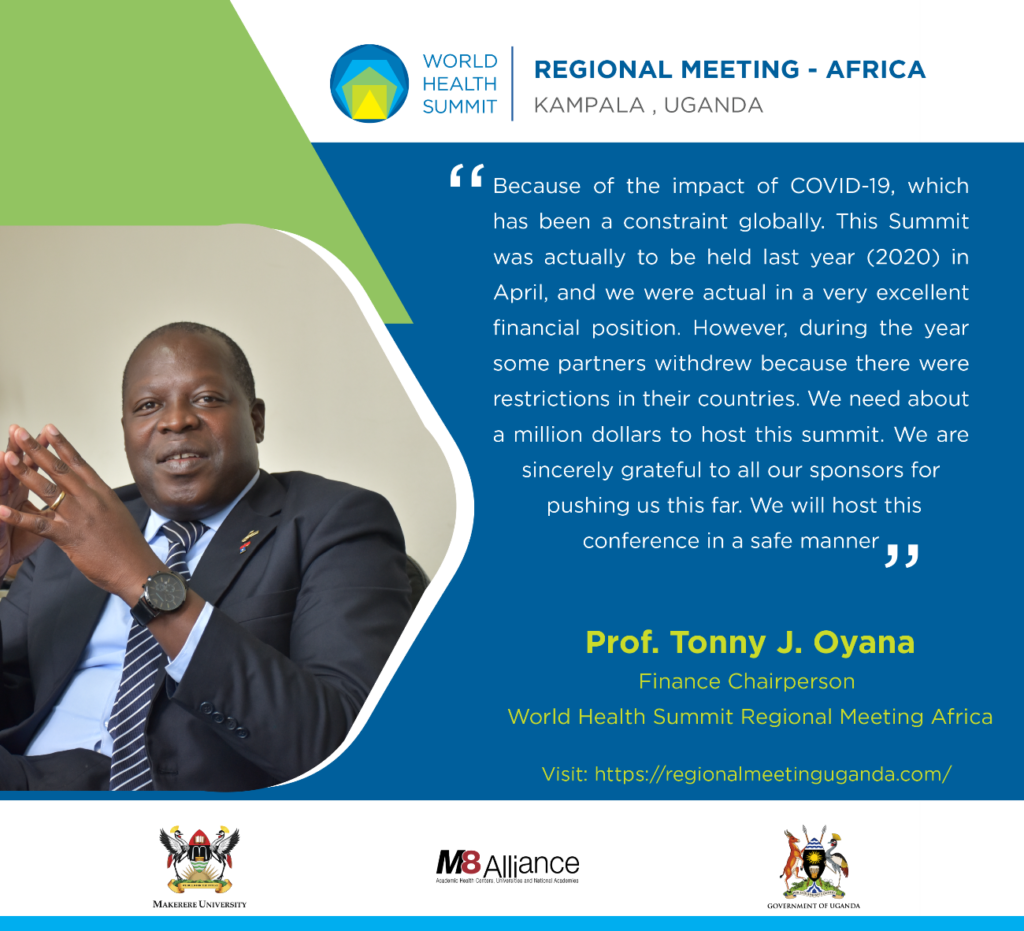 Over 15 core sponsors…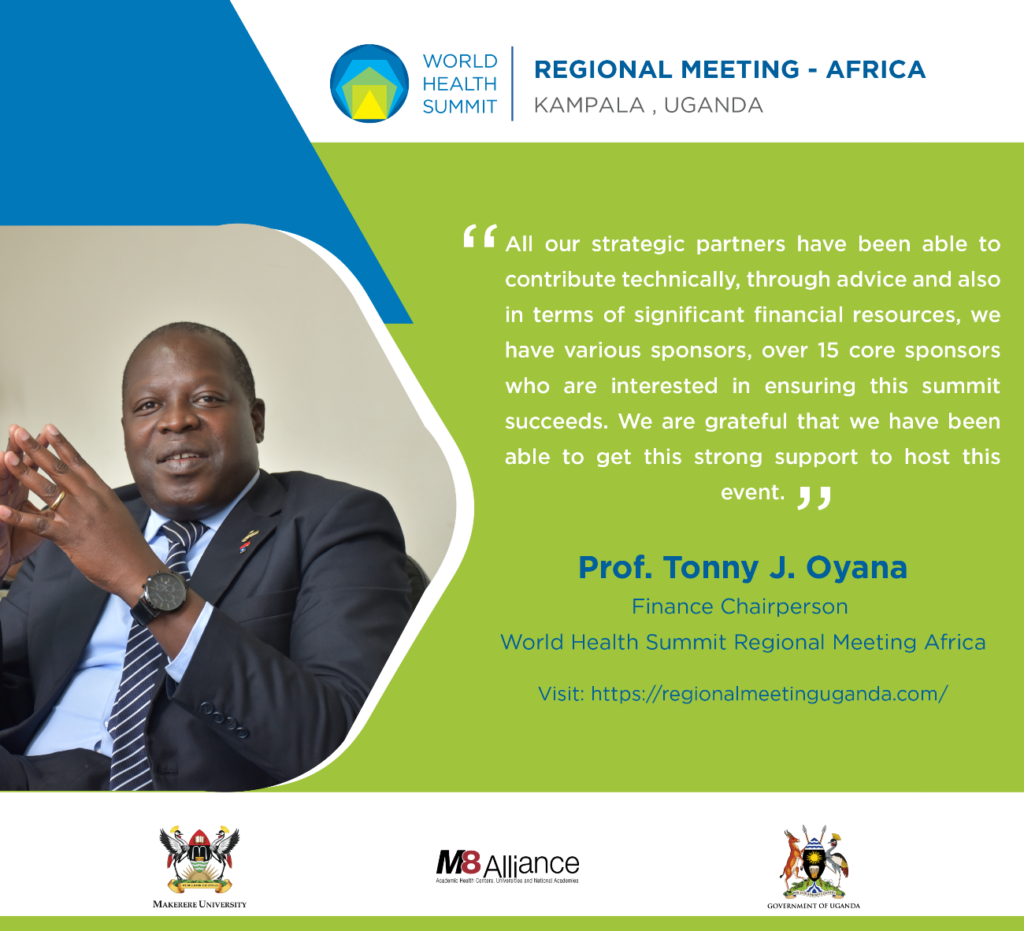 Sessions: 60% Virtual, 40% Onsite…