MURBS declares 12.6percent interest rate at Third AGM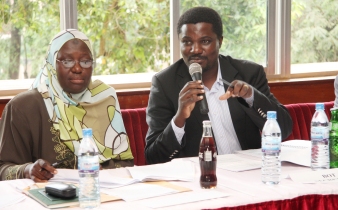 All the financial figures and projections provided at the 3rd Annual General Meeting indicate a great improvement in the finances of the Makerere University Retirement Benefits Scheme (MURBS).
Addressing the members at the Annual General Meeting (AGM) held on Thursday 7th November 2013, in Lab 2 at the College of Computing and Information Sciences (CoCIS), the Chairperson Board of Trustees, Hajjati Fatumah Nakatudde said: "We are happy to report that for the financial year ended 30th June 2013, the MURBS made a Gross income of UGX 8.6billion and Net income of UGX 5.4billion. The total Fund Value as of June 2013 stood at UGX 78.8billion. It is also important to note that it is during the same financial year that the NIC/DAP monies amounting to over UGX 20billion were paid out in benefits."
The Board Secretary, Dr. John Kitayimbwa pointed out that the Board of Trustees (BoT) takes responsibility of the interest declared at 12.6% and applauded the fund managers for performing over and above BoT's expectations.
"Our rate of return this year was 15.4%. Our declared interest for the year is 12.6% because we must have a reserve to absorb shocks and changes in the market. Compared with institutions/bodies that provide similar services in our current market, an interest ate of 12.6% is very good," reechoed Dr. Kitayimbwa.

Also commenting on the declared interest rate of 12.6%, Dr. Saul Nsubuga, Member of the BoT said: "It is better to accrue a fair interest rate, within a regulated framework, but ensure that this money is available on retirement."
The well attended 3rd Annual General meeting (AGM) was characterized by precise questions and comments directed at the BoT, indicative of a strong desire for information sharing and exchange of ideas, appreciation for the work done, optimism and goodwill. The same scene played out as highlights of the Financial and External Auditor's Reports for the Year ended June 2013 were presented.
The day's emcee Mr. Louis Kakinda provided a brief reflection on the 2nd AGM held on 25th October 2012; presented the agenda of the 3rd AGM and also introduced the current BoT comprising; Hajjati Fatumah Nakatudde (Chairperson), Dr. John Kitayimbwa (Secretary), Ms. Edna Rugumayo, Dr. Saul Nsubuga, Mr. Dyson W. Maswere, Prof. Julius Zake, Mr. Bruce Twesigye and Ms Miriam Magala.
With regard to general composition, all permanent employees of the university under the age of 50 are eligible to join the MURBS as contributing members. During the AGM, the BoT made reference to the Trustee