UNDP to set up state-of-the-art Innovation Hub at Makerere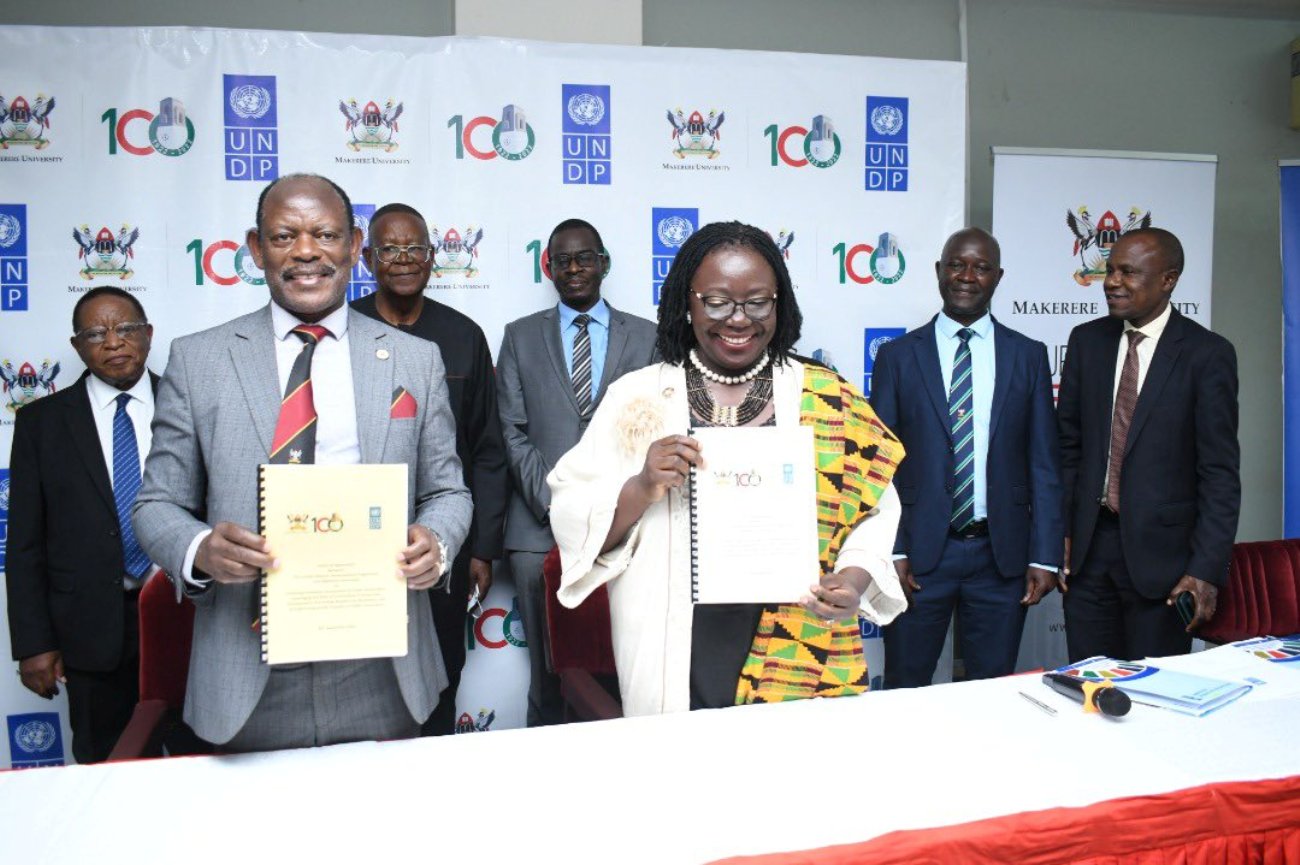 The United Nations Development Programme (UNDP) is set to build a state-of-the-art innovation hub at Makerere University that is aimed at skilling students in various sectors with a view to empowering startups and creating jobs.
The Makerere Innovation hub will be established through UNDP's Timbuktoo initiative, a US$1 billion youth innovation financing facility for Africa which aims to scale 1,000 high growth start-ups, improve 50 million livelihoods and generate US$10 billion in value creation.
UN Resident Representative in Uganda Ms. Elsie Attafuah said the partnership with Makerere is anchored on five strategic areas; fostering innovation ecosystems in public universities, leveraging the role of universities in grassroots development and establishing a regular innovation expo as a platform for youth innovators to network.
Others are; promoting research on resilience, and strengthening gender equality in public institutions.
UNDP is establishing the University Innovation Hub/Pod where ten (10) other African Countries are also beneficiaries. Makerere is well placed to host this innovation pod which will be interdisciplinary in nature bringing together students, academia, and partners from all fields, she said.
She added that the University Innovation hub will provide University Students with: Maker-Spaces that accord service to both engineering as well as creative design projects, with a standard set of equipment; a Design Lab that offers a host of programs in design thinking.
"The hub will support students to apply design principles toward solving any problem they are tackling; Collaborative Working Spaces to enable students create business ideas and host product demos, training events, speaker talks, other community and collaboration building events," Ms. Attafuah added.
Makerere University Vice Chancellor Prof Barnabas Nawangwe welcomed the partnership with UNDP.
"I am delighted that Makerere will finally host an innovation hub to facilitate the transformation from research to commercial projects," he said.
"The innovation hub will help us incubate the ideas developed by our students to ensure that they form companies that will create jobs for the many students we graduate every year," he added.
The Makerere Vice Chancellor said the Parish Development Model Policy lab will hopefully rescue the well-intended program from the public naysayers.
Prof. Ezra Suruma, the Makerere University Chancellor, also welcomed the partnership
He said the partnership is going to support the implementation of the Parish Development Model that will help to increase income in a bid to fight poverty.
"When I was in the Office of the Prime Minister, we focused so much on the problem of implementation. As Makerere, we have to focus on making sure the Parish Development Model trickles down to the people at the grassroots to ensure poverty alleviation," he said.
"As we sign this partnership, I hope this will set the ball rolling for innovative programs for societal transformation in the next 100 years of Makerere University," he added.
The innovation hub, will be headed by Dr. Cathy Ikiror Mbidde, a Lecturer in the School of Business, College of Business and Management Sciences (CoBAMS).
Call for Code Fair Work Case Competition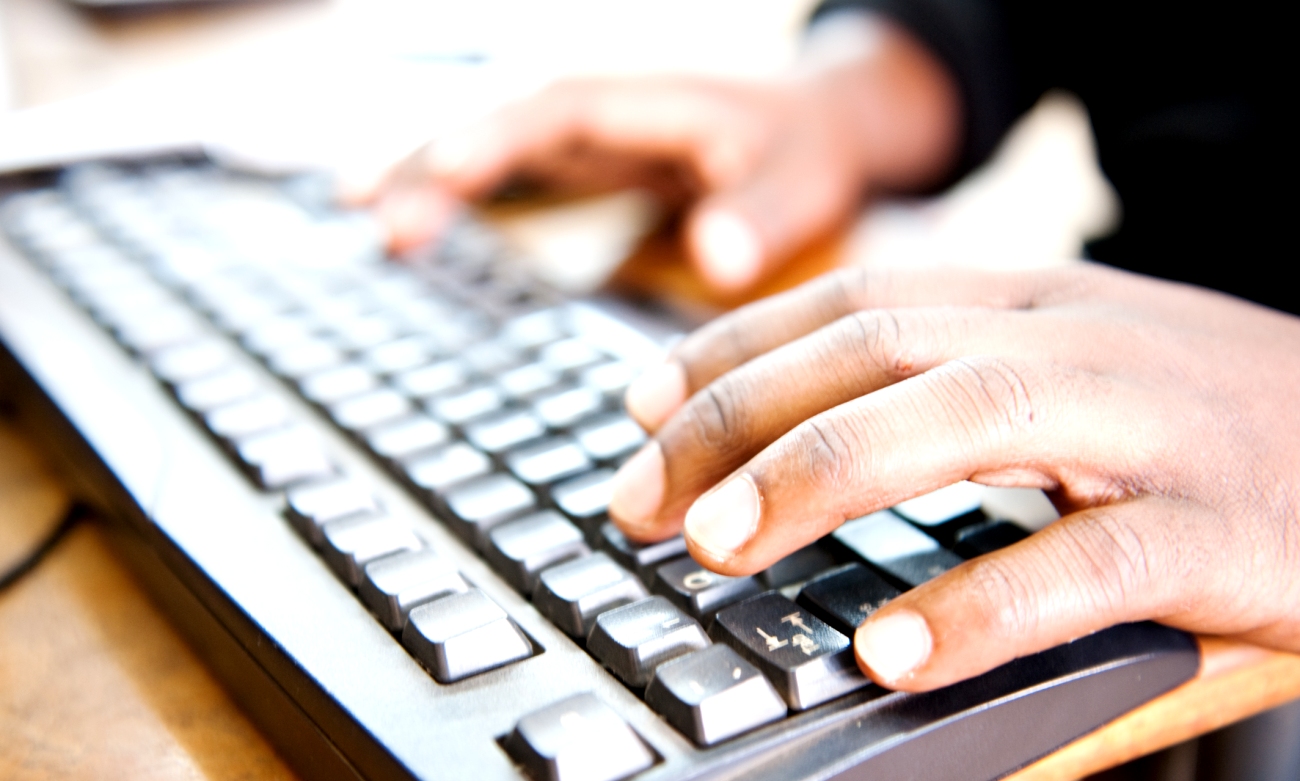 UNITING STUDENTS TO DESIGN SOLUTIONS FOR A SUSTAINABLE AND EQUITABLE
GLOBAL ECONOMIC FUTURE
How can technology address the challenge of making decent job creation, entrepreneurship, and fair, sustainable labor a lifelong opportunity of economic growth for all?

On October 6, Call for Code, presented by IBM and the Clinton Global Initiative University, will launch the 2022 Call for Code Fair Work Case Competition. The competition calls on collegiate-level students around the world to imagine innovative solutions that advances the future of work.

The challenge will run October 6-20, 2022 and asks both non-technical and technical university-level student teams to devise innovative business cases that can advance inclusive, scalable workforce development. The competition theme is inspired by the United Nations
Sustainable Development Goal 8. Solutions should address one of the diverse challenges aligned to this theme and demonstrate how technology can help communities in need. While solution submissions do not need to include working code, teams will need to describe the technologies required and how those technologies fit into the solution.

SGD 8: https://sdgs.un.org/goals/goal8
ANSWER THE CALL
As current students, the world needs your expertise, empathy, and unique perspective. Get mentored by entrepreneurs, technologists, and leaders during the competition. Network with other university students from around the world, and compete for prizes from a total pool of $22,000 USD, which includes a $12,000 USD grand prize!

Register for the Case Competition today and help design the fair work of the future. Learn more and get started

Answer the call: https://callforcode-case.bemyapp.com
IBM Skills Build: https://skillsbuild.org/
Digital Health Payment Initiative and Research in Africa RFAs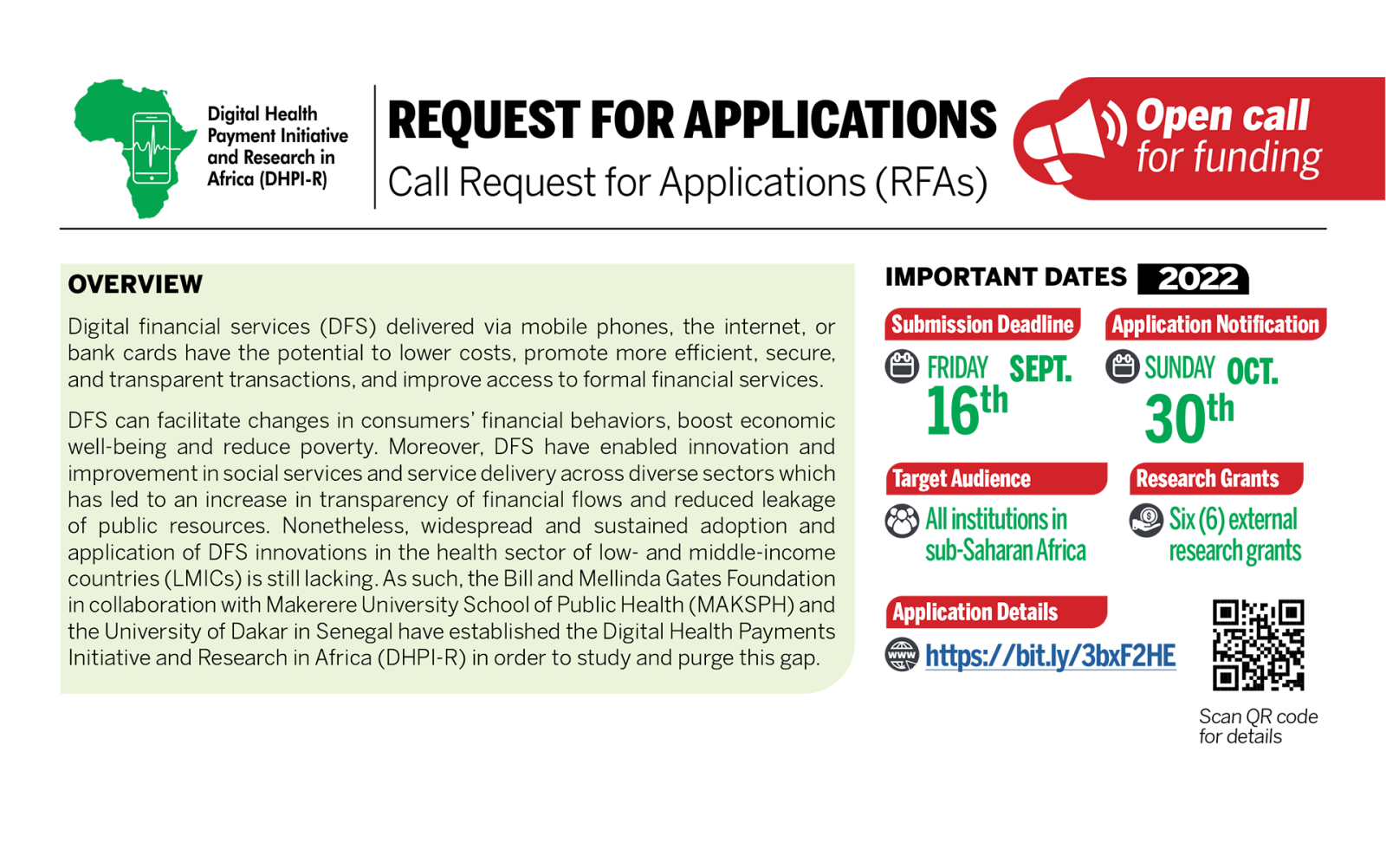 The Digital Health Payment Initiative and Research in Africa (DHPI-R), a Bill and Melinda Gates Foundation-funded project that is implemented in Makerere University School of Public Health (MakSPH) and Université Cheikh Anta Diop de Dakar (UCAD) Senegal is thrilled to announce an OPEN CALL FOR REQUEST FOR APPLICATIONS. This will foster widespread, sustainable adoption and application of Digital Financial Service innovations within the health sector of low-and-middle-income countries (LMICs) in sub-Saharan Africa.
Focus Research Areas/ Research Themes
DHPI-R is seeking applications for studies that address the evidence gaps listed.
1) Campaign Effectiveness
2) Digital Financial Services' effects on financial inclusion, safety, and security of payments
3) Health worker performance and retention
4) Payment experience and financial behavior
Funding Information
For any request made in this call, the budget goes as follows;
Large studies:12 months $200,000
Medium studies: 9 months $100,000
Small studies: 6 months $60,000
Eligibility
All Institutions within sub-Saharan Africa
Funding Restrictions and Terms
The award will be a fixed fee agreement, and the total amount of the award will be stated in the award letter. The funding is intended to support the collection, analysis, and dissemination of research. The allocation of program funds will directly correspond to the monetary figures presented in the final Budget and disbursement of funds will be initiated upon the timely receipt of invoices, financial reports, and expected deliverables.
How to Apply
Applications must be submitted in English or in French.
Applications must be submitted through our website: Submit applications here.
Application deadline: 16th SEPT 2022
Award decisions: All applicants will be notified of the outcome of their submission by 30th October 2022.
For more information and application details, see; Call for Request for Applications
Three Innovations Combating COVID-19 in Uganda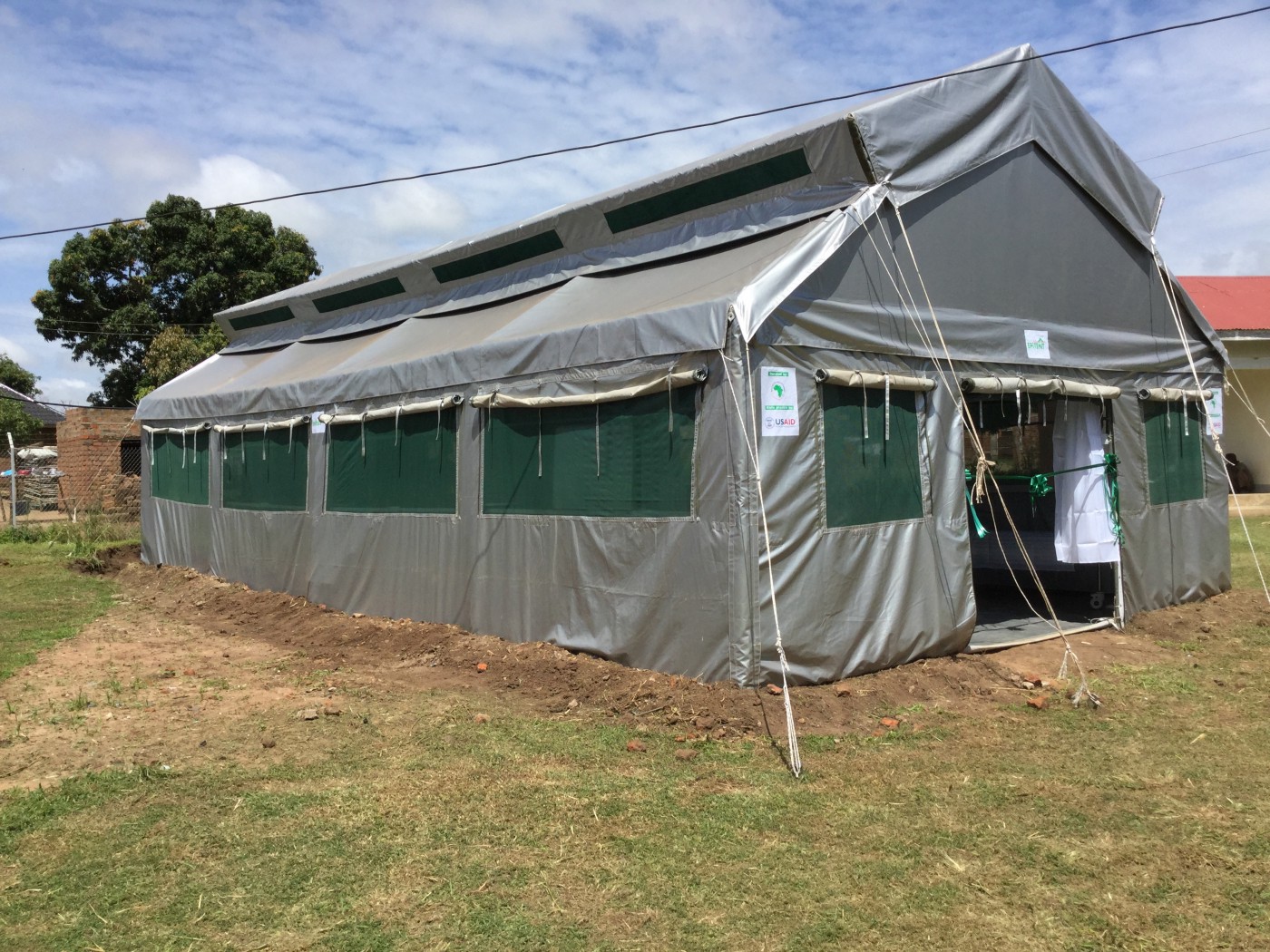 How the ResilientAfrica Network is fostering research and innovation while fighting COVID-19
By Eseroghene Oruma, USAID
Research, technology, and innovation are critical tools for international development, particularly for unprecedented challenges like the COVID-19 pandemic. People around the world are still reeling from one of the greatest health challenges we have ever faced. The pandemic impacts all our lives, and exposes the shortcomings in our health systems.
How is USAID helping and supporting our partner countries to combat this disease? Through research, technology, and innovation.
By working with local partners such as higher education institutions, USAID brings positive change in local communities that last well after USAID funding ends. Funding from USAID's Higher Education Solutions Network (HESN) provided support to cultivate an approach to development that sources ideas on how to address local development challenges from the community itself.
The ResilientAfrica Network (RAN), based at Makerere University in Uganda which was also a USAID development lab through the HESN program from 2012–2022, continues to deploy this locally driven approach in their work today. Local innovators and technologists receive guidance from RAN about how to refine and scale up their ideas. This approach to development has proven effective in creating innovations to combat the pandemic.