HURIPEC Pledges to Continue Research and Documenting Human Rights Violations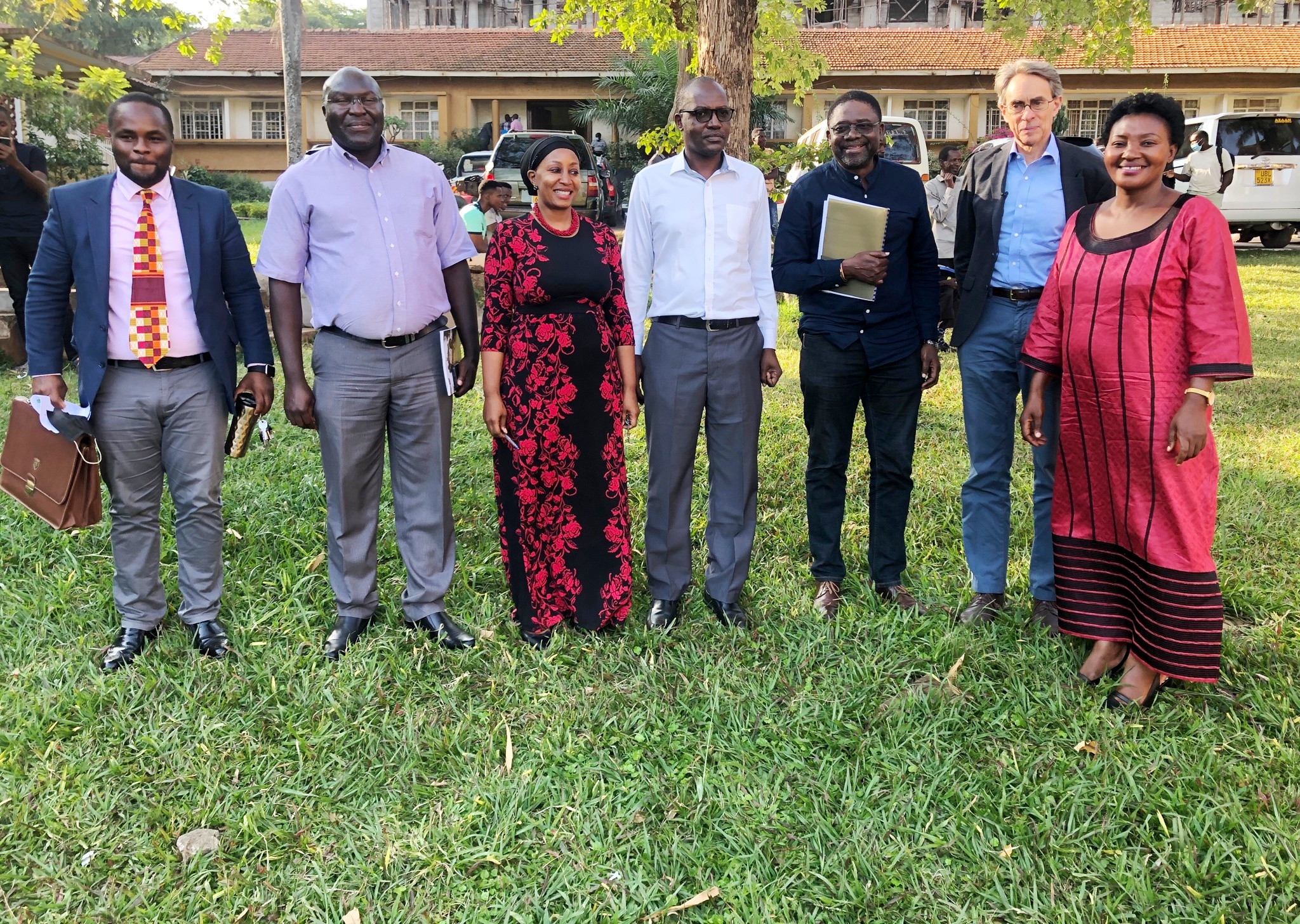 The Human Rights and Peace Centre (HURIPEC) at Makerere University School of Law (SoL) has pledged to continue research on human rights and document its violations in Uganda. This pledge was given by Dr. Zahara Nampewo, Director – HURIPEC at a symposium jointly organised by HURIPEC and Human Rights Watch (HRW) held on the 30th June 2022 at Makerere University. The Symposium titled 'Rule of Law and Barriers to Accountability for Unlawful Detentions: Challenges and Opportunities' was attended by Diplomatic Corps, Civil Society representatives,Politicians, Government Officers, Academia, Researchers, Students and the general public.
The symposium was moderated by Professor Joe Oloka-Onyango, Faculty at the SoL. In his introductory remarks he quoted a report, 'Uganda: The failure to safeguard human rights' published by Amnesty International in 1992. The report examined the human rights record of the NRM government which had come to power in 1986 after gross human rights by previous governments. The report had concluded that 'Despite some improvements regarding human rights, arbitrary arrest, illegal detention, torture (including rape) and summary executions by government forces continue to be reported and that the perpetrators are rarely brought to justice. Government critics, e.g. political leaders and newspaper editors, have been charged with offences such as sedition or treason, apparently for political reasons'. Professor Oloka-Onyango noted that 30 years later we are still discussing the question of unlawful detentions and human rights violations. He thanked HURIPEC and HRW for organising the event to allow participants to exchange views.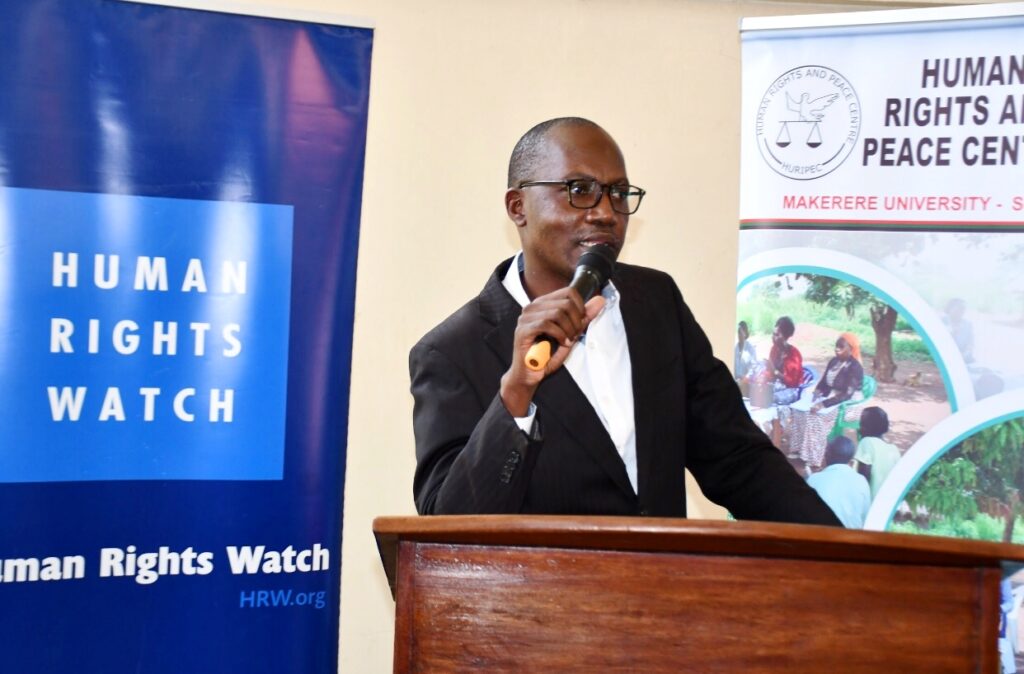 Professor Christopher Mbazira, Principal – SoL welcomed participants to the SoL and symposium. He thanked HURIPEC and HRW for organising the event noting that such partnerships proudly make SoL outstanding in the country, region and Africa continent.
Professor Mbazira added that 'Uganda is currently defined as a country with repressed civic space where the population don't share ideas freely', He added, 'Universities serve as civic spaces where people are able to share ideas. Makerere has many departments and colleges but its only SoL that provides civic space to promote human rights at the moment which I think is a mandate for academic institutions. I therefore urge and encourage other units to pick the baton'.
The Deputy Vice Chancellor – Academic Affairs, Professor Umar Kakumba represented Makerere University Management at the symposium. In his remarks, he warmly welcomed participants to Makerere University conveying greetings from management, particularly this centennial year when the institution is celebrating 100 years of existence. He reiterated the role of Makerere in transforming societies through its human capital and research output, adding that it is aligned to the reason we are convened here today to listen to work accomplished by HURIPEC, SoL and partners.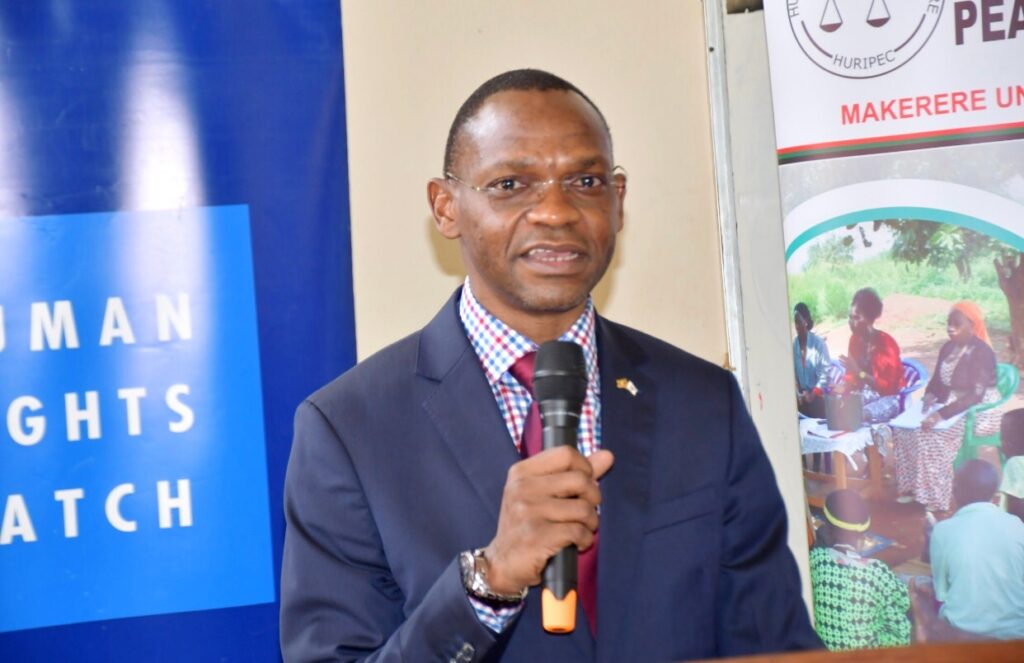 Professor Kakumba noted that Makerere's history has been punctuated with upheavals linked to politics in Uganda. 'The topic before us could not have been more timely now and even in the past. For many years after independence, Uganda saw a record of unlawful detentions and torture, many of which unfortunately ended in disappearances and death. Makerere was not spared losing our first Vice Chancellor, Frank Kalimuzo who reportedly was detained and killed on the orders of then President, Idi Amin Dada'. This marked the first attack on intellectualism and independent thinking in Uganda.
The Deputy Vice Chancellor highlighted that universities have a two-pronged role to play in human rights protection; first, human rights education which translates to public debate and opinions because of the autonomy as well as academic freedom of universities. Secondly, research output necessary for educating the next generation of policy and service providers, alongside objective evidence and reviews of current governmental policy. Professor Kakumba commended the School of Law in particular the Human Rights and Peace Centre for continuing to support the teaching of human rights law at Makerere. He further added that 'as Makerere University, our strategic focus is to be a research-led institution, to provide relevant empirical data to the government and other key actors to guide the country's policy and development agenda'.
Professor Kakumba explained that he hopes that the discussions here will trigger debate to shape policy on freedom from unlawful detentions.He wished the participants fruitful deliberations and thanked the School of Law, the HURIPEC team for always spearheading research on key legal, human rights and governance issues that always puts Makerere ahead of competitors. He assured the School of the support from University Management.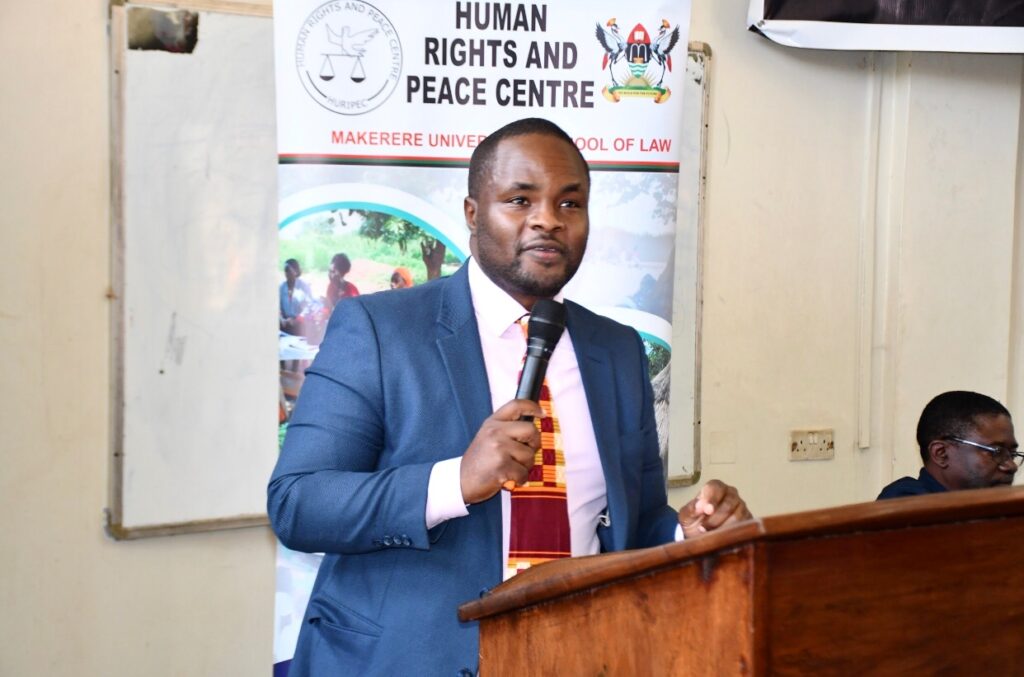 A keynote speech was delivered by Dr. Busingye Kabumba, Lecturer – SoL. His speech delved into the jurisprudence of liberty. Dr. Kabumba traced a history of documenting liberty quoting the US Declaration of Independence and French Constitution when the Monarchy was deposed. Coming closer to home, he explained that Article 23 of 2005 Uganda Constitution is about protection of personal liberty and a bill of rights is defined; however, while these are written the reality is different.
Dr. Kabumba Busingye added that its demoralizing that when colonialism ended and power handed over to African leaders, the leaders have been harsh. 'Despite independence and declarations of liberty, the reality is hollow. Nationals are born in captivity and die in captivity in "open air prisons"' he added. He highlighted laws that support unlawful detentions still in existence on the Uganda books of law like the Law of Idle and disorderly. In such instances, the arresting officer is the determinant of the wrong committed by the offender. Dr. Kabumba Busingye noted that because of unlawful detentions, prisons are full and more are required. He added that there are recent changes happening in the judicial system which will further affect civil liberties in Uganda for example high bail rates, appointment of acting judges among others.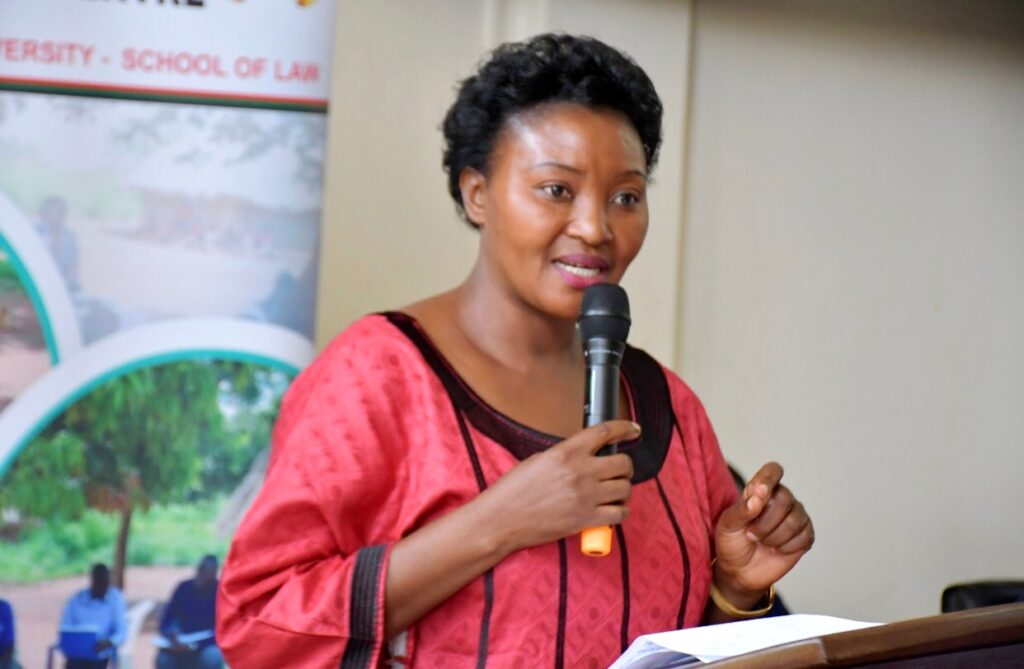 Hon. Winfred Kiiza, former Leader of Opposition in Parliament; Dr. Zahara Nampewo, Director – HURIPEC and Mr. Kenneth Roth, Executive Director – Human Rights Watch constituted a Panel to discuss accountability for unlawful detentions by government institutions. Brigadier General Felix Kulayigye, spokesperson of the Uganda People's Defence Forces (UPDF) had been invited and accepted to join the Panel but he was unable to attend the symposium.
Hon. Kiiza thanked SoL and HURIPEC for inviting her to attend and speak at the symposium, an opportunity for knowledge sharing. She re-echoed the first stanza of the Uganda National Anthem where one of the lyrics is 'United, free for liberty together we'll always stand'. She wondered whether Ugandans are actually free.
Hon. Kiiza stated, 'everyone is expected to follow the law where the expectation is thatthe law is fair, but is it'. She thanked SoL and HURIPEC for organising the discussions because it has become so difficult to share knowledge. She called for accountability of leaders at all levels adding that we are in a situation of 'rule by law not rule of law'.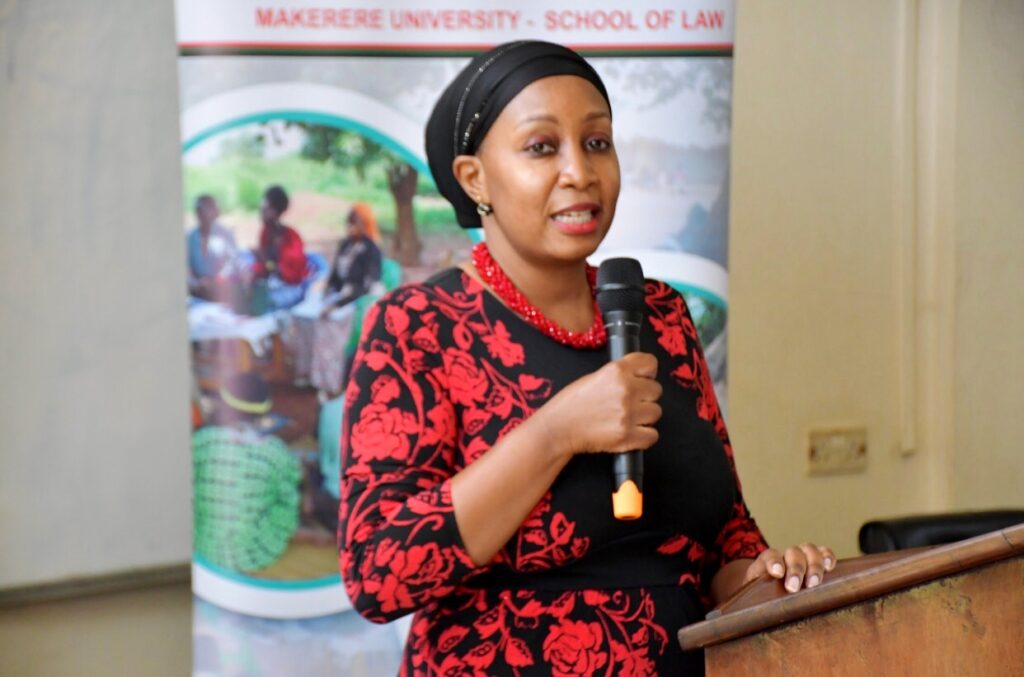 Many issues are interconnected with unlawful detentions but 'Ugandans have a tendency of normalizing situations, consider the rising prices of fuel (diesel is more expensive than petrol which was unseen before)', Dr. Zahara Nampewo highlighted. She added that previously, there was a presidential acknowledgment of unlawful detentions where he said, 'security agencies were arresting perpetrators of terrorism and insecurity, talk of unlawful detentions should be ignored because that can't happen under the government of National Resistance Movement (NRM)'. Dr. Nampewo also shared summary of the report, 'Human Rights Violations in Uganda: The Abuse of Civil and Political Rights in the Era of Kisanja Hakuna Mchezo'. The report was produced by HURIPEC to audit observance of human rights in the era of 'Kisanja Hakuna Mchezo', President Museveni's term 2016-2021. The research findings concluded that violations of political and civil rights continued to occur in the term. Some of the violations highlighted included: excessive use of force by security agencies leading to injuries and deaths, detention beyond 48 hours, disappearances to unknown detention places, extra-judicial killings, torture and degrading treatment.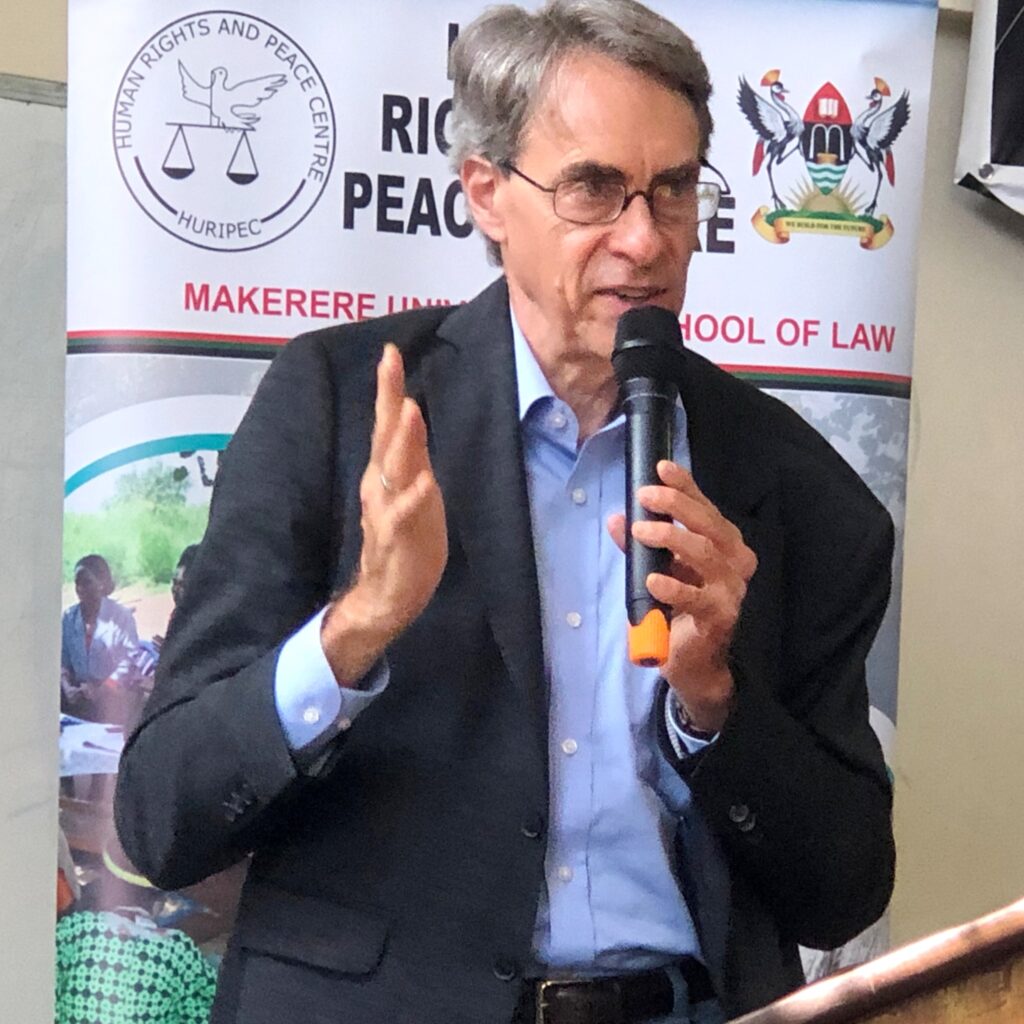 Mr. Kenneth Roth shared what transpired in a meeting that HRW had held with His Excellency, President Yoweri Kaguta Museveni to share their report on the status of Unlawful Detention and Abuse in Unauthorized Places of Detention in Uganda titled, 'I Only Need Justice'.  Issues discussed included Human Rights Protection Act; holding government accountable;proposed human rights defenders law; persecution of civil society in Uganda through the changes instituted in the NGO law;attacks on press members; Facebook shut down among others. The President promised to review the issues raised.
A number of issues were raised during discussions:
The four 'I's affecting human rights in Uganda were given as: Impunity by security and government personnel;Institutions and their collapse; Information and documentation of human rights violations as evidence for future reference and Implementation of laws and guidelines.
The role of the international community in holding the government accountable for violations.
Resilience and response mechanisms by the population.
The appointment of NRM cadres as judicial officers and in human rights institutions which affects objectivity and impartiality required in justice.
Partnerships are required in fighting human rights violations, no one or institution can solve the problem alone. Consider development of a strategic plan to bring all parties on table to work together.
Ugandans are suffering from collective Post Traumatic Stress Disorder (PTSD) due to the abuse and violations suffered. The end might be very bad for the country.
Vicious cycle of abuse of state power from colonial time to subsequent governments in Uganda since independence.
Torture, fear and intimidation affecting population, media and others players in the country.
HURIPEC has to organize other meetings like the symposium to continue sharing knowledge on human rights violations and unlawful detentions.
The civic space in Uganda continues to narrow and hopefully academic institutions can help close the gap.
The organisers of the symposium, HURIPEC and HRW promised to share a detailed report of the meeting.
The symposium was closed by Professor Christopher Mbazira, Principal SoL. He thanked HURIPEC and HRW for organising the Symposium. He also thanked the audience assuring participants that SoL will continue to be a safe civic space.
Vice Chancellor congratulates School of Law team upon winning the 2022 All-Africa Human Rights Moot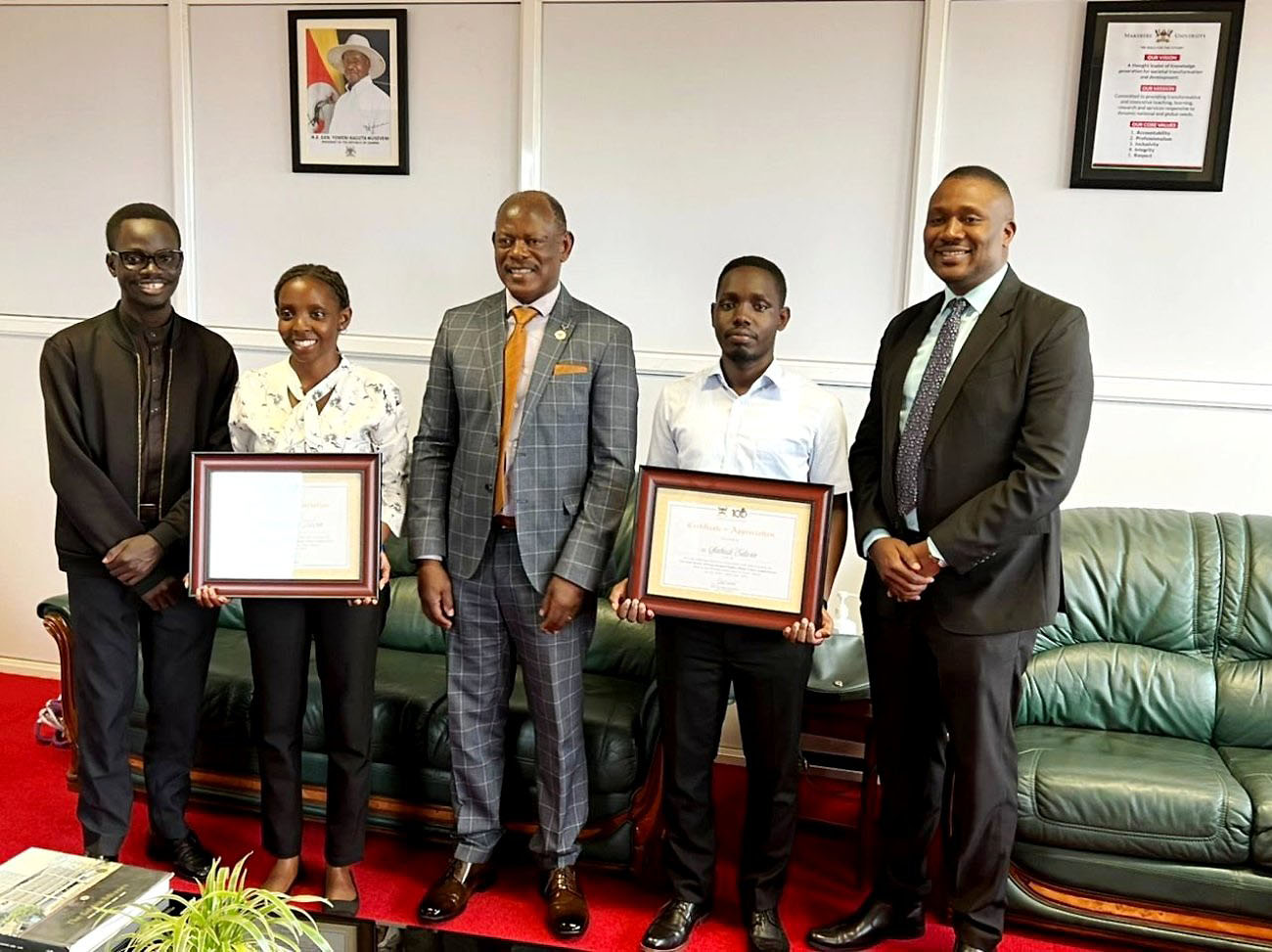 Professor Barnabas Nawangwe, Vice Chancellor – Makerere University has congratulated the Makerere University School of Law (SoL) team – Ms. Kevin Nakimbugwe and Mr. Edwin Sabiiti upon winning the 2022 edition of the Christof Heyns African Human Rights Moot Court Competition. The Moot Competition held from the 25th – 30th July in Cairo, Egypt was hosted by The British University in Egypt.
The All Africa Moot Competition is named after Professor Christof Heyns (1959-2021)who was a Professor of Human Rights Law, Director of the Institute for International and Comparative Law in Africa at the University of Pretoria and a member of the United Nations Human Rights Committee. The 2022 edition attracted a total of 50 Law Schools, 38 of these were English speakers.
The Vice Chancellor hosted the winning team in his Office on Thursday, 4th August, 2022 and presented Certificates of Recognition to Kevin and Edwin for making Makerere University proud. Dr. Daniel Ruhweza, Lecturer at SoL and Patron of the Makerere University Moot Society and Mr. David Kasibante, alumni – SoL and team coach also attended the presentation.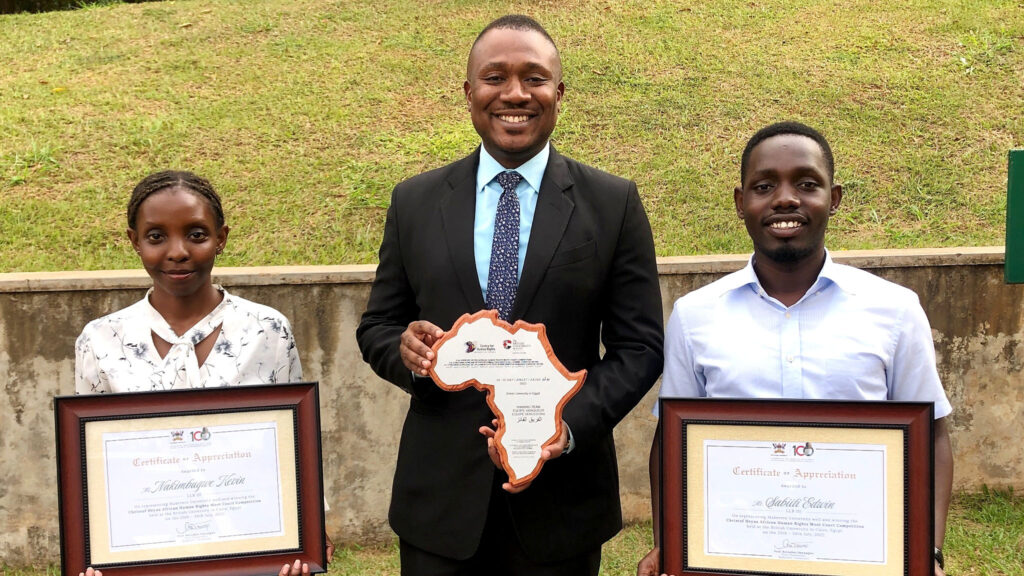 Explaining to the Vice Chancellor, Dr. Ruhweza said, "We are happy that you have hosted this team which worked so hard to bring the trophy home". He also highlighted the rigorous process through which the team that represented Makerere University was selected.
In his remarks, Professor Nawangwe said, "I congratulate you for winning the competition and making Makerere University proud, more especially in this centennial year of celebration for the institution. Thank you for flying the Makerere flag high which instils confidence that the University and our School of Law are centres of excellence". He commended the team for their commitment and doing their best to represent Makerere University. Professor Nawangwe also thanked Dr. Ruhweza for committing time to support the students. He added, "this is an activity that should be supported and I will present it to the University Council for inclusion in the budget for financial year 2023/2024".
Sharing their experience from attending the competition, Kevin and Edwin explained to the Vice Chancellor what is entailed in participating.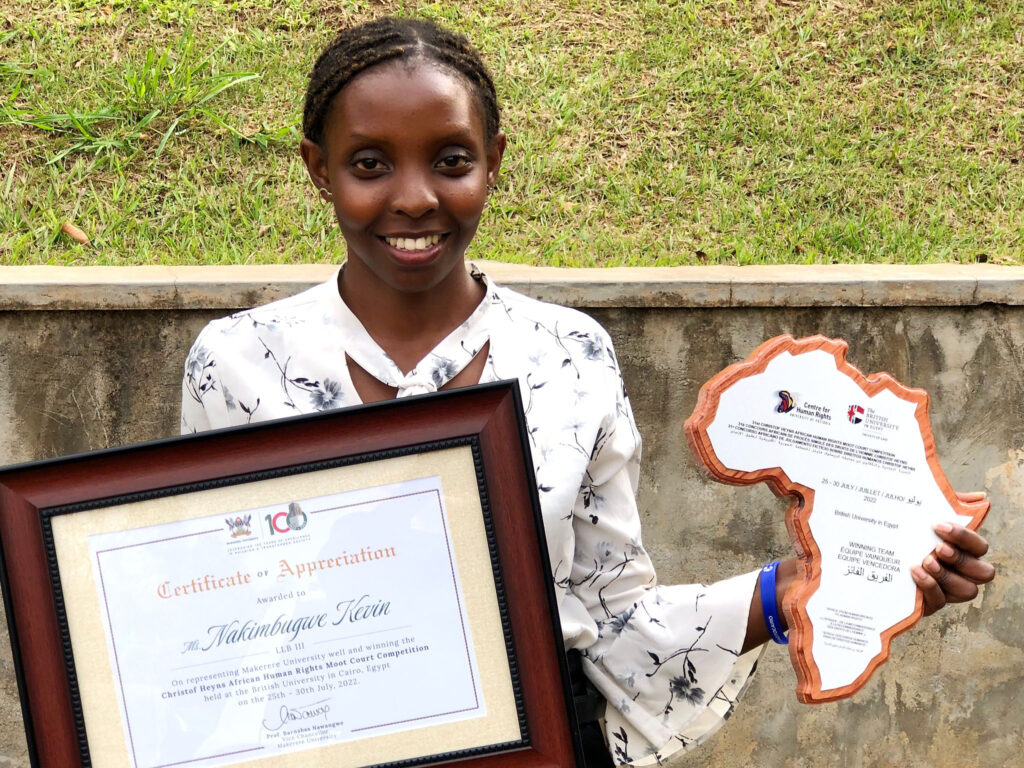 "The Moot was very challenging in-terms of preparing for the competition while balancing it with class work; the processing of travel documents and visas was also quiet hard. We are grateful that you have hosted us here today and also the support of the SoL, University that enabled us to triumph despite the challenges", Ms. Nakimbugwe said. Kevin added, "we are a brilliant team and our win is evidence".
Edwin Sabiiti who is also the President of the Makerere University Moot Society said, "the society organises internal moots, identifies the students to represent the University at various competitions. We participate in several competitions within the country, continent and internationally, only that this is the most prestigious. Makerere University are reigning champions of the national Center for Health, Human Rights and Development (CEHURD) Moot Court Competition".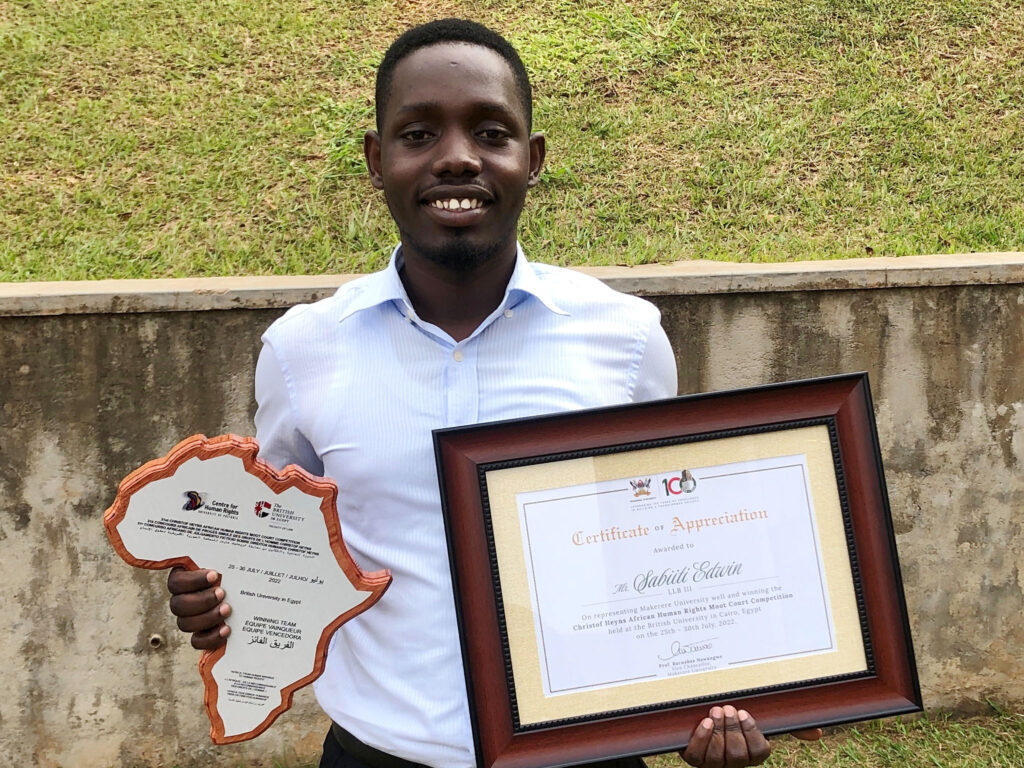 Edwin further explained that mooting is an opportunity to learn as well as apply the law that we learn in class. He expressed that the University should consider inclusion of mooting as a course unit on the academic transcript because a lot of time is spent in preparing for the various competitions. Edwin also requested that the University extends a supporting arm in facilitating preparations for the various moots that the students participate in.
SoL teams also won the 2018 competition held in Accra Ghana; were 2nd in 2019 edition held in Gaborone, Botswana and emerged finalists in the 2020 edition held online and the 2021 edition held in Stellenbosch, South Africa.
Read more about the Competition:https://www.chr.up.ac.za/moot#:~:text=The%20Christof%20Heyns%20African%20Human,of%20human%20rights%20in%20Africa
Inaugural Makerere Law Journal Symposium held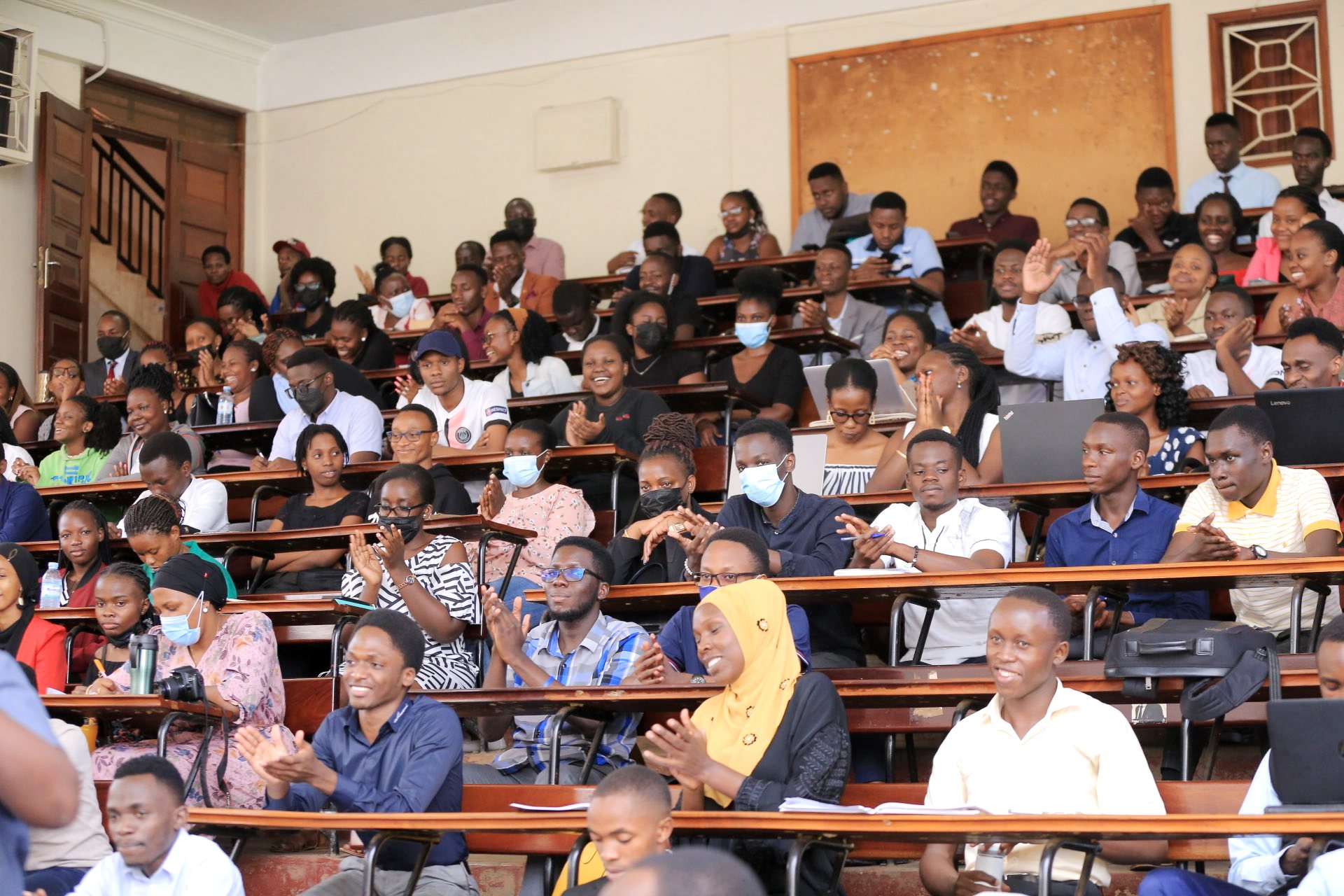 The Makerere University School of Law (SoL) held the Inaugural Makerere Law Journal (MLJ) Symposium on 17th June 2022 under the theme, 'Charting the Course and Diversifying Scholarly Content'. The symposium was held to give opportunity to authors of outstanding papers in recent issues of the MLJ to present their work to the general membership of the Makerere Law Society (MLS) and the public. The symposium was supported by the Public Interest Law Clinic (PILAC), SoL.
The MLJ is a student-edited law journal published by the SoL under the auspices of the law students' union, MLS. The journal founded in 1971 considers submissions from legal writers, students, and scholars within Uganda and beyond. Quoting the pioneer editor of the MLJ, Daniel Omara Atubo, 'the journal was intended as a medium for discourse on the immense problems of law'. The submissions may be for education purposes; aimed at causing law reform in the jurisprudence of Uganda or other African jurisdictions on matters of legal doctrine and philosophy; human rights; public policy; governance; economics among others.
Previously, the MLJ was printed annually, however, it is now a free-access online publication that considers, reviews and publishes submissions on a rolling year basis throughout the year. Access issues of the MLJ here: https://makererelawjournal.org/. At the inaugural symposium four papers were presented and interrogated by subject experts. Highlights of the papers are detailed below.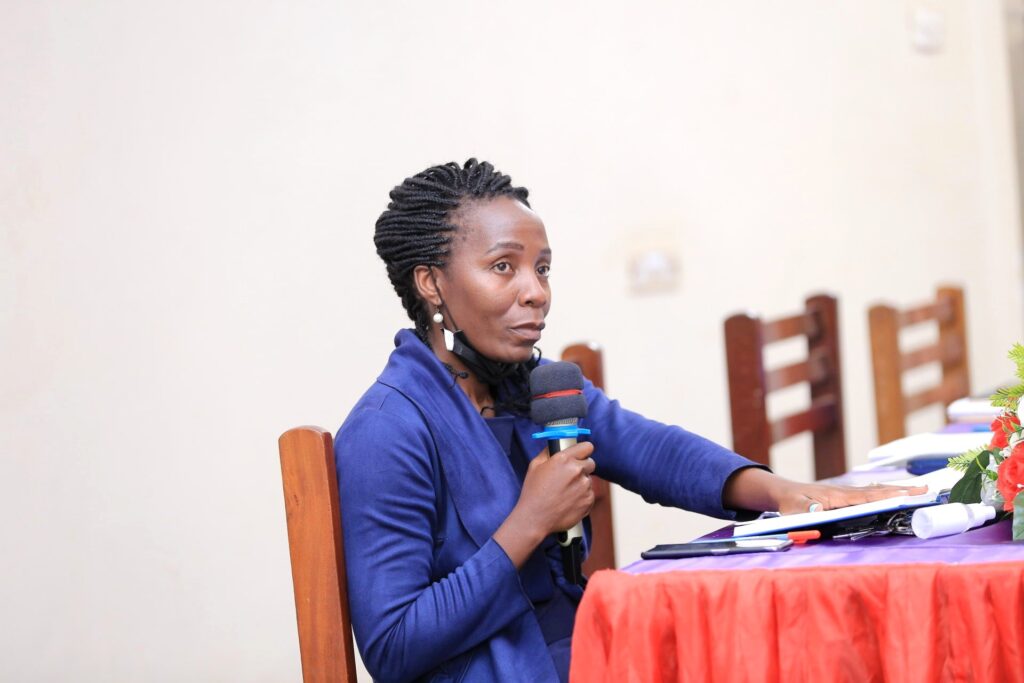 Tukwatanise Hans Rwantangare presented his paper titled, 'A Case for The Application of the Theory of Deferred Indefeasibility in Uganda as an Instrument to Promote Indefeasibility of Title Under the Registration of Titles Act'. Abstract: The theory of deferred indefeasibility as opposed to immediate indefeasibility is presented as a means to improve security of title today. A comparison is made of the relative merits and demerits of the two theories of deferred and immediate indefeasibility. In so doing, the aim is to reconcile the outdated theory of immediate indefeasibility with the modern legal regime and to preserve its relevance in the prevailing socio-economic situation. In a comparative analysis, other jurisdictions, especially Canada are studied to ascertain how they have evolved their interpretation of the same. Inevitably, indefeasibility, as a concept of real property is analysed considering human rights perspectives as relatively impacted by the two theories.For more about Hans' paper click: https://makererelawjournal.org/view-publication/35. The paper was discussed by  Dr. Rose Nakayi, Senior Lecturer at SoL. Dr. Nakayi is a seasoned expert in land law and rights and an advocate for the reform of the mailo land tenure system.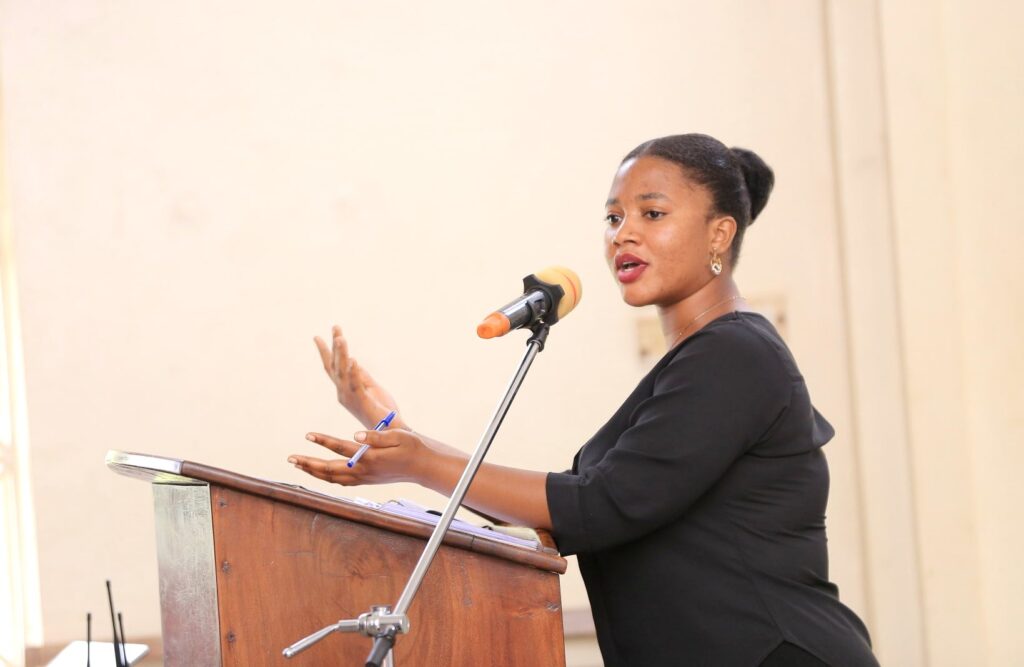 Fatumah Ramathan-Nabulya presented her paper which had reviewed a case Baryamureeba V Kabakonjo Abwooli. In her review she argued that it was 'A Win for Women's Property Rights in Cohabitation'. Abstract: Marriage, especially at its dissolution, tends to be contentious owing to its cross cutting effects on property rights, children custody, spousal maintenance among others. It is more complex when that "union" is not legally recognized. Over 65% of Uganda's couples are left out under the law because their arrangements are not contracted in accordance with the laws provided for. This potentially subjects women to unequal social laws (patriarchy) usually with no legal remedies. Hence, marriage, due to its overarching effects, can be breeding ground for the entrenchment of gender inequality. This paper reviews a High Court decision through which judicial activism is employed to lessen the plight of cohabiting women. Due to the time they have been in operation, it is often difficult to see our matrimonial laws for what they really are; patriarchal and gender indiscriminate. There is need for Judges to be fully alive to the history of these laws and the debates that led to their passing, to correct the wrongs of history.For more about Fatumah's paper click: https://makererelawjournal.org/view-publication/23. Dr. Diana Musoke, Senior Lecturer, Islamic University in Uganda and expert on family law discussed the paper.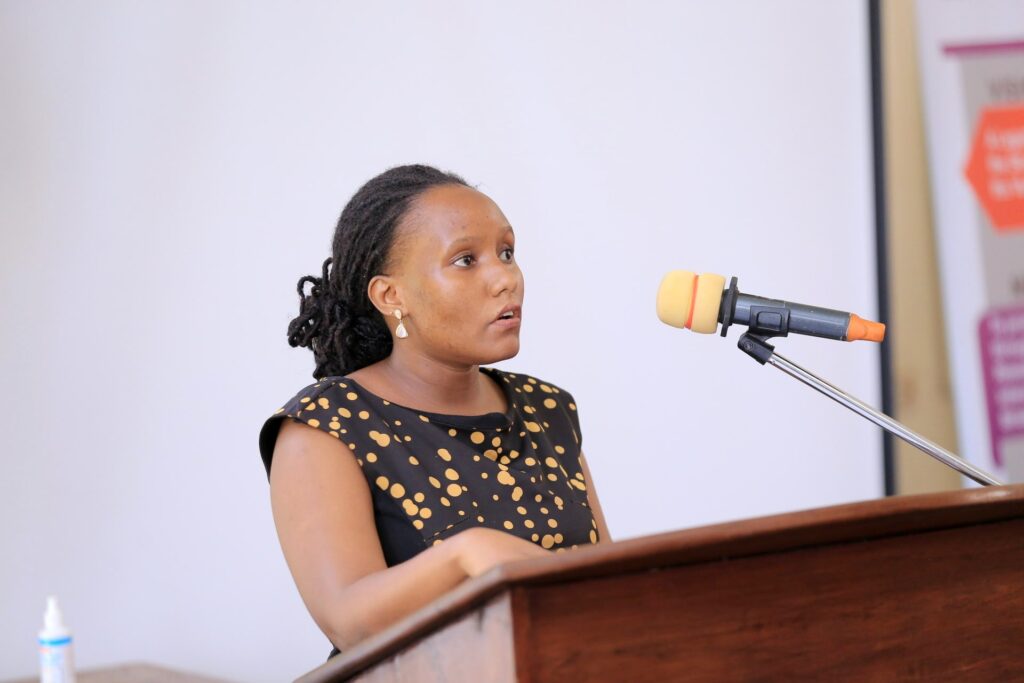 'The Human Rights Implications of Uganda's Borrowing' paper was presented by Ruth Muhawe. Abstract: The relationship between the sovereign debt of developing countries and the protection of the social rights of citizens in those countries has received considerable analysis from the economic, political and moral perspectives, but relatively little has been written from the legal point of view. Consequently, this paper provides legal insights into the lingering crisis that sovereign debt poses to human rights, with a specific focus on the economy of Uganda. The paper is particularly concerned with examining what Uganda's debt burden means for the basic observance and enjoyment of human rights by its citizens of both the present and the future.For more about Ruth's paper click: https://makererelawjournal.org/issues (MLJ 2019 Issue) A constitutional law and international law expert, Dr. Busingye Kabumba, Senior Lecturer at SoL was the discussant of the paper.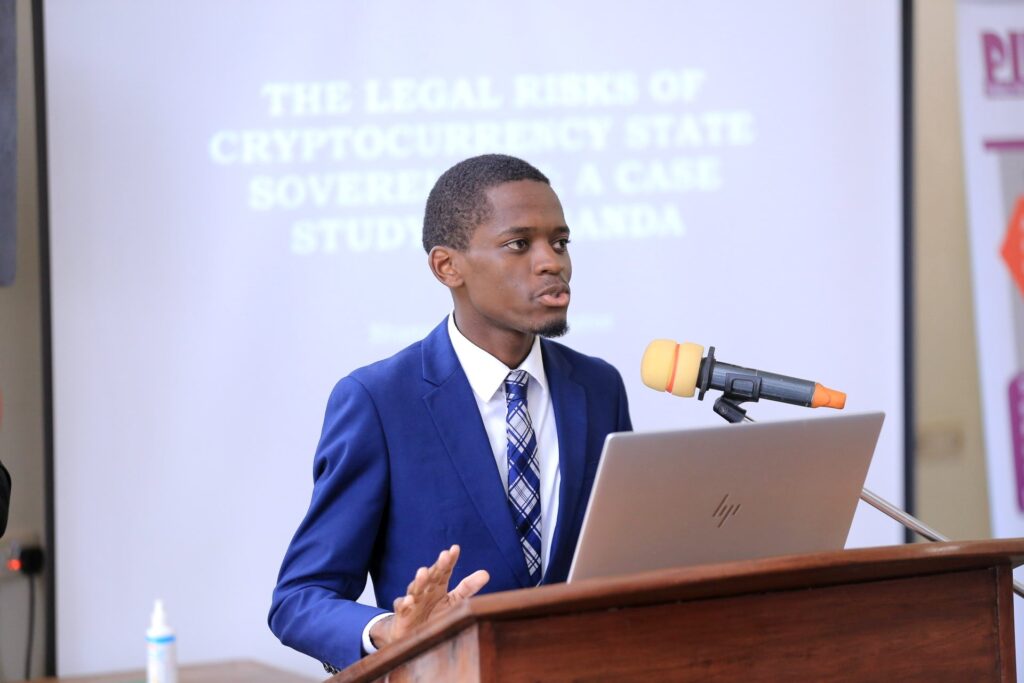 A joint paper titled, 'The Legal Risks of Cryptocurrency On State Sovereignty; A Case Study of Uganda' was presented by Ntamugabumwe Victor & Joshua Kingdom. Abstract:State sovereignty is conventionally known to mean that all states are equal under Public International Law, the decisive criterion being effective power over territory and people. Indeed, the most rudimentary definition of a state is the organization of power over territory and people within that territory. However, sovereignty today depends much on the state's monetary independence – the state's capacity to control the flow of money and currency in their jurisdiction. With the constant evolution of money transactions from Cash to credit and then to crypto, the state must always be ready for each revolution so that sovereignty is kept. Cryptocurrencies work outside the existing legal financial framework and as such avoid the state's invented structure to control their monetary policies, stability to achieve sovereignty.For more about the paper click: https://makererelawjournal.org/view-publication/17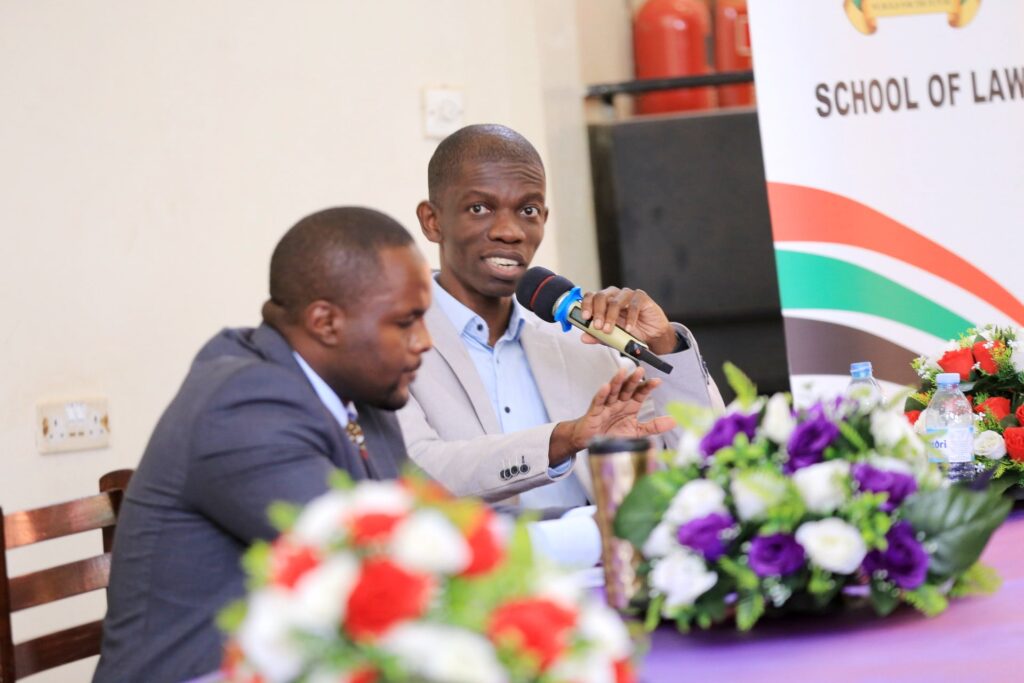 Deans of Law Schools meet to discuss strengthening Clinical Legal Education (CLE)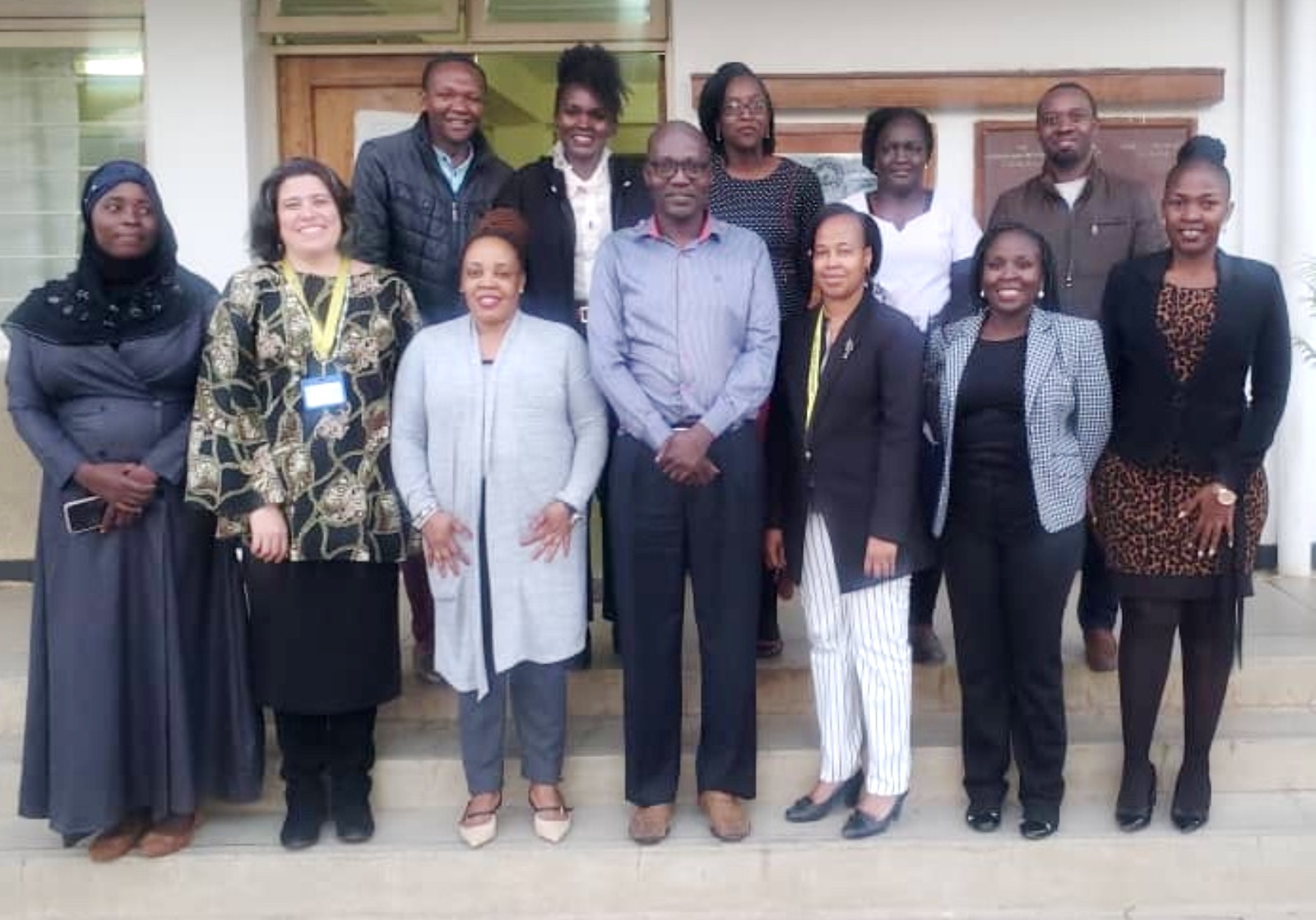 On the 22nd June 2022, Professor Christopher Mbazira, Principal – Makerere University School of Law joined other Deans of Law Schools under the auspices of the East African Network of University Law Clinic (EANULAC) to discuss how to strengthen collaboration in the area of clinical methodology to teach law. Other Deans attending the meeting were Dr. Ines Kajiru, Dean of Law, University of Dodoma; Dr. Ana-Luis Haule, Dean of Law, Ruaha Catholic University; Ms Halima Miigo, Dean of Law, University of Iringa, and Ms. Agnes Mwiza Ngussa, representing Ms. Esther Mdegipala, the Dean of Law, St. Jordan University College, Morogoro Tanzania. EANULAC is supported by the American Bar Association Rule of Law Initiative (ABAROLI) in this initiative.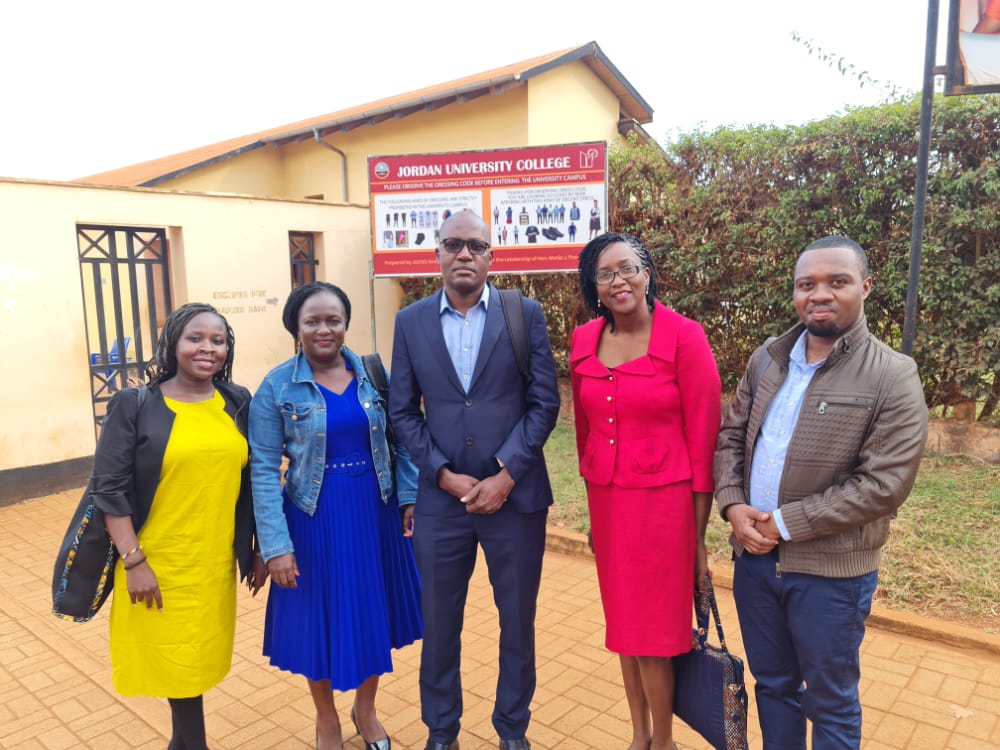 At the meeting, the Deans discussed ways of strengthening collaboration in the area of using the clinical methodology to teach law, which involves teaching the law in context and using experiential learning methods. The Deans agreed: To use the expertise and student resources at their universities to promote human rights and access to justice in the communities in their neighbourhoods; To engage in joint activities, sharing of resources and jointly mobilise research grants in advancing their Schools and legal education in the East African region. In addition, the Deans took note of the need to revive the East African Law Teachers Association (EALTA) and committed to pursuing this matter. The EALTA will serve as a forum for sharing experiences and academic resources as well as developing curricular in line with the needs of the region.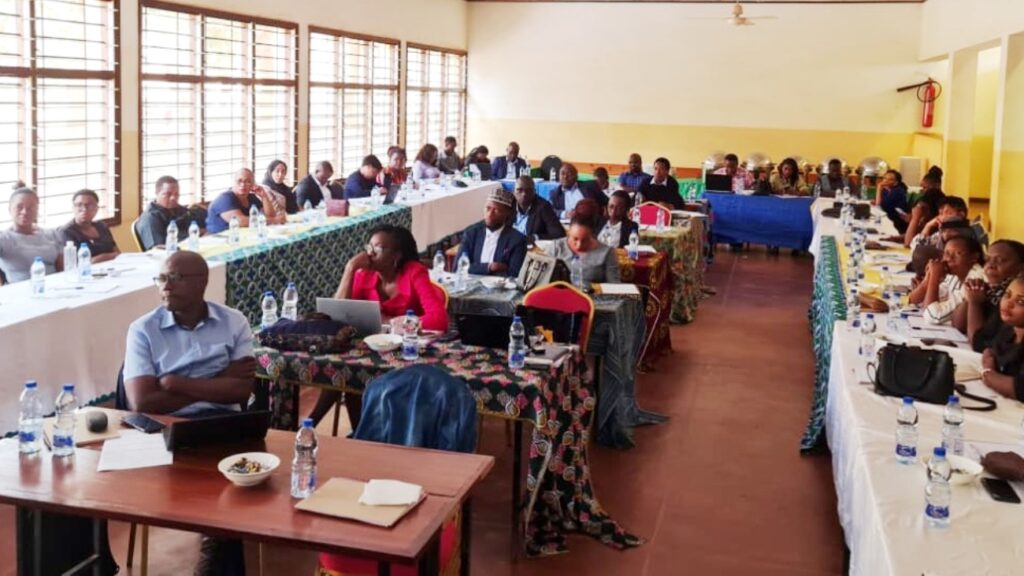 The meeting was preceded by a training in the use of the clinical methodology of teaching law held on 21st June 2022 at St. Jordan University College in Morogoro, Tanzania. Over 30 law lecturers from the University of Dodoma, Mzumbe University, Makerere University, Ruaha Catholic University, University of Iringa, Muslim University Morogoro were trained.