BMGF Program Officer Sambisa Pays Courtesy Call to Mak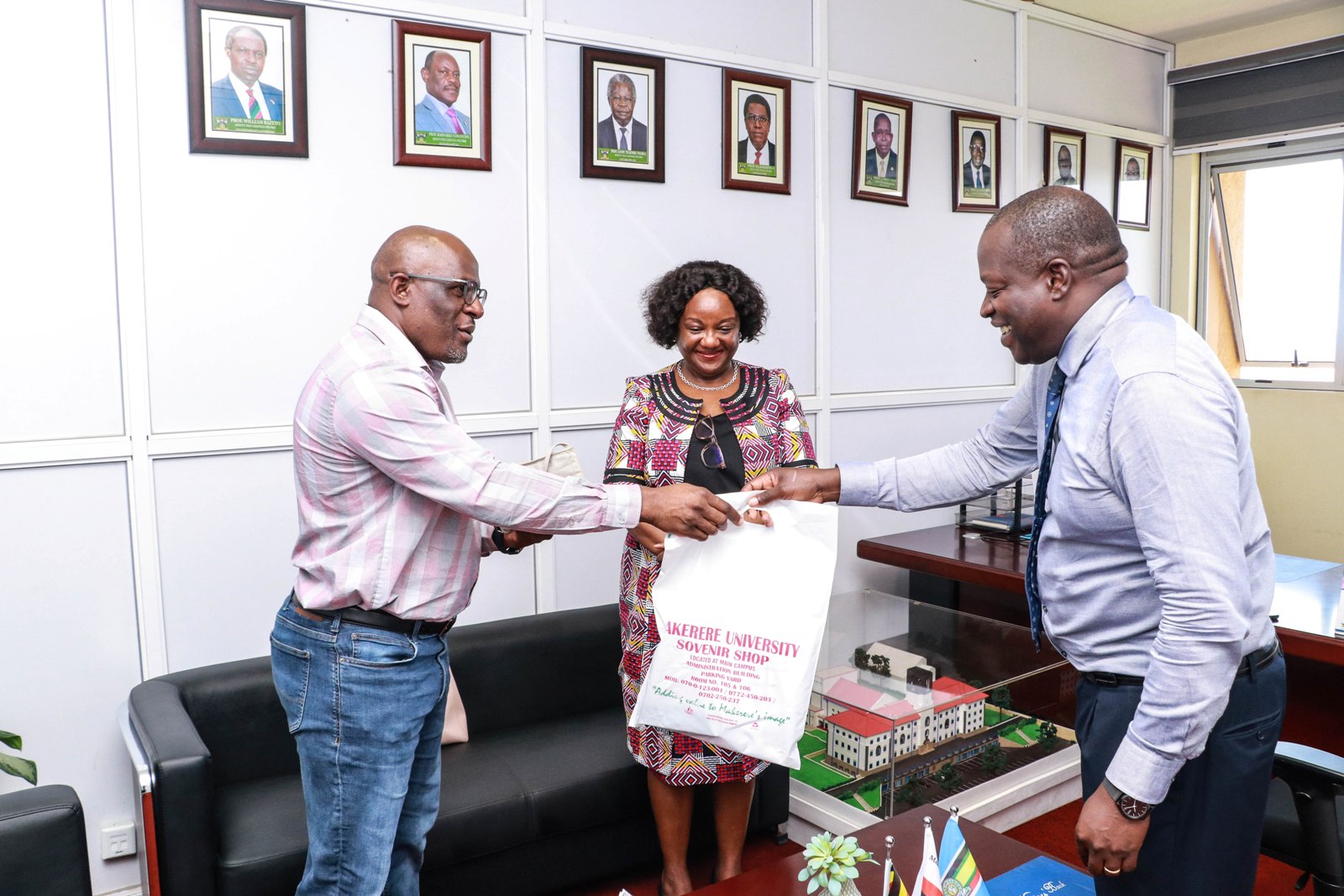 Kampala -Uganda: Makerere University acting Deputy Vice Chancellor Finance & Administration, Prof. Tonny J. Oyana on Monday July 4th 2022 received Dr. William Sambisa from the Bill and Melinda Gates Foundation (BMGF) in company of the Dean, Makerere University School of Public Health (MakSPH) Prof. Rhoda Wanyenze.
Dr Sambisa, who is also the Program Officer for the COVID-19 Response and Shaping Policy in Eastern, Central and Western Africa (COVID Assessment project), a Bill and Melinda Gates Foundation funded project at MakSPH was on a 3-days visit to Makerere University as part of the evaluation of the project as it comes to an end.
The project has been implemented in partnership with several universities from the eastern, central, and western Africa including the University of Cheikh Anta Diop Dakar, Senegal; the University of Ibadan, Nigeria; the University of Kinshasa, DRC; and the University of Ghana.
This project sought to assess and curate the response to the COVID-19 pandemic in Africa and the outcomes in terms of COVID-19 control and continuity of essential non-COVID-19 health services within the COVID-19 period, to inform the COVID-19 response and recovery as well as health system resilience to future disease outbreaks in Africa.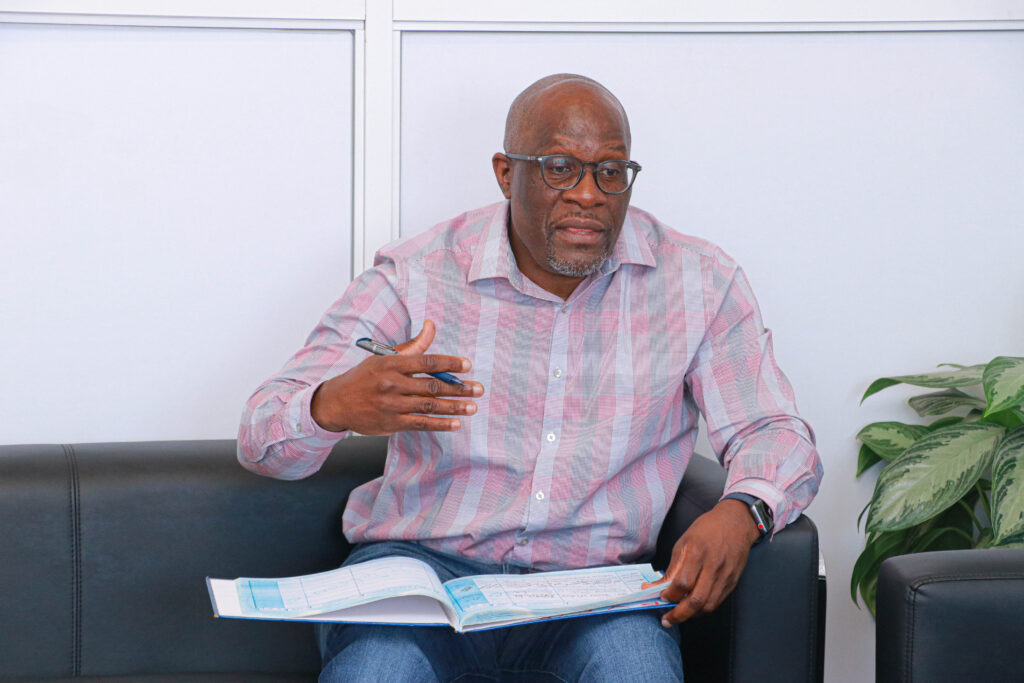 Prof. Wanyenze is the Principal Investigator of the COVID Assessment project for Uganda. She has been working alongside Dr. Suzanne Kiwanuka Dr. Suzan Kizito, Steven Ndugwa Kabwama and Dr. Rawlance Ndejjo, among others.
Speaking at the Vice Chancellor's office, Prof. Rhoda Wanyenze said the School of Public Health was grateful for the partnerships with the BMGF that have impacted a lot of lives and influenced policy changes in Uganda and beyond. She thanked Bill and Melinda for their generosity and support towards research in Africa and capacity building.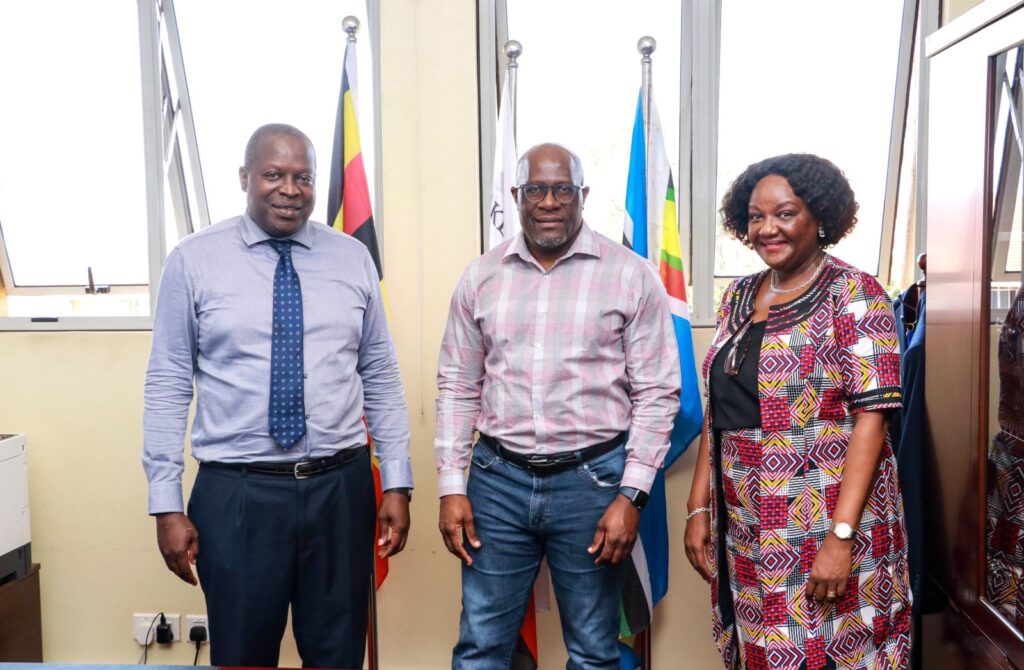 "We have several grants from the Bill and Melinda Gates Foundation. We are proud that we are partnering with you for impactful research and meaningful capacity building. BMGF supports the Digital Health Payments initiative project, the Covid-19 assessment which is coming to an end, Performance Monitoring for Action (PMA), a project fueling a data revolution to guide family planning programs, and the Leadership for Malaria eradication that is equipping endemic country scientists, implementers and leaders of National Malaria Control Programs (NMCPs) with adequate skills with a view of obtaining the ultimate goal of global malaria eradication," said Prof Wanyenze.
She added that; "We are talking with William to explore the establishment of a Centre for Health Security at Makerere University because we are in the Congo basis belt which has the largest number of disease outbreaks globally."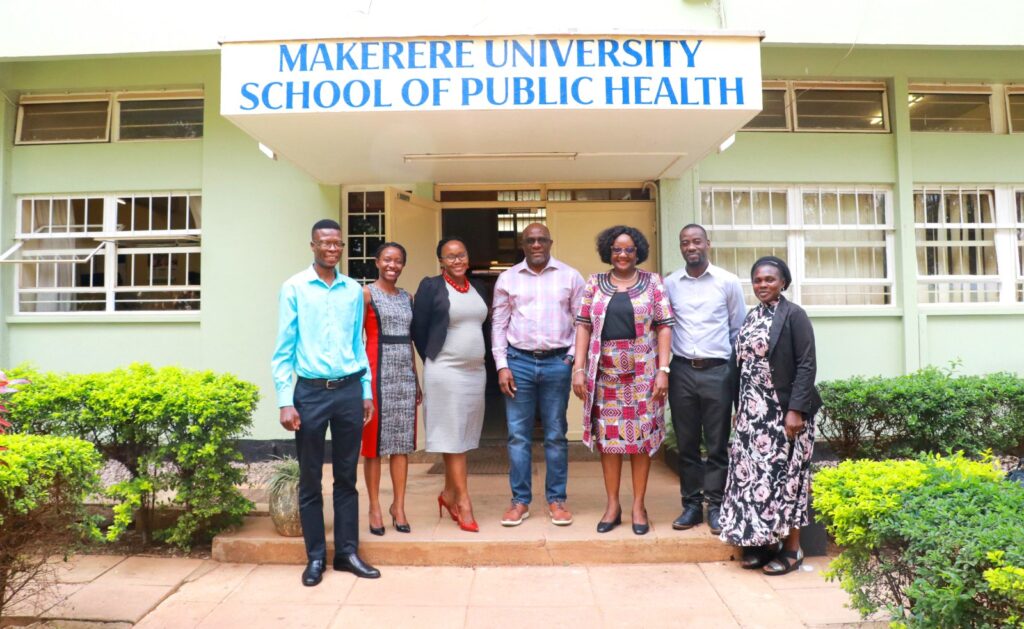 On his part, the Acting Deputy Vice Chancellor Finance and Administration who represented Prof. Barnabas Nawangwe, the Vice Chancellor, Prof. Tonny Oyana said it was a great gesture for Makerere University to receive the BMGF support to various university research and capacity building projects citing that such partnerships need to be leveraged on in the next century.
"I am well informed that you have been generous to Makerere University through the School of Public Health. I am told the funding portfolio has increased under several projects. We are now celebrating 100 years of existence. Our main celebrations will be in October this year. So, we have come a long way and the BMGF are part of the Makerere University story and I hope that we can consolidate our gains with that funding support. When you go back, please tell Bill and Melinda that the Management of Makerere University is very grateful for your contribution and we should continue working together. Please do visit us again," said Prof. Oyana.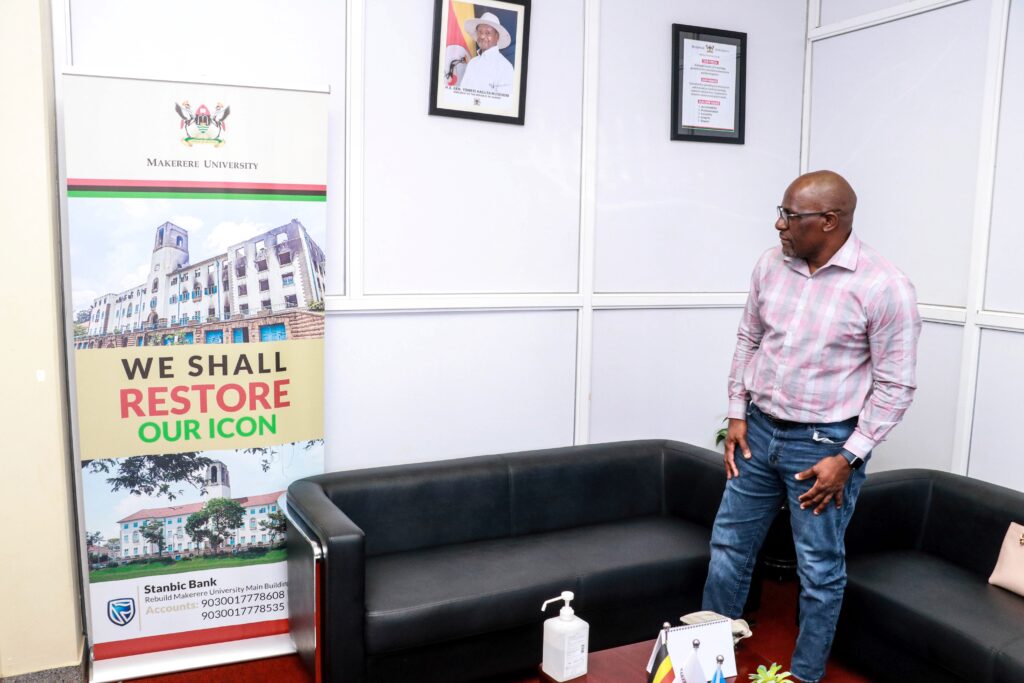 Prof. Oyana also shared about the iconic university building Administration Block, the second oldest building in Makerere University, currently under reconstruction that was burnt to ruins on November 20, 2020. The Main Building, in the style of British architecture of the 1940s, had high white walls and blue-shuttered windows before the fire that broke out. It is a symbol of higher education in Uganda and Africa. Efforts are underway to maintain its exact architectural design and structure.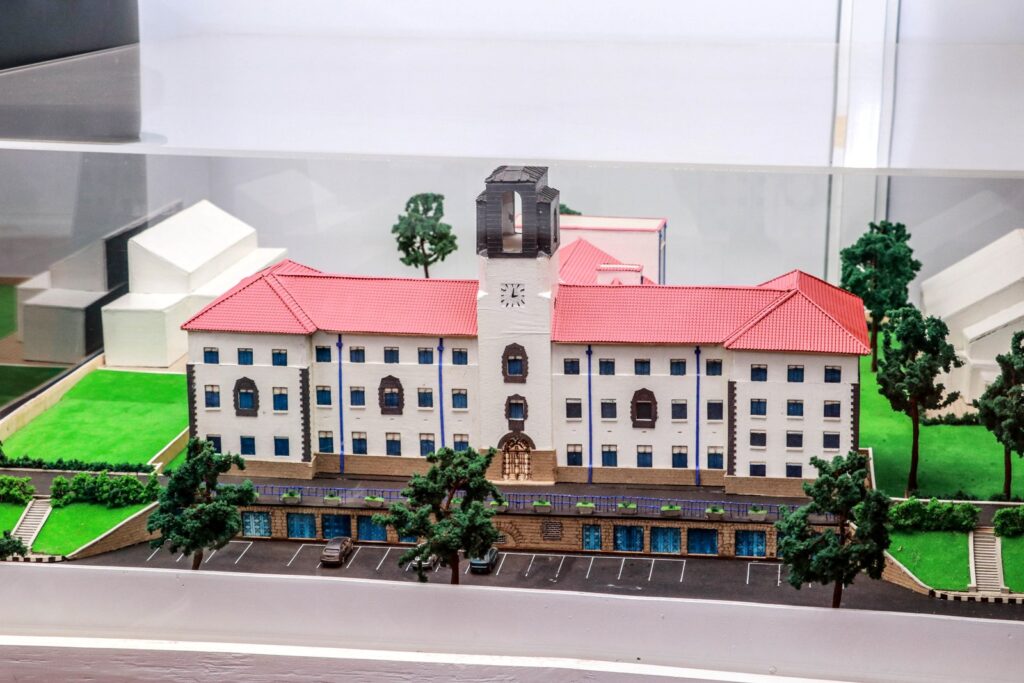 In appreciation, Dr. William Sambisa said he was excited to visit Makerere University and impressed by its position in research in Africa and beyond. He empathized with Makerere University for the loss of the iconic building during the fire.
"It is a pleasure working with Makerere University. This is my first time I set foot in this great institution. When we were growing up in Zimbabwe, we heard about Makerere, its academic stature and its role in activism those days. Sometimes you say I have read and heard about this Giant of Africa, I would like to be there," said Dr. Sambisa.
He added that; "We have begun a journey. We are creating good foundational pillars, for the next growth of the institution itself and the way you will influence Africa in research and capacity building. If we are saying we want to rely on African institutions, are we putting adequate resources to build them? Are we holding them in that journey aspect of it? It would be unfair to drop this investment."
The Dean Prof. Rhoda Wanyenze led Dr. Sambisa on a guided tour to the Main Campus and inspected the construction site for the new home of MakSPH.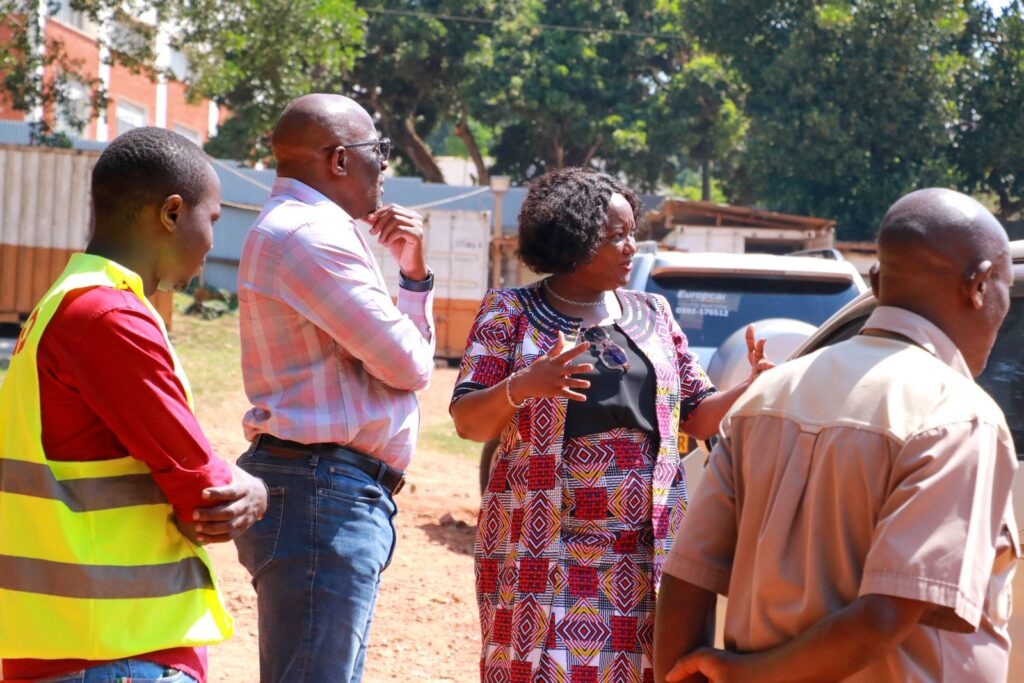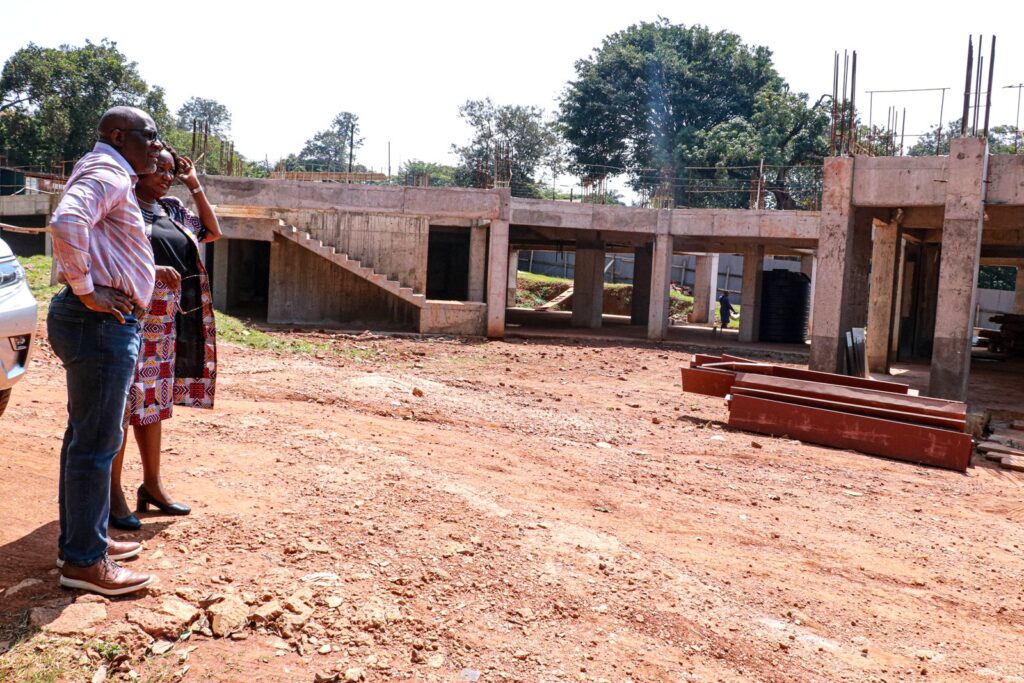 Researchers call for interventions to support HIV/AIDS prevention among University Students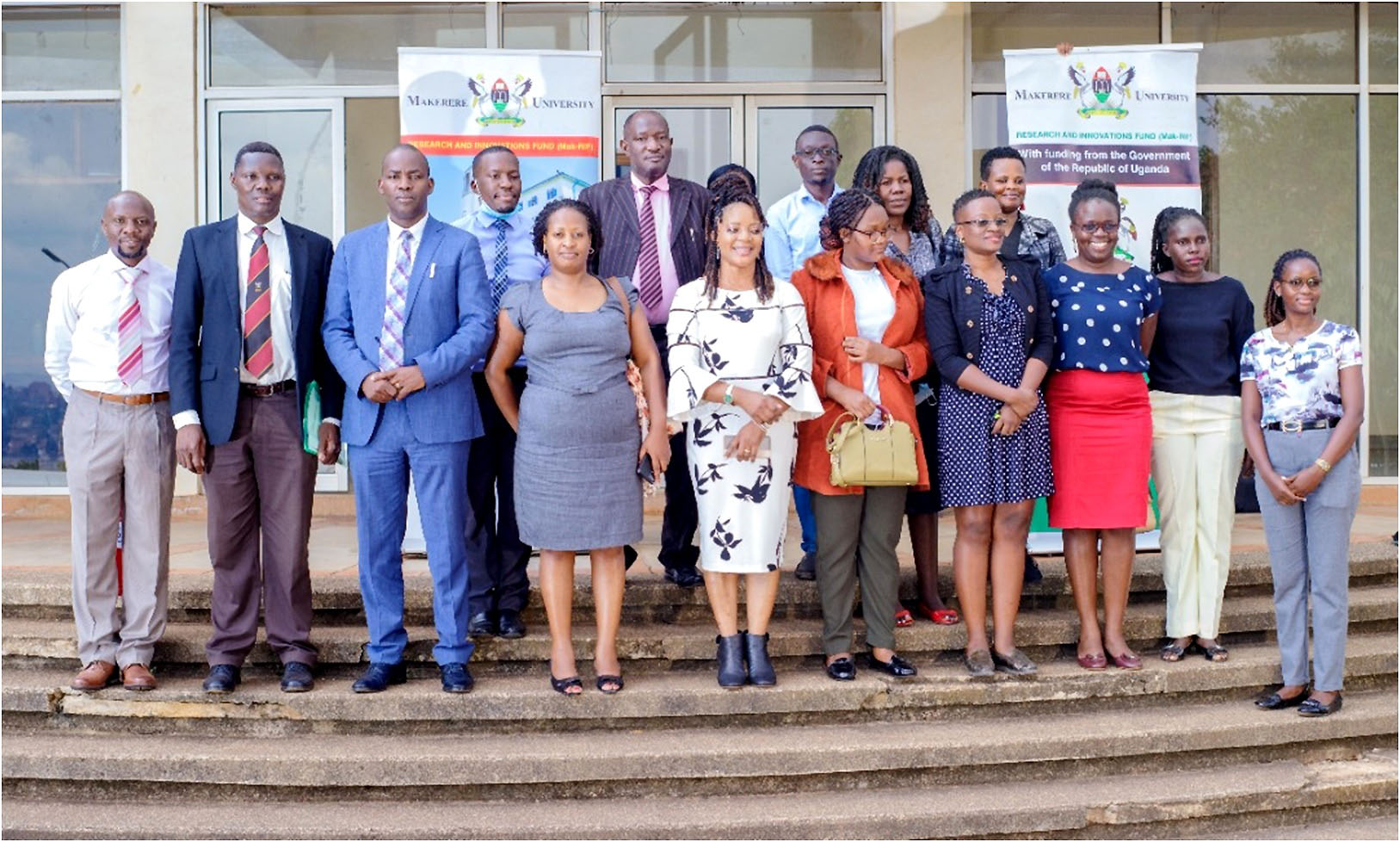 Researchers at Makerere University College of Health Sciences have given recommendations on how the education and health sectors can support HIV/AIDS prevention among students.
The researchers advised that the health sector should develop communication strategies and materials specific to university students and increase support to provide youth-friendly HIV prevention services at universities. The education sector working with University management should include: life skill programs during orientation of new students; HIVST delivery through peers and freshman orientations; Increase sensitization & access to PEP/PrEP by high-risk students; and update and disseminate institutional HIV policies.
The recommendations were made at a dissemination meeting for a study titled 'HIV risk and factors associated with use of novel prevention interventions among female students at Makerere University' held on the 30th September 2022 at the Food Science & Technology Hall, Makerere University Campus.The study funded by Government of Uganda through the Makerere University Research & Innovations Fund (MakRIF) was conducted by Dr. Lorraine Oriokot (Principal Investigator), Dr. Ivan Segawa, Dr. Sabrina Bakeera-Kitaka, Dr. Andrew Mujugira and Ms. Sharon Okello.
The objectives of the study were: to know the percentage of female students at risk of HIV; and to know the characteristics of students that have used the newer HIV prevention methods, which are HIV self-testing; Pre-exposure prophylaxis; and Post-exposure prophylaxis.
A total of 534 female students with an average age of 22years completed the survey. The results and findings of the study were:
Behavioural characteristics (12% of the respondents were in multiple sexual relationships; 21% of the respondents had a partner ≥ 10 years from their age; 29% of the respondents used emergency contraceptive (in the past 6 months); 21% of the respondents had never tested for HIV; and 10% of the respondents believed that they were at high risk for HIV)
The study considered a person was high risk if they: Had a partner who was HIV positive; Had multiple sexual relationships, anal or transactional sex; Used drugs especially injectable drugs; Had 2 or more sexually transmitted episodes in one year; Were pregnant or breast feeding; Were or had partners who sex workers, fishermen, long-distance truck driver, boda-boda rider, or army officers
Overall, 21% students were deemed high risk for HIV; 19% of students had ever used HIV self-test kits; 64% had ever heard of oral HIVST; 93% were willing to use HIVST; HIVST was more likely to be used by older students; HIVST can bridge the HIV testing gaps among students
80% had ever tested for HIV far below the global targets of 95%; Self-test kits are freely available at the University Hospital; Test kits can be purchased over-the-counter in pharmacies
For PEP it was found that:3% of students had ever used PEP; 9% among those eligible for PEP; 70% had ever heard of PEP; 65% were willing to use PEP; PEP use was linked to having a partner and high-self risk perception; PEP is currently the only way to reduce the risk of HIV infection in an individual who has been exposed to HIV; PEP is available at Makerere University Hospital at no cost
For PreP it was found that:1% of students had ever used PrEP; 2% among high-risk students; 45% had ever heard of PrEP; 52% were willing to use PrEP; PrEP has been linked with decreased new infections of HIV; PreP is currently available as oral tablets. Vaginal rings and injectable forms are being tested for wide roll out; and PrEP is available at KCCA health facilities and facilities offering HIV care.
Research findings show that Iron levels of blood donors in Uganda are low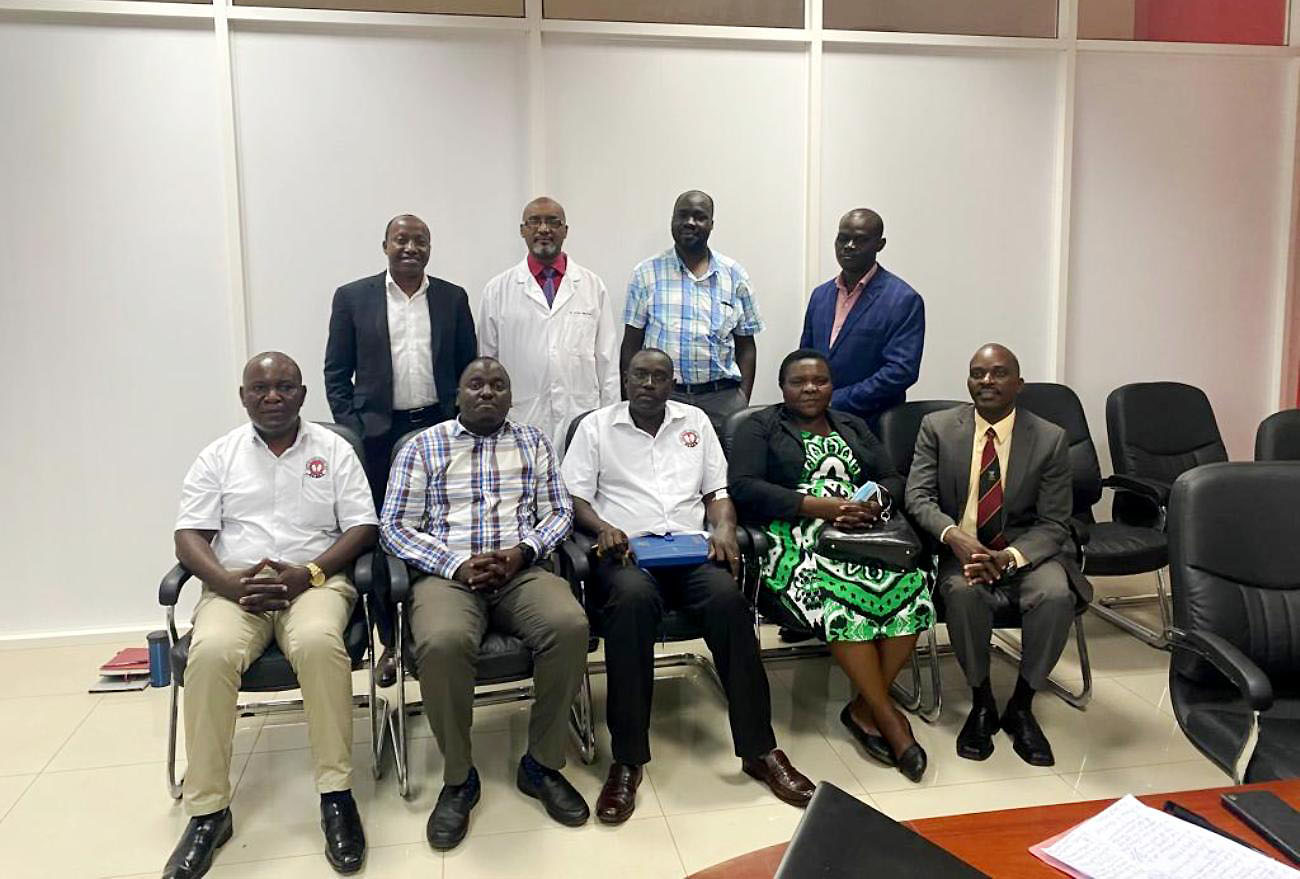 Makerere University researchers have released research findings showing that some blood donors in Uganda have low iron levels,low iron stores are common in blood donors, and that the donors who are deferred for low blood levels have limited insight into their situation. The findings were presented at a research dissemination workshop held on the 15th November 2022 at Makerere University College of Health Sciences.
In his remarks, Dr. Aggrey Dhabangi, Principal Investigator (PI) of the study explained that lack of iron may result in anaemia, which in turn makes blood donors ineligible to donate. 'Other complications arising from low iron include, fatigue, low energy, and depression', he added.
Statistics show that Uganda collects about 300,000 blood donations per year which is below the WHO recommended target of one donation per 100 population per year. As such, more donations are needed to increase blood supply. However, 10% of potential donors are turned away (deferred), 25% of these are due to low blood levels (anaemia); these missed donations may further exacerbate blood shortages in the country. Thresholds for eligibility to donate are 12.5g/dL and 13.5 g/dL for women and men respectively.
A total of 500 donors were involved in the cross-sectional study conducted within the central region blood collection sites of the Uganda Blood Transfusion Services (UBTS). The key findings of the study included:
The results showed that, of all potential donors screened to donate, 20.6 % had low iron stores. Among donors with blood levels acceptable to donate, 11.5% had low iron stores, while among those already turned away from donating for low blood levels, 61.5% also had had low iron.
The prevalence of low iron stores was higher among females (33.0%) compared to males (2.5%), but even higher among younger females i.e., 24 years and below (35.4%).
Further analysis revealed that, NOT eating an"iron-rich" diet was a major factor linked to low storesamong blood donors.
Interviews with donors turned away from donating for low blood levels revealed that many did not receive sufficient explanations as to why they were turned away, and what they were told was sometimes confusing to them.
Although the majority were surprised to be found with low blood levels and seemed frustrated for being turned away; deferral for low blood levels was generally poorly understood. Some interpreted it to mean, they had just 'enough blood for themselves, but not enough to donate'. Others took the issue very lightly, yet their iron measurements have shown that 61.5% of these individuals besides being low on blood, they also had low iron.
The researchers gave the following recommendations:
Dietary (Iron-rich diet):Action – The population should be encouraged to adopt healthy eating lifestyle/diet which is iron-rich.Foods like leafy greens (bbugga, dodo, nakati), liver, beef, beans among others should be included in diets.
Behavioural change communicationon nutrition should be instituted to get the populations to change their diets and eating habits.
Consider Iron supplements for the population to repleteiron stores. The UBTS/Ministry of Health can offer iron pills to the affected donors. In the past this was done.
Identify donors at risk of Iron Deficiency through screening to identify affected persons early enough for interventions.
Improved communication is necessary for better handling of blood donors; the capacity of UBTS staff should be built; produce IEC materials for deferred donors: anaemia treatment, and prevention
Referral – to physicians for work-up and further management of anaemia
This study was made possible through collaboration between Makerere University College of Health Sciences and Uganda Blood Transfusion Services. Funding support was provided by the Government of the Republic of Uganda, through the Makerere University Research and Innovations Fund (Mak-RIF) – Round 3, financial year 2021/22.
Research Team: Dr. Aggrey Dhabangi (Principal Investigator (PI) and Co-PIs Dr. Godfrey Siu, Dr. Ronald Ssenyonga, Dr. Susan Acan, Mrs. Dorothy Kyeyune, and Dr. Imelda Bates.
METS Newsletter October 2022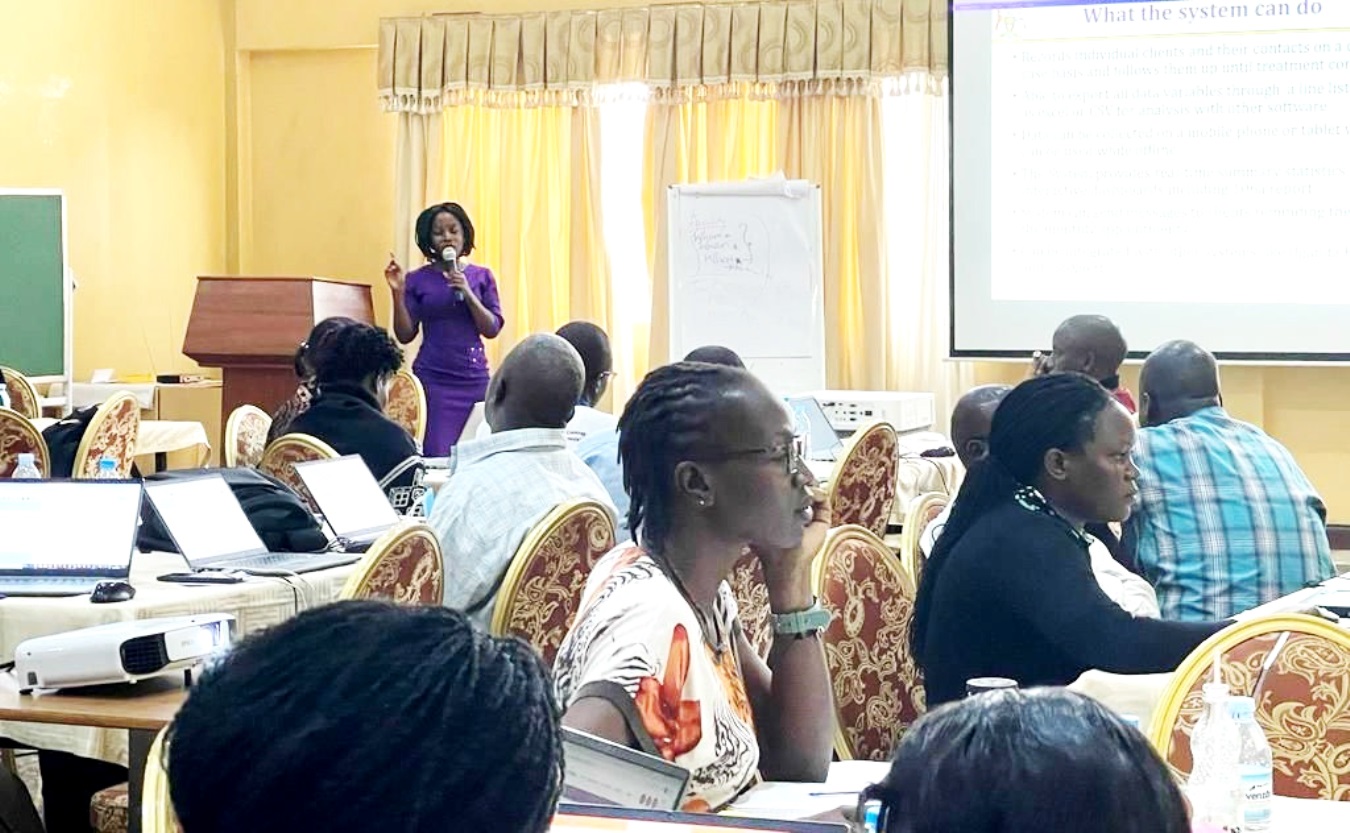 The Monitoring and Evaluation Technical Support (METS) Program is a 5-year CDC-supported collaboration of Makerere University School of Public Health (MakSPH), the University of California San Francisco (UCSF) and Health Information Systems Program (HISP Uganda).
Highlights of the METS August 2022 Newsletter
Advancing health information security, privacy and confidentially

With support from the Makerere University School of Public Health (MakSPH) – METS Program and other partners, the MoH has developed the national Health Information Exchange (HIE) and Interoperability guidelines that will guide the implementation of HIE initiatives within the health sector.
Inaugural HIV Recency Testing Data Quality Assessment

The inaugural HIV Recency Testing Data Quality Assessment (DQA) was conducted from 28th August – 10th September 2022, with an aim of designing interventions for improving data quality for public health action.
The DQA was carried out in a representative sample of 170 facilities geographically distributed across the country by 15 teams of members from MoH, METS, UCSF, implementing partners (IPs) and districts health teams.
Case Based Surveillance Learning Exchange in Kenya

The main objective of the learning visit was to benchmark the Kenyan CBS program with the aim of harnessing the implementation modalities, lessons learned, and best practices that will guide program improvements in Uganda.
The key lessons learnt for implementation of the CBS program in Uganda will require key steps including; strong leadership, coordination and involvement by MoH and partners, alignment of funding priorities with national needs; clear documentation of policies and guidelines; adoption of a unique identifier to manage de-duplication of patients across the health sector; strengthening communities of practice within the workforce capable of maintaining and extending the CBS implementation and development of a national data warehouse for surveillance.
Milestones in equipping health facilities to track commodities

UgandaEMR is an electronic medical records system that is currently in use in over 1,400 health facilities in Uganda. UgandaEMR currently supports the following service areas such as HIV, TB, MCH, Laboratory, SMC, and Cervical Cancer, among others. Since 2015, the MakSPH-METS program has been supporting the Ministry of Health in the design and development of UgandaEMR.
One of the latest modules added to UgandaEMR by MaKSPH-METS is the stock management and dispensing (SMD) module that supports the documentation of essential medical supplies distributed and/or received at health facilities from the national medical warehouses.