Best Veterinary Medicine Students are Products of UPE & USE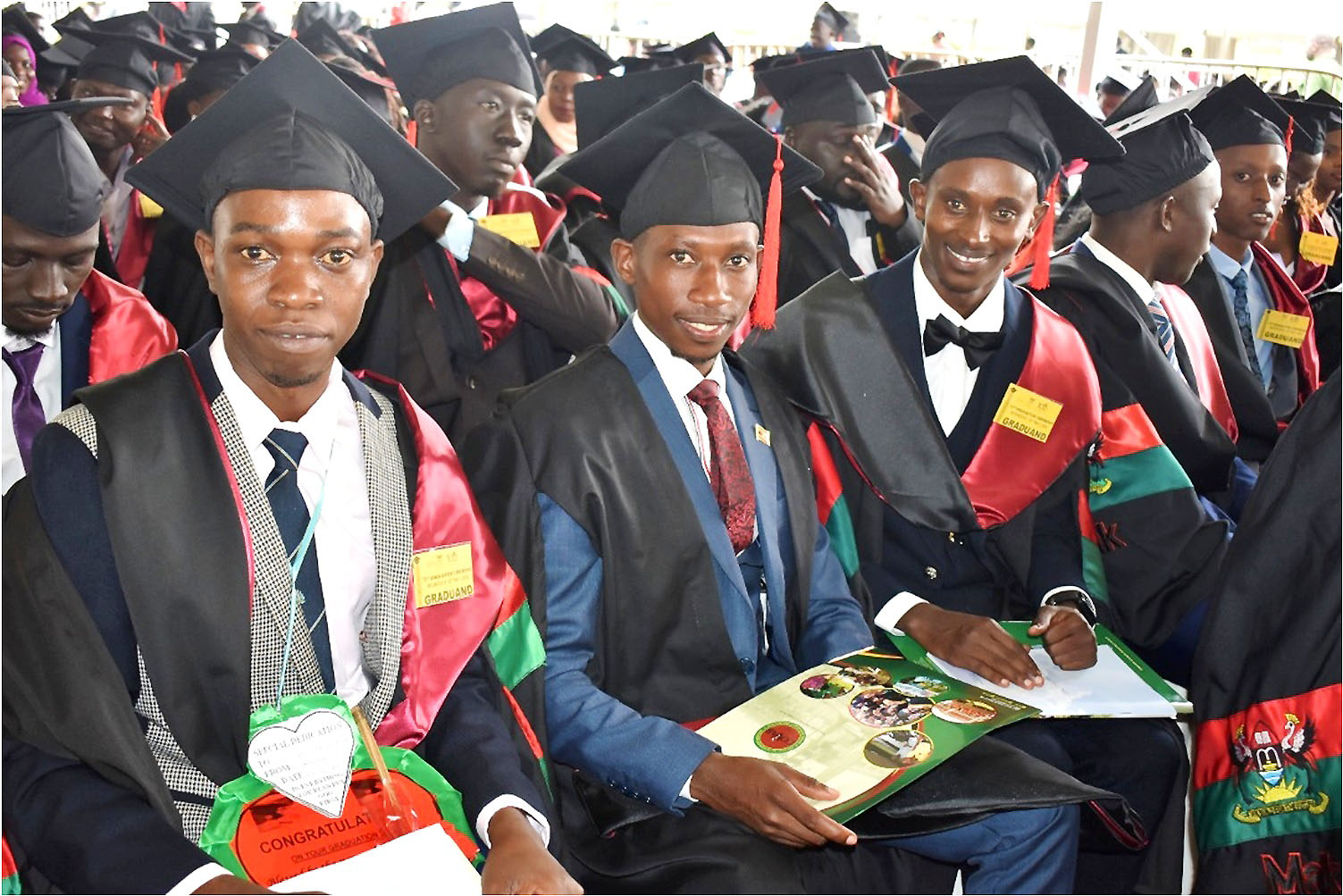 The best performing students in the Bachelor of Veterinary Medicine in the 72nd Graduation are products of Universal Primary Education (UPE) and Universal Secondary Education (USE).
The trio as we gather from their stories are all from humble beginnings and had to endure hardships like lack of school fees, walking long journeys to and from School. They credit their success to hard work, resilience and support from family, friends and well-wishers.
They received a cash prize of Uganda Shillings Fifteen Million with the first getting 7 million, the second getting 5 million and 3 million for the third.
Alex Kyabarongo, the best student of Bachelor of Veterinary Medicine class of 2022 with CGPA 4.25 was born on the 1st of April 1997 in a pastoral family in the cattle corridor, a last born of Mr. Fred and Mrs. Norah Kagyendaira of Bubaare Village Kiruhura District. Alex studied in the local schools Bubaare and Kyeera Primary Schools which were about 10 kilometers away from home. He got 25 and 17 aggregates at O and A level respectively. Although he had a dream of becoming a teacher, this changed when he discovered veterinary medicine and wanted to become a Veterinary Doctor. He studied both his Ordinary and Advanced high school levels in the same school (Mbarara Secondary School, 2010-2015), a third world government school.
Alex had been struggling with school fees and had only studied on the mercies of the school head teacher, Mr. Birungi Godfrey who secured him a half bursary to complete his "A" level after day schooling for the entire "O" level. ' After completing my "A" level I took a leap of faith and filled in PUJAB forms placing Veterinary Medicine at Makerere University as my first choice, and waited for the miracle to happen'. Said Alex. With 17 points in BCA/Sub. Math he was admitted to Makerere University on a government scholarship. "I came with one ambition, getting grades that can take me to Master's degree level so that I can break the barrier of illiteracy in the family and in the village at large, especially in sciences'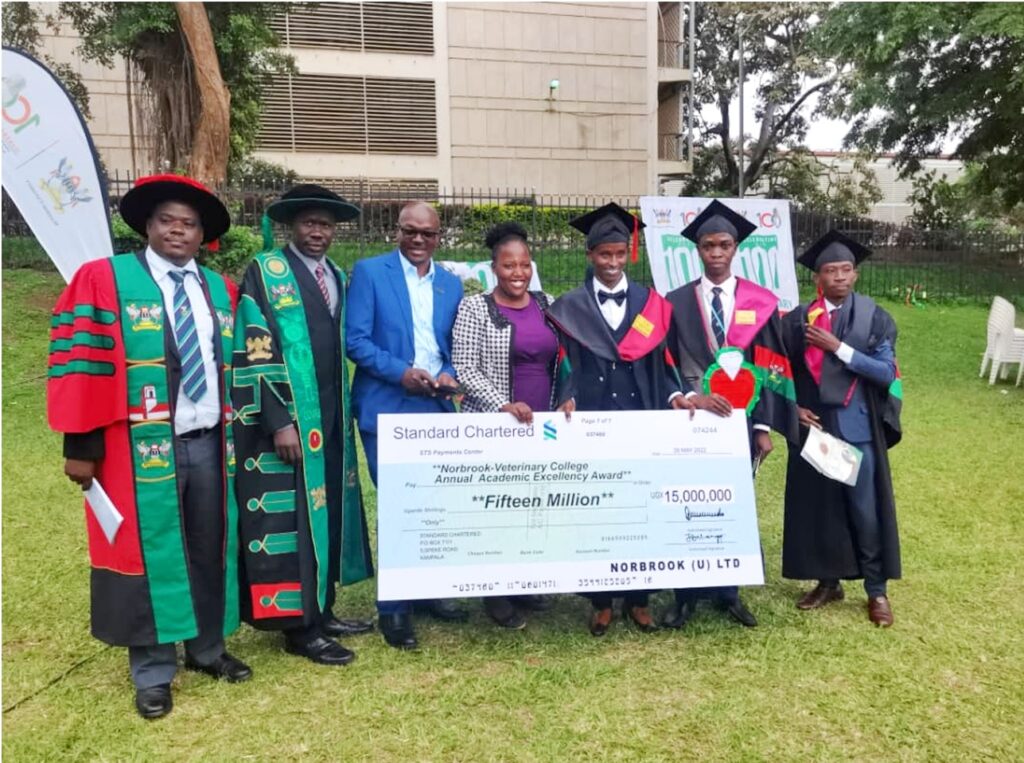 At Makerere University, Alex has not just been a class student, he has been involved in many University programs including leadership positions, which include deputy speaker of the Veterinary Students Association (MVSA) in his first year, GRC school of Veterinary Medicine and Animal Resources (SVAR) in his second year, President of the One Health Club at Makerere University in his 3rd and 4th year, President of the Animal Welfare club in his 3rd Year.
Also, Alex served at the International level as an iGEM Ambassador to Africa in 4th year and the iGEM Regional Ambassador Program Coordinator for Africa in his 5th year, JOGL Ambassador for Africa in 5th year. He won two student grants to carry out research, in his 4th year (AFSCAN Studentship) and 5th year (HSA Scholarship), and he would like to continue pursuing a path in research as a career. "I look forward to continue pursuing my dream as I serve my country to which I am in debt and I thank God who has enabled me throughout this thrilling journey". To my family, teachers and mentors thank you for the love and support throughout this amazing journey.
Ojangole David, the second best student of Bachelor of Veterinary Medicine class of 2022 with CGPA of 4.2 was born in 18th June 1996 in Kumi District to peasant parents, Ochola Joseph and Nakiria Hellen Rose and has eight siblings.
He attended his primary education at a Universal Primary Education school, Kabukol Primary School (2002 to 2009) where he obtained 17 aggregates. He later joined Mukongoro High School (2010 to 2013), a rural Universal Secondary Education school in Kumi district. 'I used to walk to and fro for a distance of 4Km every school day and despite the challenges faced, I managed to obtain 23 aggregates for eight in Uganda certificate of education', said the star student that beat the odds to excel.
The finger of God touched him and he got sponsored by Pilgrim Africa that enabled him study his Advanced level at Soroti Municipal Secondary school (2014 to 2015). He got 15 points in the subject combination of PCB/subsidiary mathematics, which enabled him get government sponsorship to study Bachelor of Veterinary Medicine at Makerere University.
'While at campus, my priority was at attending lectures, discussion with classmates, research, personal reading, prayer being at the forefront and I thank God for the accomplishment' explained the wonderful student who intends to take on his Master's degree as soon as funds allow'.
Wafula Ivan the third best student of Bachelor of Veterinary medicine class of 2022 was born on 28th February 1996 and he lost his father three months later on 17th May 1996. "I was then left with my mother Nakayiwa Rose who stopped in primary two to take care of me. Her only dream was to see her son finishing senior six because she knew she could not afford financing someone at university and its by God's grace that she witnessed her son becoming a doctor on 25th May 2022' stated the over joyed star student.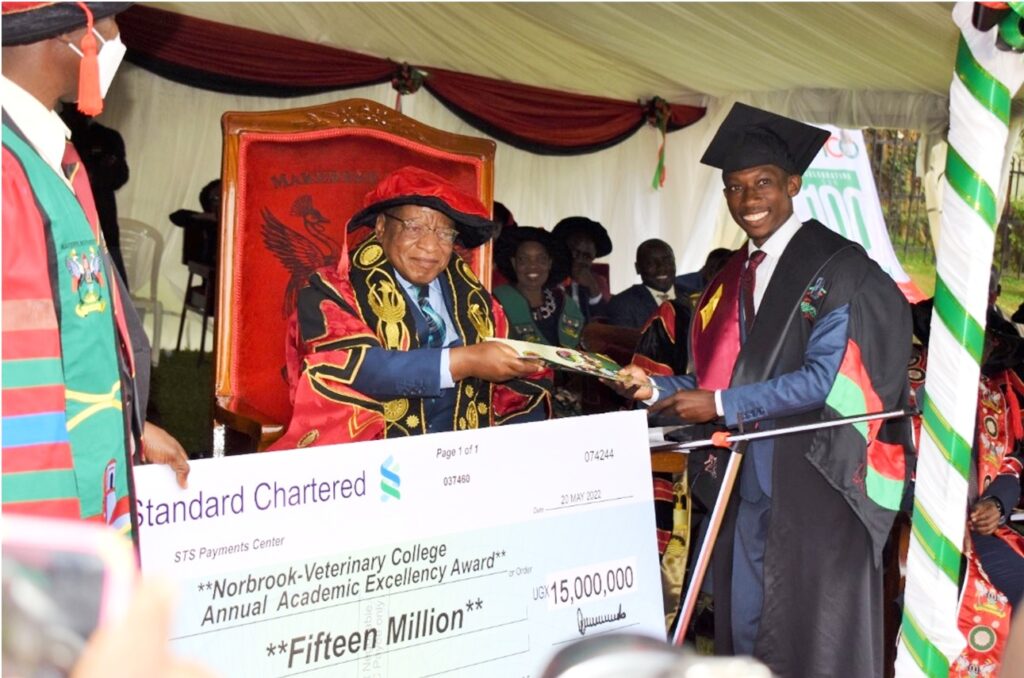 Born in a family of 7, Wafula is a product of Universal Primary School (UPE). He studied at St. Jude Lukaya Primary School (2002-2009) where he obtained 8 aggregates. Thereafter he went to Wagwa High School (2010-2013) similarly a Universal Secondary School (USE) school in Lukaya Town Council, Kalungu District where he obtained 16 aggregates at O level then joined St Stephen's College Bajja (2014-2015) a local private school where he scored 16 points which enabled him join Makerere University on government sponsorship to study Bachelors of Veterinary Medicine.
'Life has not been easy, because of poverty, challenges and difficulties were inevitable but with God on my side I finally made it. Glory to the Almighty', said the overjoyed student.I am looking forward to serve my country to the best of my abilities through my profession and advance in my studies, he promises.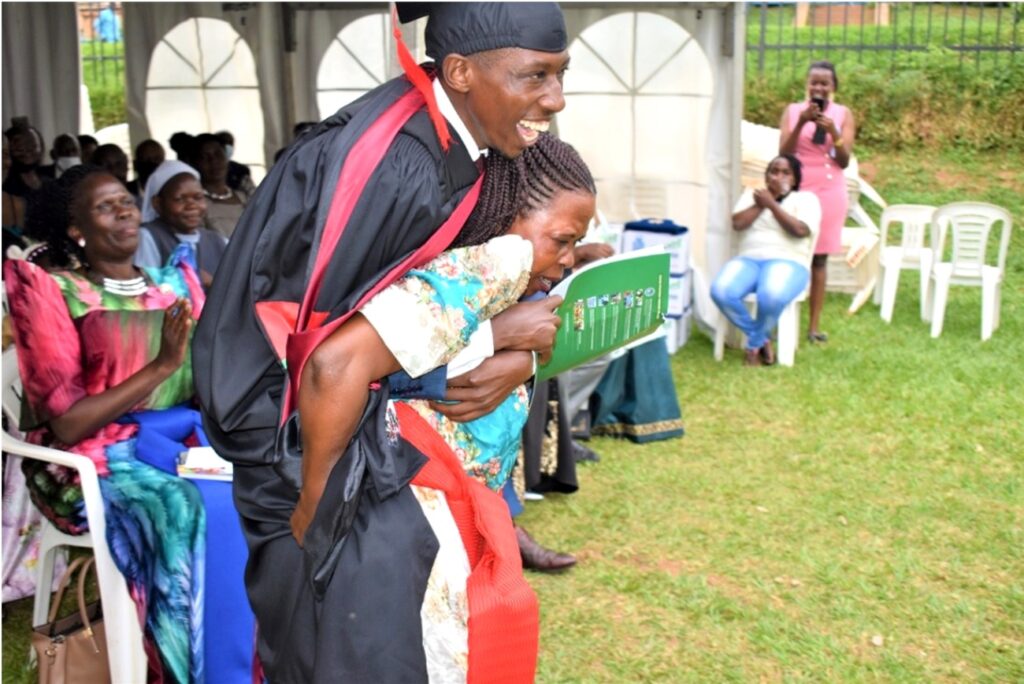 The overjoyed mother shared her joy by carrying her son on the back at the graduation ceremony held on Wednesday 25th May 2022.
Prof. Frank Nobert Mwiine Assumes Office as Chairperson AFRISA Board of Directors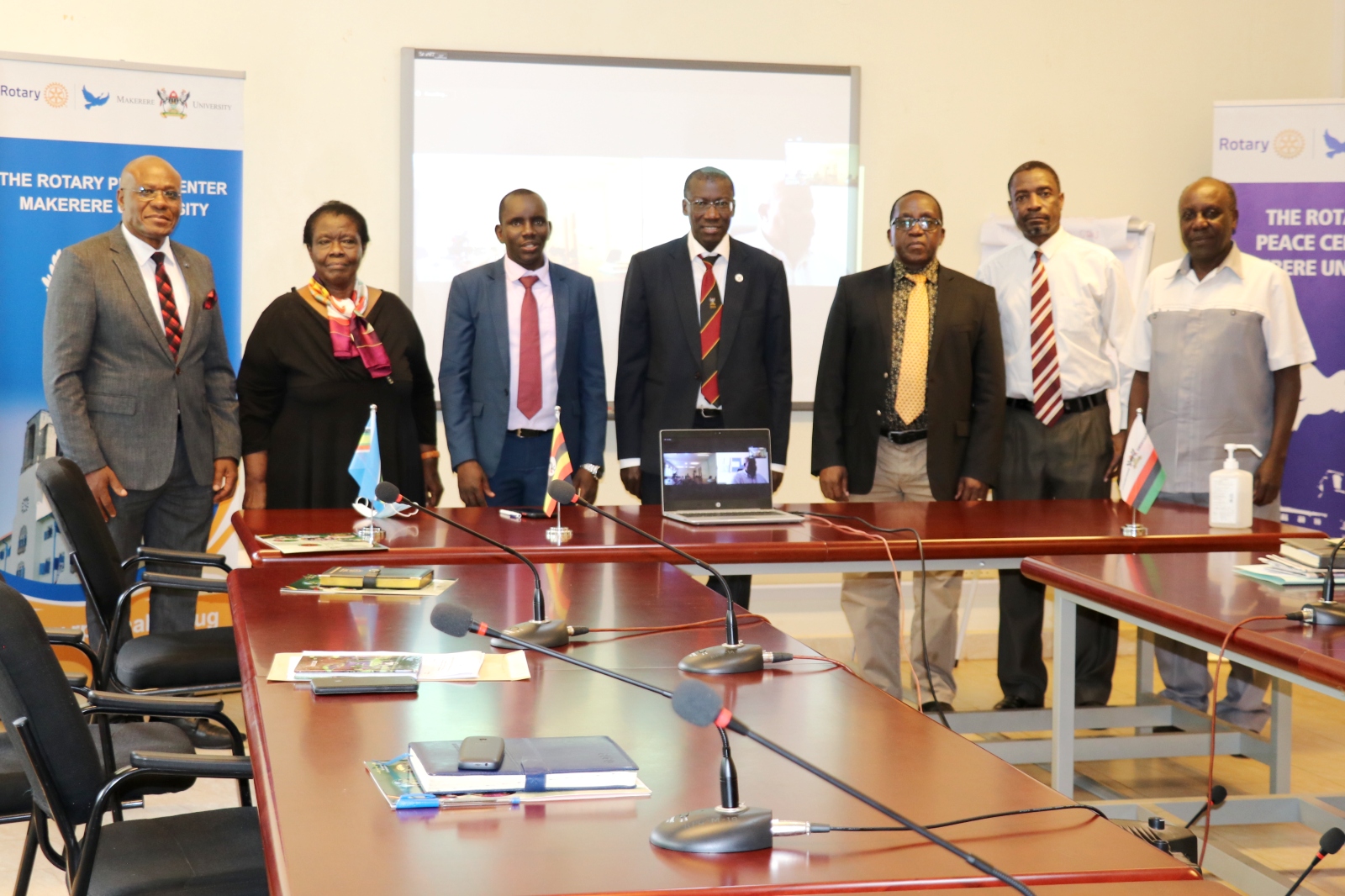 The Principal College of Veterinary Medicine, Animal resources and Biosecurity (CoVAB), Prof. Norbert Frank Mwiine assumed to the position of Chairperson Africa Institute for Strategic Services and Development (AFRISA) Board of Directors following the handover by the outgoing Chair Prof. John David Kabasa
The handover was held on Thursday 15th September 2022, in the Rotary Peace Centre at Frank Kalimuzo Central Teaching Facility. It was witnessed by a number of key stakeholders that included the Board members and members of the University management.
In his remarks as incoming Board Chairperson, Prof. Mwiine commended his predecessor Prof. John David Kabasa for ensuring that knowledge was transferred from shelves to communities through industrial skilling.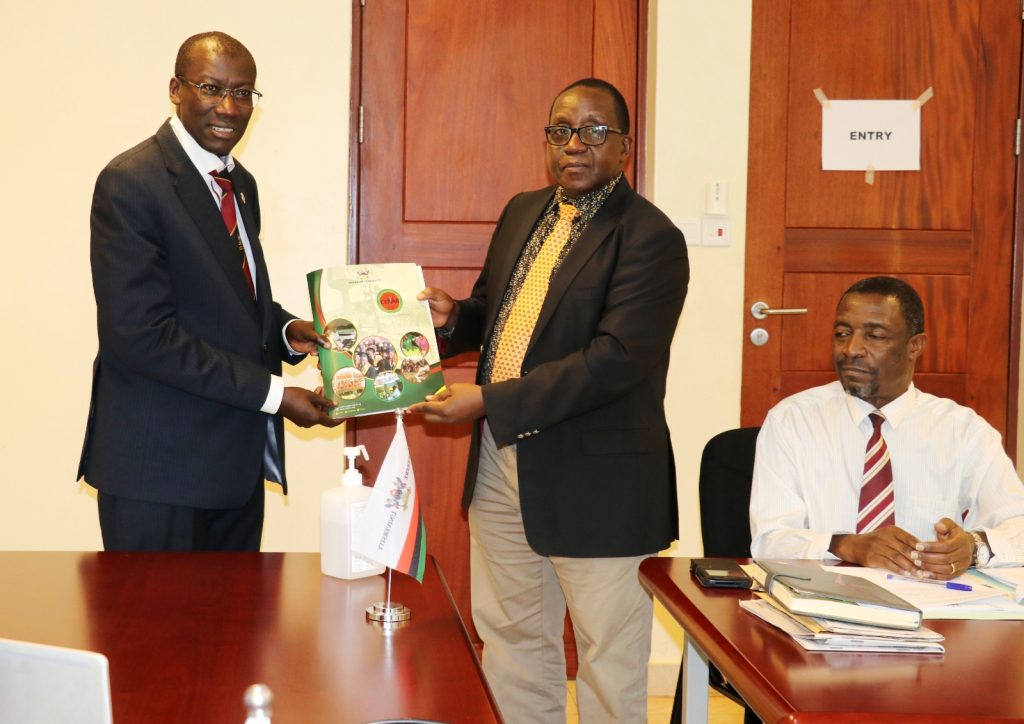 He explained that as provided by AFRISA Articles of Association, the Principal for the College of Veterinary Medicine, Animal Resources and Biosecurity (CoVAB) is the Chairperson of the Institute's Board of Directors, and hence his assumption to the office.
He explained that Prof. Kabasa, while serving as College Principal was the Institute's Board Chairperson and on handing over the Office of College Principal to Prof. Mwiine, this also called for the handover of the Board's Chairperson Position to the newly appointed College Principal, in respect to AFRISA Articles of Association.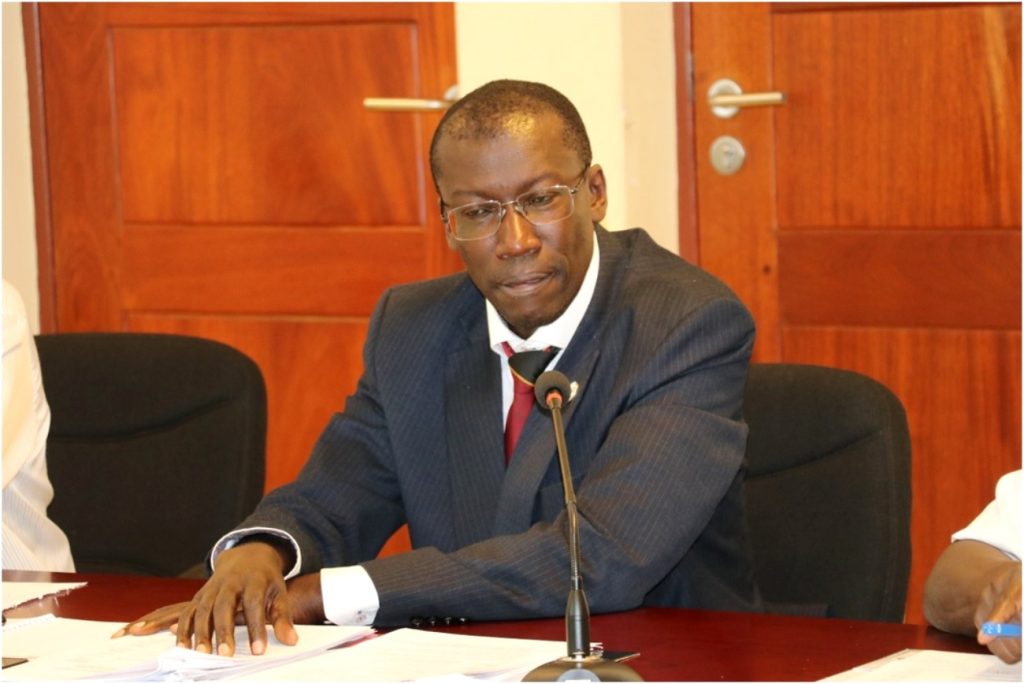 In his handover remarks, Prof.John David Kabasa who is also the Principal Innovations Director in AFRISA took time to explain to the persons that witnessed the handover some brief background of the Institute and the journey it went through in building industrial communities that can be seen today.
"AFRISA initiative came about as a result of directives by His Excellency the President of the Republic of Uganda for Makerere University to design innovations that would appropriate Prosperity-For-All agenda and address the burgeoning challenge of perpetual poverty, peasantry and youth unemployment," said Prof Kabasa. 
He narrated that on 18th December 2006 at State House Nakasero, H.E the President of Uganda held a meeting with Makerere Faculty of Veterinary Medicine (FVM) academia. Subsequently, in 2007 and 2009, H.E, in four separate communications, directed major reforms in the Veterinary, Animal and Agricultural Education, Research and Extension systems.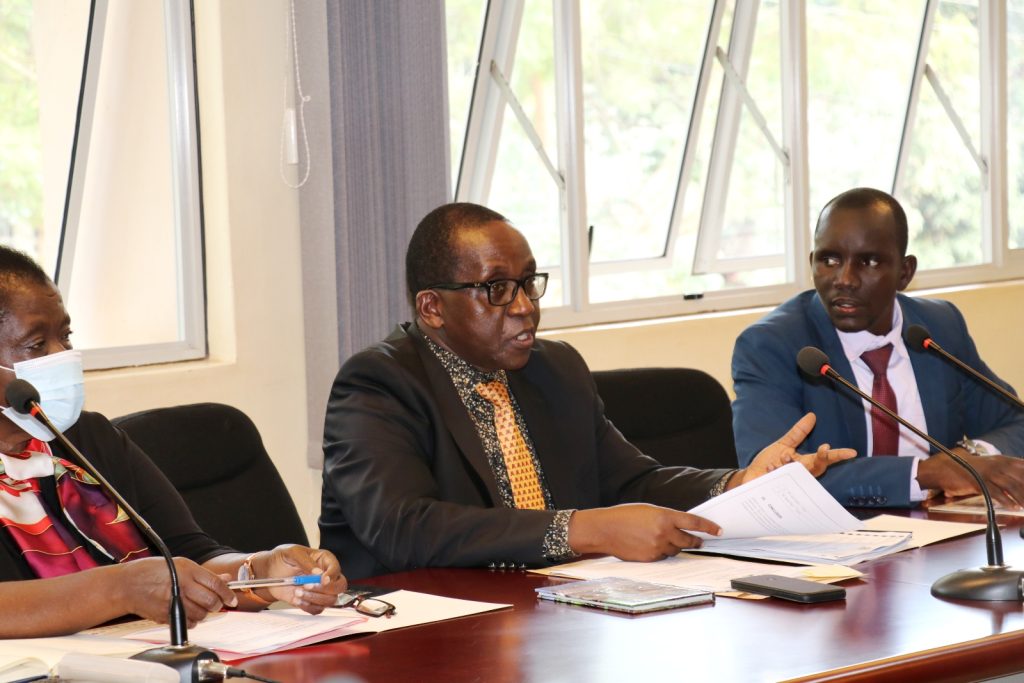 Subsequently, Africa Institute for Strategic Animal Resource Services and Development (AFRISA) was established by the Makerere University Council in March 2010. He said AFRISA is a Not- for-Profit, semi- autonomous, Academic-Community-Public-Private Partnership (ACP3) engagement platform; guaranteed by the Makerere University Council. It is an innovation institution that advances industrial value chain and development education in Africa by using the SPEDA (Skills Production Enterprise Development and accreditation) Model which links Education into Production and employment.
Prof. Kabasa further commended the support from the Institute's Board of Directors for uplifting AFRISA up to date while listing some of the Institute's achievements.
He said through the SPEDA Model, an advanced Diploma was established for skilling industrialists. He said that AFRISA as an innovation of Makerere University also established Industrial Certificate Programs and has so far trained over 3900 industrialists.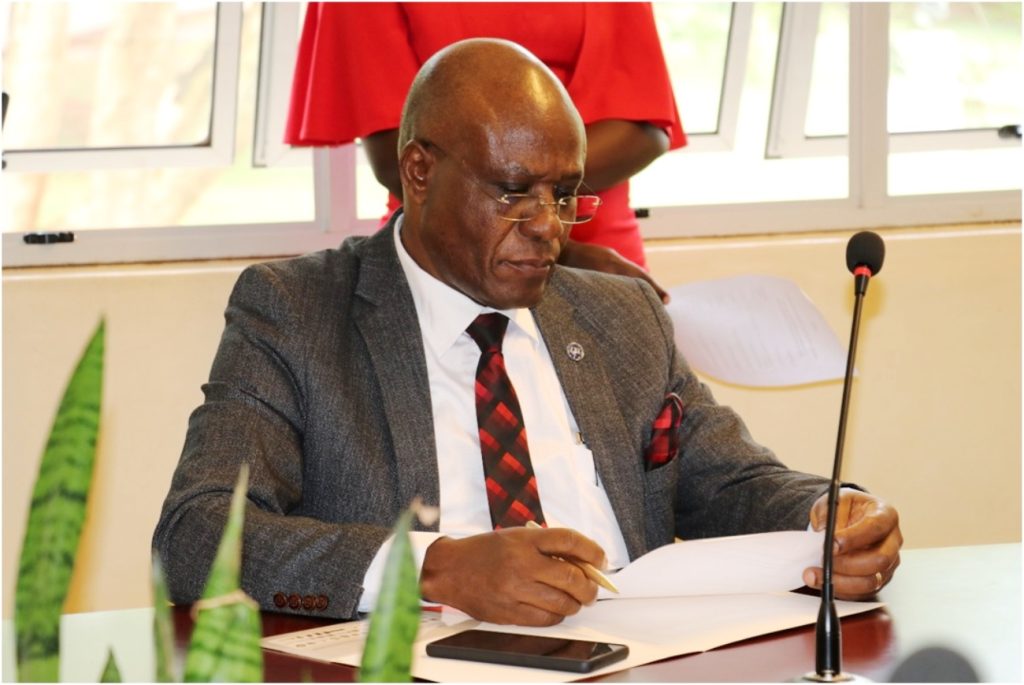 Mr. Goddy Muhumuza, a Principal Legal Officer who is also a Board member congratulated Prof. Mwiine for the appointment as Principal CoVAB and subsequently the head of AFRISA. He further guided him that the mantle was now in his docket to ensure that AFRISA continues to thrive and keep up the pace at which it was growing.
Mak Launches Facility to Support Dairy Technology & Infrastructure Improvement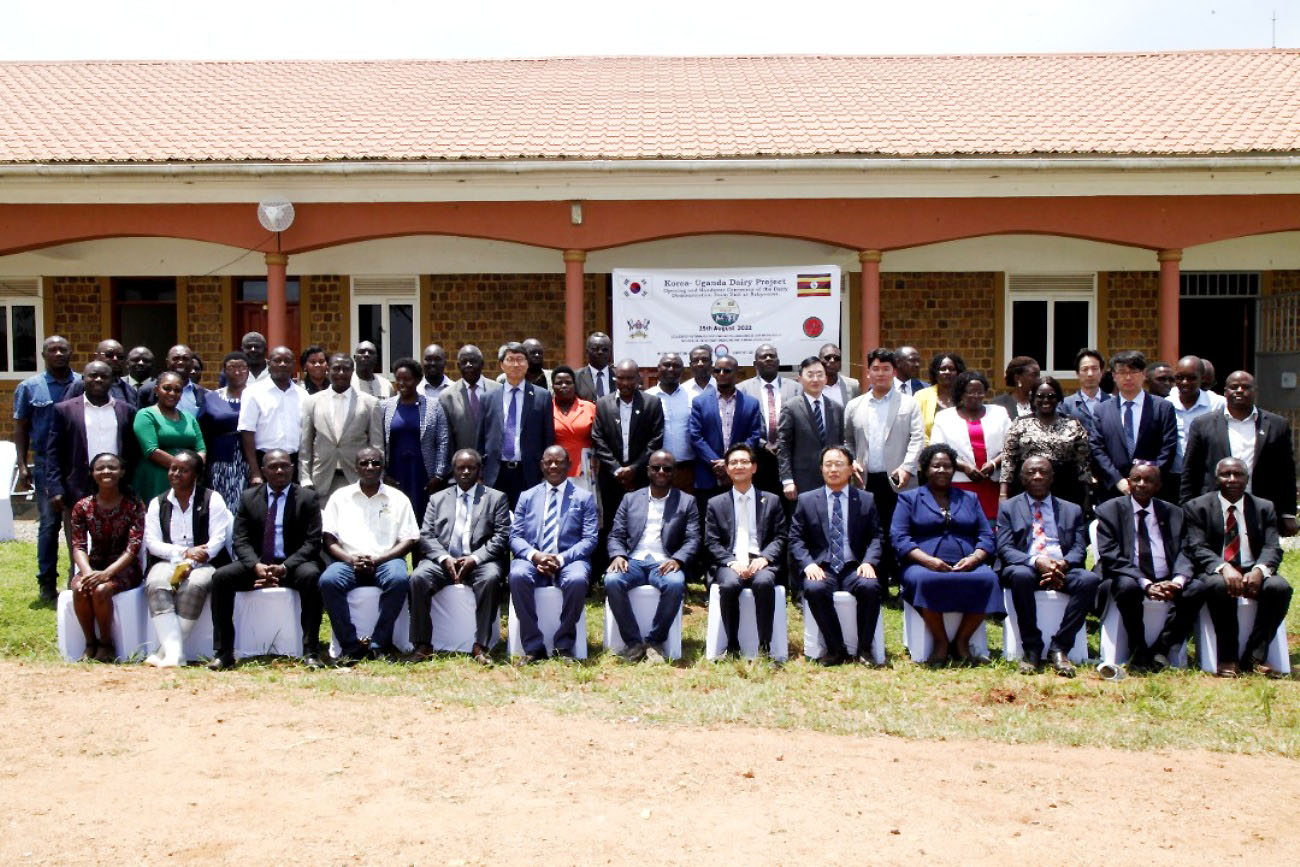 The Korea Rural Community Corporation (KRC) on Thursday 25th August 2022 officially handed over a facility aimed at "Improving Productivity of Dairy Farmers by Supporting Dairy Technology and Infrastructure in Uganda" to Makerere University. Implemented under the Korea Uganda Dairy Project (KUDaP), the facility is housed at the Nakyesasa Incubation Centre, College of Veterinary Medicine, Animal Resources and Biosecurity (CoVAB), on the fringes of the National Crops Resources Research Institute (NaCRRI) in Namulonge. The ceremony was presided over by the Chairperson Appointments Board, Counsel Innocent Kihika, who represented both the Deputy Speaker, Rt. Hon. Thomas Tayebwa and the Chairperson, Makerere University Council, Mrs. Lorna Magara.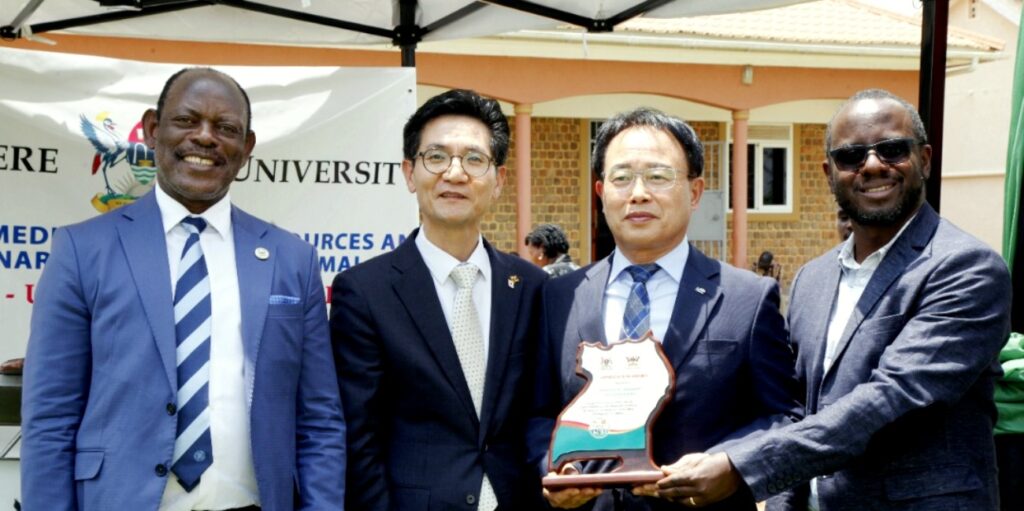 The facility was handed over to the Principal CoVAB, Prof. Frank Norbert Mwiine by the Vice President KRC, Hon. KIM Byung-Soo following a tour of the premises, where the investment in dairy technology and infrastructure was appreciated. Present were the Ambassador of the Republic of Korea to Uganda, H.E. PARK Sung-Soo, the Vice Chancellor, Prof. Barnabas Nawangwe, the Commissioner for Animal Health in the Ministry of Agriculture, Animal Industry and Fisheries (MAAIF), Dr. Anna Rose Ademun Okurut who represented the Permanent Secretary Maj. Gen. David Kasura Kyomukama.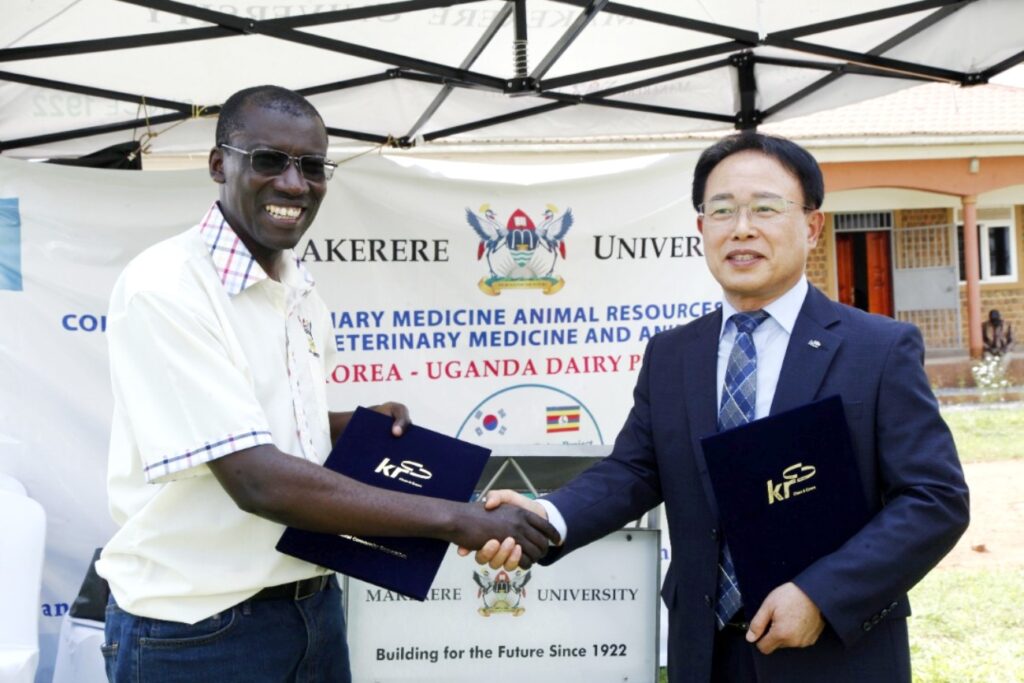 Others were the Chairperson KUDaP Steering Committee, Prof. William Bazeyo, Executive Director, Dairy Development Authority (DDA), Dr. Michael Kansiime, KUDaP Project Manager, Prof. LEE Hak-Kyo, KUDaP Principal Investigator and Dean School of Veterinary Medicine and Animal Resources (SVAR), CoVAB, Prof. Robert Tweyongyere, Assistant Commissioner Information and Communication, MAAIF, Ms. Consolata Acayo, Members of Makerere University Management, Officials from the Korea International Cooperation Agency (KOICA), Jeonbuk National University (JNBU), Korea, Uganda Veterinary Association (UVA) President, Dr. Daniel Kasibule among others.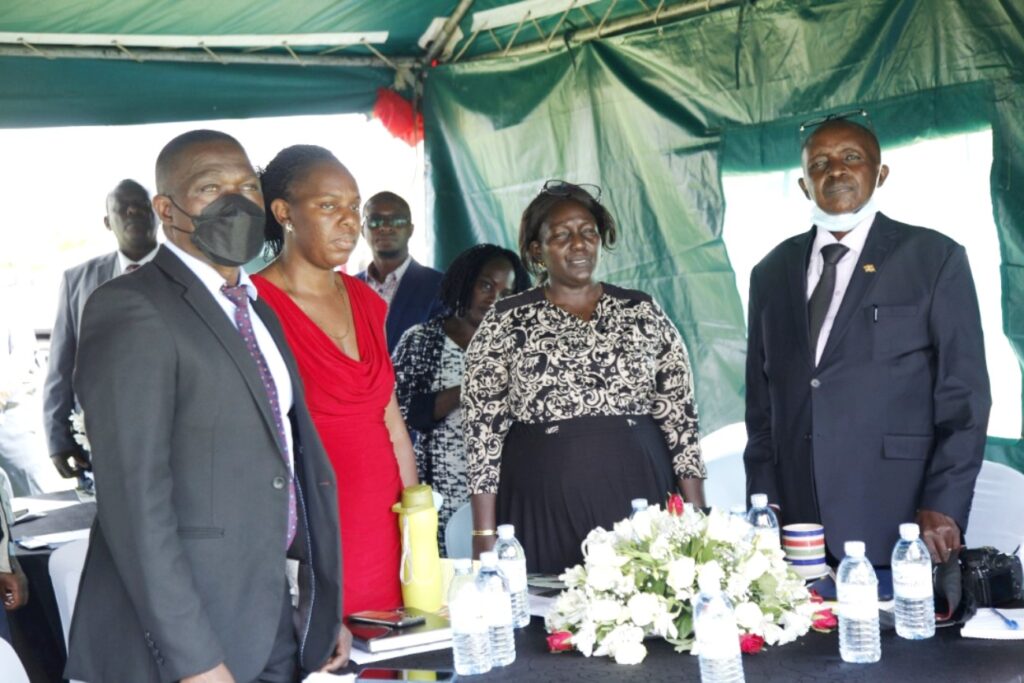 KUDaP came into force following the signing of a Memorandum of Understanding (MoU) between the Ministry of Finance, Planning and Economic Development (MoFPED) and the Ministry of Agriculture, Food and Rural Affairs (MAFRA) Korea on 17th December 2018. The project that commenced in February 2019 is implemented by SVAR and the National Animal Genetic Resource and Data Bank (NAGRC&DB) in collaboration with JNBU. It is aimed at: Establishing a model farm to train students, dairy farmers, extension workers and Artificial Insemination Technicians; Establishing an elite dairy herd in Makerere University; and Promoting improved dairy production practices in Uganda.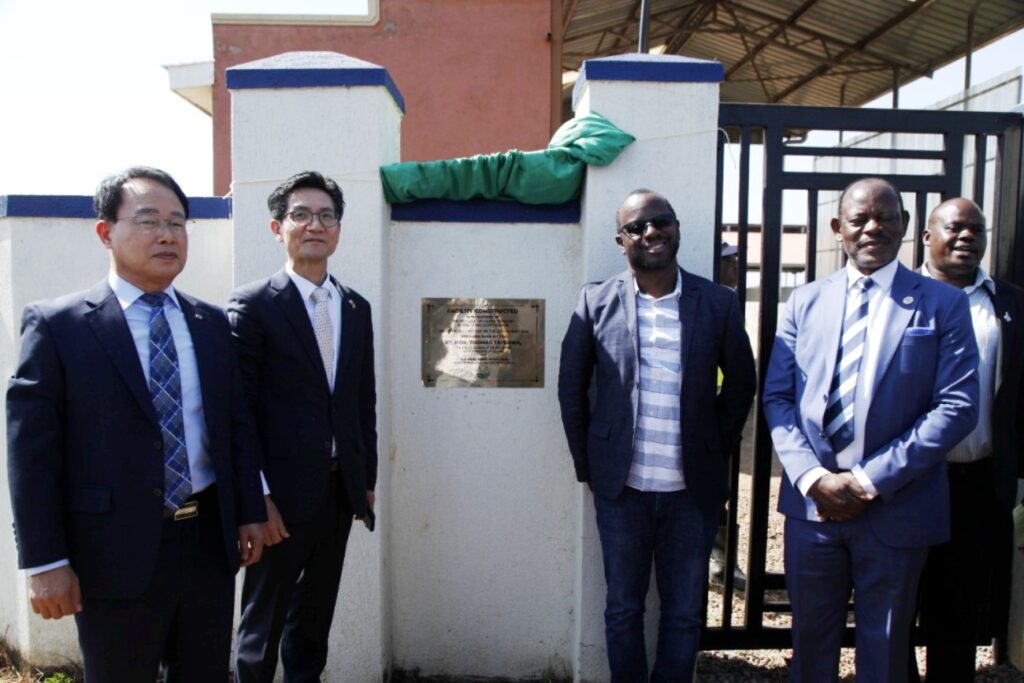 The components of the KUDaP Project are;
Construction of a Dairy Demonstration Farm Facility at Makerere;
Provision of dairy cows, high quality semen and embryos to farmers;
Capacity building in dairy feeds production; and
Upgrading/supporting breeding laboratory capacity at NAGRC&DB as well as human capacity development in Dairying in Uganda.
In his remarks, the Guest of Honour, Counsel Innocent Kihika congratulated Makerere University and CoVAB in particular upon successfully commissioning the Dairy Development Project, especially during a year when both the institution and college mark 100 and 50 years of existence respectively, two years into the implementation of the ten-year strategic plan.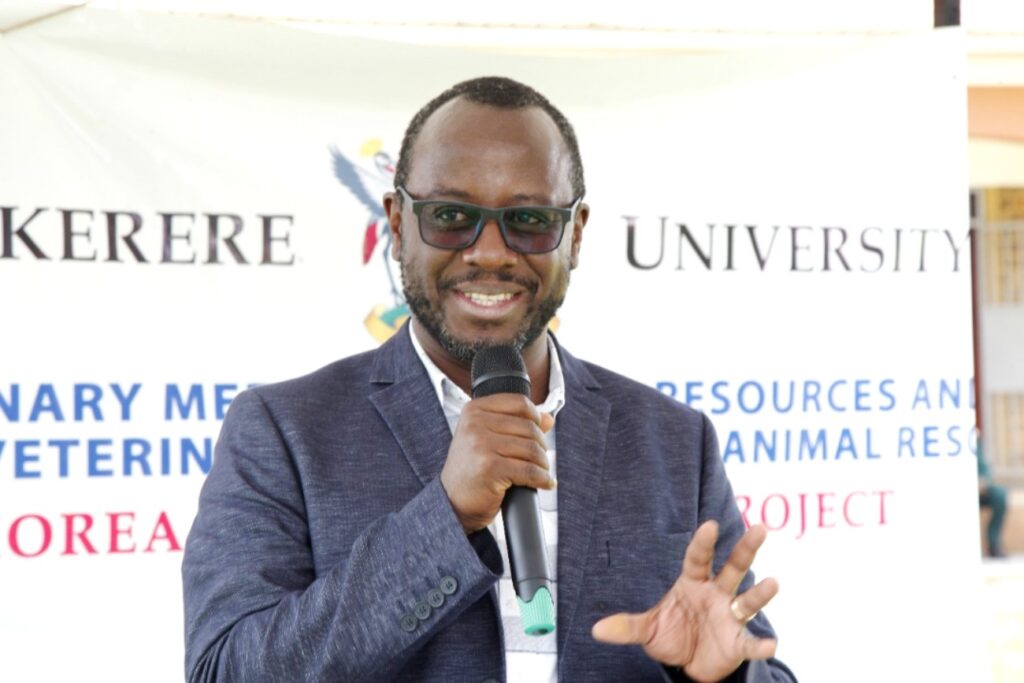 "The Council has continued to emphasise the need to align our research with the requirements of national development as articulated in the National Development Plan and various instruments of Government and the private sector" he said.
Counsel Kihika emphasised that agriculture remains a primary employer in Uganda and any improvements in the sector would directly contribute to the growth of decent jobs in the value chains. "I must say that right now people are very excited with what is happening with Uganda's oil in the Albertine rift valley but when you go deep into that, you will see that agriculture is the core of our economy and the oil is just a catalyst to that."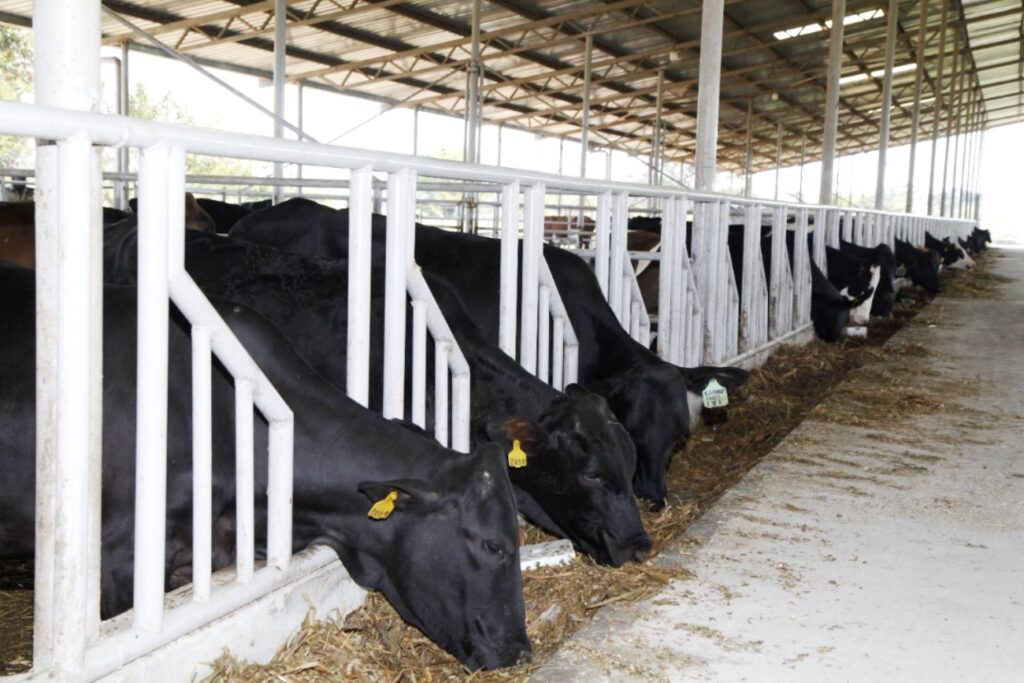 The Guest of Honour noted that the commissioning of the facility at Nakyesasa positions Makerere University for robust research and technology transfer in the dairy sub-sector as part of the institution's continued contribution to national development. He extended an open invitation to Ambassador PARK Sung-Soo to be a part Makerere's plans to develop its seven square mile acre property in Kyankwanzi District as well as the Buyana Stock Farm in Mpigi District.
"I wish to pledge the Council's commitment to continuously improving the framework conditions for research through policy making, facility linkages with the relevant government entities and mobilising the required human resources" he concluded.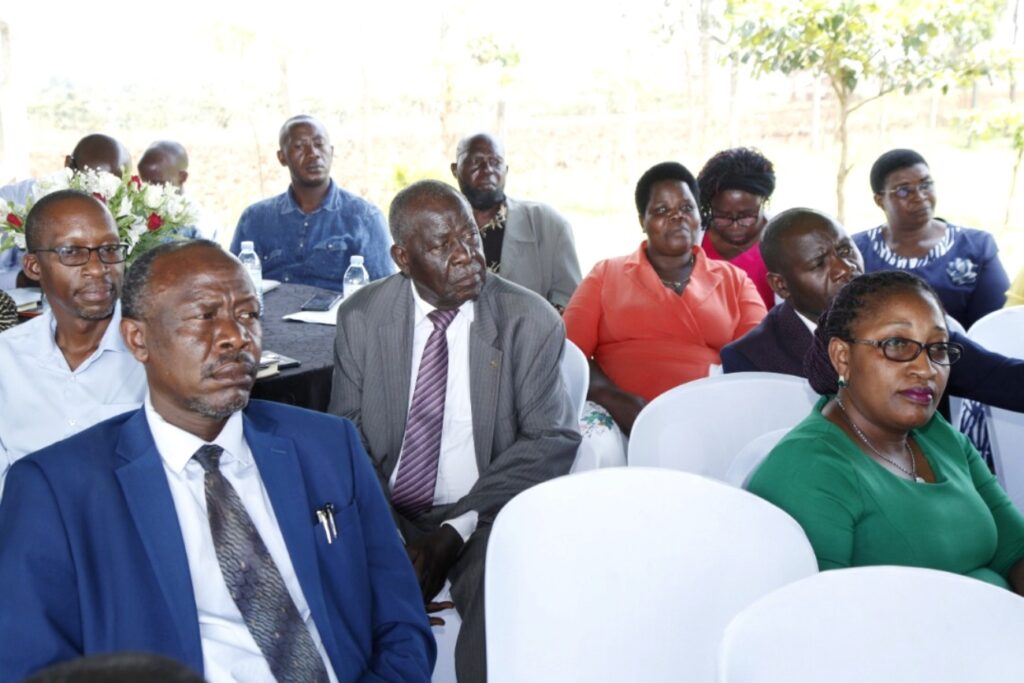 Reiterating the emphasis of agriculture to Uganda's economy, Ambassador PARK Sung-Soo admitted that the sector has been a pertinent issue in the Republic of Korea's partnership strategy with Uganda. He added that the KUDaP project is very meaningful for the future of Uganda because as everybody knows, this future lies in rural development.
"Agriculture including livestock and dairy industry is the backbone of Uganda's economy. The dairy industry is especially a promising sector in Uganda's agriculture; it is growing at a rate of 8-10% every year" remarked the H.E. Park.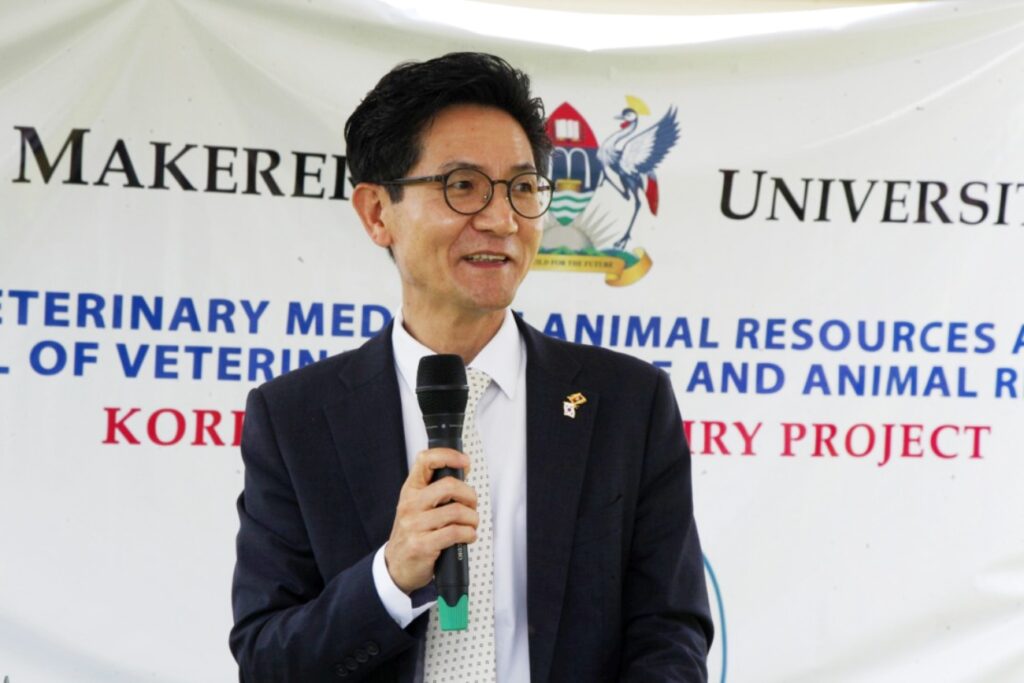 The Ambassador added that the new President of the Republic of Korea, H.E. YOON Suk-Yeol is desirous of strengthening his country's relationship with African Heads of State, with a special Korea-Africa summit planned for the second half of 2024 in Seoul. "I am 100% sure that this event will create new momentum to open a new chapter in the Korea-Africa cooperation and I believe that Uganda will be a part of this history-making process."
He congratulated Makerere University upon celebrating 100 years of existence and pledged to continue strengthening cooperation and knowledge exchange with the institution. "I really hope that through this dairy project, Korea and Uganda may strengthen our mutual understanding and trust and extend our cooperation and collaboration into other fields and areas.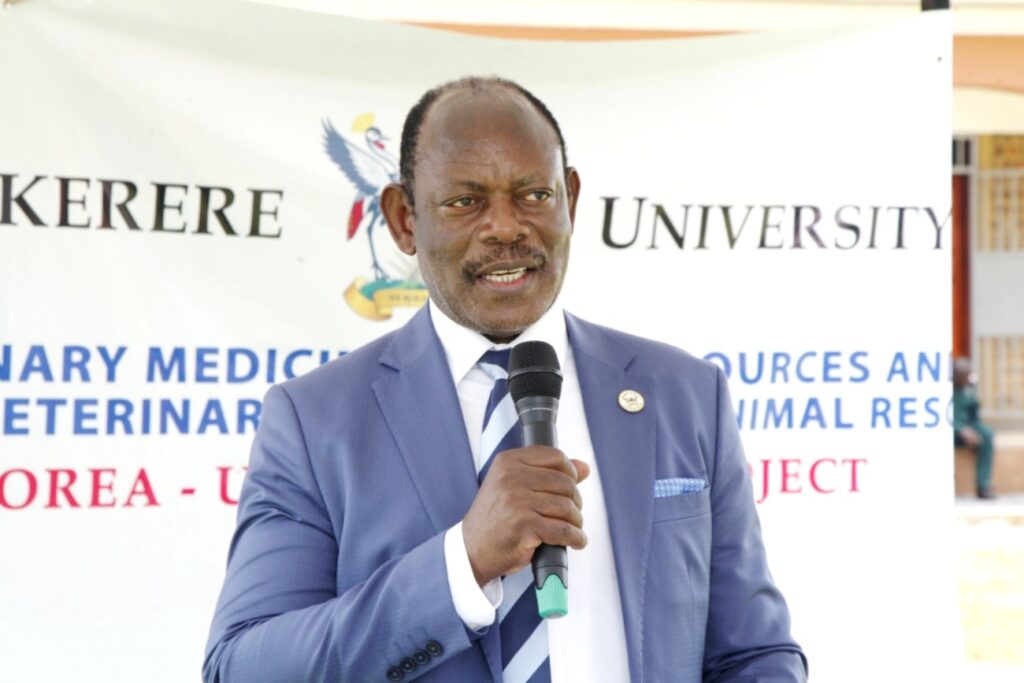 Addressing the gathering, the Vice Chancellor, Prof. Barnabas Nawangwe emphasised the readiness by Makerere and CoVAB to demonstrate that they are doing things differently especially as they celebrate their 100th and 50th anniversaries respectively.
"The facility was have launched today is a demonstration that we are ready to do things differently and that we are becoming more relevant to our community. As the top national university, we must address the challenges that face our country, whose population is growing exponentially" remarked Prof. Nawangwe.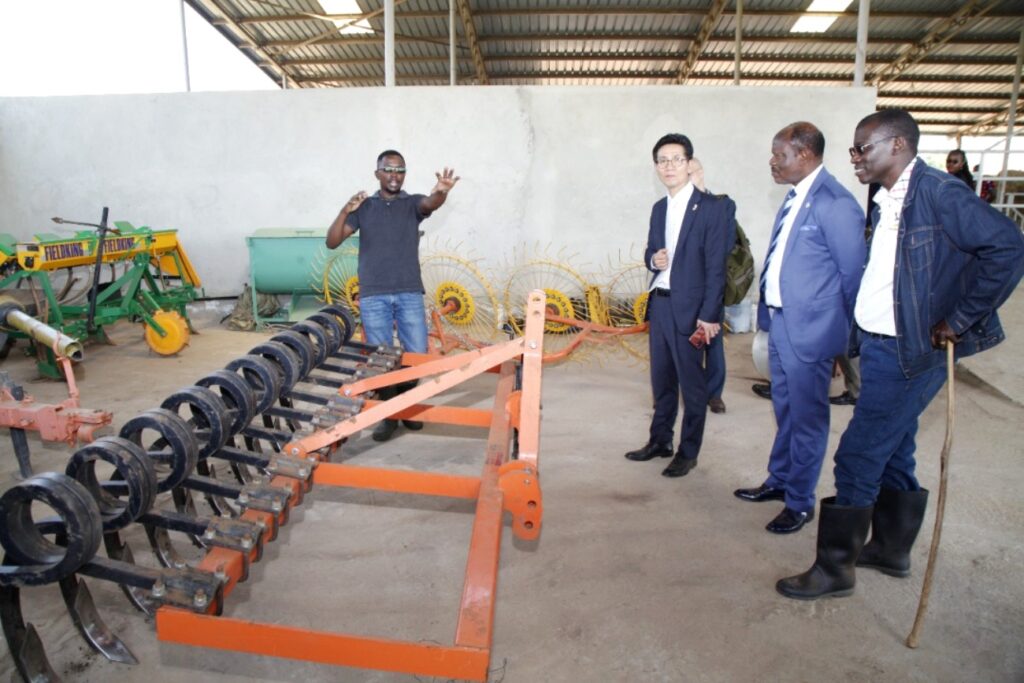 The Vice Chancellor through the Ambassador thanked the Government and people of the Republic of Korea for the generous support that led to the establishment of the facility that will benefit not only Makerere but also Ugandan farmers in the dairy sub-sector.
"I wish to pledge our total commitment to ensure the proper management and maintenance of this facility. We will play the role expected of us, especially the recruitment of the necessary human resource and payment of all the utility bills" said Prof. Nawangwe.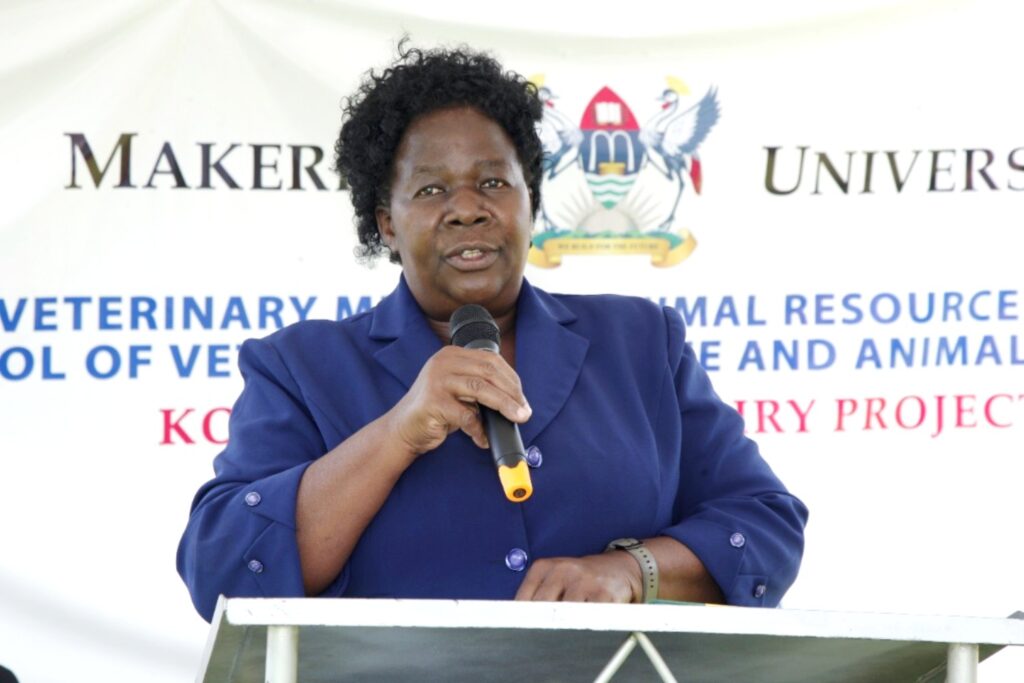 Speaking on behalf of the Permanent Secretary MAAIF, Dr. Ademun Okurut noted that the Dairy Demonstration Farm will play an important role in improving the livelihood of approximately 1.7million Ugandan households who depend on milk for nutrition, food security and employment.
"Currently we are running the Parish Development Model (PDM) and our extension service is now going further to ensure that production reaches the remaining 35% of our population that are not in the money economy" remarked Dr. Ademun Okurut.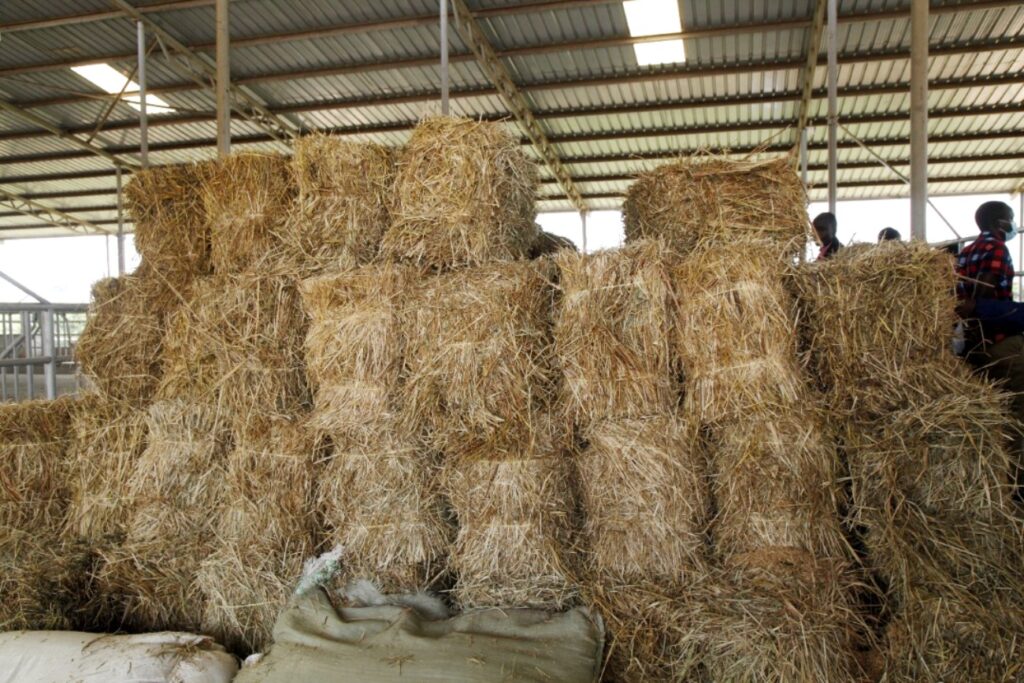 She further shared that the Government had developed and is actively promoting a strategy on food and animal feed security, aimed at responding to the two failed season and alleviating any foreseeable shortages both in the short and long-term.
Dr. Ademun Okurut congratulated Makerere University on the project milestone, noting that it was an indication of institutional commitment to address the needs of our community. She acknowledged the fruitful collaboration with JNBU and the financial support of KRC and pledged her Ministry's commitment to continued partnership with Makerere University and the furtherance of KUDaP as well as other projects of national importance.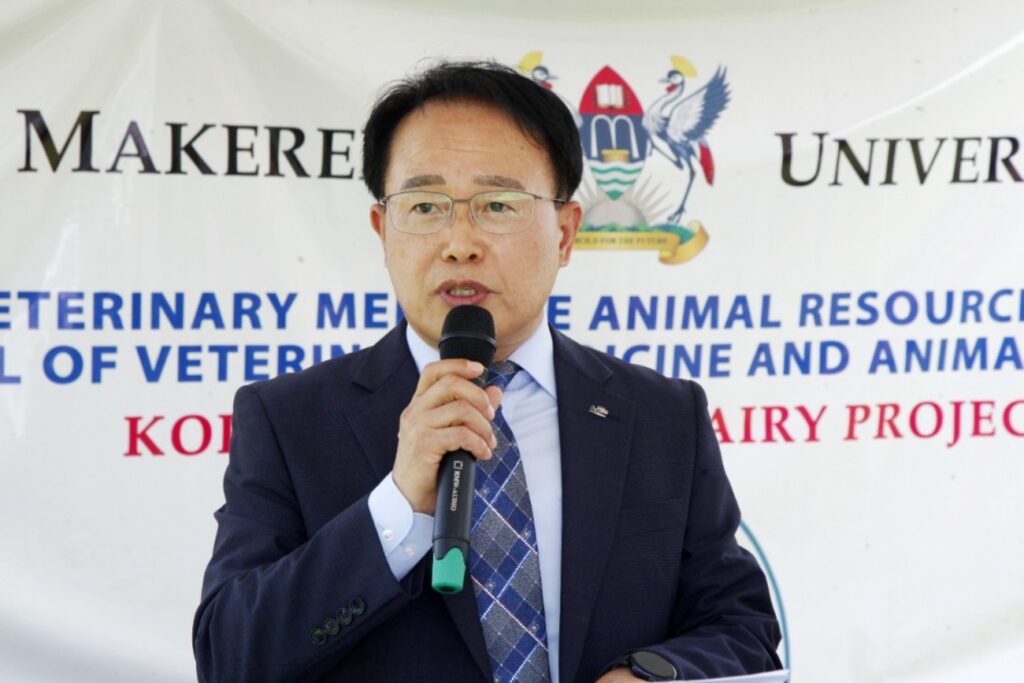 On behalf of KRC, Hon. KIM Byung-Soo congratulated the Ugandan Government, Makerere University the Project Manager Prof. LEE Hak-Kyo upon the successful completion of the project, noting that it was an affirmation of "cooperation based on the principles of reciprocity and mutual interest".
"I hope that after this ceremony, the corresponding Ministries and departments in Uganda and Korea will make further efforts to promote our cooperation in order to take Korea-Uganda relations and strategic partnership to a higher level" he added.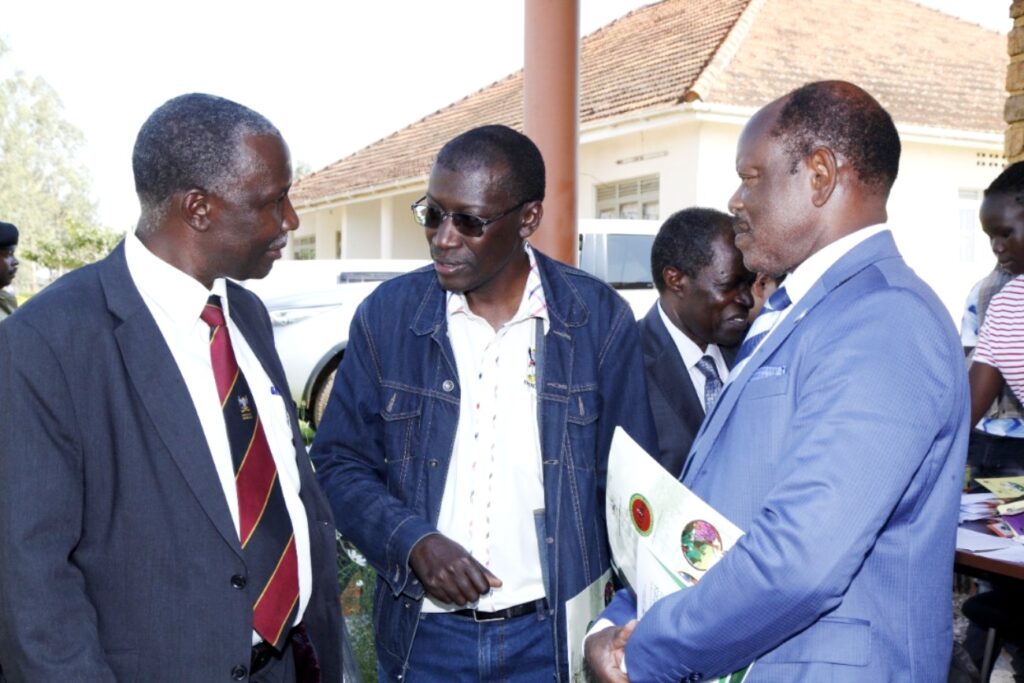 As any proud father would the Principal CoVAB, Prof. Frank Norbert Mwiine could not help but speak with pride of what would be achieved through the Dairy Development Farm facility. "This opening ceremony marks the beginning of yet another and major phase of implementing successful dairy farming, and this will need optimum commitment from us as managers and sustained support of the University and Government as owners of the farm."
Prof. Mwiine added that the facility is set to exhibit the desirable practices that will lead to increased milk productivity by Ugandan farmers and hands-on training for University students. He added that CoVAB strongly supports the establishment of the facility and would like to nurture it to grow into a self-sustaining training and research centre of the college.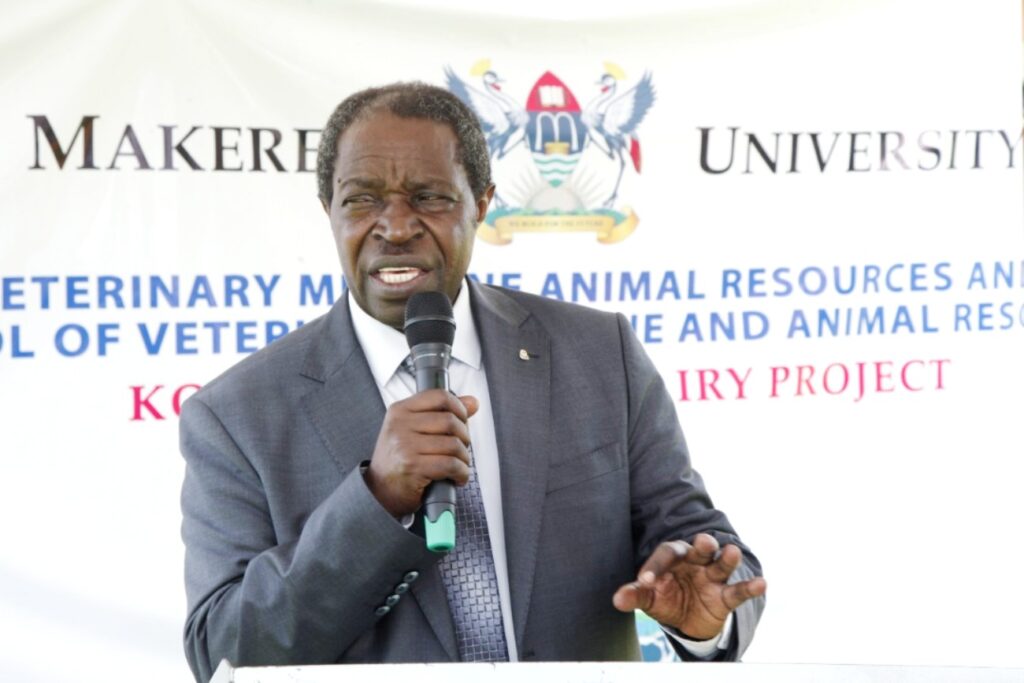 He thanked JNBU represented by Prof. LEE Hak-Kyo for the excellent collaboration and support for the successful initiation and implementation of KUDaP. He appreciated Prof. William Bazeyo for the great guidance, astuteness and good eye as Chairperson of the KUDaP Steering Committee and Prof. Robert Tweyongyere for his dedicated work as KUDaP Principal Investigator.
Prof. Tweyongyere in addition to acknowledging the support from Korean Government, JNBU, Ugandan Government and the Leadership of Makerere University noted that the beginning of the implementation phase calls for the establishment of another phase of infrastructure. He noted that as a Demonstration Farm, the facility will need to put in place training facilities and housing for all prospective students.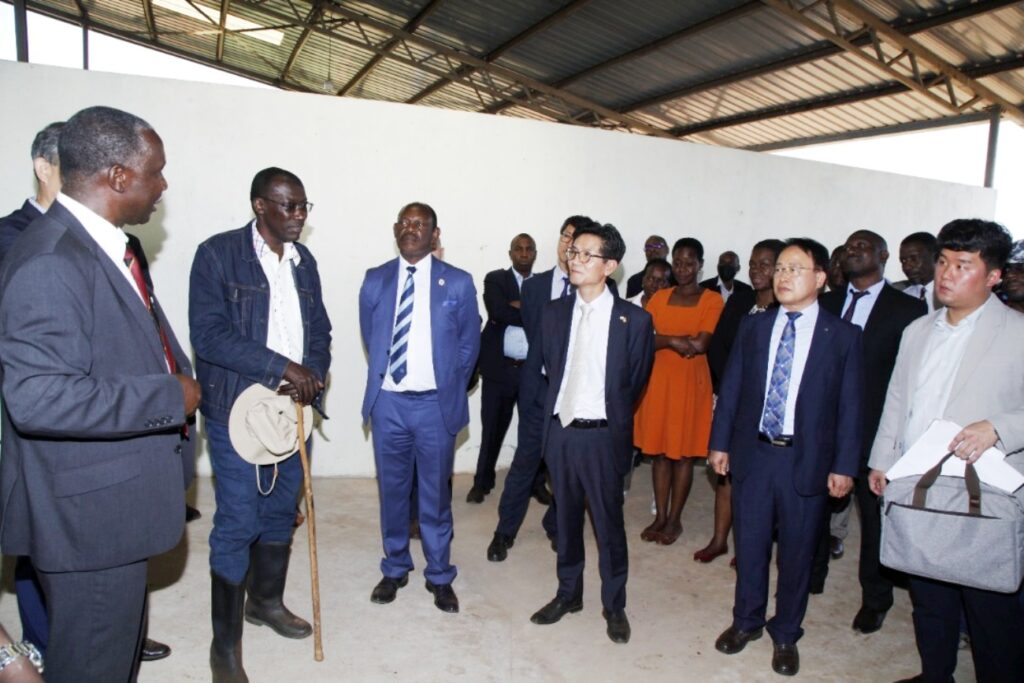 "In the next phase, apart from maintaining a healthy vibrant herd of animals, we need to cater for processing and value addition, as well as research, training and knowledge transfer to the community. We have already enrolled into a partnership of the dairy network and we want to ensure that we can be beneficial to our partners" said Prof. Tweyongyere.
The Dairy Development Farm facility will receive thirty thousand doses of Korean Holstein Fresian semen and two hundred embryos of Korean Holstein Fresian cattle. It comprises an office block, Integrated Micro Organism (IMO) cattle shed, state-of-the-art milking parlour, cattle dip, spray race and silage making facilities as well as farm implements such as two tractors and two pick-up trucks. The structures are surrounded by fields planted with highly nutritious Chloris gayana grass for hay and crops for silage production. A banana plantation has also been established to make the most of the manure produced by the cattle.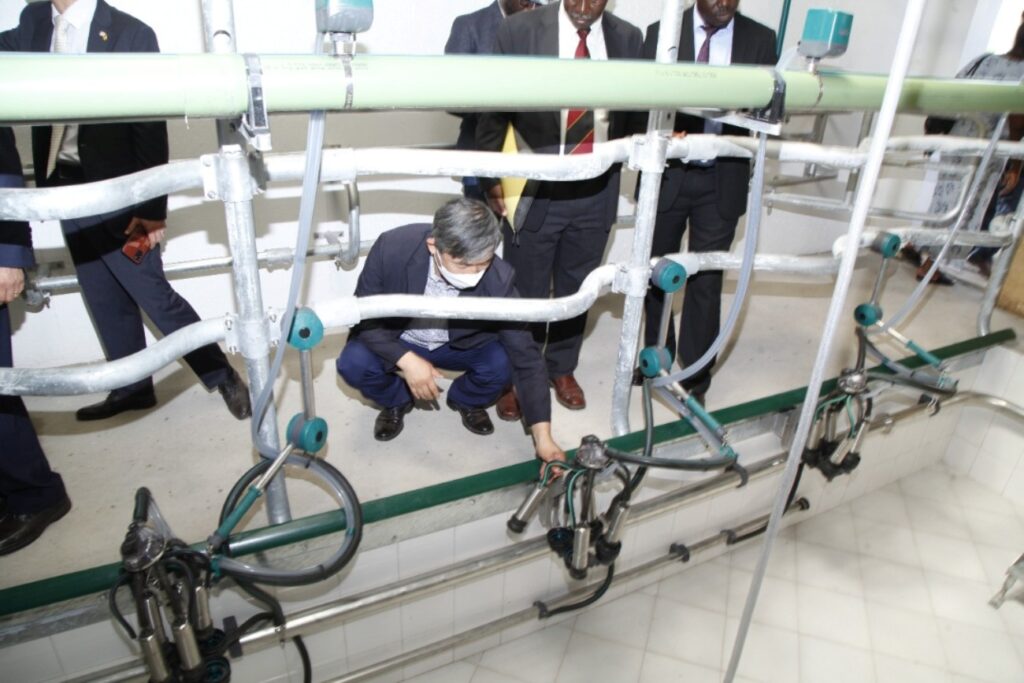 The event was moderated by Prof. Lawrence Mugisha, from the Department of Wildlife and Aquatic Animal Resources, SVAR, CoVAB and the Principal Public Relations Officer, Ms. Ritah Namisango.
At the same occasion, Makerere University presented appreciation awards to; Hon. KIM Byung-Soo, Prof. LEE Hak-Kyo, Prof. William Bazeyo and Norbrook (Uganda) Limited. In the same spirit, KRC presented appreciation awards to; Mrs. Lorna Magara, Counsel Innocent Kihika, Prof. Barnabas Nawangwe, Prof. Henry Alinaitwe, Prof. William Bazeyo, Maj. Gen. David Kasura Kyomukama, Prof. Frank Norbert Mwiine, Dr. Michael Kansiime, Prof. Robert Tweyongyere and Dr. Clare Mugasa.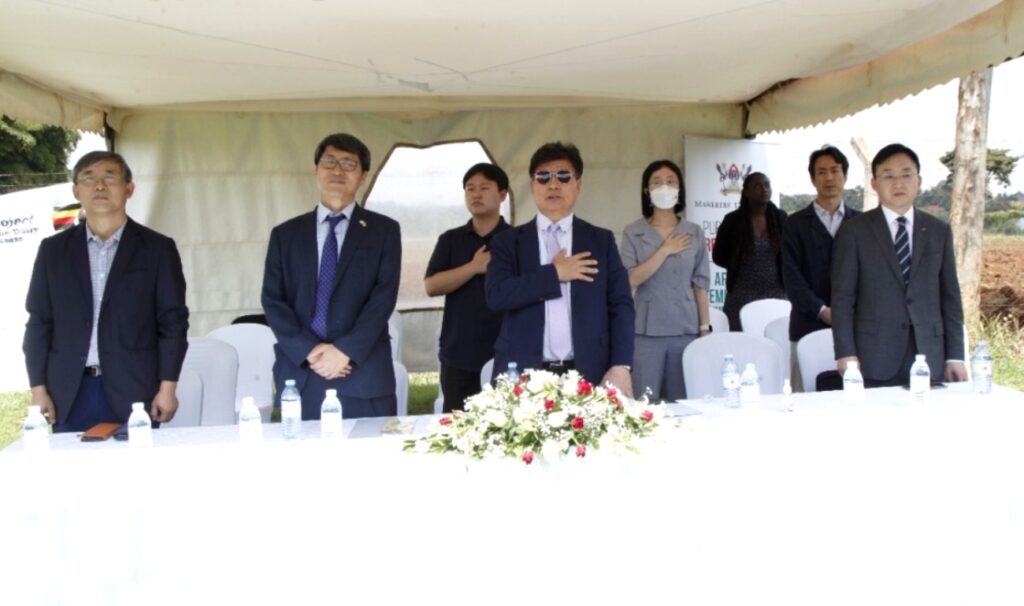 "We are now citizens of the planet, The planetary phase of civilization"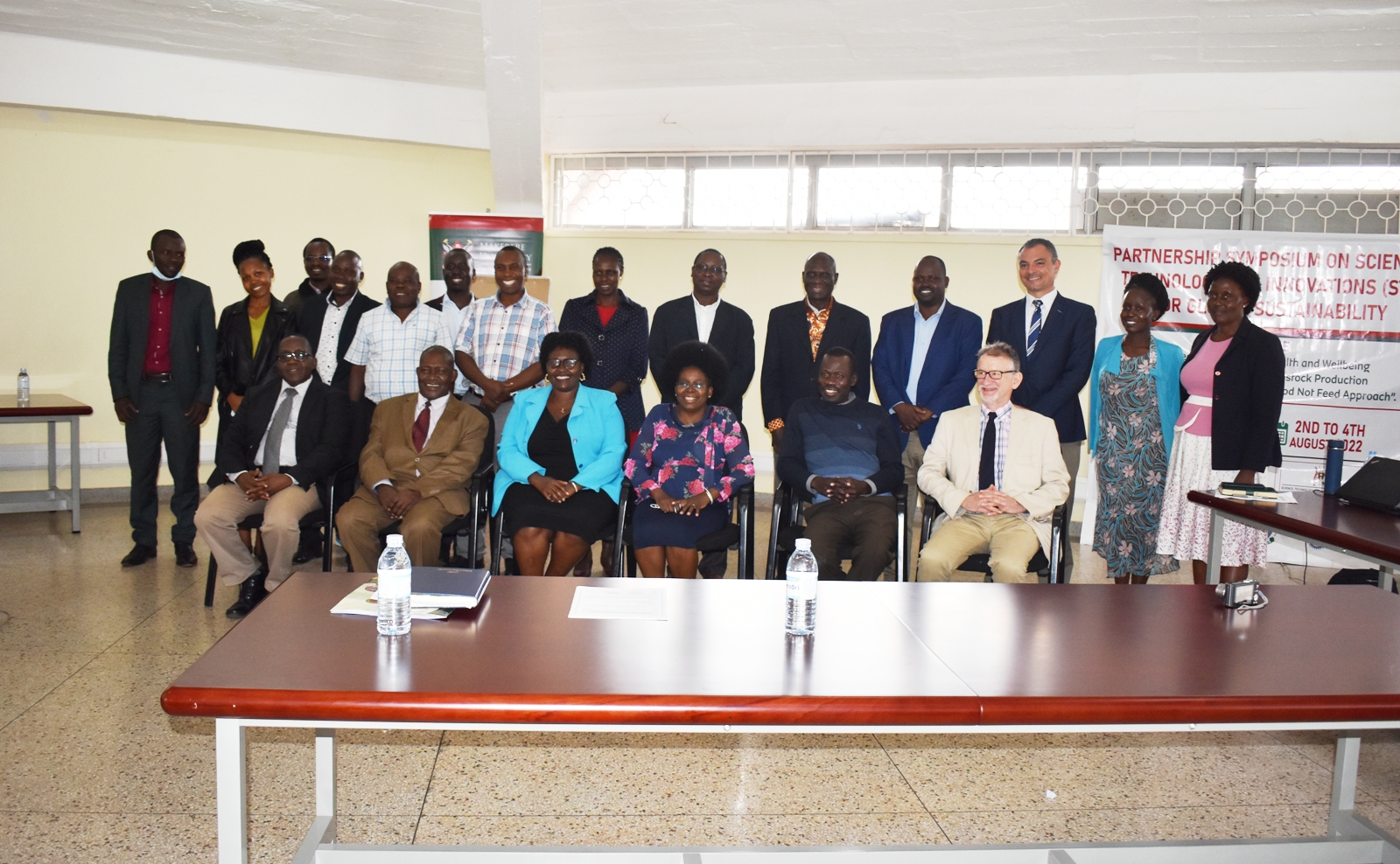 One world – One farm – One health
Makerere University recently signed a Declaration of intent to join Global Farm platform network and partnership, one of whose objectives is to establish a global academic network to promote farm research platforms for optimization of ruminant livestock production and hence contribute to food security, sustainability and poverty alleviation.
The Global Farm Platform offers an opportunity for conducting large transnational research, collection and exchange of big data and scientific exchanges and application of cutting edge technologies.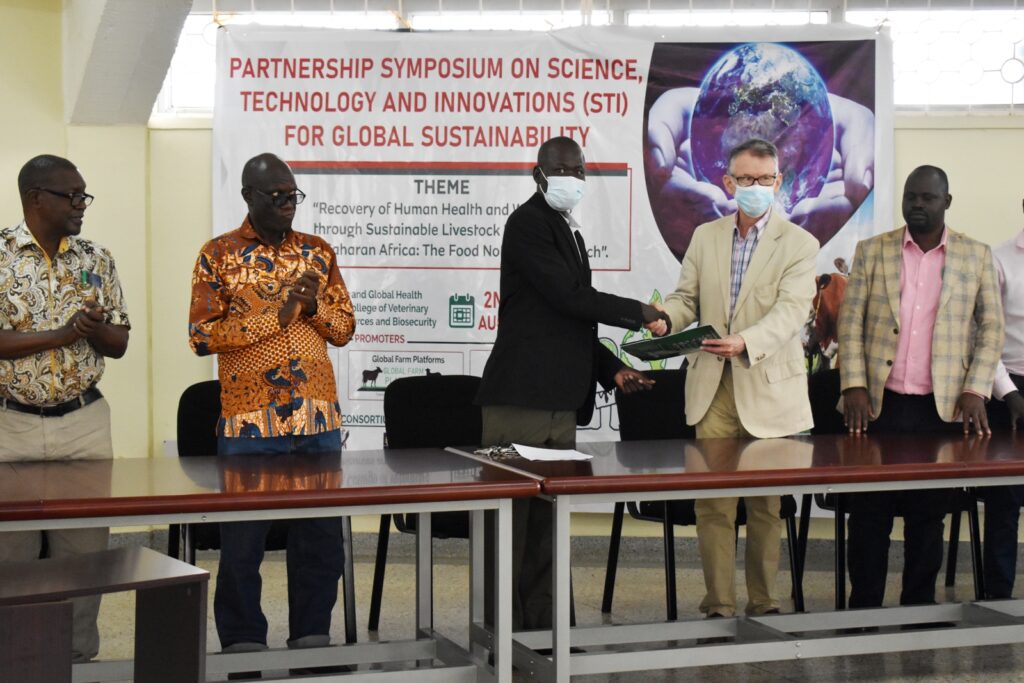 The signing of the declaration of intent followed a three-day partnership symposium on Science, Technology and Innovation (STI) conducted at the College of Veterinary Medicine, Animal resources and Bio Security (CoVAB) from 2nd to 4th August 2022.
With support from Worldwide Universities Network (WUN), the symposium brought together stakeholders from the University of Bristol UK, Lilongwe University of Agriculture and Natural resources Malawi, University of Ghana, Busitema University, National Agricultural Research Organization (NARO), Africa Institute for Strategic Animal Resource Services and Development (AFRISA) and the host Makerere University.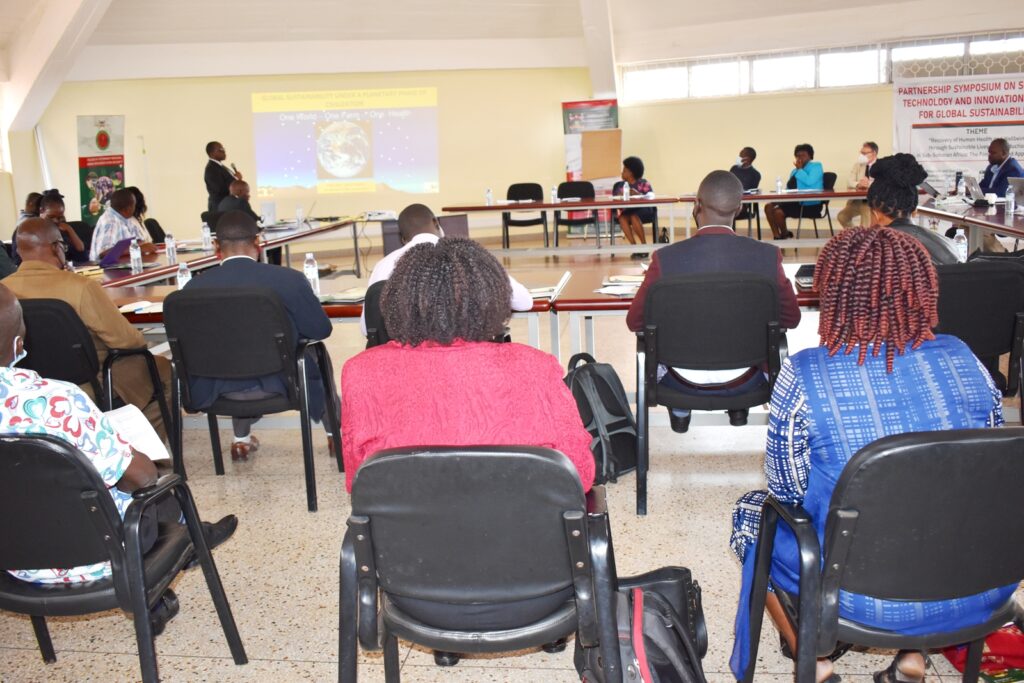 The symposium that was hosted by the Centre for Biosecurity and Global Health at CoVAB focused on the Theme; Recovery of Human Health and Wellbeing through sustainable Livestock Production in Sub Saharan Africa: The Food Not Feed approach.
It was premised on the realization that the food-feed competition of human food was one of the complex challenges that had greatly contributed to climate change, land degradation and water shortages in an effort to have sustainable food production. The One world – One farm approach that has been found crucial in redressing the food and not feed approach and the climate change challenges set out to look for multifaceted solutions through collaboration and partnerships. The symposium therefore was convened to reflect on and provide input into sustainable livestock development and production in sub-Saharan Africa in the wake of the globalization of the economy, climate change and pressure for safe food. It was also among other things aimed at developing research groups to promote science, technology and innovations in accelerated livestock production and productivity and for universities to build strong Global farm platform networks.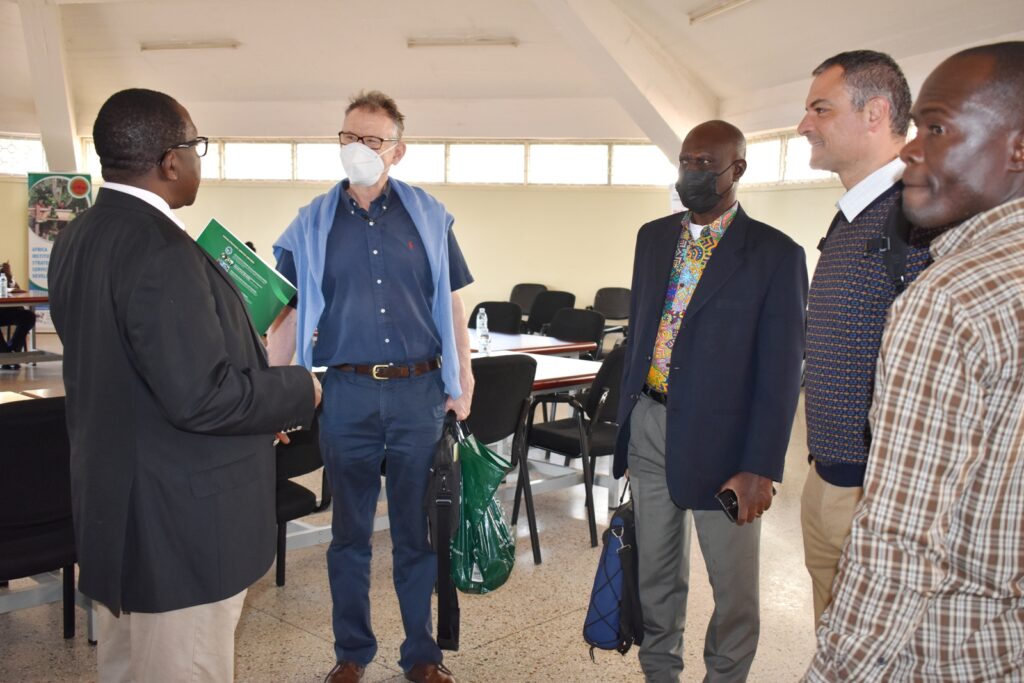 The Deputy Principal College of Veterinary Medicine, Animal Resources and Biosecurity Prof.  James Okwee Acai welcomed the participants and expressed gratitude towards the Minister for Science, Technology and Innovations for her continued support to the College which he said, was a manifestation of the trust in the output of the college. He noted that her presence at the symposium was an indication of the commitment that the Ministry had in building the much needed partnerships.
While addressing himself to the theme, Prof. Acai said the symposium brought together a great team of partners as evidenced from the Universities represented as well as the Makerere University team led by Prof. John David Kabasa. He expressed optimism that the outputs would contribute greatly towards the realization of the much needed synergies in livestock research output drawing lessons from the partnerships involving the North and South.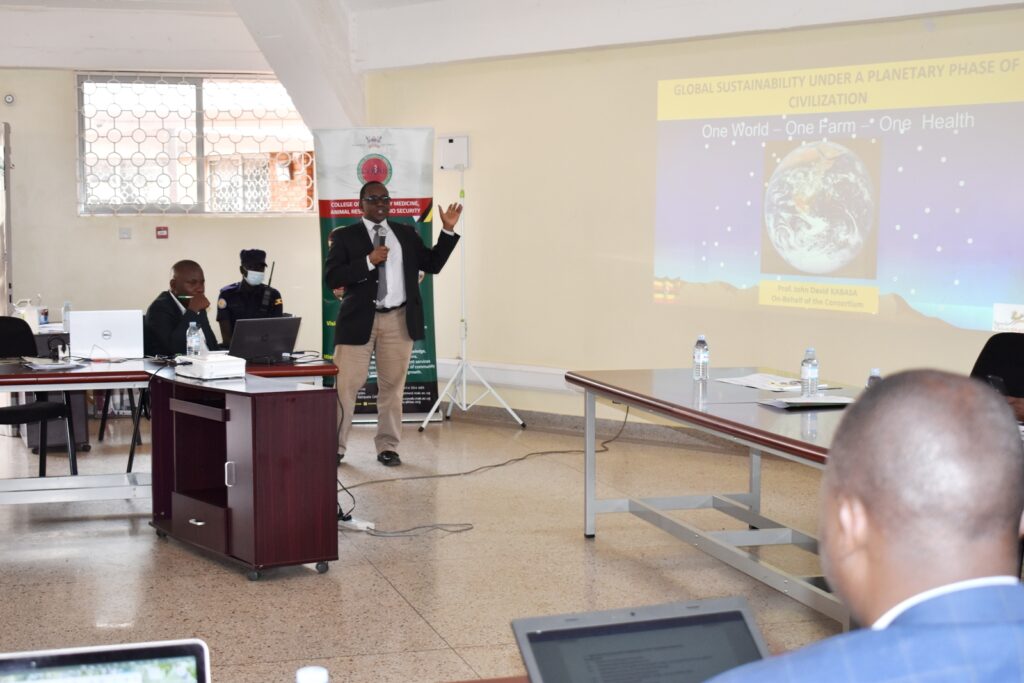 Makerere University's Prof. John David Kabasa who made remarks on behalf of the consortium noted that the universe was in the planetary phase of civilization which he described as a state of increased global interdependence.  He said it was necessary that they discussed ways of ensuring sustainable production in the wake of climate change and other challenges facing the world.  While giving reference to the concept of One world – One farm – One health, Prof. Kabasa said that until recently with the onset of COVID- 19 and the Ukraine War and their effect on our livelihood, we did not know that we were  linked to one another.
Prof. Kabasa illustrated the composition of a healthy plate that should include carbohydrates, proteins and vegetables. He said this was required by the Eight Billion people living on the planet. 'Where will a healthy plate come from with the increasing population vis the existing land and water resources' queried the Professor, while encouraging land use change. 'The model of burying should change since it is not sustainable, food must increase, urbanization and peasantry displacement is inevitable,' he explained while emphasizing the need for better, scientifically proven methods of increased productivity in order to satisfy the food demand.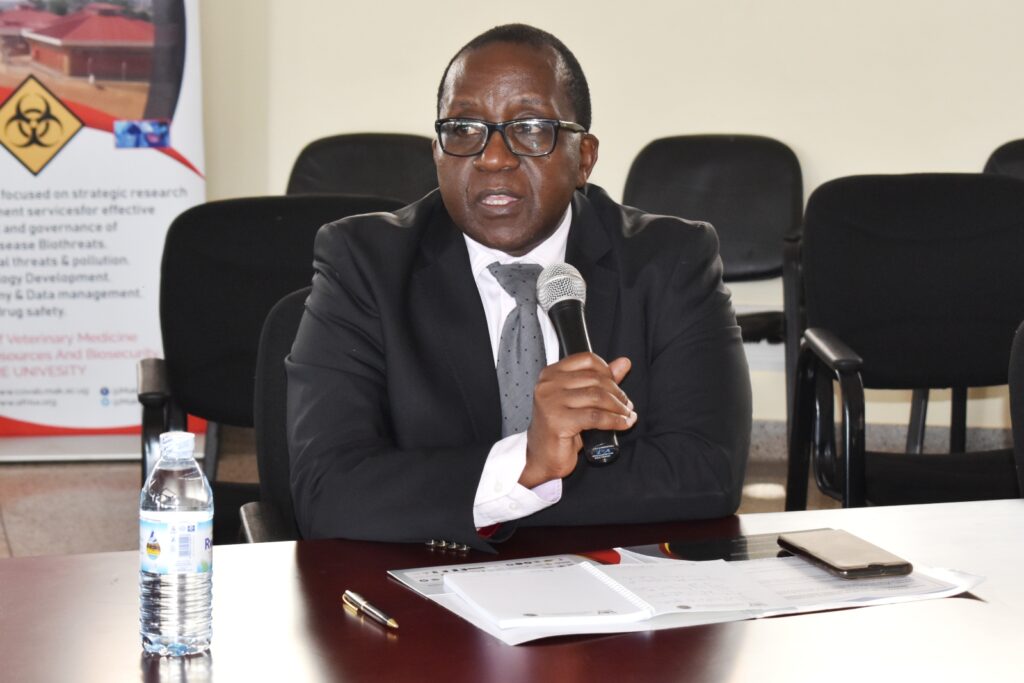 Prof. Kabasa noted that although the existing challenges were created by Science Technology and Innovation, it was the same way that they could be redressed. He urged the College of Veterinary Medicine, Animal Resources and Bio security to take lead in the intensification of production of animal sources of food to help meet the projected demand.He cautioned that unless there was a change, the kind of science we were doing would lead to our own displacement and cited the example of the daily meat demand that stood at 40 million kilograms. 'As we intensify, you must produce on land, below the land and above the land' he said.
Prof. Kabasa pointed out the challenge of the greenhouse emissions and urged scientists to come up with the right models of production. 'Scientists must come out loudly to address the challenges we have created ourselves. We need new brains to redress the issue of poison which is destroying the biodiversity'. He noted.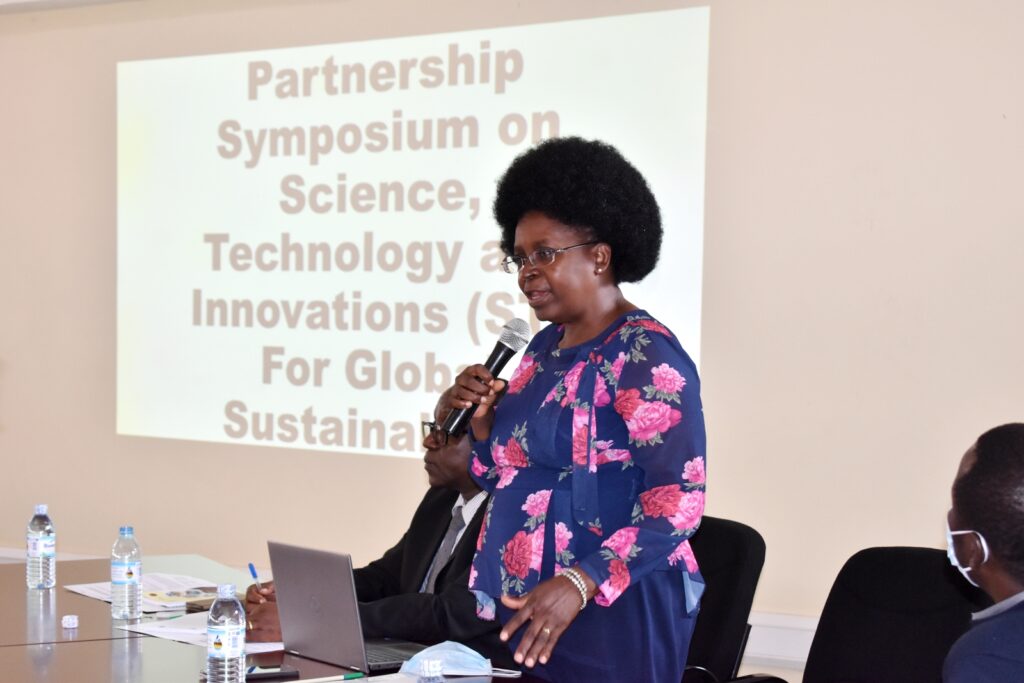 He said that being part of the global farm required addressing the modes of production that had led to the rejection of products from Africa leading to market loss, which meant no jobs, leading to labor export, while importing products. 'When will you scientists become angry. Even your own children will be exported', he said. Kabasa also stressed the need to re-orient the science Technology Innovations pathways to industrial value chains and away from a commodity based thinking. At CoVAB, through the various schools there were pillars of industrial value chains including medicine resources, wild life resources, biomolecules, bio lab resources as well as household resources, he said.
Hon. Monica Musenero Musanza, The Minister for Science, Technology and Innovations while opening the symposium noted that for long Africa had relegated the responsibility of thinking and depended on the thoughts from others. All this has not helped Africa, she observed, and the current thought process was to provide the next leaders, citing the think tank that exists at her ministry.
While giving the example of the Mbale flood tragedy that had left scores dead, Hon. Musenero noted that such a scenario was a result of action without thinking that led to environmental degradation. She said the symposium would help organize thoughts and that the more the thinking, the better the results. She said the onset of Covid -19 in Africa provided a landmark that pushed us to sit in a thinking chain. 'The future does not happen but is created. As we sit here and think global sustainability, it means integrity and balance, which are key for sustainability' she observed. She encouraged the scientists to think of new innovations and continue investing in the thinking process given that 50% of the work in the Science Innovation and Technology sector was thinking. It is unacceptable that a Professor with all the research and teaching has no patent or commercialized product, she stressed.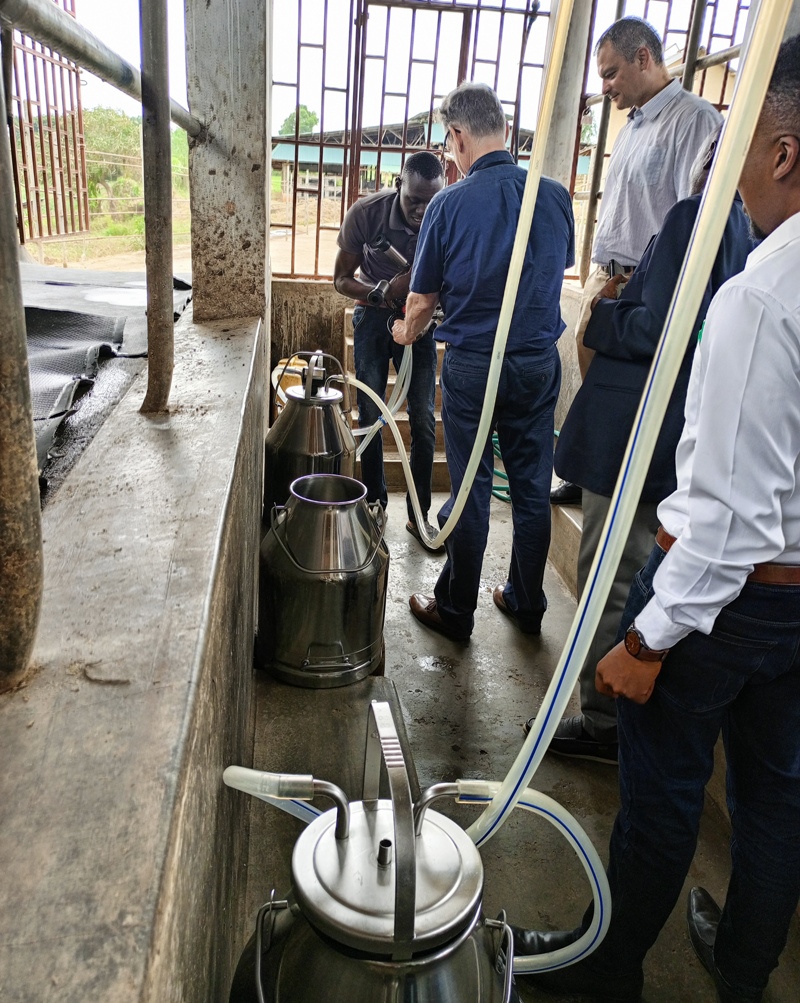 The participants at the symposium took off time to visit some farmers that included Edward Kalemba who is an urban Dairy farmer in Kasangati with eight animals operating in his compound. He uses animal waste to make bio gas while the slurry from the biogas used on his farm.
At the symposium, presentations were made by the respective entities. In the end there were a number of recommendations made that included the establishment of a multi-disciplinary research group to uphold the Global Farm Platform, to collaboratively harness the science Technology and Innovations capacities of African institutions to resolve the challenges of climate change and sustainable livestock development and production as well as developing appropriate and alternative livestock feed and production technologies.