Researchers Design Community-led Behavioural Change Model to Control Rate of Type 2 Diabetes among Rural Population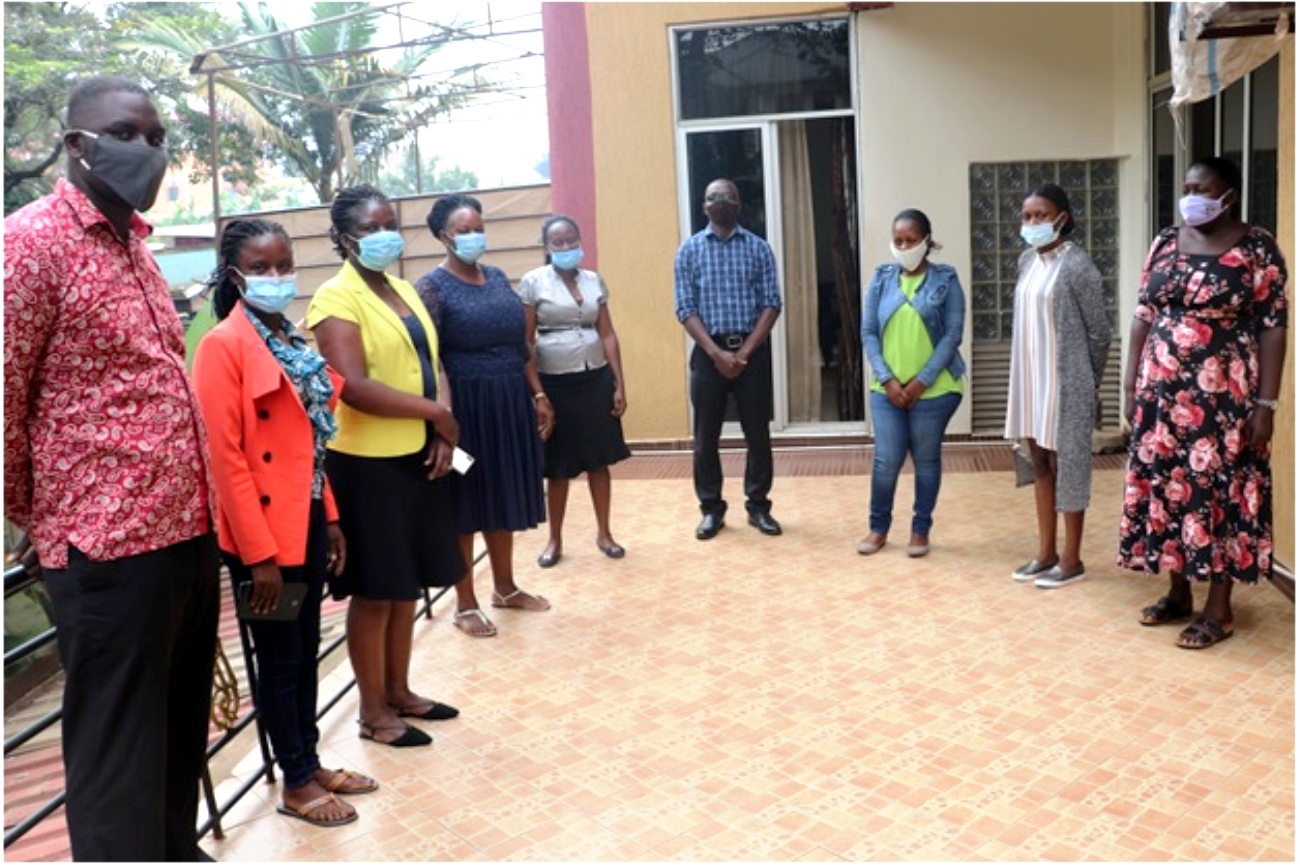 By Joseph Odoi
Globally the proportion of undiagnosed diabetes is high, standing at 46.5%. In high-income regions like Europe, of all persons with Type 2 Diabetes Mellitus (T2DM), 39.3% are undiagnosed. Low-income countries in Africa have the highest prevalence of undiagnosed diabetes, estimated at 66.7%. In Uganda alone, a steady increase in the number of diabetes cases has been observed.
Despite the increasing burden of diabetes in the country, little is known about the socio-cultural norms influencing type 2 diabetes risky behaviors, especially in rural areas to inform action.
In the bid to contribute to data driven interventions, Makerere University researchers with funding from Government of Uganda and Makerere University Research and Innovations Fund (Mak-RIF) carried out a study to understand the patterns of socio-cultural norms in two high incidence districts namely, Busia and Bugiri, in Eastern Uganda.
As part of this study, researchers engaged various health stakeholders who shared their experiences about behaviors factors influencing type two diabetes.
It is upon that background that researchers co-designed a contextual strategy to ensure behavioral change to limit type two diabetes among the rural population under the project titled; "Socio-cultural norms influencing Type 2 Diabetes risks Behaviours – an exploratory to intervention co-design innovative study in two high incidence districts of eastern Uganda". The strategy was developed by a team of researchers led by Dr. Juliet Kiguli, a Senior Lecturer in the Department of Community Health and Behavioural Sciences at the School of Public Health, Makerere University.
According to Dr. Kiguli, despite evidence confirming a high rate of T2D in Uganda, there is hardly any innovation that speaks to the deep rooted causes of Type 2 Diabetes hence the justification for their new model.
''There is enough evidence in Uganda at the national and local/community level confirming a high rate of T2DM, compared to the measures/innovations that try to address the disease. We can argue with confidence that most of the research around T2DM in Uganda and Africa has been largely academic and hasn't been translated into action at a comparable pace of disease incidence and prevalence. Additionally, since the T2DM is largely a lifestyle disease that is influenced by external factors, exposure and social constructs, the solution to T2DM needs to be socially constructed, and currently, there is no innovation that speaks to the deep rooted causes of T2DM – this is the reason why we designed an evidence based innovation that is socially constructed to address diabetes with prevention in mind too''she explained of the model
The Assistant Commissioner Non Communicable Diseases (NCDs) at Ministry of Health, Dr. Gerald Mutungi who participated in the study's innovation co-design had this to say;
"This study is unique, I have learnt many things which I had never looked at from a perspective of social norms and I am glad that we are already designing an innovation together with the community stakeholders and influencers to mitigate and reduce T2DM".
He also tasked researchers to give answers on why people doing their daily activities and living a normal lifestyle still get diabetes.
Approaches behind the model
As part of the behavioral change strategy, the research team came up with the following approaches to their community-led behavior change model.
T2DM organized diffusion messaging and practices
This approach of the model will work through community-level social networks and will be used to conduct myths bursting sessions, building new positive social norms and spreading them using social networks related to the norm. This approach will be complemented by deliberation and reflection methodologies and the intent is to create shared commitments to change negative and/or maladaptive risky behaviors around T2DM.
Community-leader-initiated behavior modeling for T2DM
Because of power, control and therefore influence, this approach will target political leaders, religious leaders, cultural leaders, informal community leaders and all individuals with influence to model, demonstrate and promote the recommended behaviors and practices. This will be the first level of establishing reference groups and this approach will complement other approaches.
T2DM Non-conforming trendsetters and positive deviants.
In the co-design process, evidence shows the existence of trendsetters and positive deviants who are willing and able to be the first movers in initiating positive normative change around T2DM risky behaviors. Their nonconformity to the social norms around T2DM will contribute to the erosion of strong perceptions in favor of the negative gendered social norms that facilitate entrenchment of T2DM risky behaviors. This approach will be complemented by creation of new risky-behavior-specific reference groups that are able to enact alternative social sanctions against T2DM risky behaviors.
On timing of this model, Mr. Ramadhan Kirunda who was key in innovating the model noted that evidence from the social-norms study revealed a disconnect between the health system and the social system constructs at community and family level, yet T2DM risky behaviors are gendered and influenced by power, control and sanction around submission.
''Social norms are responsible for the harmful constructions of dominant masculinity engineered by power and control over women, hence the social-cultural acceptance of inferiority on the part of women. Therefore, even on matters of diet, women have to submit and follow what men prefer, and can become violent in asserting their dominance if women don't comply. It is important to note that while gender-injustice related consequences affect mostly women, gendered social norms undermine the health and wellbeing of all people, regardless of age, sex, gender, or income setting. Therefore, our proposed model is informed by this reality, it is inclusive by design since it was co-designed together with all community stakeholders/duty bearers and targets risky behaviors that accelerate T2DM, but also other health outcomes.
KEY FINDINGS FROM THE SOCIAL NORMS STUDY
The main behavioral factors influencing type 2 diabetes were a) consuming processed and added sugar products, b) consuming high cholesterol fatty foods, c) excessive alcoholism, d) smoking (traditional and contemporary), e) mental/psychosocial stress and f) lack of exercise. The analysis shows that dietary factors contribute the greatest threat to the fight against type 2 diabetes in Busia and Bugiri according to the researchers.
In terms of social norm strength around dietary factors, the two strongest norms were "people who don't prepare fried food are poor people", "taking tea without adding sugar is mistreatment to your husband" and "Bwita/kalo is our staple food, we eat it daily". Some of the less strong norms included; "eating greens is mistreatment to your man/husband", "fat people especially men are respected in the community", and "A true Samia meal must contain meat or fish daily" said one of the study participants
The strongest social norms around alcoholism.The strongest social norms around alcoholism were "alcohol takes away negative thoughts and stress", "when you take alcohol with your friends, they can't abandon you", "Waragi reduces diabetes because it is sour", "religion does not allow us to take alcohol" explained one of the key informants.
The social norms around smoking included; "if you want to feel good, you have to smoke", "most old people and our grandparents lived long and were smokers" and "traditional religion demands and allows smoking of pipes, it's part of our culture". Affirmed another study participant
The main social norm around physical exercise was that "men are expected to rest/lie down and wait to be served by women". They have to sit and wait for food'' added a participant
On drivers that support norm entrenchment, the researchers outlined easy access to alcohol, gender based violence, cultural set up, poverty, wrong peers, poor parenting, one sided food systems as areas that need serious attention.
MORE ABOUT THE STUDY
The study used Social Norms Exploration Tools (SNET). It was conducted in Eastern region in the districts of Bugiri and Busia in December, 2020. This study covered a total of 4 health facility catchment areas: Bugiri Hospital, Nakoma H/C IV, Masafu Hospital and Lumino H/C III.
A number of data collection methods were used including Focus Group Discussions. Key Informant Interviews, In-depth Interviews, Observation and Photography.
This study builds on previous studies funded by Swedish Embassy and conducted in Iganga and Mayuge by the School of Public Health's Prof. Guwatudde David, Dr. Barbara Kirunda, Dr. Elizabeth Ekirapa, Dr. Roy Mayega and Prof. Buyinza Mukadasi (Research and Graduate Training, Makerere University)
The research team consisted  of the following researchers:  Dr. Juliet Kiguli (Principal Investigator), Dr. Roy William Mayega, Dr. Francis Xavier Kasujja,  Mr. Ramadhan Kirunda, Ms. Gloria Naggayi, Ms. Joyce Nabaliisa, Ms. Rita Kituyi, Sr. Nabwire Mary, and Sr. Nampewo Evarine Wabwire. The social norms study was made possible with funding by Mak-RIF (led by Prof. Bazeyo William) and Government of Uganda.
Re-Advertised Call for Applications: PhD Fellowships in Bioethics (4th Cohort)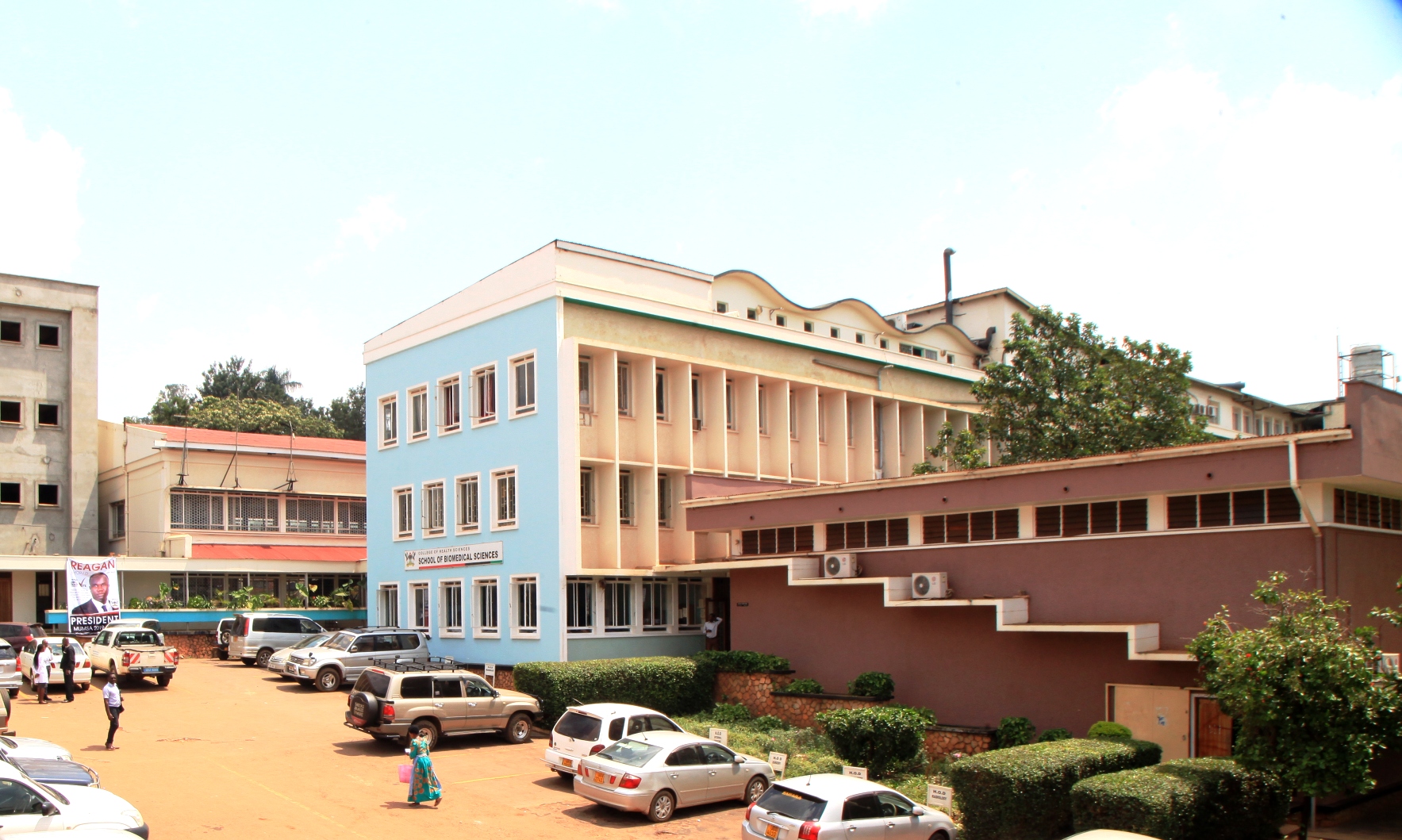 Applications are invited for PhD fellowships in bioethics from Makerere University College of Health Sciences (CHS) faculty and individuals who participate in the academic activities of the college who are interested and COMMITTED to becoming bioethics scholars.
Successful applicants should be willing to become bioethics scholars as they work within the structured and mentored training programme with a focus on any aspect of international research bioethics related to Health Sciences. Funding will be available to support 2 successful doctoral candidates up to 3 years of accelerated training leading to the award of the Makerere University doctoral degree.
Eligibility
This training is open to faculty including people who contribute to teaching and research at Makerere University or one of its partner institutions in Uganda, who meet any of the following criteria:
a. Able to articulate a clear research bioethics problem of interest to them.
b. Demonstrate prior participation in bioethics, beyond having submitted research proposals to an IRB.
c. Demonstrate a basic understanding of bioethics in order to know that this is an appropriate next step for the applicant.
d. Demonstrate past active participation in bioethics in health service delivery or at the interface of health related ethical-legal issues.
e. Provide evidence of experience in research in bioethics and or authorship in this field
f. Prior master's level or fellowship level training in bioethics or related fields.
g. Being MakCHS faculty is an added advantage.
Criteria for Selection
Demonstrated interest in doctoral research training and conducting research with a focus on
research bioethics.
Potential to handle rigorous academic requirements of the doctoral program.
Having a plan for career development
Capacity towards attaining research leadership and international recognition in bioethics.
Female candidates and medical doctors are especially encouraged to apply
Application Process
Applications must be submitted to makbioethics[at]gmail.com and should consist of a cover letter (1 page only), a resume (not more than 3 pages), a personal statement (Maximum 1 page), a Makerere University formatted PhD research concept (Maximum 10 pages) and two letters of recommendation (sent separately by the referees to makbioethics[at]gmail.com). The personal statement should include your contribution to the academic and research life of a department at Makerere University College of Health Sciences, your aspirations for career progression in the next 5-7 years, research interests and any information you consider relevant.
Closing date for the receipt of applications is 15th November 2021.
Enquiries can be forwarded to the PI, of the PhD bioethics research training Program on makbioethics[at]gmail.com
Timelines:
Application deadline: November 15, 2021
Interviews November 22, 2021
Notification date: November 29, 2021
Proposed start date: December 1, 2021
Part of this training will take place at Johns Hopkins University Berman Institute of Bioethics in the USA in Year 1 for a total of 2-3 months. Successful candidates will receive a monthly stipend based on USA National Institutes of Health regulations, tuition, research funds and travel to the USA. Applicants should demonstrate excellent communications skills and will be expected to work as part of a highly motivated, result oriented bioethics group.
Uganda One Health Epidemiological Bulletin Sept-Nov 2021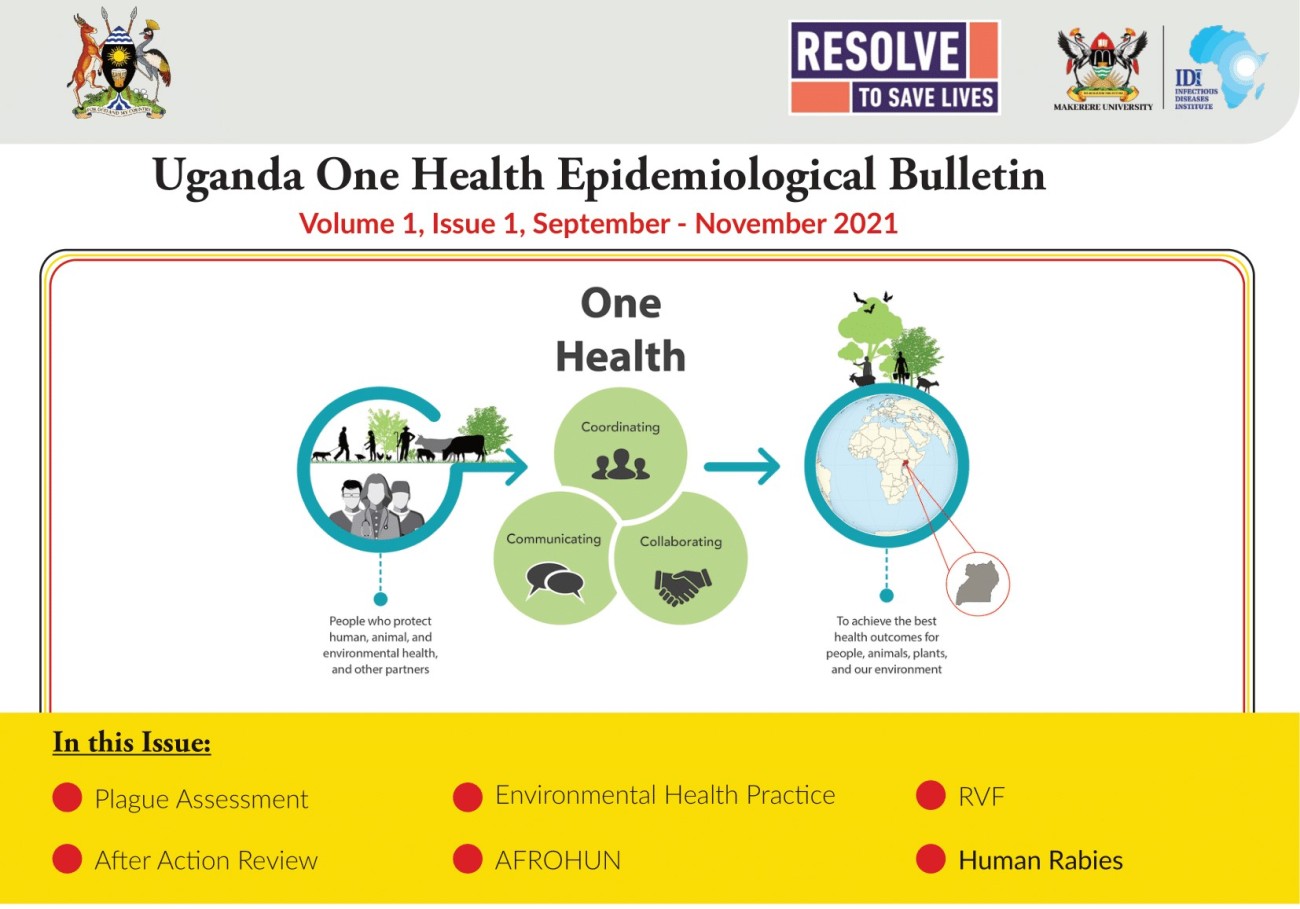 Africa One Health University Network (AFROHUN) formerly One Health Central and Eastern Africa (OHCEA) seeks to promote global One Health Workforce development services beyond the traditional One Health disciplines and institutions. AFROHUN received a five-year USAID sub-award funded through a consortium led by the University of California Davis to implement the One Health Workforce – Next Generation (OHW-NG) Project.
Under OHW-NG, Uganda is training personnel at Mbarara University of Science and Technology (MUST) and Makerere University (MAK). The country office is based at the Makerere University College of Veterinary Medicine, Animal Resources and Biosecurity (COVAB).
Number of personnel trained
Students
Faculty
Since 2016, Makerere University has conducted a didactic preservice online course in Infectious Disease Management. The 21-30-day course trains students on management of infectious and zoonoses emergencies using a One Health approach. Additional competences enhanced are: Gender, Bio-risk Management, Disease Outbreak an Emergency Response, Disease Control and Environmental Health, Managing Antimicrobial Resistance, Community Engagement and Community Public Health.
Pre-service cadres undertake a ten-day field activity. Here, undergraduate students apply their knowledge and skills to identify, design and implement interventions to public health issues in communities using a One Health approach.
Graduate students undergo a two-month OHI graduate fellowship program in host institutions including FAO-ECTAD, President's Initiative on Epidemics, FHI (Family Health International) 360º, Red Cross Community Pandemic Preparedness Program (CP3), and the Infectious Disease Institute (IDI). At host sites, fellows receive mentorship in outbreak investigation, data collection and analysis, leadership, scientific writing and communication.
Please see Downloads for the full Bulletin.
Call for Applications: CHILD Global Research Fellowship (CHILD-GRF) program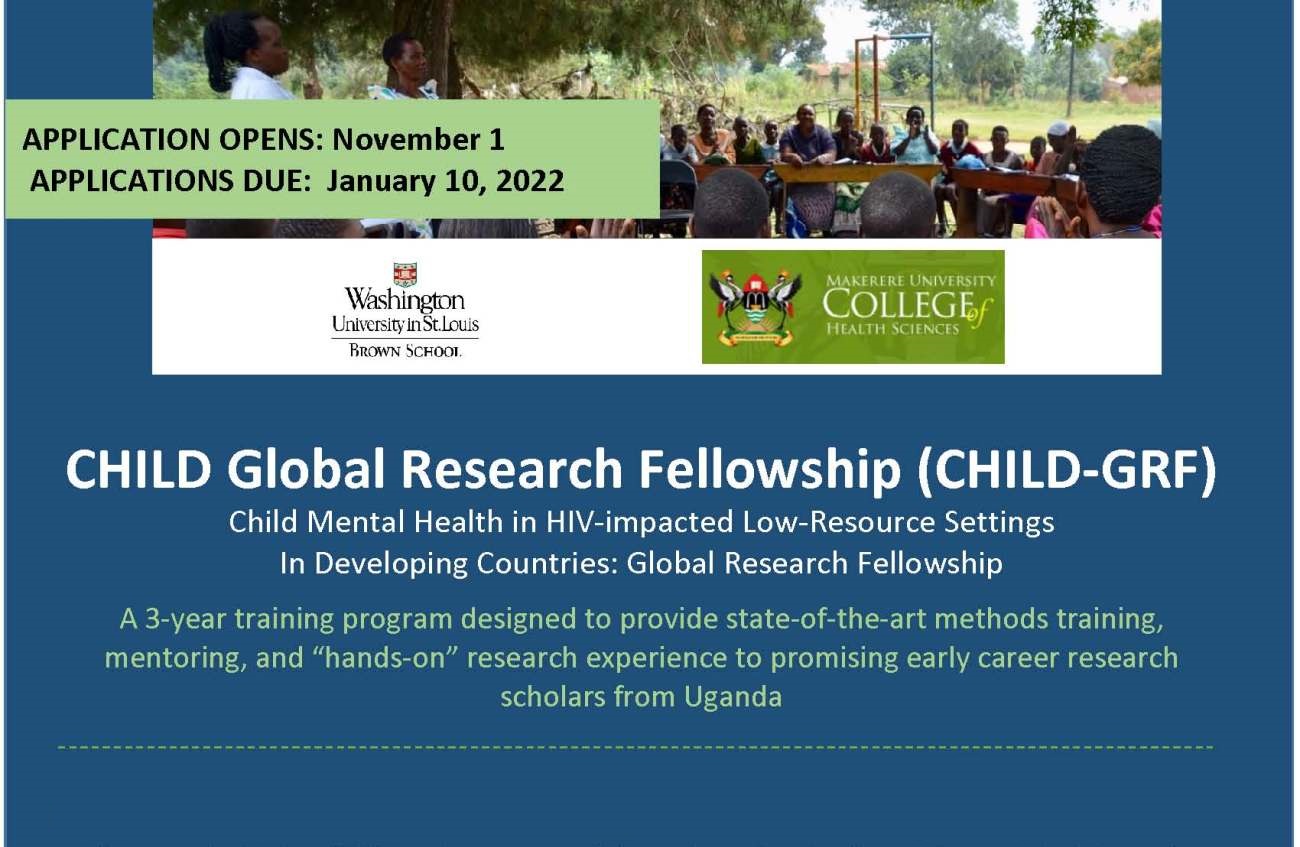 Child Mental Health in HIV-impacted Low-Resource Settings In Developing Countries: Global Research Fellowship (CHILD-GRF) is a 3-year training program designed to provide state-of-the-art methods training, mentoring, and "hands-on" research experience to promising early career research scholars from Uganda.
ELIGIBILITY
Early career researchers from Uganda
Advanced scholars (PhD student, recent PhD graduate (within 5 years), or medical doctor)
Interest in child and adolescent health/mental health and HIV/AIDS within resource constrained settings
BENEFITS
Annual stipend for 3 years
Year 1 includes year-long training, including intensive 10-week online summer training
Years 2 and 3 include 6 weeks of summer training to be conducted at Washington University in St. Louis, Missouri, USA (subject to pandemic restrictions)
$5,000 pilot research funds in Year 2
Research training in foundational research skills & knowledge
Ongoing mentorship and support
Application opens: November 1, 2021
Application deadline: January 10, 2022
For more information, visit https://sites.wustl.edu/childgrf/
Or contact Laura Peer at Lpeer[at]wustl.edu or Rebecca Walugembe at Rebeccawalu218[at]gmail.com