EfD-Mak Holds Policy Dialogue on L. Victoria's Hydrology, Water Quality and Livelihoods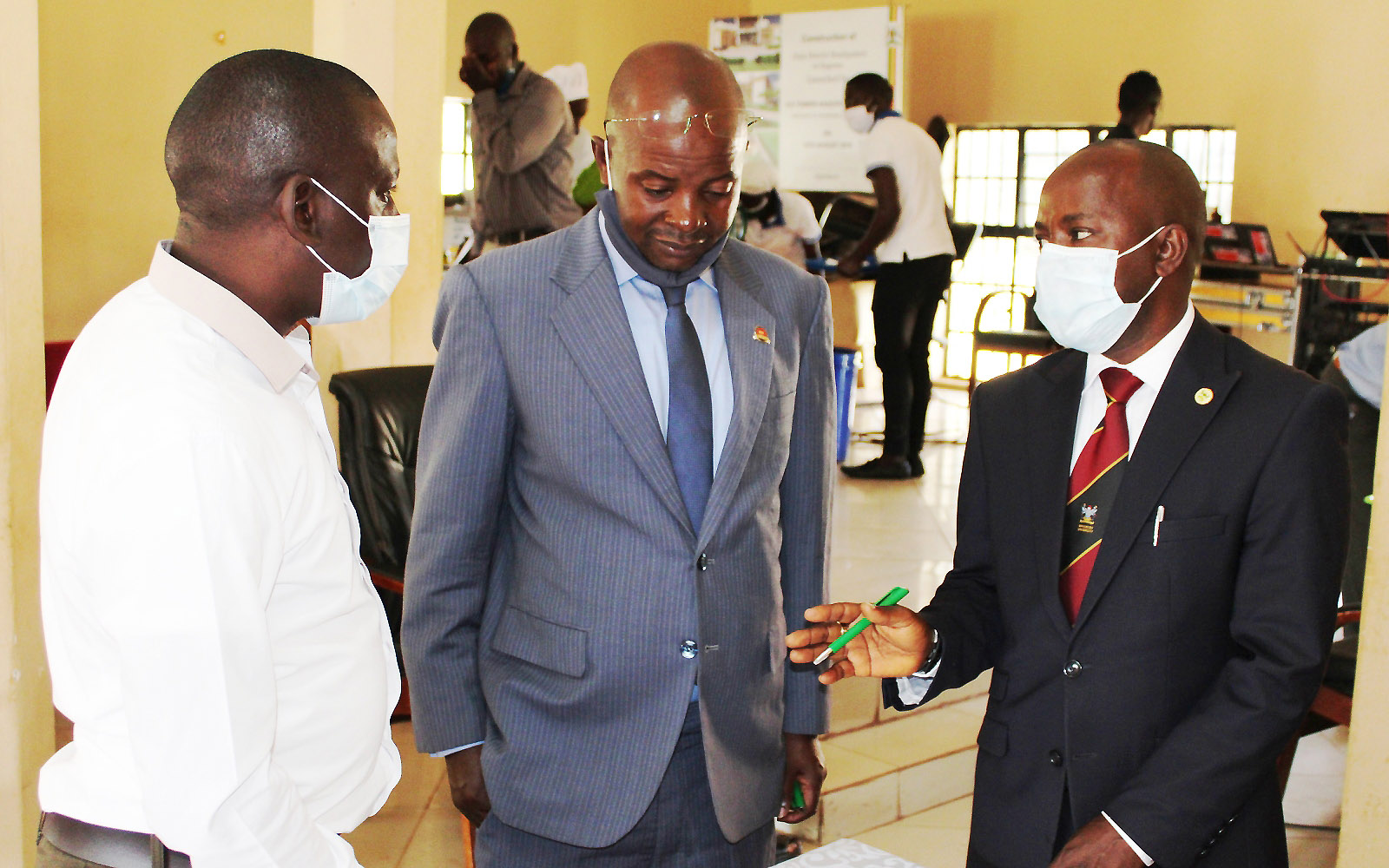 Environmental economists from the Environment for Development initiative (EfD-Mak) Centre on 26th August 2020 held a policy dialogue with Jinja District Local Government officials on the theme, "Lake Victoria's Hydrology, Water Quality and livelihoods".
The workshop held at the Jinja District Council Hall attracted about 40 participants including the Resident District Commissioner (RDC), Chairperson Local Council Five (LCV), District Natural Resources' Officers, officials from the Environmental Police Unit, Civil Society Organizations and the Private sector among others.
The objective of the meeting was to discuss and brainstorm on the status of the environment more especially the rising water levels on Lake Victoria and the rivers within the district, challenges faced in the management of the natural resources and identify possible solutions to mitigate environmental degradation.
In his welcome remarks, the LCV Chairman Titus Kisambira said Jinja as an industrial district and city has had a number of environmental challenges with most of the industrialists allocated land tittles near the lake and investors encroaching on more land in the wetlands leading to adverse effects.
The Chairman said, the construction of industries in the wetlands and near the lake has affected the environmental pattern and water runways leading to overflooding and floating islands during heavy rainfall.
Mr. Kisambira reported that the district council took a decision and wrote to all industrialists asking them to vacate land allocated in the wetland. .
"The challenge was with us also, some of the industrialists would run to politicians to help them get titles but we have taken a firm decision as council and instructed the technical team like the land officers to prepare land titles that were acquired in the wetlands and those near the lake for cancelling immediately and all constructions made in the wetlands be destroyed to save the environment,
At times we are let down by the technical people in terms of implementation but for us as a council we took it as a decision that whatever was done in the wetland is reversed. We have a lot of gazzetted land which is not near the lake in Budondo, Mafubira, Busedde and Butagaya and we have advised industrialist to come and we give them land elsewhere so that they do not take away the factories but also conserve the environment", Mr. Kisambira stated.
While opening the dialogue, the Acting RDC Lt. Alfred Musoke acknowledged that local governments were partly to blame for environmental destruction in the district..
"There are many factories near the lake now swallowed by the lake and they were constructed after acquiring the land titles yet the policy is clear that no one should get a land title in the swampy area. So people got the land titles fraudulently and the government should come in and cancel the titles because they are destroying the environmental pattern.
All districts have environmental officers and before any construction is made, there is an environmental impact assessment report. So we wonder how those reports read because if they were done properly they would not be approved.
We should revise everything and see that the environment is protected. Very many houses in the islands have been swallowed by water. Recently the President came here because of the large floating islands had been broken up and disintegrated by people and when they moved, they entered our turbines leading the entire country to experience a total blackout when the President was expected to address the nation on the COVID-19", Lt. Musoke reported.
As a district, the RDC said environmental officers have been sensitized on their roles and the need to enforce the law.
He said recently, environmental police did patrols on landing sites where soil had been dumped and ordered perpetrators to remove the soils as they block the movement of water.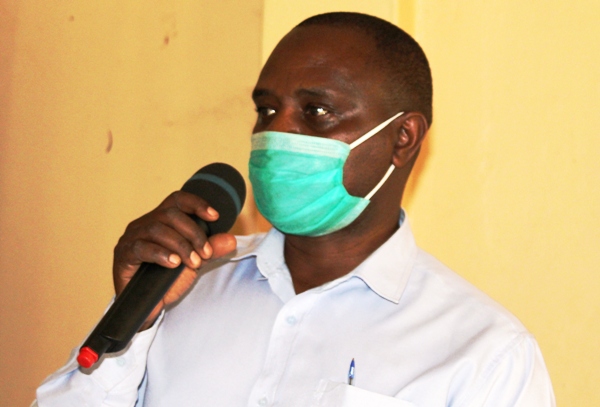 He called upon participants to openly come up to condemn environmental degraders to protect the environment.
As head of security in the district, he condemned acts of security (UPDF and police) being used to protect destroyers of the environment saying, his office was open to receive reports of such acts for immediate intervention.
Delivering the Keynote address, the Senior Environment Officer, Jinja district Mr. Maganda Moses appreciated Makerere University for this initiative saying, it was the first of its kind in Jinja that revives and brings to light a sector that is still struggling in the country in terms of budgeting and whose impact trickles down to the Local Governments and Lower Local Governments.
Mr. Maganda commended the selection of participants for the meeting on grounds that it speaks volumes on how important they are in contributing towards the existing policies on Environment and Natural Resources in the country.
Maganda said Uganda is endowed with Lake Victoria, Africa's largest freshwater lake and the second largest in the world by surface area measuring 68,800km2, River Nile, the longest river in the world and one of the 7 wonders of the world stretching 6,650km crossing 10 countries, streams, wetlands, a beautiful landscape with Mountains, undulating hills and valleys, Minerals in different parts of the country, the oil in the Albertine region, a rich biodiversity, and a favourable climate with an annual temp. of 26 degrees Celsius.
The environmental Officer noted that Uganda has the best policies but the problem is the implementation. He called for the strengthening the institutional capacity to implement the RIO conventions, focusing on the three conventions, UNFCCC, UNCBD, UNCCCD.
"Kenya is a step ahead in implementing the three conventions, for instance being largely a desert, Kenya is shifting from the use of biomass as a source of energy and has subsidized on the costs of natural gas so that it's affordable to all. They have also considered importing timber from neighboring countries and keeping their biomass intact.
In Kenya, the Law banning Kaveera was enacted in 2017 following a benchmark trip made by Kenya to Uganda a year before. We enacted a law on the ban of kaveera in 2009, and ever since we have been in battles with different stakeholders on the implementation of the ban, to-date it has not come to pass. On the contrary, the Kenyans are jubilating having succeeded with the ban in a space of 2 years. The manufacturers of kaveera from Kenya were actually warmly welcomed in Uganda.
But we know how much damage kaveera can has cause on our water bodies, we know tonnes of kaveera are always harvested from Nakivuubo channel and other water channels on a daily basis and all this most likely ends up in the Lake.
In Kenya, the law on protection of wetlands, riverbanks, Lakeshores, is enforced to the dot. Most of their wetlands are intact, illegal structures on the river banks have been demolished and re-planning of such areas has taken root." Mr. Musoke stated
He told participants that as they focus on the day's theme, they should also focus on what their contributions have been towards the existing policies on Natural Resources, how far they have been successful, where they have failed as Government, including other stakeholders such as CSOs, Academia etc , and the possible proposals for Review where necessary.
Mr. Maganda reported that this year's theme for celebrating World Environment Day was 'Time for Nature, with a focus on its role in providing the essential infrastructure that supports life on Earth and human development', that was celebrated on the 5th of June 2020 in Colombia.
He said Uganda adopted the theme 'Nature is speaking, Listen', and because of the COVID-19 Pandemic, on the 5th June, 2020 an online discussion was held to celebrate the day, where the focus was on the food we eat, the air we breathe, the water we drink and the climate that makes our planet habitable, all coming from nature.
He reckoned that there would not be any other better description of the recent events that have devastated nature and humanity and threatened the livelihoods of millions of people dependent directly and indirectly on Lake Victoria than the theme itself.
The environmental officer said the volume of water in Lake Victoria has risen before and available data shows that the ever highest recorded increase was 2.5m between 1960 and 1964 though the impact to livelihoods was not as significant as it is today.
The rains that started on the 1st October 2019 he said, surpassed the last ever recorded increase and consistently went up from the 12m to the current highest level of 13.32m as of 30th April 2020.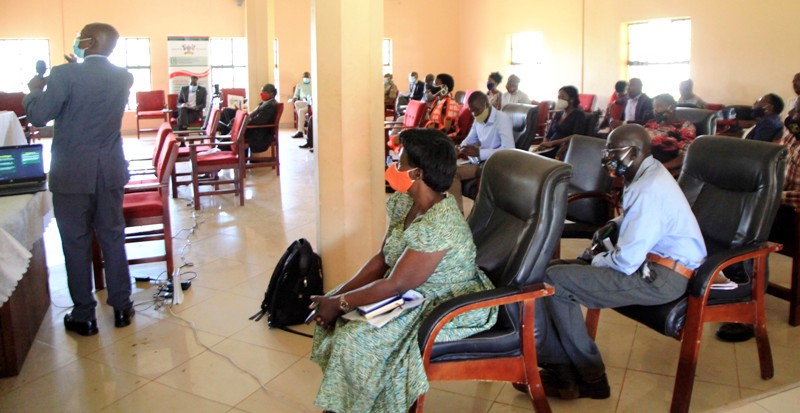 "Of course, we have seen glaring negative impacts of the rise on people's livelihoods, settlements, animal habitats, water quality, among many others. The population explosion around the Lake Victoria basin largely accounts for this.
Today, there's a high affinity for land along the buffer zone of Lake Victoria, there are; numerous ungazetted landing sites, unplanned settlements, industrial hubs, illegal farming activities, non-permitted recreation facilities, and unregulated sand mining activities." He said.
Mr. Maganda attributed the rising water levels to two major causes;
He said Global Warming is the primary cause of the current water level rise (Extreme heat events experienced on earth as a result of the depletion of the ozone layer) while human activities like, charcoal burning, cutting down trees, pollution from industries, CFCs from old fridge's, have contributed to an increase in the atmospheric concentrations of heat trapping gasses and caused the planet to warm by 1.4 degrees Fahrenheit. The rising temperatures are warming the ocean waters, which in turn expand and cause global sea level rise.
Secondly, he said are the glaciers and ice caps that are shrinking at a faster rate in response to rising temperatures adding water to the world's oceans and in turn other water bodies.
"So where we have no direct control over such significant causes; how can we best weigh the costs and risks of accommodating the impacts; retreating from them? Or are we instead trying to defend the properties and infrastructure with protective measures.
As a country, we have clear safeguards within the existing environmental legislation; The NEA 2019 is clear on protection of fragile areas. The National Environment (Wetlands, Riverbanks and Lakeshores management) Regulations 2000 provides for the buffering of our water bodies, lakes, 200m, rivers 100m, small rivers 30m, streams 10m. Therefore, to what extent have we referred to these regulations? He asked.
At a global scale. Maganda reported that rising waters have led to destructive and devastating effects on marine habitats, erosion, wetland flooding, and agricultural soil contamination. In Jinja and most of the neighboring districts he said, Islands have either been fully or partially submerged. e.g at the source of the Nile; Agricultural land and crops have been lost; Peoples settlements have been invaded with the rising waters and forced the affected communities to migrate.and; Factories like Sunbelt, Skyfat, LIU, Agromarines, Keswhala industries have all been flooded and are counting losses.
He further observed that Recreation facilities like Rumors, Sailing club have all been flooded; Landing sites and beaches have adversely been affected by the rising waters and it this is evident in Ripon village landing site, Masese Landing site, Wanyange and Wairaka landing sites. The beach in Wairaka is no more. In addition, the breeding ground for the aquatic life washed downstream. and lastly, we had Uganda's Hydro-electricity production dam at Nalubaale suffering a technical set back when a big mass of land moved downstream and clogged the power system leading to a total power shutdown.
Highlighting on the challenges Mr. Maganda said first, there's need to acknowledge the fact that there's substantial damage that has been caused on the Natural Resources and not until when they realize the mistakes made over time as a country then shall we move forward.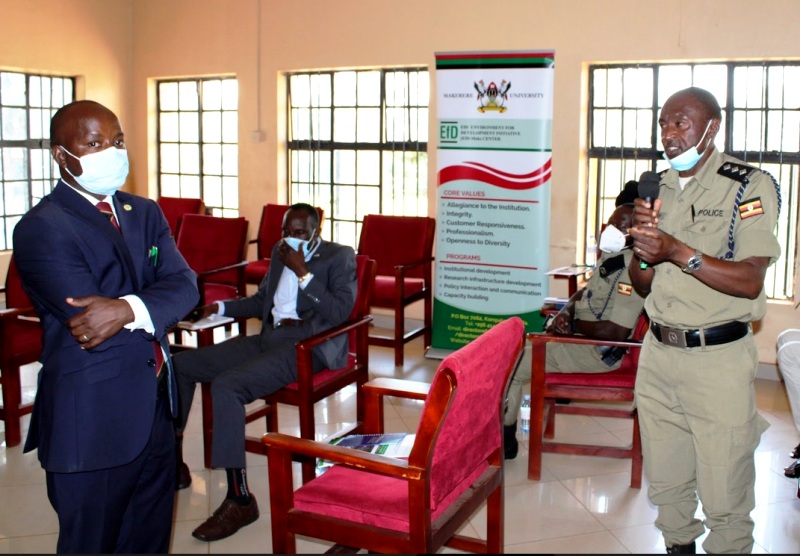 He said that there is also need to acknowledge the fact that much as there are several challenges facing the environment and natural resource sector, several strides have been made but there are many gaps in the existing policies and legislation and emerging issues like oil and gas, and these have triggered new legislation in particular to address environmental concerns for example, Review of the NEMP, in 2019 after over 15 years in existence, Review of the NEA 1995, now the NEA 2019, Presentation of the National Climate Change Bill, 2019 and now before parliament, Review of the National Wetland Policy, 2018 in a bid to safeguard the wetland resources in the country and Review of a number of Regulations in the environment sector e,g the National Environmental Audit Regulations.
He proposed the need for strong policies that will ensure that value is attached to natural resources noting that many of fringe wetlands, forests, have no economic value attached to them and this has always made it hard to convince policy makers especially at local government level to preserve these resources in the face of structural development.
He also proposed the need to ensure total respect for the fragile areas especially the River banks, Lake shores, and forest reserves siting Section 56 of the NEA 2019 refers to declaration of Special Conservation Areas in the country. The Kalagala-Itanda Offset area in Butagaya and Budondo and Kalagala on the Western and Eastern banks respectively of the Nile happens to be the first area under the Act to be declared a SCA and many more areas to be declared as so and exclusively be conserved.
The environmental officer further recommended the need to ensure strong co-ordination with other MDAs so that Environmental Concerns are clearly addressed e.g, titling of fragile areas like wetlands as purely a coordination gap with the different MDAs.
He also expressed the need to cover the gap that exists on how to prevent conversion of forest land or wetlands on private land and that anybody who owns land that has such a resource should be bound to exclusively protect it and not to convert it.
Mr. Maganda also noted that there is lack a clear and direct fund in Local governments to exclusively protect water bodies and yet local governments play a pertinent role in supervision and monitoring of compliance by the adjacent communities. He reported that LVEMP as a running project for the management of Lake Victoria and the Nile Basin Initiative that has always focused on the Nile River at policy level have played a role in empowering LLGS hence LGs need to be directly supported financially with a special fund to protect these resources.
Physical planning, he said, remains an important pillar in planning, gazetting, managing and conserving fragile areas and green spaces. The physical planning Act 2019 emphasizes taking into consideration the Environmental concerns/aspects when drawing Physical plans of particular areas. By strengthening physical planning, he noted it is possible get rid of the development scenario the country is currently embroiled in where it's a developer to decide where to put up an industry as opposed to government planning for industrial parks or industrial hubs.
He also proposed the need to highlight and strengthen the polluter pays principle so that a developer who pollutes is responsible for paying a fee to government commensurate to the amount of pollution they have introduced into the environment. This he said is still very weak and needs to be re-emphasized.
Last but not least, the officer said there should be a deliberate mechanism at Local Government level where strict data capture, monitoring, supervision and reporting is continuously done on the activities taking place around Lake Victoria.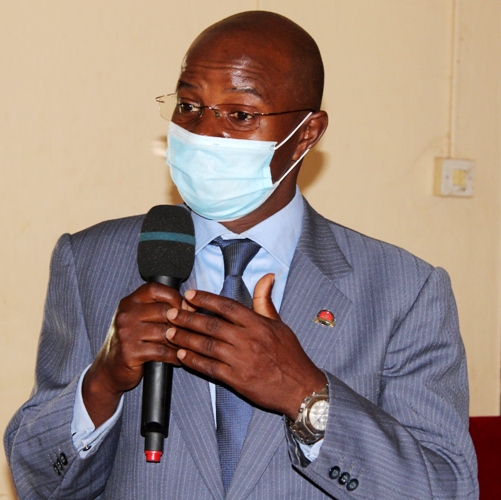 Director EfD-Mak Centre Prof Edward Bbaale said the EfD initiative is a global network of environmental economics research centre with 15 centres across the world in Chile, China, Colombia, Costa Rica, Ethiopia, Ghana, India, Kenya, Nigeria, Sweden, South Africa, Tanzania, Uganda, USA and Vietnam coordinated by the EfD Secretariat, a special Unit at the School of Business, Economics and Law, University of Gothenburg, Sweden.
Prof. Bbaale told participants that the EfD invests in policy interaction not dissemination, Creates interfaces, targets national and Local Government policy level and invests in professional staff development.
On the day's policy interaction and the theme, Prof. Bbaale said the Lake Victoria Basin (LVB) is a critical transboundary natural resource, underpinning the economy and livelihoods of the population, acting as a waste repository and provides food, energy, irrigation, drinking water, tourism and transportation to the economy.
He said that being the source of the White Nile, the lake also supports the livelihoods of Egypt, Sudan and South Sudan and is the primary modulator of the region's climate. Despite its importance, Prof. Bbaale said, the LVB has undergone intense environmental degradation for decades, resulting in significant ecological and economic challenges.
He highlighted that rapid population growth, agricultural expansion, urbanization, and industrialization have mounted extreme pressure on the lake and its basin's ecosystems leading to the degradation of lands, and the loss of wetlands and forests.
Speaking on human activities and degradation the director said insufficient monitoring and weak enforcement of regulations on illegal- and over-fishing activities have reduced fish stocks, which threaten crucial livelihoods and food security among others.
"Climate change has also affected the basin as temperatures have consistently increased between 0.1°C and 2.5°C, based on historical data from 1920 to 2013. The LVB and its inhabitants are vulnerable to the increasing effects of climate shocks, which would likely exacerbate its environmental problems." Prof. Bbaale reported
He said, water levels in the Lake are influenced by direct rainfall over the lake, runoff from the basin, evaporation from the Lake, and outflows into the Nile, the latter of which is currently controlled by more than one hydropower dam.
The fish stocks according to Prof. Bbaale are threatened by climate change due to warmer waters and pollution induced changes in water quality while increased rainfall increases erosion due to the farming close to the shores and pollution, directly impact the lake's water quality.
The changing temperatures according to the Director, introduce disease vectors and increase the risk of malaria and other vector-borne diseases for the basin's human population and that during the period of late January 2020, the effect of Lake Victoria bursting its banks started to be felt with several landing sites and settlements damaged by floods.
This, the professor notedhas left almost half a million people homeless and property worth billions of money had been lost in Uganda, Kenya and Tanzania.
Prof. Bbaale attributed Lake Victoria's Hydrology change to mainly three causes namely Climate change, lack of regional consensus on a well-coordinated policy of regulating Lake Victoria inflow and outflow and Lake Sedimentation due to catchment degradation and Buffer zone encroachment.
On livelihood impacts of changes in Lake Victoria Eco-system. Prof. Bbaale said there is declining fish biomass, catch and exports, impact on infrastructure especially the Hydropower generation, water transport and reduced business activity along the landing sites, poverty and unemployment plus high crime risks.
Report compiled by: Jane Anyango, Communication Officer, CAES
The 19th RUFORUM AGM in Yaoundé calls for consolidated efforts towards transforming higher agricultural & tertiary education to contribute to sustainable development & food security in Africa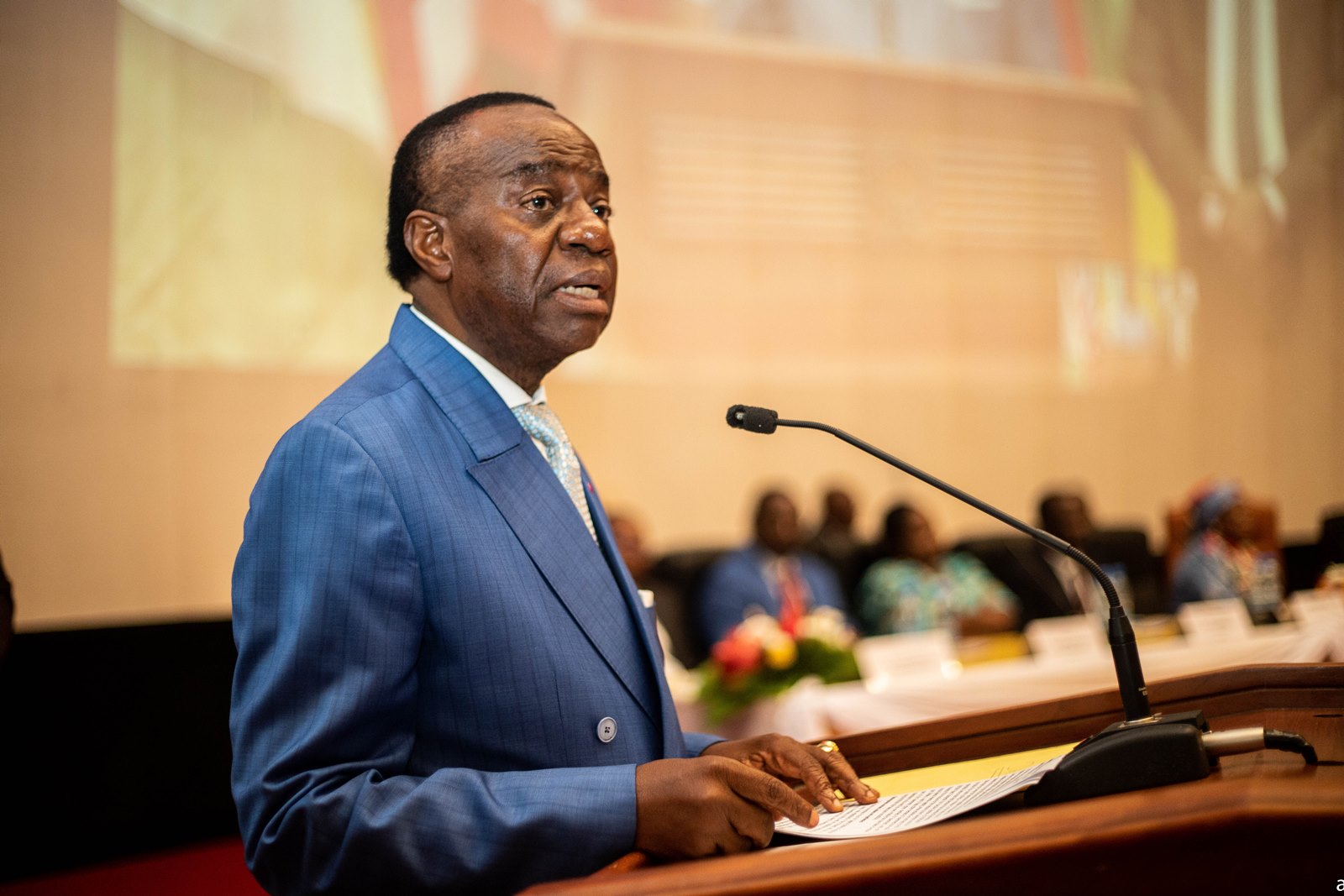 The Regional Universities Forum for Capacity Building in Agriculture (RUFORUM), a consortium of 163 universities in 40 African countries held its 19th Annual General Meeting at the Palais De Congres in Yaoundé, Cameroon from 28th October to 2nd November 2023. The first of its kind in West and Central Africa, the RUFORUM AGM 2023 provided an opportunity for over 600 delegates from Africa and beyond including; Ministers, Development Partners, University leaders, students, private sector leaders; farmers and farmer representatives; emerging and early career researchers as well as other key stakeholders in agriculture and higher education to share experiences and chart a way forward for transforming higher agricultural and tertiary education to contribute to sustainable development in Africa under the theme: Transforming Higher Education to Sustainably Feed and Create Prosperity for Africa.
Officially opened by His Excellency Paul Biya, President of the Republic of Cameroon, represented by Professor Jacques Fame Ndongo, Cameroon's Minister of State, Minister of Higher Education, the 19th RUFORUM Annual General Meeting in Yaoundé provided a platform for participants to deliberate on key strategies for transforming higher agricultural and tertiary education to contribute to national, continental and global development as well as building consensus among key stakeholders in agriculture and higher education on the actions required to strengthen the role and/or integration of universities in agricultural and national development processes in line with the aspirations of the African Union Agenda 2063 'The Africa We Want'.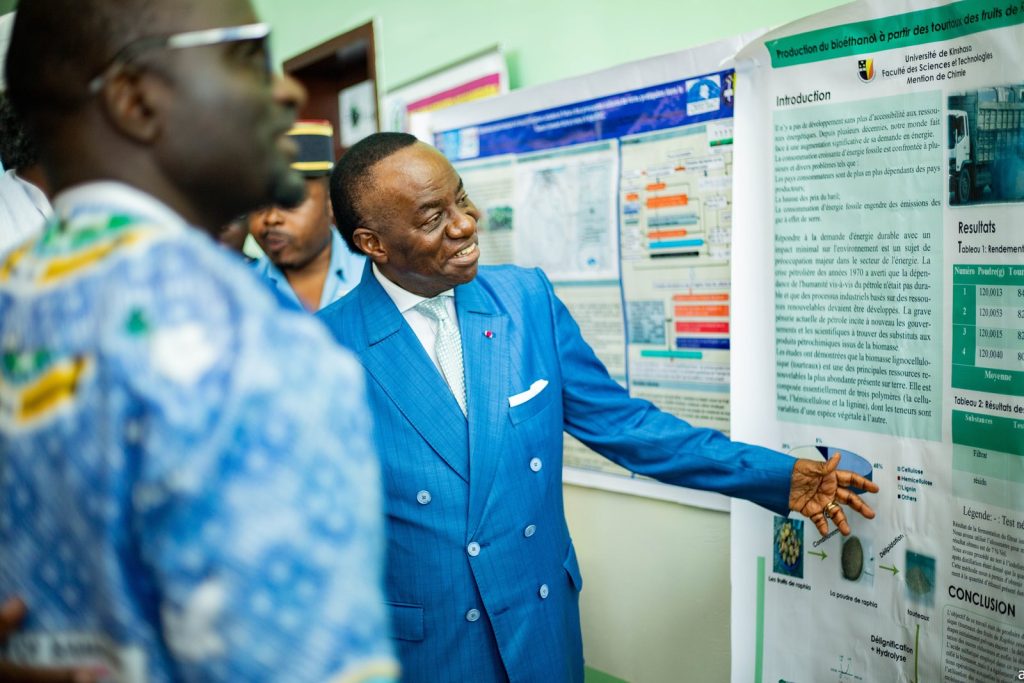 In a speech presented by Professor Jacques Fame Ndongo at the official opening ceremony, His Excellency Paul Biya, President of the Republic of Cameroon stressed RUFORUM's significant efforts to support the African Union Agenda 2063 when he said, "RUFORUM's vision 2030, makes the body a significant contributor to transformation of Africa and vehemently seeks to harness the discovery, engagements and learning of vibrant transformative universities to catalyze sustainable, inclusive agricultural development to feed and create prosperity for Africa."
According to him, it is worth indicating that agriculture in Africa should be understood in its broadest sense to include but not limited to animal and crop production, livestock, wild life, fisheries and forestry. Hence RUFORUM's mission since its inception in 2004, of strengthening the capacities of universities to foster innovation responsive to demands of small holder farmers through the training of higher quality researchers, the output of impact-oriented research and maintenance of collaborative working relations among researchers, farmers, national agricultural research institutions, the Private sector and government is worthy prioritizing.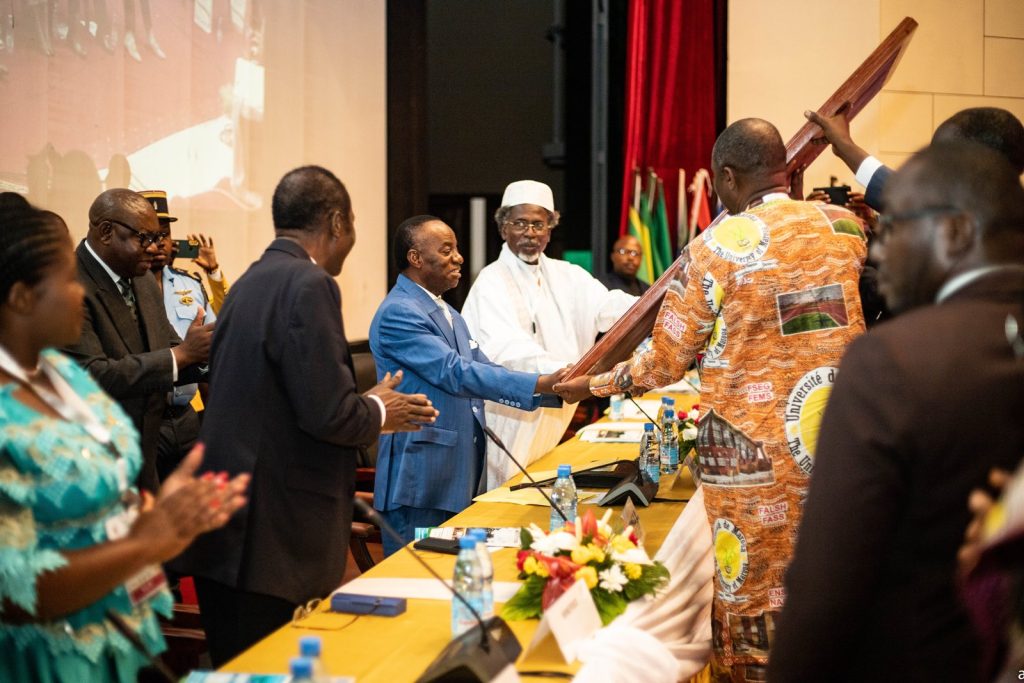 He called upon participants to use the meeting forum to change the face and image of the African continent through constructive and fruitful deliberations on agricultural production, food safety research and better health food security. To him the RUFORUM AGM is a bigger opportunity to think and act, make proposals, formulate recommendations and necessary resolutions which if acted on can change the face of the African continent.
"This is the turning point for the African continent to think big and have the courage to dream big. This is our opportunity to make a difference in our world. This is the opportunity Africa needed to change the target of its demand of action. We have to mutualize and federate our actions and voices in the interest of a united, strong and prosperous Africa," he said.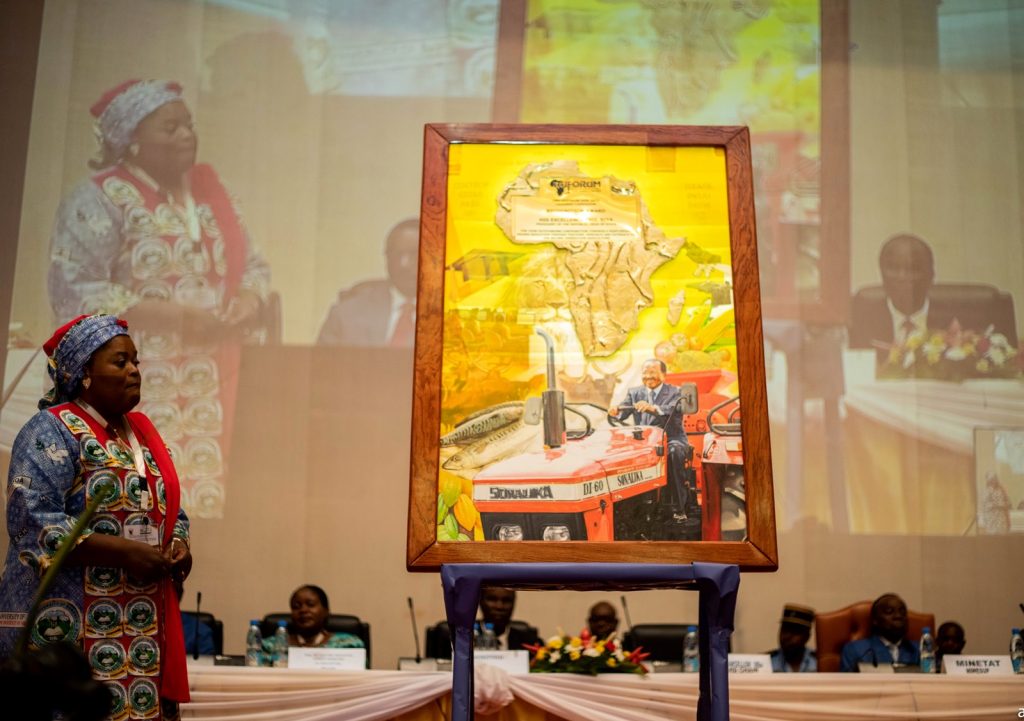 The 19th RUFORUM Annual General Meeting carried a unique vibrant turn as being the first to be held in West and Central Africa. The weeklong event broke the record as the most and well attended ever with over 600 participants across the region as well as international delegates. The colorful event was embroiled with informative, constructive, edutainment activities in form of pre-AGM events, side events, Business Meetings, capacity building and mentoring sessions, scientific conferences, poster sessions and exhibitions well aligned to key thematic areas as well as the AGM theme: Transforming Higher Education to Sustainably Feed and Create Prosperity for Africa.
Additionally, high-level policy dialogues with Ministers, Senior Government Leaders and Development Partners were held to review the finance and other resource mobilization strategies as well as following up on the actualization of the available national, regional and global policies geared towards higher education transformation and ensuring of food security in Africa.
Speaking at the Opening Ceremony, Prof. Theresia Nkuo-Akenji, the RUFORUM Board Chair and Vice Chancellor University of Bamenda thanked His Excellence Paul Biya and the Government of Cameroon for accepting to host the 19th RUFORUM Annual General Meeting and equally appreciated the financial support towards the same cause.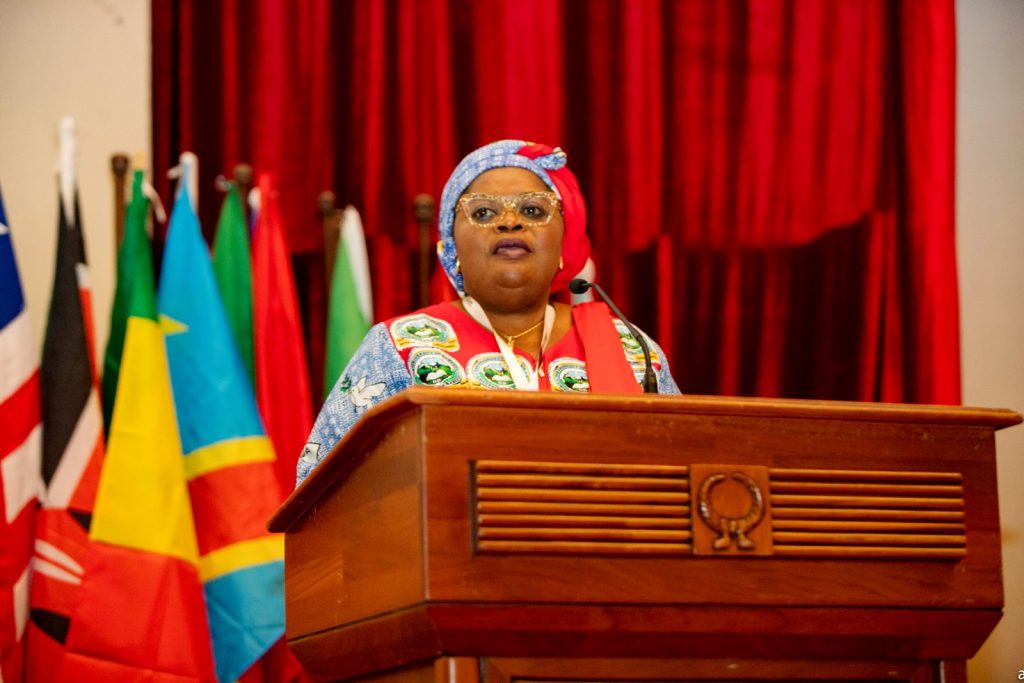 In a special way, Prof. Theresia Nkuo-Akenji thanked the Ministry of State for Higher education and all the sister ministries of Government of Cameroon that worked hard to see to it that the 19th RUFORUM AGM is a success. Equally, the Board Chair, extended her sincere gratitude to the people of Cameroon for the warm reception and support.
"My special tribute goes to the members of AGM 2023 Sub committees. You have indeed done a great job throughout the ten months of organizing this significant event. On behalf of RUFORUM Network, I thank you. To the RUFORUM Secretariat under the dynamic leadership of Prof. Patrick Okwori, accept our immense gratitude for your strong determination and dedication," she gratefully said.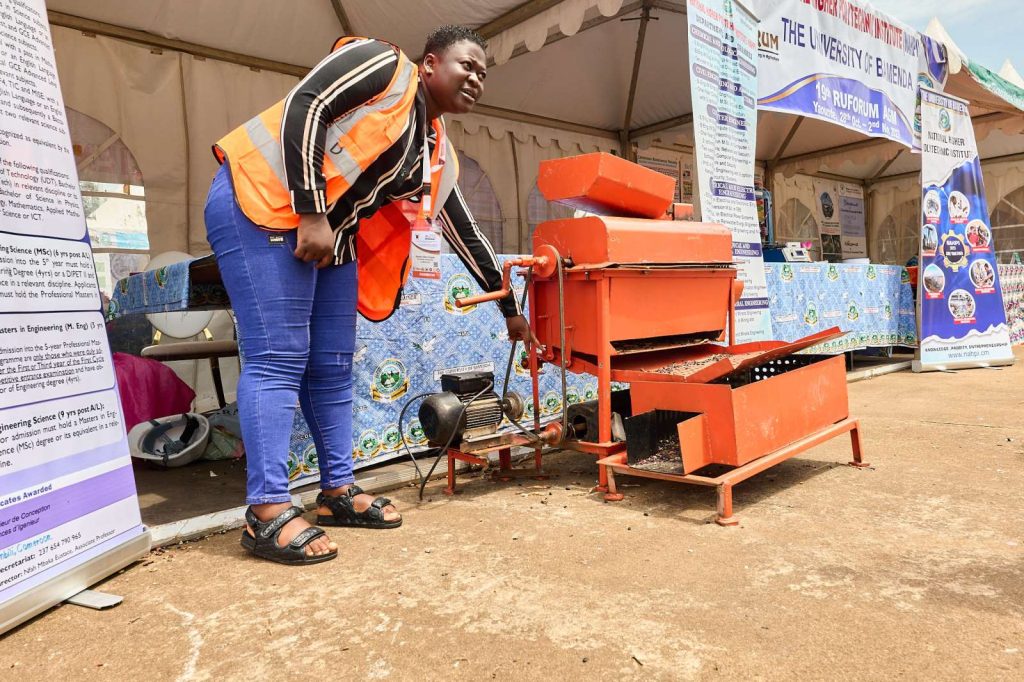 She recognized the tremendous achievements and developments aligned to RUFORUM's nineteen years (19) of existence noting that the strong network has wisely selected its priority areas of focus to transform higher education and agricultural sector in Africa as;
Reform the training agenda for Africa to meet the development needs
Entrepreneurship and business incubation for wealth creation
Research for Development and wealth creation
Partnerships for scale and impact
"As African people, permit me to use the adage of a broom; it is easy to break a single broom piece but when you combine several small brooms together they then make a broom stack that will not be easy to break. The collective power that RUFORUM has put together through 163 universities from across 40 countries bears such strength. The Vice Chancellors gathered here today remain committed to the core values and foundations of the network. To illustrate this Your Excellency, each of the Vice Chancellors meet their own costs of participation." She happy said.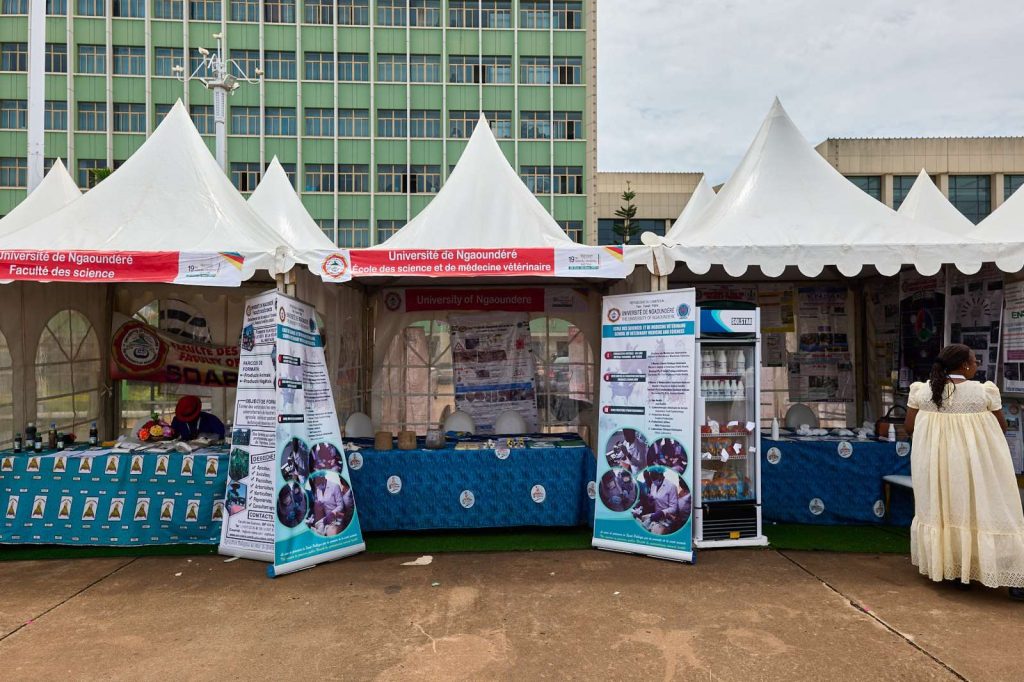 In the same spirit the RUFORUM Executive Secretary Prof. Patrick Okori deeply thanked the host Universities that is, University of Bamenda, University of Ngaoundere, University of Dschang, University of Buea and University of Maroua under the strong and able leadership of the RUFORUM Board Chair, Prof. Theresia Nkuo-Akenji for successfully hosting the 19th RUFORUM Annual General Meeting.
He also recognized the Former Vice Chancellor of University of Ngaoundere Prof. Florence Uphie Chinje Melo who heavily supported the AGM preparations. He was astonished with the presence of the Africa Development Bank, MasterCard Foundation, research international communities, RUFORUM for Agricultural Research in Africa, the Africa Forum for Agricultural Advisory Services, sub regional Agricultural organizations such as the Association for Strengthening Agricultural Research in Eastern and Central Africa (ASARECA), the Centre for Coordination of Agricultural Research and Development for Southern Africa (CCARDESA) and the West and Central African Council for Agricultural Research and Development (CORAF).
"You have all provided support for this engagement, thank you very much. Together we will continue this journey of transforming Africa's Agricultural and higher education to produce human resources and development solutions that Africa and indeed the world needs," he said.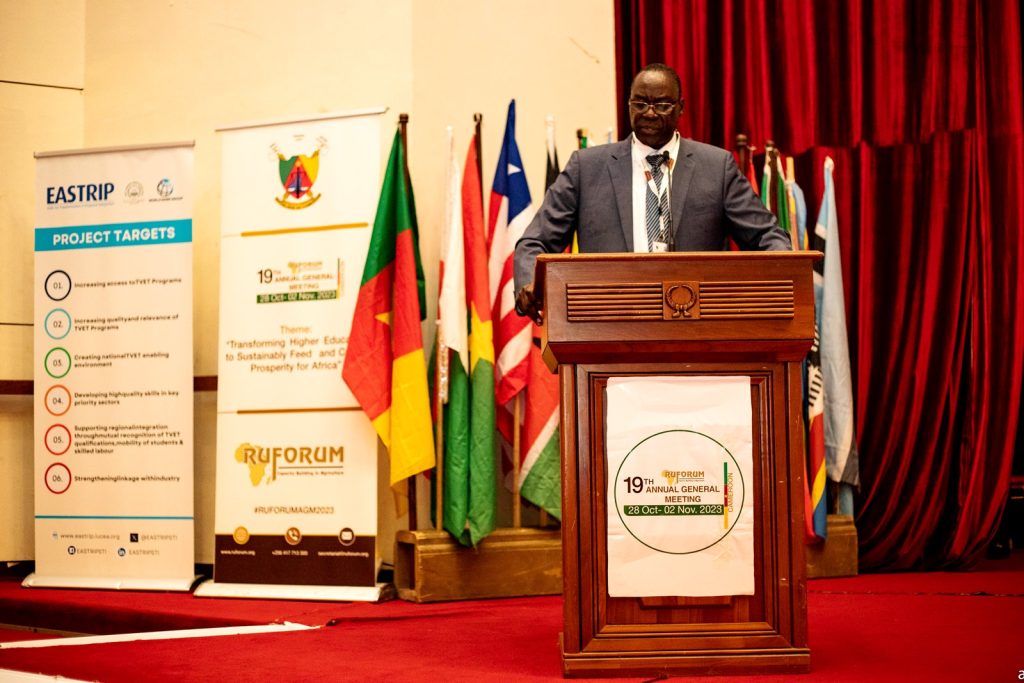 Reflecting on the AGM's theme, Prof. Okori emphasized the need for Africa to become food secure when he said, "Africa must be an equal opportunity creator for the young generation, it must create wealth for its people and provide opportunities for the present and future and these are well summarized in agenda 2063. It is our collective duty therefore to turn these opportunities and actions into investment."
According to him, the RUFORUM Network remains strong in building capacity and providing the necessary development solutions and opportunities. He noted that Africa generates about 10-12 million job entrants annually but the continent's economy in its current configuration can only produce 3 million jobs. To him, for Africa to therefore reap from its demographic dividends, there is need to strengthen the paths to demographic transition of keeping young girls in school.
Prof. Okori also mentioned that RUFORUM is currently intensifying its inclusion and diversity targets. From 45%, the network has an ambitious target of at least 70%. "We must slow the rate at which girls give birth when young. It is the only way we are going to benefit from our population dividend," he said.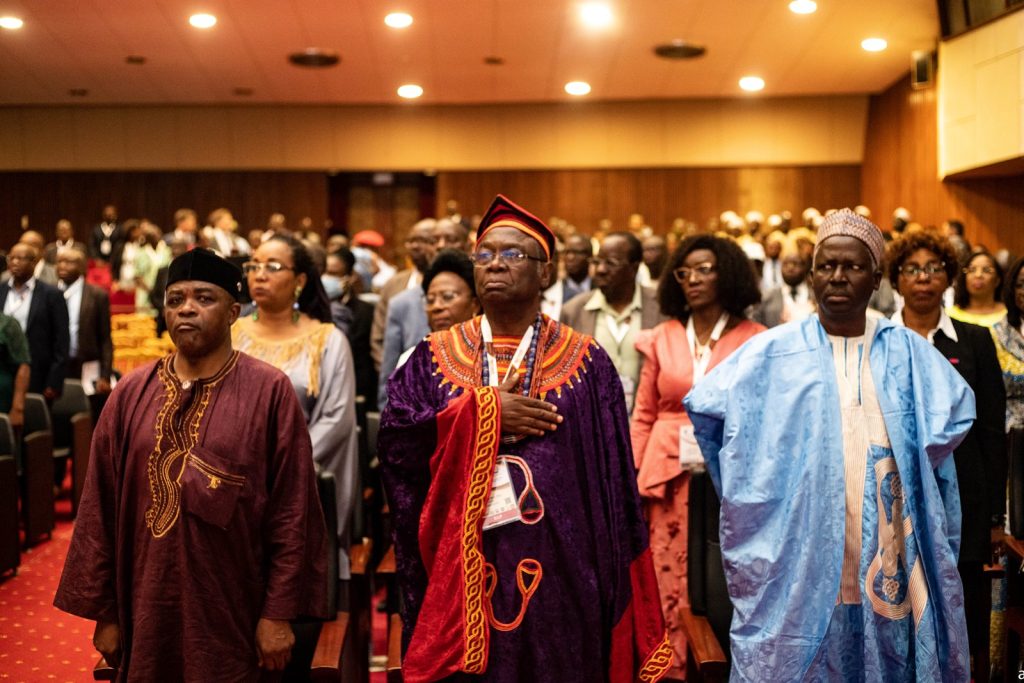 According to him, the higher degree needs for Africa is pretty dire. The World Bank recommends 10,000 PhDs to Africa. This can be compared to India whose signal population of 1. 4 billion registers 24000 PhDs a year. The pressure therefore on Africa's side to intensify graduate training is real.
"Our graduate training in sciences therefore is one of the drivers to achieve this and it is the immense reason as to why in this meeting we have social and development partners. We are launching a journey with the Africa Development Bank that will bring us together as apex organizations in Africa to work together and solve our own challenges. However, as we do all these, we need to celebrate Africa. We should be recognizing and celebrating people who made what Africa is today," he said.
Africa is informed by a number of important mutually interacting factors that collectively, are affecting the growth and progress of the continent. The economic outlook of the African continent in 2023 by the African Development Bank and other global apex development financial institutions was positive. However, Africa's economic growth has since then decelerated, and is now projected to be lower than the previously projected rate of 4.1%.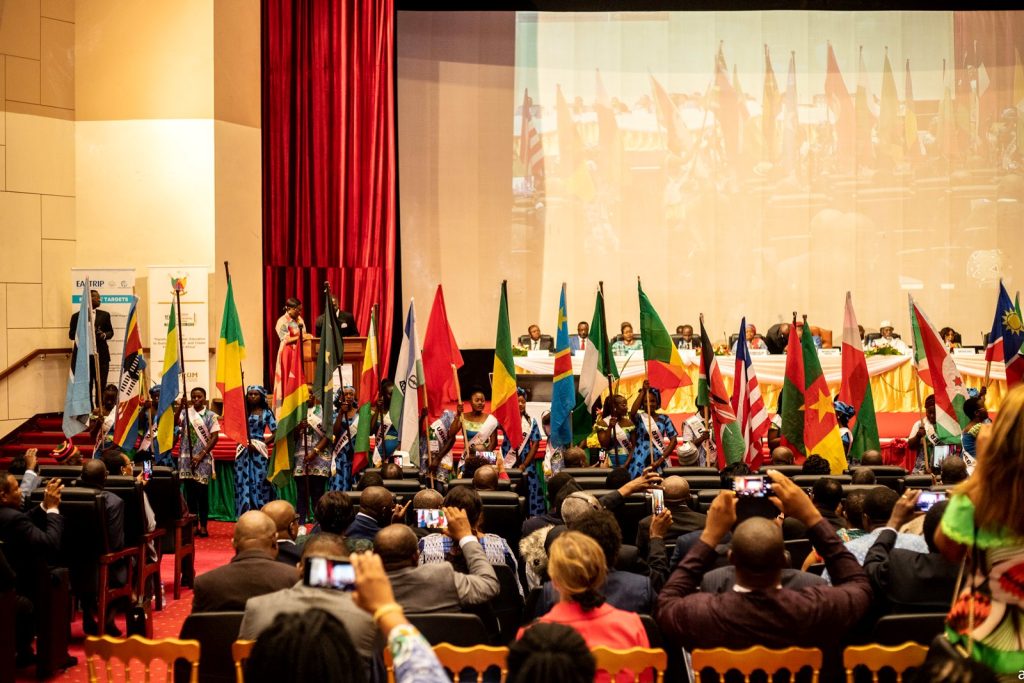 Agriculture a key sector, continues to be affected by both natural and human induced factors. It continues to face serious threats from climate. Studies by the United Nation's Convention to Combat Desertification show that Africa accounts for 44% of severe droughts recorded globally in the last 50 years, causing economic losses of more than USD 70 billion. In 2022, an estimated loss of US$ 8.5 billion in economic damages was experienced due to climate change. Clearly, climate change and weather variability, remains one of the grand challenges of the 21st century for Africa and the World, because it affects key livelihood and strategic areas of emerging economies.
Unemployment facing Africa's dominant demographic-the youth, raises questions about education, skilling and jobs creation while inclusion and diversity, the underpinning for an equal society, remains challenging. The question then to academia, researchers, development practitioners and policymakers is, "what step must we take right now to address the challenges to our current and future generations?"
"Our resounding response as RUFORUM is in line with what Malcolm X said many years ago, "Education and research for development are the passports to the future, for tomorrow belongs to those who prepare for it today," said Prof. Partick Okori.
According to the Deputy Minister for Education in Malawi, Her Excellence Mdooko Nancy Chawola who represented the visiting ministers of RUFORUM partner countries, African countries should put in place vibrant resource mobilization mechanisms to collectively finance Africa's education and support governments that are battling with competitive budgetary demands.
"For the universities to offer solutions for the challenges the continent is facing, there is need to rebuild the curriculum that responds to our current needs and not what we needed yesterday. Our respective countries are grappling with higher levels of unemployment, can investors assist by producing graduates with entrepreneurial skills so that they are able to employ themselves and others. Of course there will be need to put in place support mechanism for such graduates to take over," she said.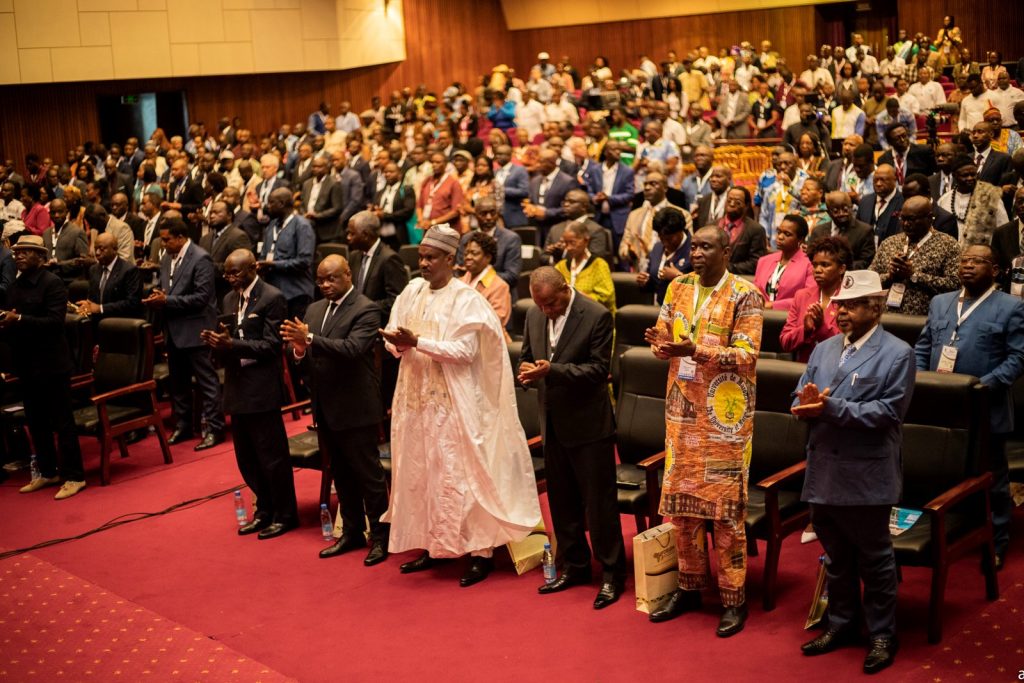 She equally acknowledged the national regulatory frameworks such as the Malawi Regulation Framework 2063 developed inline with the African Union Agenda 2063 the Africa we want, in which the continent aspires to be prosperous by 2063 through various means such as modernizing agricultural for increased production and productivity there by making people food secure.
She applauded RUFORUM's efforts towards zero hunger in Africa through its vision 2030. According to Mdooko Nancy Chawola, food security is supposed be prerogative as well highlighted in the Sustainable Development Goal 2 (SDG 2) that is geared towards ending hunger, attaining food security, improving nutrition and promoting sustainable development.
In Cameroon, Agriculture and Education have been prioritized as drivers for economic growth and transformation. Through an agricultural flagship program initiated by His Excellence Paul Biya, science programmes and financial services as well as favorable ways of accessing market have been introduced in the country with the aim of transforming agricultural sector into a value added industrialized and integrated system engine of economic growth.
According to Prof. Ngomo Horace Manga- Vice Chancellor, University Buea, the government of Cameroon has resolved to grant its people with education that can help them manage their personal, national and Africa's present and future economic destiny. In 2022, His excellence Paul Biya endorsed the recruitment process of 2000 lecturers in universities to ensure the quality of higher education in Cameroon.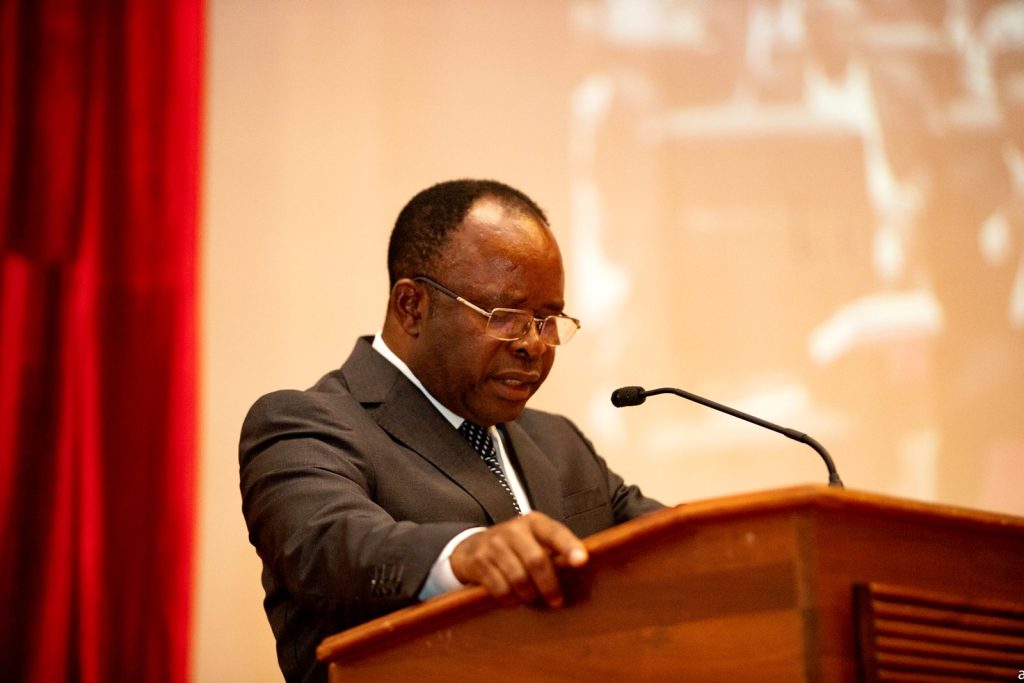 "Collectively these education reforms and investment actions affordably can transform the people of Cameroon into a strong emerging market. Cameroon carries the highest science female adoptive rate in sub-Saharan Africa at 73%. This is a strong result of government delivery of United Nations SDG 5 of achieving education and build human capital for the country," he noted.
The Opening Ceremony for the 19th RUFORUM Annual General Meeting unlocked the floor for critical discussions and meetings throughout the week. At the same function, RUFORUM presented a contemporary painting to His Excellence Paul Biya, President of the United Republic of Cameroon in recognition of his outstanding, selfless and patriotic services s to the people of Cameroon and Africa at large.
On 25th October 2023, the RUFORUM Network equally participated in the Cameroon Higher Education Day, the first of its kind in the country.
2nd Issue of Mak-Research & Innovations Fund Bulletin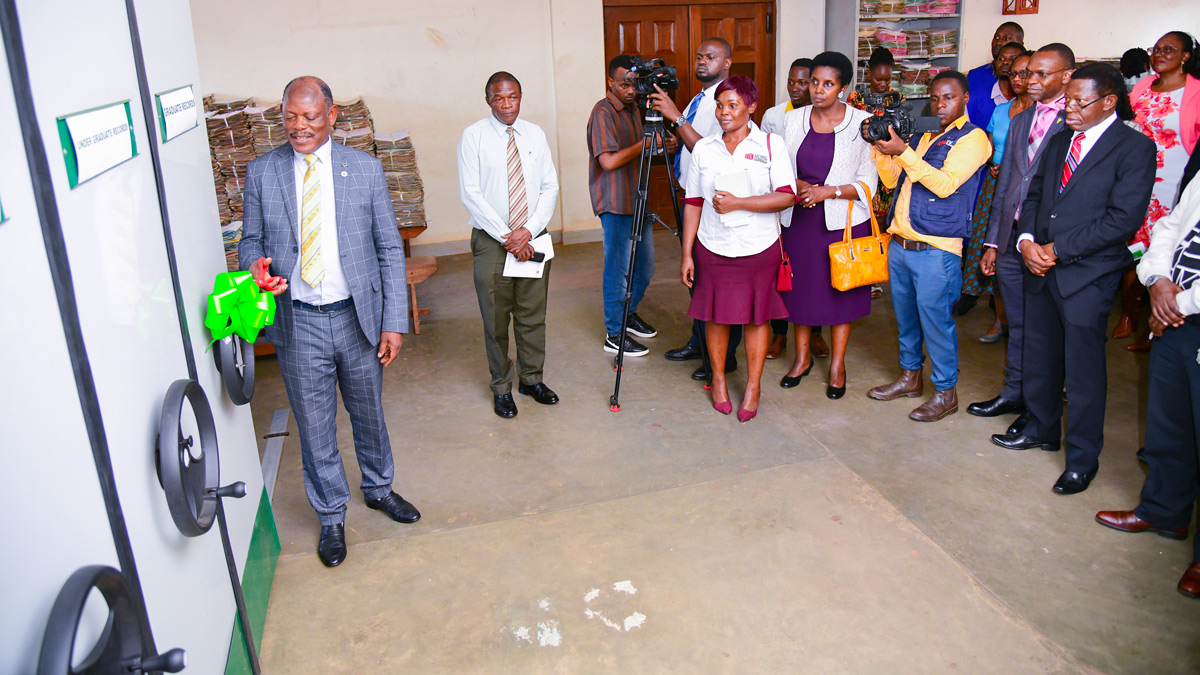 Welcome to the 2nd Issue of the Mak-RIF Bulletin. Makerere University has continued to receive funding from the Government of the Republic of Uganda, earmarked to support faculty members to conduct high impact Research and Innovations that contribute to national development.
In this issue of our Bulletin, we share about how the Mak- RIF Research Agenda and themes highlighted there in are guiding and contributing to our operations, awards made in the past financial years, a highlight of the research achievements, impact to-date, and a flash back to some of the fund activities among others.
Dates for 74th Graduation Ceremony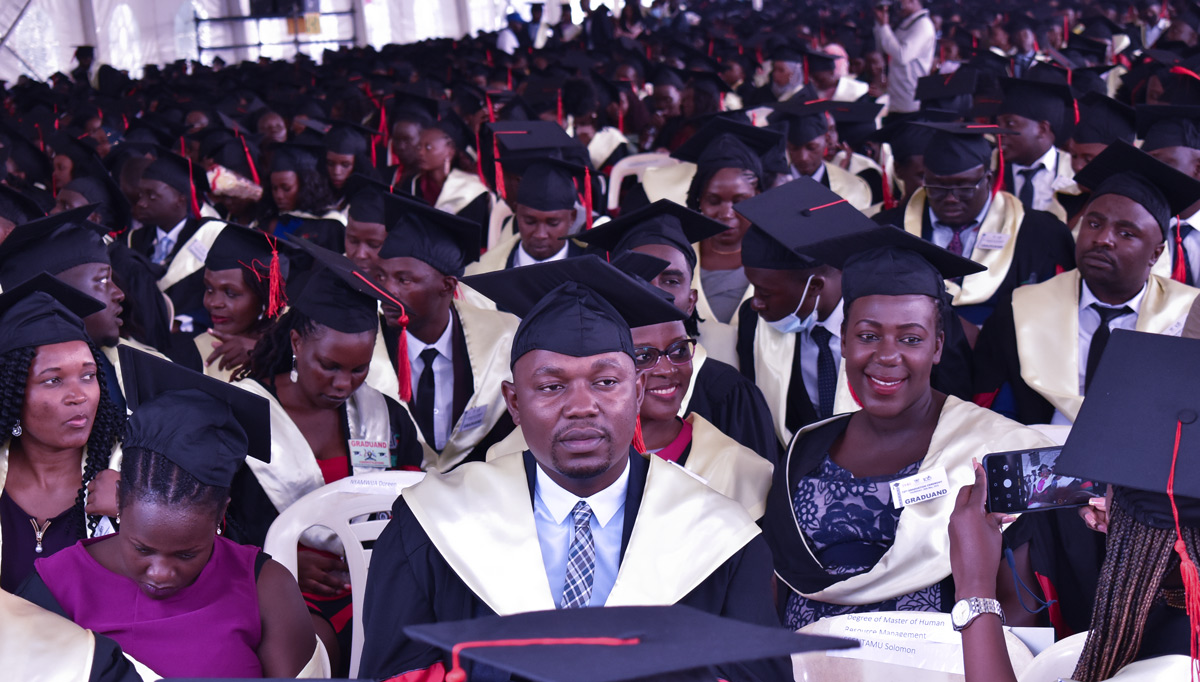 The Academic Registrar wishes to inform the public that the 74th Graduation ceremony will be held from Monday 22nd to Friday 26th January 2024.
DATES FOR THE DIFFERENT COLLEGES/SCHOOLS
DATE: MONDAY, 22nd JANUARY, 2024
College of Natural Sciences (CONAS)
College of Health Sciences (CHS)
School of Law (SOL)
DATE: TUESDAY, 23rd JANUARY, 2024
College of Education and External Studies (CEES)
College of Agricultural and Environmental Sciences (CAES)
DATE: WEDNESDAY, 24th JANUARY, 2024
College of Business and Management Sciences (COBAMS)
College of Computing and Information Sciences (COCIS)
College of Veterinary Medicine, Animal Resources and Bio-Security (COVAB)
DATE: THURSDAY, 25th JANUARY, 2024
Makerere University Business School (MUBS)
DATE: FRIDAY, 26th JANUARY, 2024
College of Engineering, Design, Art and Technology (CEDAT)
College of Humanities and Social Sciences (CHUSS)
Signed
Prof. Buyinza Mukadasi
ACADEMIC REGISTRAR
#74thMakGrad