VC Statement to The Press: Tuesday 21st April 2020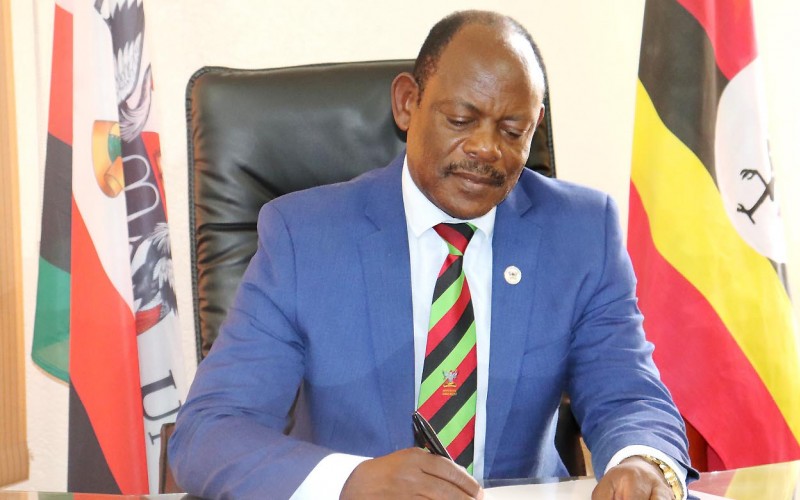 Good morning members of the Press.
I welcome you all to this press conference conducted via Zoom in response to the COVID-19 lockdown. I hope you are all observing the guidelines given by the World Health Organisation and different Government Departments and Agencies to stay safe. Obviously it is difficult to convince you members of the press to stay home, but please do everything possible to stay safe. There have been many questions regarding the role of universities in the fight against COVID-19. Today we want to share with you what Makerere University is doing about COVID-19.
Makerere University was closed on 20th March 2020 following a presidential directive in light of the COVID-19 pandemic. All students and staff were sent home immediately, except very few international students, who failed to get means of going home, whom we are looking after on campus.
Makerere University has a long tradition of responding to health emergencies and epidemics. We were at theforefront of the response to HIV/Aids and Ebola and our contribution in both cases is known the world over. We have built enormous capacity at our College of Health sciences to respond to emerging diseases, including the COVID-19 pandemic. Our 350 members of staff at the College of Health Sciences work very closely with the Ministry of Health.All of these continue to offer critical services to non-COVID illnesses, COVID19 national task force, clinical management for patients with COVID 19, as well as clinical research on the evolving clinical presentations of the COVID19 disease.
RESPONSE TO COVID-19
In Uganda, the first case of COVID was reported on 21stMarch 2020 and the numbers have since grown to 55 within one month. The Minister of Health established a 17-member multidisciplinaryscientific advisory committee composed of experienced public health, clinical, biomedical, social andbehavioural scientists to advise the Ministry on the overall strategy to ensure an evidence-based strategy and implementation of the COVID response in Uganda. The majority of the members of thiscommittee are from Makerere University. The committee has extensively reviewed the globalliterature to inform the Ugandan policy and has also similarly assembled high priority evidence gapsfor which local data is needed to urgently inform the improvements in the COVID prevention and management in Uganda. The questions and priority interventions include development of new rapidtest diagnostics, to alleviate the anticipated severe shortage of test kits, which has been a majorchallenge globally. Other questions include tracking of the immunological response in relation to new treatment options based on plasma for COVID patients who have recovered as well as development of HERD Immunity to protect the communities from future resurgence of COVID.
Other questionsrevolve around enhanced treatments to reduce the severity of COVID disease and the need for moresophisticated intensive care, given the limited intensive care capacity in Uganda and the African region. The team has also identified the need to explore the socio-economic and health systemimpact of COVID in Uganda, to inform broader mitigation strategies. Below is a list of the priorityquestions:
Development of a rapid diagnostic test for CoVID19
Validation of other non-WHO accredited tests for CoVID19
Studies of HERD immunity/Immune response andimplications for future prevention of COVID recurrence as well as clinical management
Chloroquine/Hydroxychloroquine and other treatments
Modelling of COVID19 epidemic in Uganda to inform planning and intervention mix over time
Environmental sampling for public health risk evaluation
Supporting the NIH biobank to acquire and store biological specimen for CoVID19
Tracking health service utilization and COVID19 impacton health systems
Sequencing of the SARS-CoV2 isolates among Ugandan CoVID19 patients
Duration of viral shedding and Infectivity following recovery
Effect of the Uganda COVID-19 treatment protocol on outcomes and associated factors
Chloroquine for Prevention of Coronavirus Disease (COVID-19) amongst healthcare workersinvolved in COVID patient care
Hydroxychloroquine vs Chloroquine for Post Exposure Prophylaxis for Coronavirus Disease(COVID-19) amongst Ugandans exposed couple with viral loads.
Efficacy and Safety of Corticosteroids in severe COVID-19 related pneumonia
Hydroxychloroquine/AzithromAzithromycin vs Chloroquine alone for Treatment for Severe COVID-19 Pulmonary Infection.
OTHER RESPONSES/INNOVATIONS
Makerere University researchers have responded to the COVID-19 pandemic with innovations to address the challenges I have mentioned above. The innovations include the following:
A rapid testing kit under development by a team led by Dr. MisakiWayengera. This kit should enable rapid testing for coronavirus and considerably lower the cost of testing currently standing at USD 65, which is obviously prohibitive for developing countries like Uganda.
The problem
Diagnosis is a key strategy in pandemic control, enabling early detection of those infection and their isolation for treatment
In the context of the on-going COVID19 pandemic, diagnosis has been problematic due to the global scarcity of the existing WHO approved test kits
Moreover, the existing WHO approved kits for CoVID19 are premised on RT-PCR—detecting viral RNA. RT-PCR is itself an expensive platform (costing over US$65 per kit), requires a laboratory, demands technical expertise, and takes long (4-6 hours) to yield results.
Thus, it is not amenable for point of care (POC) deployment in remote equatorial African settings, most without laboratory capacity
What we are doing
Our group at MakCHS has over the past 15 years build extensive expertise, experience and eco-systems across the academia, industry and public private partnerships for R & D of pathogen diagnostics
We are developing an affordable (costing < US$1), easy to use (requiring minimal expertise, user guide), rapid (yielding results within 2-5 minutes) POC test platform for COVID19 suited for use within remote equatorial African settings
The swab-tube dipstick agglutination (STDS-AgX) SARS-CoV2 antigen test will utilize the nasopharyngeal sample collection swab, which is placed back into its tube containing reagents that detect the virus surface protein. On shaking, a positive result will be visualized as formation of particles (equivalent to what is seen when clear milk, goes bad)
In addition, we shall develop two lateral flow test (LFT) platforms for detecting host-specific antibody responses against CoVID19 (IgM and IgG)
Use cases
Detection of COVID19 cases within epidemic/pandemic settings (STDS-AgX COVID19 Ag test)
Screening of travelers for COVID19 (either STDS-AgX COVID19 Ag test or IgM LFA)
Detection of asymptomatic COVID19 (STDS-AgX COVID Ag test and IgM LFA)
Sero-prevalence studies to determine previous exposure (IgG LFA)
Potential impact:
These home-grown assay platforms will enable Uganda and other African settings cost-effectively respond to the COVID19 pandemic. This particularly as the pandemic enters the exponential phase in many countries when many cases will emerge, and yet tests are scarce on the global scene
Time-lines
Antibody (IgM and IgG) LFA (end of May, 2020)
1st STDS-AgX COVID19 (June 2020)
The Epidemic Management Tent (EpiTent) developed by a team from the Resilient Africa Network (RAN), a project involving 16 universities in 11 african countries based in the School of Public Health and coordinated by Prof. Bazeyo. The EpiTent is used for isolation of patients with severe communicable diseases like Ebola and COVID-19 and it is approved by the USAID and the WHO;
Development of a low-cost ventilator by a team involving researchers from the Resilient Africa Network, College of Engineering and Technology, College of Health Sciences and engineers from Kiira Motors Corporation. The team successfully conducted an engineering test of the ventilator on 10th April 2020 and it is now undergoing various validation tests before applying to the National Drug Authority and other certifying agencies for use on patients. The ventilator will considerably lower the cost of this very important facility from the current cost on the open international market, which ranges between USD 25,000 and 60,000. Development of the ventilator, which will cost approximately USD 5,000 is expected to be completed in the next four to eight weeks;
Makerere University Health Services with support from Case Western Reserve University has built capacity to perform PCR based (molecular) tests for COVID-19. They will be able to conduct 40,000 tests and they are finalizing the details for implementation;
Makerere University is partnering with several local and international research institutions and universities in the search for solutions to the COVID-19 pandemic.
RESPONSES BY OTHER DISCIPLINES
Faculty from the Colleges of Health Sciences and Engineering, design, Art and Technology are at the forefront of responding to the pandemic. However, faculty from other disciplines are making a contribution too. Several of these faculty are making a contribution to raising awareness among the community and providing correct information where fake news has raised alarms like in the case of the claim that COVID-19 is caused by the 5G Technology. Management of a pandemic like COVID-19 cannot be achieved by health science alone, societal behavior is key, hence the role of humanities and social sciences and I am glad that faulty at Makerere University from various disciplines are making their contribution.
CONCLUSION
Let me end my remarks by thanking our faculty from the College of Health Sciences, who have joined the rest of the health workers in Uganda at the frontline in fighting the spread of COVID-19 disease. I also thank all our scientists who are looking for local solutions to the pandemic and we are glad to share any research results with the international community. Makerere is committed to contributing to knowledge creation and innovations for the good of humanity. We will continue along this path because this is what makes us a truly global university. I thank all of you members of the press for joining this conference. We will now take some questions, which our researchers will be happy to answer.
4th Call For Applications: MURBS Departmental Ambassadors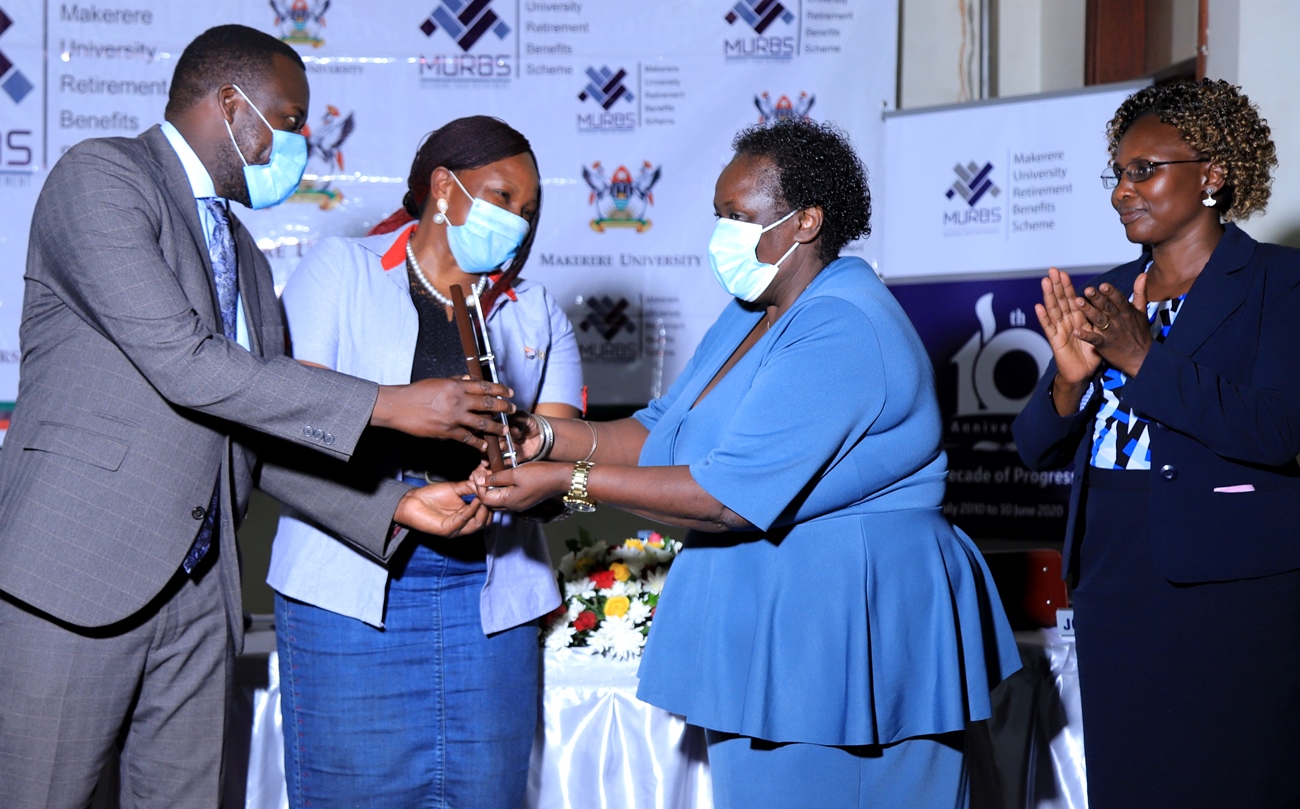 In February 2018, the Makerere University Retirement Benefits Scheme (MURBS) launched the Departmental Ambassadors Programme. MURBS hopes to use this Ambassadors Programme to engage more directly with its membership and enhance member education. MURBS further perceives this Programme as a means to mitigate succession planning risks.
MURBS Fund Value continues to grow, and as at 31st March 2021, it stood at Ushs 235.5bn as compared to Ushs 209.6bn as at 30th June 2020. Given this growth, there is increased need for prospective Trustees, who are well equipped with relevant knowledge and skills, and with practical exposure to the management and governance of MURBS.
Eligibility
Must be employed by the University on permanent terms
Must be an Active Member of the Scheme (currently contributing to the Scheme) and appear on the Official Register of the MURBS Active Membership as at 30th April 2021.
Must be willing to commit time to trainings and other ambassadorial activities organised by the Scheme.
Mode of training for 4th Cohort of Ambassadors
Training for this (4th) Cohort of Ambassadors is envisaged to be conducted over the zoom online platform only, due to Covid-19 restrictions. The Scheme does not envisage any face-to-face interactions.
Tenure of Office & Termination or Withdrawal
There is no tenure of office for the Departmental Ambassador. As long as a member is willing to continue serving as an Ambassador, and the Ambassador continues to satisfy the eligibility criteria above, she or he will remain a MURBS Ambassador.
How to Apply
Interested members should complete the MURBS Departmental Ambassador Application Form 01-0218. The completed Form together with the requested attachments should be sent to info[at]murbs.mak.ac.ug and copy to wilber.naigambi[at]mak.ac.ug no later than 5:00 p.m. on Monday, 14th June 2021. We discourage hand delivery of applications.
Confirmation/Approval Process
MURBS shall acknowledge receipt of each application received within 12 hours and will respond to the applicants to confirm the status of their application in writing (by e-mail). Upon approval of the application, the name of the approved Ambassador together with the Department and School/Unit will be updated on the list of the MURBS Departmental Ambassadors in the Group 4 category and published on the MURBS website.
NOTE: There is no limit as to the number of ambassadors that MURBS can have in a department.
Please see Downloads for the detailed call and application form.
Chair Council Communication on Closure of Makerere University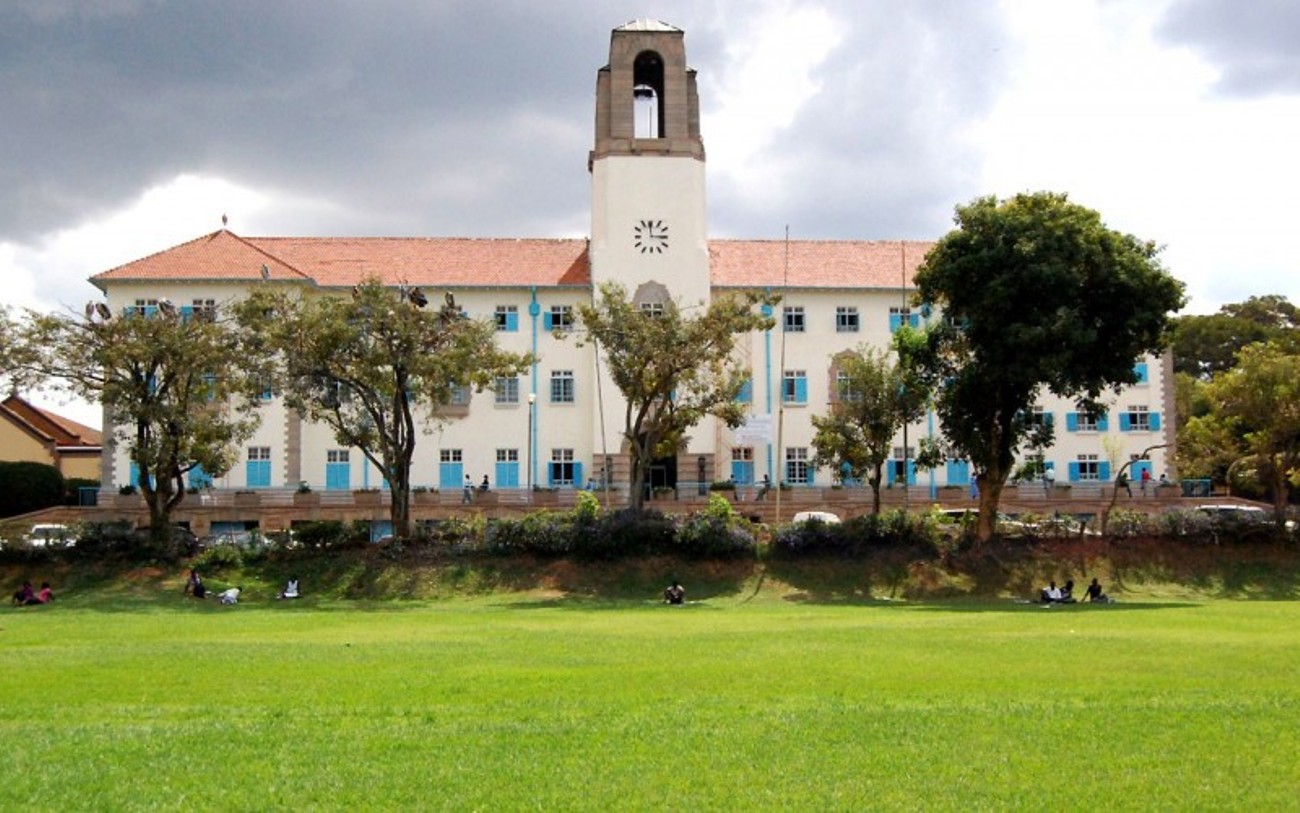 7th June 2021
All Members of Staff
All Students and Stakeholders
Makerere University
RE: CLOSURE OF MAKERERE UNIVERSITY
Following the address to the Nation by H.E. Yoweri Kaguta Museveni, President of Uganda, on 6th June 2021, this is to inform you that the University will be closed with effect from today 7th June 2021 for 42days.
During the closure, the University shall observe a 30% physical presence of staff while other faculty and administrative staff shall continue to work online.
Management will inform staff and students on the implementation of teaching, learning, and research activities online. Construction activities shall continue as per the President's directives and with strict adherence to the COVID-19 SOPs.
Yours sincerely,
Lorna Magara (Mrs.)
Chairperson, Makerere University Council
RUFORUM: Transforming Higher Education Videos and Links