VC Statement to The Press: Tuesday 21st April 2020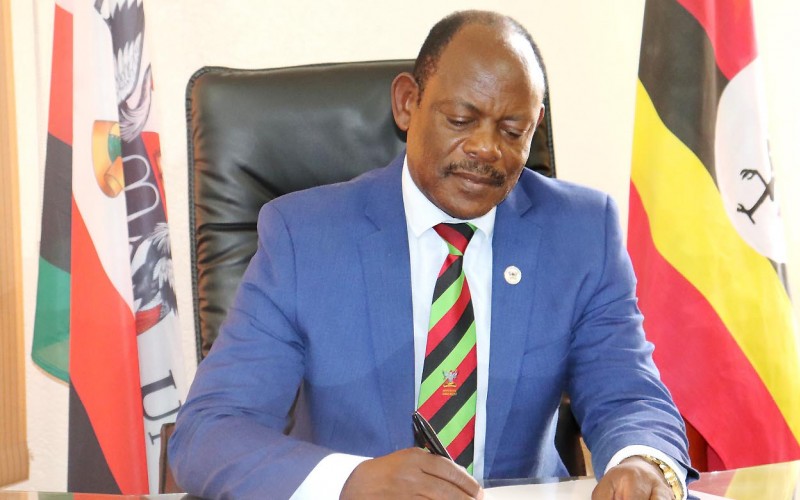 Good morning members of the Press.
I welcome you all to this press conference conducted via Zoom in response to the COVID-19 lockdown. I hope you are all observing the guidelines given by the World Health Organisation and different Government Departments and Agencies to stay safe. Obviously it is difficult to convince you members of the press to stay home, but please do everything possible to stay safe. There have been many questions regarding the role of universities in the fight against COVID-19. Today we want to share with you what Makerere University is doing about COVID-19.
Makerere University was closed on 20th March 2020 following a presidential directive in light of the COVID-19 pandemic. All students and staff were sent home immediately, except very few international students, who failed to get means of going home, whom we are looking after on campus.
Makerere University has a long tradition of responding to health emergencies and epidemics. We were at theforefront of the response to HIV/Aids and Ebola and our contribution in both cases is known the world over. We have built enormous capacity at our College of Health sciences to respond to emerging diseases, including the COVID-19 pandemic. Our 350 members of staff at the College of Health Sciences work very closely with the Ministry of Health.All of these continue to offer critical services to non-COVID illnesses, COVID19 national task force, clinical management for patients with COVID 19, as well as clinical research on the evolving clinical presentations of the COVID19 disease.
RESPONSE TO COVID-19
In Uganda, the first case of COVID was reported on 21stMarch 2020 and the numbers have since grown to 55 within one month. The Minister of Health established a 17-member multidisciplinaryscientific advisory committee composed of experienced public health, clinical, biomedical, social andbehavioural scientists to advise the Ministry on the overall strategy to ensure an evidence-based strategy and implementation of the COVID response in Uganda. The majority of the members of thiscommittee are from Makerere University. The committee has extensively reviewed the globalliterature to inform the Ugandan policy and has also similarly assembled high priority evidence gapsfor which local data is needed to urgently inform the improvements in the COVID prevention and management in Uganda. The questions and priority interventions include development of new rapidtest diagnostics, to alleviate the anticipated severe shortage of test kits, which has been a majorchallenge globally. Other questions include tracking of the immunological response in relation to new treatment options based on plasma for COVID patients who have recovered as well as development of HERD Immunity to protect the communities from future resurgence of COVID.
Other questionsrevolve around enhanced treatments to reduce the severity of COVID disease and the need for moresophisticated intensive care, given the limited intensive care capacity in Uganda and the African region. The team has also identified the need to explore the socio-economic and health systemimpact of COVID in Uganda, to inform broader mitigation strategies. Below is a list of the priorityquestions:
Development of a rapid diagnostic test for CoVID19
Validation of other non-WHO accredited tests for CoVID19
Studies of HERD immunity/Immune response andimplications for future prevention of COVID recurrence as well as clinical management
Chloroquine/Hydroxychloroquine and other treatments
Modelling of COVID19 epidemic in Uganda to inform planning and intervention mix over time
Environmental sampling for public health risk evaluation
Supporting the NIH biobank to acquire and store biological specimen for CoVID19
Tracking health service utilization and COVID19 impacton health systems
Sequencing of the SARS-CoV2 isolates among Ugandan CoVID19 patients
Duration of viral shedding and Infectivity following recovery
Effect of the Uganda COVID-19 treatment protocol on outcomes and associated factors
Chloroquine for Prevention of Coronavirus Disease (COVID-19) amongst healthcare workersinvolved in COVID patient care
Hydroxychloroquine vs Chloroquine for Post Exposure Prophylaxis for Coronavirus Disease(COVID-19) amongst Ugandans exposed couple with viral loads.
Efficacy and Safety of Corticosteroids in severe COVID-19 related pneumonia
Hydroxychloroquine/AzithromAzithromycin vs Chloroquine alone for Treatment for Severe COVID-19 Pulmonary Infection.
OTHER RESPONSES/INNOVATIONS
Makerere University researchers have responded to the COVID-19 pandemic with innovations to address the challenges I have mentioned above. The innovations include the following:
A rapid testing kit under development by a team led by Dr. MisakiWayengera. This kit should enable rapid testing for coronavirus and considerably lower the cost of testing currently standing at USD 65, which is obviously prohibitive for developing countries like Uganda.
The problem
Diagnosis is a key strategy in pandemic control, enabling early detection of those infection and their isolation for treatment
In the context of the on-going COVID19 pandemic, diagnosis has been problematic due to the global scarcity of the existing WHO approved test kits
Moreover, the existing WHO approved kits for CoVID19 are premised on RT-PCR—detecting viral RNA. RT-PCR is itself an expensive platform (costing over US$65 per kit), requires a laboratory, demands technical expertise, and takes long (4-6 hours) to yield results.
Thus, it is not amenable for point of care (POC) deployment in remote equatorial African settings, most without laboratory capacity
What we are doing
Our group at MakCHS has over the past 15 years build extensive expertise, experience and eco-systems across the academia, industry and public private partnerships for R & D of pathogen diagnostics
We are developing an affordable (costing < US$1), easy to use (requiring minimal expertise, user guide), rapid (yielding results within 2-5 minutes) POC test platform for COVID19 suited for use within remote equatorial African settings
The swab-tube dipstick agglutination (STDS-AgX) SARS-CoV2 antigen test will utilize the nasopharyngeal sample collection swab, which is placed back into its tube containing reagents that detect the virus surface protein. On shaking, a positive result will be visualized as formation of particles (equivalent to what is seen when clear milk, goes bad)
In addition, we shall develop two lateral flow test (LFT) platforms for detecting host-specific antibody responses against CoVID19 (IgM and IgG)
Use cases
Detection of COVID19 cases within epidemic/pandemic settings (STDS-AgX COVID19 Ag test)
Screening of travelers for COVID19 (either STDS-AgX COVID19 Ag test or IgM LFA)
Detection of asymptomatic COVID19 (STDS-AgX COVID Ag test and IgM LFA)
Sero-prevalence studies to determine previous exposure (IgG LFA)
Potential impact:
These home-grown assay platforms will enable Uganda and other African settings cost-effectively respond to the COVID19 pandemic. This particularly as the pandemic enters the exponential phase in many countries when many cases will emerge, and yet tests are scarce on the global scene
Time-lines
Antibody (IgM and IgG) LFA (end of May, 2020)
1st STDS-AgX COVID19 (June 2020)
The Epidemic Management Tent (EpiTent) developed by a team from the Resilient Africa Network (RAN), a project involving 16 universities in 11 african countries based in the School of Public Health and coordinated by Prof. Bazeyo. The EpiTent is used for isolation of patients with severe communicable diseases like Ebola and COVID-19 and it is approved by the USAID and the WHO;
Development of a low-cost ventilator by a team involving researchers from the Resilient Africa Network, College of Engineering and Technology, College of Health Sciences and engineers from Kiira Motors Corporation. The team successfully conducted an engineering test of the ventilator on 10th April 2020 and it is now undergoing various validation tests before applying to the National Drug Authority and other certifying agencies for use on patients. The ventilator will considerably lower the cost of this very important facility from the current cost on the open international market, which ranges between USD 25,000 and 60,000. Development of the ventilator, which will cost approximately USD 5,000 is expected to be completed in the next four to eight weeks;
Makerere University Health Services with support from Case Western Reserve University has built capacity to perform PCR based (molecular) tests for COVID-19. They will be able to conduct 40,000 tests and they are finalizing the details for implementation;
Makerere University is partnering with several local and international research institutions and universities in the search for solutions to the COVID-19 pandemic.
RESPONSES BY OTHER DISCIPLINES
Faculty from the Colleges of Health Sciences and Engineering, design, Art and Technology are at the forefront of responding to the pandemic. However, faculty from other disciplines are making a contribution too. Several of these faculty are making a contribution to raising awareness among the community and providing correct information where fake news has raised alarms like in the case of the claim that COVID-19 is caused by the 5G Technology. Management of a pandemic like COVID-19 cannot be achieved by health science alone, societal behavior is key, hence the role of humanities and social sciences and I am glad that faulty at Makerere University from various disciplines are making their contribution.
CONCLUSION
Let me end my remarks by thanking our faculty from the College of Health Sciences, who have joined the rest of the health workers in Uganda at the frontline in fighting the spread of COVID-19 disease. I also thank all our scientists who are looking for local solutions to the pandemic and we are glad to share any research results with the international community. Makerere is committed to contributing to knowledge creation and innovations for the good of humanity. We will continue along this path because this is what makes us a truly global university. I thank all of you members of the press for joining this conference. We will now take some questions, which our researchers will be happy to answer.
Uganda's policymakers implored to address forest loss, plastic & water pollution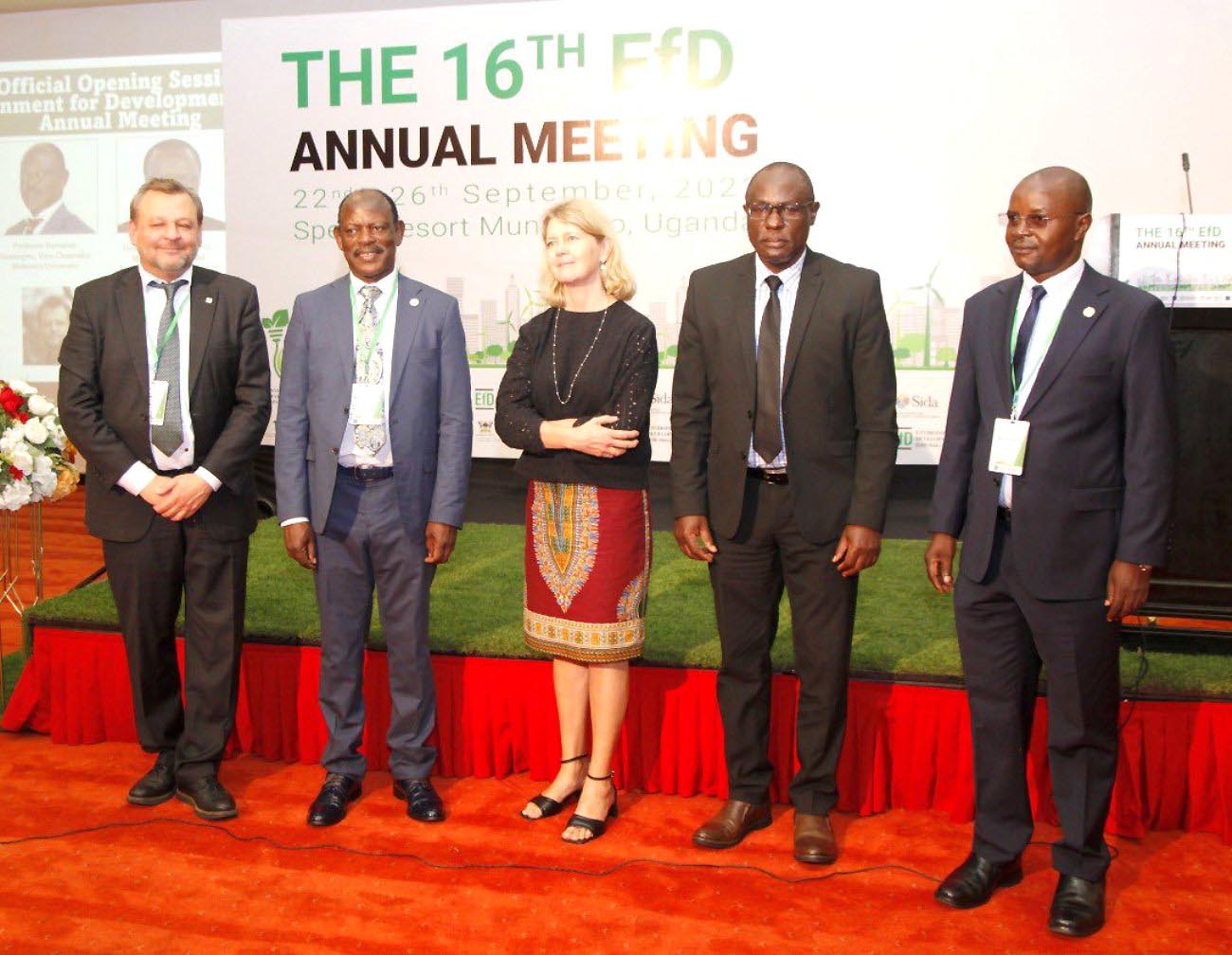 The Vice Chancellor Professor Barnabas Nawangwe on Thursday 22nd September, 2022 participated in the opening of the EfD Annual meeting hosted by Makerere University at Speke Resort Munyonyo where he appealed to government to implement the ban on kaveera and address other environmental issues.
The opening ceremony moderated by the EfD Global Hub Manager Gunnar Köhlin and was graced by Uganda's Minister for Water and Environment represented by the Commissioner for Water, Mr. Julius Mafumbo and the Swedish Ambassador to Uganda, H.E. Maria Håkansson.
Prof. Nawangwe urges Makerere University community to support the Mastercard Foundation E-learning Initiative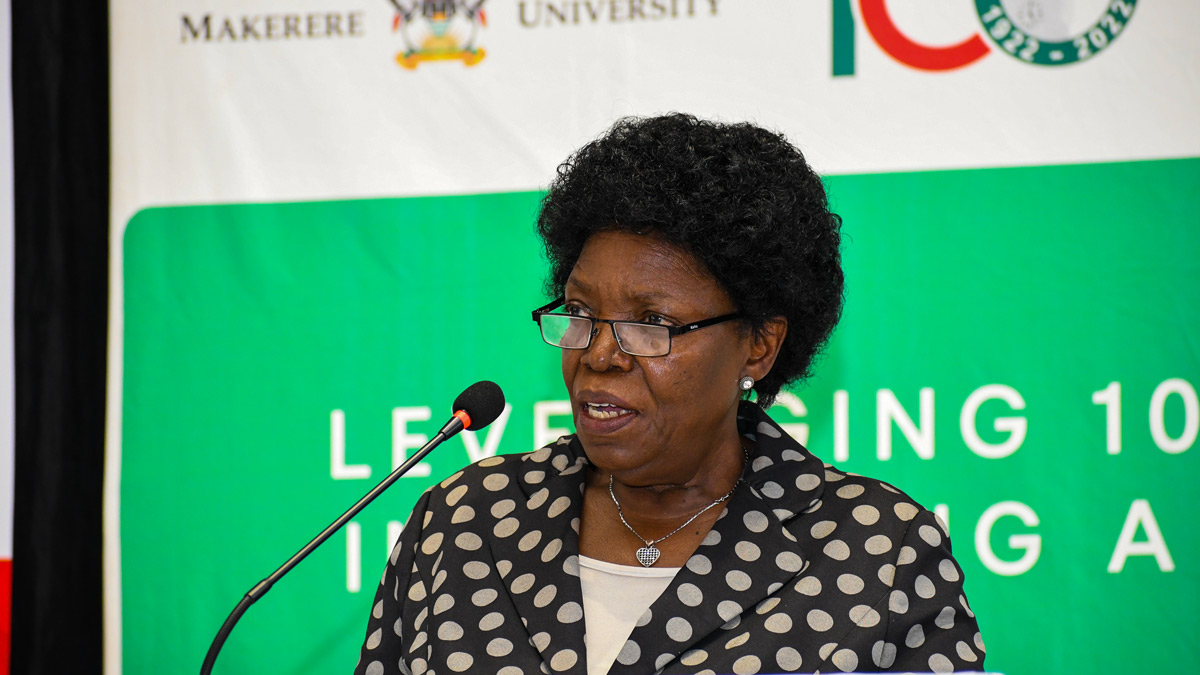 By Bernard Buteera
Makerere University has launched a two million dollar E-learning Project, dubbed The Mastercard Foundation Scholars Program E-learning initiative.  
The launch was held on Tuesday 20th September 2022 at Makerere University, Yusuf Lule Central Teaching Facility Auditorium. It attracted over 200 participants, who included members of University Management, College Principals, School Deans, Academic and Administrative staff, students and the general university community.
While addressing the gathering, the Chief Guest, Prof. Mary Okwakol, the Executive Director of National Council for Higher Education (NCHE), congratulated Makerere University for winning such a huge grant, which will go a long way in transforming the eLearning infrastructure at Makerere University.
"I am happy to be joining you in launching a project that is at the heart of National Council for Higher Education. Online learning is at the heart of the Council, not only because of the challenges presented by the Covid-19 pandemic, but also the world is now a digital world." Prof. Okwakol remarked.
Prof. Okwakol thanked Mastercard Foundation and other development partners who have continued to support initiatives that help transform higher institutions of learning in Uganda.
"I sincerely thank the Mastercard Foundation and other partners who have continued to support higher education in Uganda, especially in the area of research and online learning. Globally, the outbreak of the COVID-19 pandemic, greatly disrupted education systems forcing learners and some schools to shift to virtual learning to curb the spread of the pandemic." Prof. Okwakol pointed out.
On his part, the Vice Chancellor, Prof. Barnabas Nawangwe urged the university community, especially the academic staff to take advantage of the Mastercard Foundation E-learning initiative to develop e-content across all Colleges of the University, to enhance capacity for eLearning at Makerere University.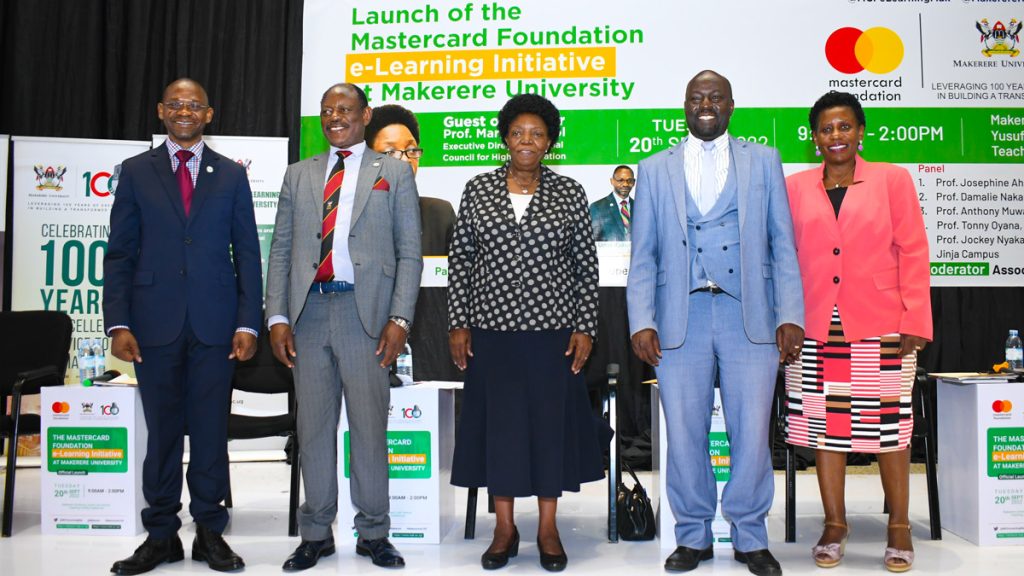 "I appeal to the Colleges to embrace this project and have as many courses adopt this pedagogy development system, even though students will continue with face-to face and phyisical learning, they should be allowed the option of online learning. The platforms that are going to be built, will give our students an opportunity to interact with international students, scholars, teachers and with each other." Prof. Nawangwe applealed.
The Vice Chancellor, further called upon all other development partners to emulate Mastercard Foundation in supporting Makerere University and other universities on the entire African continent in strengthening digital literacy, so that Africa is not left behind.
"In 2018 I attended a conference on E-learning in Beijing China, where a critical question was asked; Will Africa be left behind again? This was in reference to many advancements that were taking place in the western world, in which Africa had been left behind." The Vice Chancellor reminded the audience.
Prof. Nawangwe further emphaised the importance of e-learning as one of the critical modes of teaching and learning in the 21st first century.
"Ladies and Gentlemen, I cannot over emphasise the importance we attach to e-learning the 21st Century, that is why we took a decision to elevate the Department of Open and Distance Learning into an Institute of Open and Distance E-learning with an intention of having e-learning extended to other Colleges of the university." Prof. Nawangwe pointed out.
The Deputy Vice Chancellor Academic Affairs, and Chairperson of the Steering Committee of the E-learning Initiative, Prof. Umar Kakumba, rallied the University community to support the implementation of the project in the University.
"The Mastercard Foundation Scholars Program E-learning initiative could not have come in at a better time than post COVID19 era. A pandemic, which exposed our systems and methods of teaching and learning. You all recall, when were hit by the pandemic, with lockdowns and closures of institutions of learning, we all went into a panicky mode on how were going to cope with online learning. I therefore call upon every member of the university to give this project the support it deserves.
Prof. Kakumba reminded the audience the importance and relevancy of online learning at Makerere University and other universities in Uganda.
"The online method of learning is best suited for everyone. This digital revolution has led to remarkable changes in how the content is accessed, consumed, discussed, and shared. Office goers and stay home mothers can take up online educational courses too, at the time that suits them. Depending on their availability and comfort, many people choose to learn at weekends or evenings." Prof. Kakumba remarked.
Prof. Paul Birevu Muyinda, the Coordinator of the Mastercard Foundation E-learning Initiative, informed the audience the importance of the project and the expected outcomes for the University.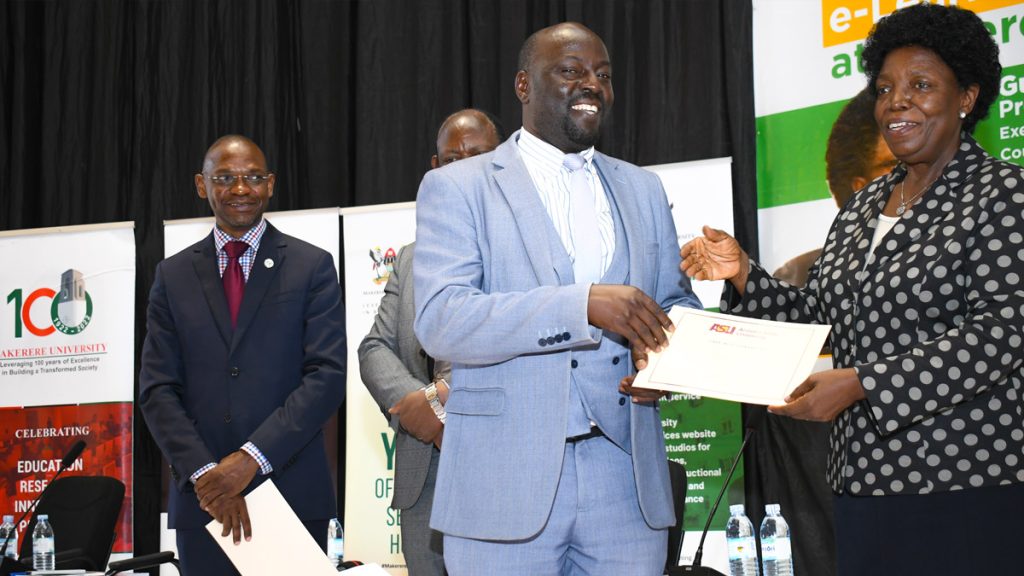 "The Mastercard Foundation e- Learning Initiative is a Project funded by Mastercard Foundation aimed at addressing the negative impact of COVID-19 pandemic that constrained access and continuity of teaching, learning, research and community engagement activities at Makerere University" Prof. Muyinda pointed out.
Prof. Muyinda further thanked the team that he worked with in putting up the proposal in a very short time that yielded such an important grant for the University.
"I thank the team that spent sleepless nights putting together the proposal that resulted into this project. I must report that Makerere University is privileged to be having the most highly qualified persons in online instruction design and online pedagogy at the IODeL and beyond. It is now up to Makerere University in particular and the Country in general to make use of these persons to transform the terrain of online, blended distance and e-learning education." Prof. Muyinda remarked.
Prof. Justine Namaalwa, the Program Coordinator for Mastercard Foundation Scholars Program at Makerere University, informed the audience, that the E-learning initiative was one of the many partnerships between Mastercard Foundation and Makerere University geared at supporting the young people to succeed on the African continent.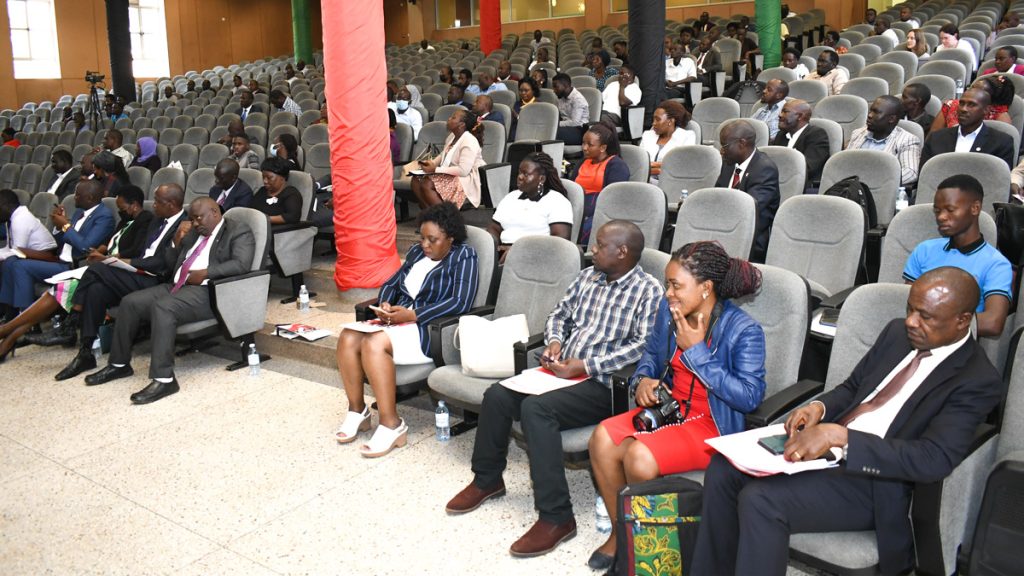 "The Mastercard Foundation Scholars Program continues to recognize that in order to enable young people across Africa to succeed, there is need to; Address systemic barriers in Higher education, Strengthen the capacity of Institutions that serve the Young People, and Support innovative solutions across critical sectors." Prof. Namaalwa remarked.
The colourful launch ended with a panel discussion in which panelists digested the importance and opportunities for open distance and eLearning in higher institutions of learning.
Bernard Buteera is the Communications Officer of the Mastercard Foundation Scholars Program at Makerere University.
Supplementary Admissions to Bachelor of Laws Under Private Sponsorship 2022/23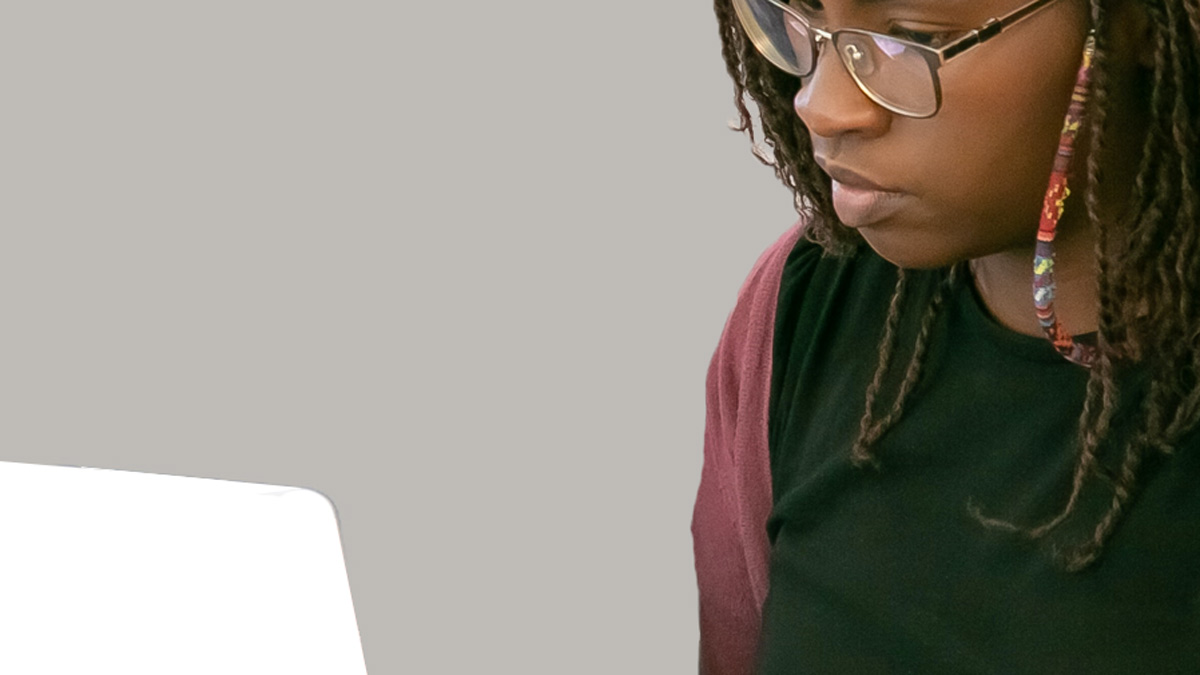 The Academic Registrar, Makerere University, informs applicants wishing to be admitted to Bachelor of Laws Private for 2022/2023 Academic year but failed to submit their application online to submit their applications from Friday 23rd to Friday 30th September, 2022 at a non-refundable fee of 50,000/= (Fifty thousand shillings only).
The applicants MUST have passed the Pre-entry Examinations for Bachelor of Laws.
Diploma/Degree holders should submit certified copies of their academic transcript to Room
315 Level 3, Senate Building.
Applicants who have already been admitted need not apply.
For any additional information, contact Undergraduate Admissions Offices 301/303 for A'Level Applicants and Office 315 for Diploma/Degree holders.
ALFRED MASIKYE NAMOAH
AG. ACADEMIC REGISTRAR
Date: 22nd September, 2022