Mak 69th Graduation Kicks Off: President Museveni Honoured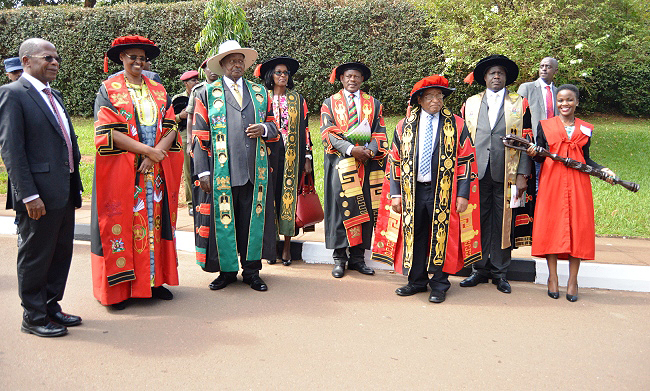 Makerere University has awarded the President of the Republic of Uganda and Visitor, H.E. Yoweri Kaguta Museveni with her Outstanding Scholarly Authorship Award. Handed over to him by the Makerere University Chancellor, Prof. Ezra Suruma during the first session of the 69th Graduation Ceremony on Tuesday, 15th January 2019, President Yoweri Kaguta Museveni was recognized for his authorship of Katondoozi, the first ever Thesaurus in the sub-Saharan region.

Katondoozi is a Thesaurus of Runyankore-Rukiga written in an indigenous African language. It is a complete granary for the Runyankore-Rukiga, that shows the richness of a language, by displaying a rich and unique vocabulary. This great and original publication was product of a team of scholarly co-authors, namely, Dr. Gilbert Gumoshabe, Prof. Manuel J.K.Muranga and Ms. Alice N. Muhoozi.
President Museveni is one of the few Africans that have championed the documentation of indigenous languages to ensure their survival, as cultures that face global pressure. His authorship of the book of a magnitude 20,000 words is an eye opener to the entire African community that African languages, cultures and values can be preserved and promoted.
"We have to note that there is no way you can preserve a language if it is not written. This publication can stimulate other writers to publish books in the indigenous languages and these books would be used as references in the education system in order to benefit the future generations," said Prof Elly N Sabiiti when reading the President's Citation.
In his acceptance speech, the President thanked Makerere University for recognizing his work. He appreciated his co-authors for doing a great job to ensure that the book is up to standard.
This year 2019, a total of 13,350 students will be awarded degrees and diplomas of Makerere University in various disciplines. Of these, 56 will receive PhDs, 1,254 Masters Degrees and 101 Postgraduate Diplomas, while 11,939 will receive undergraduate diplomas and Bachelors Degrees. 49.7% of the graduands are men and 50.3% are female; and 364 students will be graduating with First Class Honours.
During the first session, graduands from the College of Agricultural and Environmental Sciences (CAES), College of Natural Sciences (CoNAS), College of Health Sciences (CHS) and the College of Education and External Studies (CEES) were conferred upon degrees and awarded diplomas of Makerere University. Among these, was the Minister of ICT and National Guidance, Hon. Frank Tumwebaze who graduated with a Masters degree in Public Health and H.E. Kato Paul, the former Makerere University Guild President who graduated with the Bachelors of Arts in Education.
President of Museveni congratulated the graduands upon reaching the remarkable milestone. He commended staff and community for shepherding students throughout the course of studies.
He advised students to understand their field of study and focus on their area of priority if they are to succeed professionally. "Whether you are studying sciences, social sciences or humanities, you need to understand your field, prioritize your interests and focus on the achievable goals," he said.
According to President Museveni, there is need for students to organize themselves both academically and professionally to have a successful career paths.
"If you don't fall under sciences; the categories that can easily get you a job, do not be despondent. You can progress by joining a youth program and access a grant or an interest free loan or a loan with interest from the government and you start up a maize processing operation. This way, you would have created a job and employed people," he said.
The President further cited the need to streamline the education system emphasizing the importance of teaching and learning of Africa's history and wellbeing. According to him, if teaching is done purposefully and correctly in the African way of understanding, then the continent shall have rapid growth and developments.
"Our education system should have very clear aims. The disciplines of social sciences philosophy, history should dwell more on African history and developments. Even if you are a scientist you should understand the history of Africa before you understand, manipulate and tame the natural forces and laws for the benefit of man," he explained.
He acknowledged Makerere University's leadership in fighting the war of capacity building and reinforcing discipline among staff and students at the great institution.
The First Lady and Minister of Education and Sports, Hon. Janet Kataaha Museveni congratulated H.E the President upon his outstanding recognition. She thanked him for his tremendous support towards building the education system of the country; leading by example in scholarly writing and also developing the African culture through preserving its language.
She commended Makerere University for being at the forefront of Uganda's education and human resource development through academic excellence, research and innovation.
"Makerere University is reclaiming its position in providing solutions to African challenges through the commendable innovations and research that have relevance and a positive impact on the wellbeing of the people of Uganda," stated the First Lady.

The Chancellor, Prof. Ezra Suruma commended Makerere University staff and students for the cutting edge research they are conducting that has led to distinguished awards and maintained Makerere University's global reputation as a leading research institution.
He thanked His Excellency the President and the Government of Uganda, for being the single most important financier of Makerere University. In the same spirit, he recognized the contributions of the development partners and other stakeholders of Makerere University when he said, "In addition to the growing financial support from the Government, contributions from our development partners are also on an upward trend. This support has enabled Makerere to achieve additional improvements in infrastructure as well as in staff and student welfare."
The Chancellor extended sincere gratitude to the parents, guardians, teachers, mentors and friends of the graduates. He urged graduands to cherish and honor the sacrifices their parents, teachers, sponsors and guardians have made to achieve the great milestone.
The Vice Chancellor, Prof. Barnabas Nawangwe emphasized the need to maintain discipline among students.
"No university can fully utilize her potential in an environment where indiscipline prevails. We will never realize our full potential if we do not focus on our mandates of teaching and learning, research and community engagement and instead spend time on activities that do not build our university and Country," he said.
"Finally, a word to our beloved graduands. You entered the gates of Makerere University with a purpose. That purpose was to be a contribution to your nation through making yourselves and your families and communities better. You will succeed in life if you put a few ideals ahead of you. These are self-discipline, respect for self and others, love for your Country and love for God. The opportunities out there are immense, but only the disciplined will find them," the Vice Chancellor added.
During this year's first session, Makerere University Convocation recognized Mr. Galiwango Kasozi Steven for the outstanding academic achievement of graduating as the Best Overall Science Student at Makerere University. Mr. Galiwango graduated with a Bachelor of Science in Food Science and Techonology (First Class Honors), scoring a CGPA of 4.84.
At the 69th Graduation Ceremony, the President of the Republic of Uganda H.E Yoweri Kaguta Museveni Pledged to sponsor the completion of the Makerere University Perimeter wall. The Chairperson of the Makerere University Convocation Dr. Tang Odoi thanked the entire community for their generous contributions towards the perimeter wall project.
Article by Mak Public Relations Office
For live updates, please follow #Mak69thGrad on social media
Scholars & Alumni of Mastercard Foundation light up Achukudu Community, Napak District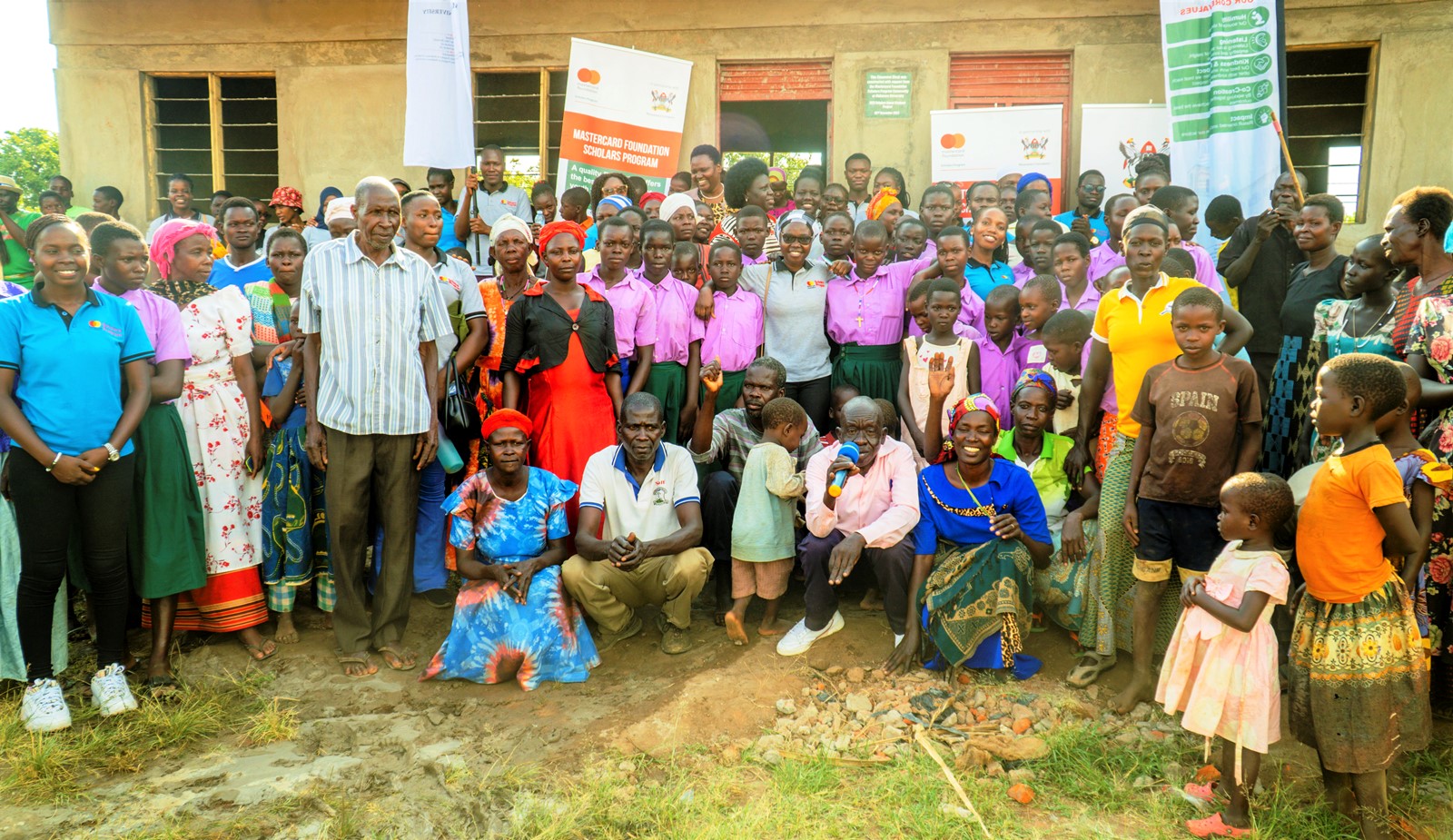 By Bernard Buteera
On Saturday 2nd December 2023, all roads led to Achukudu Community Primary School in Napak District, Karamoja sub-region, as the Scholars and Alumni of Mastercard Foundation at Makerere University commemorated their Scholars' Annual Day of Community Service (Giveback). The 2023 Scholars Annual Day of Community Service was held at Achukudu Community Primary School, Napak District in the Karamoja sub-region. Established in 2013, Achukudu Community School serves two ethnic communities—The Iteso and Karamojong.
With a total population of 1,907 pupils only three government-paid teachers, and nine community-paid teachers, the School faces a plethora of challenges. Key among the challenges is the lack of Classrooms, decent Ventilated Pit Latrines, and Desks. Therefore when the Scholars identified the School as one that deserved to be given a gift of a classroom block, it was a befitting choice!
The Scholars with support from the alumni, the Program Team, Members of the Steering Committee, and partners of the Scholars Program at Makerere University intervened by constructing a two-classroom block, which was supervised by one of the alumni who is an Engineer. Alongside the classroom block, the Scholars also provided 40 desks, helping the school meet UNEB Center eligibility criteria.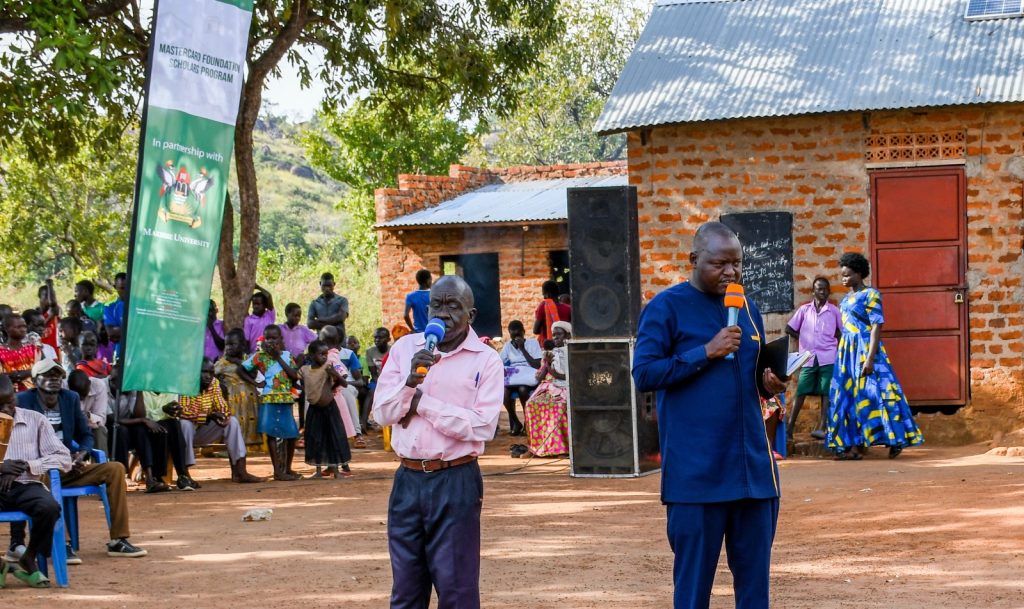 While presiding over the event, the area member of Parliament, Hon. John Bosco Ngoya, thanked the Scholars and alumni community at Makerere University for supporting the young pupils of Achukudu Primary School and the entire community by gifting them with a two-classroom block.
"Thank you Scholars and alumni of Mastercard Foundation at Makerere University for the Christmas gift of a classroom block to the young people and the entire community of Achukudu. This classroom block will go a long way in improving the learning environment of the young children of Achukudu primary school." Hon. Ngoya pointed out.
Hon. Ngoya called upon other people to emulate the Scholars and alumni of the Mastercard Foundation in embracing the spirit of giving back to the vulnerable people in the community. On his part, he donated One Million Five hundred shillings (1,500,000/=) to help the School purchase more desks, and he had earlier contributed One million shillings (1,000,000/=) towards the construction of the classroom block.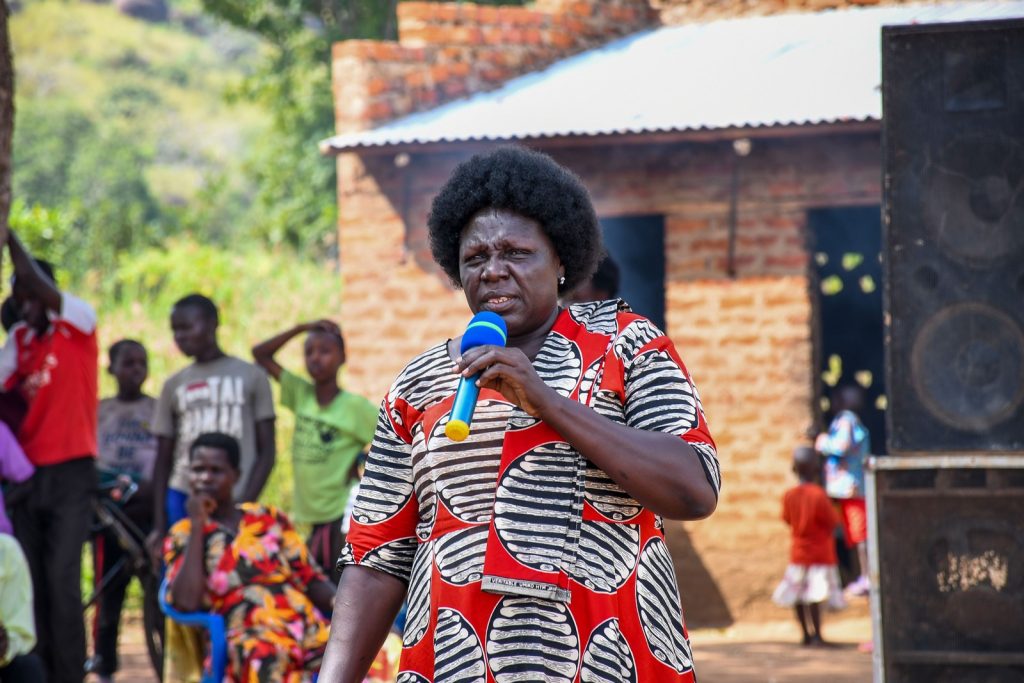 The District Education Officer (DEO) for Napak District, Ms. Joyce Nakoya, praised the Scholars Community for embracing and practicing the spirit of giving back to other people at an early age.
"Thank you Scholars and alumni of the Mastercard Foundation at Makerere for embracing the spirit of giving back to other people at such an early age. If all people gave back to the less privileged in our communities, we would have a better world for everyone." Ms. Nakoya pointed out.
Ms. Nakoya further pointed out every child deserves to study in a decent environment, therefore it was a befitting cause for the Scholars to construct a classroom block for the young pupils of Achukudu community primary school, who were studying in open grass thatched classrooms.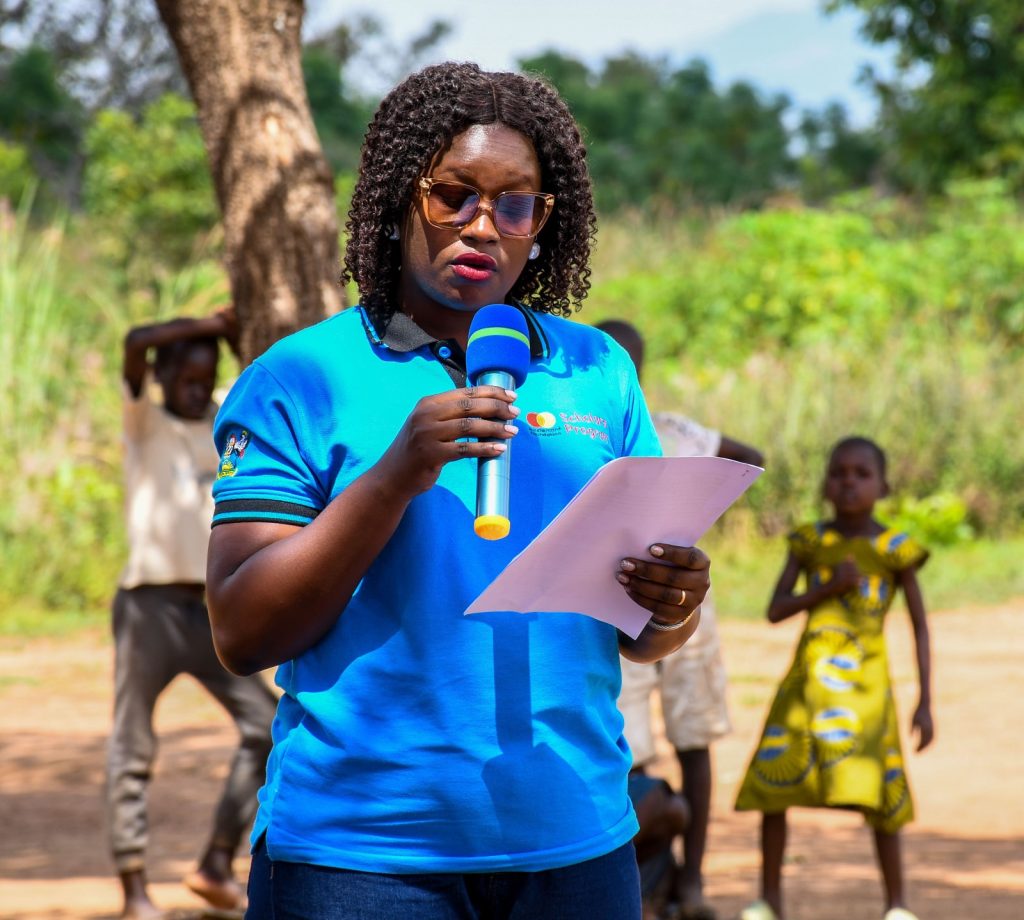 The Program Manager of, the Mastercard Foundation Scholars Program at Makerere University, Ms. Jolly Okumu who led the team of Scholars, alumni, and staff to Karamoja thanked the community of Achukudu for supporting the Scholars to deliver the class block by contributing to the construction sand. 
"We come here today to join with you as a community driven by a shared commitment to education, empowerment, and ethos of giving back. Today is a historic occasion as we celebrate the completion and commissioning of the classroom block, which is a remarkable testament to the transformative power of education and our unwavering spirit of community service." Ms. Jolly remarked.
The President of the Scholars Association, Mr. Godfrey Okello, thanked all the Scholars and alumni, and all stakeholders who contributed to the construction of the classroom block, which was a dream that became a reality.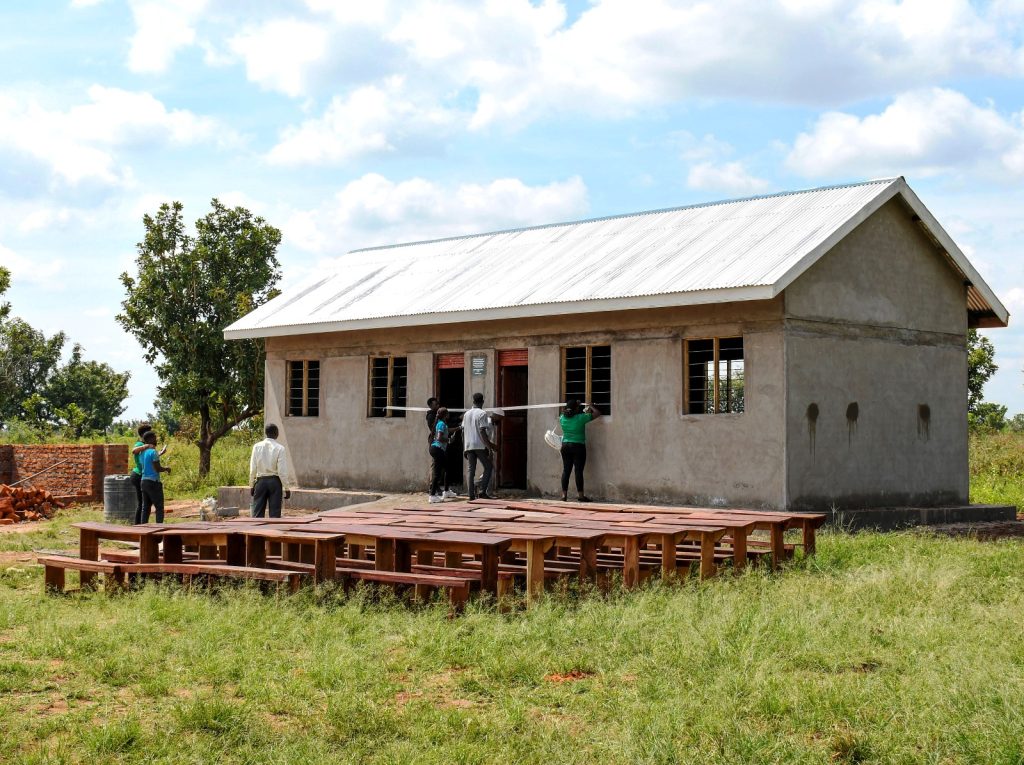 "I would like to thank my colleagues and people of goodwill who supported us to realize our dream of constructing this classroom for our young brothers and sisters of Achukudu Primary School. Together we can make a difference in the lives of our fellow young people in Uganda and Africa as a whole." Mr. Okello remarked.
The Headteacher of the School, Mr. Eryebu Raymond, who was visibly very excited was full of praises for Scholars and alumni of the Mastercard Foundation, for what he termed as an iconic classroom block they had gifted to his School.
"This day is very special to us, we will not see this day again. We are delighted to receive the Scholars and alumni of Mastercard Foundation from Makerere University, thank you for considering supporting our School" Mr. Eryebu excitedly remarked.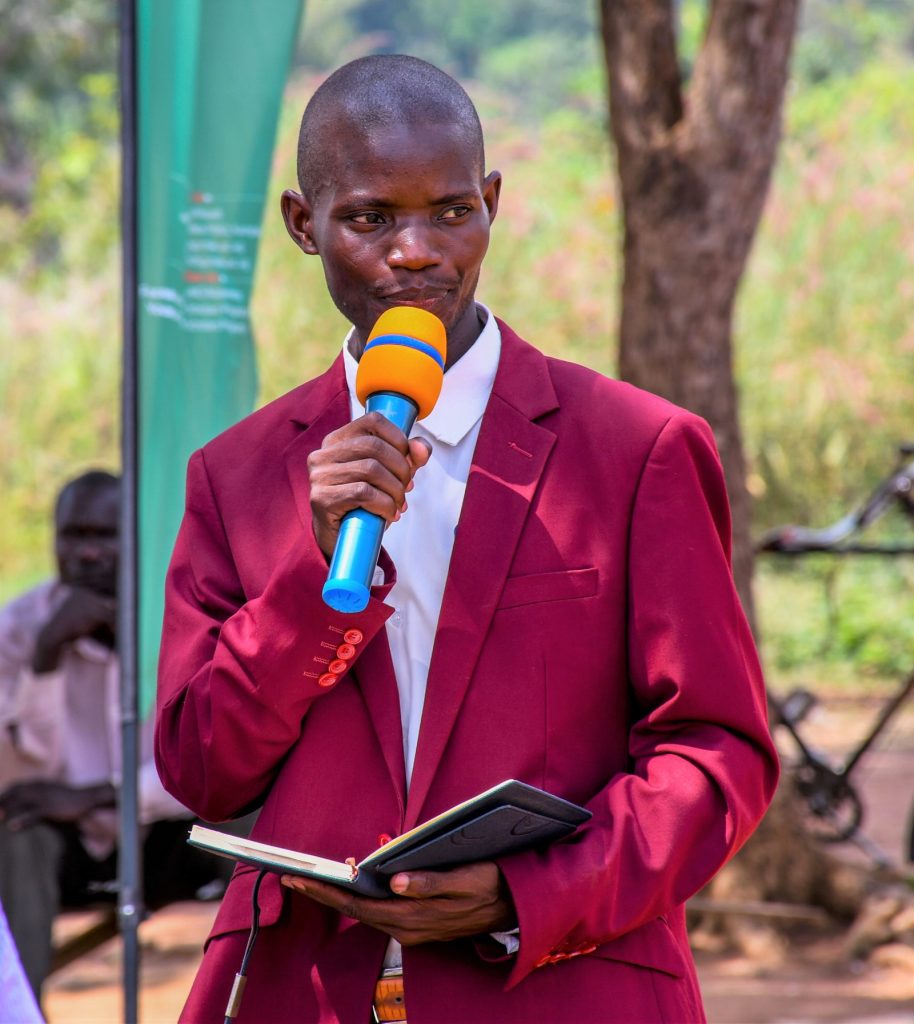 The Headteacher revealed that one of the major challenges the school was facing was an acute shortage of classrooms for his 1,097 pupils. He was therefore grateful to Mastercard Foundation Scholars for choosing to construct a two-class block for the School.
"This donation of a classroom block and Desks is a testament to your commitment to education and empowering the lives of the vulnerable people in the community. This classroom block and desks will go a long way in improving the quality of teaching and learning at our school." Mr. Eryebu further remarked.
The 2023 Scholars Annual Day of Community Service (Giveback) was punctuated with a lot of joy, pomp, and fanfare, as the pupils and the entire community of Achukudu danced and ululated at the commissioning of the classroom block. The construction of the classroom block and purchase of desks for Achukudu Community Primary School was made possible by generous contributions by the Scholars, alumni, the Program Team, and members of the Steering Committee.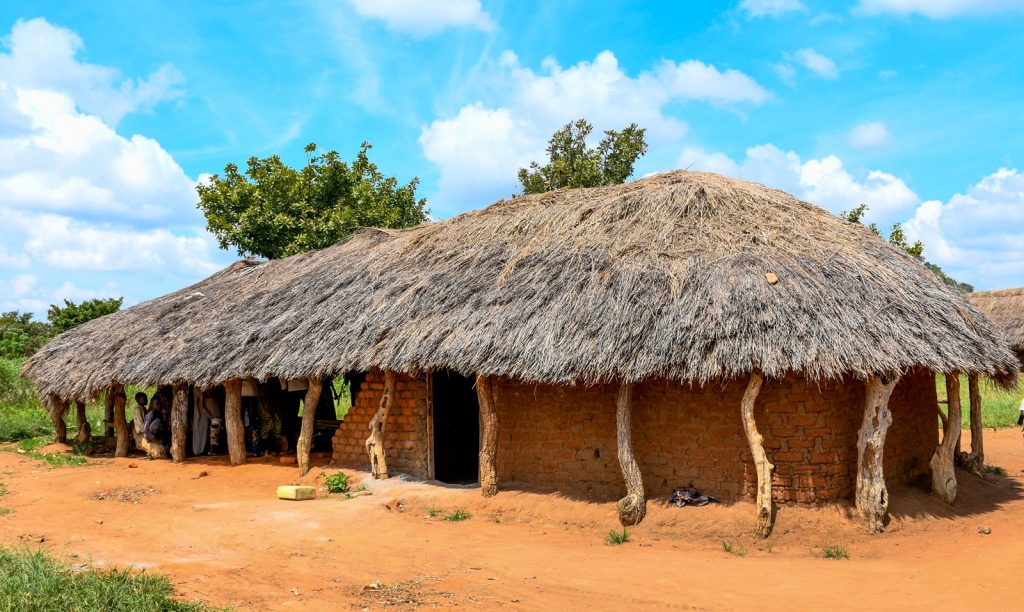 Among the Partners who made financial contributions towards the class block construction included; DFCU Bank, Post Bank, URA, Katumba Estates, Footsteps Furniture Ltd, and Sion Travels Ltd.
The Scholars and Alumni Day of Community Service (Give back) is an annual event, where Scholars and alumni of the Mastercard Foundation go out into the community to give back by providing solutions to challenges that a particular community is facing. Over the years Scholars have given back to the communities in numerous ways that range from offering professional services and erecting major projects like classroom blocks.
Bernard Buteera is the Communications and Public Relations Officer of the Mastercard Foundation Scholars Program at Makerere University.
Innovations using low cost locally available materials for point of use water treatment system unveiled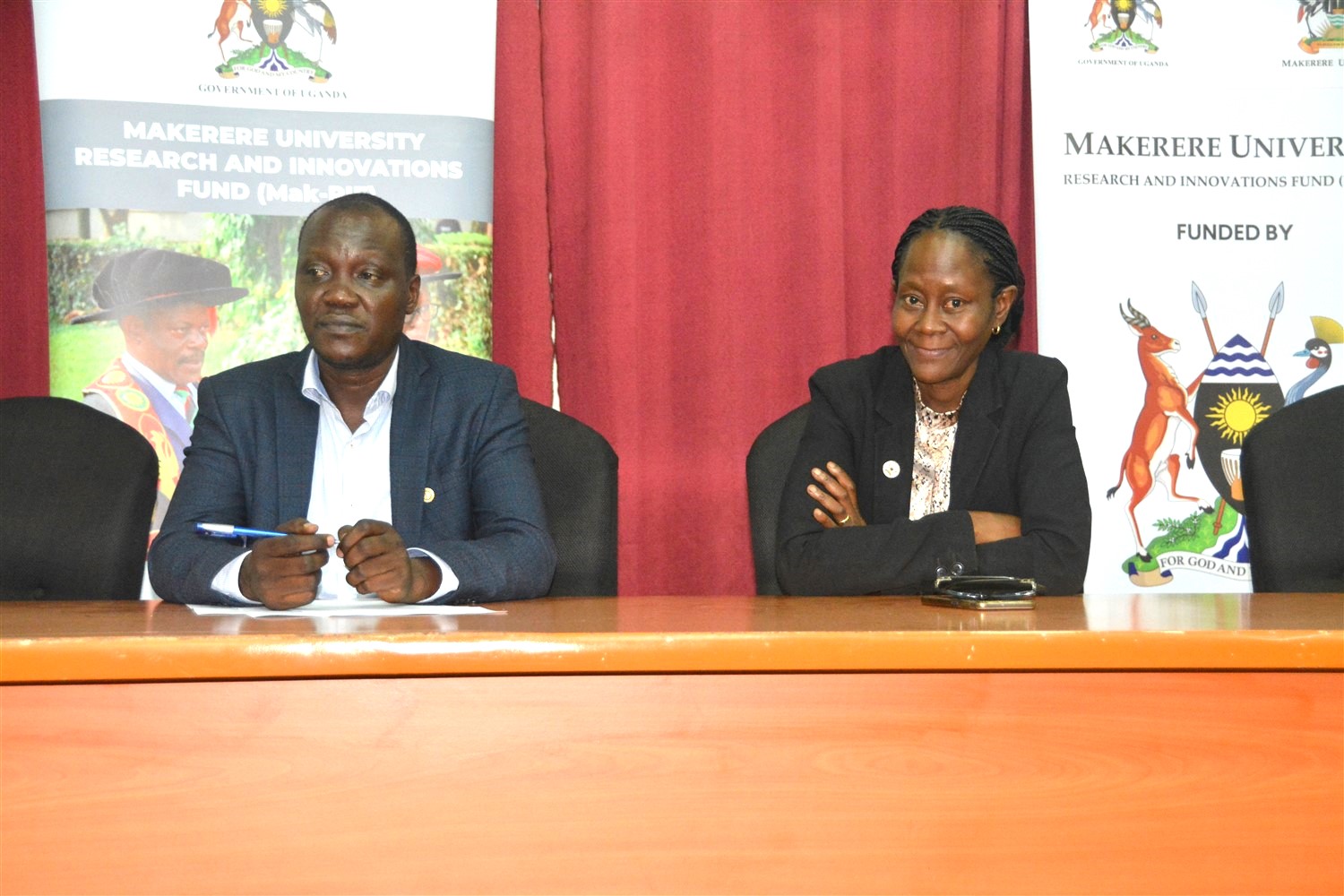 The College of Engineering, Design, Art and Technology (CEDAT) conducted a Research Dissemination of two studies aimed at the Development of Materials for point of use water treatment systems.
The investigations were conducted by a team of researchers comprised of P. W. Olupot, H. M. Kalibbala, E. Menya, G.M. Wangi, J. Jjagwe, J. Wakatuntu, M. Turyasingura, R. Walozi, C. Kanyesigye and R. N. Kulabako.
The dissemination event held on Wednesday 29th November 2023 follows the successful completion of two MakRIF supported Research projects namely; Development of rice husk based granular activated carbon for point-of-use water treatment systems and Development of zeolite-based nanocomposite filters for drinking water treatment.
Apac District gains from CEDAT's Research on Piloting a Rural Broadband Connectivity Model and Efficacious patient management system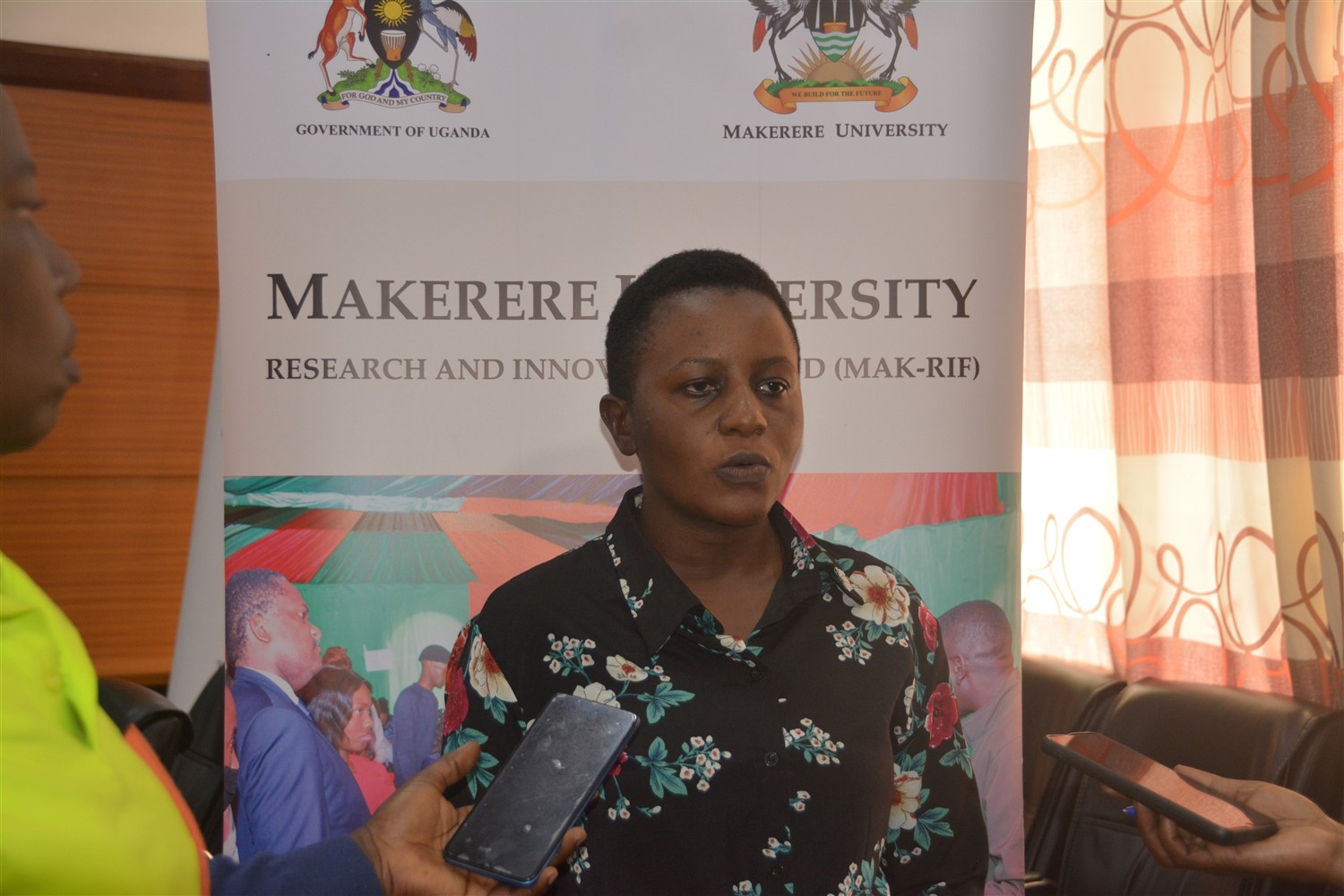 The School of Engineering at the College of Engineering, Design, Art and Technology (CEDAT) shared findings of research that was conducted in Apac Districts through two projects namely Piloting a Rural Broadband Connectivity Model (RCBM) and Efficacious patient management system (EPMS).
The findings of the research sponsored by the Government of Uganda through the Makerere University research and Innovation Fund(MakRIF) were disseminated during a dissemination seminar held in the College on Friday 24th November 2023, where it was revealed that  Apac the host District greatly benefited from the services that not only led to the increased uptake of internet services but also gained through other socio economic areas.