Mak Honours Prof. Capt. Dr. Virginio Lachora Ongom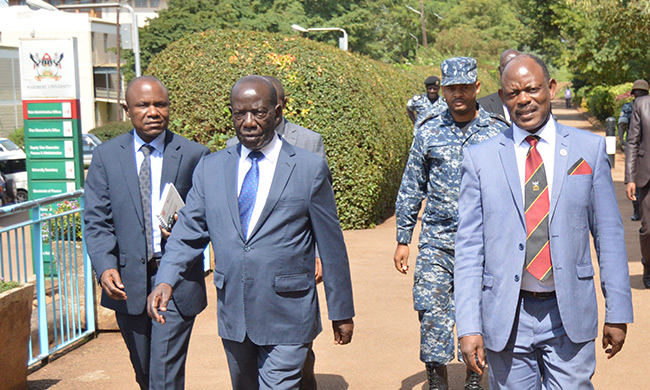 On Thursday, 28th June 2018, Makerere University paid well-deserved tribute to one of the most hardworking researchers and publishers in his day and first African Dean of the School of Public Health (MakSPH), Prof. Capt. Dr. Virginio Lachora Ongom. Appropriately described as the "Meteorite from Pakwach" by the day's emcee, Mr. George Piwang Jalobo, Prof. Ongom's light brilliantly flashed across the sky of Pakwach District to the rest of Uganda, then to Kenya onto India and then vanished after only forty seven years, leaving behind a trail of achievements and publications.
The writing on the wall became clearer as speaker after speaker paid tribute at the Inaugural Memorial Lecture. Prof. Ongom was a hardworking academic and army officer who was passionate about using his time and resources to cause a change in his community. As a father, he was a strict disciplinarian and time keeper whose home often turned into an impromptu 'reception centre' for patients he often ferried over hundreds of kilometres from his Panyagoro village to Mulago Hospital.
"Prof. Ongom intervened and treated those who had been 'bewitched' and they recovered. That is how those 'witches' survived being lynched by their community, thanks to his research" said the College of Health Sciences (CHS)' Deputy Principal-Dr. Isaac Okullo in his welcome remarks.
Representing the CHS Principal-Prof. Charles Ibingira, Dr. Okullo paid tribute to Prof. Ongom's perseverance and determination in the face of resource constraints, to arrest the spread of bilharzia and treat affected persons. "This is what we always want as the result of our research."
Dr. Okullo congratulated MakSPH upon continuing to raise awareness about bilharzia and other Neglected Tropical Diseases (NTDs) and thanked partners such as MaxMind Corporation, the Bill and Melinda Gates Foundation (BMGF) as well as stakeholders such as the Ministry of Health (MoH)'s Vector Control Division (VCD) and the Uganda Bureau of Statistics (UBOS) for supporting bilharzia research. "The event is a first step to galvanise support to eliminate bilharzia and other NTDs and so we still need your continued support to take this cause forward" he added.
Describing the late Prof. Capt. Dr. VL Ongom as a true patriot, the Vice Chancellor Prof. Barnabas Nawangwe in his remarks said, "The major purpose of this function therefore is to honour the patriotism, commitment and hard work of all researchers including Prof. Ongom, whose selfless effort and dedication brought these findings to light."
Prof. Nawangwe further stressed that as the leading research university in Africa, Makerere would provide leadership in the endeavour to raise funds for training and research, in order to contribute to elimination of Bilharzia in Uganda. He shared Makerere's pride at being research leaders in areas such as HIV/AIDS, Ebola, Malaria, as well as other diseases that hamper socio-economic development in Africa.
"We thank the Government for the support it continues to give this institution and pledge that every single coin will be put to the good cause of eliminating bilharzia and other Neglected Tropical Diseases" he concluded.
Introducing the Inaugural Memorial Lecture, the MakSPH Dean, Dr. Rhoda Wanyenze shared that the event was a continuation of an initiative embarked on by the School in December 2017; to honour all its erstwhile Heads. Four of these namely; Prof. Josephine Nambooze, Prof. John Kakitahi, Prof. Fred Wabwire-Mangen and Prof. David Serwadda were present to celebrate Prof. VL Ongom's rich legacy, appropriately described by Dr. Wanyenze as "a trail of evidence through his scientific publications for posterity."
The Dean further shared the School's proposal to establish the Prof VL Ongom Endowed Chair and Endowment Fund, to support capacity building, research and innovations towards eliminating bilharzia and NTDs, including nodding disease. "This Endowed Chair presents a great opportunity to enhance the capacity of the University, Ministry of Health and UPDF Medical Services, to ably contribute solutions to this big challenge.
"Our target is to raise at least US$2million by June 2019, when we hold the next Prof. Ongom Memorial Lecture and at least US$15million by June 2024, a landmark year, when we celebrate 50 years since the Institute of Public Health was established, and the 6th annual Prof VL Ongom Memorial Lecture. Ladies and gentlemen, this is not just about money, but the real impact that we can and should make on the affected communities" remarked Dr. Wanyenze.
The choice of the person to deliver the Inaugural Prof. V.L. Ongom Memorial lecture couldn't have been more appropriate. Prof. Birgitte Vennervald is no stranger to Uganda's fight against bilharzia. Having first come to Uganda in 1989 under the auspices of the Danish International Development Agency (DANIDA), Prof. Vennervald has gone on to traverse more Districts and villages in Uganda than the average national, thanks to the inspiration awakened by Prof. Ongom's research and publications on the same.
"Prior to Prof. Ongom's publications, most of the research on schistosomiasis was conducted outside sub-Saharan Africa, especially in Egypt, South America and Asia" shared Prof. Vennervald. "In this presentation we quote two of his papers on The Epidemiology and consequences of Schistosoma Mansoni" she continued.

Taking note of the aforementioned papers published in 1972, Prof. Vennervald stressed that these had to be revisited and further examined because Prof. Ongom had the benefit of understanding the local dialect and culture in his native Panyagoro community. "He had to rely on his hands to do all the necessary tests and his research demonstrated that in a community where bilharzia exists, it may end up being the most important public health need. We therefore should follow in Prof. Ongom's footsteps for he indeed demonstrated that research must be evidence-based" she enthused.
Prof. Vennervald went on to congratulate MakSPH, the Ministry of Health (MoH) as well as other partners upon their continued research and vector control programmes that have led to the elimination of the previously endemic river blindness in from 18 out of the original 39 Districts of Uganda. "I nevertheless call upon the School of Public Health to make bilharzia and NTDs an attractive topic to students and researchers so as to keep the subject vibrant. Additionally, general drug distributors should be trained on how to handle or refer cases of bilharzia and other NTDs."
She nevertheless called for a multi-sectoral approach in the fight against bilharzia and NTDs by involving agencies such as; MoH, Ministry of Education and Sports (MoES), Ministry of Water and Environment (MWE) as well as the Ministry of Tourism, Wildlife and Antiquities, in order to safeguard tourists from being infected by diseases especially waterborne ones such as bilharzia.
Prof. Vennervald however took note of poor medicine uptake due to fear of side effects, the lack of child-friendly treatment and poor sanitation especially among migratory fishing communities as problems that still threatened the fight against bilharzia. "Some areas such as the islands of Lake Victora and districts in the Albertine region such as Hoima, Buliisa and Pakwach have experienced bilharzia upsurge.
"Despite all this, we learn from Prof. Ongom that we should remain focused on bilharzia by insisting that this is our problem, our community's problem and Uganda's problem in order to bring it to an end. You have the knowledge, research base and dedicated people in Makerere and Ministry of Health. You should be able to find a lasting solution to this problem and meet Government's Vision 2040 goal" she concluded.
"We have done a lot of research and made a lot of interventions but we must admit that the bilharzia problem is much bigger than we thought" remarked Dr. Narsis Kabatereine, the discussant of the Inaugural Memorial Lecture. As one who joined the MoH's Vector Control Division (VCD) in 1980, Dr. Kabatereine paid tribute to Prof. Ongom, who despite living for a short time wrote very prolific papers that demystified previous notions that only Caucasians were susceptible to schistosomiasis.
"I therefore thank Dr. Rhoda Wanyenze and Dr. Christopher Orach for encouraging research on schistosomiasis. This goes to show that research in implementable activities is still much-needed in today's public health interventions" added Dr. Kabatereine.
The day's tributes would have been incomplete without voices from those who knew Prof. V.L Ongom way before he became the trailblazing researcher and publisher. Speaking as a trio; Former Prime Minister-Rt. Hon. Kintu Musoke, Second Deputy Prime Minister & Minister of East African Affairs-Hon. Kirunda Kivejinja and Former Minister and Ambassador-Prof. Semakula Kiwanuka oscillated the audience between spellbinding silence and bouts of laughter.

"In 1958 I attended an interview to secure a scholarship to India, where the other interviewee was a young man called V.L Ongom" reminisced Rt. Hon. Kintu Musoke. "While I went on to secure a scholarship from the Government of India, V.L. Ongom received the Madhvani scholarship. Later when we met in India, it was 'love at first sight'! The Ongom we knew was a serious student, a serious religious man and a serious political operator" he added.
"Hearing my senior colleague describe VL Ongom as a political animal was the biggest surprise to me" began Prof. Semakula Kiwanuka in reference to Rt. Hon. Kintu Musoke's remarks. "Ongom and I met at Namilyango College in 1953 and what I remember is that he was extremely serious, hardworking and very clever.
"I was the President of the Uganda Students Association at the University of Nairobi but I never knew Ongom to be political! I don't know what happened to those who went to India" remarked Prof. Semakula Kiwanuka, sending the audience roaring with laughter. "Today is therefore a wonderful day and we thank Makerere for honouring the distinguished scholar that Ongom was. Your presence here especially that of His Excellency the Vice President is testimony to that and I thank you for honouring my classmate, my schoolmate and my universitymate" he concluded.
"Your honouring Ongom and indeed honouring us today has fulfilled in our lives that when you do something good for your country, you will one day be recognised" eulogized Hon. Kirunda Kivenjinja. "As leaders, we hold positions of power and can get things done, but we didn't want to remind the President to honour Ongom" he continued.
"As freedom fighters, there are three things we don't do; we don't seek our own glory, we don't mourn our dead and we don't lobby. We therefore thank the organisers of this Memorial lecture for befittingly honouring Prof. Ongom and his family today" summarised Hon. Kivejinja.
In his remarks, the Vice President H.E. Edward Kiwanuka Ssekandi who represented the President H.E. Yoweri Kaguta Museveni saluted the University for honouring distinguished leaders, noting that in so doing, "Makerere University, as a whole, and the College of Health Sciences and School of Public Health, in particular; have embarked on becoming transformation agents!
"This is a wonderful example of Academia getting out of its traditional "ivory tower" mentality into the real world to solve real problems that affect real people! This is re-orientation from ideological dis-orientation which has been a real obstacle to Uganda's transformation since colonial times!" he added.
The Vice President observed that Prof. VL Ongom had the energy of an Army Captain Doctor even in Academia and seamlessly blended into the Army and Government in service of his community and Nation. "He was also a very religious man, who put his Catholic Christian faith in practice. For he was Chairman of St Augustine's Chapel Community, and was a true patriot who drove the Chaplain, Rev. Fr. David Kiyingi, to the Uganda-Kenya border and to safety in the 1970s! This occurred when Idi Amin's soldiers wanted Rev. Fr. Kiyingi dead or alive" he further praised.
H.E. Kiwanuka Ssekandi further noted the importance of a skilled and healthy population in enabling Uganda to realize her Vision 2040 and pledged the Government's as well as UPDF Medical Services' readiness to join MoH at the frontline of the struggle to eliminate Bilharzia and other NTDs by 2040.
"These historic projects have been eloquently articulated by the Dean, Dr. Rhoda Wanyenze. I will arrange to meet with the leadership of the University and School of Public Health in the nearest future to discuss these proposals in detail" concluded the President's speech.
"If there was anyone who learnt anything from his strict timekeeping it was me" shared Ms. Elizabeth Ongom as she paid tribute. "You knew him as Professor but we knew him as Daddy. All we wanted was a father but we understood his commitment, he had to treat people" she added.
"As a family, we are extremely grateful and dearly thank Makerere University for honouring our late father Prof. Virginio Lachora Ongom. As you have heard from Prof. Vennervald's lecture, Prof. Ongom's research had impact and some of the bilharzia survivors he treated are today happily married. We also pay tribute to the gift of friends that our late father left behind who have been an integral part of our lives" shared the eldest son Mr. Godfrey Ongom.
There was a hushed silence from the audience as Mama Cecilia Ongom took her turn to pay tribute to her dearly departed husband. Speaking gently and yet authoritatively, Mama Ongom thanked Makerere University and all the organisers for the wonderful tribute to Prof. Ongom. She also thanked the Vice President for representing His Excellency the President at the Inaugural lecture, as well as all in the audience who had spared time to attend the event. "We were both in the same medical profession and we knew the call. We had to care" she summed up.
Prof. Capt. Dr. VL Ongom made a great contribution to science through his research in parasitology, especially in bilharzia and sexually transmitted infections. He published profusely; with over twenty five peer-reviewed publications as the first author, and overall, had over 35 publications including four theses. He was a Board member of the Uganda Commercial Bank; now Stanbic Bank, and oversaw the establishment of the bank's branch in Pakwach district. In recognition and honour of his outstanding contributions, the Pakwach District Council on Saturday, 30th June 2018 renamed its Health Centre IV the Prof. VL Ongom Memorial Hospital.
Article by Public Relations Office
Notice: Makerere Disability Scheme 2022/23 Medical Review Exercise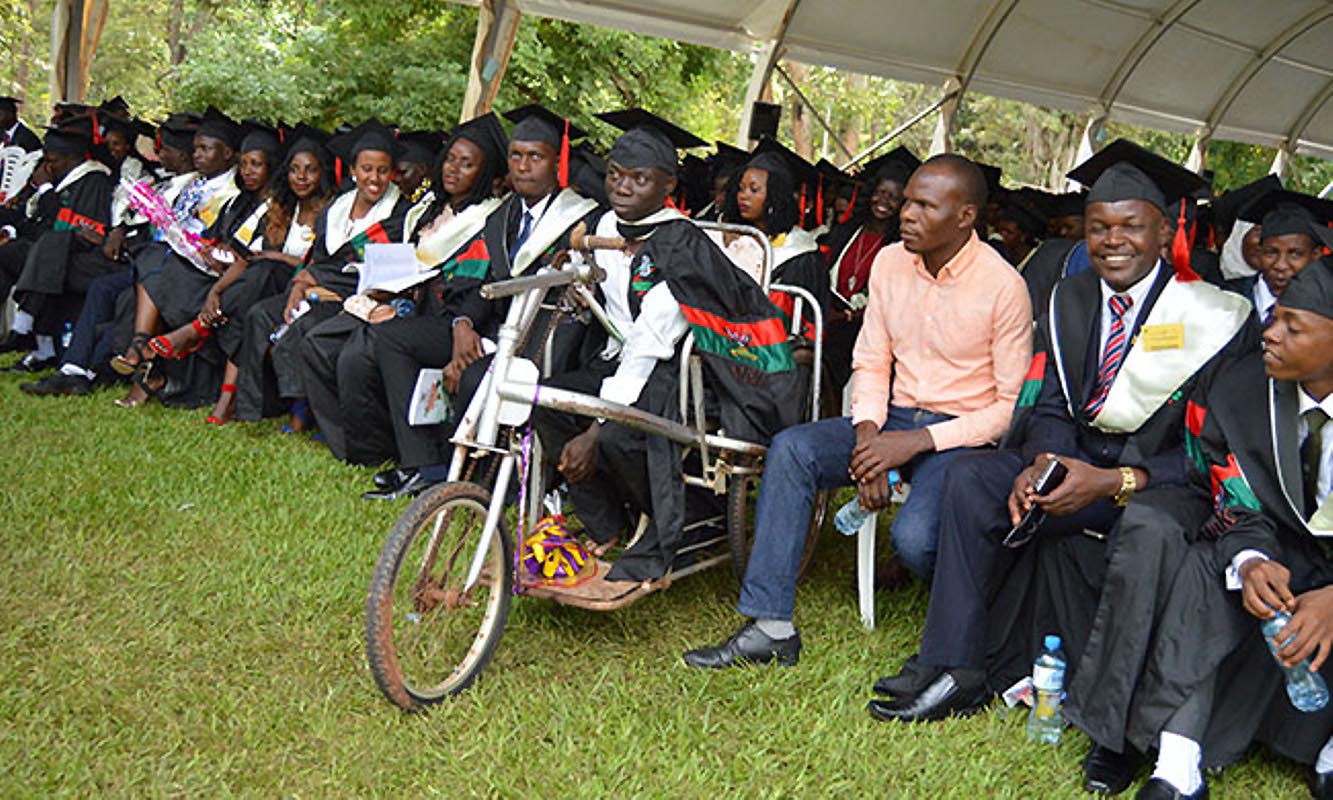 The Academic Registrar, Makerere University invites persons with disability who applied for admission to public universities under the disability entry scheme for 2022/2023 Academic Year to appear for medical/review exercise at Makerere Unive, Senate Building, Level Two (2) in the Telepresence Centre.
NOTE: Only those who have the minimum entry requirements of at least two principal passes at A' Level or its equivalent and at least five (5) passes at O' Level or its equivalent will be interviewed.
Only candidates who sat 'a' level in 2020, 2019 and 2018 are eligible for admission.
THE EXERCISE WILL BE CONDUCTED ON 3rd, 4th and 5th October, 2022 respectively from 9.00 A.M – 1.00 P.M each day.
IMPORTANT:
(i) If you fail to appear on any of the given days above, there will be no other chance for you.
(ii) Applicants with Government Scholarship for the previous years are not eligible for admission
ALFRED MASIKYE NAMOAH
Acting. ACADEMIC REGISTRAR
Uganda's policymakers implored to address forest loss, plastic & water pollution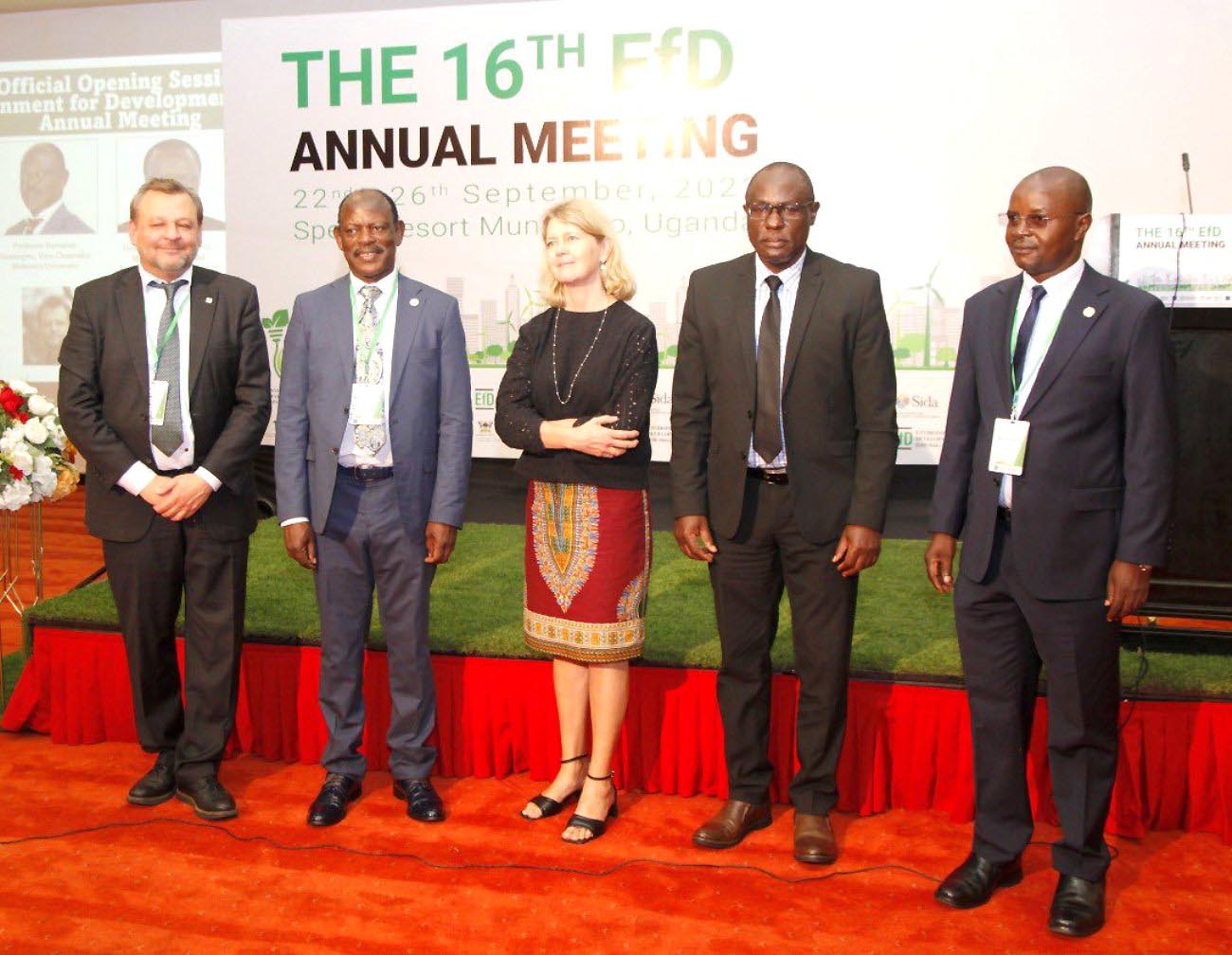 The Vice Chancellor Professor Barnabas Nawangwe on Thursday 22nd September, 2022 participated in the opening of the EfD Annual meeting hosted by Makerere University at Speke Resort Munyonyo where he appealed to government to implement the ban on kaveera and address other environmental issues.
The opening ceremony moderated by the EfD Global Hub Manager Gunnar Köhlin and was graced by Uganda's Minister for Water and Environment represented by the Commissioner for Water, Mr. Julius Mafumbo and the Swedish Ambassador to Uganda, H.E. Maria Håkansson.
Prof. Nawangwe urges Makerere University community to support the Mastercard Foundation E-learning Initiative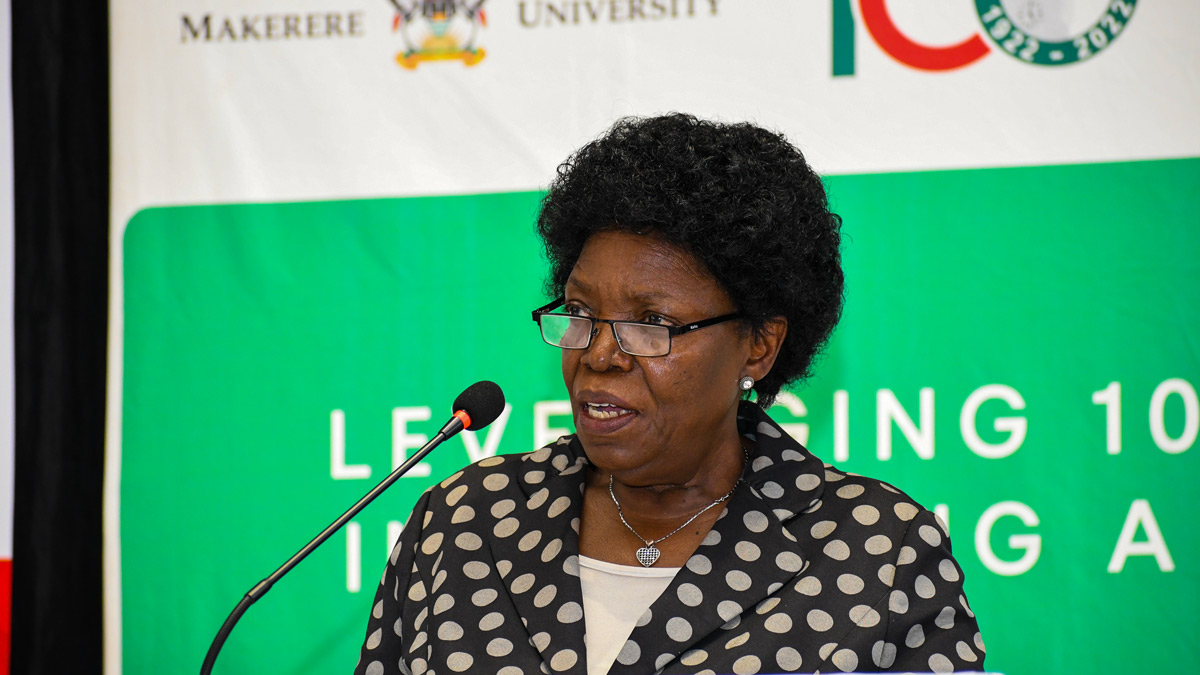 By Bernard Buteera
Makerere University has launched a two million dollar E-learning Project, dubbed The Mastercard Foundation Scholars Program E-learning initiative.  
The launch was held on Tuesday 20th September 2022 at Makerere University, Yusuf Lule Central Teaching Facility Auditorium. It attracted over 200 participants, who included members of University Management, College Principals, School Deans, Academic and Administrative staff, students and the general university community.
While addressing the gathering, the Chief Guest, Prof. Mary Okwakol, the Executive Director of National Council for Higher Education (NCHE), congratulated Makerere University for winning such a huge grant, which will go a long way in transforming the eLearning infrastructure at Makerere University.
"I am happy to be joining you in launching a project that is at the heart of National Council for Higher Education. Online learning is at the heart of the Council, not only because of the challenges presented by the Covid-19 pandemic, but also the world is now a digital world." Prof. Okwakol remarked.
Prof. Okwakol thanked Mastercard Foundation and other development partners who have continued to support initiatives that help transform higher institutions of learning in Uganda.
"I sincerely thank the Mastercard Foundation and other partners who have continued to support higher education in Uganda, especially in the area of research and online learning. Globally, the outbreak of the COVID-19 pandemic, greatly disrupted education systems forcing learners and some schools to shift to virtual learning to curb the spread of the pandemic." Prof. Okwakol pointed out.
On his part, the Vice Chancellor, Prof. Barnabas Nawangwe urged the university community, especially the academic staff to take advantage of the Mastercard Foundation E-learning initiative to develop e-content across all Colleges of the University, to enhance capacity for eLearning at Makerere University.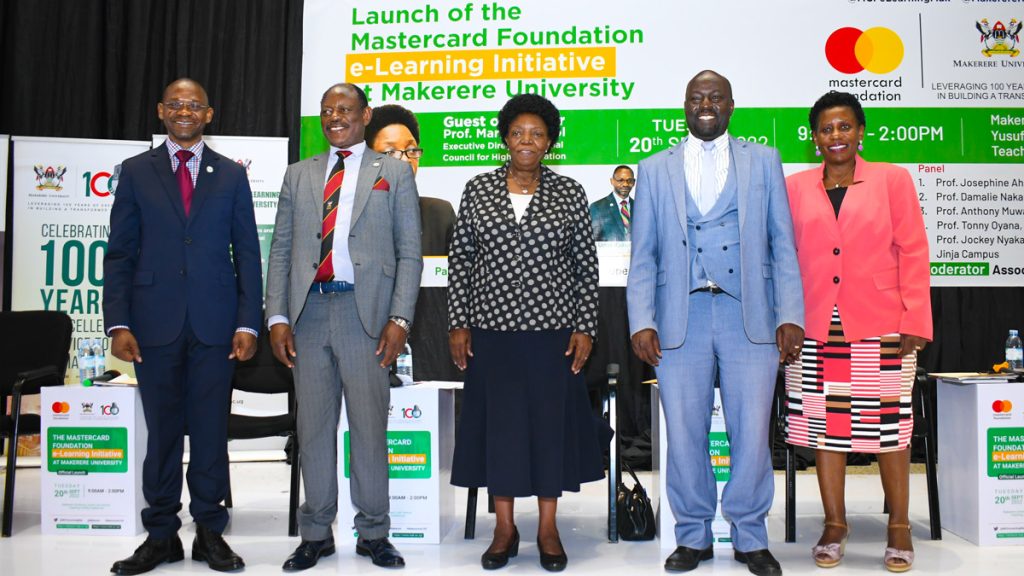 "I appeal to the Colleges to embrace this project and have as many courses adopt this pedagogy development system, even though students will continue with face-to face and phyisical learning, they should be allowed the option of online learning. The platforms that are going to be built, will give our students an opportunity to interact with international students, scholars, teachers and with each other." Prof. Nawangwe applealed.
The Vice Chancellor, further called upon all other development partners to emulate Mastercard Foundation in supporting Makerere University and other universities on the entire African continent in strengthening digital literacy, so that Africa is not left behind.
"In 2018 I attended a conference on E-learning in Beijing China, where a critical question was asked; Will Africa be left behind again? This was in reference to many advancements that were taking place in the western world, in which Africa had been left behind." The Vice Chancellor reminded the audience.
Prof. Nawangwe further emphaised the importance of e-learning as one of the critical modes of teaching and learning in the 21st first century.
"Ladies and Gentlemen, I cannot over emphasise the importance we attach to e-learning the 21st Century, that is why we took a decision to elevate the Department of Open and Distance Learning into an Institute of Open and Distance E-learning with an intention of having e-learning extended to other Colleges of the university." Prof. Nawangwe pointed out.
The Deputy Vice Chancellor Academic Affairs, and Chairperson of the Steering Committee of the E-learning Initiative, Prof. Umar Kakumba, rallied the University community to support the implementation of the project in the University.
"The Mastercard Foundation Scholars Program E-learning initiative could not have come in at a better time than post COVID19 era. A pandemic, which exposed our systems and methods of teaching and learning. You all recall, when were hit by the pandemic, with lockdowns and closures of institutions of learning, we all went into a panicky mode on how were going to cope with online learning. I therefore call upon every member of the university to give this project the support it deserves.
Prof. Kakumba reminded the audience the importance and relevancy of online learning at Makerere University and other universities in Uganda.
"The online method of learning is best suited for everyone. This digital revolution has led to remarkable changes in how the content is accessed, consumed, discussed, and shared. Office goers and stay home mothers can take up online educational courses too, at the time that suits them. Depending on their availability and comfort, many people choose to learn at weekends or evenings." Prof. Kakumba remarked.
Prof. Paul Birevu Muyinda, the Coordinator of the Mastercard Foundation E-learning Initiative, informed the audience the importance of the project and the expected outcomes for the University.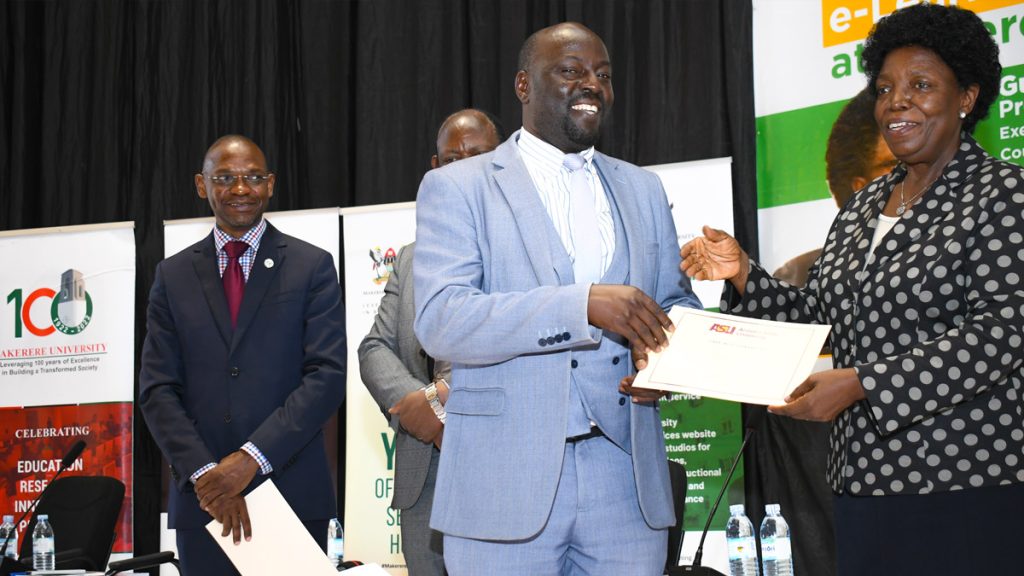 "The Mastercard Foundation e- Learning Initiative is a Project funded by Mastercard Foundation aimed at addressing the negative impact of COVID-19 pandemic that constrained access and continuity of teaching, learning, research and community engagement activities at Makerere University" Prof. Muyinda pointed out.
Prof. Muyinda further thanked the team that he worked with in putting up the proposal in a very short time that yielded such an important grant for the University.
"I thank the team that spent sleepless nights putting together the proposal that resulted into this project. I must report that Makerere University is privileged to be having the most highly qualified persons in online instruction design and online pedagogy at the IODeL and beyond. It is now up to Makerere University in particular and the Country in general to make use of these persons to transform the terrain of online, blended distance and e-learning education." Prof. Muyinda remarked.
Prof. Justine Namaalwa, the Program Coordinator for Mastercard Foundation Scholars Program at Makerere University, informed the audience, that the E-learning initiative was one of the many partnerships between Mastercard Foundation and Makerere University geared at supporting the young people to succeed on the African continent.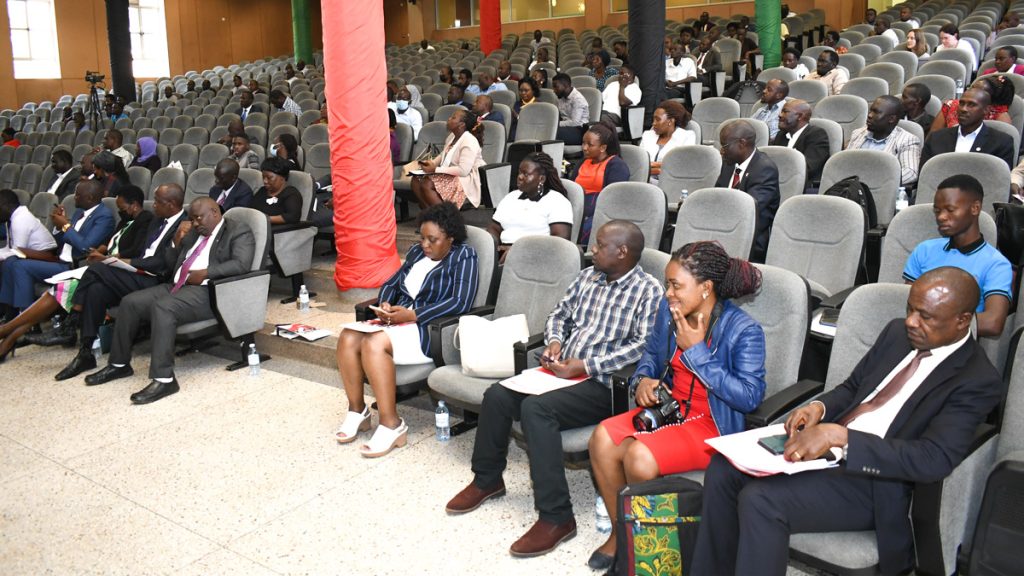 "The Mastercard Foundation Scholars Program continues to recognize that in order to enable young people across Africa to succeed, there is need to; Address systemic barriers in Higher education, Strengthen the capacity of Institutions that serve the Young People, and Support innovative solutions across critical sectors." Prof. Namaalwa remarked.
The colourful launch ended with a panel discussion in which panelists digested the importance and opportunities for open distance and eLearning in higher institutions of learning.
Bernard Buteera is the Communications Officer of the Mastercard Foundation Scholars Program at Makerere University.