Students With Disabilities Welfare Takes Centre Stage at Sensitization Workshop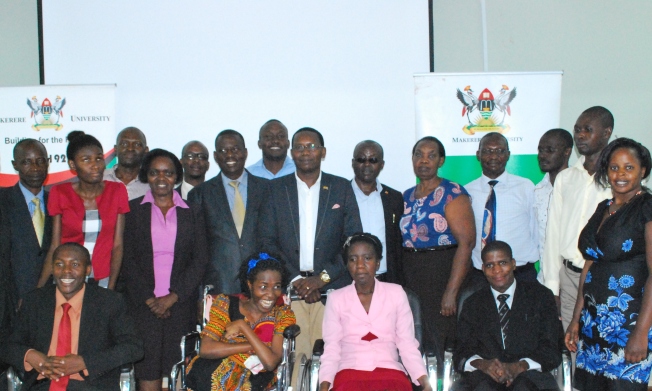 On 22nd June 2017, the Office of Dean of Students– Makerere University organised a workshop to sensitize the institution's Stakeholders on issues pertaining students with disability. Held in Senate Conference Hall, the workshop focused on developing a fundamental strategy to operationalize the Makerere University Policy on Students with Disabilities.
Speaking to the stakeholders, Management and members of staff present, the Dean of students Mr. Cyriaco Kabagambe said that the workshop kick-started efforts to practically implement the Makerere University Policy on Students with Disabilities. "Our aim is to create awareness of the importance of the policy through capacity building. We want to take the policy off the shelf and put it into practice.
According to Mr. Kabagambe, the Policy on Students with Disability that was approved by the Makerere University Council in February 2014. This action was purposely to promote effective management, inclusion, participation and visibility of students of the university through deliberate supportive, sustainable and friendly physical and nonphysical environment.


The policy also mainstreamed the disability issues in all university programmes and activities, as well as promoted equalization of opportunities for students with disabilities and special needs in the university.
"This policy is very instrumental, based on research from different universities and other international policies. We looked at how we can create a conducive working and learning environment for the participation of students with disabilities in the university. And also promote consciousness and awareness among members of the University community about the rights and needs of students with disabilities and ways of supporting them," he said.
On behalf of students with Disability at Makerere University, Mr. Okwii Simon Peter thanked the management and staff for ensuring effective, efficient and friendly service delivery to students with disabilities and Special Needs. "We are very grateful that out of the 64 slots the government of Uganda gives to personal with disabilities at higher institutions of learning, Makerere University takes the highest number of students during the entry application compared to other Public Institutions."


Sharing an experience of students with disability at Makerere University, Mr. Okwii, a final year student at School of Law said that for long people have misinterpreted disability with only physical challenges. "Disability goes beyond what we can see in relation with the international convention. It goes a long way to include things we cannot see such as sickle cells, asthma, among others," he explained.
He however, humbly called upon the university to look into the challenges that have persisted and greatly hindered his fellow students from having a convenient and enjoyable stay at campus.
"We have realised that the university has few sign posts and this has affected us. Another issue is to do with examinations, tests and course work. So many of my fellow students have failed to graduate in time due to missing marks. We find many challenges in classes with lecturers who don't know how to handle us. Our request is to the university management is to carry out a capacity building workshop on how lecturers are supposed to handle us in class" Okwii said.


During the workshop, the Programs Manager at National Union of Disabled Persons of Uganda (NUDIPU) Mr. Ninsiima Chris encouraged students with disability to ignite a sense of self-esteem in their lives. " The greatest enemy of the person with disability is the person with attitude. Remove all the stereotypes and names referring to you in form of sympathy. There is ability in disability and those abilities can flourish with support," he said.
In a presentation he made on creating a conducive study environment for students with disability at Intuitions of Higher Learning, Mr Ninsiima urged institutions of higher learning to engage the entire community including persons with disability if they are to attain inclusive development.
"Inclusive development occurs when the entire community, including persons with disabilities, benefit equally from development processes. Inclusive development encourages awareness of and participation by all marginalized groups. Disability-inclusive development respects the diversity that disability brings and appreciates that it is an everyday part of the human experience. Disability-inclusive development sets out to achieve equality of human rights for persons with disabilities as well as full participation in, and access to, all aspects of society," he stated.


Discussing the rights of person with disability under a topic; enforcing human rights of students with disabilities in institutions, Mr. David Nangosi, the Legal Officer NUDIPU emphasized the need to promote equity among students in the university. "Don't discriminate them, let them compete with others in the various university activities available. The only way to live is to achieve equity in life.
Speaking on the role of the Makerere University Library in adapting the new innovations and modern software to suit the needs of students with disability, Mr. Luyaaya Mathias, the Officer in charge of Students' Information Services said that the University has put in place equipment that carter of the needs of students with disability.
"We have at least stocked machines and software that carter for both students that are deaf and those who are visually impaired. The library has also been set up to accommodate students with wheelchairs among others. However, the library still faces challenges of being under-staffed and lack enough equipment in the section," Mr Luyaaya narrated.


The Director Makerere University Hospital Dr. Margaret Wandera, encouraged the students with disability to fully utilize the university hospital services. According to Dr. Wandera the university hospital has put aside services accessible to only students with special needs.
In his speech, the Guild President H.E Kato Paul thanked the Office of the Dean of Students for the initiatives it has put in place to make sure that the Makerere University Policy on Students with Disability is operationalized. He pledged to work hand in hand with the Office of the Dean of Students to see to it that the entire university community understands and puts into practice the principles of the policy.


"We are also working hand in hand with the Office of the Dean of Students to see to it that we provide orientation to first year students specifically students with disability," he said.
H.E Kato Paul also said that his Government has embarked on an affirmative action to help students with disabilities. The Students Guild has in place a full ministry and a well allocated budget for the students with disabilities.
Article: Public Relations Office

A Successful Ph.D. Defense by Vianney Andrew Yiga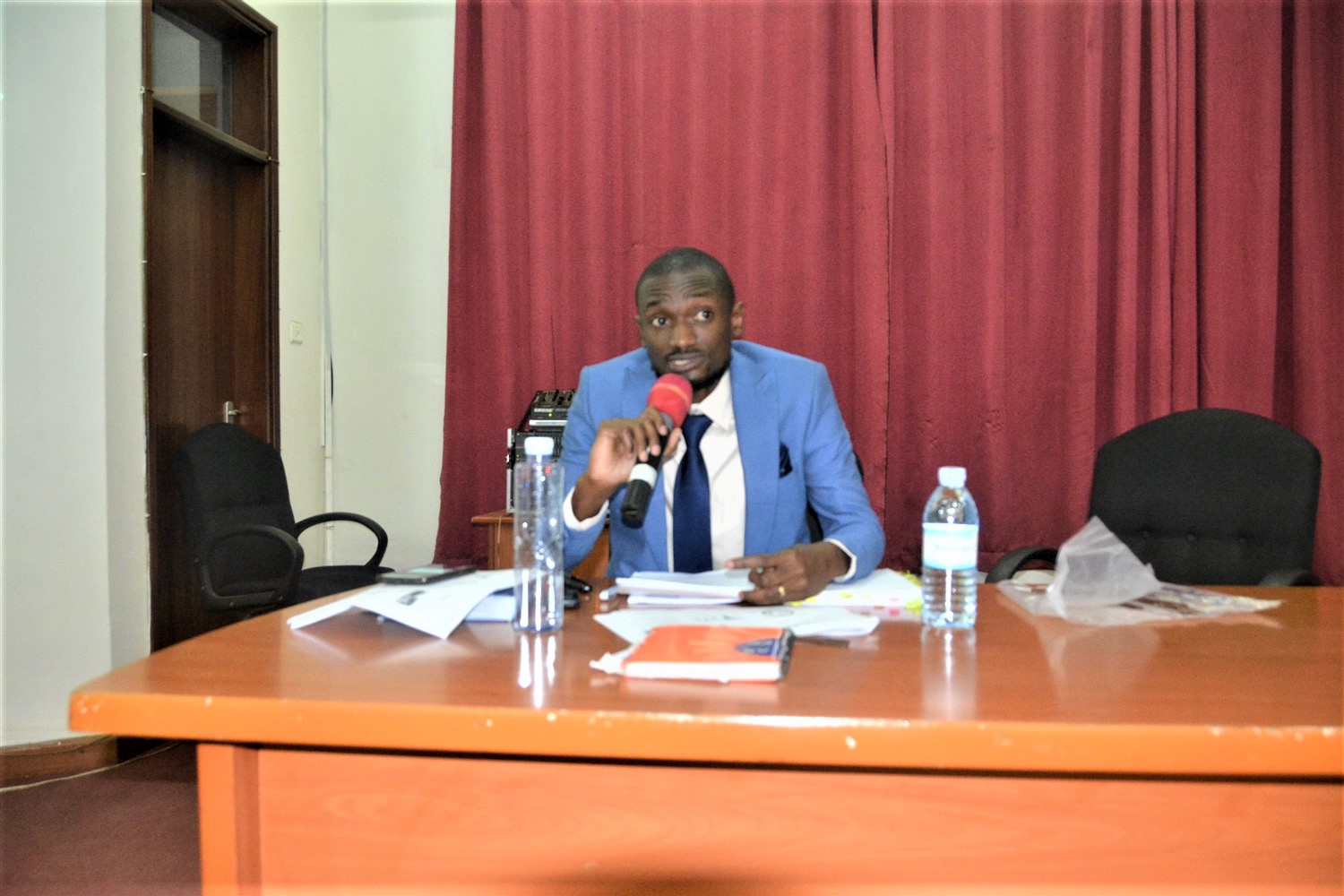 The CEDAT community is proud to share our congratulations to Vianney Andrew Yiga following his successful Ph.D. defense that happened yesterday Monday 3rd October 2022 at the College of Engineering, Design, Art, and Technology (CEDAT).
His Thesis was titled; Thermal Stability of Fiber- Reinforced Polylactic Acid Composites for Flameretarded Applications.
The candidate was supervised by Eng. Dr. Michael Lubwama and Eng. Dr. Peter W. Olupot both from the Department of Mechanical Engineering, at CEDAT.
Dr. John Wasswa, Department of Chemistry, College of Natural Sciences (CONAS), Makerere University was the opponent that interrogated the candidate to enable a clear understanding of the study.
Makerere University Launches National Parenting Draft Manual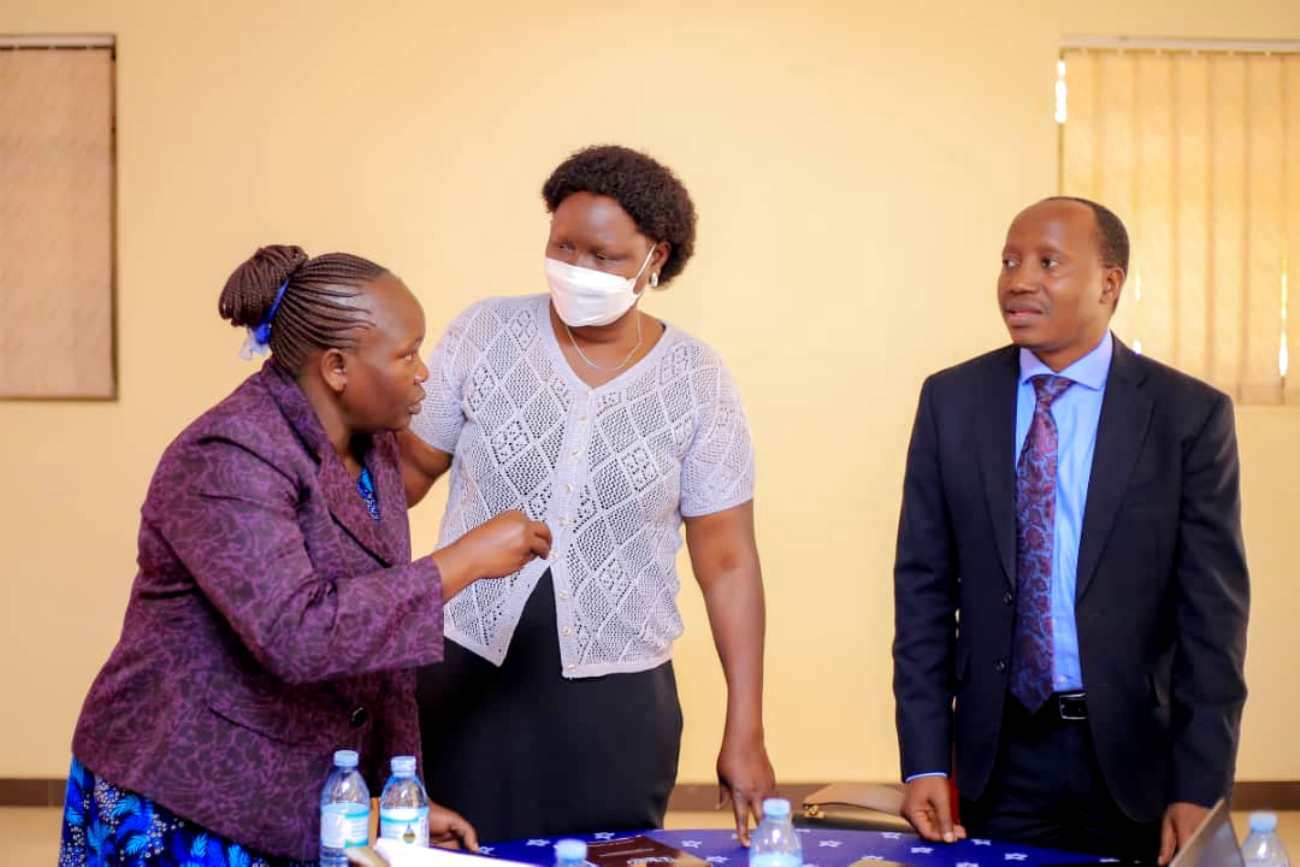 By Agnes Namaganda
On July 22nd 2022, Makerere University–Child Health and Development Centre (Mak–CHDC) launched a draft manual for the National Parenting Standards. The Centre has been working together with the Ministry of Gender, Labour and Social Development (MGLSD) with funding from UNICEF (United Nations Children's Emergency Fund), to develop standards that are agreeable to all organisations in the country that are involved in parenting work. The draft manual was being presented to members of a consortium that brings together all these organisations together, called the Parenting Agenda Consortium.
"We produce many documents and they are shelved," Irene Ayot Chono, who was speaking on behalf of UNICEF said. "We hope that this document will not be one of them," she emphasized.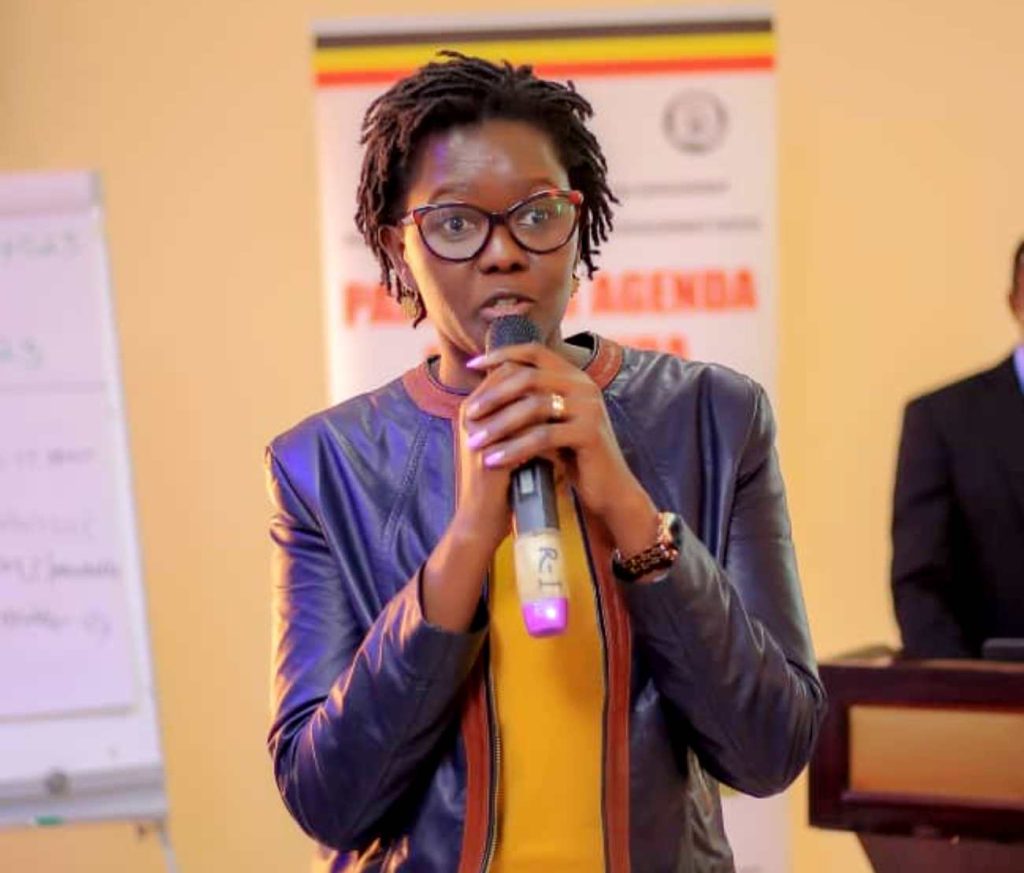 Dr. Godfrey Siu, the Principal Investigator from Mak-CHDC who presented the draft manual to participants, emphasized that if any organization is doing parenting work, there should be a minimum package that they should offer.
Draft Manual Content
The manual which will have several modules. These modules will be delivered face-to-face in 1.5 hour sessions. Some of these include; Module 6 which will focus on "understanding responsible masculinity and fatherhood" and on "understanding the concept of head of family."The draft manual also proposed that Module 11 focuses on Parenting in the 21st Century. Some of the sessions in this module will include Children and Technology, Contemporary Influence on Children and Modernity, Culture and Morality.Module 9 will focus on Parenting for Adolescents and some of the suggested sessions within this module are Needs for Adolescents and The Art of Communicating with Adolescents. Module 5 will focus on Preventing Violent Parenting and Promoting Alternative Discipline Strategies while Module 10 will be about Parenting to Address the Mental Health for Children and Adults.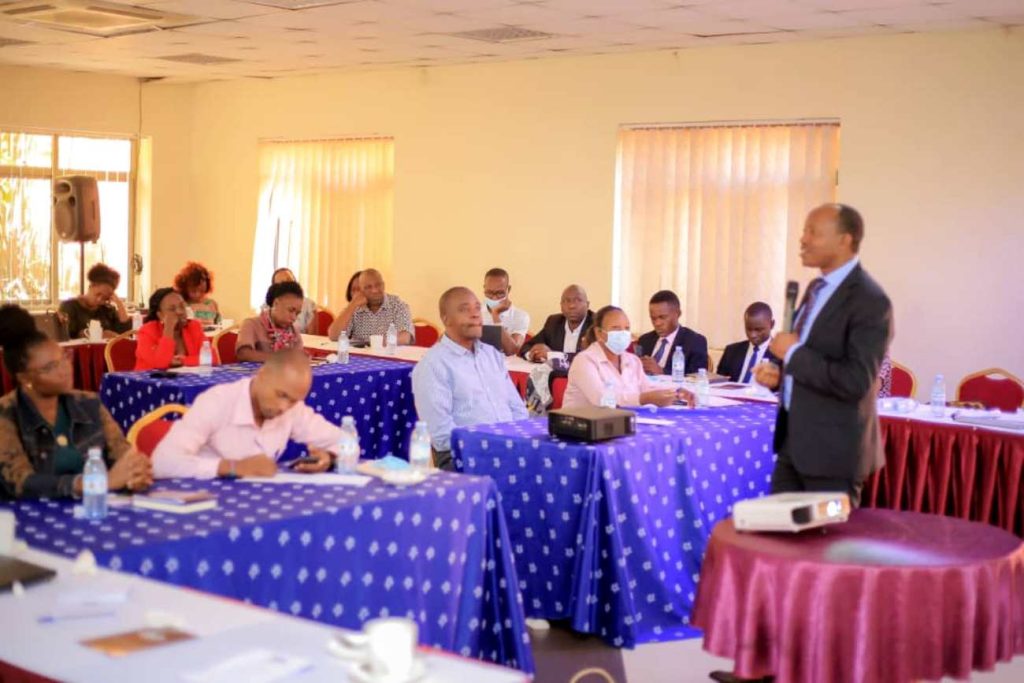 Participants' suggestions
After the presentation, participants raised several suggestions for discussion and consideration. These included whether there should be a module on spirituality since Uganda is a strongly religious nation. There was also the concern of how children in remand homes should be parented. Another concern raised by a participant was as to whether teachers who make an undeniable contribution to parenting, should be taken through the parenting manual.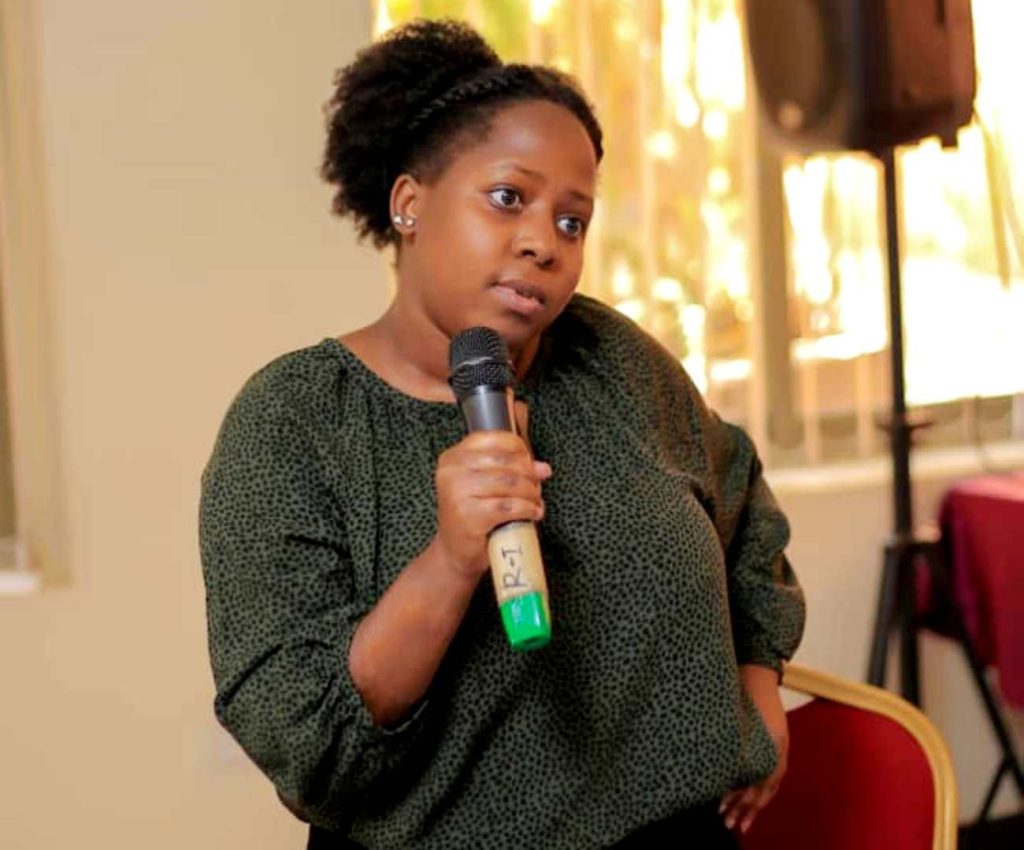 In her closing remarks, Ms. Juliana Naumo Akoryo, the Director of Cultural Affairs at the Ministry of Gender, Labour and Social Development (MGLSD) said that the manual is for the parenting organisations to utilize and not for MGLSD.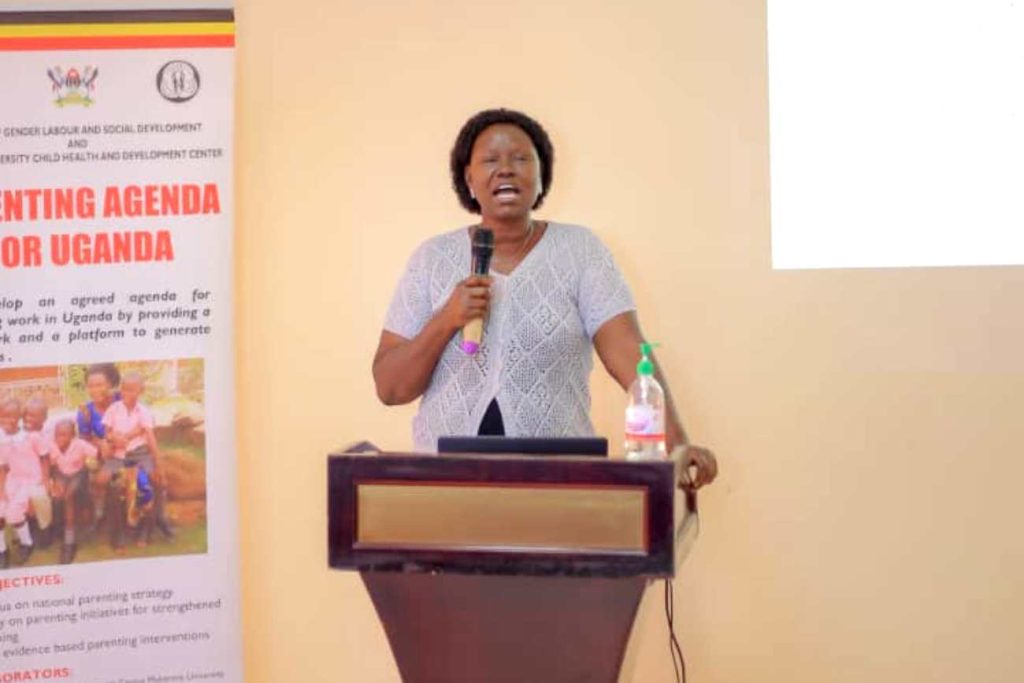 Ms. Chono also adjured the team behind the manual to use picture illustrations in the manual that can be relatable by the Ugandan parents.
Contact: Agnes Namaganda – agnesvioletnamaganda@gmail.com
Launch of Mak-RIF Round 4 Awards & PhD Call for Proposals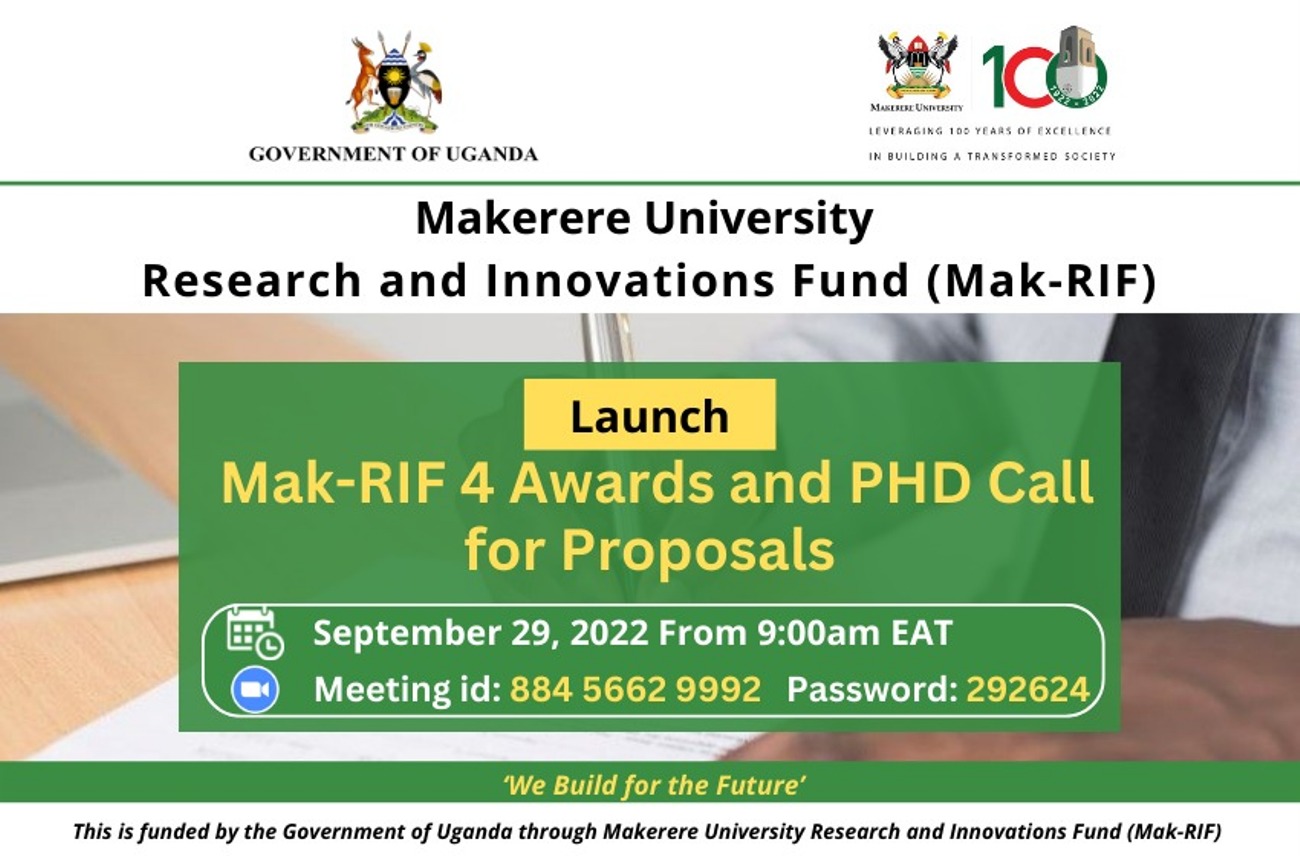 Makerere University received funding from the Government of the Republic of Uganda, earmarked to support high impact Research and Innovations. This unique initiative arose after engagements between the top University Management and the Government of Uganda. This fund illustrates the increasing importance that the Government attaches to Research and Innovation as a driver of development and transformation. The objective of the fund is to increase the local generation of translatable research and scalable innovations that address key gaps required to drive Uganda's development agenda. 
In the Financial years 2019/2020, 2020/2021 and 2021/2022 the Government of the Republic of Uganda through Mak-RIF has funded implementation of over 750 multidisciplinary research and innovations within the various Colleges, while engaging multiple stakeholders within and outside Makerere University. The Grants Management Committee (GMC) has finalized the award process for the Mak-RIF round 4 call for funding for this Financial Year 2022/2023.
The Grants Management Committee (GMC) hereby invites you to the Launch of the Mak-RIF Round 4 awards and PhD Call for Proposals scheduled to take place tomorrow Thursday 29th September 2022 from 9:00 to 10:00 a.m. EAT. 
Please use the following details to join the launch.
Register in advance for this meeting:
https://us06web.zoom.us/meeting/register/tZwpcu-urDIjE9ZgxdsbEmA2IkNMMiJVECt_ 
Meeting ID: 884 5662 9992
Password: 292624