The Giants are Awake-Academia Discourse on Development Concurs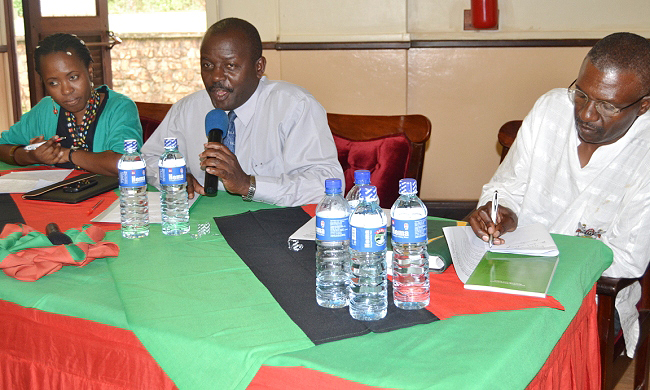 On 8th October 2014, a day shy of Uganda's 52nd Independence anniversary, the Makerere University Main Hall played host to a panel discussion organized by the University Forum on Governance (UNIFOG) in partnership with Konrad-Adenauer-Siftung (KAS). Based on the theme "Awakening the Giants: The Academia and Development Discourse in Uganda" the discussion drew participants mainly from the Humanities and a host of Staff, Students and members of the general public.
Giving the opening remarks, Konrad-Adenauer-Siftung's Programme Officer for Uganda and South Sudan Ms. Maike Messerschmidt noted that her organisation was particularly excited about the day's debate considering that it had set to analyse and highlight the role of academia in Uganda's development.
"The question of the role that the academia plays, or should play in development and even politics is not limited to Uganda. All over the world, the academia is often stuck between two poles of getting caught in the ivory tower and its concepts and theories and connecting closely, and as many might say, too closely to everyday realities, and we therefore want to thank UNIFOG for the great initiative," said Ms. Messerschmidt.
I
n his remarks, UNIFOG's Executive Secretary Mr. Bruce Kabaasa thanked KAS for the support to this important initiative as well as the panelists for agreeing to discuss the day's topic, and the students for their huge turn up. He then introduced the day's panelists: Dr. Simba Kayunga Ssali, Lecturer-Department of Political Science, College of Humanities and Social Sciences (CHUSS); Dr. Asiimwe Godfrey, Head-Department of Philosophy and Development Studies, CHUSS; and Dr. Tanga Odoi, Department of History, CHUSS.
To break the ice and ensure that everyone was on the same page, Dr. Sarah Ssali, Senior Lecturer-Department of Women and Gender Studies, CHUSS put the day's topic into perspective by noting that the academia has indeed excelled in all fora of development and governance where they were well facilitated. She also noted that although there was widespread promotion of practical skills, one can never practice what they have not theorized.
"The history of society is the history of production, dissemination and knowledge and the ideas that drive society are incubated and nurtured within the academia. As the academia is a reflection of the larger society, what then comes out depends on how the larger society invests in this kind of academia. The status of society then depends on the value they attach to the academia" observed Dr. Ssali.
Comparing the post-independence Makerere of the 1960s and the current one, she decried the continual alluding to practices and subjects that help to create the well-rounded graduates as belonging to the 'old elite club'. "Everything to do with the old elite club is not considered lately. Shakespeare was recommended reading for Medical School in the sixties but all this is no more," she said.
Remarking on the Government emphasis of Sciences over Humanities Dr. Ssali pondered "Who is going to shape the agenda in conflict and resolution if we think that humanities are not useful?" She observed that the biggest conflict now lay in thinking. She then urged the all Humanities students to take their courses seriously considering that their "thinking only" nature is helpful in demonstrating that research will have policy impact.
"How prepared are we if we don't rethink our position as our population grows? As academia, we also stand to be blamed for having conformed rather than challenged regardless of the time. But we need to know that the solutions of today will not solve the problems of tomorrow and we need to do something about it. Ugandan academia needs to shape development discourse so that we nurture the nature of inquiry that produces it" she observed.
She concluded her introduction by posing three key questions; does our academia really need awakening and are we a sleeping giant? Are we to blame for the lack of development in this society and is this a problem of we the individual academics or of the wider context we are located in? Is there more we can do to shape the development discourse of this country; and if there is, what more can we do and how best can we turn the trend around?
In his contribution, Dr. Simba Kayunga Ssali concurred with the opening remarks that the giant was indeed awake but whether he was a giant at all was topic that would make for interesting discussion. He further noted that although development is still a debate, how to overcome underdevelopment was also still a debate.
Dr. Simba then endeavoured to lay out the role that academia has played and continues to play since independence. One of these is knowledge generation as evidenced by the various forms of research findings published annually by Universities such as Makerere. Regarding the role of policy formulation he cited: the Common Man's Charter (Move to the left) as a work of an academic; the Plan for Modernisation of Agriculture (PMA) blueprint developed by Professor Godfrey Bahigwa; the Local Governments review commission of 1986 led by Professor Mahmood Mamdani; Reorganising Uganda's foreign policy; The 2004 White Paper Defence Transformation in Uganda; as well as the fact that Uganda's National Planning Authority (NPA) is headed by a member of the academia Dr. Joseph Muvawala. He also noted that the academia was involved in governance through their professional capacities as Board Members of various Government Parastatal bodies and Companies.
He however also outlined challenges faced by the academia as: dissemination of research, noting that our research does not seem to reach policy makers or even make it to the recommended reading list for course outlines in our own university; the lack of willingness by Government to consume our own Ugandan views; the disastrous semester system which preoccupies staff with marking and teaching with little room left for intellectual debate; and neo-liberalism which has created a cynic standardization and universalisation of discourse. "There are certain things which you are supposed to take as universal. We in the Department of Political Science are supposed to say that liberal democracy is the standard way of going about our politics and there are no alternatives" added Dr. Simba.
Dr. Simba also noted that neo-liberalism has created some forms of powers which shape debates. "For example you cannot conduct a healthy debate on Genetically Modified Organisms (GMOs) without attracting persecution from the powers. And if you tried to say that homosexuality is bad, you are risking not being given a visa to the west. Those controlling the market and those controlling global politics are forcing us to think in a certain direction because of the powers they have over us" he said in conclusion.
Commenting on the day's them, Dr. Asiimwe Godfrey noted that this debate was long overdue in Uganda since the academia has not been sleeping but had been actively engaged in research. He however pointed out that this involvement had only been at individual level, with researchers selectively chosen to vindicate the status quo and write the research of the rule. He further noted that development was about humanity and society but there was need to first understand this humanity and society before it can be developed. He observed that this was the basis for the countries of East Africa coming up with research institutions like; The Institutes of Development Studies in Nairobi and Dar es salaam as well as the Makerere Institute of Social Research (MISR) in Uganda.
He noted that these research institutions fed the policy making process and formed the synergy between the Fifth Estate (Academia) and the Government. He however traced the commencement of "sleeping" to the 1980s which saw a decline in research and analysis in development policy making and the emergence of new actors of neo-liberalism such as Non-Governmental Organisations (NGOs), National Institutes and Think Tanks. These, he said redirected the course of national policy formulation.
"The neo-liberal agenda was to direct development towards its interests of modernization of Africa and marketisation, and I think that was the point of departure. This was meant to accelerate Africa's development and move it from backwardness to modernity. Accordingly, the State was rolled back and that led to the disconnection with its linkage with policy research and coordination with the Fifth Estate and from then on, university voices in contemporary development had to reform, comply or were marginalized" explained Dr. Asiimwe.
He further noted that this development came with reduction in funding both to operations and research at public universities, which led to a discourse that portrayed Higher Education in Africa as a luxury and unproductive. As a result, the 1980s ushered in the consultancy industry as a quick fix for complex African problems and market failures which led the poorly remunerated Scholars in Makerere looking for lucrative engagements in the marketplace. Dr. Asiimwe further noted that as a result, critical thinking was often referred to as divisive.