First Year Interns Shine, Impress NAADS Boss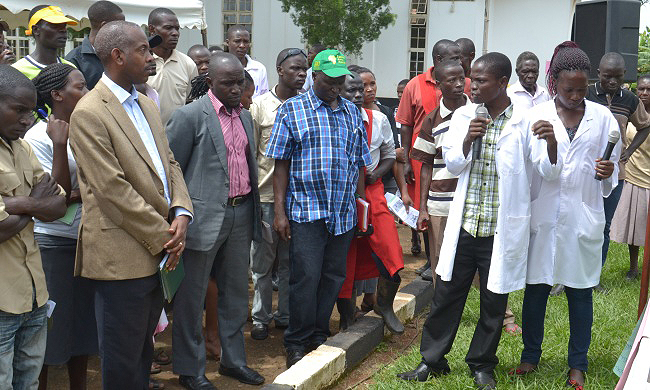 "I was deeply impressed by the depth of knowledge exhibited by you the First Year Students and I congratulate the College of Agricultural and Environmental Sciences (CAES) Administration for the great mentorship to these students. This is a very good foundation for an equally good crop of future scientists," remarked the Chief Guest Dr. Samuel Mugasi. The National Agricultural Advisory Services (NAADS) Executive Director was speaking after a tour of various projects exhibited by over fifty First Year Students of Agriculture, Food Science and Technology, and Horticulture at the Makerere University Agricultural Research Institute Kabanyolo (MUARIK) on Friday 8th August 2014.
The exhibition held after a 10-week residential Internship at MUARIK gives First Year students the perfect platform to demonstrate to their peers, Lecturers, prospective employers and members of the general public all the skills they have been taught during the intense theoretical and practical sessions. The areas covered included Plant Tissue Culture, Nursery Bed Establishment, Mushroom Cultivation, Artificial Colostrum Making, Urea Molasses Mineral Block Making, Compost Manure Making, Soil Fertility Testing as well as the Use of Ox Ploughs. The Students also went on to exhibit skills in Soil and Water Conservation in Banana Plantations, Raised-bed Vegetable growing, Poultry Management, Feed Mixing, Silage Making, as well as knowledge of diseases that affect pig production like African Swine Fever.
On the Human nutrition front students of Food Science and Technology educated their audience on the importance of good nutrition and thereafter invited all present including the Chief Guest Dr. Mugasi to have their Body Mass Index (BMI) and Blood Pressure checked. At the conclusion of the exhibition, the students shared tips on how to turn juice making into a profitable business and thereafter participants were treated to a demonstration of the Mobile-fruit processor in action.
Commenting on all he had witnessed, The Chief Guest Dr. Mugasi said "I am confident that all of you will have jobs after you graduate, although I do not encourage you to look for jobs as the skills exhibited here today have proved that you are capable of self-employment." He further shared that NAADS' current transformation started 5 years back and under the new structure, 13,000 extension worker positions had been created.
"We currently have between 4,000 to 5,000 of these positions filled. Therefore assuming that the College graduates 400 students per year, you would need close to 20 years to fill all these positions," added the Chief Guest.
Representing the CAES Administration, the Head, Department of Agricultural Production Dr. Denis Mpairwe congratulated the Internship coordinators Dr. Wasswa and Dr. Sadhat Walusimbi upon a job well done. He further commended the students upon their active participation and display of keen interest in all activities they were engaged in.
"Through your internship training you have learnt how to write business plans and demonstrated that you can put them into practice. I encourage all of you that have your plans ready to submit them so that you can compete for funding to advance your projects. All you will be required to pay back is the initial loan amount," said Dr. Mpairwe, before adding "Mr. Apollo Segawa the Managing Director CURAD is also here with us today and has access to funding for agribusiness to help develop your projects" as the excited students cheered at the prospect.
He further affirmed the students that they would never regret having taken their respective courses as records showed that by Graduation, 60% of the students were already gainfully employed. "These courses prepare you for all sectors and so I advise you to love your course and in case you have any problem, please let your Student leadership and the Administration know. You have demonstrated great skills here and thanks to the presence of the Media, the whole world now knows how capable you are," he concluded.