CCAFS PhD Student on Gender Inclusion in climate change adaptation policies
The CGIAR research program on climate change agriculture and food security (CCAFS) has funded an IITA-led project "Influencing and linking policies and institutions from national to local level for the development and adoption of climate-resilient food systems". The project is jointly implemented by a consortium of CGIAR centres (IITA, CIAT, ICRAF, Bioversity, and ILRI) in partnership with NARO, Makerere University, government ministries/departments, national climate change units, civil society organizations and other private sector agencies in Uganda and Tanzania.
The overall objective of the study is to assess to what extent gender aspects have been included in climate change related policies, to identify gaps, and to determine how eventual gender gaps impact on climate change adaptation.
Role and duration
We are looking for a well-qualified and highly motivated individual to undertake his/her PhD studies enrolled at the University of Wageningen. Over the 4 years, starting July 2014 or as soon as possible thereafter, the PhD student will be based in Uganda, but he/she will spend three periods of several
months each at Wageningen University (the Netherlands) for proposal development, training courses, and scientific writing.
Submission of applications
Applications should provide a cover letter and curriculum vitae – including a list of publications and names and addresses (including telephone and email) of three referees who are knowledgeable about the candidate's professional qualifications – should be sent to both info.cpt@wur.nl and IITA-TrainingUnit@cgiar.org, and copied to j.anyango@cgiar.org .
All documents should be submitted as one pdf file, named "genderphd_<your surname_your first name>". Use "CCAFS FP4-EA Gender PhD Position" as the subject line of your email and your cover letter.
For further questions please contact margit.vanwessel@wur.nl.
Applications close on 10th July 2014.
PUJAB Notice to Schools for 2023-2024 Academic Year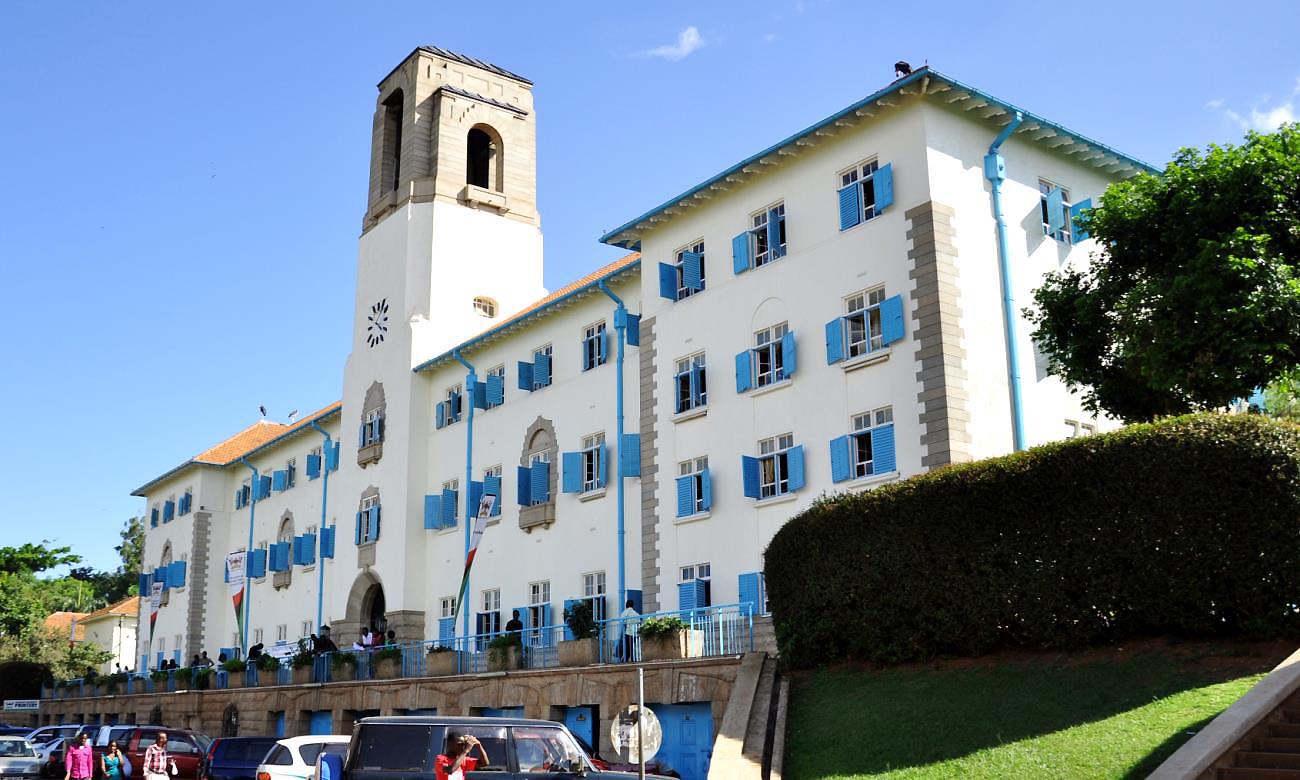 The Academic Registrar, Makerere University informs all Head Teachers of A' level schools that the Public Universities Joint Admissions Board (PUJAB) application forms for UACE 2022 Senior Six candidates for the 2023/2024 Academic Year admissions are ready for collection from the university from Friday 2nd December 2022.
The application forms should be collected from the Academic Registrar's Office, Senate Building, Level 3, Makerere University. Application forms are issued on payment of a non-refundable application fee of UG Shs. 52,000/= per applicant.
You are advised to obtain a payment Reference Number(PRN) to enable you pay the application fees following the procedure below:
Go to https://pay.mak.ac.ug
Fill in the details of the school i.e. name (including Centre Numbers) e.mail, and phone number. Click 'next'.
On the next page scroll through the items and click on PUJAB.
Adjust the Unit to the number of forms required.
Generate PRN, print and present to any bank near you with the amount and pay.
Present receipt to the issuing officer at Makerere University.
The forms are for UGANDANS only.
Please note that only Head Teachers or their authorised representatives will be served.
The closing date for receiving the completed application forms is Friday 20th January 2023.
signed
Prof. Mukadasi Buyinza
ACADEMIC REGISTRAR
Mr. Lawrence Alionzi elected 88th Guild President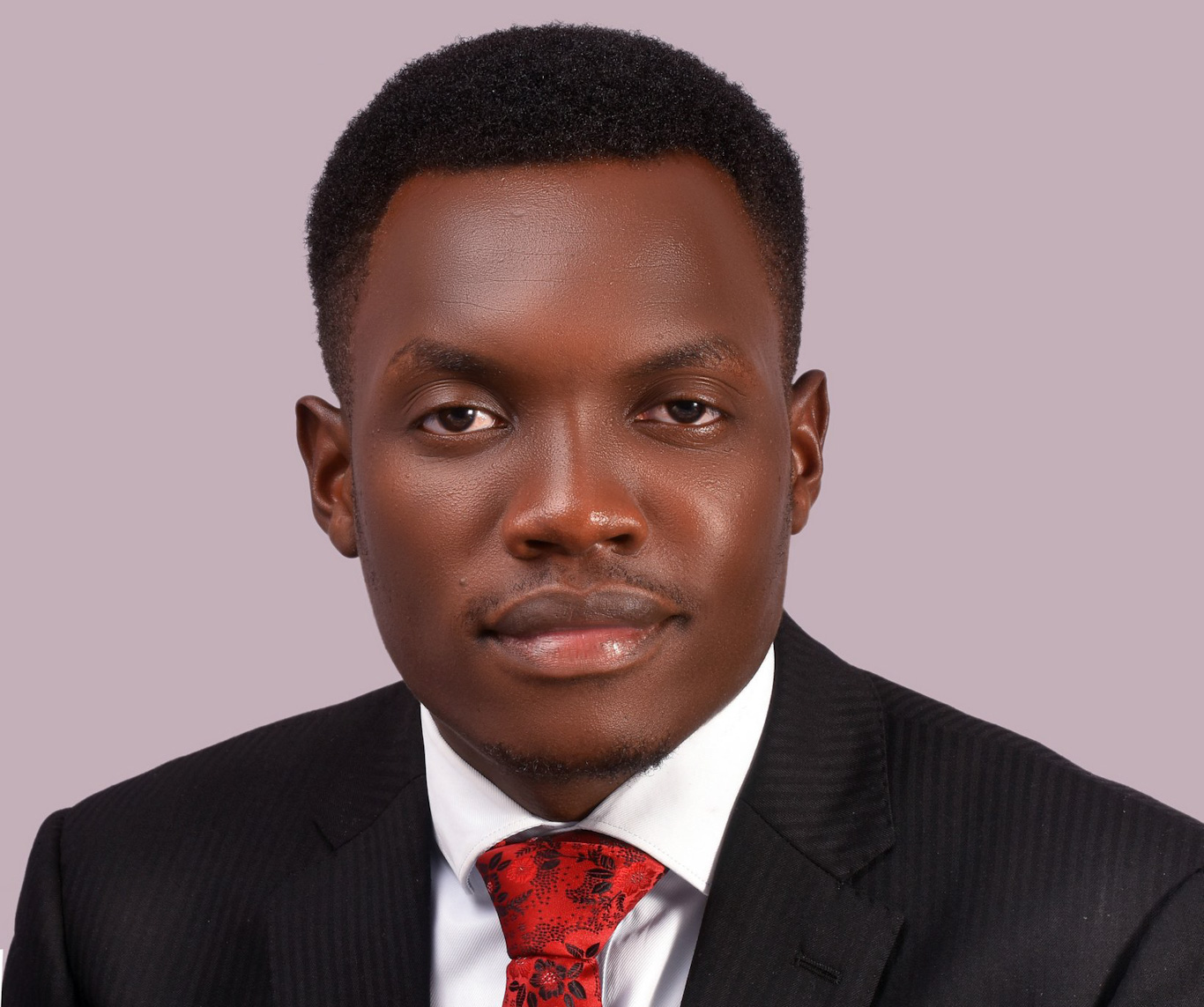 On Wednesday 30th November 2022, Mr. Lawrence Alionzi (Reg. No.19/U/0486) from the College of Engineering, Design Art and Technology was elected the 88th Guild President in elections conducted virtually.
According to the Guild Statute, elections of the Guild President and all other guild leaders shall be conducted by the guild electoral commission in accordance with the provisions in section 7 of the students guild statute.
The Chairperson of the Guild Electoral Commission Mr. Nsobanyi Edrine declared the results of the elections in the document below:
Swearing in of Guild President, Guild Representative Councilors, Senior Common Room, College Councils, Debating Union and Games Union will be conducted on Monday 5th December 2022 according to the standing election guidelines.
Prof. Nawangwe applauds the partnership between Makerere University & Mastercard Foundation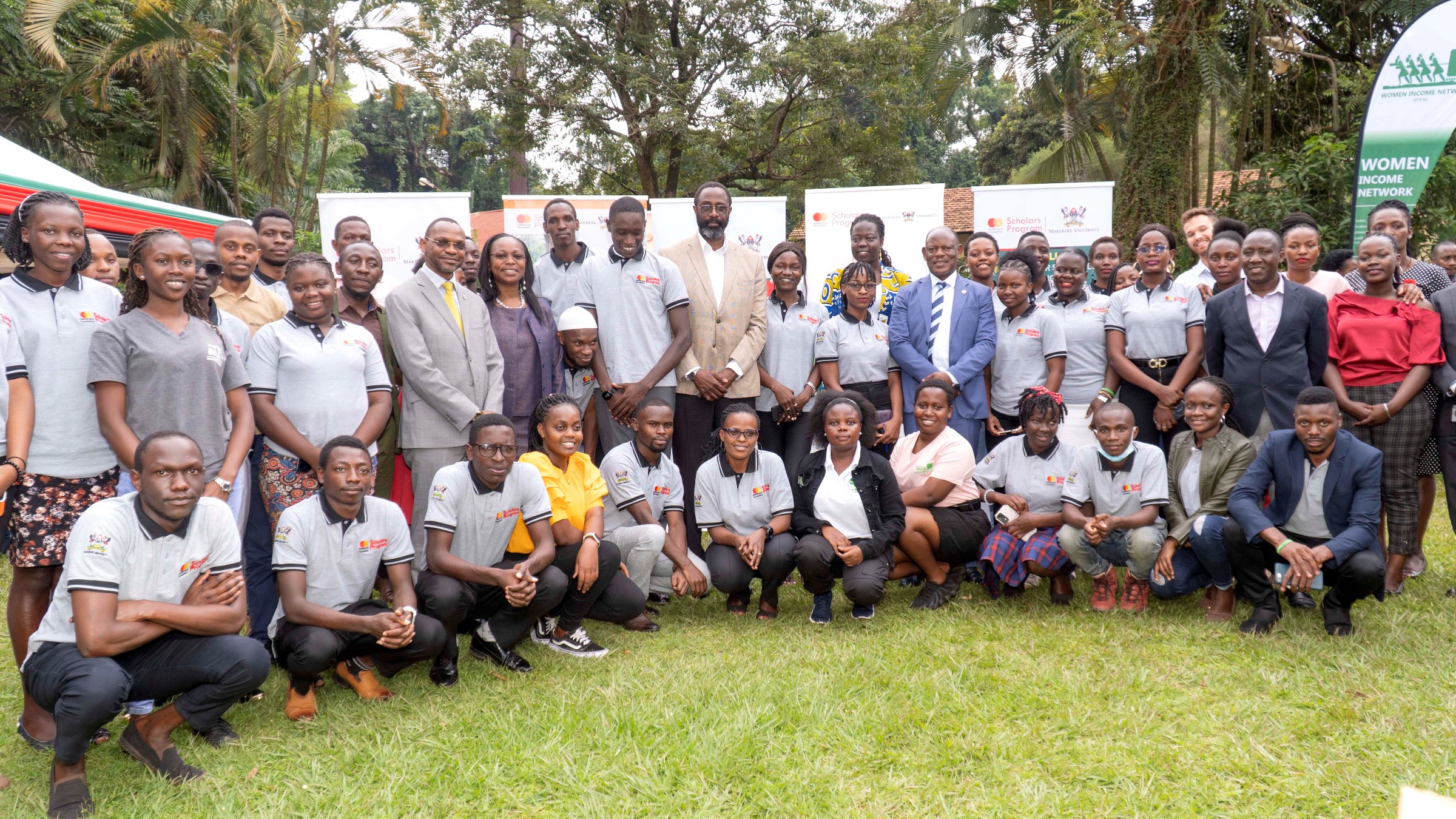 By Bernard Buteera
The Vice Chancellor, Prof. Barnabas Nawangwe, has applauded the partnership that exists between Makerere University and Mastercard Foundation. He said this during the Networking luncheon he hosted in honour of Mastercard Foundation Scholars at Makerere, who won the Resolution Fellowship project at Baobab summit in Kigali.
"Mastercard Foundation is one of the biggest partners for Makerere University and we are so proud of this partnership which has borne a lot of fruit" Prof. Nawangwe said.
The Vice Chancellor thanked the Scholars of Mastercard Foundation for being creative and innovative, and for making Uganda and Makerere University proud, when they won 6 out of the 9 Resolution projects that were given grants at the Baobab summit in Kigali.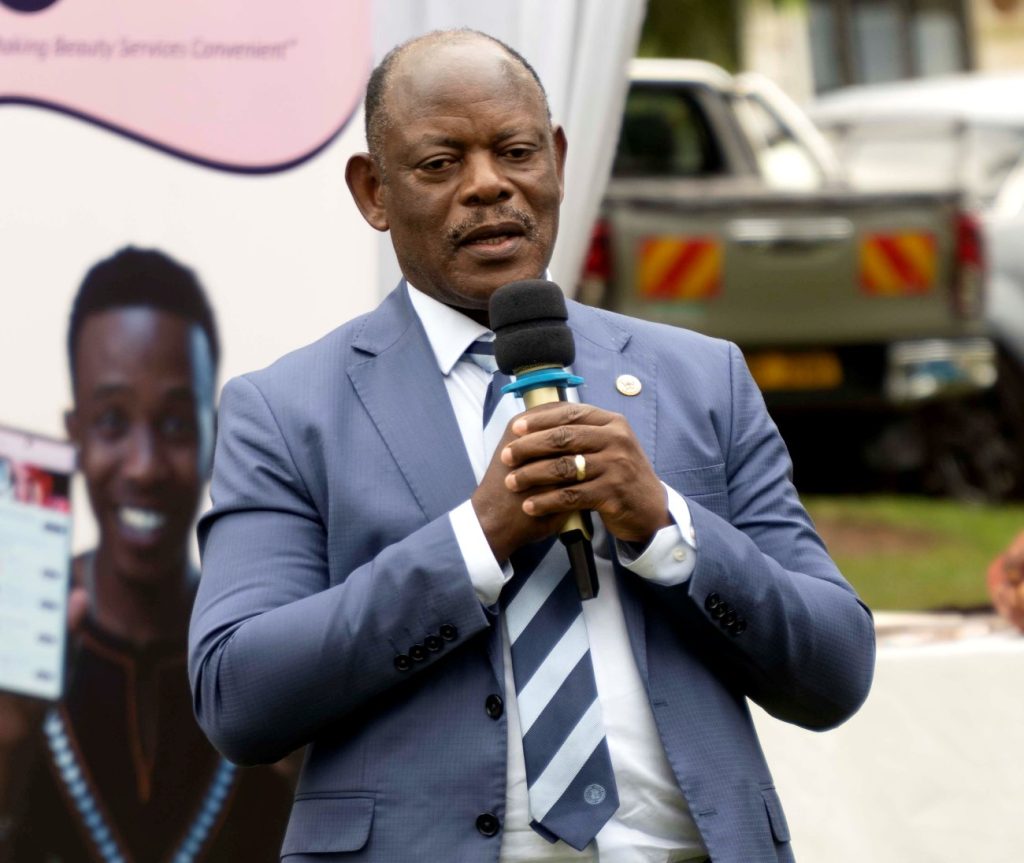 "I would like to thank the young people whom we are celebrating today, who made me proud as the Vice Chancellor of Makerere, when they swept almost all the awards at the global stage" Prof. Nawangwe said. He further revealed that during the summit in Kigali, they kept reading Makerere University during the awarding of projects, and at some point he pretended not to be happy, because he was in the company of other Vice Chancellors, but inside of him he was beaming with joy.
"The Resolution social venture projects are extremely important in many ways; Firstly, they encourage young people to be creative and innovative, so that they are able to come with initiatives and projects, which enable them to create their own jobs, instead of moving around looking for jobs which have become fewer, while the population is growing." Prof. Nawangwe emphasised.
On his part, the Deputy Vice Chancellor, Academic Affairs, and also the Chairperson of the Steering Committee of Mastercard Foundation Scholars Program at Makerere University, Prof. Umar Kakumba, applauded Mastercard Foundation for the support it renders to young people not only in Uganda and Makerere University, but also all over the world.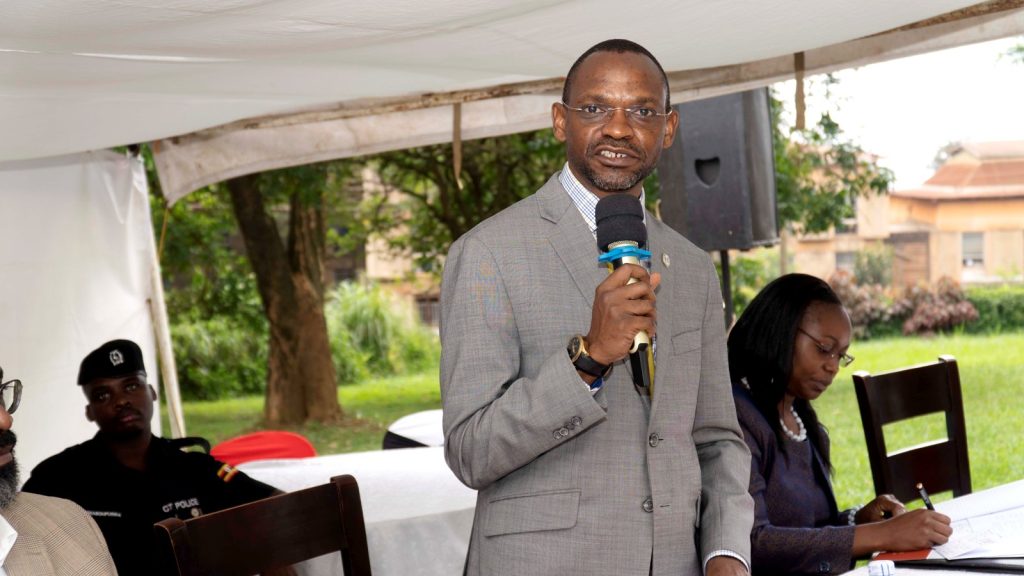 Prof. Kakumba further enumerated the different initiatives Mastercard Foundation at Makerere University which had created profound effect to the young people in Africa and Uganda in particular.
"As a country and specifically as Makerere University, we cannot run away from the idea of developing young people, because they are the current and next generation of leaders, innovators and change makers. We have a duty to skill, mentor and provide them with the continuous capacity to innovate and create economic opportunities for themselves and other young people." Prof. Kakumba said.
Prof. Kakumba called upon the Makerere University community to emulate what Mastercard Foundation Scholars Program was doing in terms training and skilling the young people at Makerere University.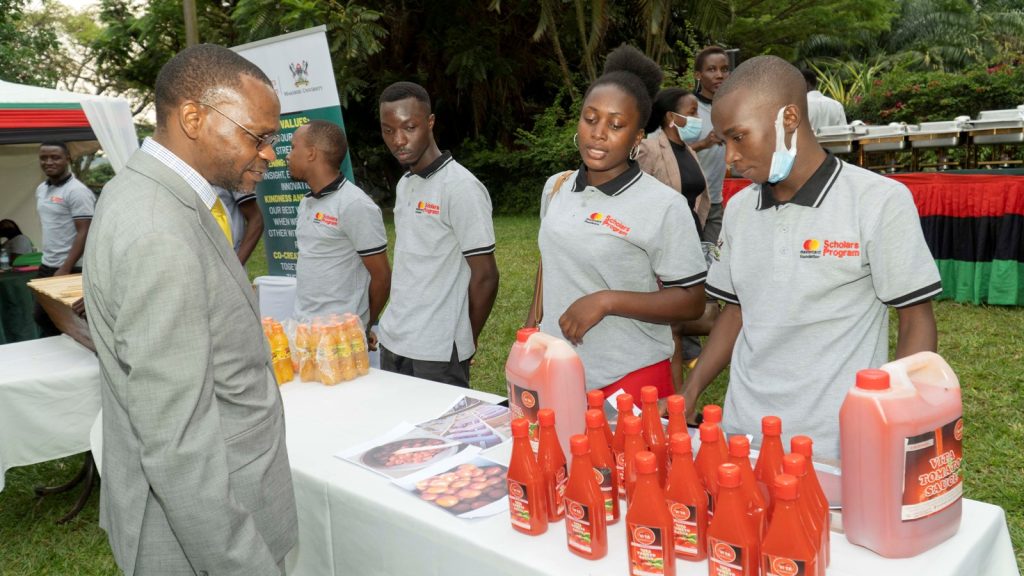 "The rest of the university faculty should emulate what Mastercard Foundation ScholarsProgram was doing, for instance every student of Makerere University should have a mentor, and also undergo entrepreneurship training." Prof. Kakumba pointed out.
Prof. Kakumba further revaled that going forward Makerere University was going to adopt a strategy where the University would make Entrepreneurship as a first choice career pathway.
"We are all aware of the challenges of youth unemployment in Africa and Uganda in particular. As an institution of learning, Makerere University needs to normalize entrepreneurship as a first choice career pathway for all the graduates." Prof. Kakumba said.
The Country Director, Mastercard Foundation – Uganda, Mr. Adrian Bukenya, revealed the Foundation was happy with the partnership with Makerere University, which dates back to 2013 with the establishment of the Scholars Program.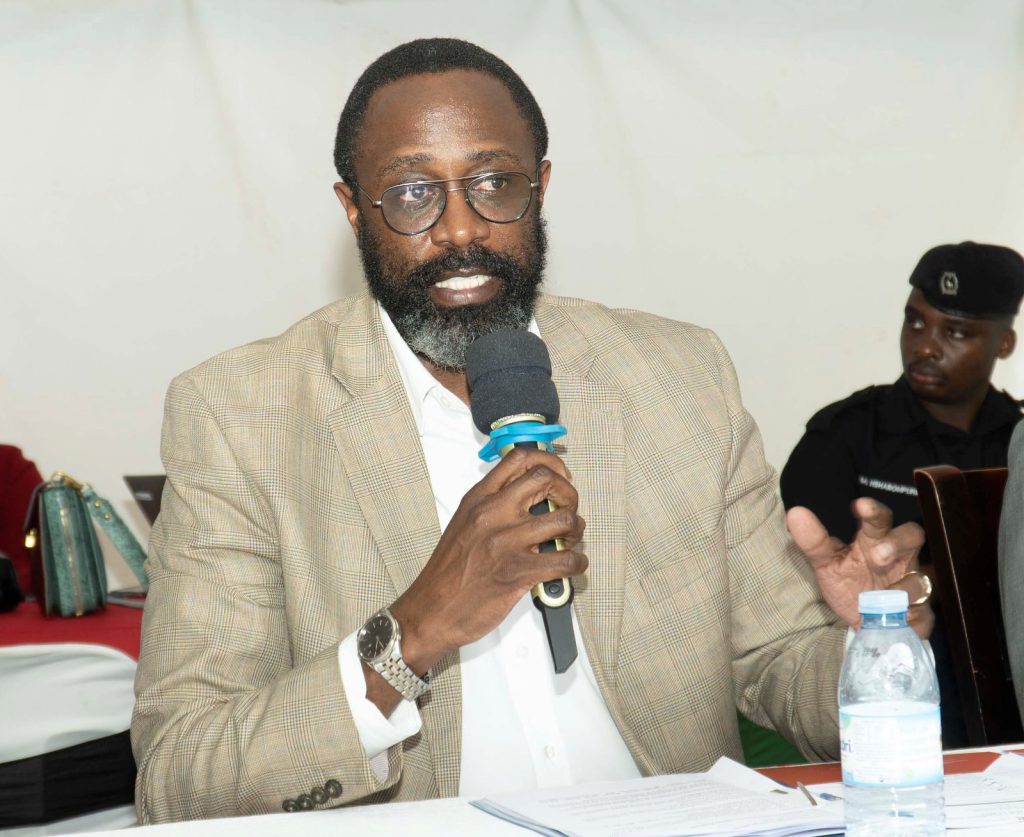 "Mastercard Foundation is proud of the partnership with Makerere University, which began with the Scholars Program in 2013, that has educated and empowered over 1000 young people to study at Makerere University." Mr. Bukenya said.
Mr. Bukenya pointed out that the Foundation was happy to support young people beyond the Scholars Program, to ensute that every young person transitions to diginified and fullfilling work.
"As a Foundation we want a world where young people are included and are thriving and their leadership and contributions matter. A future where young people are driving transformative change and achieving their full potential." Mr. Bukenya said.
Ms. Pauline Gangla,the Head of the Scholars Program, Eastern and Southern Africa Partner Network at Mastercard Foundation, thanked Makerere University for both the academic and entrepreneurship the university had imparted on the Scholars of Mastercard Foundation.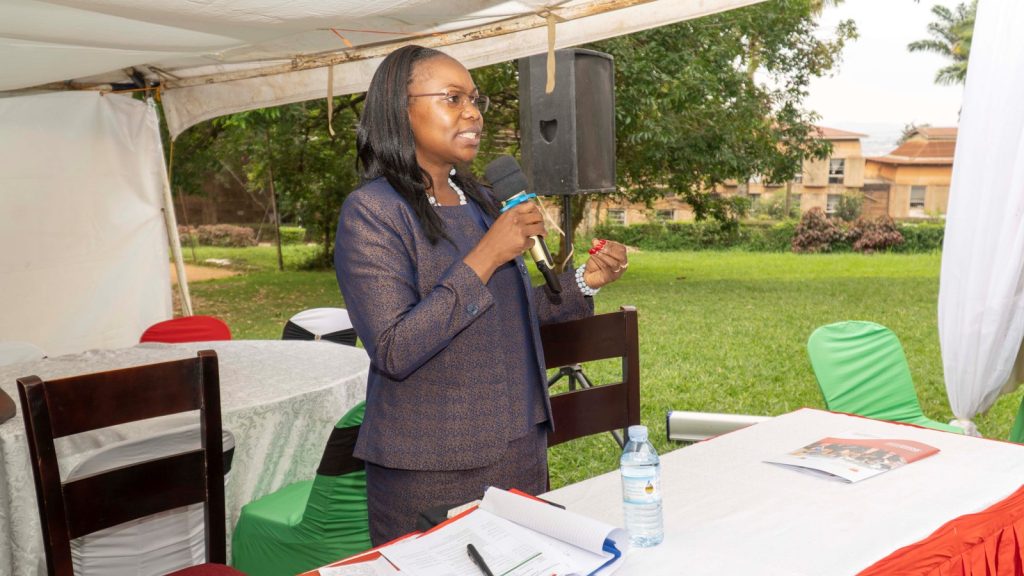 "I would like to thank the University for the Academic Support and entrepreneurship training given to the Scholars of Mastercard Foundation, here at Makerere University. During the summit it was evident in the way the Scholars pitched their projects, the level of confidence they exhibited was very high." Ms. Gangla revealed.
Ms. Gangla pointed out that the Foundation was very keen on safe guarding measures, to ensure safety and security of the young in the University.
"The Foundation was keen on safe guarding measures, where there is zero tolerance to any form of misconduct against young people. Young people should be treated with respect and dignity within the University and their communities." Ms. Gangla pointed out.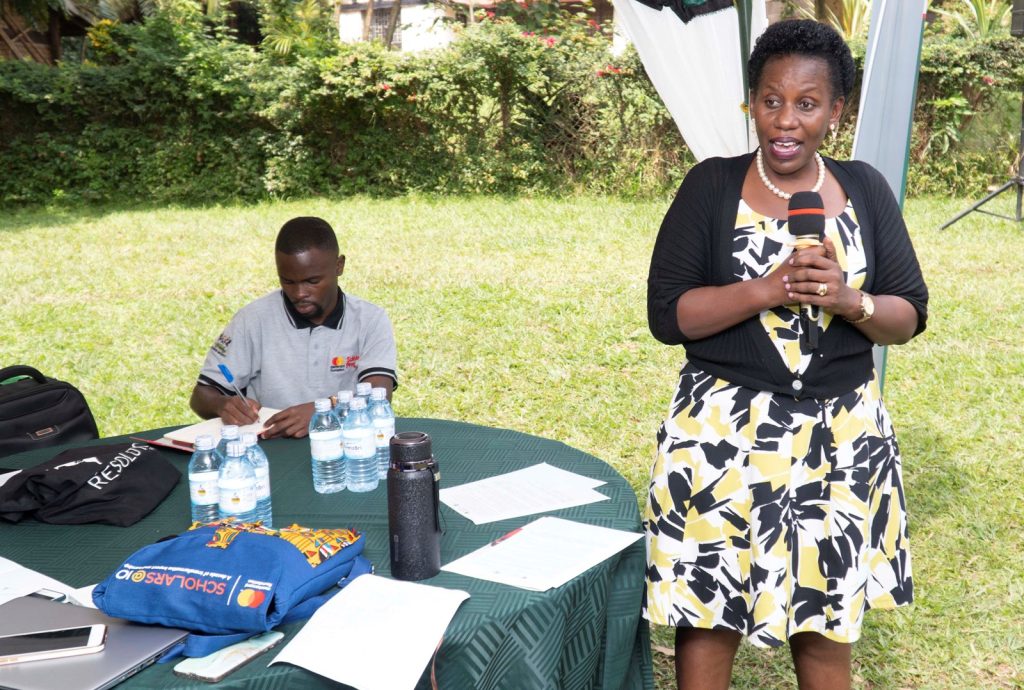 Prof. Justine Namaalwa, the Program Coordinator, Mastercard Foundation Scholars Program at Makerere University, thanked the University and the Foundation for the visionary partnership which has created profound impact in the University and the country in general.
"We are here to celebrate innovation and creativity exhibited by Mastercard Foundation Scholars over time since 2017, when Scholars started competing in the Resolution Venture Challenge, and all these are fruits of the visionary partnership between Mastercard Foundation and Makerere University." Prof. Namaalwa revealed.
Prof. Namaalwa pointed out the Scholars Program at Makerere University was proud of the 21 Resolution Social Venture (SVC) projects and 46 Scholars Entrepreneurship Fund (SEF) which Scholars has established and were making profound impact in their communities. She further revealed that projects had created both personal social development for the Scholars and their communities. She thanked the Vice Chancellor and the entire management, the Steering Committee, the Mentors and all other stakeholders who had supported scholars to grow their projects.
Bernard Buteera is the Communications Officer, Mastercard Foundation Scholars Program at Makerere University.