Over 55m collected at Mak Library Day-Etaffaali celebrations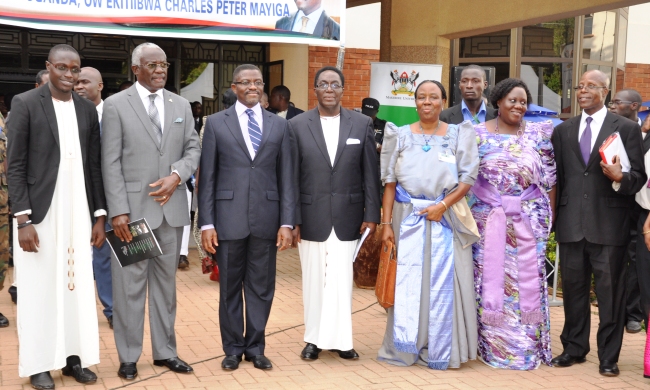 Makerere University has celebrated her Library day with a collection of over 55million Shillings (55,456,550/=) towards Buganda Kingdom's Etaffaali project, spearheaded by the Katikkiro (Prime Minister) of Buganda Kingdom, Ow'ekitiibwa Charles Peter Mayiga. The Etaffaali concept is about putting funds together, however meager, for a common cause.
The funds were collected during the World Library Day Celebrations 2014 held at the Main University Library Extension grounds on 16th May 2014. The celebrations were held under the theme "MakLib: A Knowledge Hub for Transforming Society".
Among the key collections were 10m shillings from the Makerere University Council and sums ranging from 1m – 5m from the 9 Colleges and School of Law. Individuals also gave contributions ranging from 500 to millions of shillings.
This event kicked off with the Katikkiro's entourage making a grand entrance, escorted by the jubilating and energetic 'Nkoba za Mbogo' Buganda youth group. The Katikkiro first paid a courtesy to the Vice Chancellor, Prof. John Ddumba-Ssentamu, before planting a tree at the Main Library in commemoration of his first official visit to Makerere University. He thereafter toured the highly-digitized Main Library, attuned to the 21st century's digital demands.
In his remarks, the Vice Chancellor of Makerere University, Prof. John Ddumba-Ssentamu called upon the Katikkiro to further the cause for literacy. "My humble request to you Ow'ekitiibwa Katikkiro, is that just as you have championed Etaffaali, you can also champion the cause of reading and writing in this country. We appeal to the Buganda Kingdom to continue its legacy of ensuring a knowledgeable society, which was initiated by Ssekabaka Edward Mutesa 1 in 1875 when he wrote a Letter to Queen Victoria of England appealing to her to introduce education for the benefit of Ugandans so that they could ably contribute to global development. We appeal to you Ow'ekitiibwa Katikkiro to continue encouraging Ugandans to not only read but also write," he said.
He pledged Makerere University's commitment to partnering with Buganda Kingdom to advance this cause and appreciated Buganda's contribution to Makerere University's establishment. "I would like to take this opportunity to appreciate Buganda Kingdom for dedicating land on which Makerere University stands. Through you, Ow'ekitiibwa Katikkiro, please extend our best and warm regards to Sabbasajja Kabaka Muwenda Mutebi II," he added.
In his remarks, the Katikkiro applauded Makerere University for the new library extension, which he said was built on Etaffaali ideology. "I commend the ICT levels in the new library. I am particularly impressed that there are special provisions for expectant mothers and also for people living with disabilities. This sensitivity is encouraged. I am happy that this extension was built on Etaffaali system. Of course students had to go on strike because of the fees increment, but now their followers are benefiting," he said. He also challenged the Makerere University legal department to seek avenues of renewing the lease title on which Makerere University stands, lest the Institution loses it.
He further called upon students and Staff members to embrace the Etaffaali as a sustainable way of building institutions. His comments come at a time when Makerere University is using a similar model to put up the proposed Students Centre, estimated to be worth US $30m. The Katikkiro, a proud alumnus of the Makerere University School of Law donated two of his books, King On The Throne and Buganda Ku'ntikko to the University Library as is by law required. He decried the poor reading culture in Uganda. "I am informed that Dons only read to impart knowledge and do not pay much attention to reading beyond their field. If you do this, you remain 40% ignorant. It is important that Dons broaden their scope too," he emphasized.
The University Library presented him with a number of gifts, including the letter that the late Sir Edward Mutesa I wrote to the Queen of England requesting for white missionaries to come and educate his people. He was also presented with Compact Discs containing information on Buganda's history, which according to the University Librarian can be used to start a digital library for the Kingdom. The Vice Chancellor also presented the Katikkiro with souvenir items from Makerere University. He appreciated all the gifts adding 'muyigganga mutta,' loosely translated as 'may you always hunt to kill.'