Mak Automated Vehicle Control System Project kicks off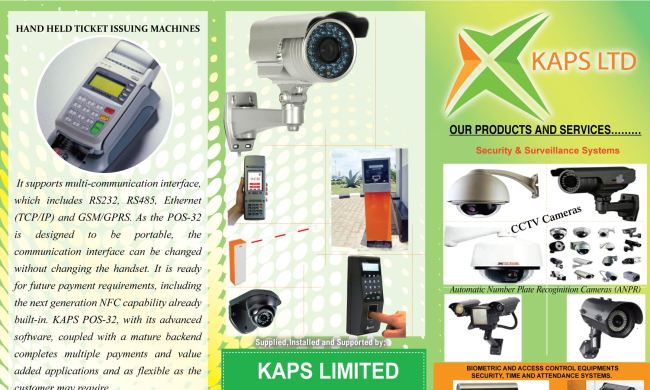 Makerere University has contracted Kenya Airport Parking Services (KAPS) Limited to run commercial parking services at the Main Campus. KAPS is to introduce a 24-hour automated vehicle management system that will involve installation of CCTV cameras at all main entrances to Makerere University, and erecting of ticketing machines to bill external vehicles users who access the University. Installation works will start in mid May and allow for a testing period before the system becomes fully operational on 1st July 2014.
According to the Vice Chancellor, Prof. John Ddumba Ssentamu, "The procurement of these services was a Management decision to control traffic flow within the university and also generate income. Makerere University is currently used as a shortcut by many vehicles, and this increases the wear and tear on our roads." Records show that 58% of the traffic entering and exiting the university has no business to conduct at the main campus.
How the system works and Provisions for Staff/Students
The vehicle control system will use cards and tickets. Staff members and students of Makerere University will be exempted from paying parking fees for a yet- to- be determined grace period. Special access cards will be issued for this purpose. Each member of staff will be required to register a maximum of two vehicles and will be given two cards. These cards are not transferable. The registration exercise will be conducted by the Estates and Works Department (EWD) at College level and at other central locations, in a scheduling to be shared out soon. The Estates Department will work in liaison with the Academic Registrar's Department and the Office of the Dean of Students in verifying students who need cards.
A booth will be installed at each entrance and manned by KAPS officials. "We will use wireless network for the different gates to communicate to each other and coordinate the movement of vehicles. We will also provide monthly/seasonal cards to those who prefer to pay for longer periods," explained Kuria Njenga, the KAPS Project Manager.
"Members of staff should expect minimum inconvenience as the installation of the equipment is ongoing at the three university gates. We are optimistic that they will appreciate the need for this system after familiarizing with it," asserted the Estates and Works Director, Fred Nuwagaba.
Charges
External vehicles will pay an hourly charge depending on the vehicle type. Salon vehicles will pay 500/=, Pickups and 4-wheel drives will pay 700/=, Coasters and small trucks 1,000/=. Lorries and Buses will pay a higher fee of 1,500/=. Vehicles that park for more than 5 hours will be charged 1,000/= per extra hour.
The projected income from this venture is currently estimated at 50m shillings annually, which will form part of the internally generated funds.
External users will be issued a ticket reflecting the time they have accessed Makerere University. They will present the same ticket on exit and pay the charge to a KAPS official at the desired exit point, before the barriers are removed to allow them pass. Ambulances and other emergency vehicles will be granted free access.
Loss of a card/ticket
In case a card is lost, Members of Staff will have to first report to the Makerere University Police Station and also pay 15,000/= for replacement. Members of Staff will be expected to carry the access cards with them as opposed to leaving them in the car.
External users who will have lost/misplaced their tickets will equally be required to first report to the Police Station before they can be allowed to pay 3,000/= before retrieving their vehicles.
This, according to the Deputy Vice Chancellor in Charge of Finance and Administration, Dr. Barnabas Nawangwe, will help curb the rampant car thefts since vehicle owners will be required to show their cards before they can be allowed to exit the university. "We have gone through a lengthy procurement process and finally we have signed a contract with an international firm to manage parking at our University. This is something the university community has been yearning for over some time. I call upon the University community to support and own this project," he said. There will be periodic review of the system to address emerging gaps.
According to Johnson Mucunguzi, Chief Security Officer/OC Makerere University Police Station, "About 20 cars have been stolen from Makerere University over the last 6 months. Although we eventually recover them, we are glad that this system is here now to supplement our efforts."
Motorcycles
The university policy prohibiting motorcycles from accessing the Main campus still stands. Members of staff/students who come in with motorcycles will be required to register with the Estates Department too, to get special access cards for this purpose.
About KAPS
KAPS installed the Entebbe Airport system and also supplied the Multiplex Parking equipment. They have also installed the parking system at the newly opened Acacia Mall in Kamokya.
Article by Marion Alina, Public Relations Office
A Successful Ph.D. Defense by Vianney Andrew Yiga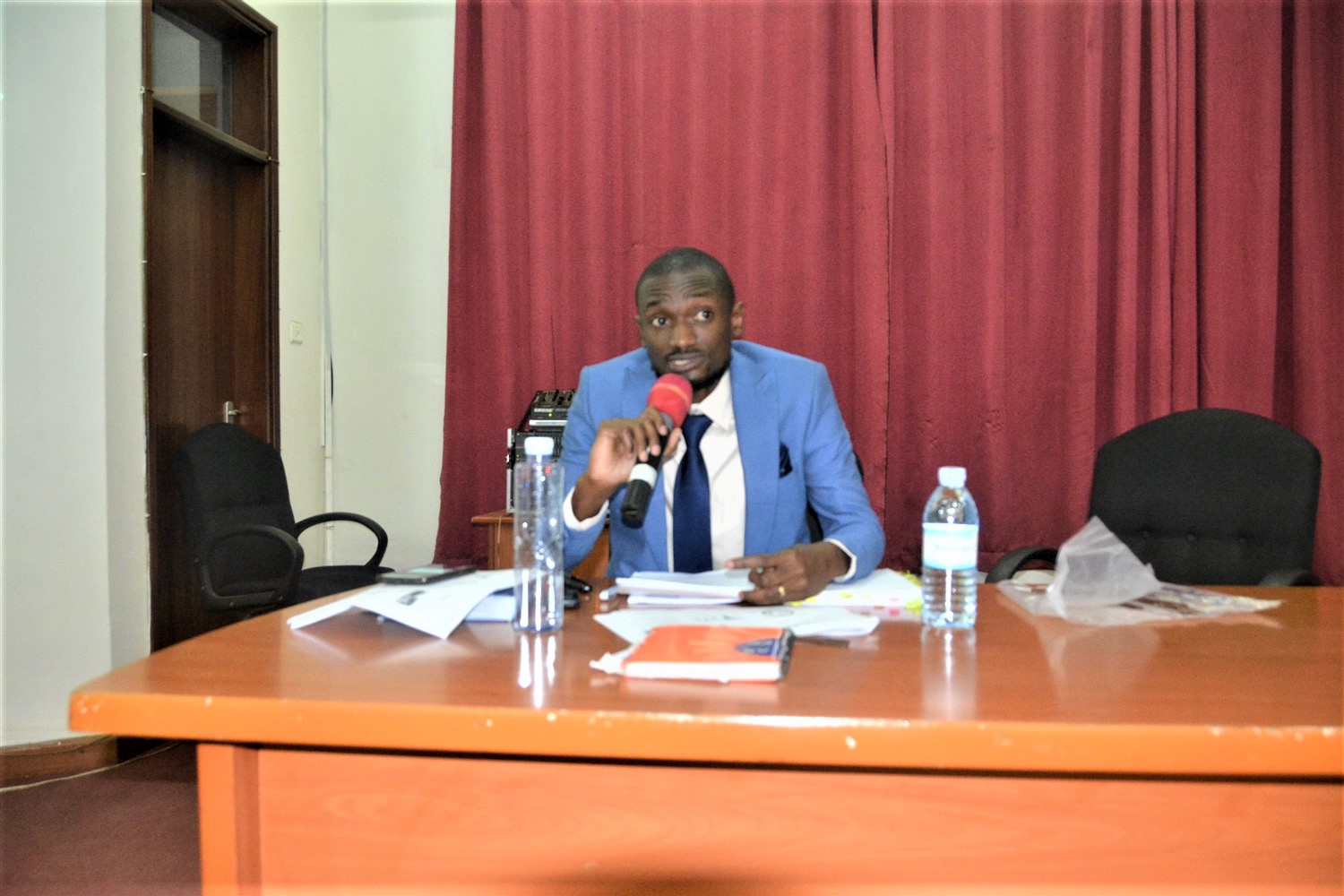 The CEDAT community is proud to share our congratulations to Vianney Andrew Yiga following his successful Ph.D. defense that happened yesterday Monday 3rd October 2022 at the College of Engineering, Design, Art, and Technology (CEDAT).
His Thesis was titled; Thermal Stability of Fiber- Reinforced Polylactic Acid Composites for Flameretarded Applications.
The candidate was supervised by Eng. Dr. Michael Lubwama and Eng. Dr. Peter W. Olupot both from the Department of Mechanical Engineering, at CEDAT.
Dr. John Wasswa, Department of Chemistry, College of Natural Sciences (CONAS), Makerere University was the opponent that interrogated the candidate to enable a clear understanding of the study.
Makerere University Launches National Parenting Draft Manual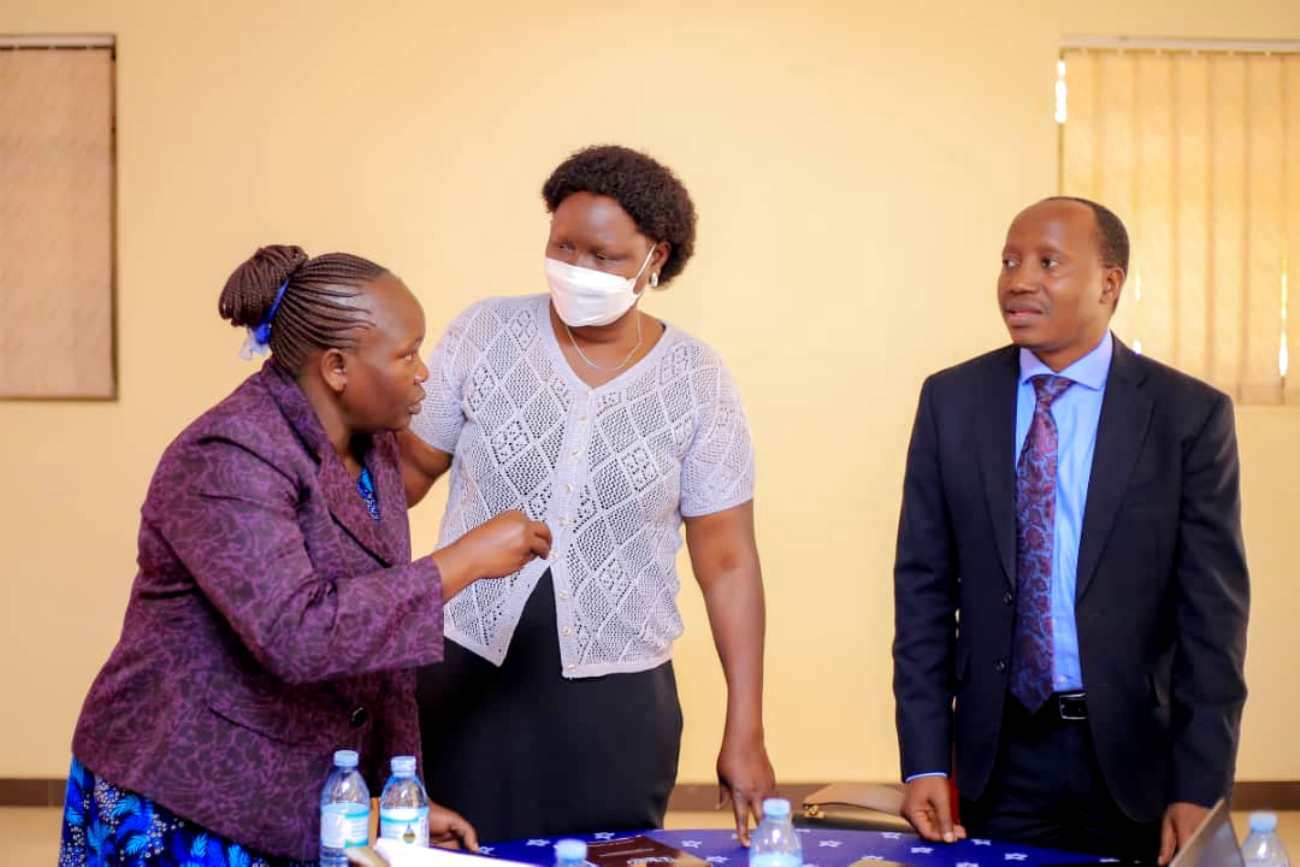 By Agnes Namaganda
On July 22nd 2022, Makerere University–Child Health and Development Centre (Mak–CHDC) launched a draft manual for the National Parenting Standards. The Centre has been working together with the Ministry of Gender, Labour and Social Development (MGLSD) with funding from UNICEF (United Nations Children's Emergency Fund), to develop standards that are agreeable to all organisations in the country that are involved in parenting work. The draft manual was being presented to members of a consortium that brings together all these organisations together, called the Parenting Agenda Consortium.
"We produce many documents and they are shelved," Irene Ayot Chono, who was speaking on behalf of UNICEF said. "We hope that this document will not be one of them," she emphasized.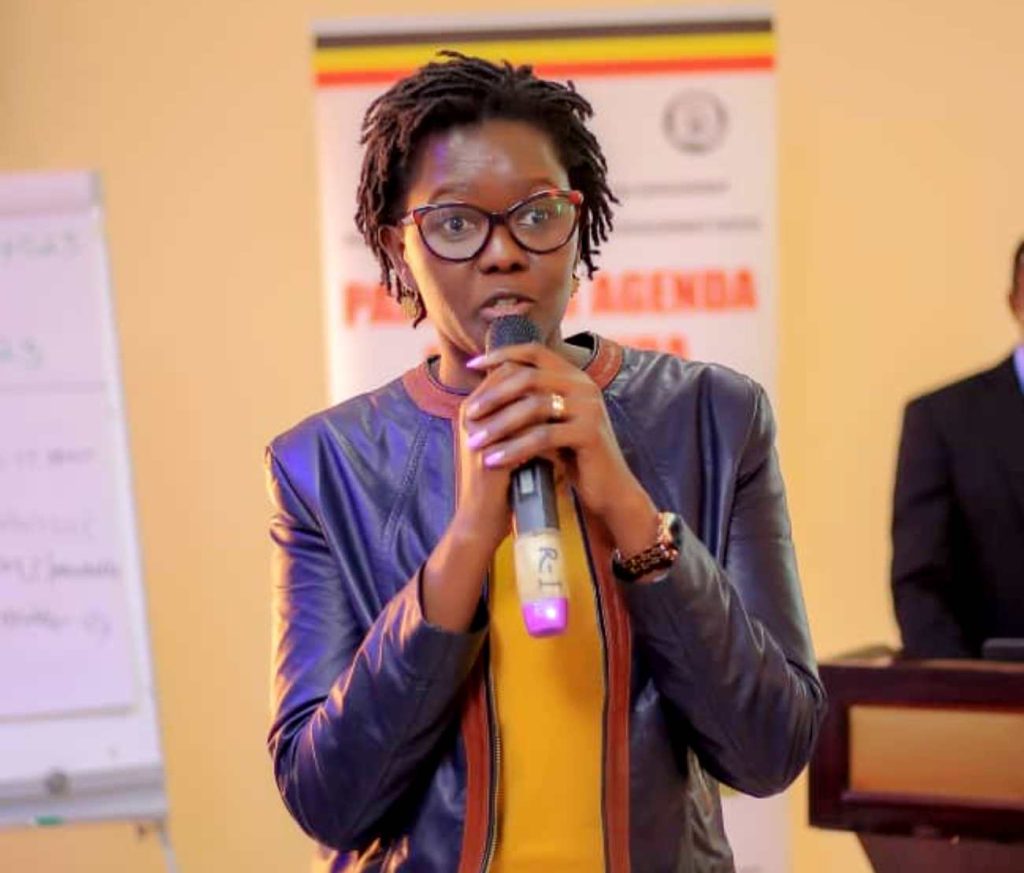 Dr. Godfrey Siu, the Principal Investigator from Mak-CHDC who presented the draft manual to participants, emphasized that if any organization is doing parenting work, there should be a minimum package that they should offer.
Draft Manual Content
The manual which will have several modules. These modules will be delivered face-to-face in 1.5 hour sessions. Some of these include; Module 6 which will focus on "understanding responsible masculinity and fatherhood" and on "understanding the concept of head of family."The draft manual also proposed that Module 11 focuses on Parenting in the 21st Century. Some of the sessions in this module will include Children and Technology, Contemporary Influence on Children and Modernity, Culture and Morality.Module 9 will focus on Parenting for Adolescents and some of the suggested sessions within this module are Needs for Adolescents and The Art of Communicating with Adolescents. Module 5 will focus on Preventing Violent Parenting and Promoting Alternative Discipline Strategies while Module 10 will be about Parenting to Address the Mental Health for Children and Adults.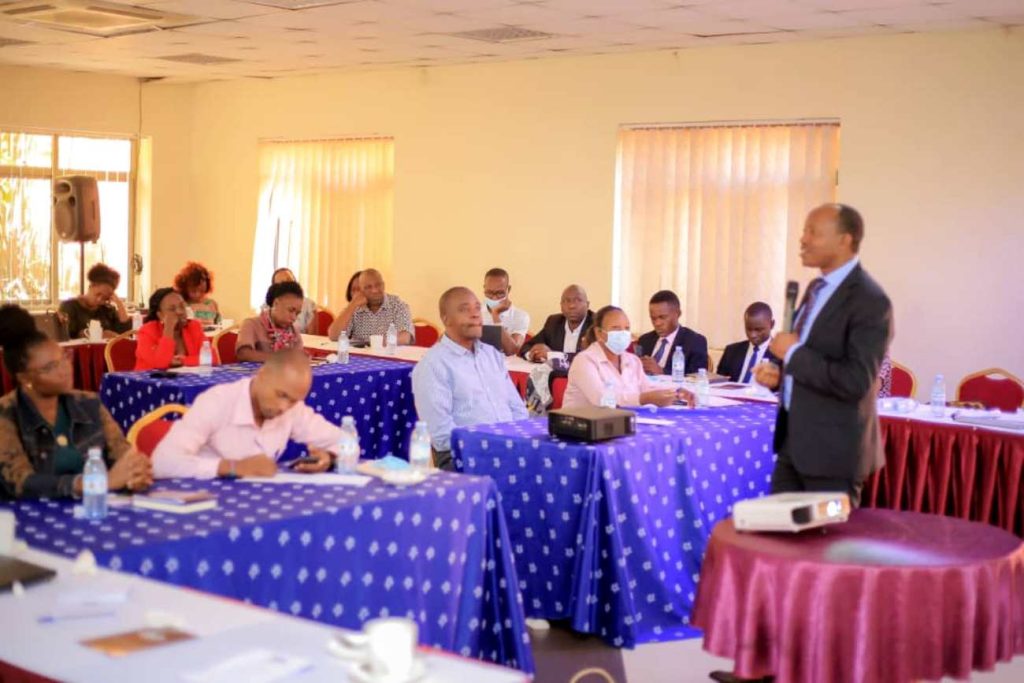 Participants' suggestions
After the presentation, participants raised several suggestions for discussion and consideration. These included whether there should be a module on spirituality since Uganda is a strongly religious nation. There was also the concern of how children in remand homes should be parented. Another concern raised by a participant was as to whether teachers who make an undeniable contribution to parenting, should be taken through the parenting manual.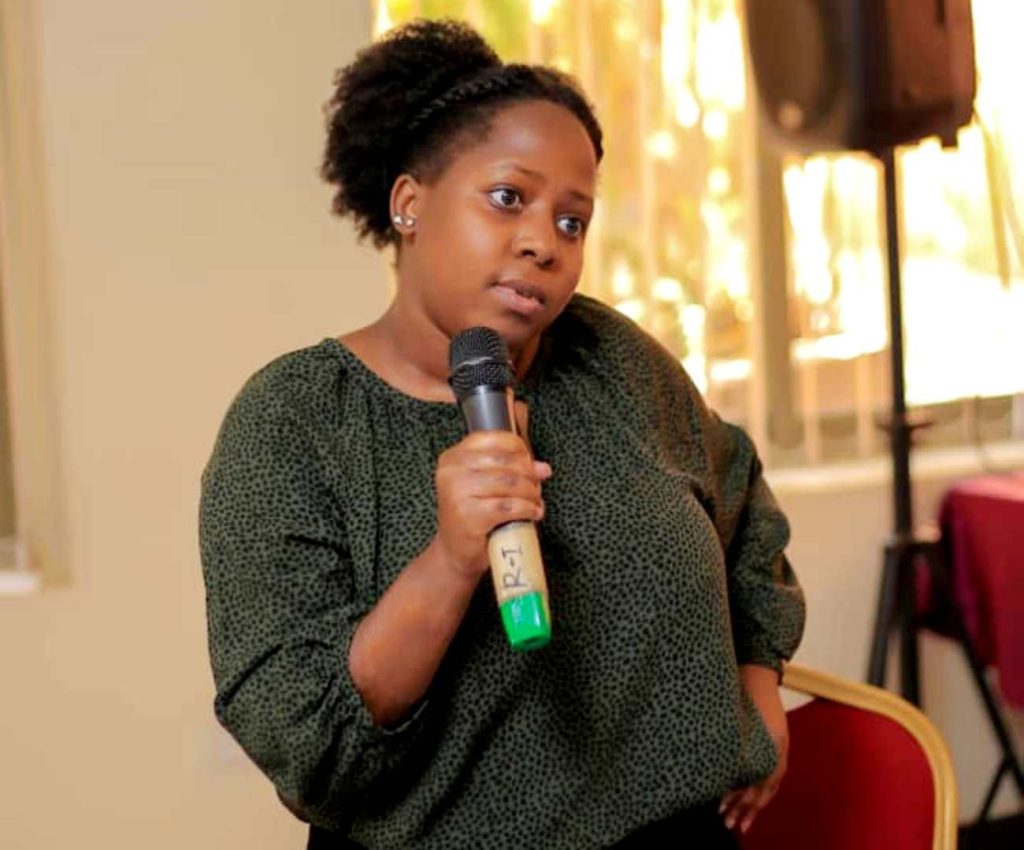 In her closing remarks, Ms. Juliana Naumo Akoryo, the Director of Cultural Affairs at the Ministry of Gender, Labour and Social Development (MGLSD) said that the manual is for the parenting organisations to utilize and not for MGLSD.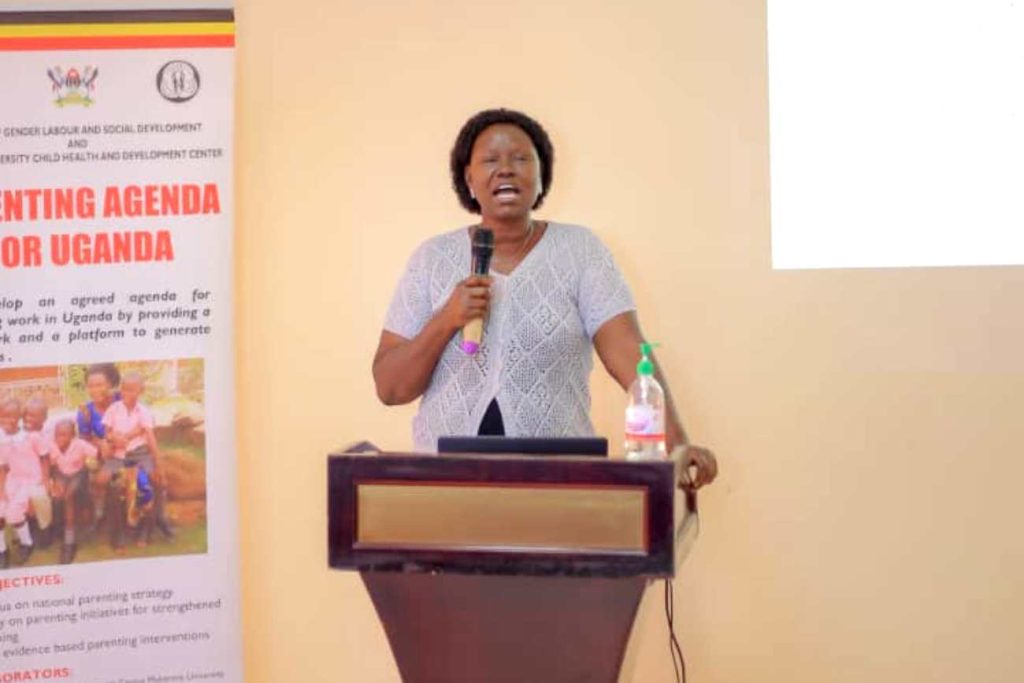 Ms. Chono also adjured the team behind the manual to use picture illustrations in the manual that can be relatable by the Ugandan parents.
Contact: Agnes Namaganda – agnesvioletnamaganda@gmail.com
Launch of Mak-RIF Round 4 Awards & PhD Call for Proposals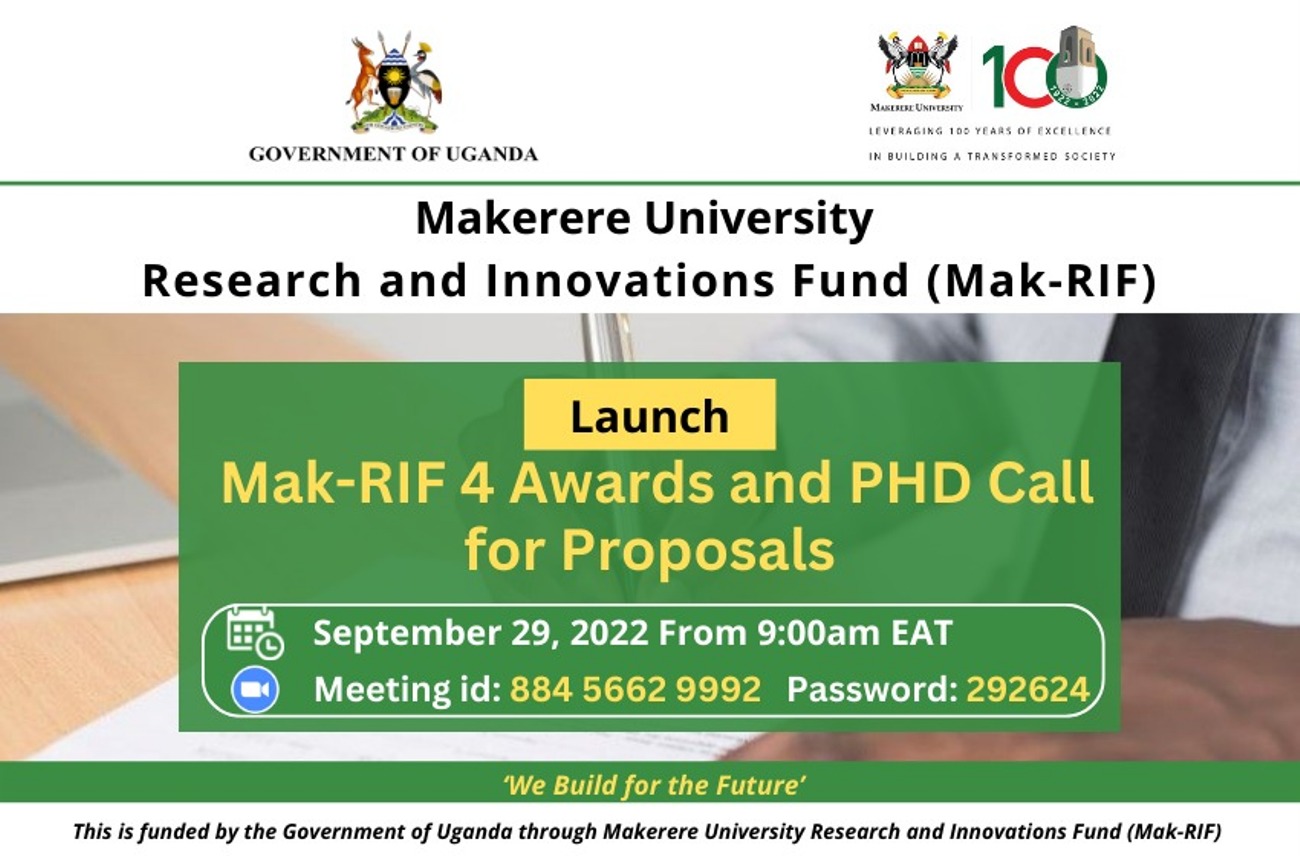 Makerere University received funding from the Government of the Republic of Uganda, earmarked to support high impact Research and Innovations. This unique initiative arose after engagements between the top University Management and the Government of Uganda. This fund illustrates the increasing importance that the Government attaches to Research and Innovation as a driver of development and transformation. The objective of the fund is to increase the local generation of translatable research and scalable innovations that address key gaps required to drive Uganda's development agenda. 
In the Financial years 2019/2020, 2020/2021 and 2021/2022 the Government of the Republic of Uganda through Mak-RIF has funded implementation of over 750 multidisciplinary research and innovations within the various Colleges, while engaging multiple stakeholders within and outside Makerere University. The Grants Management Committee (GMC) has finalized the award process for the Mak-RIF round 4 call for funding for this Financial Year 2022/2023.
The Grants Management Committee (GMC) hereby invites you to the Launch of the Mak-RIF Round 4 awards and PhD Call for Proposals scheduled to take place tomorrow Thursday 29th September 2022 from 9:00 to 10:00 a.m. EAT. 
Please use the following details to join the launch.
Register in advance for this meeting:
https://us06web.zoom.us/meeting/register/tZwpcu-urDIjE9ZgxdsbEmA2IkNMMiJVECt_ 
Meeting ID: 884 5662 9992
Password: 292624