A-Level History Literature Divinity performance can predict Law CGPA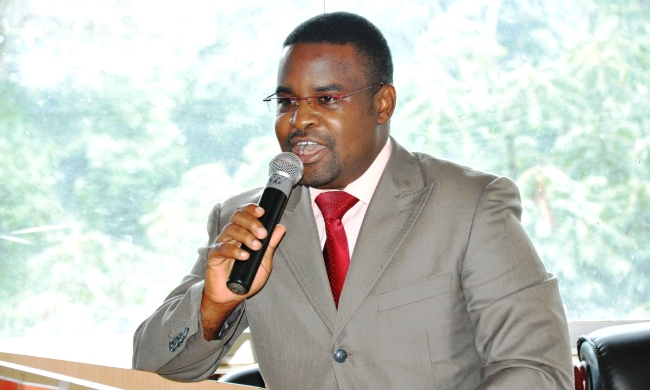 As part of the programme to nurture the next generation of academics, the Office of the Deputy Vice Chancellor, Academic Affairs (DVCAA) held the 11th PhD Dissemination series on 14th March 2014. The topic of the day "Do UNEB results predict competencies required to excel academically in Law School?" promised a good intellectual debate and indeed drew stakeholders from the Uganda National Examinations Board (UNEB), Office of the Academic Registrar, Makerere University as well as Staff, Students and members of the general public.
In his opening remarks, the Principal, College of Agricultural and Environmental Sciences (CAES) Prof. Bernard Bashaasha who represented the DVCAA Dr. Ernest Okello Ogwang, welcomed participants and stressed the importance of PhD Dissemination series as an avenue for breaking down complex research findings and formulae into understandable facts that the public can take home. He commended the day's Presenter Dr. Robert Wamala for once again offering to disseminate his research.
To kick start his presentation, Dr. Wamala first of all clarified that the day's presentation was not derived from his PhD thesis but rather from the combined work of several researchers and Masters Students. He further emphasized that his mission was not to give a yes or no answer to the question posed by the day's topic but to present the facts for all present to digest. He noted that as a researcher, he was triggered by the 2011 findings of the School of Law that showed some candidates who had excelled with over 24 points at Advanced Level (A-Level) were not faring equally as well when it came to the more rigorous Law courses hence the introduction of the pre-entry examination.
"Looking at the mean entry points for Law showed that all these students qualified competently. But the question that remained was that were these students competent for Law? About 65% of enrollees did not do Literature while only 15% did not do History. The findings showed that those who did Literature, History and Divinity at A-Level had a higher Cumulative Grade Point Average (CGPA) at graduation than those who did not," observed Dr. Wamala in emphasis of the relevance of certain subjects as a precondition for excellence in Law School. He however noted a surprising reverse trend for students that came in with an A in Economics as the findings showed that they ended up with lower CGPAs compared to those who did not do it at A-Level.
He further noted that "Students on the Government entry scheme had a higher CGPA than those on private. The weighted score was highest among Government students, second highest among private day and lowest among the evening class. Results also showed that students in the 2006/7 cohort got lower CGPAs compared to those in the 2005/6 one. The question that arises then is; could it be that students in the later cohorts are increasingly taking on A-Level subjects that they can easily pass rather than those they require to excel academically in Law?" pondered Dr. Wamala.
As Dr. Wamala continued to share his findings, a question that gradually begged to be answered was that should we continue to use any best done of any A-Level subjects as the essential for Law School applicants? He then took time to also evaluate the 2012/13 cohorts that were admitted to Law School on the basis of the pre-entry exam unlike the previous examples which featured admission based on higher grades obtained at A-Level in any of the best done subjects. "When we assessed the students that came in on the basis of grades, the majority were female but when it came to those admitted on the basis of the pre-entry exam, the majority were male. Additionally, majority of those admitted on the basis of pre-entry had scored Bs unlike the previous case where majority of those admitted on the basis of grades had As," shared Dr. Wamala in yet another interesting statistic.
Further examining the findings, he also noted that Ugandan students performed better in the pre-entry exam than their International counterparts while those with Bachelors degrees performed better than Mature Age, Diploma or Certificate holders in the same assessment. He however noted that the subjects taken at A-Level in no way predicted what students eventually scored in the pre-entry but surprisingly, those who did not do Literature at A-Level had higher scores in the pre-entry exam than those who did. From all these findings, Dr. Wamala had this to summarily share.
"Pre-entry exams are not meant to assess academic ability. They are meant to assess the mental or reasoning ability as applied to Law and so getting something statistically insignificant should not be a surprise. Similarly a comparison with complete first year results shows that pre-entry exam results in no way determine CGPA. The outcome of the pre-entry exams does not predict the competences required to excel academically in Law School although there are other factors it predicts," concluded Dr. Wamala.
The topic discussant Dr. Saverio Pido-Head, Department of Research and Data, UNEB commended the researchers for indeed statistically proving that subject combinations like History, Literature in English and Divinity were indeed good predictors of academic excellence in Law School. "To me, these research findings suggest that pre-entry exams may not be the right tool to use as the sole basis for admission on the Law programme. On the other end, the A-Level results seem to predict the academic achievement as well as the competence required in Law," Dr. Pido noted.
He also strongly agreed with the recommendation that History, Literature and Divinity should perhaps be used as essential subjects for selection and admission to Law School and therefore requested the School of Law and the University Senate to take this recommendation very seriously and revisit the decision use the pre-entry exam as the sole procedure for Law admissions.
Dr. Pido further shared that preliminary evidence from independent research undertaken by UNEB revealed that "There was a positive correlation between A-Level and predicting academic excellence at Law School, and that the University of Dar es Salaam that pioneered pre-entry exams has also dropped the scheme in favour of A-Level results." He underscored the need to conduct further research in the process of training Law enrollees, as the findings so far had only investigated the input (A-Level results) and output (CGPA).
Quoting a famous Educator and Assessor Dr. Pido said "'Schools should not only provide opportunities for students to learn but should also ensure that the students take the opportunities and learn' in other words, whatever inputs you have are supposed go through that process so that you mould them into what you want. We need the Ministry of Education and Sports (MoES) to come in as well especially on curriculum. What are we doing with these students in Secondary Schools?" he wondered. He concluded by agreeing that he found the research very useful and relevant to UNEB, MoES, National Curriculum Development Centre (NCDC), Makerere University and the School of Law.
In the reactions that followed from the audience, participants however cautioned stakeholders not to use the findings based on only one cohort of the pre-entry exam to make conclusive decisions about their efficiency. Contributions further emphasized the need to come up with a pre-entry exam that gauged applicants with the aim of admitting a student who would become a well-rounded professional at the end of the day. Commentators further stressed the need for the University to ensure that appropriate checks and balances are put in place to guarantee that the pre-entry exam gives valid and reliable results.
Other comments that came in from students of statistics thanked Dr. Wamala for ably demonstrating how they could apply the various formulae and theories they learn in class to validate the data that is daily being accumulated by society, thereby helping communities to make informed decisions. The tables however turned on the National Board when commentators noted the issue of examination leakages and also stressed that the only reason why Universities needed pre-entry exams was due to the facts that the A-Level students were not performing as excellently at University as they did at Secondary level. In defence of UNEB Dr. Pido stressed that the Board had put in place several restrictions to reduce examination leakages to almost non-existence and challenged those with evidence to bring it forward. He however admitted that there were still some forms of exam malpractice recorded, which were not only unique to UNEB but also common at other Institutions.
More officials from UNEB present further elucidated on negative correlations on performance in pre-entry exams attributed to subjects like History. They noted that this could be due to a growing trend by A-Level candidates to opt for those papers that were easier to pass hence gunning for grades rather than competencies that would build a good foundation for the studying Law. They therefore requested future researchers to further examine the relationship between any reported negative correlations and the History paper sat for. Other members of the audience further stressed the need to have well-trained teachers at all levels who would then equip students to become good candidates for professional shaping by Universities. The gap in facilitation between rural and urban schools was also noted as great contributor to the differences in quality of candidates eventually admitted to Higher Education Institutions.
The Chairperson of the day's session and Dean-School of Statistics and Planning, College of Business and Management Sciences (CoBAMS) Dr. Atuhaire Leonard commended the former DVCAA Prof. Lillian Tibatemwa-Ekirikubinza for initiating the PhD dissemination series. "Quite a lot of research is being done in this University but not many of us get to learn what our peers are doing because we tend to publish in specialized journals," he noted. He therefore commended the current DVCAA for carrying on the good tradition of according researchers a dissemination forum.
Regarding the day's topic, Dr. Atuhaire noted that "it would be interesting to find out how competencies required for all other different programmes in the University do predict performance once students have been admitted. This research is something that can be replicated across other programmes and we look forward to this." He concluded the day's proceedings by thanking the Presenter, audience, discussant-Dr. Pido and other officials from UNEB for contributing to the topic.
Article by Public Relations Office
Launch of Mak-RIF Round 4 Awards & PhD Call for Proposals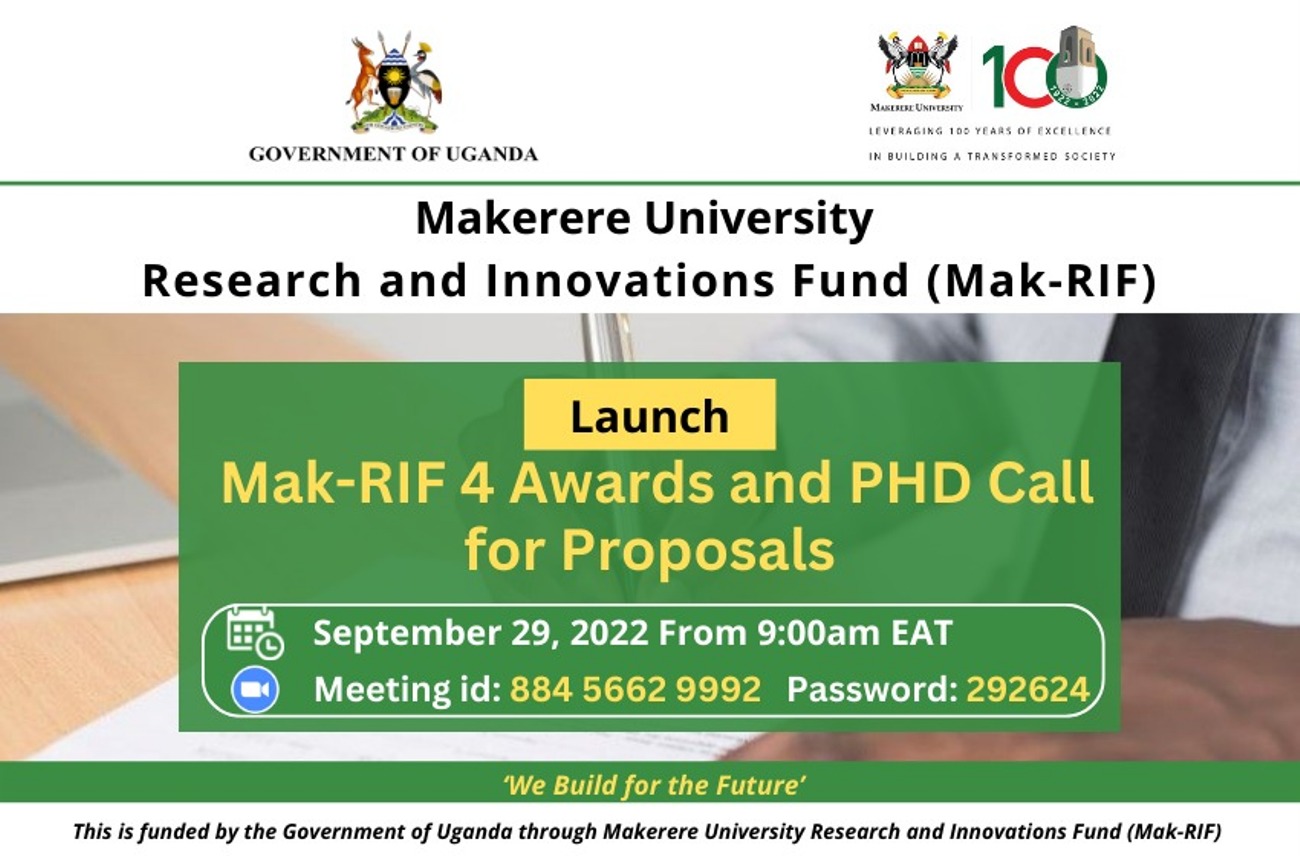 Makerere University received funding from the Government of the Republic of Uganda, earmarked to support high impact Research and Innovations. This unique initiative arose after engagements between the top University Management and the Government of Uganda. This fund illustrates the increasing importance that the Government attaches to Research and Innovation as a driver of development and transformation. The objective of the fund is to increase the local generation of translatable research and scalable innovations that address key gaps required to drive Uganda's development agenda. 
In the Financial years 2019/2020, 2020/2021 and 2021/2022 the Government of the Republic of Uganda through Mak-RIF has funded implementation of over 750 multidisciplinary research and innovations within the various Colleges, while engaging multiple stakeholders within and outside Makerere University. The Grants Management Committee (GMC) has finalized the award process for the Mak-RIF round 4 call for funding for this Financial Year 2022/2023.
The Grants Management Committee (GMC) hereby invites you to the Launch of the Mak-RIF Round 4 awards and PhD Call for Proposals scheduled to take place tomorrow Thursday 29th September 2022 from 9:00 to 10:00 a.m. EAT. 
Please use the following details to join the launch.
Register in advance for this meeting:
https://us06web.zoom.us/meeting/register/tZwpcu-urDIjE9ZgxdsbEmA2IkNMMiJVECt_ 
Meeting ID: 884 5662 9992
Password: 292624
Notice: Makerere Disability Scheme 2022/23 Medical Review Exercise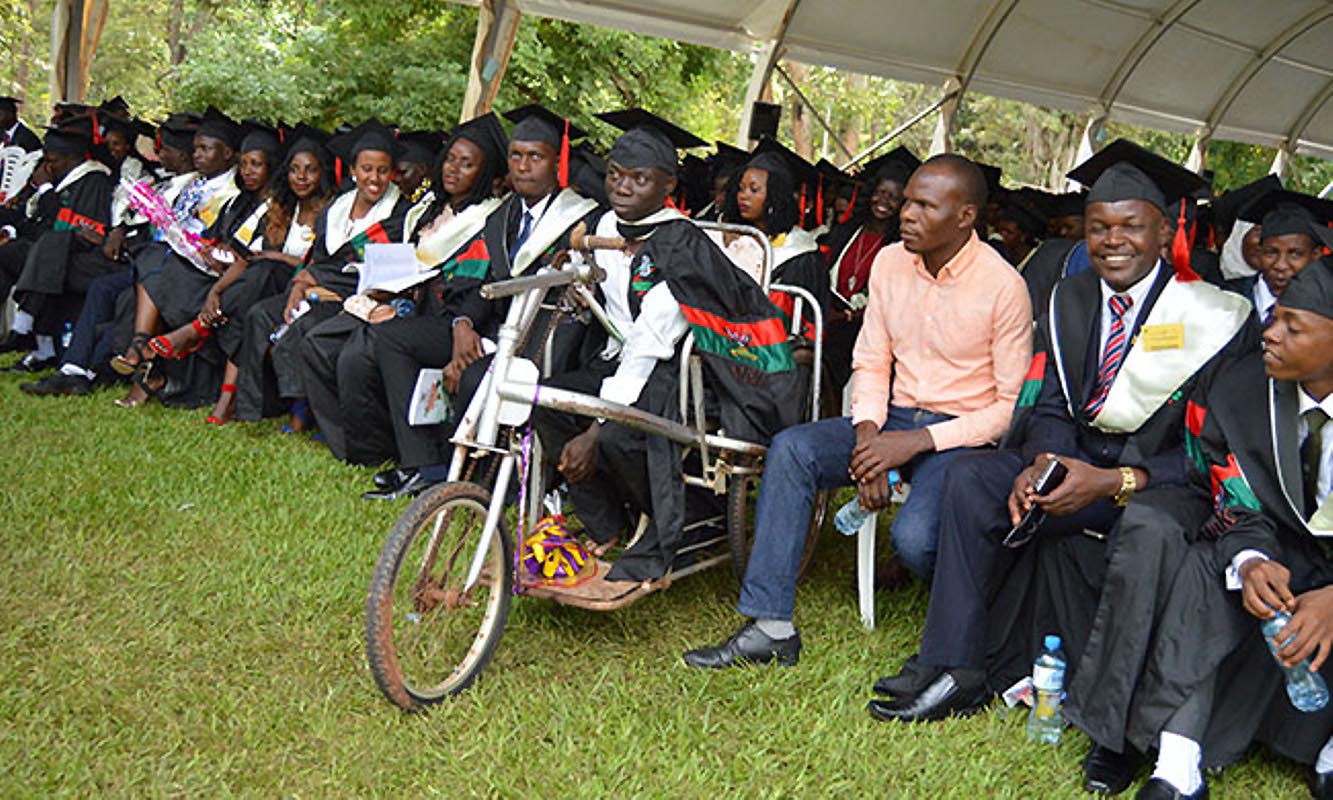 The Academic Registrar, Makerere University invites persons with disability who applied for admission to public universities under the disability entry scheme for 2022/2023 Academic Year to appear for medical/review exercise at Makerere Unive, Senate Building, Level Two (2) in the Telepresence Centre.
NOTE: Only those who have the minimum entry requirements of at least two principal passes at A' Level or its equivalent and at least five (5) passes at O' Level or its equivalent will be interviewed.
Only candidates who sat 'a' level in 2020, 2019 and 2018 are eligible for admission.
THE EXERCISE WILL BE CONDUCTED ON 3rd, 4th and 5th October, 2022 respectively from 9.00 A.M – 1.00 P.M each day.
IMPORTANT:
(i) If you fail to appear on any of the given days above, there will be no other chance for you.
(ii) Applicants with Government Scholarship for the previous years are not eligible for admission
ALFRED MASIKYE NAMOAH
Acting. ACADEMIC REGISTRAR
Uganda's policymakers implored to address forest loss, plastic & water pollution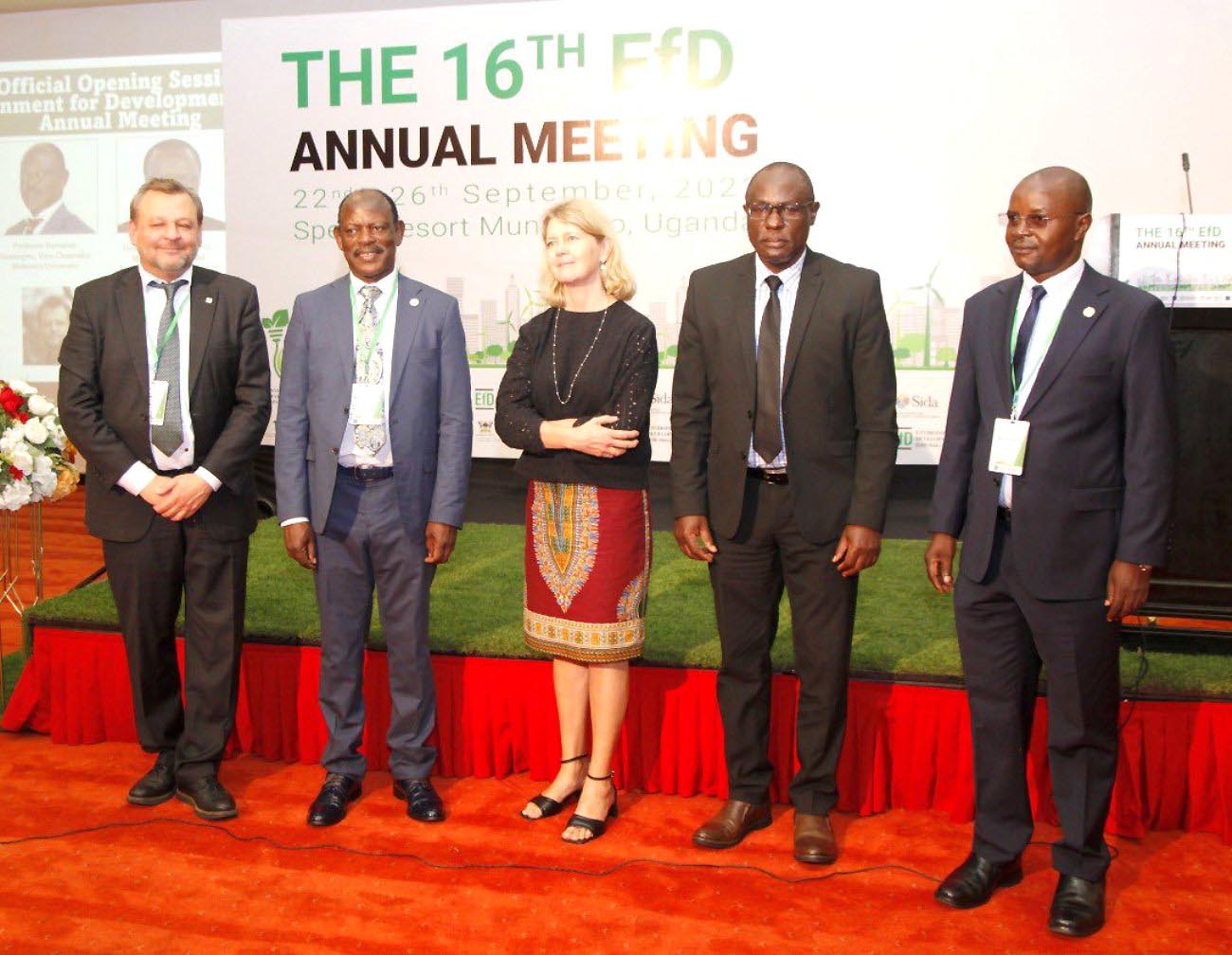 The Vice Chancellor Professor Barnabas Nawangwe on Thursday 22nd September, 2022 participated in the opening of the EfD Annual meeting hosted by Makerere University at Speke Resort Munyonyo where he appealed to government to implement the ban on kaveera and address other environmental issues.
The opening ceremony moderated by the EfD Global Hub Manager Gunnar Köhlin and was graced by Uganda's Minister for Water and Environment represented by the Commissioner for Water, Mr. Julius Mafumbo and the Swedish Ambassador to Uganda, H.E. Maria Håkansson.