Makerere's Doctoral Completion Rates Improve
"By the power of the authority vested in me, I confer upon you the Degree of the Doctor of Philosopy of Makerere University," declares the Chancellor as he confers a Doctoral Degree upon a successful candidate, on completion of his/her study.

"By the power of the authority vested in me, I confer upon you the Degree of the Doctor of Philosopy of Makerere University," declares the Chancellor as he confers a Doctoral Degree upon a successful candidate, on completion of his/her study.
To the casual observer, this doctoral award process is all too repetitive and laborious, considering that the Masters and Bachelors awards are done en mass! Unknown to them however, this unique award practice is just the tip of the iceberg, the icing on the cake that has taken over five and in some cases seven years of careful planning, meticulous research, laborious poring over countless theses, books and stacks of references, and finally fervent and on occasion argumentative defence of your work before a panel of experts.
Makerere produces the highest number of PhDs in the region, with this year's tally alone coming 57. However, this figure could have even been higher, had more candidates managed to complete in time. This
was the focus of the 8th PhD Dissemination series featuring Mr. Robert Wamala from the School of Statistics and Planning, College of Business and Management Sciences. Mr Wamala's paper; Likelihood of Completion and Extended Candidature of a PhD: A Five-year Analysis of Studies at Makerere University was based on data from 295 doctoral students at Makerere University in the enrolment cohorts from 2000 to 2005.
In his remarks, Mr. Alfred Masikye Namoah the Academic Registrar, noted the importance of dissemination, as an avenue of public information, so as to help turn research into policy and hence help increase Makerere University's visibility and relevance to the community.
Dr. Bruno Ocaya , Senior Lecturer-School of Statistics and Planning and Mr. Wamala's supervisor, commended him for his persistent research, whose data is now being used to teach fellow graduate students, unlike in the past where data from institutions outside Uganda was used.
Mr. Robert Wamala started off his presentation by objecting to the assertion that Makerere's doctoral completion rates had declined over the last 5years, as his research had proved otherwise. He then observed that whereas academic scholarships made life easier for candidates at Makerere, extended candidature was more common among science-based, financially supported candidates. And while a high Cumulative Grade Point Average (CGPA) is every undergraduate student's dream, Mr. Wamala observed that this CGPA was not a strong determinant of timely completion. Candidates with relatively low CGPA on enrollment had the same completion times and sometimes even better ones than their counterparts who had higher CGPAs.
He further noted that completion rates are not purely affected by factors within the PhD study but also prior factors such as age; younger candidates had better completion times, and nationality; international students register better completion times than their Ugandan counterparts. Factors during, such as financial support as noted earlier, were only found to actually increase completion time and extend candidature.
Per capita expenditure per student in any country is vital for the promotion of research in Universities. Whereas it was observed that Uganda's per capita expenditure per student paled in comparison to her South African counterparts, Makerere University's doctoral completion rates were higher than some South African institutions and her attrition rates fared favourably with other International Universities.
The discussant of the day Dr. Xavier Mugisha a Senior Research Fellow at the Economic Policy Research Centre commended Mr. Wamala for his great presentation, "Robert has done great work, and as far as his paper is concerned, I found it flawless."
He further congratulated Makerere University on her completion rates considering the support received, but challenged the institution to perform even better. He noted that the institution has a good catchment area with academics that have a drive to succeed and excel. He further noted that with good remuneration, Makerere could easily register the highest doctoral completion rates in Africa.
Professor Buyinza Mukadasi, Deputy Director, Research and Graduate Training (DRGT), Makerere University and the day's Chief Guest thanked Mr. Wamala for his elaborate presentation and acknowledged that the Directorate would surely benefit from the paper. He reiterated the directorate's vision to make Makerere the leader in research and graduate training in the region, by ensuring even better completion rates.
Student interaction with peers and faculty is an enhancer of graduate training, and Prof. Buyinza pledged that the Directorate would promote these interactions, as enabling pillars of PhD completion.
Downloads
PhD Abstract-Mr. Robert Wamala: doc(24KB), pdf(11KB)
8th PhD Dissemination Series Programme: pdf(23KB)
8th PhD Dissemination Attrition and Completion Rates: pdf(27KB)
8th PhD Dissemination Attrition and Completion Rates Table: pdf(46KB)
mwamai@admin.mak.ac.ug, Public Relations Office
Innovations using low cost locally available materials for point of use water treatment system unveiled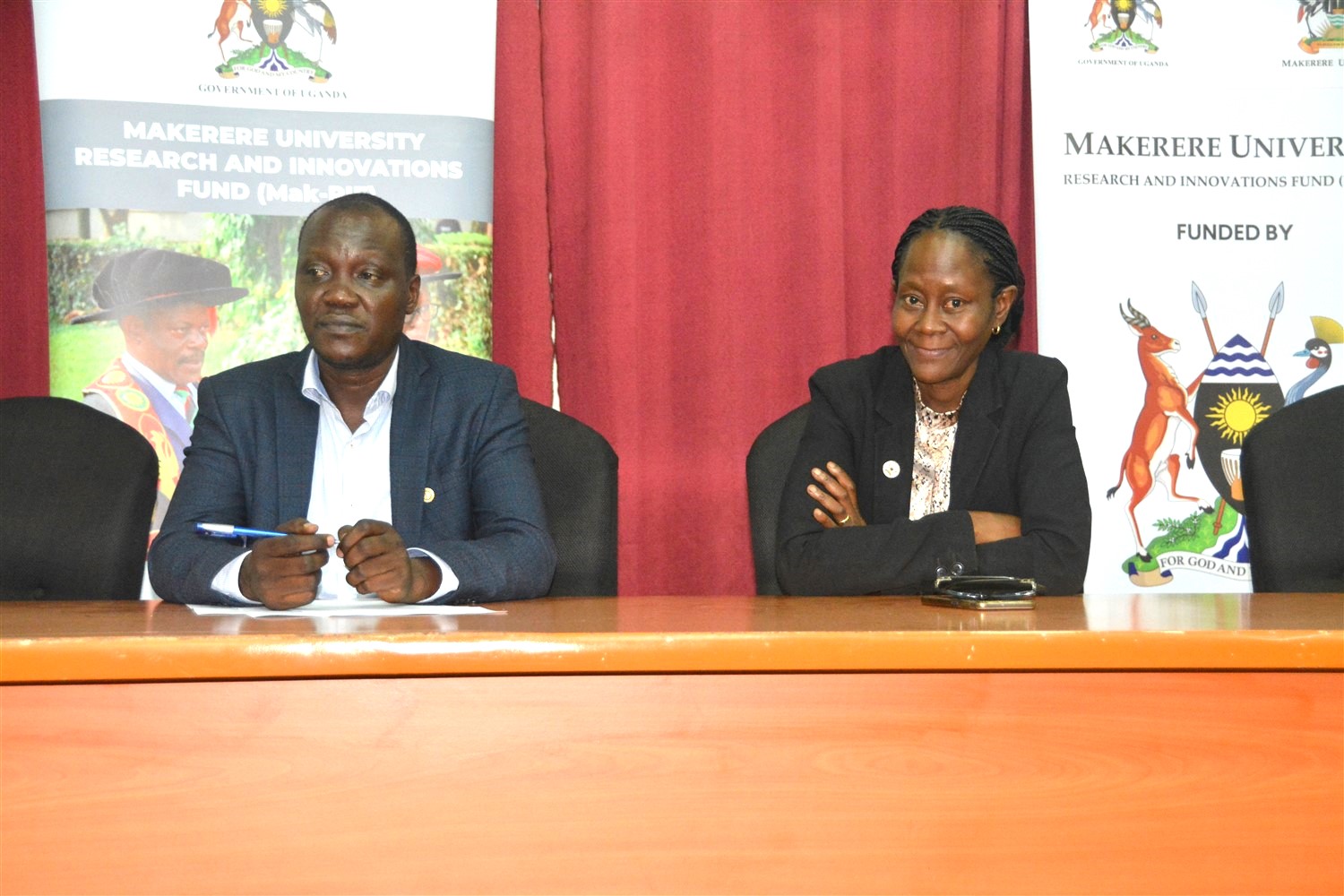 The College of Engineering, Design, Art and Technology (CEDAT) conducted a Research Dissemination of two studies aimed at the Development of Materials for point of use water treatment systems.
The investigations were conducted by a team of researchers comprised of P. W. Olupot, H. M. Kalibbala, E. Menya, G.M. Wangi, J. Jjagwe, J. Wakatuntu, M. Turyasingura, R. Walozi, C. Kanyesigye and R. N. Kulabako.
The dissemination event held on Wednesday 29th November 2023 follows the successful completion of two MakRIF supported Research projects namely; Development of rice husk based granular activated carbon for point-of-use water treatment systems and Development of zeolite-based nanocomposite filters for drinking water treatment.
Apac District gains from CEDAT's Research on Piloting a Rural Broadband Connectivity Model and Efficacious patient management system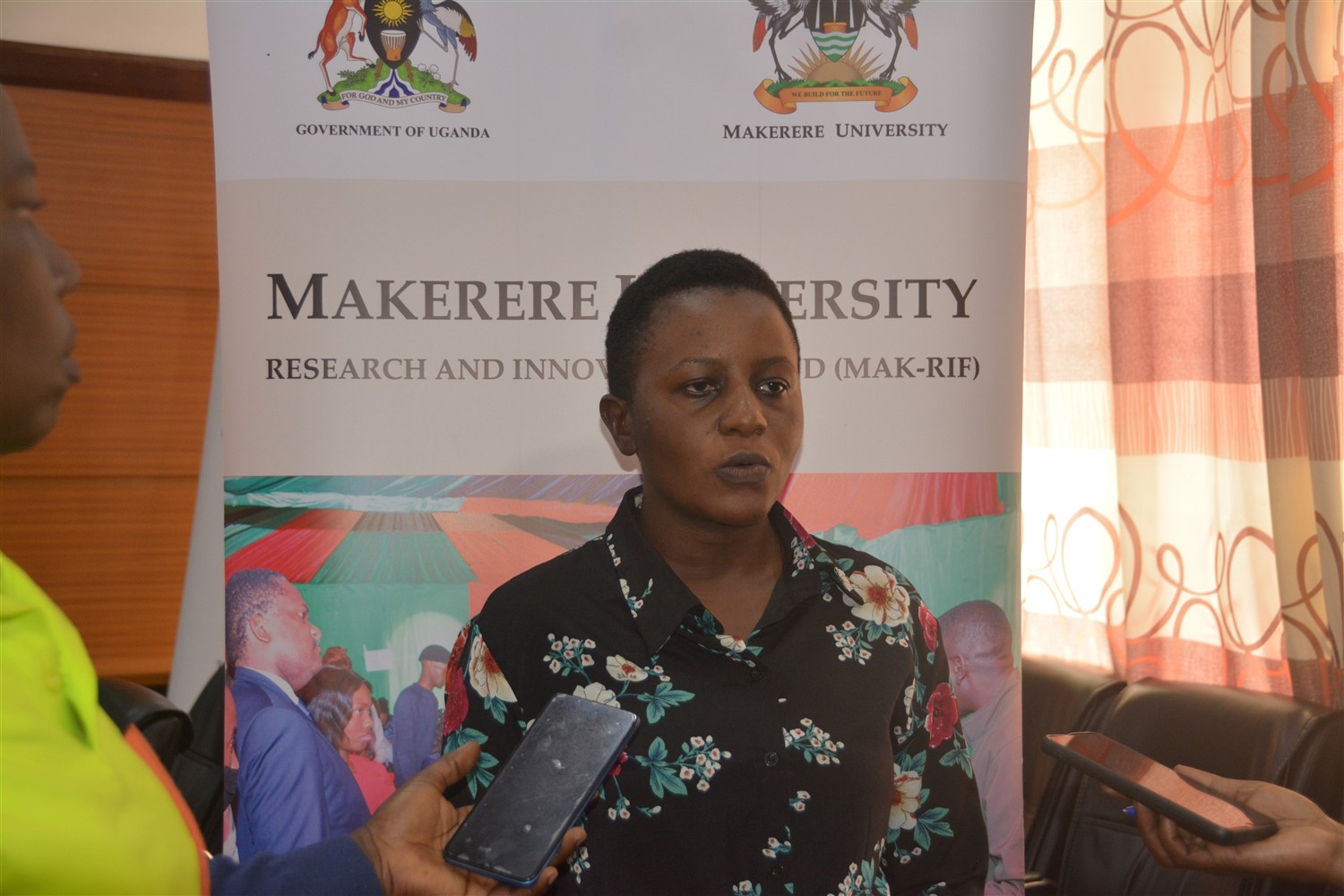 The School of Engineering at the College of Engineering, Design, Art and Technology (CEDAT) shared findings of research that was conducted in Apac Districts through two projects namely Piloting a Rural Broadband Connectivity Model (RCBM) and Efficacious patient management system (EPMS).
The findings of the research sponsored by the Government of Uganda through the Makerere University research and Innovation Fund(MakRIF) were disseminated during a dissemination seminar held in the College on Friday 24th November 2023, where it was revealed that  Apac the host District greatly benefited from the services that not only led to the increased uptake of internet services but also gained through other socio economic areas.
Application Forms for Admission to Public Universities 2024/2025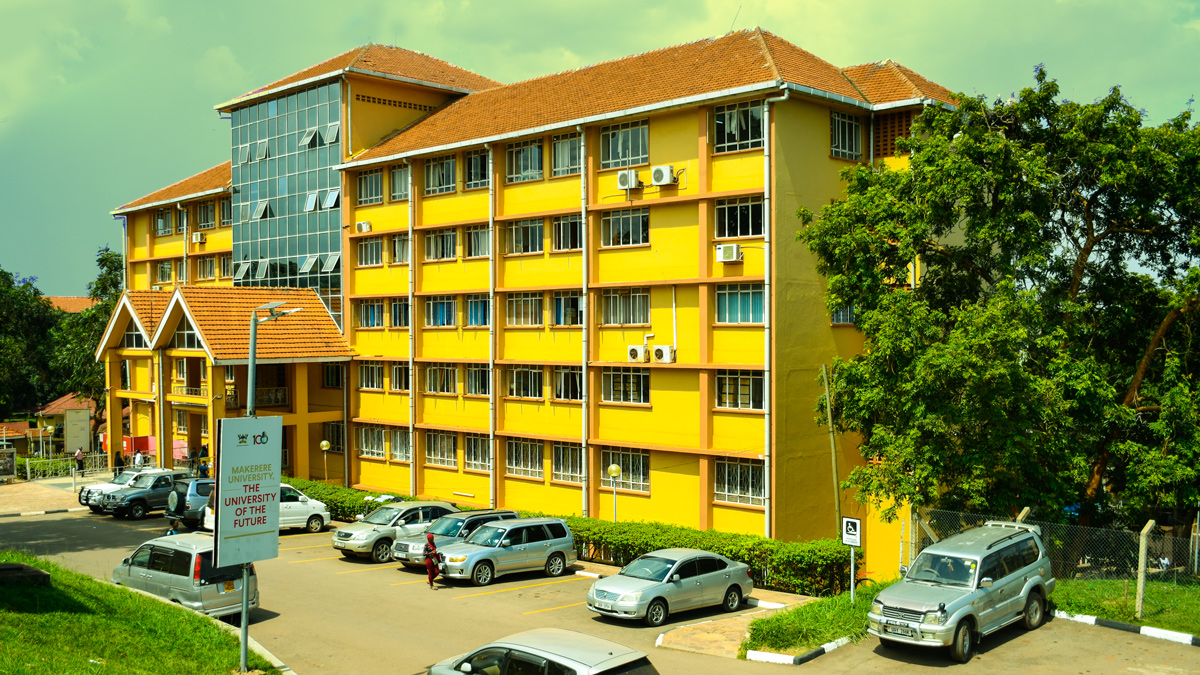 The Academic Registrar, Makerere University informs all Head Teachers of A 'Level schools that application forms for admission to public universities for senior six candidates (UACE 2023) for the 2024/2025 academic year will be ready for collection from the university from Monday 4th December, 2023.
The application forms should be collected from the Office of the Academic Registrar, Senate Building, Level 3, Makerere University.
Issuing of the application forms will start on Monday, 4th December 2023 on payment of a non-refundable application fee of Uganda Shs. 52,000/=(fifty two thousand Uganda shillings only) per application form.
You are advised to get a pay reference number (PRN) using the ACMIS system (http://pay.mak.ac.ug) to enable you pay the application fees in any bank used by Uganda Revenue Authority (URA).
The forms are for Ugandans only.
Please note that only Head Teachers or their authorized representatives will be served.
The closing date for submitting the completed application forms will be Wednesday 31st January, 2024.
Prof. Buyinza Mukadasi
ACADEMIC REGISTRAR