Re-advertisement for Graduate Programmes 2021/2022
The Academic Registrar, Makerere University invites more applicants for admission to Graduate Programmes (Postgraduate Diplomas, Masters and Doctoral Degree Programmes) for the 2021/2022 Academic Year. Applicants should have obtained at least a first or second class degree (or its equivalent) from a recognized and chartered university / institution at the time of completion.
Applicants should also possess a Ugandan Certificate of Education with at least five passes (or its equivalent) and a Uganda Advanced Certificate of Education (UACE) with at least two principal passes and one subsidiary pass obtained at the same sitting (or its equivalent).
Sponsorship:
All Graduate Programmes are PRIVATELY-SPONSORED. Therefore applicants seeking sponsorship should have their applications endorsed by their respective sponsors where applicable. Applicants should note that the various fees payable to the University indicated for the various programmes EXCLUDE functional fees, accommodation, books, research and other expenses.
College of Agricultural and Environmental Sciences
1 MSc. in Agricultural Extension Education
2 MSc. in Animal Science
3 MSc. in Soil Science
4 MSc. in Integrated Watershed Management
5 MSc. in Plant Breeding and Seed Systems
6 MSc. in Applied Human Nutrition
7 MSc.in Forestry and Biodiversity Management
8 MSc.in Disaster Risk Management
9 Master of Land Use and Regional Development Planning
10 MSc. in Applied Meteorology
11 Master of Geographical Sciences
College of Humanities an Social Sciences
12 PGD in Gender and Local Economic Development
13 PGD Guidance and Counseling
14 M.A. in Human Rights
15 M.A.in Philosophy
16 M.A. in Applied Ethics
17 M.A. in History
18 M.A. in Music
19 M.A.in Literature
20 M.A. in Religious Studies
21 M.A. in Peace and Conflict Studies
22 M.A. in Religious and Theological Studies (Kinyamasika National Seminary)
23 M.A. in African Languages
24 M.A. in Linguistics
25 M.A. in Gender Studies
26 M.Ed. in Educational Psychology
27 Master of Organizational Psychology
28 M.A. in Counseling
29 MSc. in Clinical Psychology
College of Business and Management Sciences
30 PGD in Demography
31 M.A. in Economic Policy and Planning
32 M.A. in Economic Policy Management
33 Master of Business Administration
34 Master in Financial Services (Uganda Institute of Banking and Financial Services)
35 PGD in Statistics
36 PGD in Demography
37 Master of Statistics
38 MSc.in Population and Reproductive Health
39 MSc. in Quantitative Economics
40 Master in Public Infrastructure Management(Block week Modular)
College of Education and External Studies
41 PGD in Education
42 Master of Instructional Design and Technology
43 Master of Education, Tracks:
a) Foundations of Education,
b) Early Childhood Education and Development,
c) Language and Literature Education,
d) Social Science and Humanities Education,
e) Science Education
44 Master of Higher Education, Tracks:
a) Leadership and Management
b) Teaching and Learning
c) Research and Innovation
College of Natural Sciences
45 MSc. in Physics
46 MSc. in Chemistry
47 MSc. in Botany
Tracks:
a) Molecular Biology & Genetics
b) Natural Resources Ecology & Conservation
c) Plant Taxonomy & Biosystematics
d) Microbiology & Plant Pathology
e) Plant Physiology
48 MSc. in Zoology
Tracks:
a) Fisheries and Aquatic Sciences
b) Entomology
c) Parasitology
d) Wildlife Ecology_ and Management
49 MSc. in Geology
50 MSc. in Biochemistry
51 MSc.in Petroleum Geosciences
52 MSc. Mathematics
53 MSc. Applied Mathematics
College of Veterinary Medicine, Animal Resources and Biosecurity
54 PGD in Livestock Development Planning & Management
55 Master of Veterinary Medicine (Food Animal Health & Production)
56 MSc. in Veterinary Pathology
57 Master of Biomedical Laboratory Sciences and Management
58 MSc.in Wildlife Health and Management.
Tracks:
a) Wildlife Clinical Medicine
b) Wildlife Resource Management
c) Aquatic Health Management
59 MSc.in Livestock Development and Management
Tracks:
a) Livestock Sector Planning and Management
b) Animal Product Processing, Entrepreneurship and Safety
Makerere University Business School
60 Master of Business Administration – Evening
61 MSc. in Accounting and Finance
62 MSc. in Marketing
63 Master of Human Resource Management
64 MSc. in Procurement & Supply Chain Management
65 MSc. in Leadership and Governance
66 MSc. in Entrepreneurship
67 M.A. in Economic Policy Management
68 Master of International Business
69 Master of Hospitality and Tourism Management
70 Master of Business Administration (Modular)
71 MSc. in Banking & Investment Management
College of Health Sciences
72 MSc. in Health Professions Education (Distance)
Doctoral Degrees by Coursework and Dissertation
PhD in Educational Management
Application Procedure
Visit the Makerere University's Admissions URL https://apply.mak.ac.ug and generate a Payment
Reference Number (PRN) by following the guide below.
Sign up using full name, e-mail and Mobile Number. Please note that your name must be similar to
the one on your supporting academic documents for your application to be considered valid.
A password will be sent to both your email and mobile number.
The system will prompt you to change the password to the one you can easily remember.
To fill a form, the applicant clicks on the APPLY NOW button displayed on the appropriate scheme
i.e. Taught PhD, Masters and Postgraduate Diplomas.
Obtain a payment advice slip by clicking on "Pay for Form" button.
Make a payment at any of the following Banks:
(a) Stanbic Bank
(b) Post Bank
(c) Centenary Bank
(d) DFCU Bank
(e) UBA Bank
Print 2 copies of the filled form and attach 2 certified copies of your academic documents, 2 copies
of all other relevant documents, 2 passport photos and the three referees' letters of recommendation.
Submit in office No. 307, level 3 Senate Building or email scanned copies of the mentioned
documents to drgt@mak.ac.ug
For foreign applicants, application fees can be transferred by EFT or any other means in UGX to designated URA collection account in Bank of Uganda as follows:
Account Name: UGANDA REVENUE AUTHORITY COLLECTIONS
Account No.: 003410158000002
Swift Code: UGBAUGKAU
Strictly observe the closing date of Tuesday, 30th November, 2021
Further details, including fees structure can be accessed by following the link below:
Re-advertisement with details including fees structure 2021/2022 AY
Alfred Masikye Namoah
ACADEMIC REGISTRAR
Mak Claims Lion's Share of Jim Leech Fellowship Cohort 1 2020-2021 Awards
Makerere University Alumni have claimed the lion's share of fellowships awarded by Cohort 1 of the Jim Leech Mastercard Foundation Fellowship on Entrepreneurship 2020-2021. According to the recently concluded selection by Queens University, Canada, sixteen (16) out of the sixty (60) Jim Leech Fellows selected are from Makerere University, seven (7) of them being Mastercard Foundation Scholars/Alumni.
Kwame Nkrumah University of Science and Technology (Ghana) at eleven (11) had the second highest number of fellows awarded followed by University of Pretoria (South Africa) with seven (7). The University of Abomey Calavi (Benin) followed with four (4) fellows in the program that selected fellows from twenty one (21) institutions.
These included; Africa Nazarene University (Kenya), African Institute for Mathematics (South Africa), Ashesi University (Ghana), Carnegie Mellon University (Rwanda) and Covenant University (Nigeria). Others were Enugu State University of Science and Technology, Federal University of Technology and Ladoke Akintola University of Technology all from Nigeria, McGill University (Canada) and Moi University (Kenya).
Mphohadi College (South Africa), Obafemi Awolowo University (Nigeria), Southern New Hampshire University (United States) and United States International University (Kenya) were the others. The list was completed by University for Development Studies (Ghana), University of Gondar (Ethiopia) and University of Cape Town (South Africa).
We congratulate all Jim Leech Fellows 2020-2021 from Makerere University upon their successful selection.
Please see Downloads for the full list.
Makerere University 87th Guild President, GRCs Sworn In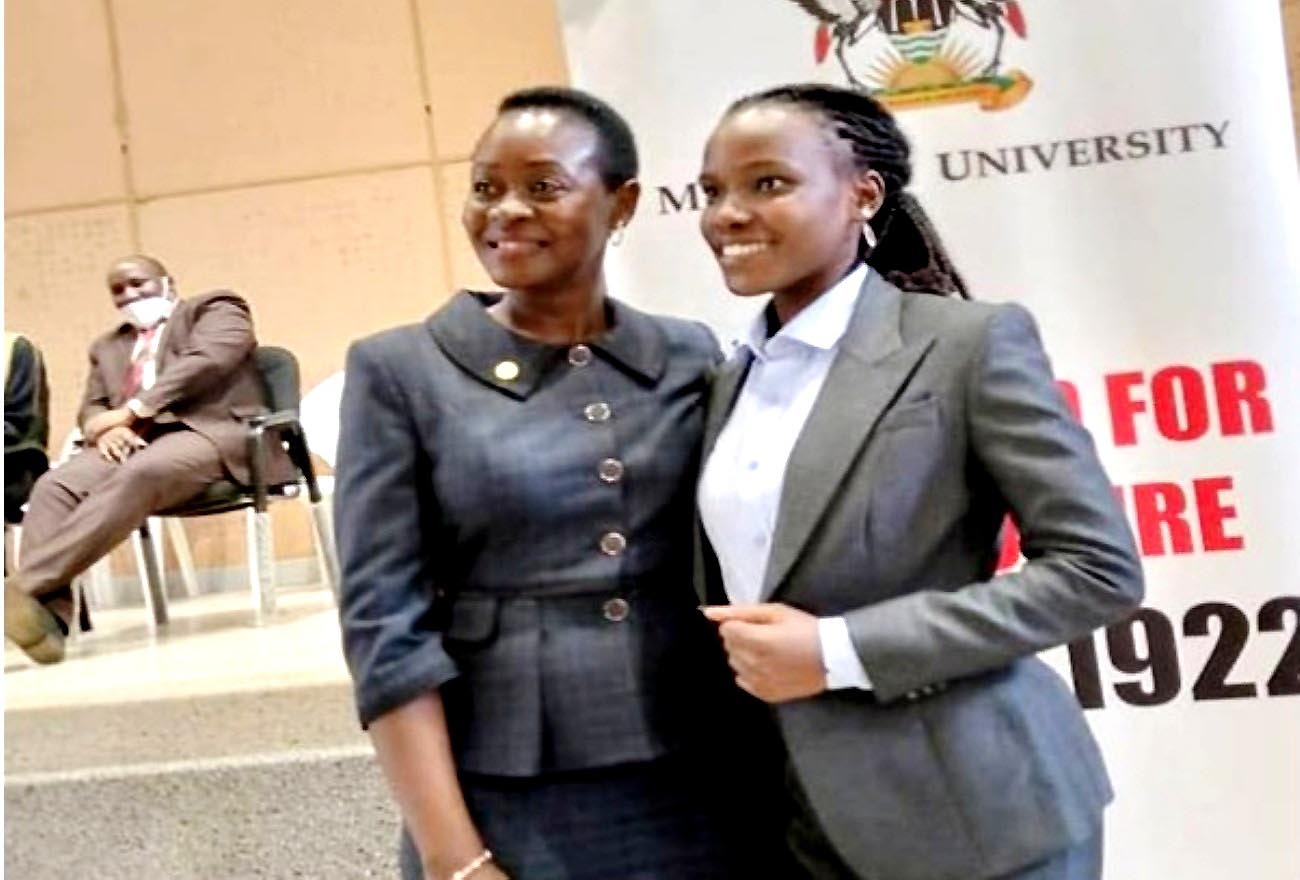 The newly elected Makerere University Guild President, Cabinet and Guild Representatives have been sworn in today, 26th November 2021 to effectively commence duties.
The swearing-in-ceremony took place at the CTF 2 Auditorium, presided over by the Dean of Students Mrs. Winifred Kabumbuli who represented the Vice Chancellor Professor Barnabas Nawangwe.
On a brilliant event graced by many elders, both the outgoing and incoming students' representatives, a number of guild representatives from Halls of Residence, Colleges, Schools, Persons with Disabilities, Dag Hammarskjold Hall, Kabanyolo hostels and Galloway Hall were sworn in. The Guild President Ms. Shamim Nambassa and her Guild Cabinet were also sworn in.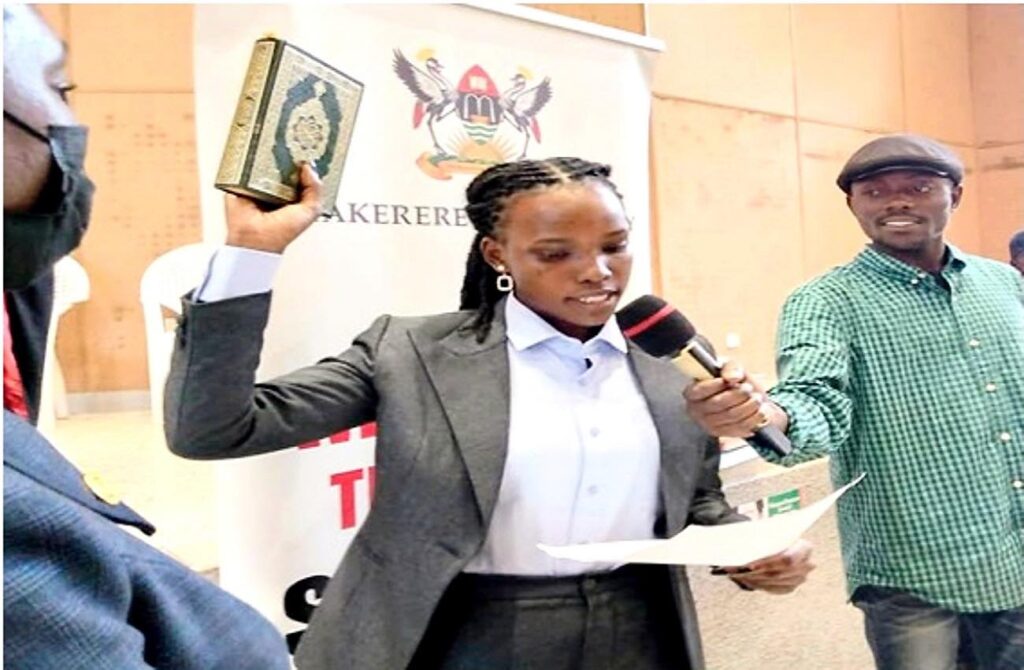 At the beginning of this month, Ms. ShamimNambassa won the Guild Presidential race after garnering 5,610 Valid Votes, representing 54.16% of the total ballot count. Ms. Nambassa replaced Ivan Ssempijja in the office.
After swearing in, H.E. Nambassa said she is excited to lead the student guild that will usher in Makerere's 100 years of existence celebrations. "I assume office at a very critical time when Makerere University is about to celebrate 100 years. For the 87 years of the 100 the students' guild has been around but I am only the 5th lady out of the 87," Nambassa briefly stated.
Representing the Vice Chancellor, the Dean of Students Mrs. Winifred Kabumbuli applauded the outgoing Guild leadership for the good leadership they have exhibited during their term of service.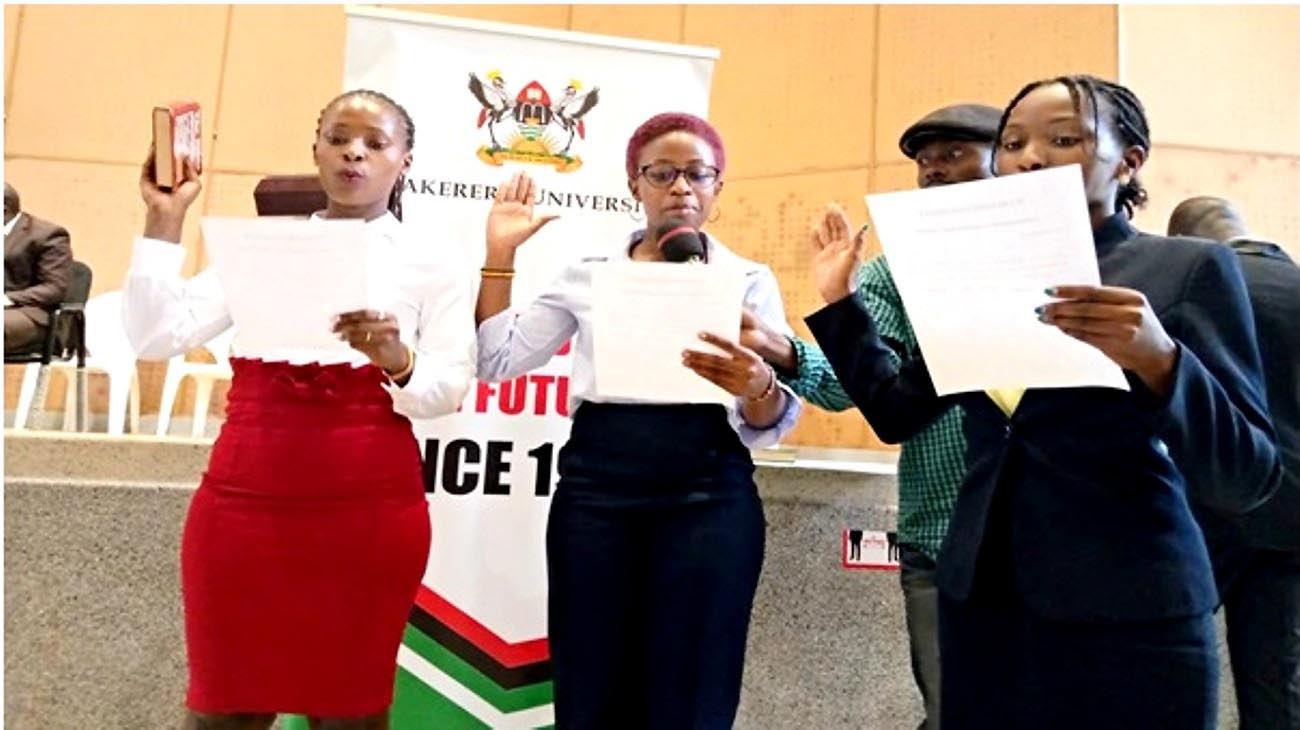 "I thank the outgoing guild leadership led by Ivan Ssempijja for the outstanding performance. I must admit that they contributed to quality enhancement of academic and social well being of students."
Mrs. Kabumbuli also acknowledged the central role played by the guild electoral commission led by chairman William Kananga for organising a petition-less election. "The electoral commission, thank you very much, you are exceptional, excellent much less unsurpassed, indeed you were fit for the purpose, you deserve all the accolades," she said.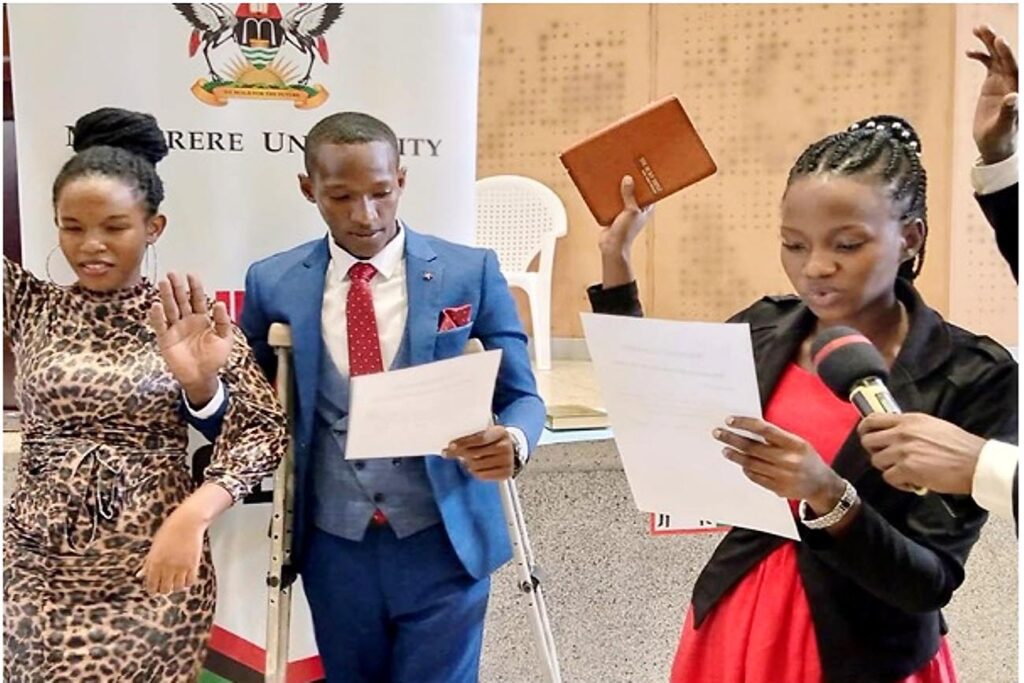 In a speech read by the Dean of Students, the Vice Chancellor Professor Barnabas Nawangwe congratulated the newly elected leaders for the triumph. "I congratulate all those who stood for various posts and were successfully elected as well as those who have been appointed in various positions of the executive leadership of the guild, I warmly congratulate you. I also thank the voters who turned up to vote in big numbers".
Professor Nawangwe also appealed to the newly sworn-in leaders to cooperate with University administration to ensure the wellbeing of students.
"To the new guild leadership, I appeal to you to begin your work with dedication and humility knowing very well that you have been called upon to serve your university beyond self. Please pay special attention to the University Council, the Senate, the College Boards and other statutory organs, the GRC as well as policies, procedures and regulations of the University. In particular, the guild leadership should join Management to encourage students to pay fees in the remaining time," Prof Nawangwe added.
School of Statistics and Planning receives ICT equipment worth $500,000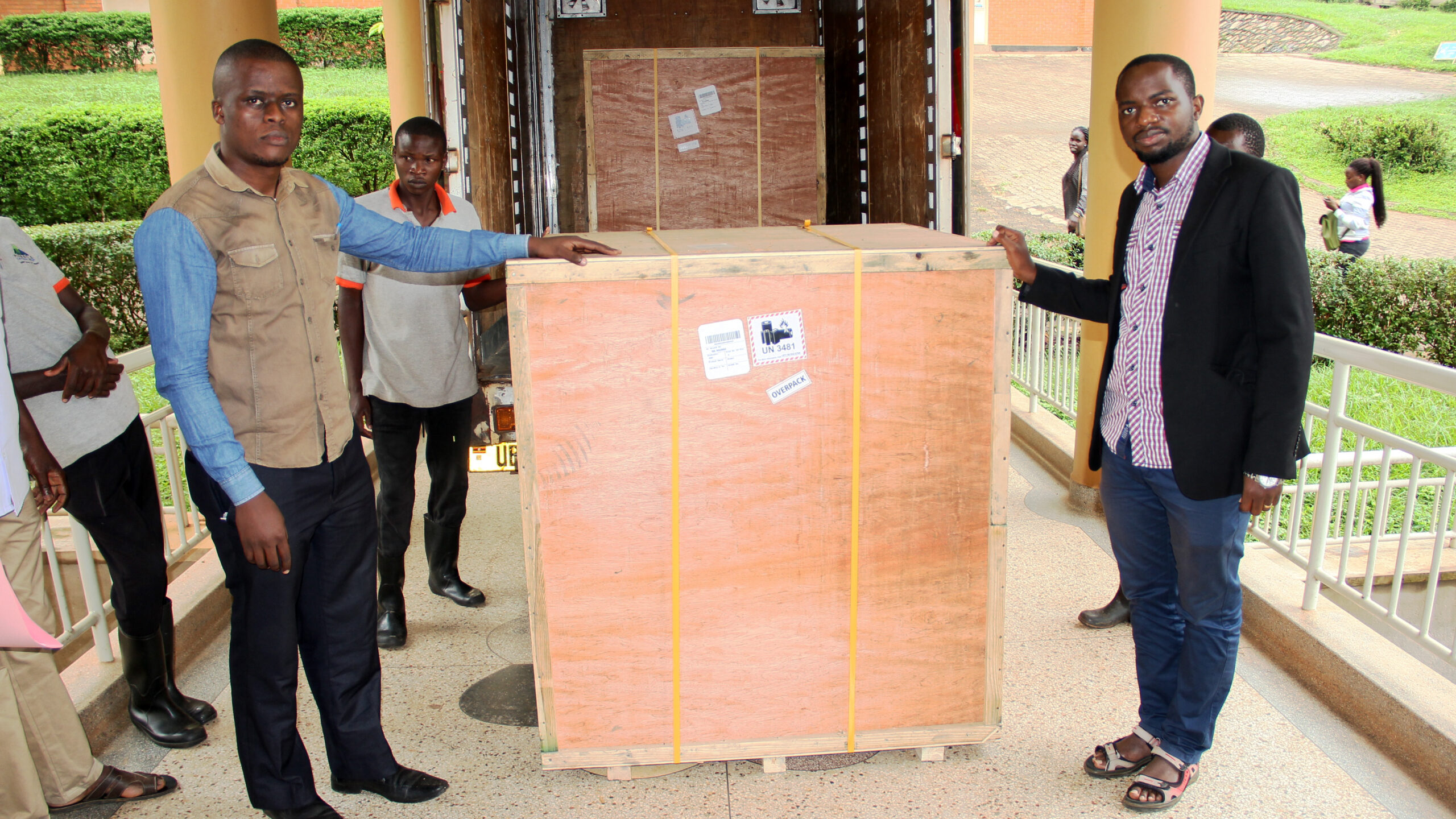 The School of Statistics and Planning today received a consignment of ICT equipment worth $500,000 from the East African Community. The purchase of the equipment was facilitated by funding from the World Bank to the East African Community.
The equipment was this morning received by Dr. JB Asiimwe, the HoD of Planning and Applied Statistics, Mr David Kisitu, the Systems Administrator and Mr Frank Namugera from the Department of Planning and Applied Statistics.
The equipment includes 153 desktop computers, laptops, digital cameras, computer tables, power banks, UPS, cooling systems, security cameras, network accessories and computer chairs among other things.
The equipment will go a long way in improving teaching and learning as the university moves to be a research led institution.