Transforming Agriculture in Africa using Digital Technologies: A Perspective from RUFORUM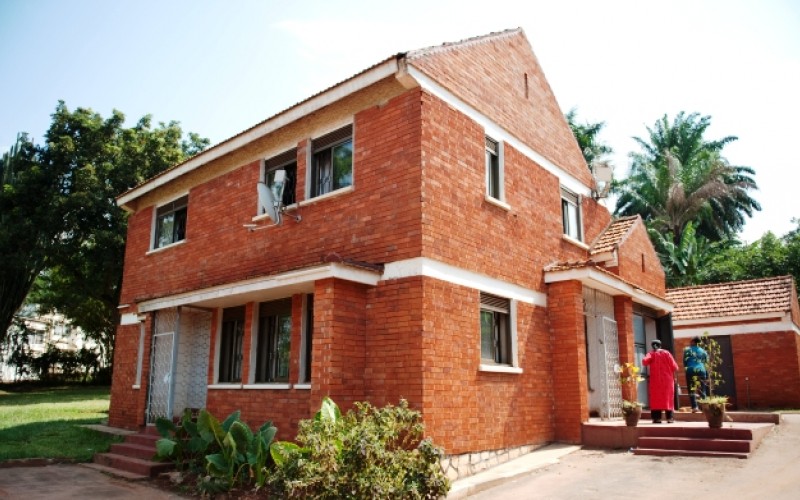 This paper presents a conceptual underpinning for African Digital Agriculture Programme (AfriDAP), a proposed initiative to accelerate transformation of agriculture in Africa using digital technologies. It outlines a perspective of the Regional Universities Forum for Capacity Building in Agriculture (RUFORUM) for transformation of agriculture in Africa using digital technologies. RUFORUM brings together higher agricultural institutions in Africa, development partners in and outside Africa to address a continental challenge of transforming African agricultural higher education, science, technology, and innovation (AHESTI). The proposed AfriDAP will seek to achieve, within this strategic framework, the goal of digitalization of agriculture ecosystem in Africa whilst addressing three programmatic areas: Digital learning and sharing technologies for agriculture, data science development (research, big data management and capacity building for agriculture), and incubation and innovations for digital agriculture entrepreneurship and startups.
CoCIS to deploy the Smart Bee Monitors in the field in December 2022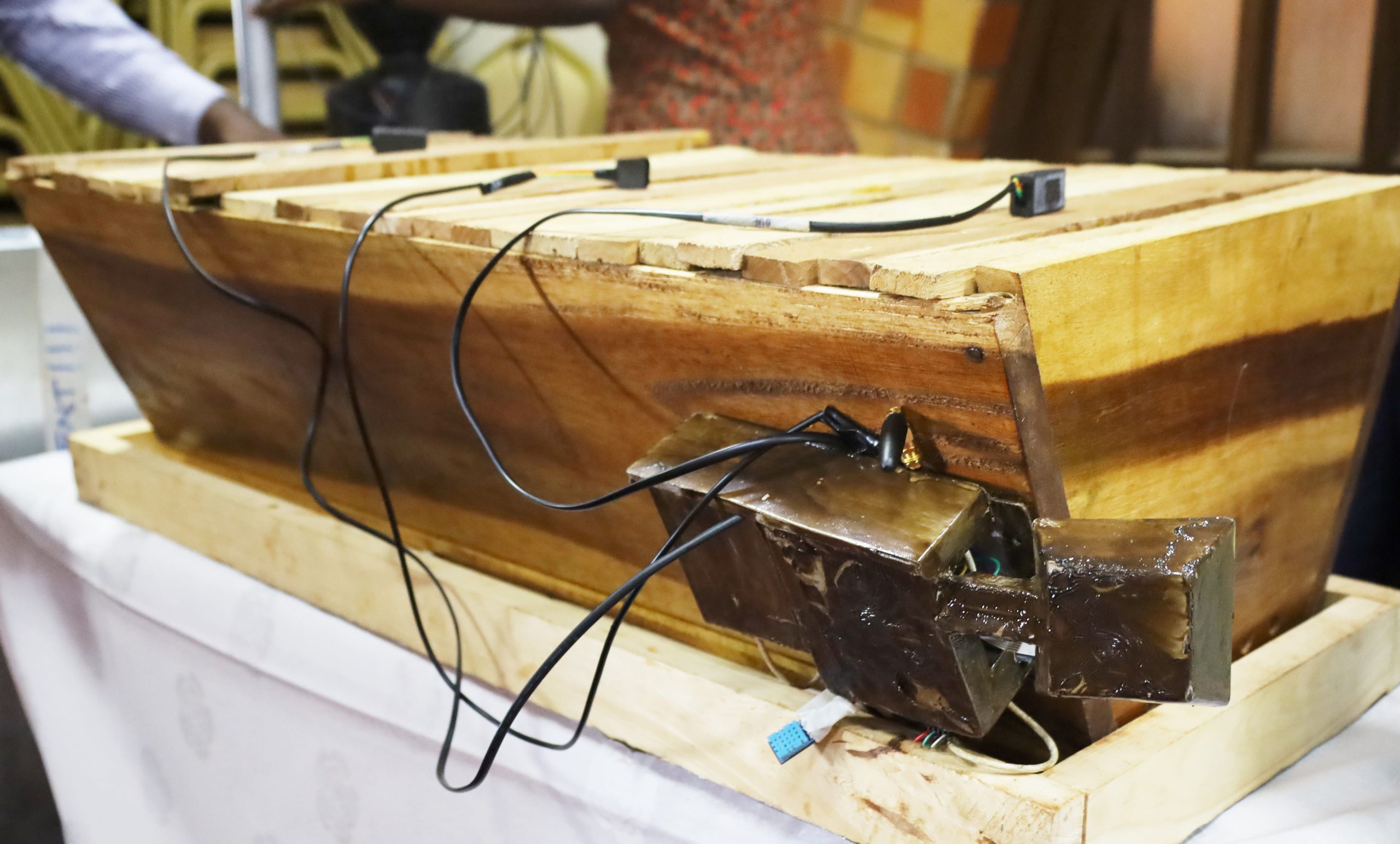 Researchers from Makerere University College of Computing and Information Sciences (CoCIS) have designed the Smart bee Monitor ready to conduct its first trials in the field in December 2022. This is the first time the device will be taken out of the laboratory to test how it performs in monitoring bee hives.
The first deployment is going to take place at the university apiary in Namulonge which will act as the study site for this first prototype, while several others will be stationed in different fruit farms and game parks in East Africa to predict the well-being of bees under different environments.
CoCIS researchers in a collaborative project dubbed, "Adaptive Environment Monitoring Network Africa (AdEMNEA)" revealed this new development during the project 2022 first Annual conference held at Kolping Hotel In Kampala on 16th-17th November 2022. The project commencement in 2021.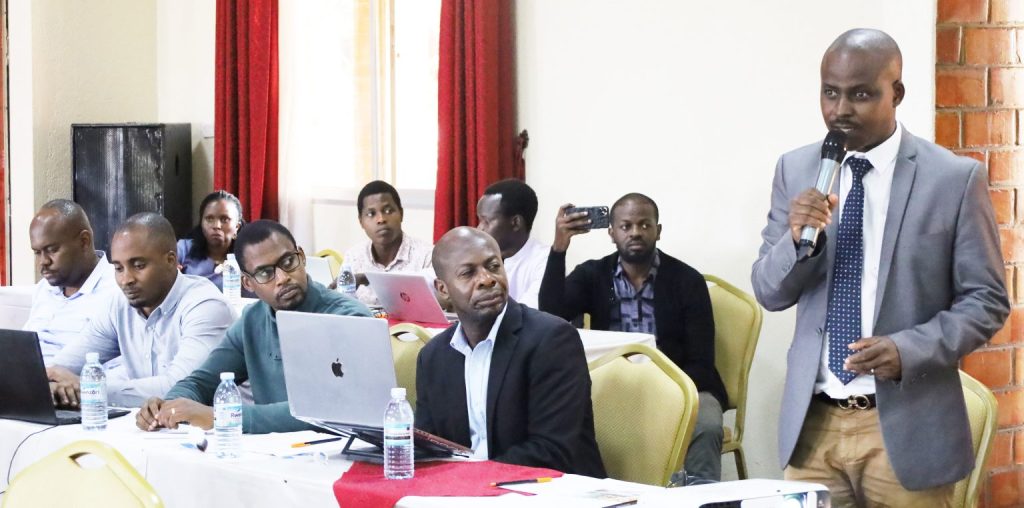 The Project is funded by NORAD under the NORHED II programme supported for five years with the main emphasis on Southern partners. It builds on past success and results from the WIMEA project which automated weather services funded under the NORHED I framework with several other projects currently funded with NTNU and Makerere as partners.
The partners in the AdEMNEA project are the Norwegian University for Science and Technology as the lead partner and the Southern partners led by Makerere University, the Dar es Salaam Institute of Technology (Tanzania) and the University of Juba (South Sudan). Other partners are the University of Bergen (Norway), the Uganda Meteorological Authority, NaCCRI and NARO. Other partners are the Ministry of Agriculture (MAAIF), The Uganda National Apiary Development Organisation (TUNADO), Research and Education Network for Uganda (RENU) and Fruit / Bee farmers (Nwoya fruit growers cooperative society and Green Zabu Farm).
At Makerere University the project is being led by Dr. Julianne Sansa-Otim with staff from the College of Engineering Design and Art (CEDAT) and the College of Veterinary Medicine Animal Resources and Biosecurity (CoVAB).
Speaking during the annual conference, the Principal Investigator Makerere University Dr. Julianne Sansa-Otim said, they are rolling out an adaptive resilient network infrastructure connectivity where data gathering instruments in the field can send their data through the internet.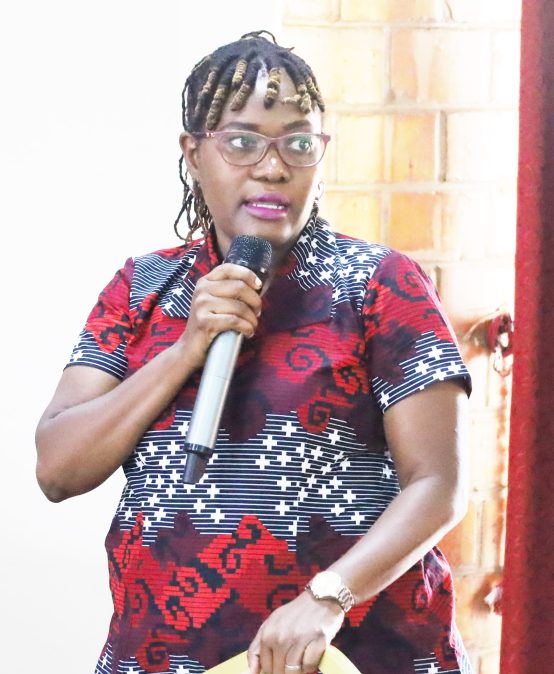 "We are building this network and we want to contribute to protecting bees and building instruments that will gather data about bees and fruit flies. We are putting in place the smart bee monitor and have designed the first generation that it can gather the data that can help insect scientists to tell the health of the bees and the environment and aspects that are helpful to make conclusions", Dr. Nsansa said.
Dr. Nsansa stressed that bees are endangered yet they are the biggest pollinators responsible for most of the fruits and vegetables. Bees according to Dr. Nsansa contribute towards biodiversity as other creatures rely on them for existence.
"The challenge is that because of climate change, different human factors and agro-chemicals, bees are on the decline and becoming extinct. For the remaining bees, we need to find ways of discovering what is affecting them, where do they thrive, which kind of plants do they like.
Most of the wild places where bees used to thrive have been converted into commercial farms and buildings so we need the optimize the smaller spaces remaining for bees". She added.
She noted that as they investigate and deploy instruments out there, they will establish plants where bees can stay longer and multiply and help to come up with interventions to protect those tree species.
She reported that monitoring insects has traditionally been via manual observation and count by specialists such as entomologists and extension workers going in the bushes yet there are few specialists in Uganda and Africa that makes this method ineffective. In Uganda, it is estimated that there is one entomologist per region with less than eight entomologists in the MAAIF employed to do this work for the entire country.
The deployment of such tools in the field means that one entomologist in one place can be able to gather different data from different places. And because bees are mostly found where there are fruits and vegetables, and, one of the common pests in fruits being fruit flies, the project looked at both pollinators: – the bees which researchers want to protect and multiply and, fruit flies for study and destruction.
Fruit flies are known to be the biggest pests affecting mangoes leading to losses and likewise the Ministry of Agriculture and Animal Industry and Fisheries that is responsible for monitoring and controlling pests is limited by the number of specialists.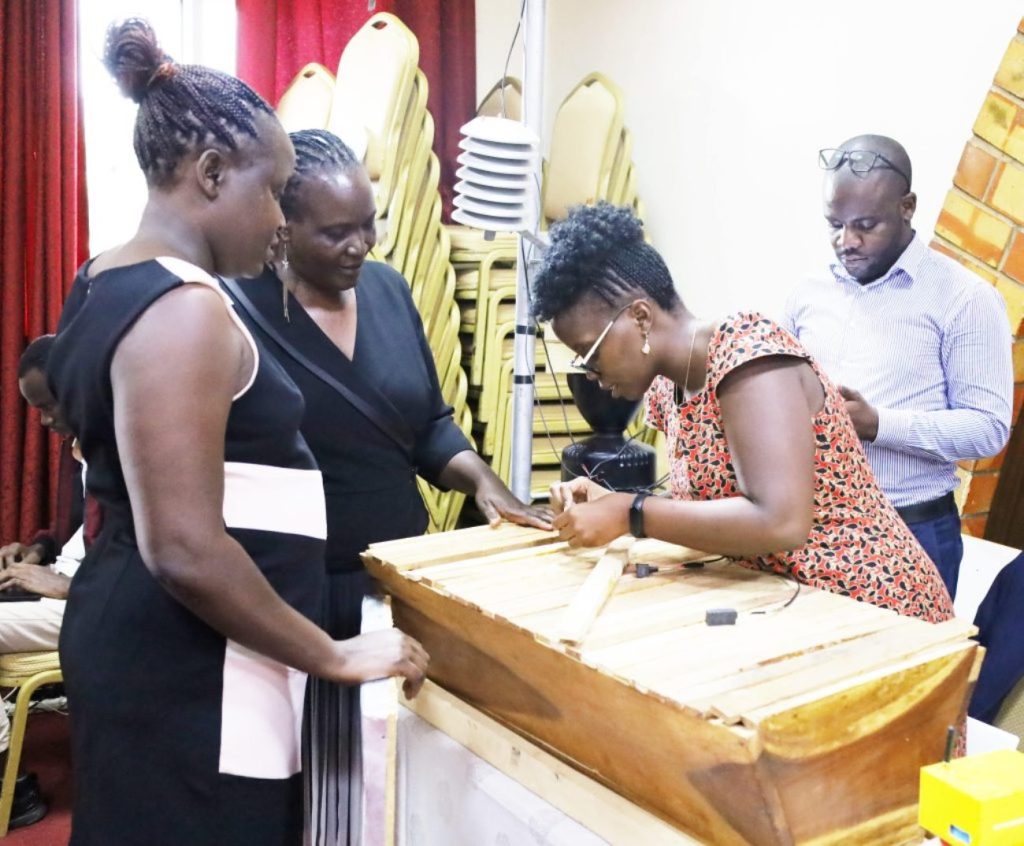 Makerere University's PhD student behind the design of the smart bee monitor Dr. Agatha Turyagenda said the goal is to solve the inefficiencies that come about with manual inspections of bee hives in Uganda which is associated with less productivity among Ugandan bee farmers.
Studies have shown that world over, the number of bees have declined but no study has been conducted in Uganda as farmers continue to complain about bees absconding to come to bee hives.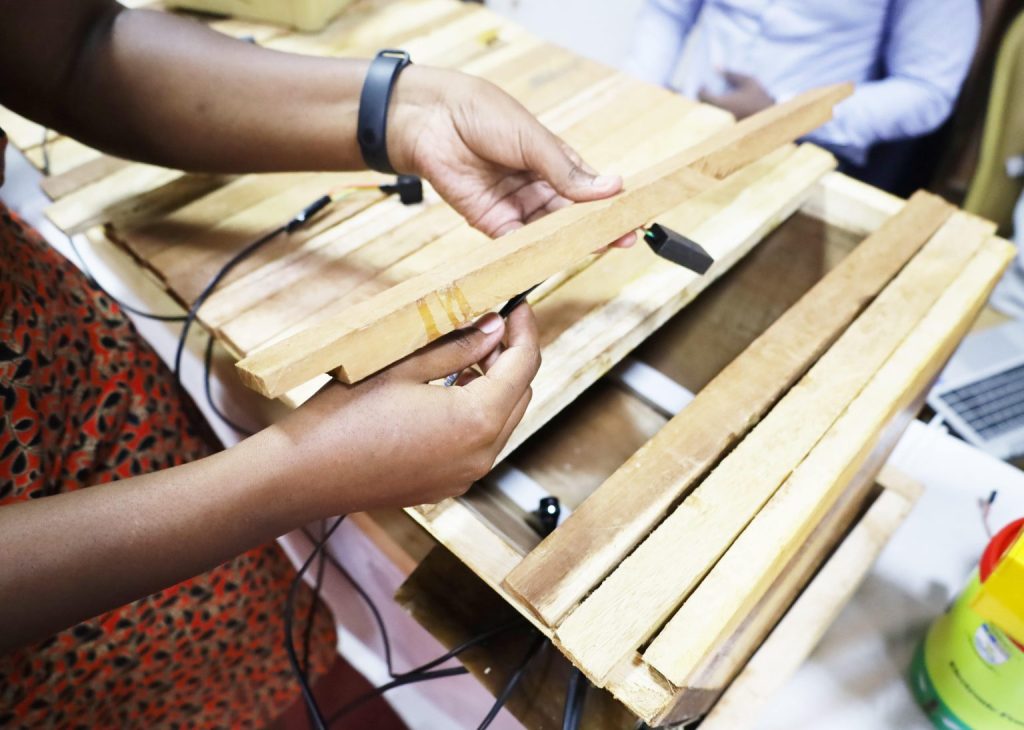 AdMNEA project researchers are investigating to come up with a solution to combat some of the challenges bee farmers are faced with.
"The smart bee hive has several parameters capturing images and videos, at the entrance of the bee hive and, temperature and humidity as well as carbon dioxide levels inside the bee hive and the weight of the bee hive.
All these parameters are then transferred to a remote website that anyone can be able to see as long as they have internet connectivity. So this can be on a mobile phone or laptop.
In the future we will be able to use the information collected to be able to develop programmes that can tell us which pests and diseases have infected the bee hive, if the queen is absent or present, it can tell us if the bees are preparing to swarm, the honey productivity, the weight module and also indicate the right time to harvest honey", Dr. Turyagenda explained
Entomologist Dr. Deborah Ruth Amulen from CoVAB reported that whereas bees constitute 70% of the world's crop pollination, their population has declined due to pesticide application, climate change, land use change and diseases.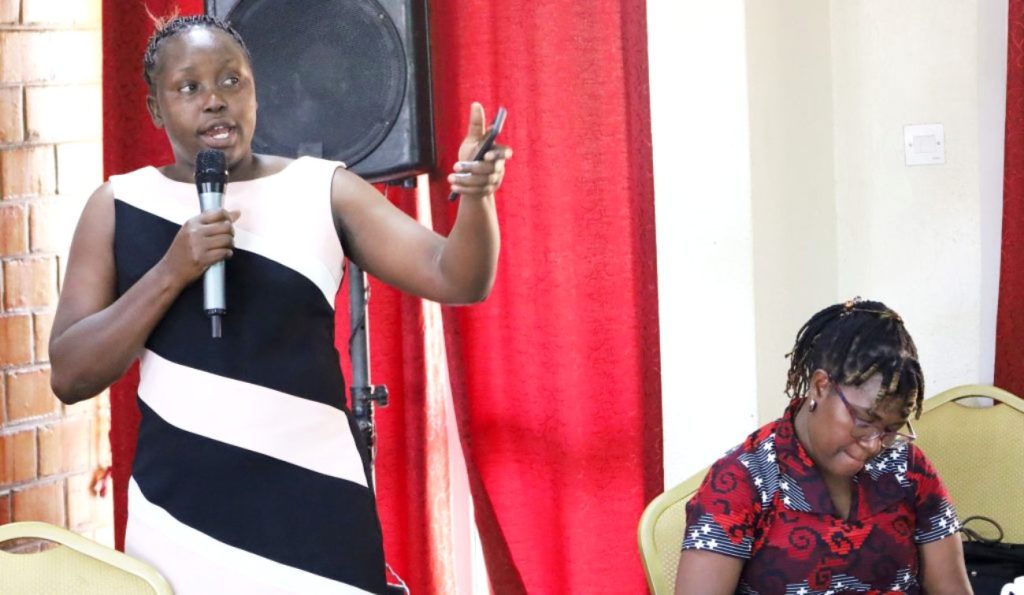 Amulen observed that the traditional way of inspecting bee hives is time consuming, requires skills and knowledge, disrupts inside hive micro climate and risk of distributing diseases of bees while useful variables such as temperature, humidity, gases cannot be ascertained hence the need to automate the process.
"For entomologists, the smart bee monitor will help us to know when to harvest honey, when the bees are sick, when the population of bees is down so that we can check the hive and address the problem.
The smart bee hive is one of the common bee hives farmers use but the ICT team has modified it with sensors after which entomologist will populate them with bees and deploy them in fruit farms, university farms and in apiaries near the national parks so that we can compare what is happening in hives and in fruit farms where they spray a lot of chemicals.
We can therefore monitor and tell if the bees will be very sick or dying, whether the production of honey is lower compared to bees that are near national parks and where there is no chemical use near the national parks" Dr. Amulen stated.
Regular manual inspection of fruit fly traps according to Dr. Amulen is also inconvenient, misses out on critical data points such as the phenotype, density, diversity and relationships between variables such as population and weather toward prediction of infestation.
Mak-RIF Round 4 Awards and PhD Call Launched
On Thursday September 29th, 2022, Prof. Banarbas Nawangwe, Vice Chancellor Makerere University joined the Mak-RIF Grants Management Committee and Secretariat to launch yet another cohort of awardees benefiting from the Mak-RIF 4 awards. This cohort comprises of 71 multidisciplinary awardees bringing the number of currently supported and funded projects to over 800 within the various Colleges also engaging multiple stakeholders within and outside Makerere University (funded through financial years 2019/2020,2020/2021, 2021/2022 and 2022/2023). Cumulatively, over the last three Financial Years, Mak-RIF has committed to award projects worth Ugx- 94,759,306,363. It was also during this session when the PhD Call for Proposals was rolled out. Details are shared on https://rif.mak.ac.ug/call-for-applications-phd-research-grants/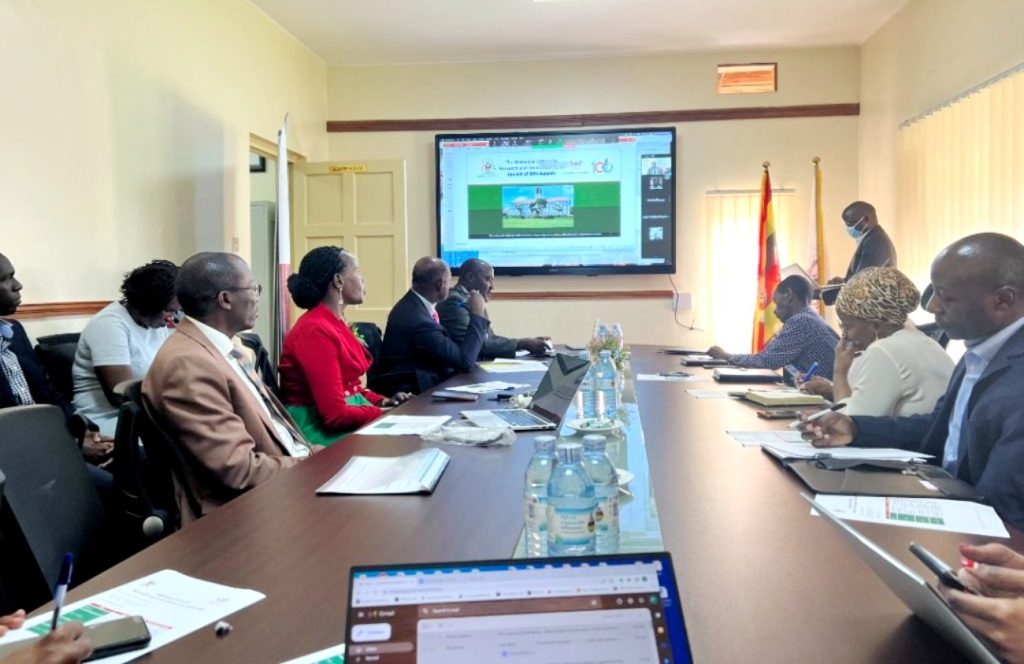 Makerere University through the Mak-RIF is supporting implementation of high impact research and innovation projects with funding from the Government of the Republic of Uganda. The objective of the fund is to increase the local generation of translatable research and scalable innovations that address key gaps required to drive Uganda's development agenda. "As we move towards being research led university, we are grateful that the government of the republic of Uganda is increasingly attaching importance to Research and Innovation as a driver of development and transformation through such funding to Makerere University. This is evident from the fact that we are now moving on to fund PhD students." noted Prof. Nawangwe, Makerere University's Vice Chancellor. For starters, we anticipate funding about 100 PhDs utilizing approximately 3 billion Uganda Shillings.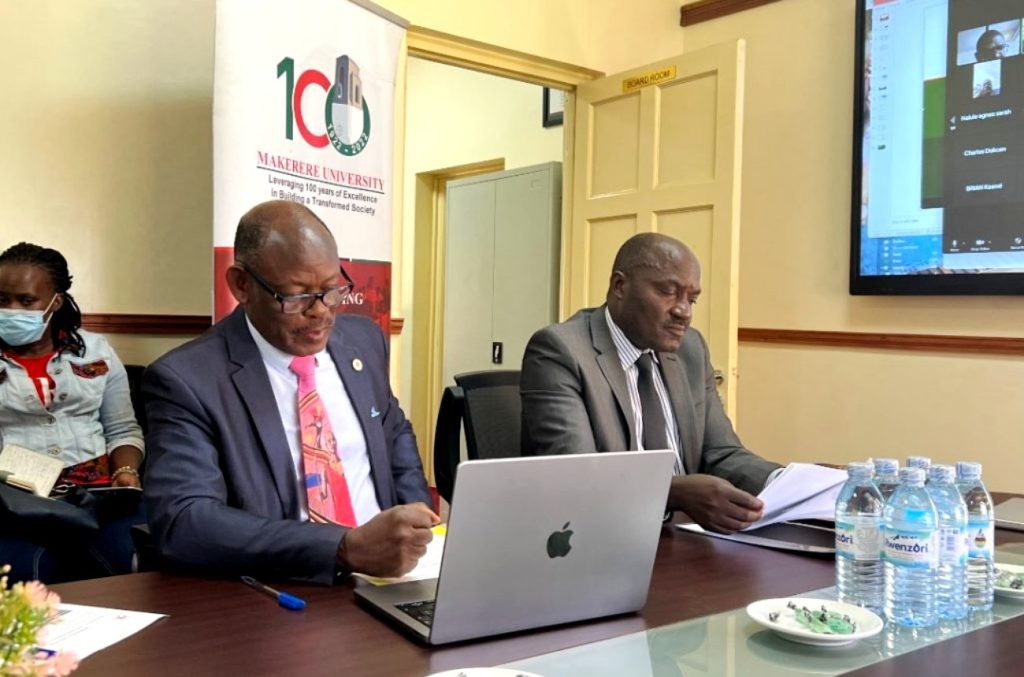 Some of the research and innovation outputs to-date include; Solar Powered Autoclaves for use in Rural Health Centers, the Pedal-Operated Seed Cleaner, an electronic partograph for improved monitoring of labor, to reduce maternal mortality, Integration of on – and off – grid decentralized renewable energy systems: Enabling Uganda's largest distributor UMEME to pilot the integration of off – grid decentralized renewable energy systems (DREs) with grid systems to extend electricity access to unserved communities, the Organ and Tissue Biobanking project, Enhancing Value addition on Potato-Sorghum enterprises, Makerere University Decontaminator for N95 Face Masks and other items, the Touchless Hand Wash Device and automation of communal hand water pumps and shallow-well hand-pumps project: To reduce cross-infections during handwashing, the Low-Cost Medical Ventilator currently undergoing animal tests at Makerere University's College of Veterinary Medicine, Animal Resources and Biosecurity and Self-disinfecting gloves among other projects among others.
Prof. Fred Masagazi Masaazi during his remarks noted that; "This Financial Year has brought on board very important windows for funding. These include Commercialization which is allocated 1.5billion Uganda Shillings representing 5% of the total Mak-RIF budget for the current Financial Year. The PhD window for our PHD students will take 3 billion representing 10%. We envisage that this figure will increase during the subsequent years".
Prof. Masagazi also noted that the numbers of Senior and experienced Researchers responding to the Mak-RIF calls is rising. This will help to mentor the junior researchers.
The Mak-RIF team has held capacity building engagements with several researchers at college level to build capacity for our staff in the science of research and innovations including reporting and accountability. Impact of such engagements is evidenced in the quality of proposals we receive. The secretariat is committed to providing support to the researchers throughout the whole process. Accountability and reporting. We have for the last three Financial Years received unqualified audit report and we pledge to continue with the good work. In addition, we have continued to encourage our researchers to produce and widely share Policy/Knowledge briefs and communicate findings through disseminations, stakeholder engagements, use of the media including social media and publishing in academic journals. More so, Mak-RIF's work is widely shared verbally through strategic engagements and online specifically on our robust and dynamic Website rif.mak.ac.ug (this site is linked to the Makerere University main Website to allow for wider information sharing among other advantages), Social Media platforms including Twitter, Facebook, and YouTube among others. I implore all of you to contribute to the conversations online for wider reach and better impact.
The new awardees were later inducted on Wednesday October 12, 2022, through Friday 14, 2022. It was during this session when awardees were taken through general project management tips, Intellectual property acquisition processes, processing of funds, accountability and reporting, procurement, stakeholder engagement and dissemination among others.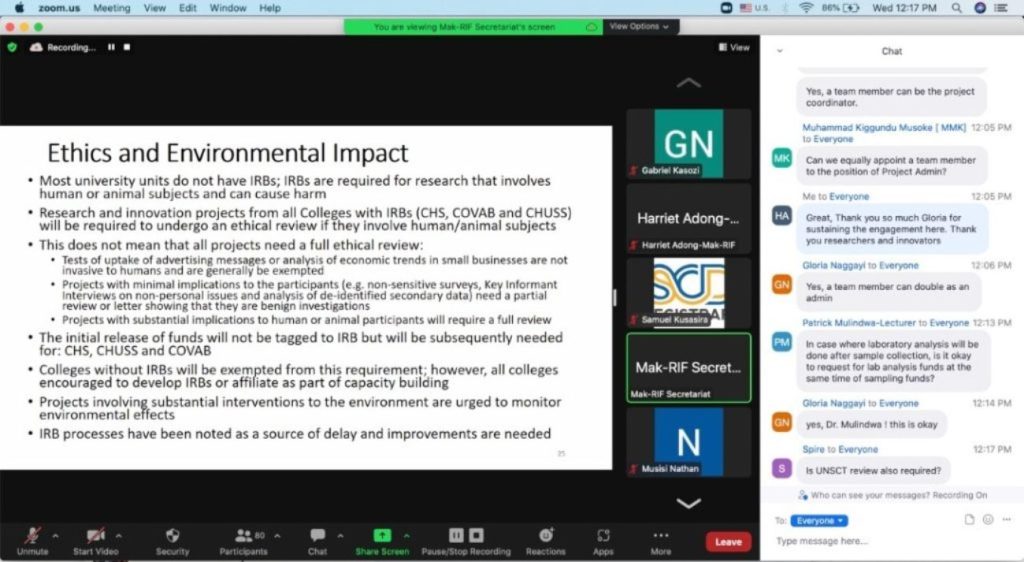 Congratulations to all the new awardees. We are all looking forward to the effective execution of all the supported/funded projects.
Call for Applications: PhD Research Grants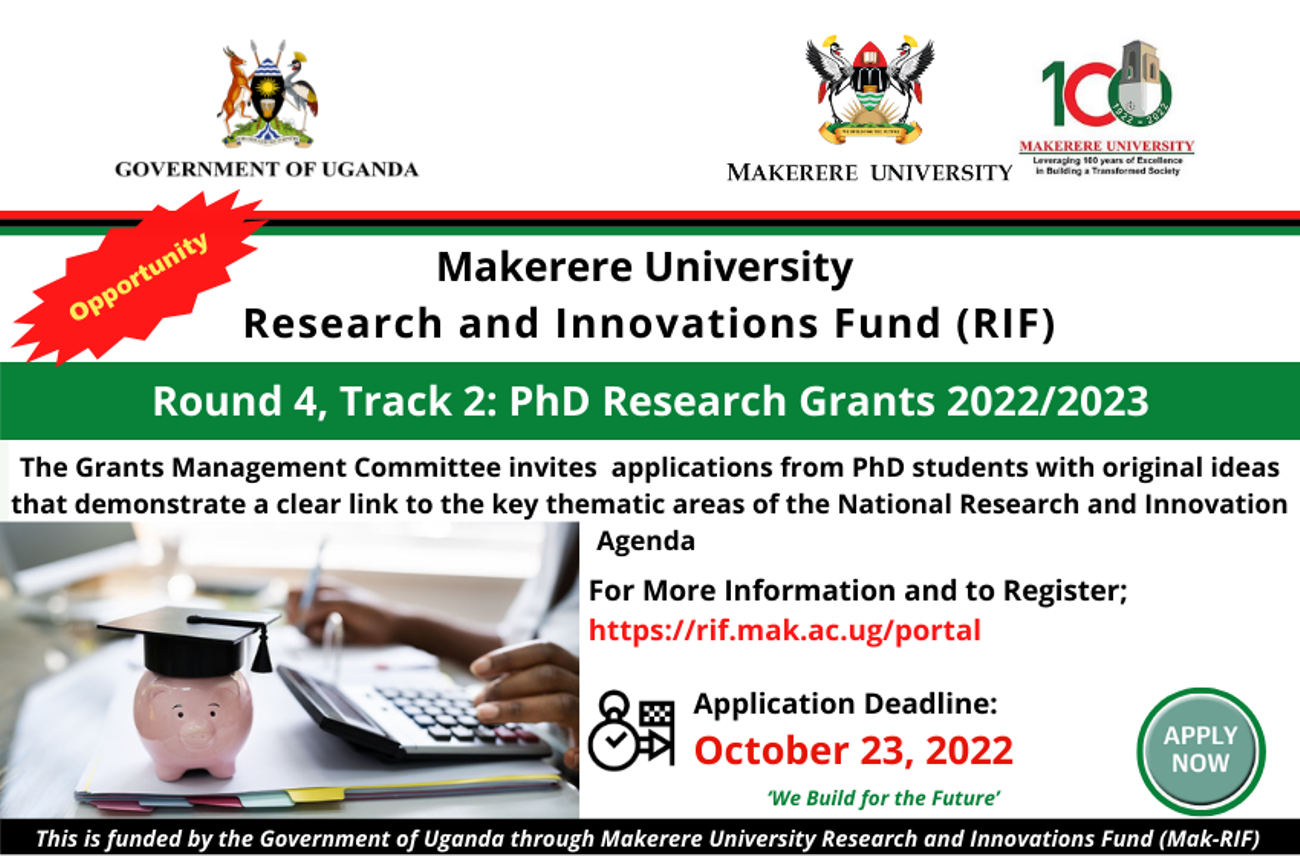 BACKGROUND
Funding opportunity description: Makerere University received special funding from the Government of the Republic of Uganda, to support high impact Research and Innovations that will accelerate national development. The Financial Year 2022/23 will be the fourth year of this fund's availability. The fund illustrates the increasing importance that the Government attaches to Research and Innovation as a driver of socio-economic transformation. The objective of the fund is to increase the local generation of translatable research and scalable innovations that address key gaps required to drive Uganda's development agenda. Over the last three Financial Years (2019/2020, 2020/21 and 2021/2022), government appropriated 79 Billion Uganda Shillings to support this Fund. Between the two years, MakRIF has funded a total of 775 projects across all sectors critical for development. In the next Financial Year (2022/23), Makerere University expects to receive about 30 Billion Uganda shillings (about US$ 8.1 million) under the Government Research and Innovation Fund (RIF). Of this, at least 3 Billion Shillings will fund PhD research ideas that generate knowledge that addresses national development priorities. The Makerere University Research and Innovation Grants Management Committee (GMC) therefore announces the RIF Round 4, Track 2 (PhD Research Grants). Available funds are obligated for the Financial Year 2022/2023, with an expectation of actionable results that speak to the National Research and Innovation Agenda. The GMC therefore invites applications from PhD students with original research ideas that demonstrate a clear link to key thematic areas of the National Research and Innovation Agenda.
This is a closed call that is open to only PhD students. This funding call is specifically targeted to PhD students that are full time at Makerere University.
Grant amounts and estimated number of awards: The GMC estimates to award the following number and amount of PhD Research Grants:
| | | | |
| --- | --- | --- | --- |
| Category | Amount per award | Approximate Number | Total amount |
| Category 1: Arts and Humanities | Up to 25,000,000/= | 50* | 1,250,000,000/= |
| Category 2: Sciences | Up to 35,000,000/= | 50* | 1,750,000,000/= |
| Total | | 100 | 3,000,000,000/= |
*Note: The numbers shown are only indicative. The MakRIF GMC reserves the right to adjust the numbers based on the quality of the proposals submitted.
Applicants should take into consideration the following:
Given that the MakRIF funds are received on an annual basis, and are tied to a specific financial year, the current grant only commits to funding the awardee for a period of one year. This award therefore covers one financial year.
However, the MakRIF GMC is cognizant of the fact that PhD research often spreads over more than one year in which case it requires multi-year funding. Because of this reality, PhD students who are funded under this round will be eligible for extension funding in the following financial year. Second year funding will not be automatic but will be conditional to the following: 1) Availability of funds, 2) Showing cause as to which additional areas of research will be covered in the second year of funding, 3) Successful execution and completion of all the objectives for Year 1 funding, evidenced by full submission of the required deliverables; 4) Full technical and financial accountability for all the funds given to the researcher during the current year of funding. Students would have to apply for the follow-on funding through the next year's PhD Research Grant call.
The GMC recognizes that the amounts indicated for this award may not be sufficient to cover all the necessary costs for a student's project. In such cases, the award should be considered as a contribution and the students should mobilize additional funding to bridge the resource gaps.
The number of awards indicated are only estimated and the GMC retains the discretion to determine the amount and number of awards based on the actual funding that MakRIF funders will make available and the number of quality proposals submitted.
Scope and Technical Description of the Research and Innovation Grant
The GMC conducted a comprehensive stakeholder consultation to identify priority thematic areas of interest for national development. The GMC triangulated this information with that from the National Development Plan III, the Makerere University Strategic Plan and Research Agenda to develop an instructive MakRIF research agenda that responds to national development priorities. The RIF Round 4, Track 2 (PhD Research Grants) will therefore specifically target research and innovation projects that align with priority thematic issues in the MakRIF instructive Research Agenda under 14 thematic areas as follows:
Theme 1: Transforming the Agricultural sector to drive development
Theme 2: Achieving Sustainable health as a means to sustainable development
Theme 3: Re-imagining Education to unlock capacity for economic development
Theme 4: Water, sanitation and the environment: A pre-requisite to sustainable development
Theme 5: Harnessing the social sector, culture and arts to drive development
Theme 6. Harnessing Tourism, wildlife and heritage for development
Theme 7: Sustainable Planning, finance and monitoring as catalysts for growth
Theme 8: Leveraging public service and local administration for efficient service delivery
Theme 9: Defence and security: Achieving sustainable peace and stability
Theme 10: Strengthening law, governance, human rights and international cooperation as prerequisites for development
Theme 11: Harnessing Information and Communication Technology to drive development
Theme 12: Works, manufacturing, science and technology as tools to accelerate development
Theme 13: Solutions to catalyse business and enterprise
Theme 14: Energy and Minerals as drivers of rapid economic development
Click here to view details of each theme.
The Mak-RIF PhD Research Grants will cover all technical disciplines in Makerere University as long as the research questions align with the instructive research agenda themes above. Particular attention will be paid to ideas that have clear potential for scalability to drive development.
Note: This grant covers the coasts of research. It does not cover payment of tuition or living stipends for the PhD students.
Eligibility
The PhD research grants will only be open to PhD students who have been approved for full registration at Makerere University. Students who have already received full scholarships under other award programs are not eligible to apply for these grants as this will constitute double funding. In line with this, PhD students who are members of academic faculty of Makerere University are not eligible since they are covered by the Staff Development Program. This funding is only open to Makerere University students. PhD students registered in other universities are not eligible for this funding. Further specifications on the awards are as follows:
Applicants must be at a stage where they have been approved for full registration as PhD students at Makerere University. Being at the stage of full registration means that they have developed a full research proposal that has been approved by the respective Higher Degrees Research Committee in their academic unit, and that they have been have been recommended for full registration OR are fully registered by Makerere University. Applicants will be required to provide evidence of one of the following: Minutes of the Higher Degrees Research Committee in their Academic college, showing approval of their research proposal, OR a full registration certificate.
Because the research funds are provided for one year funding cycles, PhD students with provisional registration will not be eligible for funding under this award since the time required for them to complete full proposal development and to start data collection is unlikely to fit within the financial year.
These grants are limited to PhD students who do not have prior funding for their studies or whose funding is inadequate to cover their research. Applicants in the latter category must make full disclosure of their other funding sources and what they cover.
Applicants should provide a letter of support from any one of the following: 1) The Head of their Department, or 2) The Dean of their School, or 3) the Principal of their College (Only one of these is sufficient).
Applicants should provide a letter of support from one of their Supervisors within Makerere University. The letter should clearly indicate that they do not have other funding that fully covers their research/training activities, or where such funding is available, they should indicate what aspects of the student's study program it covers and the funding gap. The supporting Supervisor will be designated as a co-Investigator on the research project.
GRANT GUIDELINES
MakRIF PhD Research Grant applicants will submit a competitive project proposal for the available funding. The proposal ought to specify the objectives for the full research project. It should also indicate which of the full research objectives will be specifically met by the available funding for this financial year.
Students intending to apply for multi-year funding in the subsequent years will be required to indicate so. In such cases, the students should indicate which study objectives would be covered by the extension funding.
The research problem: The proposal should clearly articulate the knowledge gap that the researcher targets to address, and why it is important to address this knowledge gap. The research problem should be aligned to at least one theme in the MakRIF research agenda.
The proposed solution: PhD Researchers should present the proposed solution in form of the research focus for the current phase of the funding. They should clearly articulate the objectives of the planned research. Researchers should also describe the critical content of the solution (i.e., the 'research methodology'). Researchers should defend the relevance of the proposed solution to addressing key development outcomes in the respective sector and its alignment to one or more thematic areas specified in this call. Researchers should also demonstrate that at least one objective of their research project is implementable within one (1) year and will result in tangible results within one year of execution.
Research projects that require multi-year implementation will only be considered if they can show actionable intermediate results or objectives attainable within 1 implementation year, since funding will be on a yearly basis. Apart from a summary of the proposed approach, researchers will provide a more detailed description of their technical approach (research methodology) to enable a robust assessment of the rigor of the proposed methodology.
Outputs, outcomes and impact: Researchers should articulate the overall scientific outputs, outcomes and anticipated impact of the PhD research project. They should state the primary (Direct) and secondary (Indirect) beneficiaries of the planned research project. They should state the anticipated outputs (the outputs of the activities of the entire project as well as the specific milestones to be attained with the one-year funding) and the outcomes (both the outcomes of the entire project and those for the current funding phase). Researchers should also state the anticipated impact of the the project (Note: Impact might not be achievable in one or even a few years in which case the current phase only contributes to it). Since this funding is specific to the current financial year, projects must demonstrate clearly the deliverables they expect within one year, matching the level of investment made and attainable in the 1-year timeframe. Multi-year projects should show clearly what will be achieved in the current year of funding as well as what would be achieved overall when the full PhD research is completed in the subsequent years.
Translation and dissemination for impact: Since this fund is aimed at supporting government and its partners to improve service delivery and to accelerate development, researchers should show a clear plan for disseminating their findings to audiences critical for policy and program change so as to achieve impact at scale. This will include a clear description of the knowledge translation and dissemination plan to stakeholders in the relevant sectors including the knowledge products anticipated to arise from the study (e.g., publications, policy briefs, knowledge briefs, etc.). Innovation-based projects should articulate a scaling strategy, including linkage to scaling partners within the industry (for commercially viable enterprises), or within the relevant public sectors (for innovations targeted to the public) or within relevant implementing agencies (for social enterprises). Innovations targeting commercial interest should demonstrate the anticipated commercial potential, anticipated demand, anticipated patents/copy-rights/industrial design claims/trademarks if applicable and the path to commercialization. Innovations targeting social impact (social innovations) should elucidate the path to wide scale community uptake.
Ethical implications: The implications of the research to human subjects, animal subjects and the environment should be articulated where necessary including how key ethical or environmental concerns arising from the study will be addressed. It is anticipated that at the time of full registration, projects requiring ethical approval will have already obtained that approval from their respective ethics committees.
Budget: Researchers will prepare a summary budget for the one-year phase of their project as well as a detailed budget. Budgets should be submitted in the official currency (Uganda Shillings). Because these are university funds, academic units (Departments, Schools and Colleges) will not charge institutional overheads to any of the research funds. Budgets should not spread beyond one Financial Year. Even if the projects to be funded under this mechanism are multi-year, researchers should provide a budget for only one Financial Year. The budgets will include the following sections:
1.0 Personnel costs
2.0 Travel
3.0 Supplies and services
4.0 Equipment
5.0 Program activity costs
6.0 Dissemination
Under Personnel costs, applicants should not budget for 'Salaries' for staff who are paid a salary by Makerere University or another Government of Uganda institution (whether on permanent or contract terms) as this would constitute double payment from government funds. However, such researchers can budget for 'activity-based' time input or 'level-of-effort-based' costs for their additional time input into the project in form of allowances. The latter should be justified by specifying the extra-time demands from the project for each individual involved.
Researchers can budget for salaries for critical project staff that are not paid by Makerere or the Government of Uganda e.g., Project Coordinators, Administrative Assistants, Research Officers etc. Regular Personnel costs excluding field research assistants should not exceed 33% of the budget. Field research assistants (or Data collectors) if needed should not be included under 'Personnel costs' but should instead be included under 'Program Activity Costs'. All salaries and all repetitive allowances will be subject to mandatory statutory deductions at source, to pay the relevant taxes. Because these funds are earmarked to support actual research, PhD students cannot budget for a monthly stipend under this award.
In addition to the summary budget, research teams will be required to attach a detailed budget (As an MS Excel attachment) that breaks down all expenditure line items, inclusive of a budget justification that explains the rationale behind the different budget items. The total budget in the budget summary should exactly match that in the detailed breakdown. You should budget within the category that your project was funded in RIF-1. Budgeting in another category will lead to disqualification. The total budget should not exceed the highest amount indicated for the respective funding category in which your project lies. Exceeding the indicated category maximum can result in disqualification.
PhD Researchers can also budget for Tuition.
Workplan: Researchers will provide a list of key milestones for the project clearly demonstrating the deliverables expected at each point during the extension phase of the project. These milestones will be used as the basis for tracking implementation of activities towards project goals and outputs. Given the one-year time-frame for the awards, it will be important that researchers commit to a clear time-bound set of deliverables all achievable within one year for the main deliverable targeted during the current period of funding. Failure to articulate a one (1) year plan will imply inability to utilize the grant funds within one (1) year
GRANT PROCESS
Submission of applications: Submission of the applications will be online at http://rif.mak.ac.ug/portal All submissions must be online and must be made within the stipulated period. To access the application form, the PhD Research Fund applicant will be required to create a MakRIF account. In your account, select the appropriate funding opportunity and fill out the application form.
Rules governing applications: All applications should be written in English. All applications should be submitted via the online portal mentioned above. Complete applications must be submitted not later than 11.59pm East African Time on the closing date. No submissions after closure of applications will be accepted. Any attempt at solicitation of acceptance beyond this date will not be entertained. The Grants Committee bears no responsibility for submissions that are not completed in time and incomplete submissions will not be considered. If none of the submitted applications meets the requirements to receive a grant, the call may be reopened at the sole discretion of the Grants Management Committee. An individual researcher should not submit more than ONE application.
Participants agree to assume any and all risks, and to waive claims against Makerere University and the Grants Management Committee for any injury, death, damage, or loss of property, revenue, or profits, whether direct, indirect, or consequential, arising from their participation in this grant implementation.
Evaluation and selection of projects: Applications will be reviewed by the GMC. Submission of an application does not mean the project must be funded. The GMC will evaluate five main aspects of the project:
The alignment of the proposed research to national priorities as stipulated in the MakRIF research agenda
Clear articulation of the knowledge gap and how the planned research will contribute to building new knowledge
Quality of the proposal in terms of the relevance and innovativeness of the proposed solution, the planned activities and the articulation of a sound methodology
Clear stipulation of outputs and outcomes and feasibility of tangible achievements within one year of funding
Potential impact and transformativeness of the proposed research idea
Submission of a realistic budget
Notification of successful applicants: Successful applicants will be informed by email to their designated point of contact.
Grant timeline:
| | |
| --- | --- |
| Milestone | Date |
| Issuance of RFA | Thur 29th Sept 2022 (Closed to PhD students only) |
| Closing date for applications | Sunday 23rd Oct 2022 |
| Selection | Monday 24th October 2022 to Friday 18th November 2022 |
| Award notification | Friday 18th November 2022 |
| Induction | Tuesday 22nd November 2022 |
To submit application, please create an account on https://rif.mak.ac.ug/portal and login to start the application process.