WBG Economic Update Makes Case for Investing More in Uganda's Education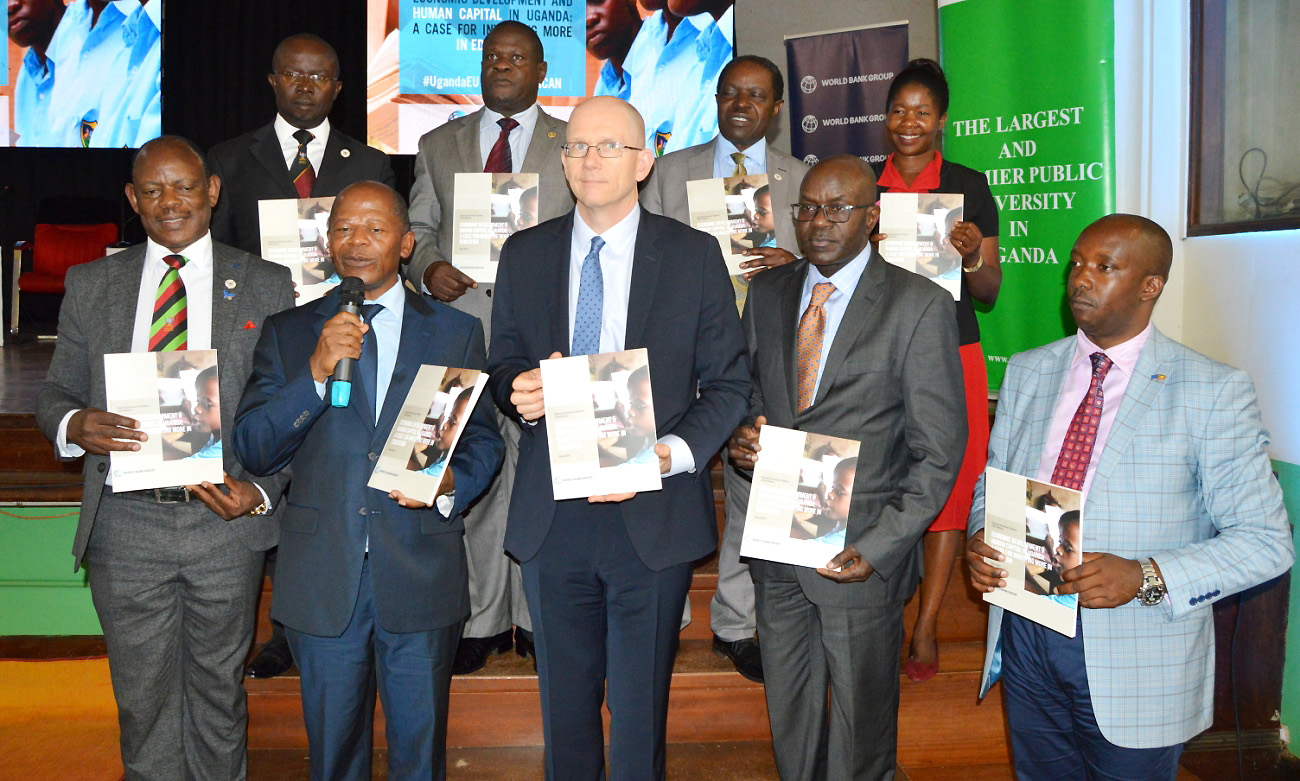 On Thursday, 30th May 2019, Makerere University was privileged to host the official launch of the Uganda Economic Update, 13th Edition in partnership with the World Bank Group (WBG). Held in the Main Hall, the event was presided over by the State Minister for Higher Education, Hon. Dr. John Chrysostom Muyingo, who represented the First Lady and Minister of Education and Sports, Hon. Janet Kataaha Museveni.
Delivering the welcome remarks, the Vice Chancellor, Prof. Barnabas Nawangwe thanked the World Bank Group chiefly represented by the Uganda Country Manager Mr. Antony Thompson, for choosing Makerere University to host the event. He noted that the theme for the 13th Edition; Economic Development and Human Capital in Uganda: A case for Investing more in Education particularly fits in well with Makerere's mandate to produce quality human resources for the region.
"The 13th Economic Update highlights pertinent issues rotating around improving quality in the Uganda's Education sector, which are also at the heart of Makerere University. I particularly appreciate the World Bank's Human Capital Index (HCI) that measures the impact of under investing in human capital on the productivity of the next generation of workers" added Prof. Nawangwe.
Prof. Nawangwe further thanked the World Bank for collaborating with staff at the School of Economics to produce and disseminate the 6th, 7th, 8th and 9th Uganda Economic Updates as well as allocating a US$900,000 grant to establish a Public Investment Management (PIM) Centre of Excellence at the same School. He noted that the two World Bank funded Centres of Excellence the; African Center of Excellence in Materials, Product Development and Nano-Technology (MAPRONANO) and Makerere University Regional Centre of Excellence in Crop Improvement (MaRCCI) had since inception recruited students at Masters and PhD level, procured equipment and facilitated various capacity building trainings for staff.
In his remarks, Mr. Antony Thompson thanked the Vice Chancellor and University leadership for accepting to host the launch of the 13th Edition of the Economic Update. Admitting that the launch was his inaugural visit to Makerere, he could not hide his admiration for the job well done by KCCA in rehabilitating infrastructure at the University as part of the Second Kampala Institutional and Infrastructure Development Project (KIIDP-2).
Mr. Thompson observed that although Uganda's economy remains strong and stable, it still faces major risks such as poor quality of the human capital. He advised that countries can only end extreme poverty and create more inclusive societies if they invest in developing their human capital. "In addition to the economic benefits, basic education increases individual's earnings by about 70 percent. Education reduces the risk of poverty and provides other benefits, including lower under-age pregnancy and better health outcomes."
The Country Manager however noted that despite advances such as Universal Primary Education (UPE) made by the Ugandan Education sector, the country's Human Capital Index still remains low. "A child born in Uganda today will be only 38% as productive when she grows up as she could be if she enjoyed complete education and full health."
He also reported that over 1.4million pupils currently drop out from primary schools and never make it to P7. He nevertheless opined that when this trend is addressed, one million new places need to be created in lower secondary schools in next 6 years to accommodate this additional intake.
"Achieving these ambitious results will require significant changes in educational policy and major additional investments of at least $2 billion between 2019 and 2025 to improve both the quality of learning and enrollment. This requires increasing the current education spending from 10 percent to reach the sub Saharan average of 16 percent" explained the Country Manager.

He nevertheless reiterated the World Bank's commitment to support the Ugandan Government to realize these goals.
The panel discussion that followed the presentation of the Economic Update brought to light a number of initiatives being undertaken by the Ugandan Government in partnership with the World Bank as well as several points of reflection. The presentation underscored the need to increase budgetary allocation to the Education Sector, expand early childhood (pre-primary) education, scrap the Primary Leaving Examination (PLE) in preference for continuous assessment, adopt the automatic promotion policy and improve the transition rate from Primary to Secondary school among other recommendations.
The Permanent Secretary Ministry of Education and Sports (MoES), Mr. Alex Kakooza shared that through the Uganda Teacher and School Effectiveness Project (UTSEP), MoES had with support from the Global Partnership for Education (GPE) under supervision of the World Bank been able to improve early grade literacy instruction and parent participation in children education. UTSEP has also improved parent participation in school activities like feeding programmes. He added that the outcomes from the pilot districts in Eastern Uganda had been tremendous so far, with pupils as low as P3 exhibiting improved literacy and numeracy skills.
Mr. Kakooza however observed that more resources will be required to implement the World Bank recommendations, especially in the recruitment of more teachers and construction of additional classrooms. "Currently, over 1,000 parishes in Uganda do not have primary schools. If these were to be constructed, an additional 20,000 teachers would need to be recruited to teach these pupils."
He nevertheless thanked the World Bank for sharing cost effective infrastructure development plans, which would enable the Ministry meet the rapidly growing demand for classroom space.
The Executive Director National Planning Authority (NPA), Dr. Joseph Muvawala observed that whereas Uganda constantly trumped up the benefits of reaping a demographic dividend from its relatively young population, well structured investments were of utmost importance. "I thank the World Bank for this report but wish to state that dividends accrue to those that invest and it is clear that we are not investing enough."
On the scrapping of PLE, Dr. Muvawala said that whereas this was technically the most viable option, it would not be implementable as observations had revealed teachers' preference of a final exam over continuous assessment. He also stressed the need to further investigate the high dropouts recorded at primary level and come up with investments aimed at addressing the findings.
The Deputy Secretary to the Treasury, Mr. Patrick Ocailap's opportunity to speak was highly anticipated as most recommendations had in essence called for increased budgetary allocation to the Education sector. He thanked the World Bank Group for its report and concurred with all the findings and conclusions therein. He nevertheless asked the calls for increased funding to be matched with an analysis of efficient use of current allocations to the sector.
Mr. Ocailap also advocated for improved efficiency in revenue collection as a way of boosting government revenue but cautioned that as the economy expands, marginal and not proportional allocations to the education sector might be the more viable option.
The Deputy Secretary to Treasury also weighed in on the calls for increased salaries to teachers, noting that they were indeed legitimate. He however emphasised that this ought to be balanced by evident improvements in students' performance and improved efficiency of teaching in schools.
Mr. Patrick Kaboyo the Executive Director, Coalition of Uganda Private School Teachers Association (COUPSTA) reminded the gathering that whereas world leaders meeting in Muscat, Oman in 2014 had agreed to commit 6% of national GDP to Education, Uganda's commitment still stood at less than 3%. He nevertheless applauded the Cabinet for approving the National Teacher Policy on 1st April 2019, which would go a long way in improving teachers' productivity, discipline, retention and motivation.
He acknowledged that whereas the Ugandan Education Sector is currently in reform mode, there was need to look beyond improving access and massification to ensuring that the sector produces critical thinkers. These, he noted, would be better suited to function in today's creativity-driven marketplace.
A curriculum that matches personal development and attainment of knowledge with the skills that meet current industry demands will be a great asset to the implementation of WBG recommendations and achievement of the Education Sector's targets. Dr. Rovincer Najjuma a Lecturer and Curriculum Specialist in the College of Education and External Studies (CEES) shared that Uganda requires a curriculum that offers holistic development of skills at all levels of education because the employability of a workforce starts with skills developed right from the foundational stages of lower primary.
She however cautioned that developing a great curriculum should not take precedence over the training of quality teachers. This position, she said, was derived from reports showing that a child in sub-Saharan Africa spends a great percentage of their school going age interacting with teachers. As such, teachers possibly have the greatest influence on pupils. She therefore advocated for a Centre of Excellence to develop teachers' capabilities.
Delivering the final address of the day, the Guest of Honour, Hon. Dr. John Chrysostom Muyingo thanked the Makerere University Management for accepting to host the important launch. He equally thanked the WBG Country Director for the well researched report, noting that it would generate a lot of debate from almost every Ugandan. He asked the audience to observe a moment of silence in respect of a great academic and former Prime Minister and Chancellor of Makerere University, Rt. Hon. Prof. Apolo Robin Nsibambi who passed away on Tuesday 28th May 2019.
Reading the First Lady and Honourable Minister of Education and Sports' remarks, Hon. Muyingo said that Africa has been reported as the region of the world having the highest return on Education. He shared that MoES has been reviewing the Government White Paper on Education (1992), which analyses the full scope of education sector and its polices. He added that MoES is working with the WBG under the Global Partnership for Education (GPE) to review Uganda's Integrated Early Childhood Development Policy so as to ensure adherence to minimum standards.
The State Minister for Education further reported that the Government had approved the Technical, Vocational Education and Training (TVET) Policy. The policy will pave way for an employer-led TVET System and TVET Qualification Framework. He added that MoES would soon come up with an ICT Education Policy to enhance access to the vast online resources.
Hon. Muyingo concluded his remarks by appreciating all partners who work with the Ministry of Education and Sports to ensure timely delivery of quality education and thanked WBG for the well-timed release of the report, noting that it will inform ongoing policy reform.
Article by Public Relations Office.
A Successful Ph.D. Defense by Vianney Andrew Yiga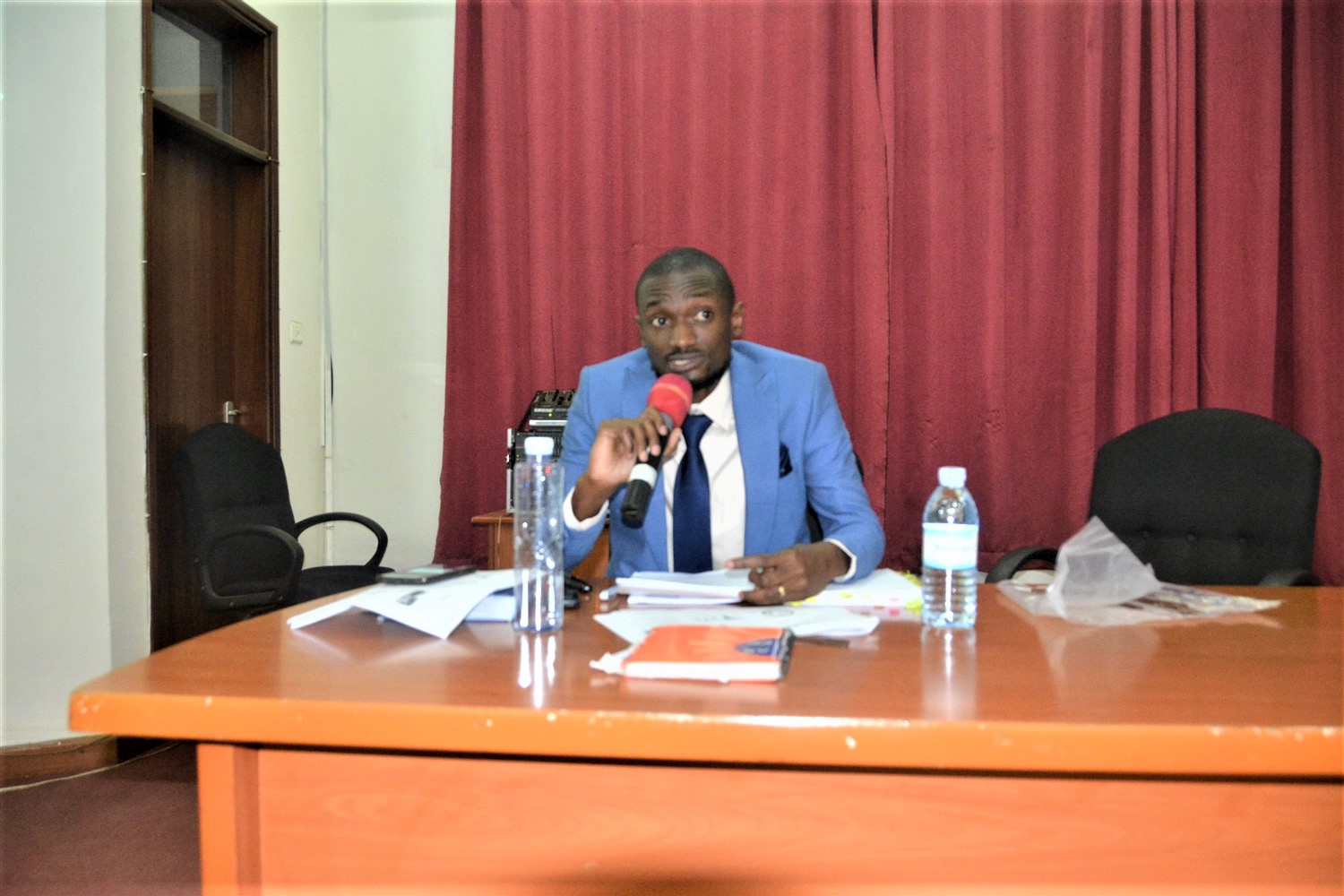 The CEDAT community is proud to share our congratulations to Vianney Andrew Yiga following his successful Ph.D. defense that happened yesterday Monday 3rd October 2022 at the College of Engineering, Design, Art, and Technology (CEDAT).
His Thesis was titled; Thermal Stability of Fiber- Reinforced Polylactic Acid Composites for Flameretarded Applications.
The candidate was supervised by Eng. Dr. Michael Lubwama and Eng. Dr. Peter W. Olupot both from the Department of Mechanical Engineering, at CEDAT.
Dr. John Wasswa, Department of Chemistry, College of Natural Sciences (CONAS), Makerere University was the opponent that interrogated the candidate to enable a clear understanding of the study.
Makerere University Launches National Parenting Draft Manual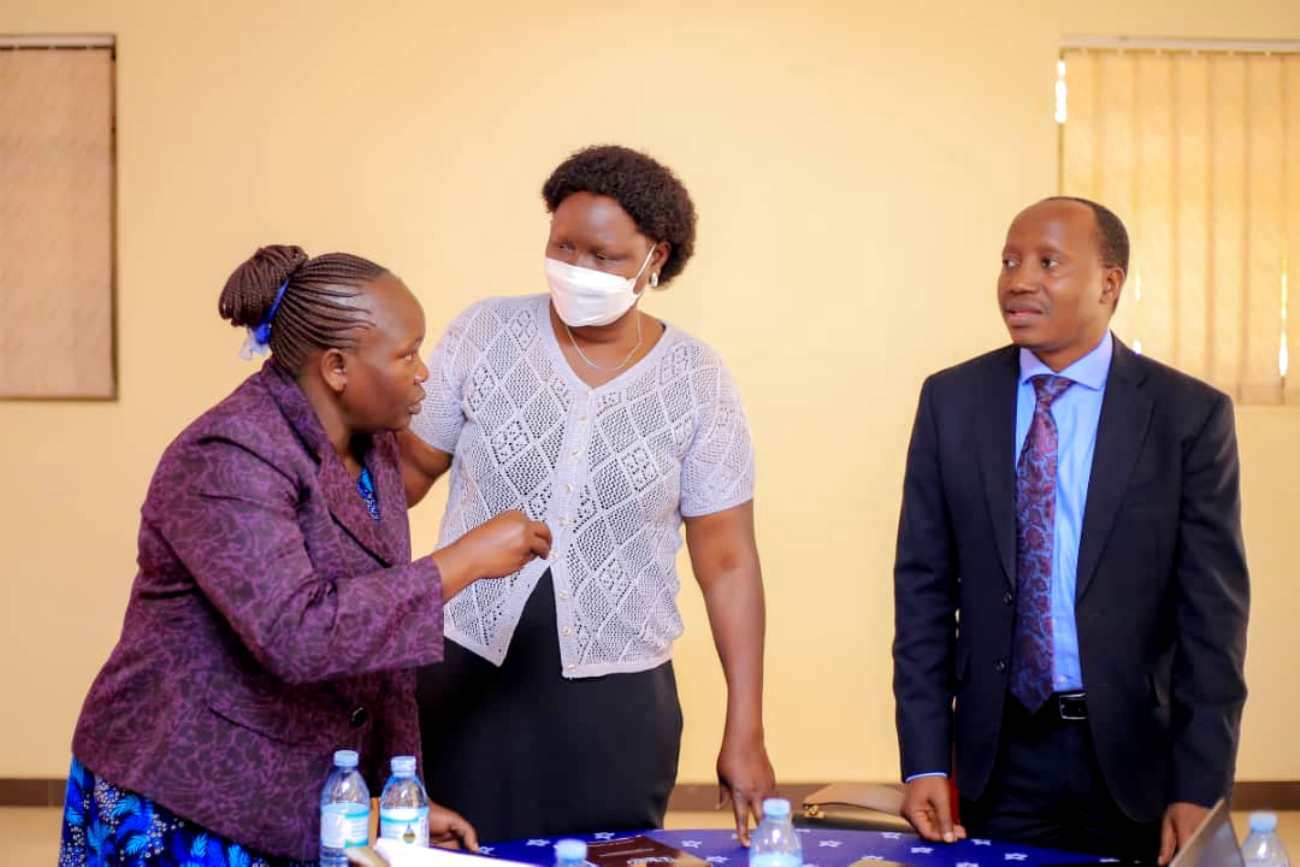 By Agnes Namaganda
On July 22nd 2022, Makerere University–Child Health and Development Centre (Mak–CHDC) launched a draft manual for the National Parenting Standards. The Centre has been working together with the Ministry of Gender, Labour and Social Development (MGLSD) with funding from UNICEF (United Nations Children's Emergency Fund), to develop standards that are agreeable to all organisations in the country that are involved in parenting work. The draft manual was being presented to members of a consortium that brings together all these organisations together, called the Parenting Agenda Consortium.
"We produce many documents and they are shelved," Irene Ayot Chono, who was speaking on behalf of UNICEF said. "We hope that this document will not be one of them," she emphasized.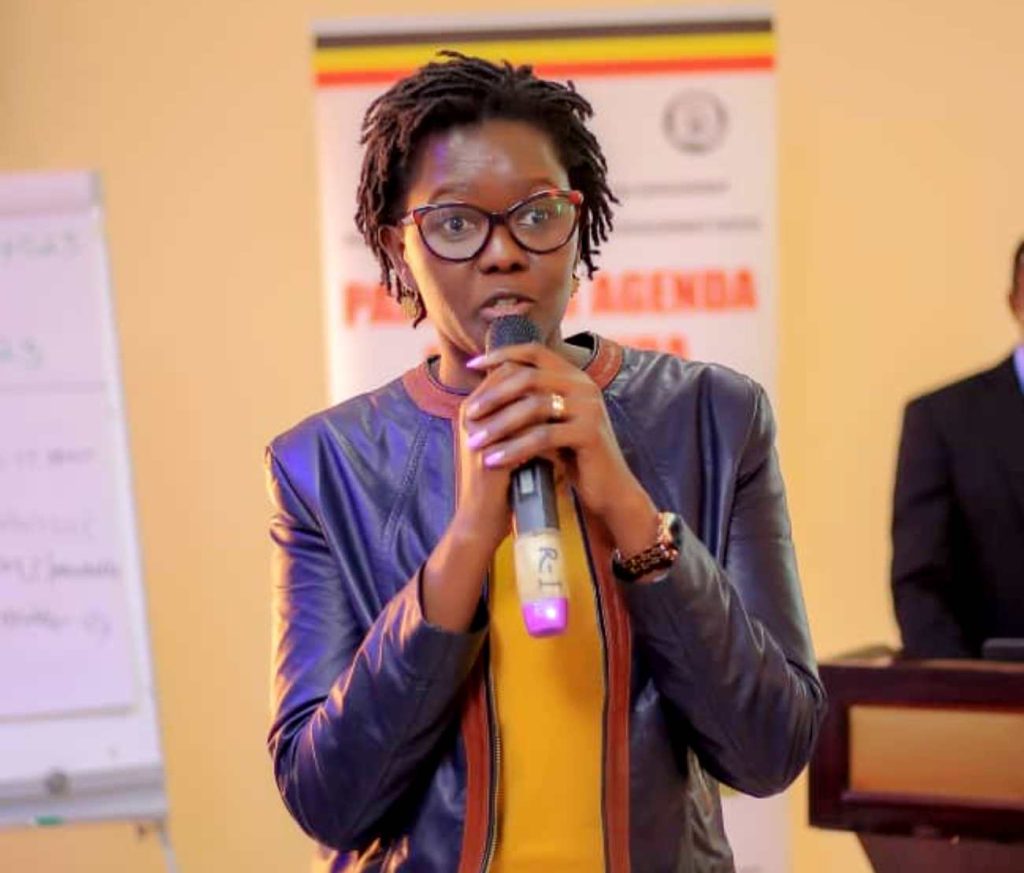 Dr. Godfrey Siu, the Principal Investigator from Mak-CHDC who presented the draft manual to participants, emphasized that if any organization is doing parenting work, there should be a minimum package that they should offer.
Draft Manual Content
The manual which will have several modules. These modules will be delivered face-to-face in 1.5 hour sessions. Some of these include; Module 6 which will focus on "understanding responsible masculinity and fatherhood" and on "understanding the concept of head of family."The draft manual also proposed that Module 11 focuses on Parenting in the 21st Century. Some of the sessions in this module will include Children and Technology, Contemporary Influence on Children and Modernity, Culture and Morality.Module 9 will focus on Parenting for Adolescents and some of the suggested sessions within this module are Needs for Adolescents and The Art of Communicating with Adolescents. Module 5 will focus on Preventing Violent Parenting and Promoting Alternative Discipline Strategies while Module 10 will be about Parenting to Address the Mental Health for Children and Adults.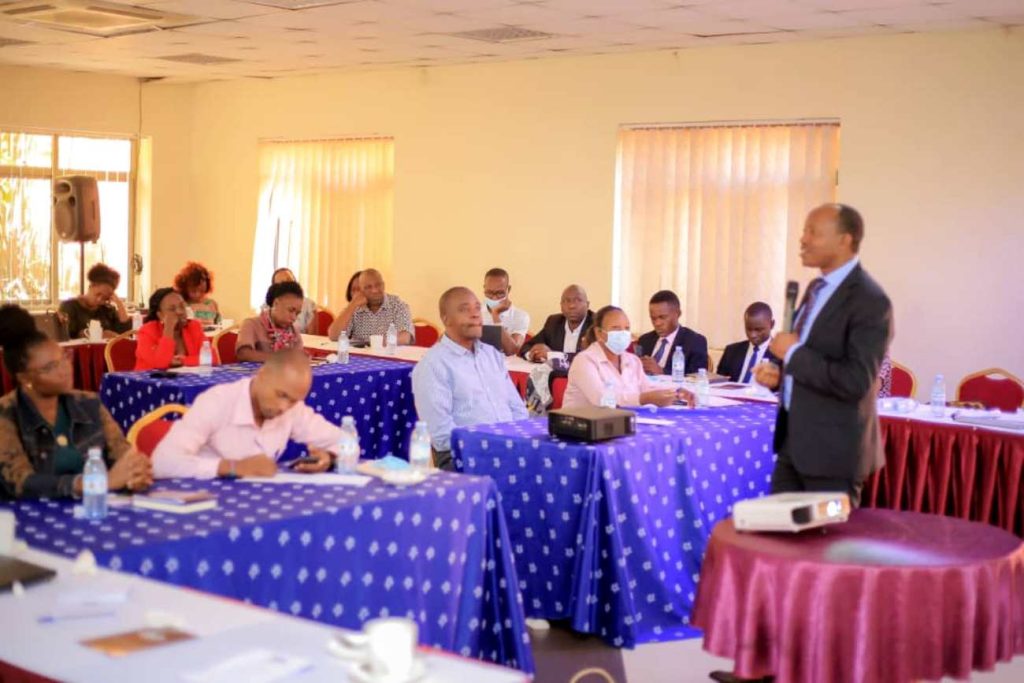 Participants' suggestions
After the presentation, participants raised several suggestions for discussion and consideration. These included whether there should be a module on spirituality since Uganda is a strongly religious nation. There was also the concern of how children in remand homes should be parented. Another concern raised by a participant was as to whether teachers who make an undeniable contribution to parenting, should be taken through the parenting manual.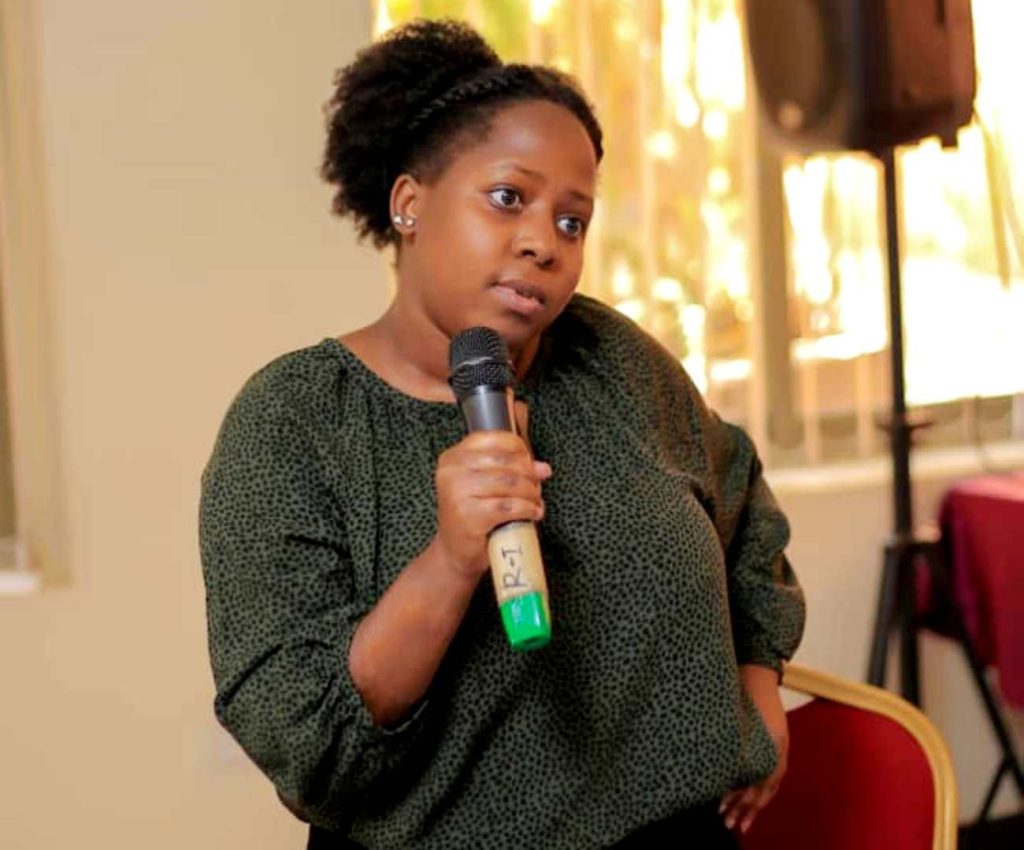 In her closing remarks, Ms. Juliana Naumo Akoryo, the Director of Cultural Affairs at the Ministry of Gender, Labour and Social Development (MGLSD) said that the manual is for the parenting organisations to utilize and not for MGLSD.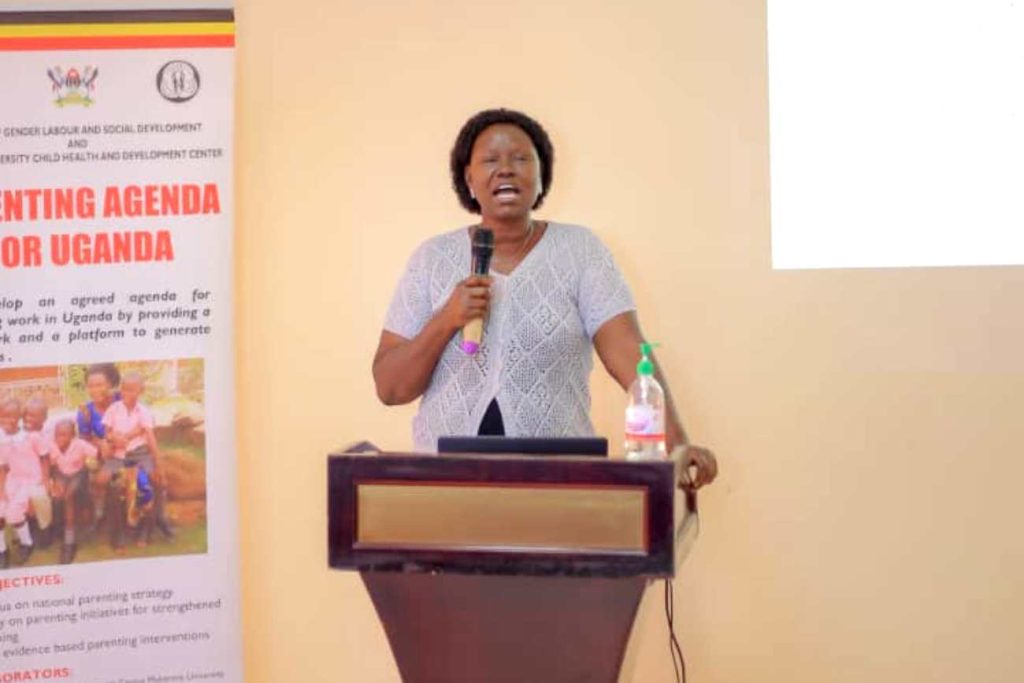 Ms. Chono also adjured the team behind the manual to use picture illustrations in the manual that can be relatable by the Ugandan parents.
Contact: Agnes Namaganda – agnesvioletnamaganda@gmail.com
Launch of Mak-RIF Round 4 Awards & PhD Call for Proposals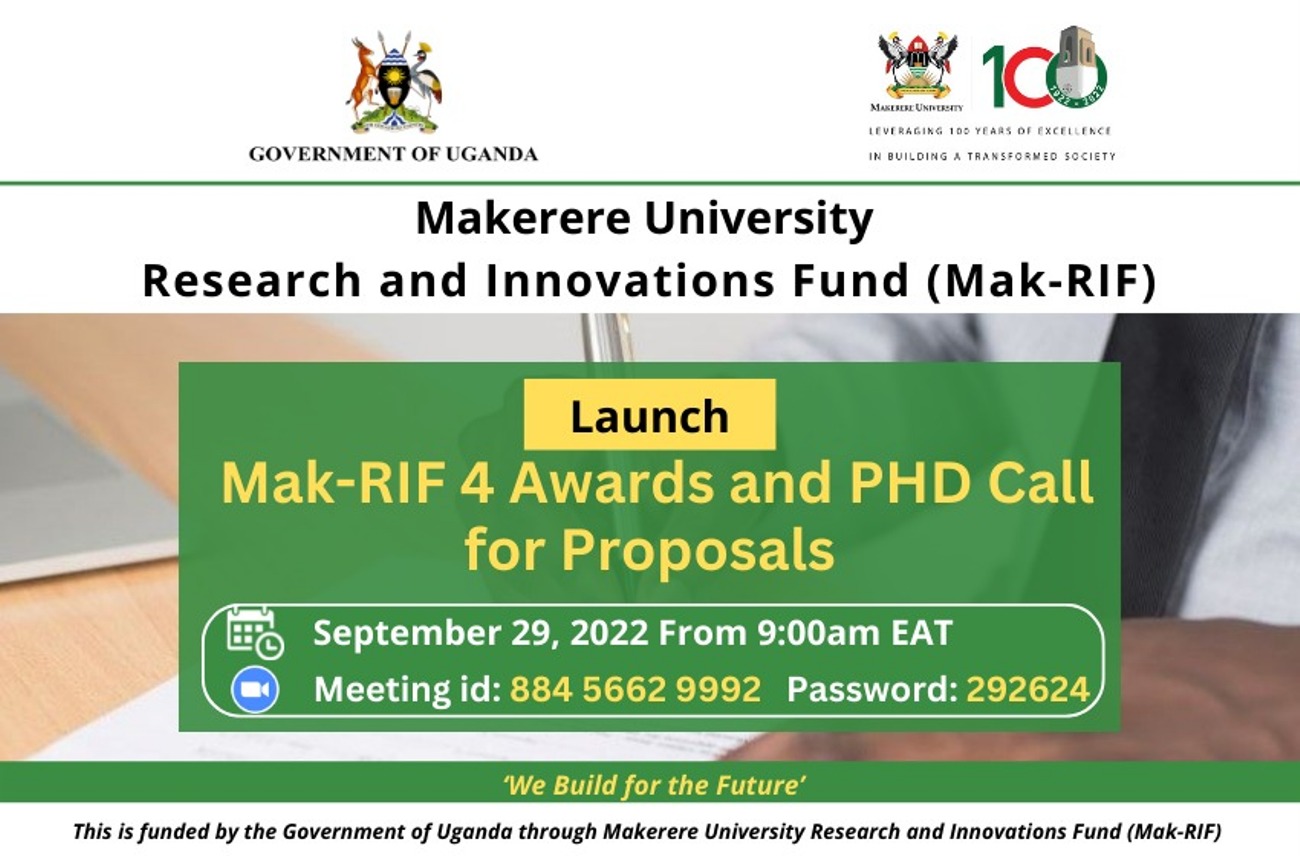 Makerere University received funding from the Government of the Republic of Uganda, earmarked to support high impact Research and Innovations. This unique initiative arose after engagements between the top University Management and the Government of Uganda. This fund illustrates the increasing importance that the Government attaches to Research and Innovation as a driver of development and transformation. The objective of the fund is to increase the local generation of translatable research and scalable innovations that address key gaps required to drive Uganda's development agenda. 
In the Financial years 2019/2020, 2020/2021 and 2021/2022 the Government of the Republic of Uganda through Mak-RIF has funded implementation of over 750 multidisciplinary research and innovations within the various Colleges, while engaging multiple stakeholders within and outside Makerere University. The Grants Management Committee (GMC) has finalized the award process for the Mak-RIF round 4 call for funding for this Financial Year 2022/2023.
The Grants Management Committee (GMC) hereby invites you to the Launch of the Mak-RIF Round 4 awards and PhD Call for Proposals scheduled to take place tomorrow Thursday 29th September 2022 from 9:00 to 10:00 a.m. EAT. 
Please use the following details to join the launch.
Register in advance for this meeting:
https://us06web.zoom.us/meeting/register/tZwpcu-urDIjE9ZgxdsbEmA2IkNMMiJVECt_ 
Meeting ID: 884 5662 9992
Password: 292624