MURBS trains Mak staff on budgeting for benefits in preparation for retirement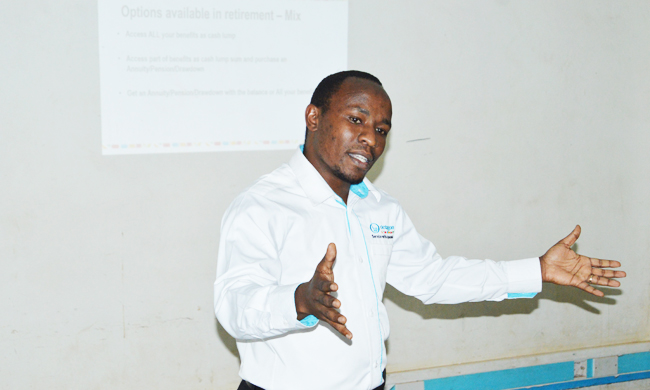 Makerere University members of staff have been advised to properly budget for their retirement benefits as they prepare to retire. This was during the pre-retirement training organised by the Makerere University Retirement Benefits Scheme (MURBS) on Thursday, 26th April 2018, for Academic, Administrative, and Support staff who are 54 to 60 years old. The well attended training was facilitated by professional trainers from the Scheme Administrator, Octagon Uganda Limited, and an insurance firm, ICEA. During the training participants were introduced to sustainable investment ideas and viable options of securing retirement income.
According to Mr. Joseph Njuguna, a facilitator from Octagon Uganda Limited, workers should always be ready for their retirement as soon as they receive their first appointment letter. Mr. Njuguna said that many workers tend to perceive retirement more as a distant phenomenon than something that will happen soon. For many workers, retirement comes as a shock that is hard to contain. He pointed out that workers who fail to accept the reality of retiring fail to develop a strategic plan for their money. He said that retirees can easily lose all their benefits from late life experimental investments and can suffer personal life mishaps due to poor retirement planning.
"We need to have a solid plan for our desired lifestyle after retirement. We should make a financial plan, engage our legal officers, think of an income that will sustain us and be able to cater for both our insurance and medical needs. Remember that the more we age, the more we are susceptible to suffer from different illnesses. We should not look at our children as some form of insurance strategy. We need to be able to sustain ourselves with a good degree of independence since we have our retirement benefits as a starting point," he said.
Mr. Njuguna advised workers to always invest in businesses or services in which they have experience or knowledge. "Being a professor at University, does not guarantee that you are a professor in poultry farming. You need to invest wisely, ensure that the business or investment idea you are undertaking is in line with your knowledge, experience and interest in order to avoid severe losses. Before you start a business, know its challenges, he advised. Members were also encouraged to reflect on the need to conserve their energy as much as possible after retirement and maintain healthy lifestyles.
MURBS cautioned its members on the risk of using retirement benefits to invest in a brand new business after retirement. Members were challenged to reflect on important questions like "If a person has not managed any successful business throughout his or her working life, would it be prudent for that person to invest his or her retirement benefits in a new business after retirement?" Is the assumption that one is the best manager of one's retirement funds a sustainable option?"
From his presentation, Mr. Njuguna demonstrated that about 75% of retirees who are paid lump-sum benefits consume them. He also illustrated that for lump-sum benefits received by retirees and invested in a business, 48% turned out to be unprofitable, 31% had operating profitability, and 21% collapsed.
MURBS introduced members to a new retirement income option of Annuities. An annuity is also referred to as a pension, and it is designed to protect people from the risk of outliving their income. Annuity arrangements allow the retiree to have guaranteed income for life or for a convenient number of years after retirement. This follows a stipulated premium paid by the person seeking the annuity (annuitant) either through prior instalments or in a single payment, such as a member's accumulated (prescribed portion or all) benefits upon retirement. Annuities are provided by insurance companies which are licensed to provide this service in accordance with the Law.
As he explained the concept of annuities to participants, Dr. John Kitayimbwa, the Board Secretary of MURBS, noted that Life expectancies are getting longer. Dr. Kitayimbwa further observed that the retirement contributions payable to members were increasing and MURBS was now paying its members more money than what other staff of similar rankings in the University used to receive in previous years. He advised that it is important for retirees to continue receiving at least a monthly stipend in the form of an annuity otherwise they could become destitute. The Secretary informed members at the training that MURBS has a clear strategy for member education and training. For this reason, the Secretary urged University staff to embrace MURBS programmes which will improve their financial literacy. The Secretary also said that MURBS engages with its members on a daily basis at the Scheme Office through the Principal Pension Officer.
Mr. Wilber Grace Naigambi, the Board Chairperson, on behalf of MURBS Trustees thanked the facilitators for the informative message that will have a positive impact on staff when preparing for retirement. He thanked the staff for attending the training in big numbers and encouraged them to reflect on the information they had received with seriousness.
Article by: Nabatte Proscovia, Mak-Public Relations Office.
Aptitude Test Exam Results for the Mature Age Entry Scheme 2023/2024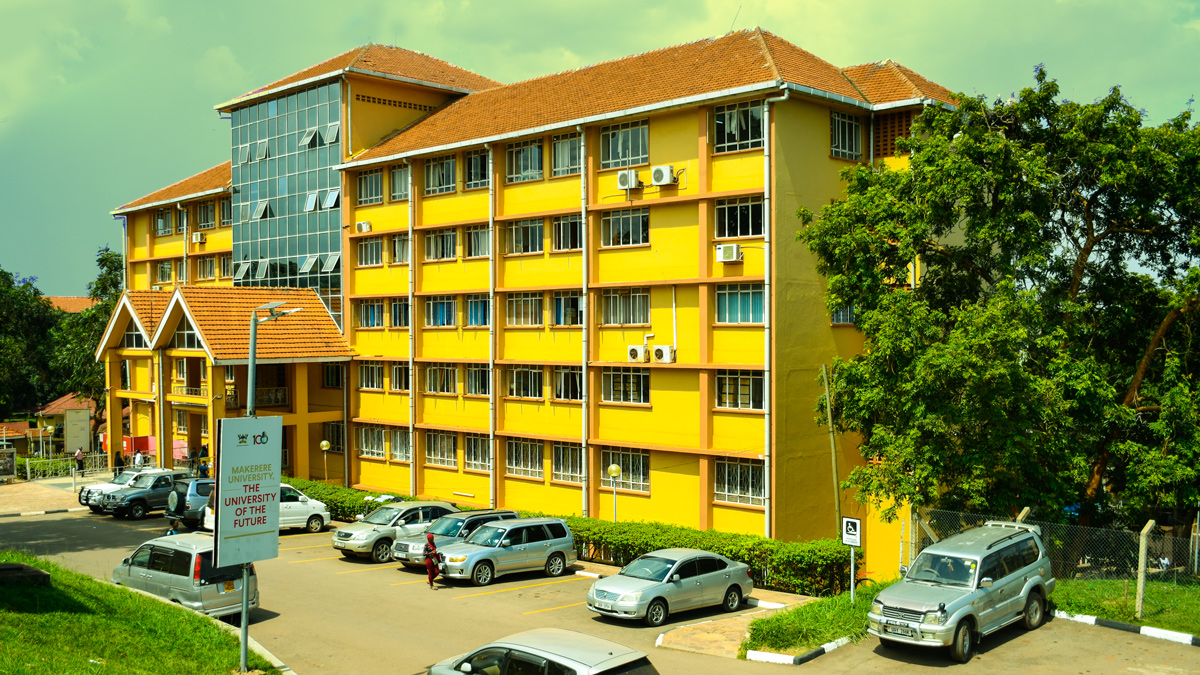 The Office of Academic Registrar, Makerere University has released Aptitude Test Examination results for the Mature Age Entry Scheme Examinations held on Saturday 17th December, 2022.
The Candidates who scored 50% and above in the aptitude test passed the aptitude examination and will have their programme -specific examination paper marked. Those who scored less than 50% failed.
Access the links below for the lists categorised under Science-based and Humanities based programmes respectively:
Mak Participates in New Vision Education Expo 2023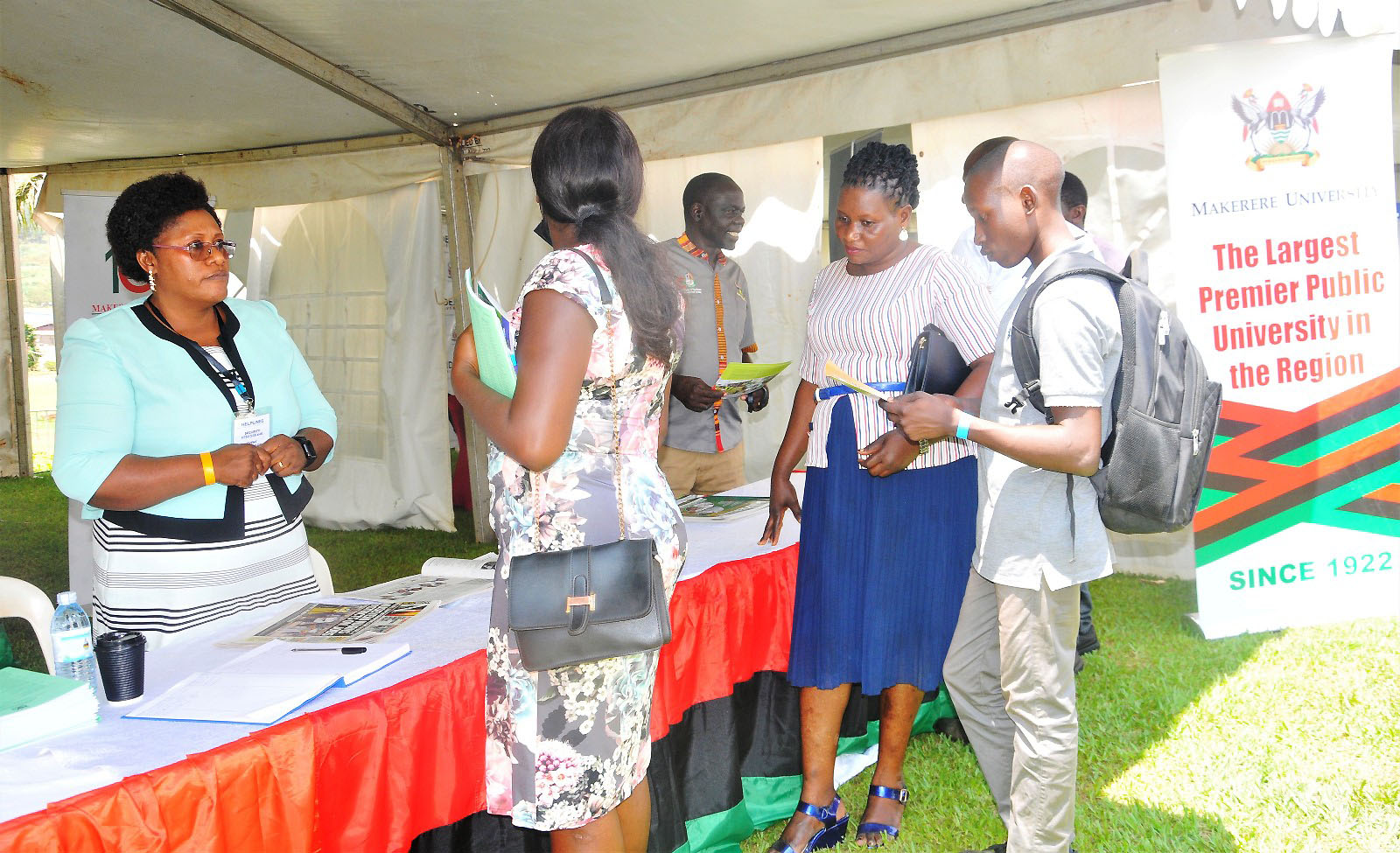 Makerere University is participating in the New Vision Education Expo 2023 to strengthen its niche as the leading provider of education services.
The three-day New Vision Expo (Friday 27th January 2023 to Sunday 29th January 2023) at the Uganda Institute of Information and Communications Technology (UICT) Nakawa brings on board players in the education and business fields to forge partnerships to improve the quality and outcomes of education in Uganda.
Makerere University seeks to maximally utilize the three days to ensure that the participants at the Education Expo gain a deeper understanding of its 100 year journey of providing excellent services to humanity through academic programmes, services offered and ongoing efforts aimed at producing employable graduates as well as entrepreneurs.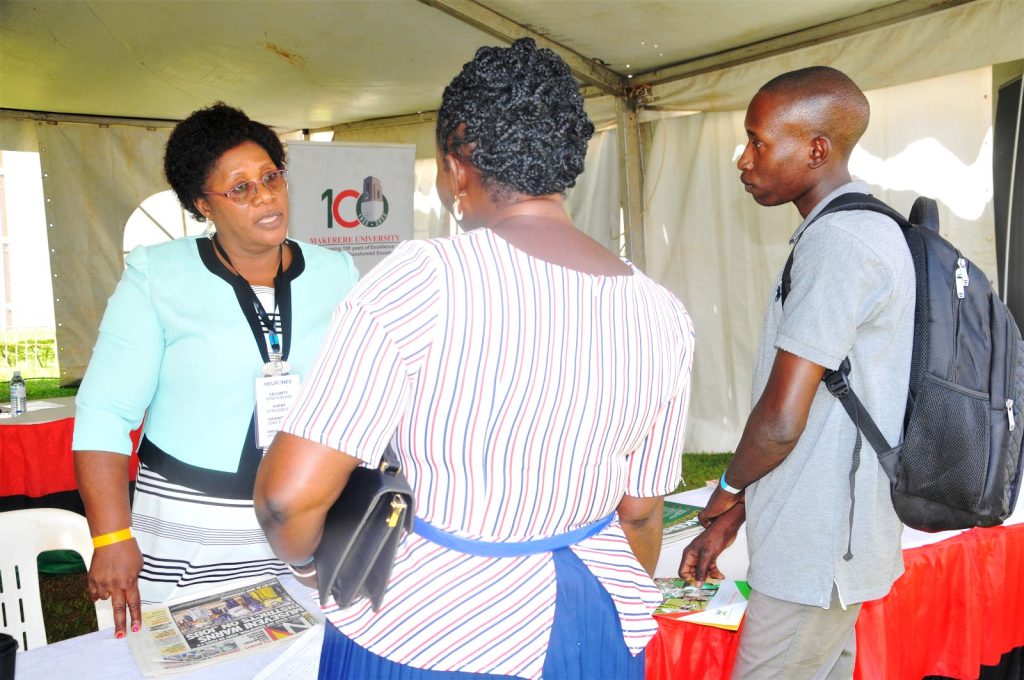 The Vice Chancellor, Prof. Barnabas Nawangwe highlights that Makerere University values stakeholder engagements and partnerships.  "The New Vision Expo 2023 presents Makerere University with an opportunity to enhance stakeholder engagements. It is about consolidating the relationships with schools, prospective students and parents, and partners in the education sector. I applaud the CEO of Vision Group-Mr. Don Wanyama for coming up with the Education Expo."
To respond to the information needs of stakeholders, Makerere University has lined up a team of experienced staff from the Department of the Academic Registrar, the Admissions Office, Public Relations Office, Career Guidance experts as well as the Institute of Open Distance and e-Learning (IODeL) under the College of Education and External Studies (CEES).
According to the Principal PRO of Makerere University Ms. Ritah Namisango, the Education Expo provides a platform to reach out to the clients that Makerere University exists to serve. "You must be in touch with your prospective parents, students as well as schools and partners that continue to recommend you as the leading university in the region. Makerere University has celebrated 100 years of excellent service to humanity (1922-2022). So, as we continue to promote the academic programmes, innovations and services that we offer, we are ready to listen, interact and learn from respective stakeholders about what they expect from the University as we embark on the next 100 years."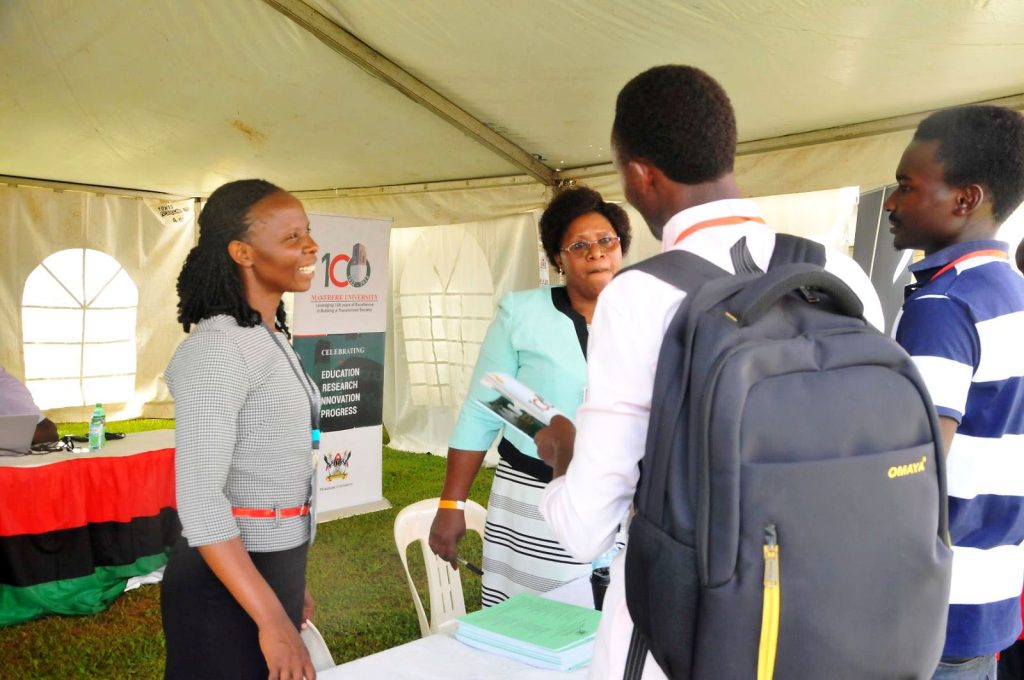 The New Vision Expo 2023 is happening at an opportune (holiday) time, which accords the students, parents and guardians quality time to visit the exhibition and interact with experts in the education sector.
In addition, Makerere University has recently advertised its academic programmes and it is preparing to receive students for the Academic year 2023/2024. Sharing her experience about the interaction with participants who visited the Makerere University exhibition space, Ms Joyce Muhanguzi, Senior Assistant Registrar in the Department of the Academic Registrar noted that most of the prospective students and parents wanted to know about the academic programmes, the subject combinations that students should study to qualify to apply for the respective academic programmes, and the available admission avenues i.e. government sponsorship, private sponsorship, diploma entry, direct entry, national merit, talented sports entry and district quota programme).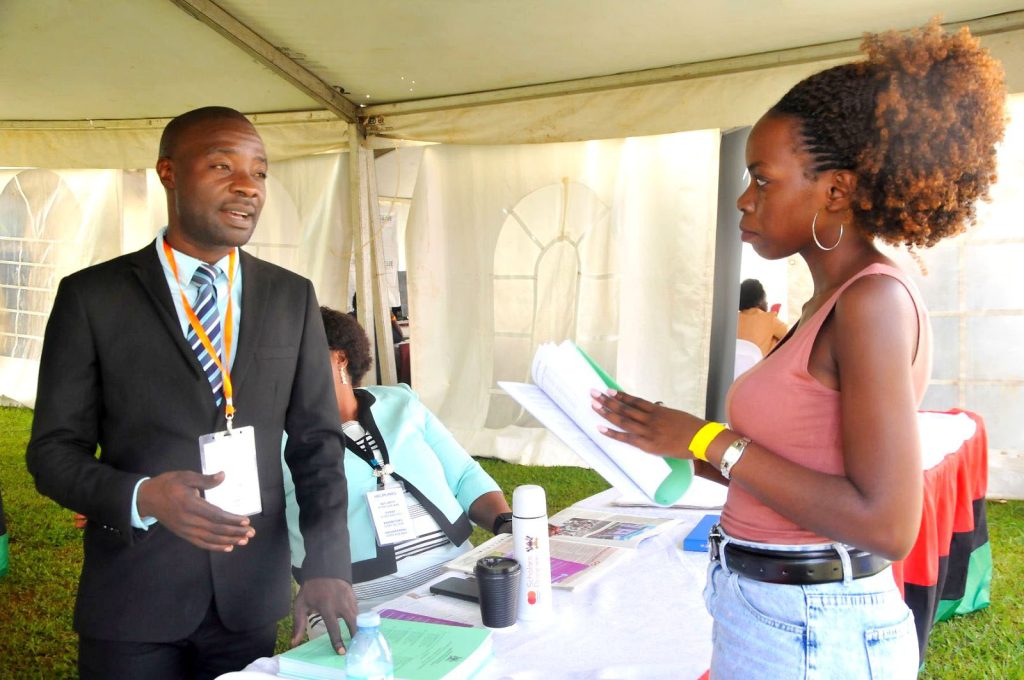 Ms Joyce Muhanguzi and Mr. Dennis Kibuuka's interaction focused on students who expressed their desire to join Makerere University in the coming years, and needed a case by case approach to their information needs, career guidance and linkages to Professors and Administrative staff in the respective Colleges at Makerere University.
The prospective students and parents also disclosed that in addition to the information on the Makerere University website, they welcome interactive and friendly approaches such as the New Vision Education Expo where they are presented with a golden opportunity to interact with Makerere University officials face-to-face.
At the New Vision Education Expo 2023, Makerere University joins other exhibitors that include; Government agencies, NGOs, Telecom companies, Banks, Insurance companies, Kindergartens/Daycare Centres, Primary and Secondary schools, Ugandan and Kenyan Universities, International schools, Study Abroad Agencies, Vocational institutions, Scholastic materials suppliers and SME service providers.
73rd Graduation Highlights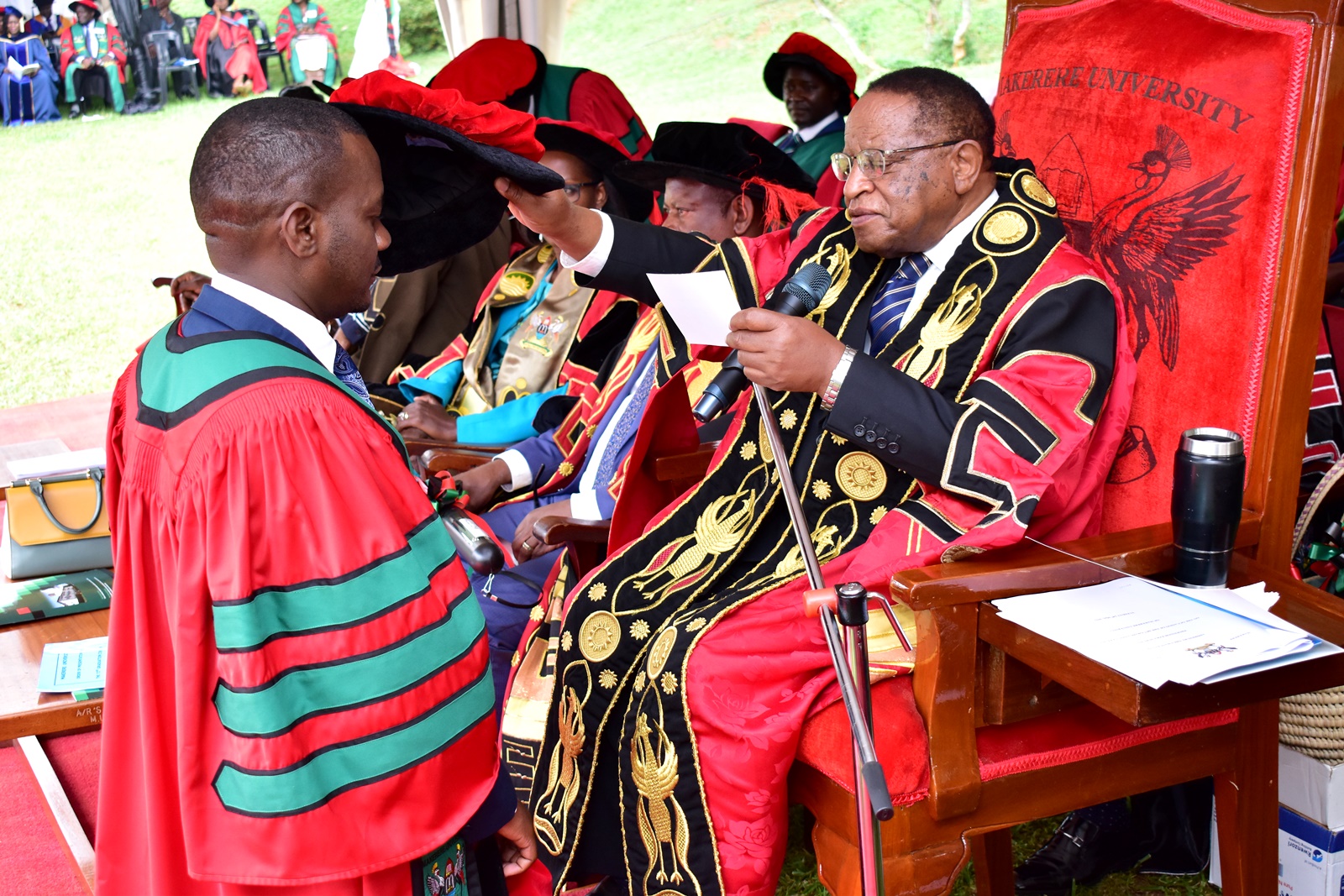 The 73rd Graduation Ceremony of Makerere University will be held from Monday 13th to Friday 17th February 2023 following the schedule below:
Monday, 13th February, 2023
College of Health Sciences (CHS)
College of Natural Sciences (CoNAS)
School of Law (SoL)
Tuesday, 14th February, 2023
College of Agricultural and Environmental Sciences (CAES)
College of Education and External Studies (CEES)
Wednesday, 15th February, 2023
College of Business and Management Sciences (CoBAMS)
College of Computing and Information Sciences (CoCIS)
College of Veterinary Medicine, Animal Resources and Bio-security (CoVAB)
Thursday, 16th February, 2023
Makerere University Business School (MUBS)
Friday, 17th February, 2023
College of Engineering, Design, Art and Technology (CEDAT)
College of Humanities and Social Sciences (CHUSS)