Request for Expression of Interest: Writing the CTCA Story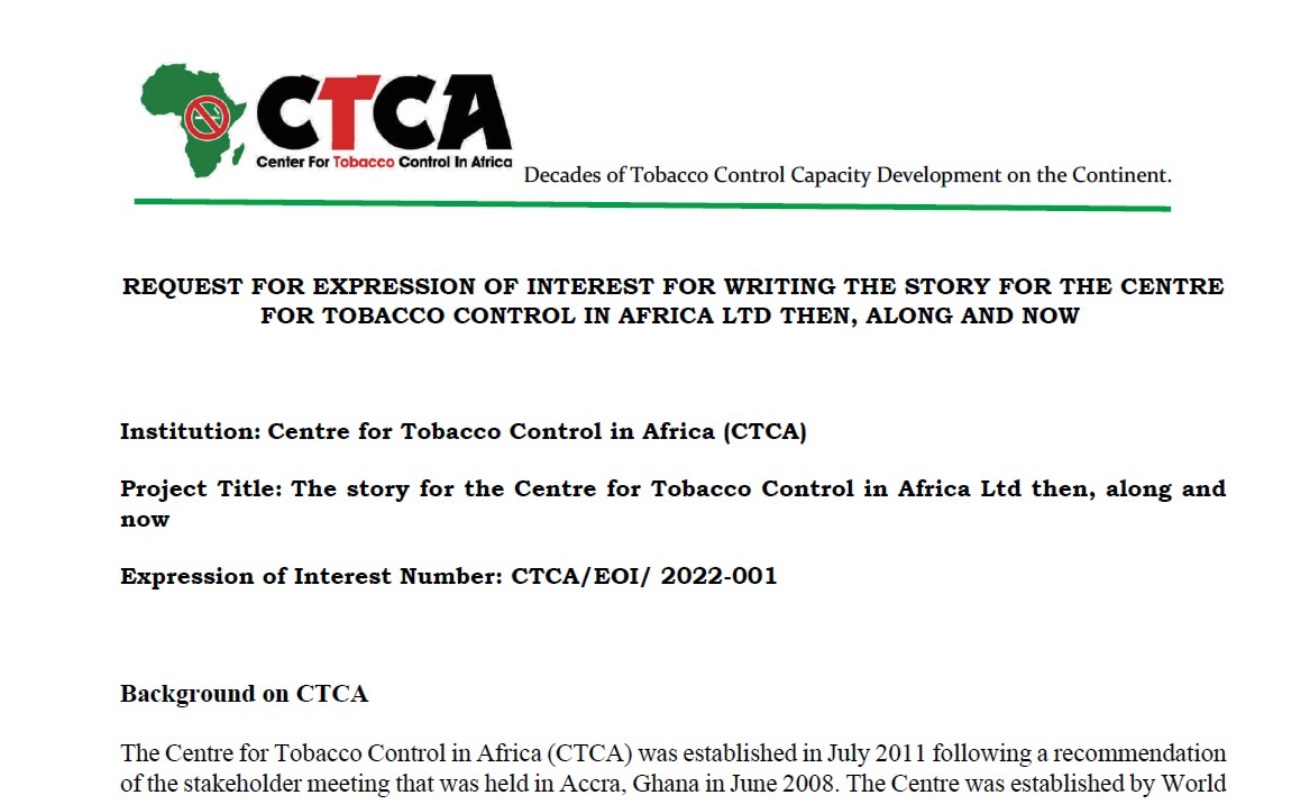 Project Title: The story for the Centre for Tobacco Control in Africa Ltd then, along and
now
Expression of Interest Number: CTCA/EOI/ 2022-001
Background on CTCA
The Centre for Tobacco Control in Africa (CTCA) was established in July 2011 following a recommendation of the stakeholder meeting that was held in Accra, Ghana in June 2008. The Centre was established by World Health Organisations (WHO) through a competitive process in response to a call by Bill and Melinda Gates Foundation (BMGF). MakerereUniversity, housed the center at the School of Public Health.
The Centre has had three phases of funding. Phase 1 covered 2011-2014 was executed under the oversight of the Work health organization; Phase 2 was implemented from mid 2014 through early 2019 under the African Capacity Building Foundation; Phase III started mid 2019 to September 2022. All phases were funded by Bill and Melinda Gates Foundation. This funding formed the core of CTCA. There were multiple other funding streams from IDRC, Research Council UK, WHO, Government of Uganda, USAID and NIH not aligned to the funding phases presented above but specific to announcements for funding as they became
available.
The core business of CTCA is Capacity Development for Tobacco Control (TC) and research forms a strong arm to generate continuous evidence for time focused and tailored interventions.
The Center has correspondingly undergone evolution to a self-operating legal entity to serve the African continent on the tobacco control front and on the path to a Go-to-Centre of excellence and reference. During its period of existence, the Center has had paradigm shifts in program focus from policy-focused support interventions to strategy, and now sustainability.
Vision of CTCA
CTCA has a defined institutional direction reflected in its profile and program hierarchy as hereunder. The vision of CTCA is to achieve a "Tobacco-free Africa". The mission is to enhance African governments' capacity to formulate and implement Tobacco Control programs through partnerships and cooperation. The goal of the Centre is to reduce the production and consumption of tobacco by supporting governments in implementing evidence-based tobacco control strategies in Africa.
Currently the Centre is guided by a 7-year $15.9 million strategic plan spanning 2019 to 2025 with 5 strategic objectives namely to; SO1: To strengthen the capacity of countries in Africa to formulate and implement FCTC compliant programs; SO2: To promote evidence-based tobacco control policy formulation and program implementation; SO3: To mobilize human, material, and financial resources for sustainable tobacco control in Africa; SO4: To promote partnerships for tobacco control at national, regional and international levels; SO5: To enhance CTCA's ability to support capacity development in tobacco control.
The strategic objectives are anchored in five pillars of CTCA Strategic Plan 2019/2025 based on the overarching strategic issues that call for attention in the planning and implementation periods. They form the very issues upon which success is measured. They are: Pillar 1: Capacity Development; Pillar 2: Expanding evidence; Pillar 3: Resource Mobilisation; Pillar 4: Partnerships; Pillar 5: Institutional development
Rationale for CTCA journey, "then-along-and-Now"
The objective of assignment is to tell the CTCA story from inception, along and now. Understanding the trajectory and journey will inform future discussions in shaping the Africa continental TC response. The story should chronical the events as they occurred in the CTCA journey then, during and now to propose the future path.
CTCA seeks to contract a competent, qualified, and experienced consultant(s) to undertake this important assignment over a 30-person days period.
Scope and Method of the assignment
The consultant is required to undertake a search strategy for extensive documents review and conduct key stakeholder consultations. The scope of the assignment will include;
a) Review of phase 1, 2 and 3 documents including the appraisal documents, grant agreements, performance reports, program review reports, missions reports, program strategy and policy documents, and institutional manuals (WHO, ACBF, Makerere, CTCA)
b) A trend analysis of governance manuals, success stories, lessons, challenges, minutes, and concept notes.
c) Review and examine the organizational governance and technical structure over time and how this has impacted CTCA performance
d) Examine the pre-CTCA context and justification for its birth, the status during the business phase and project the future outlook.
e) Tell key success stories and the stakeholder's overtime
f) Analyze the philosophy and theory of change of CTCA to inform the future direction.
g) Relevant graphics and pictures through the review period for story
h) Document the impact trend of CTCA interventions in Tobacco Control then, along, and now
Key deliverables
i) Inception report, completed within one week of commencement of assignment. The inception report shall include:
A detailed description of the methodology and timeline for developing CTCA story
The documents to review
The list of persons to interview.
A description of the meetings/workshop(s) and any other activities envisaged if any.
j) Consultative process report
k) Draft story book
l) Final validated story book
Institutional arrangement
The Consultant will report directly to the Chief Operations Officer. The Chief Operations Officer will provide all the necessary background documents and support the consultant(s) in organising meetings and activities all stakeholders.
Expected attributes of the consultant(s)
a) Experience in report writing
b) Demonstrated experience in program reviews, evaluations, and compiling program profiles
c) Should have published at leas five articles in peer reviewed journals
d) Strong analytical skills
e) Excellent interpersonal skills and ability to negotiate and work with teams
f) Excellent communication skills and fluency in English and or French or bilingual
Timing
The activity should be executed within 30 person days spread between 15th September to 30th October 2022
How to apply
All applications should be addressed to the Chief Executive Officer, CTCA. Apply electronically including a cover letter, CV, copies of academic and professional documents with at least 2 reference letters. Address your application EOI@ctc-africa.org
Application Deadline:
Wednesday 7th September 2022 at 5:00pm EST
A Successful Ph.D. Defense by Vianney Andrew Yiga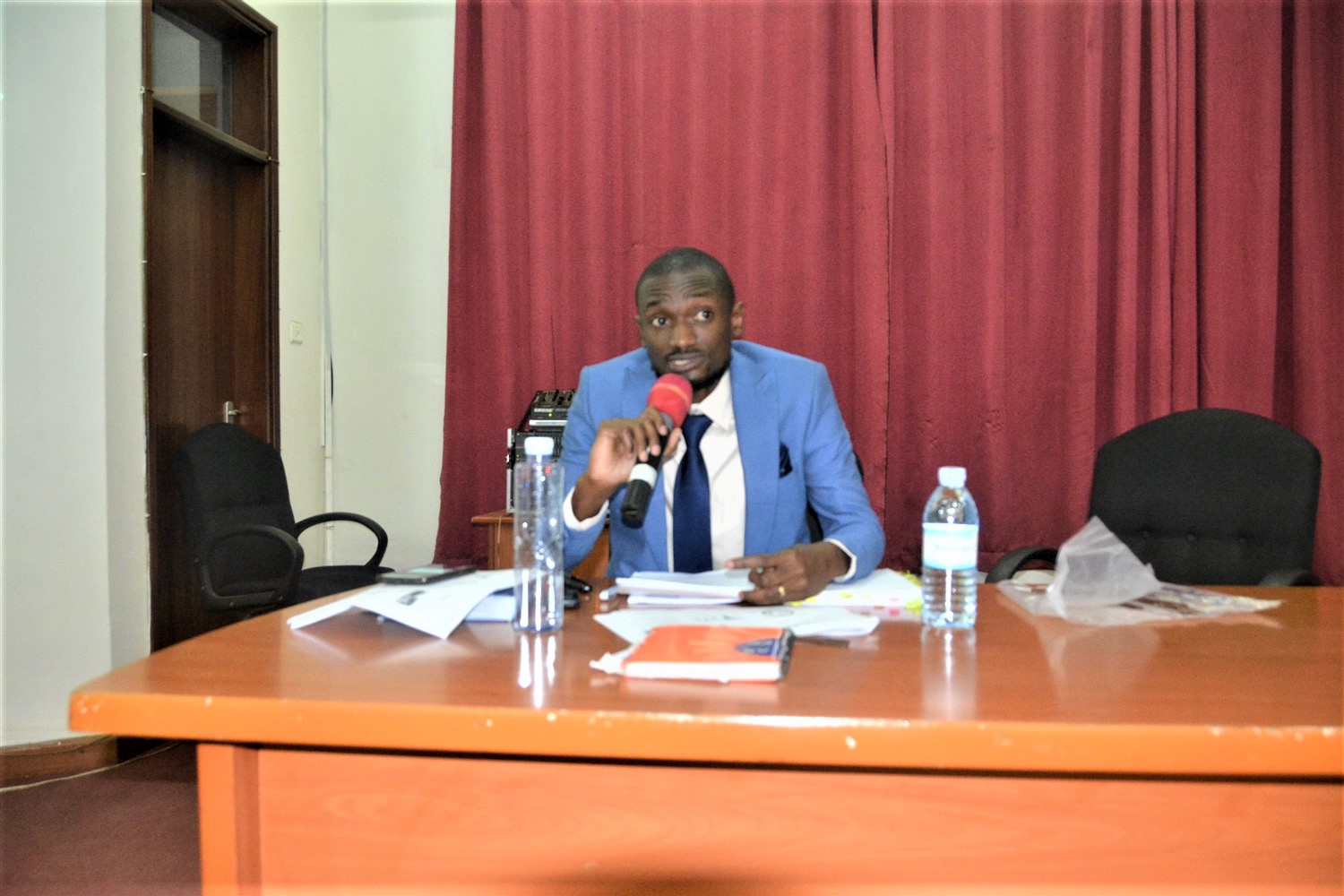 The CEDAT community is proud to share our congratulations to Vianney Andrew Yiga following his successful Ph.D. defense that happened yesterday Monday 3rd October 2022 at the College of Engineering, Design, Art, and Technology (CEDAT).
His Thesis was titled; Thermal Stability of Fiber- Reinforced Polylactic Acid Composites for Flameretarded Applications.
The candidate was supervised by Eng. Dr. Michael Lubwama and Eng. Dr. Peter W. Olupot both from the Department of Mechanical Engineering, at CEDAT.
Dr. John Wasswa, Department of Chemistry, College of Natural Sciences (CONAS), Makerere University was the opponent that interrogated the candidate to enable a clear understanding of the study.
Makerere University Launches National Parenting Draft Manual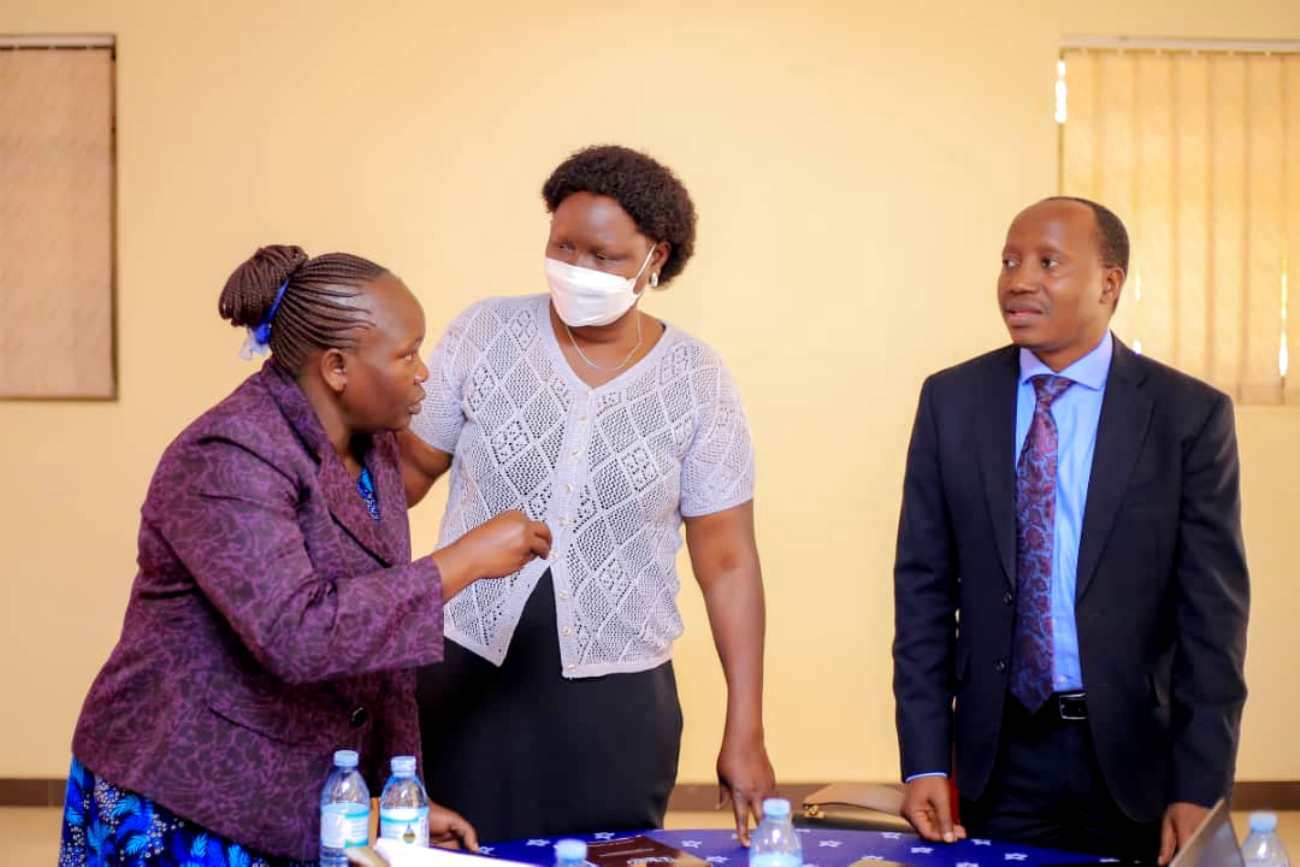 By Agnes Namaganda
On July 22nd 2022, Makerere University–Child Health and Development Centre (Mak–CHDC) launched a draft manual for the National Parenting Standards. The Centre has been working together with the Ministry of Gender, Labour and Social Development (MGLSD) with funding from UNICEF (United Nations Children's Emergency Fund), to develop standards that are agreeable to all organisations in the country that are involved in parenting work. The draft manual was being presented to members of a consortium that brings together all these organisations together, called the Parenting Agenda Consortium.
"We produce many documents and they are shelved," Irene Ayot Chono, who was speaking on behalf of UNICEF said. "We hope that this document will not be one of them," she emphasized.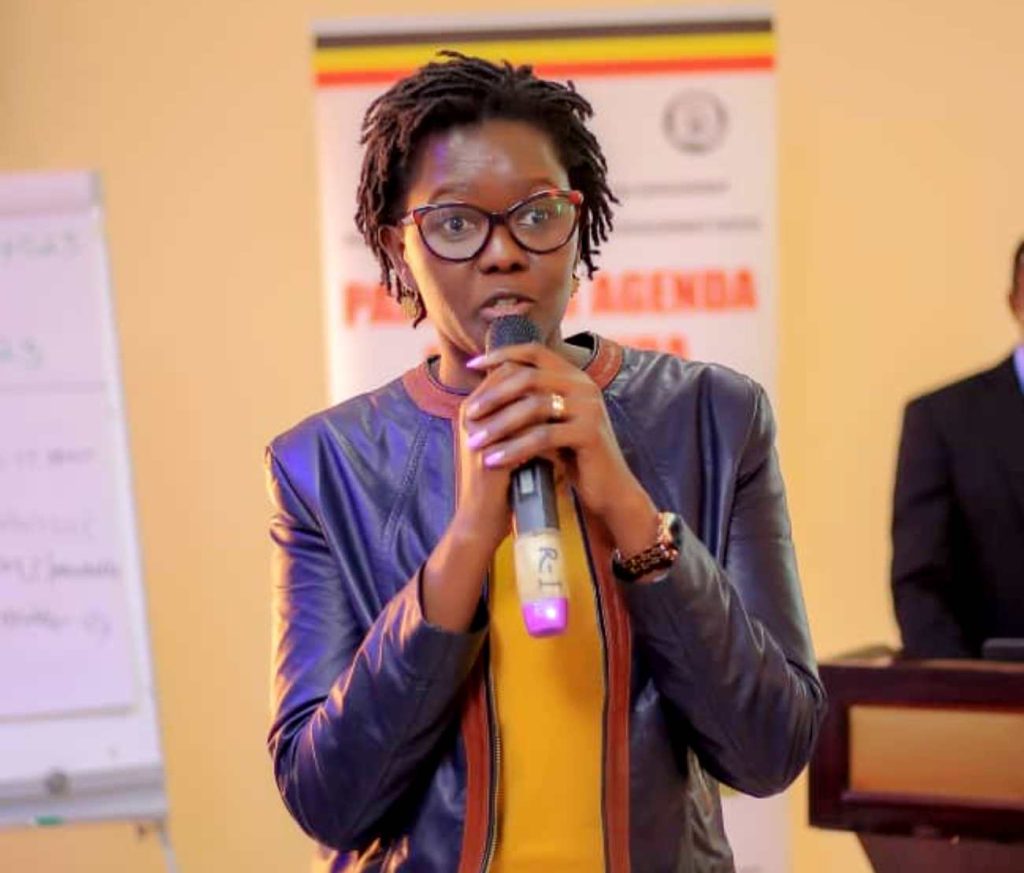 Dr. Godfrey Siu, the Principal Investigator from Mak-CHDC who presented the draft manual to participants, emphasized that if any organization is doing parenting work, there should be a minimum package that they should offer.
Draft Manual Content
The manual which will have several modules. These modules will be delivered face-to-face in 1.5 hour sessions. Some of these include; Module 6 which will focus on "understanding responsible masculinity and fatherhood" and on "understanding the concept of head of family."The draft manual also proposed that Module 11 focuses on Parenting in the 21st Century. Some of the sessions in this module will include Children and Technology, Contemporary Influence on Children and Modernity, Culture and Morality.Module 9 will focus on Parenting for Adolescents and some of the suggested sessions within this module are Needs for Adolescents and The Art of Communicating with Adolescents. Module 5 will focus on Preventing Violent Parenting and Promoting Alternative Discipline Strategies while Module 10 will be about Parenting to Address the Mental Health for Children and Adults.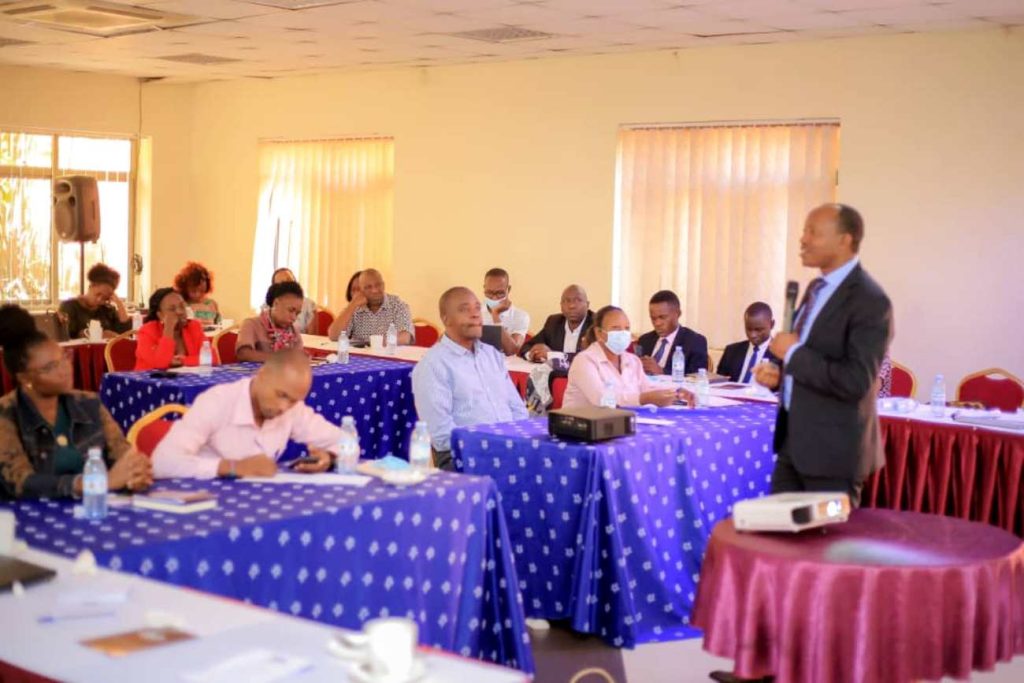 Participants' suggestions
After the presentation, participants raised several suggestions for discussion and consideration. These included whether there should be a module on spirituality since Uganda is a strongly religious nation. There was also the concern of how children in remand homes should be parented. Another concern raised by a participant was as to whether teachers who make an undeniable contribution to parenting, should be taken through the parenting manual.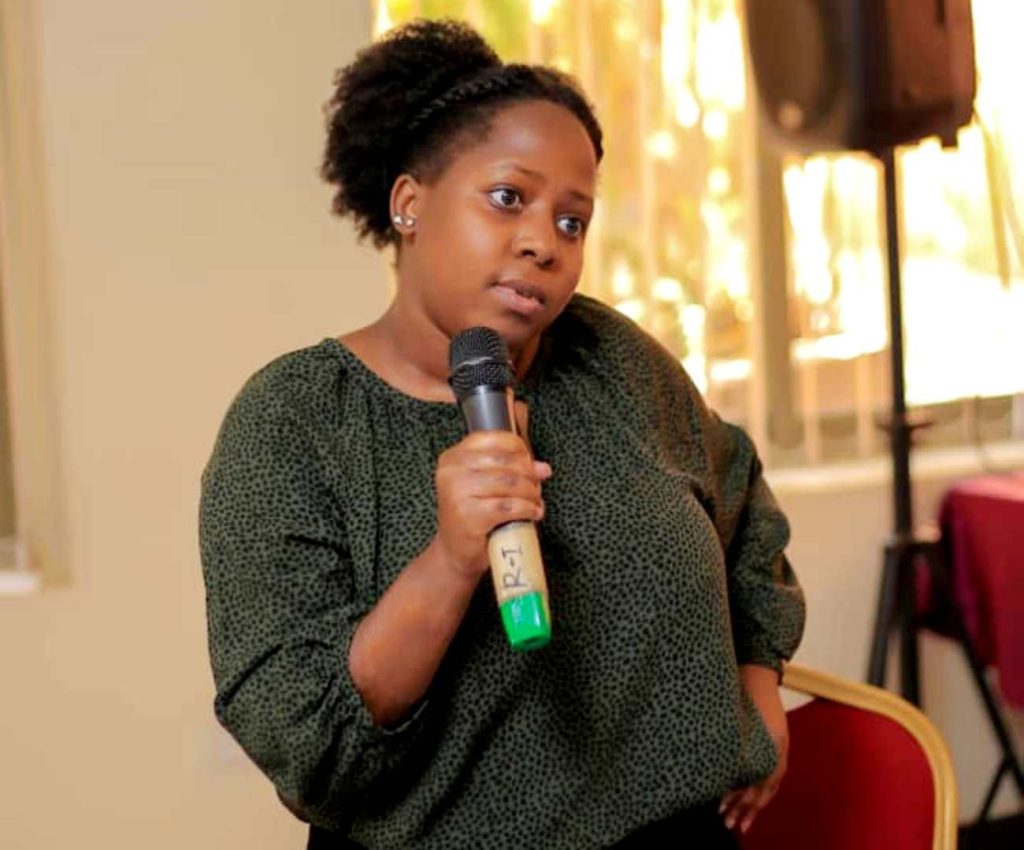 In her closing remarks, Ms. Juliana Naumo Akoryo, the Director of Cultural Affairs at the Ministry of Gender, Labour and Social Development (MGLSD) said that the manual is for the parenting organisations to utilize and not for MGLSD.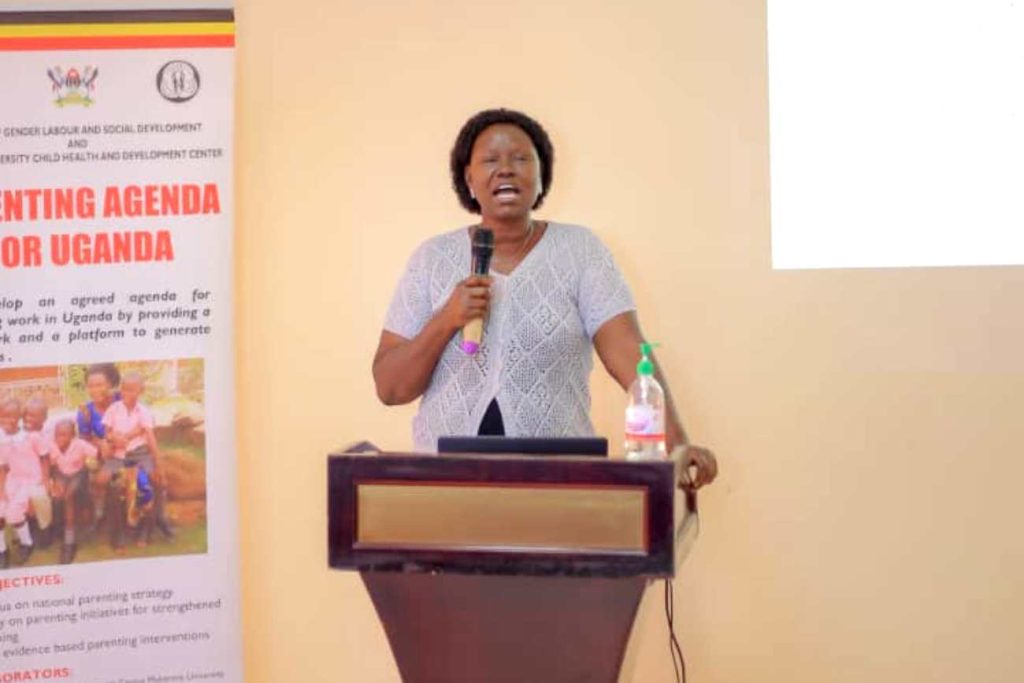 Ms. Chono also adjured the team behind the manual to use picture illustrations in the manual that can be relatable by the Ugandan parents.
Contact: Agnes Namaganda – agnesvioletnamaganda@gmail.com
Launch of Mak-RIF Round 4 Awards & PhD Call for Proposals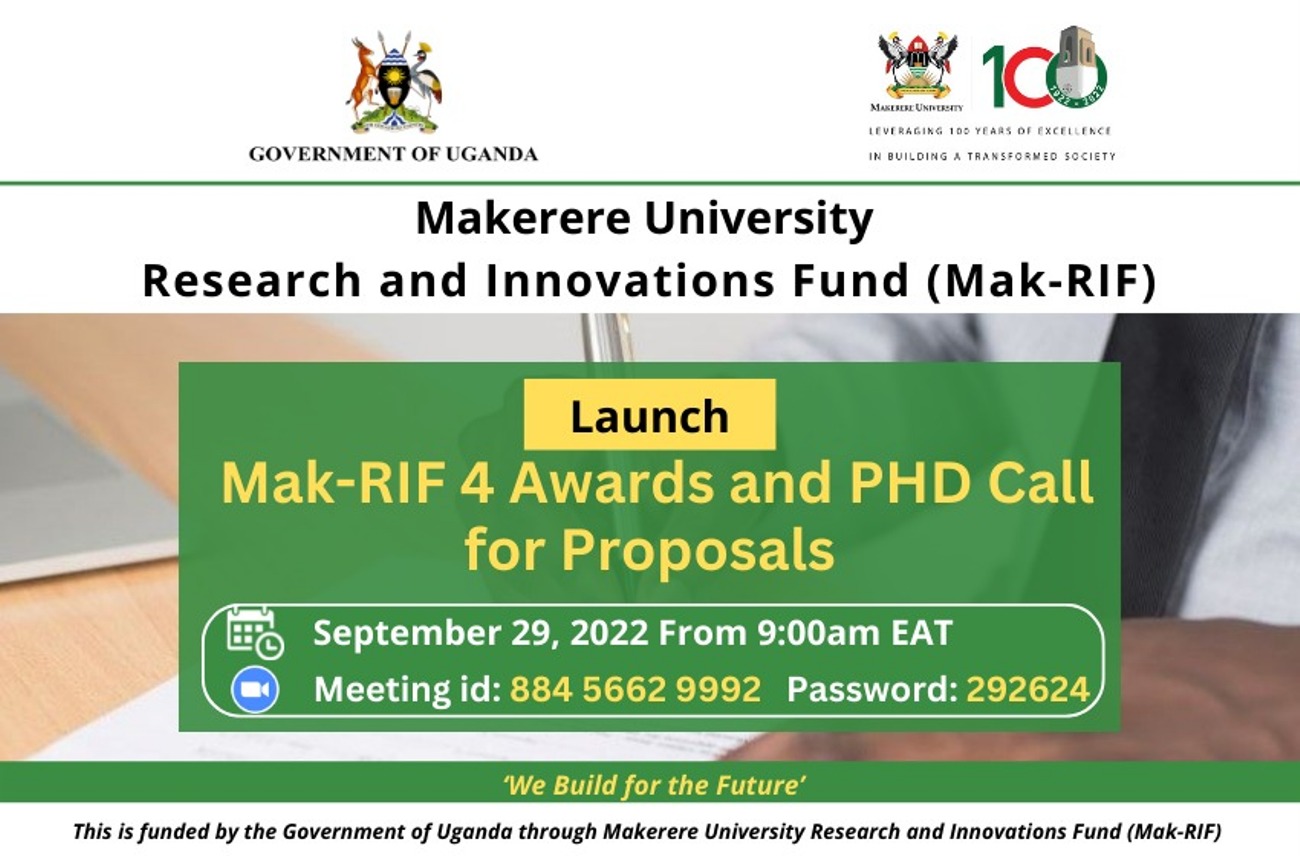 Makerere University received funding from the Government of the Republic of Uganda, earmarked to support high impact Research and Innovations. This unique initiative arose after engagements between the top University Management and the Government of Uganda. This fund illustrates the increasing importance that the Government attaches to Research and Innovation as a driver of development and transformation. The objective of the fund is to increase the local generation of translatable research and scalable innovations that address key gaps required to drive Uganda's development agenda. 
In the Financial years 2019/2020, 2020/2021 and 2021/2022 the Government of the Republic of Uganda through Mak-RIF has funded implementation of over 750 multidisciplinary research and innovations within the various Colleges, while engaging multiple stakeholders within and outside Makerere University. The Grants Management Committee (GMC) has finalized the award process for the Mak-RIF round 4 call for funding for this Financial Year 2022/2023.
The Grants Management Committee (GMC) hereby invites you to the Launch of the Mak-RIF Round 4 awards and PhD Call for Proposals scheduled to take place tomorrow Thursday 29th September 2022 from 9:00 to 10:00 a.m. EAT. 
Please use the following details to join the launch.
Register in advance for this meeting:
https://us06web.zoom.us/meeting/register/tZwpcu-urDIjE9ZgxdsbEmA2IkNMMiJVECt_ 
Meeting ID: 884 5662 9992
Password: 292624