Mak-Sida Meet to ignite Research Agenda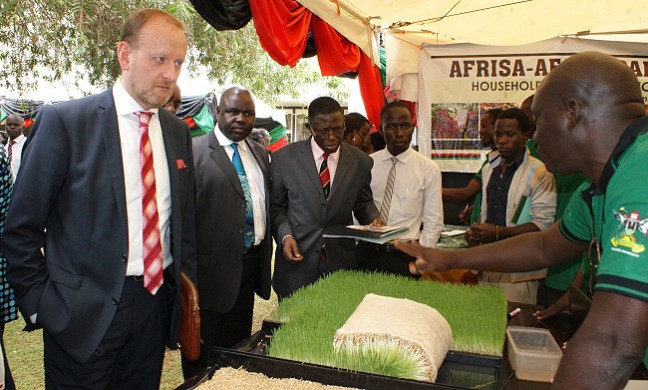 The Swedish Ambassador to Uganda, H.E Urban Andersson, has re-affirmed his country's commitment to supporting research and innovations in Makerere University and Uganda, as a way of contributing to national development, social transformation and poverty eradication. H.E Andersson was speaking at the Science Day for the Makerere-Sida Research Cooperation at the College of Veterinary Medicine, Animal Resources and Bio-Security (CoVAB), on 19th November 2013. This was part of an ongoing Annual Review Meeting for the Swedish International Development Cooperation Agency (Sida) research support to Makerere University, running from 18th – 27th November 2013. The Makerere-Sida Phase III Bilateral Research programme (2010-2014) is worth Swedish Krona (SEK) 180 million.
"Rural areas have been pointed out as key for Uganda's development with 80% of the population staying there. I have noted that the challenges faced by people in rural areas have been pointed out in most of your presentations, which also provide recommendations and policy directions for improving livelihoods in rural areas. We are also glad that your focus on Northern Uganda will bring new knowledge of the disease potential, help in reducing the spread of diseases in animals, which also affect human beings. This will fit in well with why we support research, with the end goal of poverty reduction," he said. The Ambassador also pointed out that the next phase of the MAK-Sida Bilateral Research Grant for Phase 1V, 2015 to 2020 was on its way to continue supporting research and innovations relevant to today's fast changing world.
At the opening of the Annual Review Meeting held on 18th November 2013 at the Main Library, the Vice Chancellor, Professor John Ddumba-Ssentamu was represented by the Acting Vice Chancellor Associate Professor Arch. Barnabas Nawangwe, who is also the Deputy Vice Chancellor in charge of Finance and Administration.
"Makerere University and Uganda in general have enjoyed and continue to benefit from the generosity of the Royal Government of Sweden in the areas of human resources capacity building, research, library services/information technology and infrastructural development. Sida support has also contributed to the enhancement of centres of excellence in waste management, health systems research, and renewable energy research, among others. Despite these achievements, the University still faces challenges like inadequate infrastructure and we appreciate more support," read the Vice Chancellor's speech.
The Director of Research and Graduate Training, Professor Mukadasi Buyinza, welcomed participants to the MAK-Sida Annual Review Meeting that provides a platform for dissemination of research, technology and innovations at Makerere University. The Review also presents an opportunity to Makerere University to take stock of her research achievements and their strength in contributing to the national development agenda.
Professor Buyinza appreciated Sida for the continued support to Makerere University and also thanked the University Management for creating an environment conducive to research. "There is will from Management for research to take place and we have all the support we need. With the Sida and Management support, we are empowered to champion the University Research Agenda. During the Phase III (2010-2014), Sida has supported 100 PhDs; 70 Masters and 20 Post Doctoral Research grants. We are also happy to report that we have been granted the Year 2015 as a bridging year in preparation for the MAK-Sida Phase IV Bilateral Research Grant. We are grateful for this support," he said.
He further saluted Sida for supporting cross cutting courses and services critical in knowledge creation and sharpening of people's minds. "In Phase III, 700 graduate students have been trained in cross cutting courses such as research management, philosophy of methods, statistical application and information competence management; and senior researchers of Makerere University have undertaken skills enhancement courses including supervision and mentorship, research and financial management," he explained.
The highly interactive Science Day was coordinated by Dr. David Owiny, of the Vet Sub-programme. "This is the 3rd Science Day since the beginning of the MAK-Sida Phase III. Our collaboration with the Swedish people has been very successful. Together with the Swedish Agricultural University, we are training five (5) PhD students and their research is on a steady path to completion. They are in the final stages of their doctoral studies and will graduate next year," he said.
In an energetic presentation, the Principal of CoVAB, Professor John David Kabasa, called for a paradigm shift in the education sector if the current and future generations are to be saved from poverty and unemployment. "Peasants fed us and sustained the economy for the last 50 years. Since independence, the education system has been producing people to administer peasants, but not learning how to manage the production and industrial processes. That is why Uganda plans to transform from a peasantry to a middle income economy as per the National Vision 2040," he asserted. "It is now time to change the model. We need to graduate people with skills to become entrepreneurs or else we are in for a social tsunami. There are a lot of processes from the farm to the table. The industry has so many opportunities in the value-addition chain. Why should supermarkets continue to be highly stocked with products from abroad?" he wondered.